Life on the road: waking up to the sunrise, enjoying a coffee with the morning dew tickling your toes and driving for hours with nothing but nature all around you.
Conjuring up nostalgic memories of old-time Americana and singing your favorite songs around the campfire, guitar in hand, an RV-based holiday is definitely a memorable one.
Even those who wouldn't typically consider a camping trailer for their next trip are now reconsidering, thanks to the rise in high-tech, seriously luxurious camping trailers akin to stylish apartments…but with the benefit of having wheels attached.
Some of the best luxury travel trailers nowadays come complete with digital nomad-approved offices, second-story bedrooms, indoor bathrooms, and all of the connectivity you could ever need.
Life off the grid doesn't have to be in tents — pun fully intended — but it can open a window into a refreshing contrast; one where your biggest problem is selecting which spectacular location to drive to next in your luxury camper.
The 15 best travel trailers
Check our special travel trailers buyers' guide after the list to see exactly what you should pay attention to before purchasing a trailer. You can also check our round-up of the best off-road camping trailers, best camper van brands and best RVs depending on your preferred travel style.
Bowlus: Best overall travel trailer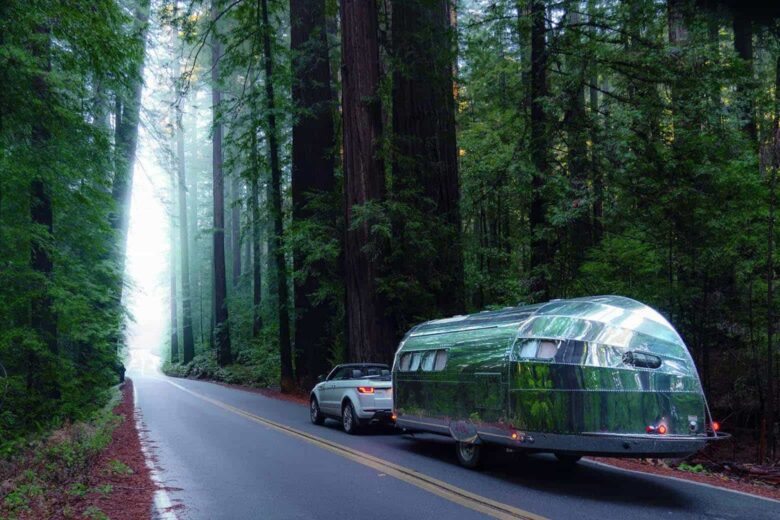 Step into your Bowlus travel trailer for the first time and prepare to feel a little overwhelmed by all of the possibilities running through your mind. The Terra Firma travel trailer is the creme de la creme in the world of living on the go, with all of the facilities necessary to make you genuinely consider switching to this way of living full time. Kitted out with beautifully neutral interiors, a separate hotel-style shower and plenty of space for relaxing, sleeping and planning your next venture, Terra Firma has it all.
Wake up in the Zen Master Bedroom and make a coffee using the two-stage water filtration system. You can even bring a furry friend along, thanks to this camping trailer's seamless features: remote temperature monitoring, bowls that slide out seamlessly from a drawer and a coordinated pet bed. When you head out on foot for the day, make use of the Find My Bowlus GPS tracking.
Best for: Almost preferring living here to your own house back home.
| | |
| --- | --- |
| Sleeps: | Up to 4 |
| Dry Weight: | 3200 lbs (1452 kg) |
| GVWR: | 4000 lbs (1814 kg) |
| Price: | from $265,000 |
Living Vehicle: Best luxury camper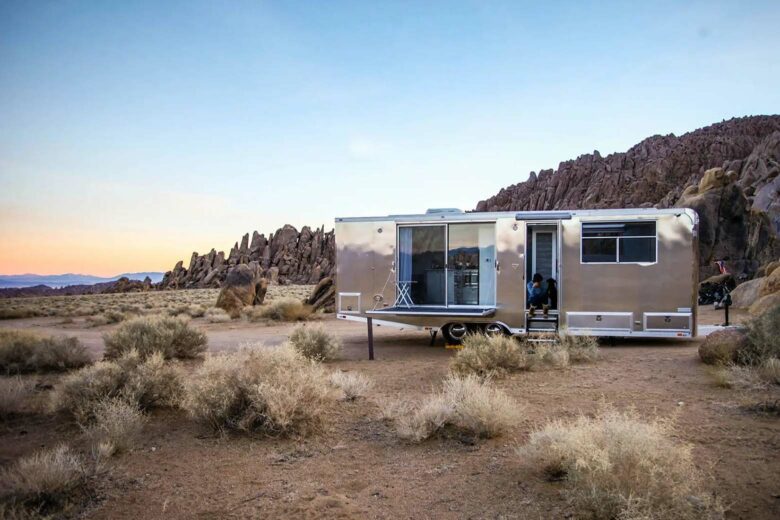 "Roughing it" doesn't exactly sum up your experience camping in a Living Vehicle camping trailer. Probably the closest thing you could find to staying in a hotel but with the added benefit of being able to follow your every move, Living Vehicle's Max model truly maximizes the best of outdoor living, indoors. This fully customizable unit is a dream for anyone who's serious about camping trailers.
Equipped with everything from air conditioning to solar power, it's spacious and comfortable, filled to the brim with technology like huge TV screens, stocked-up chef's kitchens, and luxury amenities. You'll find a washing machine, Hi-Fi stereo system and mobile connectivity. It's life off-grid, but with the ability to get connected right back on the grid whenever you need. Better yet, it comes complete with a state-of-the-art security system. So you'll never feel concerned about leaving your mobile house for the day to do some exploring.
Best for: Making camping trailer holidays Vogue-worthy.
| | |
| --- | --- |
| Sleeps: | Up to 4 |
| Dry Weight: | 11500 lbs (5216 kg) |
| GVWR: | 17000 lbs (7711 kg) |
| Price: | from $319,995 |
Winnebago: Best value travel trailer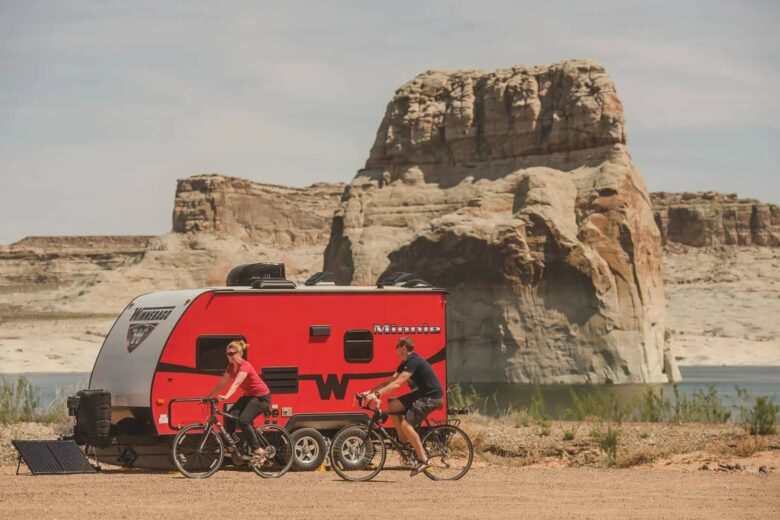 It's hard to beat a Winnebago if you're looking to travel true Americana style and the Winnebago Micro Minnie is definitely the best option if you're looking for a budget-friendly trip. Because the Micro Minnie brings together everything you need for a compact trip without waving goodbye to necessities.
Just like the name suggests, it's one that focuses on quality rather than quantity, but it still manages to squeeze in ample galley space, a sink, double door refrigerator, microwave and even a cooktop. A spacious mattress and windows designed for cross ventilation mean you'll never wake up in the middle of the night feeling too hot or too cold, and the breathtaking surroundings will always be ready and waiting as the first touches of light come through the windows. Patio speakers and a power awning with LED lighting make the outdoors just as cozy as indoors.
Best for: Saving money to put towards decorating instead.
| | |
| --- | --- |
| Sleeps: | Up to 2 |
| Dry Weight: | 3360 lbs (1524 kg) |
| GVWR: | 5000 lbs (2268 kg) |
| Price: | from $23,808 |
Airstream: Most versatile travel trailer for remote work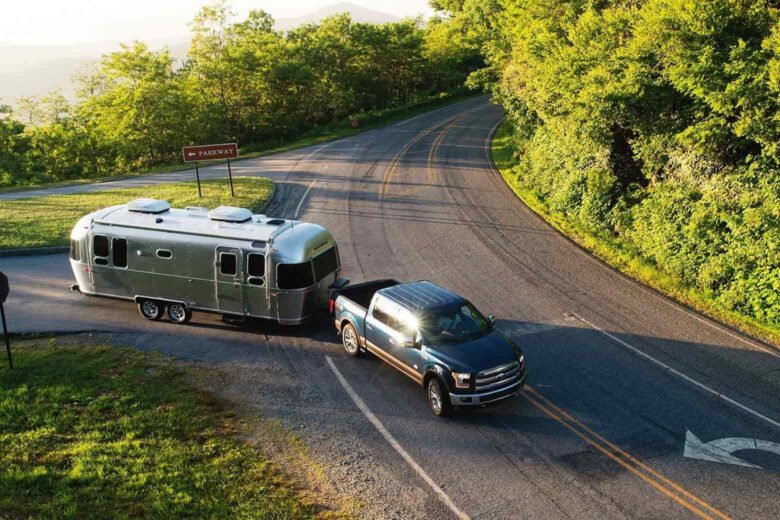 Fulfill all of your digital nomad dreams by waving goodbye to a life surrounded by bricks and instead pursuing one surrounded by nature and woodland. Or cityscapes, or beaches, or whatever your heart desires. The beauty of Airstream's Flying Cloud is that you're free to do all of the above and more, never needing to remember a set of house keys again in favor of life on the road.
This is a camping trailer designed to make life easy, with varying floor plans no matter how many you're traveling with and even the option of a miniature office. Stylish and practical, it's decked out in neutral tones with comfortable elements for a stress-free experience. As well as all of the essentials, Airstream's Flying Cloud comes complete with multiple USB ports and a pop-up USB/AC outlet supported by the onboard 1000-watt power inverter. The office area even has a swivel chair.
Best for: Trying to get your beach/mountain/river view into the background of your Zoom meetings.
| | |
| --- | --- |
| Sleeps: | Up to 6 |
| Dry Weight: | 5000 lbs (2268 kg) |
| GVWR: | 6000 lbs (2721 kg) |
| Price: | from $83,300 |
Timberleaf Trailers: Best teardrop trailer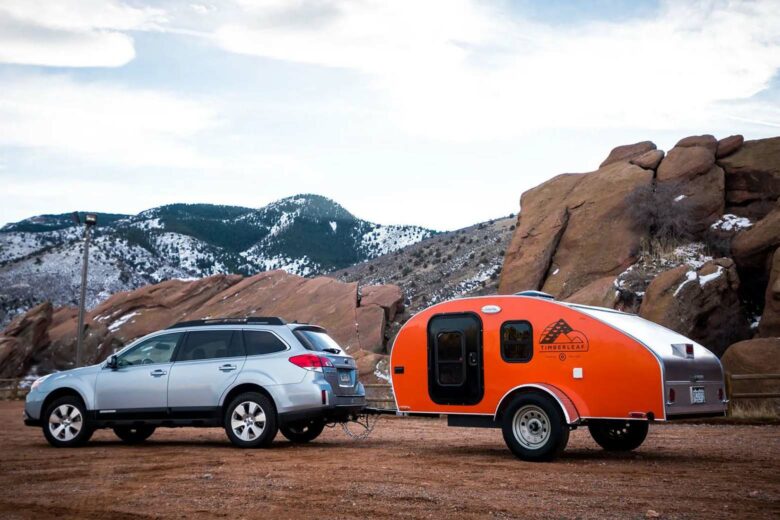 Timberleaf's vibrant orange camping trailer is a talking point of your travels, even when your surrounding landscapes come with enough picturesque stories. This teardrop trailer is charming and playful, created from quality craftsmanship and fine woodworking. It's a camping trailer that takes camping back to its base: forgoing non-essentials in favor of keeping itself small and sturdy.
The Classic Teardrop Trailer is with you no matter where you're heading next and comes in three different varieties; Standard, All-Road, and Off-Road. Each comes with its own specific details, like wheels designed for rugged terrain and a fully insulated cabin to keep the wind, heat, and cold at bay. Despite its cute nature, this is a camping trailer that doesn't mess around: it's got plenty of space for cooking facilities and relaxation with spacious skylight, all kitted out in tonal wooden shades. The trailer itself comes in a variety of vibrant colors, if orange isn't to your choosing.
Best for: Feeling like you're starring in your own vintage holiday movie.
| | |
| --- | --- |
| Sleeps: | Up to 2 |
| Dry Weight: | 1500 lbs (680 kg) |
| GVWR: | 3500 lbs (1587 kg) |
| Price: | from $8,500 |
Homegrown Trailers: Best teardrop camper with bathroom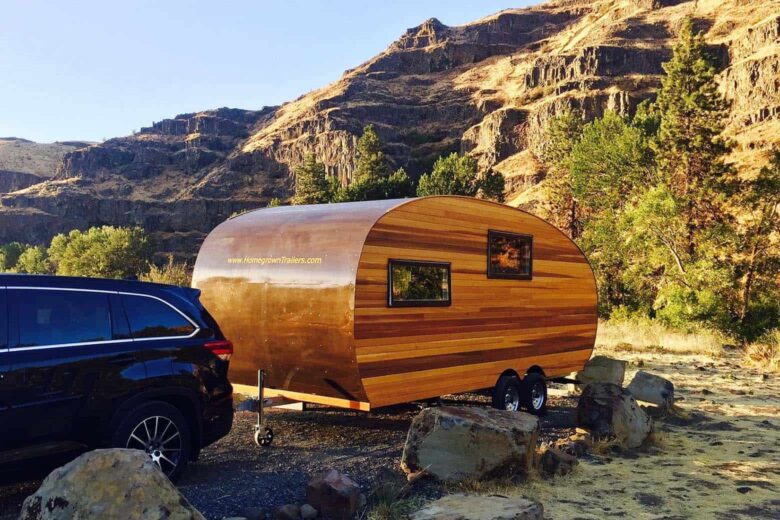 Camping trailer life seems like all fun and games until you wake up in the middle of the night unwilling to step outside the trailer to use or find the bathroom. Enter: Homegrown Trailers. Fusing together all of the best parts of camping trailers along with all of the essentials for comfort and then some, it's the best teardrop trailer out there for those that want comfort and style.
The Timberline trailer does it all and a bit more on top of that. Either plug it into a grid or make use of its solar-powered energy to enjoy all of the facilities it has to offer: hot water from the indoor shower, freshwater from the sink and shower and a large kitchen for cooking up a storm. It's also made mostly from sustainable materials and makes use of energy-efficient methods. It's a camping trailer designed for the energy conscious.
Best for: Authentic camping with 21st-century improvements.
| | |
| --- | --- |
| Sleeps: | Up to 4 |
| Dry Weight: | 4250 lbs (1927 kg) |
| GVWR: | 5000 lbs (2268 kg) |
| Price: | from $74,995 |
Land Ark RV: Best high-ceiling travel trailer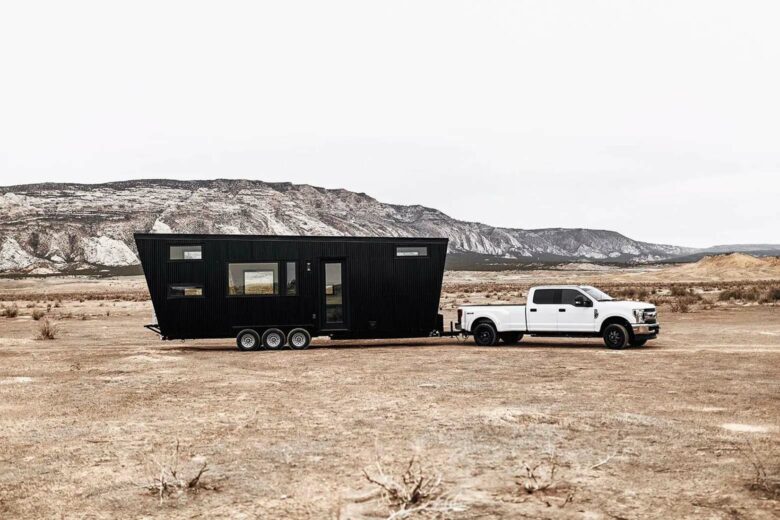 Not sure whether you'd rather stay in a house or a luxury camper? Choose both. Land Ark RV's Drake model aims to cover all of the above, in a sleek and stylish camping trailer that elevates camping to a whole new level. Efficiently built as a high-design house, you could feasibly wake up in the morning here and forget you're not actually in a hotel. It's one that welcomes in both comfort and style, with its neutral, light wood interiors and two-story design.
This is a camping trailer just crying out to be personalized, preferably with Instagram-friendly cushions, large cozy throws and adventure around every corner. It's a trailer looking for stories. A tankless hot water system, heating and AC, custom cellular shades for privacy and energy-saving insulation, and high ceilings make this one of the most covetable camping trailers on the market.
Best for: Not stressing about hitting your head when you wake up in the morning.
| | |
| --- | --- |
| Sleeps: | Up to 7 |
| Dry Weight: | 16700 lbs (7574 kg) |
| GVWR: | 21000 lbs (9525 kg) |
| Price: | from $159,900 |
Happier Camper: Best lightweight travel trailer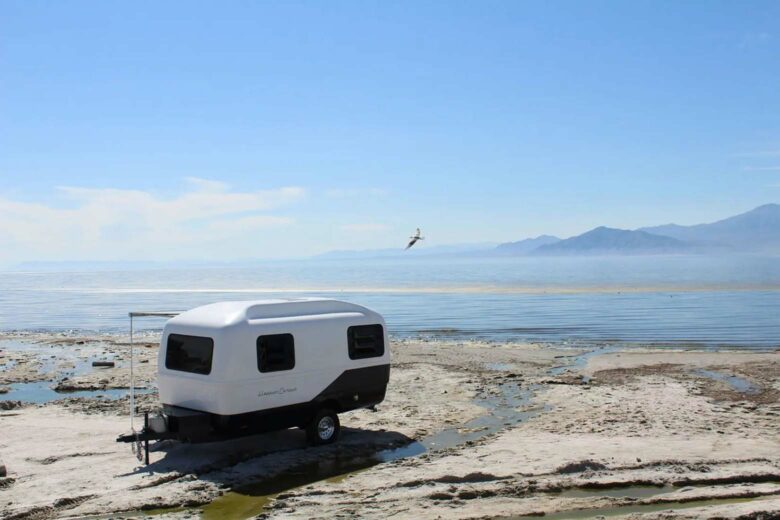 Happier Camper sets the tone for exactly how you'll be feeling on your next adventure: over the moon, filled to the brim with excitement and fully aware that everything you could need and more are tucked away in its unique spot around you. Fully equipped for the road, Happier Camper's Traveler camping trailer is optimized for all kinds of adventures, regardless of whether you're sightseeing or working, sleeping or cooking.
Two dedicated living spaces and an integrated bathroom and kitchenette make this lightweight travel trailer under 5,000 lbs seem far more spacious than many others on the market. Its curated space uses the brand's Adaptiv technology to quickly switch living spaces into an office, dining area, bedroom or lounge space in minutes. Fibreglass shells, a honeycomb floor grid, custom hardware and durable components ensure your Traveler is ready to go no matter how long the journey.
Best for: Smaller towing vehicles and not worrying about maximum weight capacity.
| | |
| --- | --- |
| Sleeps: | Up to 2 |
| Dry Weight: | 1800 lbs (816 kg) |
| GVWR: | 2500 lbs (1133 kg) |
| Price: | from $49,950 |
Bruder X: Best off-road camping trailer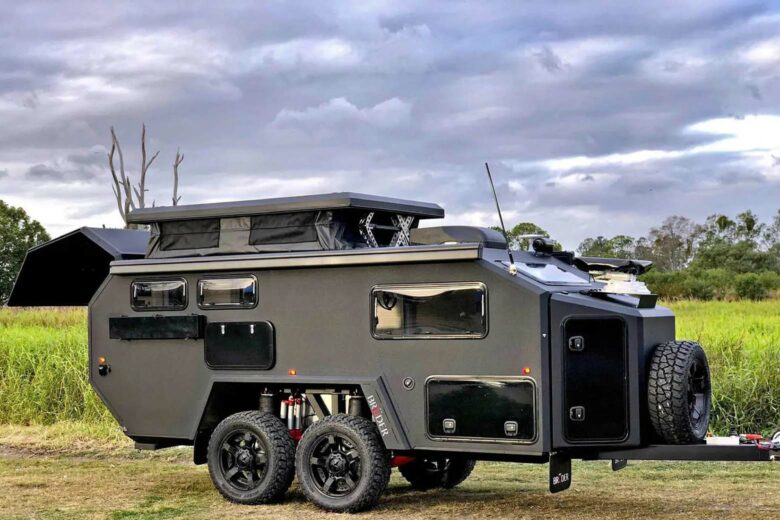 There are camping trailers designed for whimsical journeys through the forests and countryside paths winding their way down to the seafront. And then there are expedition trailers designed with a little more durability in mind, suitable for all of those off-road adventures that you'd previously disregarded. Bruder X's EXP-6 is the latter. This is a camping trailer with a difference: a large, sturdy and all-around impressive beast of a trailer that confidently heads off the beaten track into paths unknown without really lifting a finger.
This off-road trailer is sleek and grey, looking perfectly at home with any kind of backdrop. It's also sufficiently convertible, with the ability to level out and adjust its height to suit the terrain at the press of a button. A state-of-the-art cabin management system means you can even control the EXP-6 from your smartphone. Out the back, you'll find courtesy lights, storage lockers, a clothes washer and even an external hot and cold shower.
Best for: Adventures without limitations.
| | |
| --- | --- |
| Sleeps: | Up to 6 |
| Dry Weight: | 4850 lbs (2200kg) |
| GVWR: | 11464 lbs (5200kg) |
| Price: | from $180,000 |
E-RV: Best all-electric travel trailer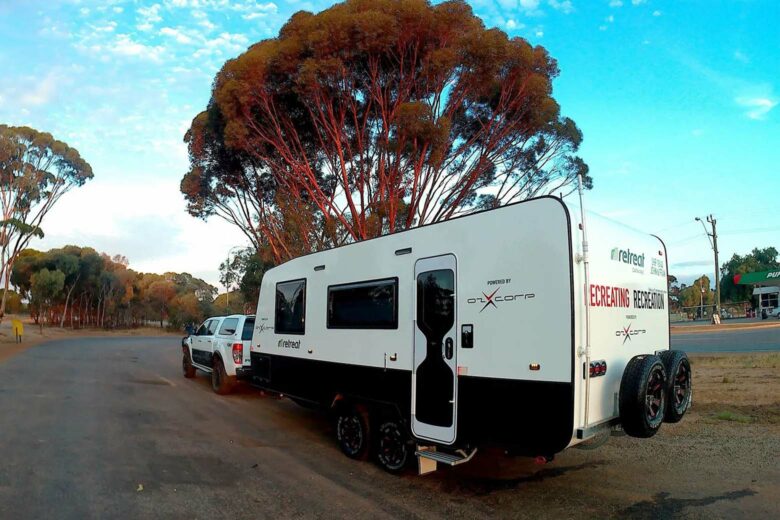 There's off-the-grid living and then there's E-RV off-the-grid living. The world's first fully-electric camping trailer, it's one that almost blends in with the environment from the outside, while remaining spacious and hyper-modern on the inside. This energy-efficient RV trailer doesn't do things by halves, either. It's able to charge all of your electronics, keep you suitably warm and save you money and gas refills all at the same time.
It uses clean, solar energy that allows you to camp out in the middle of nowhere without struggling to find electricity. It's also better for the environment in the fact that it waves goodbye to the need for gas fumes. If you're staying somewhere where open flames are banned, you'll love the E-RV's efficiency even more. A range of solar panels on the rooftop means your E-RV continues charging even when you're out exploring.
Best for: Taking 'off the grid' to a whole new level.
Sleeps: Up to 3

| | |
| --- | --- |
| Sleeps: | Up to 3 |
| Dry Weight: | 3233 lbs (1466kg) |
| GVWR: | 9300 lbs (4218kg) |
| Price: | from $67,500 |
Polydrops: Best small travel trailer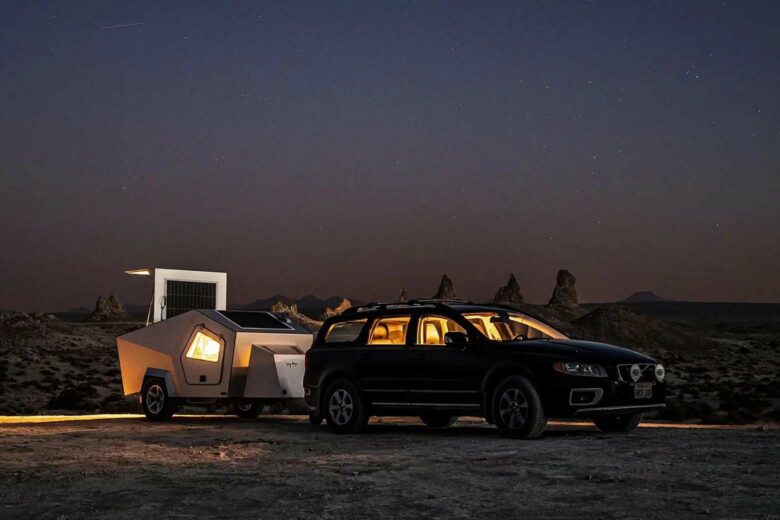 Small but mighty, Polydrops' P17A camping trailer packs a punch when it comes to fitting a lot into a small space. The P17A is one of the best small camping trailers for anyone new to the industry who wants to get to grips with owning a trailer before committing to a larger size. It is highly engineered and all-electric, bringing together all of the essentials. Its futuristic style sets it ahead of the game in the world of both camping trailers and electric vehicles —something you'll understand even more when you've read the full list of energy-efficient measures this camping trailer comes with.
These small campers come equipped with solar panels, LiFePO4 batteries and air conditioning for ultimate comfort without waving goodbye to sustainable travel. Its aerodynamic design also ensures it's straightforward to tow, even for a lesser-experienced driver. It's home to a modular system incorporating a kitchenette, micro closet, toilet and sleeping compartment and editable depending on your preferences.
Best for: Proving good things come in small packages.
| | |
| --- | --- |
| Sleeps: | Up to 2 |
| Dry Weight: | 1200 lbs (544 kg) |
| GVWR: | 2000 lbs (907 kg) |
| Price: | from $24,990 |
Jayco: Best mid-priced camping trailer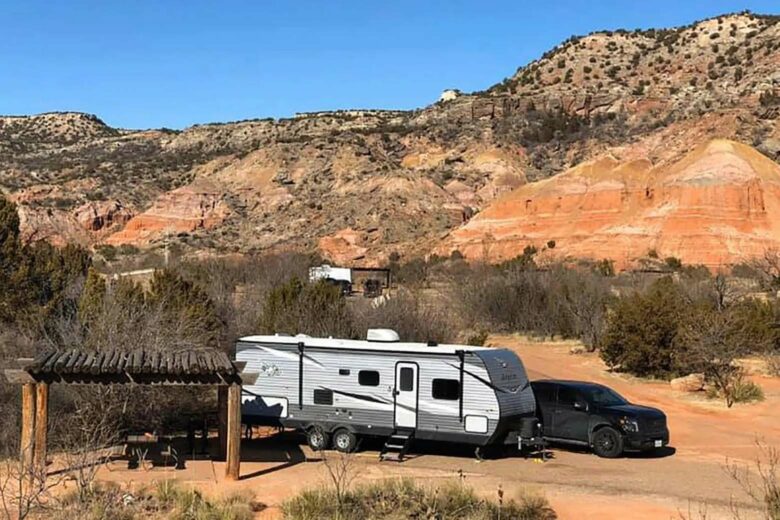 Dipped your toe into the world of vacation trailers but not quite ready to go all out with a huge model? Jayco is the answer for the best mid-sized trailer. Our favorite —and not just our favorite, as it's consistently voted America's best-selling RV too —is Jayco's Jay Flight 2021. These are the best travel trailers for anyone with a desire to head out for a trip without worrying about anything along the way. Fully equipped with not just the essentials but also the would-be-amazing-ifs.
Superior construction, weatherproofing and plenty of editable floor plan designs mean the Jay Flight 2021 is perfectly suited to just about any kind of traveler. Looking for more beds? They can be included in the middle. Would prefer more storage and foldaway sleeping compartments? Not a problem either. The included LED TV, smartphone-controllable system and fully equipped interiors complete with an oven make this camping trailer a win-win for just about everyone.
Best for: Premium quality essentials with some luxury thrown in, too.
| | |
| --- | --- |
| Sleeps: | Up to 5 |
| Dry Weight: | 5560 lbs (2521 kg) |
| GVWR: | 7500 lbs (3401 kg) |
| Price: | from $36,389 |
Grand Design RV: Best travel trailer for families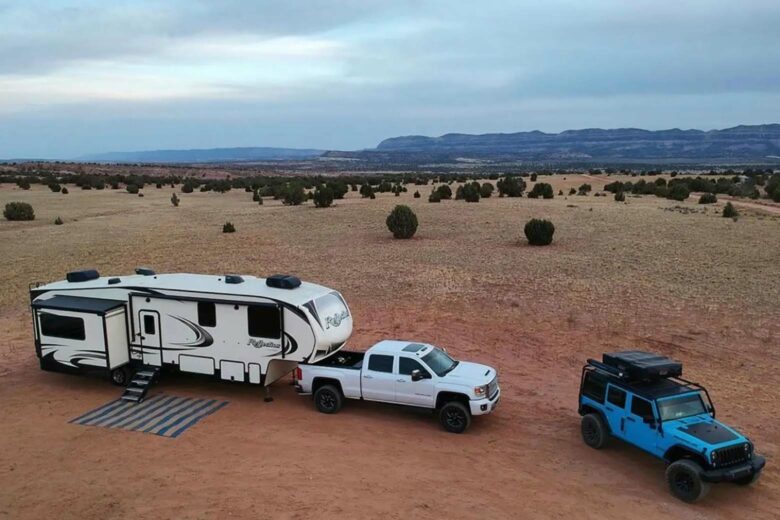 A family camping trip can go one of two ways: either it's one that goes down in the memory book full of hilarious anecdotes, nostalgia-filled activities and the promise to do it all again next year, or it goes horribly wrong and you promise never to speak of it again. The best way to ensure your family holiday is the former rather than the latter? Do it in a camping trailer designed for families to take the stress out of camping trips.
Grand Design RV's Reflection Travel Trailer is luxurious yet sensible: a trailer that's sturdy and dependable while still remaining stylish and comfortable. It's a spacious RV camper, almost a mini apartment rather than a simple bed and sink pull-along trailer. Home to plenty of electronics including a Bluetooth sound system, LED TV, motion sensor lighting and more, you'll never feel anything less than refreshed and satisfied staying in one of these travel trailers.
Best for: Those picture-book perfect family holidays.
| | |
| --- | --- |
| Sleeps: | Up to 5 |
| Dry Weight: | 8096 lbs (3672 kg) |
| GVWR: | 9995 lbs (4533 kg) |
| Price: | from $60,375 |
Taxa Outdoors: Best pop-up camper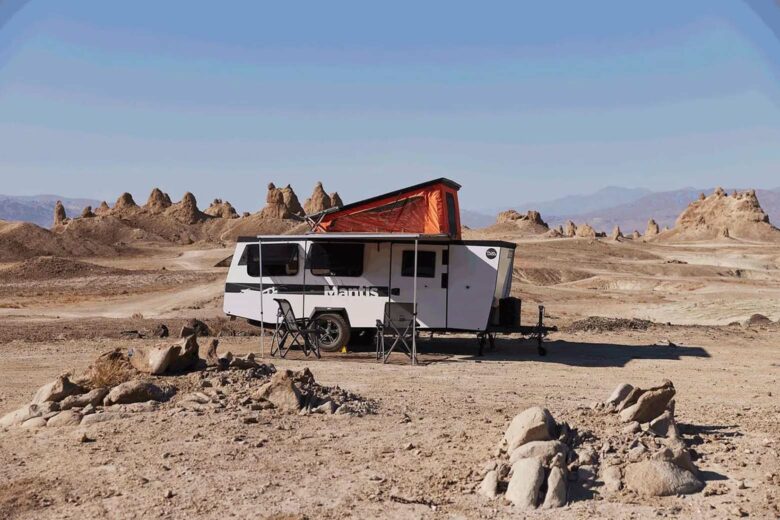 Go back to basics with small travel trailers in the best way possible with a Taxa Outdoors Mantis pop-up camper. Sure, there are high-tech, futuristic trailers out there, but the Mantis is the perfect option if you're looking for laid-back, authentic, small camping trailers. While it might not be stuffed to the brim with electronics, the Mantis still comes with everything you could need for a relaxing few days of getting up close and personal with nature.
Known as the brand's most spacious pop-up trailer to date, it's home to adaptive spaces like a large cafe breakfast table in the morning, a mini-conference room in the afternoon and even a board game set up in the evening. The pop-up nature of this camper also means it comes with its own outdoor seating area, where you'll likely spend evenings listening to the sounds of nature and catching up with your family or friends on everything under the sun.
Best for: Last minute, easygoing journeys without too much preparation needed.
| | |
| --- | --- |
| Sleeps: | Up to 4 |
| Dry Weight: | 2972 lbs (1348 kg) |
| GVWR: | 4200 lbs (1905 kg) |
| Price: | from $42,990 |
Tiny Camper: Best DIY camping trailer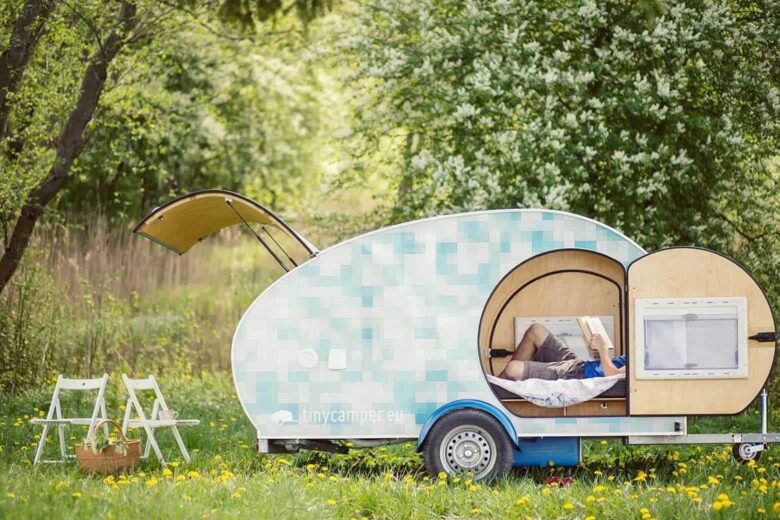 Rent or buy a camping trailer and spend your days leading up to the trip figuring out what to pack or what may or may not be included. Build your own camping trailer and replace those conversations with everything else: how to design the interiors, which features you do and don't need, and how best to personalize your new temporary home?
Half of the fun of a DIY camping trailer comes from its unforgettable building period—something that's made incredibly easy with Tiny Camper's DIY camping trailers. They're also just as customizable as you'd like, depending on your dreams and realistic abilities at putting together a trailer. Design from the ground up with a variety of different frameworks, electrics, plumbing or cabinets, or start from the next step with a fully prepared package. Then, the fun part: color schemes, extra features and unique touches.
Best for: Crafting that's just as much fun as the traveling part.
| | |
| --- | --- |
| Sleeps: | Up to 3 |
| Dry Weight: | dependent on DIY build |
| GVWR: | dependent on DIY build |
| Price: | from $10,531 |
Buyers guide to travel trailers
There's plenty to take into consideration before choosing your next camping trailer, like how often you'll use it, the sort of terrain you'll cover, the features you may need and the capacity for you and your camping companions. Read on for everything you need to know before selecting your new camping trailer.
Towing limitations
Generally speaking, the more high-tech your camping trailer and the larger its capacity, the more it'll weigh. Before you buy your trailer, you need to ensure that the vehicle you'll be towing it with is strong enough to do so. Always check the camper trailer's weight against your tow vehicle's towing capacity and aim to leave a little leeway rather than choosing something that hits the maximum weight limit.
Interior features
If you're simply going to use your camping trailer as a portal for exploring the outside world, you only really need a comfortable bed and some kind of living space. If you're planning on going digital nomad style, you'll want to look for more features, like a dedicated office or working space or at least a separate living space, as well as plenty of storage space.
Depending on how long you're on the road for, you may also want to choose a camping trailer with a kitchenette. And, depending on where you're taking your trailer, you might want to look for a trailer with an indoor toilet or entire bathroom. There's nothing worse than having to brave freezing temperatures in the middle of the night if nature calls.
Size
Most camping trailers are designed for around three or four people, although some have more space for up to seven. While this maximum might be impressive, it's important to remember that just because seven people can fit, doesn't mean it'll be an especially comfortable fit once everyone's stuff is included. It's so important to check whether all of your belongings will fit inside.
Water systems
How big is your water tank? Does it come with fresh water and grey water tanks? Is there hot water available, or just cold? These are all questions you'll want to know the answer to beforehand. Choosing a travel trailer with too small of a water tank means lots of refilling.
Terrain
If you'll mostly be sticking to standard roads, this isn't something you'll need to worry about particularly. But if you're heading off to explore pastures new with off-road adventures, you'll want to look for a camping trailer with more durable, sturdy materials and wheels to match. There are plenty of trailers designed for off-road trips, which can put your mind at rest for future exploring.
Batteries and charging
You'll want to thoroughly check how to power your camping trailer to avoid getting caught out at the worst times. Many trailers nowadays include solar-powered or other energy-efficient methods but can also be hooked up to a grid. The larger the trailer, the bigger the battery. Some trailers also have space for external batteries to be added.
Tow hitch
This varies hugely depending on your tow vehicle but, generally, you should check whether your trailer comes with a standard 50mm tow ball or whether it has an articulating hitch. And, finally, before you head off for the first time, ensure the brake lights and indicators function when connected.
Frequently asked questions about travel trailers