Japanese whisky and Yamazaki go hand in hand. Literally. Yamazaki was the first commercial distillery in Japan and opened its doors in 1923 but found little initial attention. And what was the first whisky it produced? Yamazaki.
In fact, ask any occasional whisky drinker to name a Japanese whisky brand and they'd be hard-pressed to name any other brand but Yamazaki.
This exquisite brand paved the way for the Japanese whisky revolution. Previously a subject restricted to hardcore whisky drinkers who wanted to try something different away from traditional Scottish whiskey, Japanese whisky is now a subject all by itself. And Yamazaki sits firmly at the top as the best example of just that.
And that's not even really just a matter of opinion. Each of Yamazaki's bottles is regarded in its own right as one of the best whiskies in the world. There aren't many brands out there who can speak of such success, year after year.
Collecting a bottle of Yamazaki is something to show off about and almost definitely an investment piece for years to come. Which means that drinking this subtly sweet, oaky, floral spirit is not only a talking point, but also something of a piece of history.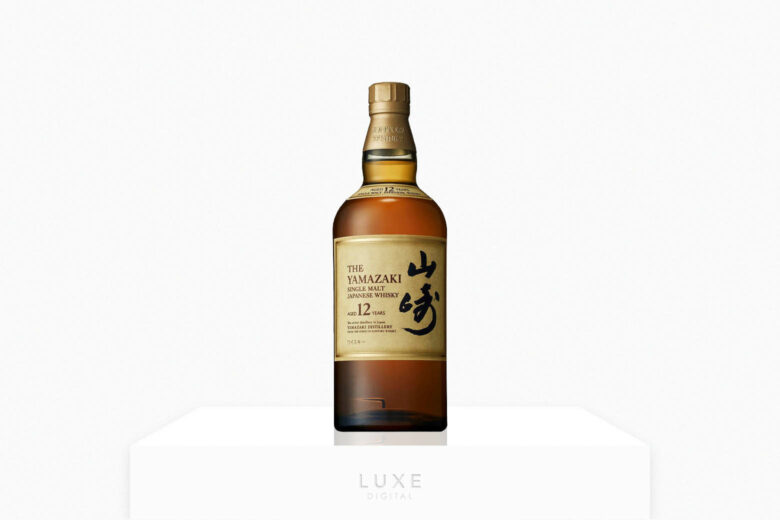 Yamazaki Whisky price and bottle sizes
| Bottle | Size | Price (USD) |
| --- | --- | --- |
| Yamazaki 12 Year Old Whisky | 750ml | $195 |
| Suntory Yamazaki Distiller's Reserve | 750ml | $283 |
| Yamazaki 12 Year Old Pure Malt Final Version | 750ml | $759 |
| Yamazaki 18 Year Old Single Malt Japanese Whisky | 750ml | $1,276 |
| Yamazaki Limited Edition 2017 | 750ml | $1,611 |
| Yamazaki Bourbon Barrel | 750ml | $3,378 |
| Yamazaki Heavily Peated 2013 | 750ml | $3,114 |
| Yamazaki Sherry Cask 2016 | 750ml | $8,136 |
| Yamazaki Mizunara 18 Years | 750ml | $10,218 |
| Yamazaki Mizunara 2014 | 750ml | $10,285 |
| Yamazaki 25 Year Old | 750ml | $17,368 |
| Suntory Yamazaki Single Malt Whisky 1984 | 750ml | $30,996 |
Where to buy Yamazaki online?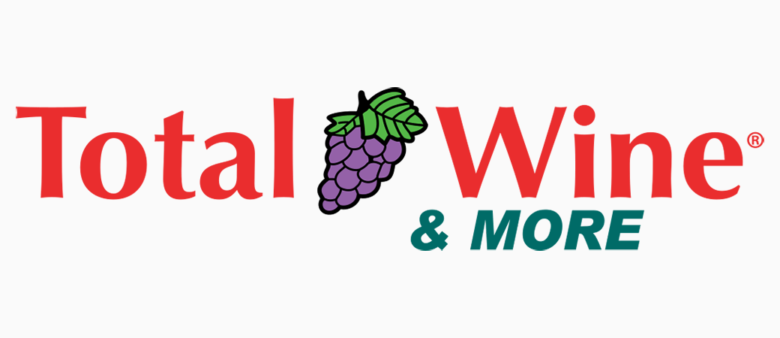 EDITOR'S CHOICE: TOTAL WINE
ReserveBar specializes in premium spirits, wine, beer, and champagne delivered promptly at a competitive price. Enjoy a luxury experience and superior customer service.
A spirit that's definitely worthy of its attention
There are some spirits that become investment pieces thanks to how seriously delicious they are. And there are other whiskies that spend their lives being admired thanks to how difficult they are to secure. Yamazaki whisky manages to be both at the same time.
It's traditional in Japan to produce small-batch whisky, which means demand almost always exceeds supply.
Throw into the mix the fact that Yamazaki Single Malt scored a 97.5 out of 100 in the Whisky Bible back in 2014, and was named as the best in the world, and you'll start to understand why securing a bottle of this whisky — or even sampling it if someone has a bottle they're prepared to open — is such a big deal.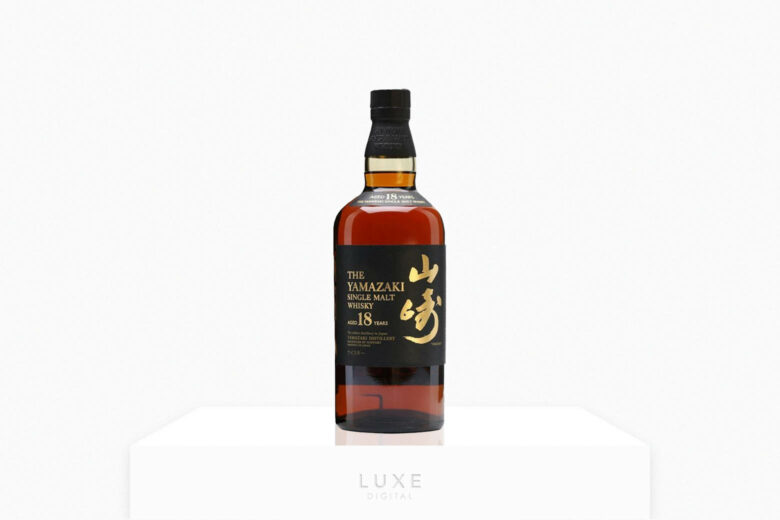 Owned by the Suntory brand and based in a quiet Kyoto suburb, Yamazaki is widely regarded as the birthplace of Japanese whisky.
A brilliant all-rounder and a perfect interpretation of what Japanese whisky should smell and taste like, Yamazaki is primarily made up of whisky aged in American oak and ex-bourbon casks, with trace amounts of whisky coming from Japanese Mizunara casks.
Its distillation process boasts some of the purest water found in all of Japan which, when paired with the brand's expertise, results in one truly subtle yet brilliant bottle.
The Yamazaki distillery produces over 60 distinct single malt whiskies, utilizing its seriously soft water and misty climate to produce some of the best spirits in the world.
And, while everyone can agree that Japanese whisky was inspired by Scottish whisky, the differences nowadays are huge. Unique Japanese terrain, home-sourced oak barrels, and distinctive aromas all come together to give Japanese whisky the edge that it rightly deserves.
The result? Rising prices for Yamazaki each year. While it's possible to find bottles of the 12 Year Old for around $125, the older bottles are much harder to source. A bottle of its 50 Year Old most recently sold for over $298,000 and other bottles cost into the tens of thousands, too. This growing spirit keeps taking up more space across the world and it's all thanks to Yamazaki.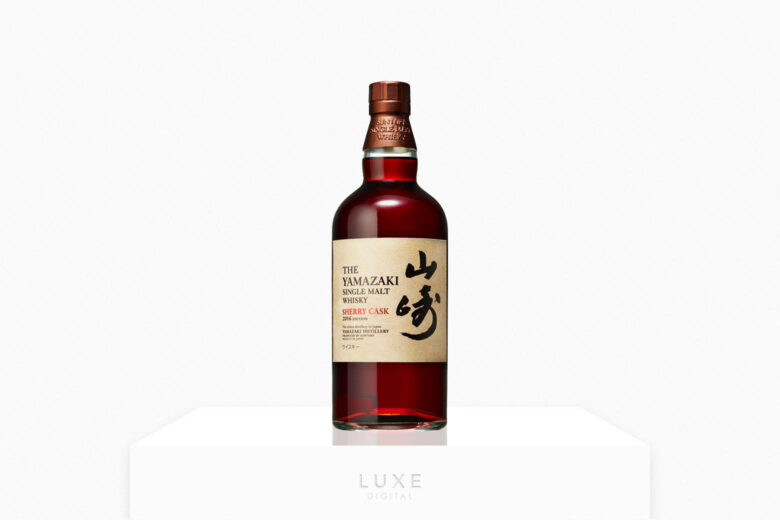 How to drink Yamazaki Whisky
The first time you drink Yamazaki Whisky, you'll want to drink it neat. Even if you're not typically a whisky drinker, the quality of this spirit means you'll appreciate its tasting notes and unique nature best by sipping it. This is one of the two traditional ways to drink whisky in Japan.
The other common way is drinking it in a Whisky Highball (we've added our favorite recipe further down). But that doesn't mean those are the only two ways to drink Yamazaki Whisky.
A lot of attention in Japan focuses on the temperature of water when paired with whisky. You can enjoy your Yamazaki on the rocks, served with chilly blocks of ice, Mizuwari (with cool water) or Oyuwari (with warm water).
Each different water temperature releases different elements of the spirit so, if you're on a mission to truly understand everything Yamazaki encompasses, you'll want to sample a bottle with water at each temperature — just preferably on a day when you don't have plans immediately afterward.
Japanese whisky pairs great with Japanese food — think soy sauce-based dishes to bring out Yamazaki's sweetness or sushi for its strong fermented, fishy and salty flavors.
There's also a growing market for craft cocktails made with Yamazaki, something that a number of Tokyo's coolest cocktail bars are getting involved with.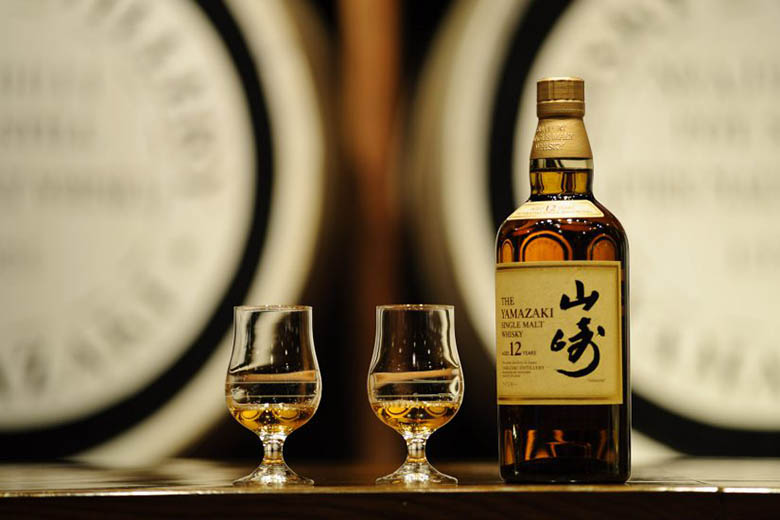 The best cocktails to make with Yamazaki Whisky
The premium quality and price of Yamazaki whisky means you'll rarely use these bottles for cocktail making. But, if you do want to highlight the flavors in cocktail form, choose subtle mixes that stand back and let the spirit do the talking.
Whisky Highball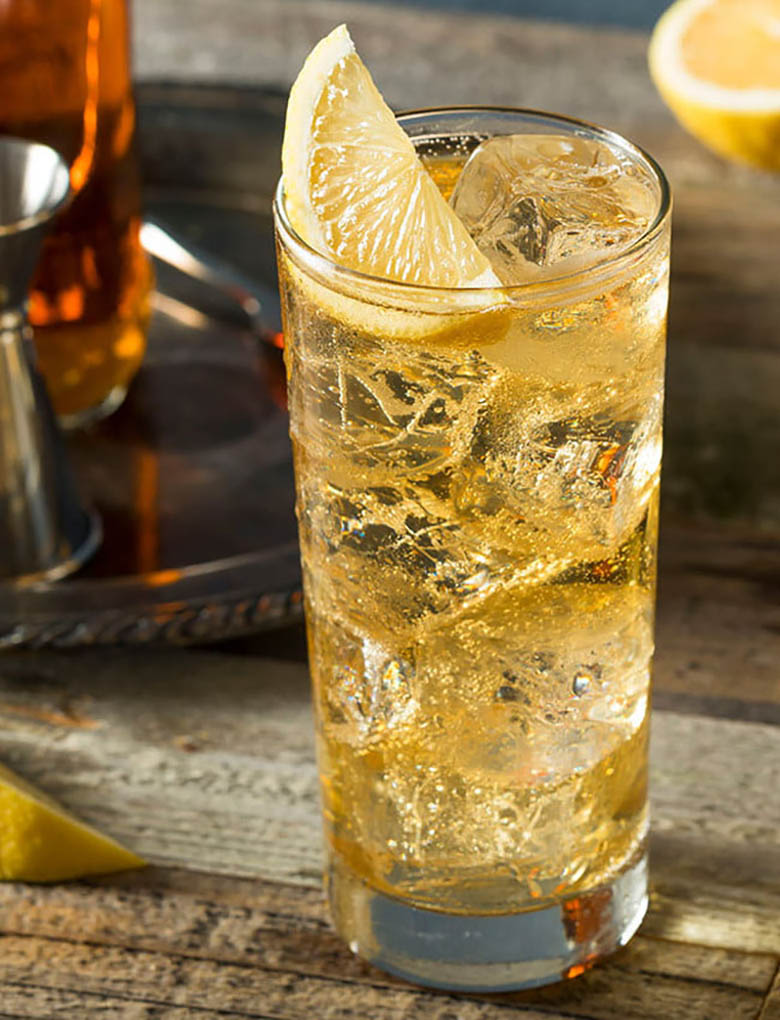 Ingredients:
Yamazaki 12 Year Old Whisky
Soda Water
Grapefruit twist for garnishing
Cocktail recipes: The trick for pouring a perfect Whisky Highball is to not over-stir it. Especially when you're drinking a whisky like Yamazaki. To make, fill a Highball glass with ice and allow it to chill. Pour in your measure of whisky and stir gently. Top with soda water, give a single stir from the bottom of the glass and add a twist of grapefruit before serving.
Tokyo Sidecar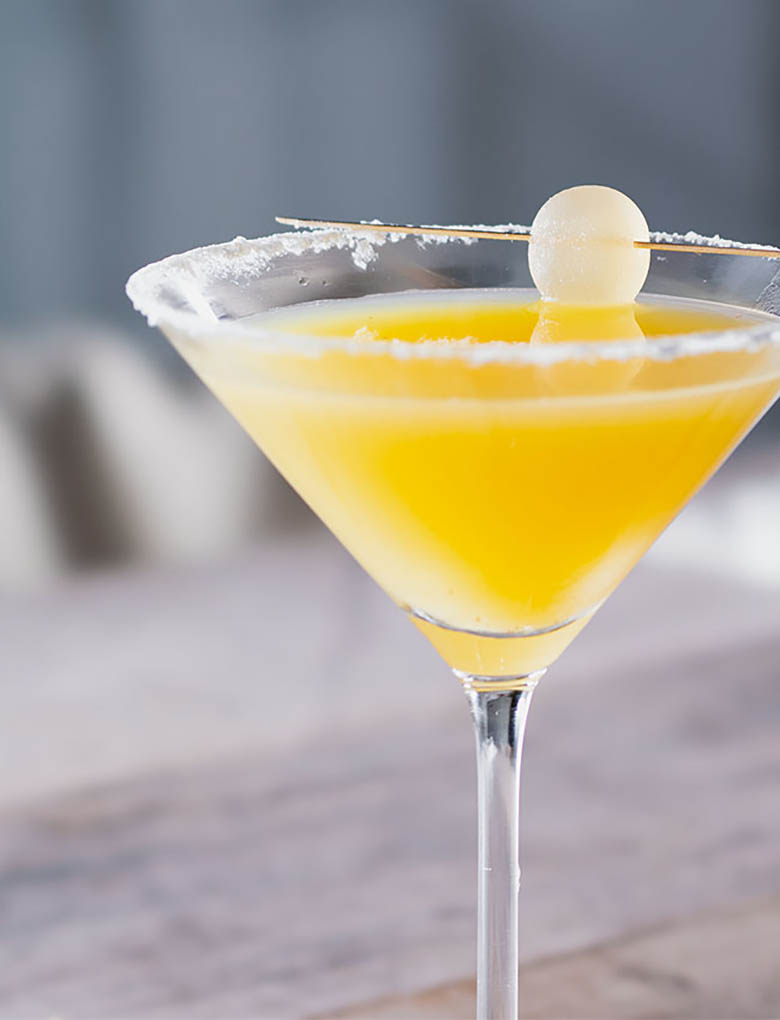 Ingredients:
60 ml Yamazaki 12 Year Old Whisky
23 ml Cointreau
0.5 tsp Yuzu Juice
Cocktail recipes: The Tokyo Sidecar takes a journey into Asia for a new twist on the traditional cocktail. Bright and charming, it's made by adding all the ingredients into a cocktail shaker and filling with ice. Then, shake and strain into a chilled Martini glass before serving.
Local Old Fashioned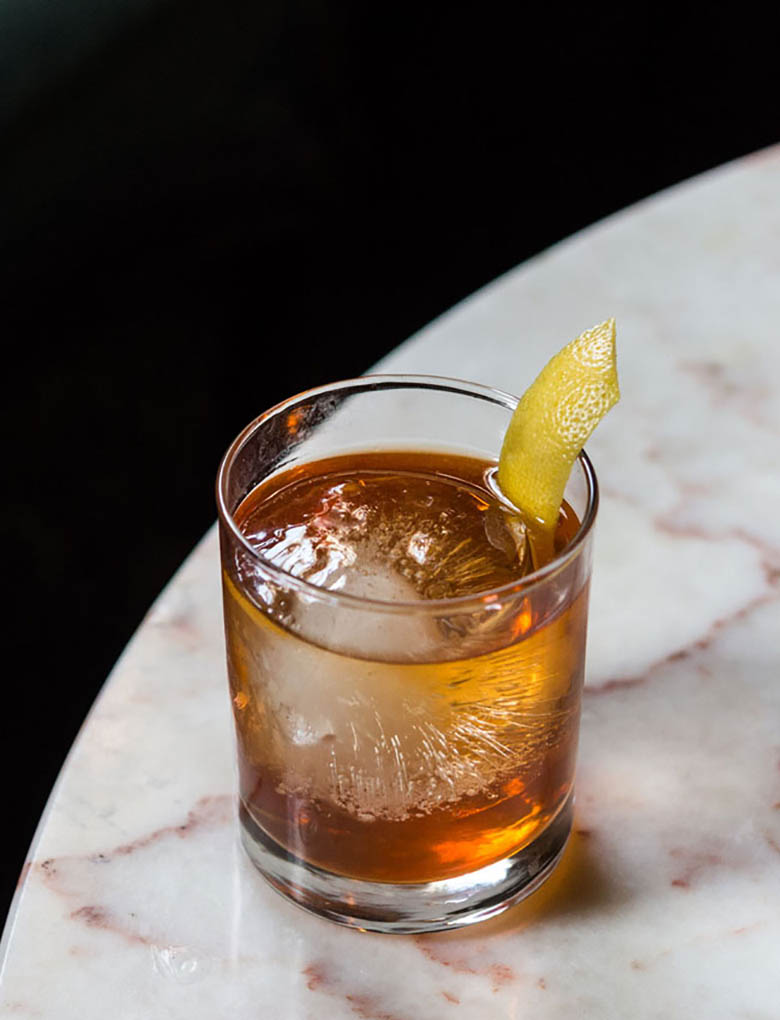 Ingredients:
60 ml Yamazaki 12 Year Old Whisky
1/2 teaspoon granulated Sugar
Two dashes Angostura Bitters
Orange Twist for garnishing
Cocktail recipes: An Old Fashioned made with Japanese whisky is lighter and slightly sweeter than one made with Scottish whiskey. To make a Local Old Fashioned, add all ingredients into a mixing glass and muddle to break down the sugar. Stir once or twice, add ice and stir again. Then, strain into an Old Fashioned glass over fresh ice and stir one final time before garnishing and serving.
Frequently asked questions about Yamazaki Whisky
How much is a bottle of Yamazaki whiskey?
A 750ml bottle of Yamazaki whisky starts at around $149.99 for Yamazaki 12 Year Old Whisky on websites like Total Wine. Older bottles, like the 18 and 25 year, are much more expensive.
Why is Yamazaki so expensive?
Japanese whisky is traditionally produced in small batches, which means demand often beats supply. The Yamazaki is renowned for being one of the world's top whiskies, which encourages a higher price.
How much does Yamazaki 18 cost in Japan?
Yamazaki 18 Year Single Malt is one of the world's most sought-after whiskies and can rarely be found for under $800. Expect to pay around $1000 per bottle in Japan.
What is a good price for Yamazaki 12?
Yamazaki 12 Year Old Whisky can be bought online on websites like Total Wine for $149.99. If you buy in person or especially in Japan, prices may be slightly lower.