There are some alcoholic drinks you'll associate with long evenings spent huddling around the fire, brandy snifter in hand while swapping stories of the past as the evening goes by. There are other alcoholic drinks that'll remind you of sun-soaked holidays, classy Sunday brunches and family celebrations.
And then there's White Claw. A newcomer in the world of alcoholic beverages, this hard seltzer wasted no time making itself comfortable and settling in with its own unique persona: memes, college kids and all round fun.
White Claw rose through the ranks of popularity incredibly quickly. This vibrant, energetic, vaguely-healthy hard seltzer managed to do what many other similar drinks failed to do: it won the approval of just about everyone. Launched in 2016, analysts expect hard seltzer to become a $30 million market by 2025 and it looks like White Claw will sit firmly at the top.
It's not a beer and it's not vodka. This fruity drink is made from fermented sugars derived from malted gluten-free grains, which experts take to mean it's likely made from cane sugar. It's got less calories than most beers, it's available in a large range of flavors and has become a top hit among millennial drinkers. In short: White Claw is taking over the alcohol industry.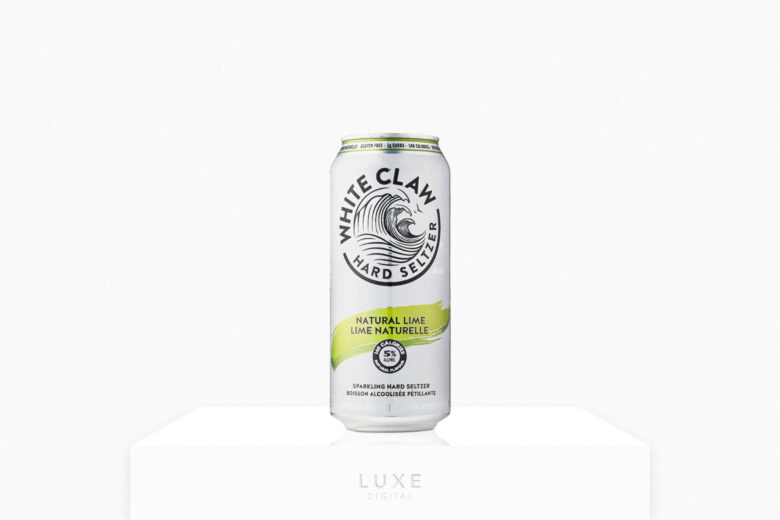 White Claw Hard Seltzer price and bottle sizes
| Bottle | Size | Price (USD |
| --- | --- | --- |
| White Claw Ruby Grapefruit Hard Seltzer | 6 pack | $12.98 |
| White Claw Mango Hard Seltzer | 6 pack | $13.99 |
| White Claw Natural Lime Hard Seltzer | 6 pack | $13.99 |
| White Claw Black Cherry Hard Seltzer | 6 pack | $14.89 |
| White Claw Hard Seltzer Surge Blood Orange | 6 pack | $18.95 |
| White Claw Hard Seltzer Iced Tea Variety Pack | 12 pack | $23.49 |
| White Claw Hard Seltzer 18pk Variety Pack | 18 pack | $32.98 |
| White Claw Hard Seltzer 24pk Variety Pack | 24 pack | $59.99 |
Just how popular is White Claw Hard Seltzer?
The brand went viral when, in July 2019, comedian Trevor Wallace released a video talking about the typical White Claw drinker. He drawled "ain't no laws when you're drinking Claws," and the phrase caught on. 
It didn't take long for White Claw-inspired merchandise to pop up with the slogan emblazoned on the front. Eventually, Norwood Police Department in Cincinnati issued a warning in a Facebook post saying "There are in fact laws, when you're drinking Claws". Police in Maine, Wisconsin and Michigan released similar statements.
And its fans do more than just talk about White Claw or wear the brand. Scroll through Instagram and you'll see post after post sharing love for the drink. It has various fan accounts all over the internet and a growing number of memes. Some even took it one step further, with White Claw tattoos shown off to the world.
With growing popularity and a large number of flavors, it's a good job that White Claw is a relatively weak alcoholic drink. Each can of the hard seltzer is only 5% ABV, which means trying a range of different flavors might give you a bad hangover but is unlikely to kill you. And that's especially good to hear when you learn about all of the different flavors this alcohol brand produces.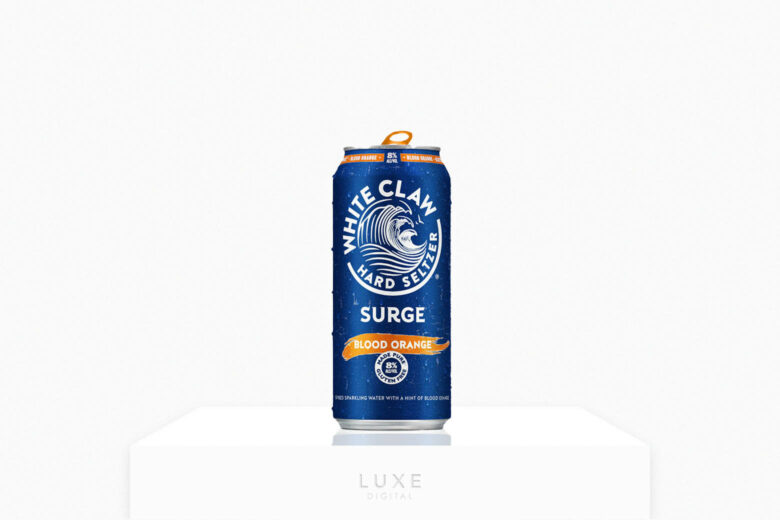 11 different varieties means there's a flavor for everyone, with favorite cans including Black Cherry, Mango and Watermelon. There's Natural Lime for those who prefer a less fruit-heavy drink or Ruby Grapefruit for a classier mix. 
White Claw also took it one step further with the release of their Hard Iced Tea: just as delicious and with even less carbs, available in flavors like Lemon, Raspberry and Peach. 
Good things come to those who wait, but it wasn't long before the birth of White Claw Hard Seltzer Surge: a slightly stronger mixed can in Blood Orange or Cranberry. Still low in sugar and carbs, but with an 8% ABV hit. Released in April 2021, it's already on its way to sky-high popularity just like its original sibling.
Professionally assembled cocktails and high-alcohol craft beers might vie for attention with many drinkers, but those preferring a gentle buzz in a can are happy enough sticking to White Claw. Aesthetically pleasing designs, easy-to-drink flavors and those welcomingly large variety packs make White Claw a popular choice that's here to stay.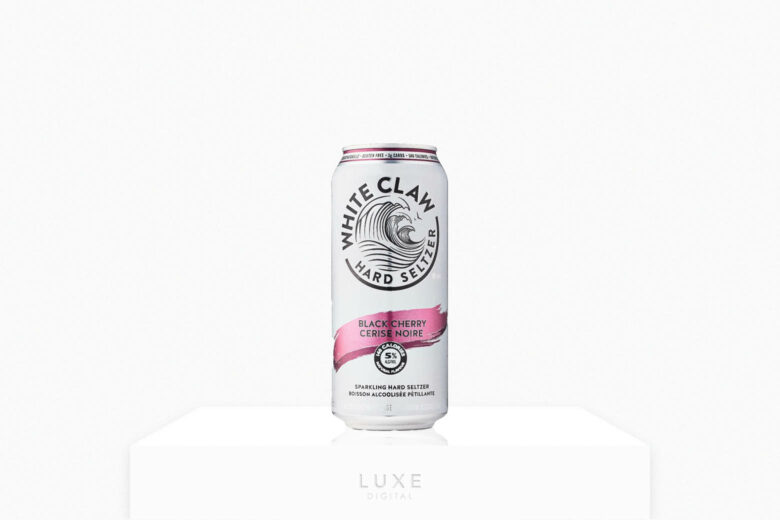 How to drink White Claw Hard Seltzer
Half the fun of drinking White Claw comes from its spontaneity and lack of planning. Spending a day lying around in the sunshine with friends? White Claw goes perfectly. Going to a party and not sure what to drink? Bring the White Claw. Mixing up cocktails but don't want anything too strong? White Claw is the answer.
The fact it comes in a can also means you don't need to bother around with glassware. The only real requirement when drinking White Claw is to make sure it stays chilled. No one enjoys warm hard seltzer, no matter how delicious its flavors are.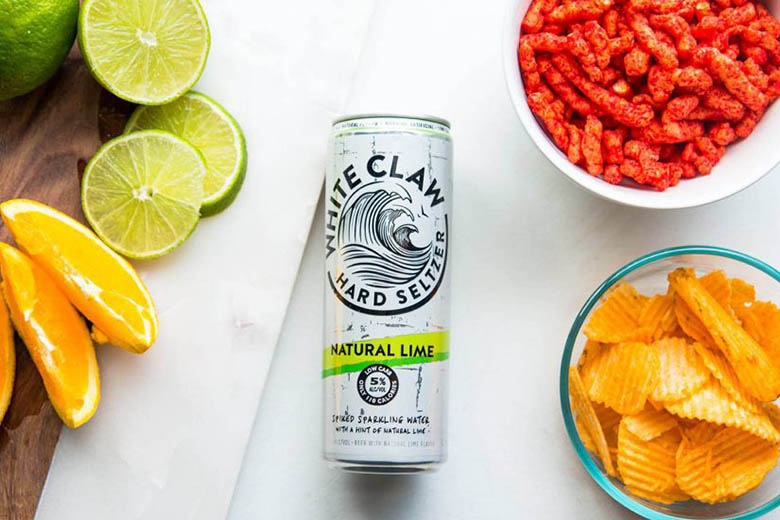 The best cocktails to make with White Claw Hard Seltzer
There are two great ways to drink White Claw Hard Seltzer, cocktail style. Either use the hard seltzer in place of another alcohol (preferably of the same flavor profile) or add White Claw in place of soda. If you're feeling adventurous, combine both in a cocktail.
White Claw Coconut Lime Slushie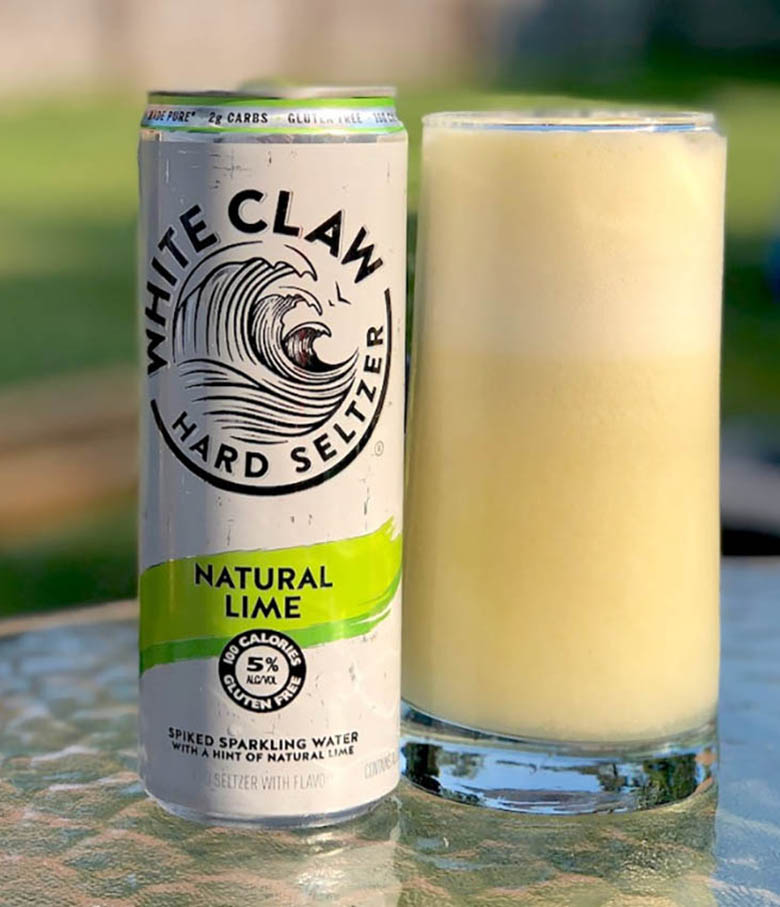 Ingredients:
1 can of Natural Lime White Claw Hard Seltzer
3/4 Cup of Frozen Pineapple
1/4 Cup of Coconut Cream
Three Ice Cubes
Shredded Coconut and Lime Wedge for garnishing
Take your childhood-favorite slushies and step them up a notch with the addition of White Claw and some summer-friendly flavors. To make a White Claw Coconut Lime Slushie, pour all ingredients into a blender and blend until smooth. Garnish with the lime wedge and sprinkle coconut flakes on top before serving.
Raspberry White Claw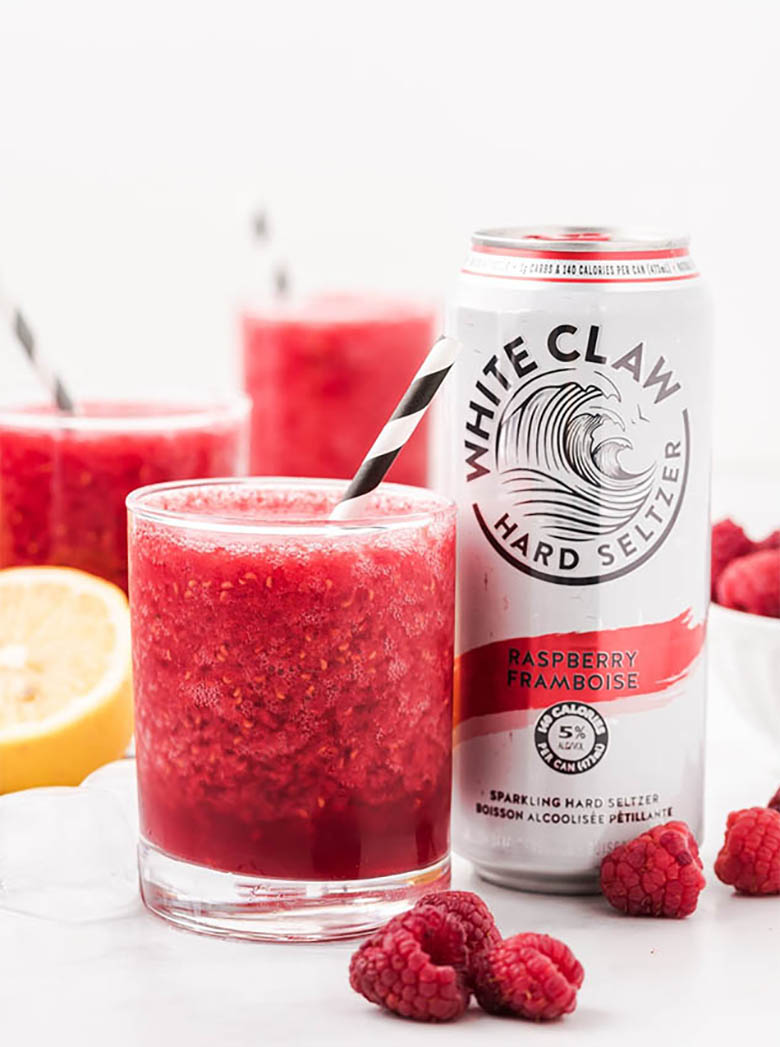 Ingredients:
1 can White Claw Raspberry Hard Seltzer
100 ml Lemon-Lime Soda
5 ml Grenadine
5 ml Lime Juice
5 Fresh Raspberries
Lime Wedge for garnishing
Sweet and refreshing, a Raspberry White Claw cocktail is a brilliant summer accompaniment that's delicious while only being mildly alcoholic. To make, fill a cocktail glass with ice and pour half a can of White Claw. Add in half of the lemon-lime soda as well as the grenadine and lime juice. Muddle raspberries separately and add to the glass before garnishing with another raspberry and serving.
White Claw Paloma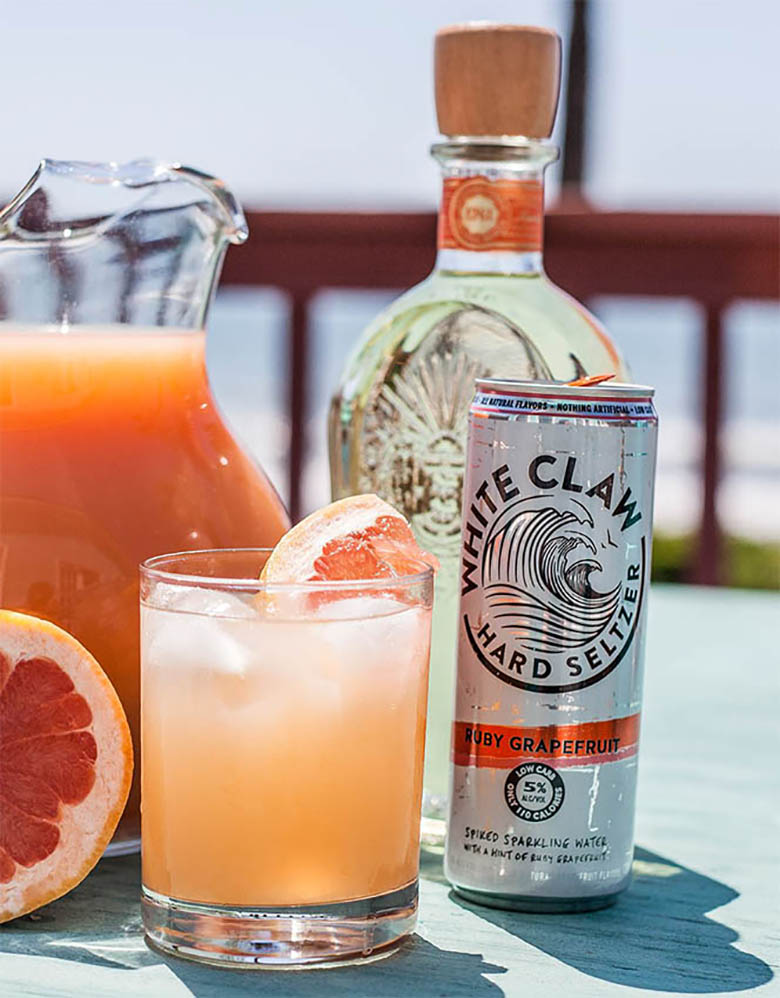 Ingredients:
30 ml Mezcal or Tequila of choice
50 ml Grapefruit White Claw Hard Seltzer
30 ml Fresh Grapefruit Juice
15 ml Fresh Lime Juice
One Teaspoon Sugar
Grapefruit Wedge for garnishing
Fresh and zesty, a Paloma is a popular choice during the warmer months. This recipe swaps out regular club soda for a burst of Grapefruit White Claw – just as refreshing and ever so slightly more alcoholic. To make, combine the grapefruit juice, fresh lime juice and sugar in a glass and stir until the sugar has dissolved. Stir in your mezcal or tequila, add ice and top with White Claw. Garnish with a grapefruit wedge before serving.
Frequently asked questions about White Claw Hard Seltzer
How much is a White Claw?
A single 19oz can of White Claw costs around $3.99 or more in a bar. You can also buy variety or multipack versions, which reduce the cost per can to $2.08.
Can you get drunk off White Claw?
White Claw Hard Seltzer is 5% ABV, so if you drank enough of them, it could get you drunk. The Hard Seltzer Surge is 8% ABV, which would definitely get you drunk if you had a few of them.
Is there a 24 pack of White Claws?
You can buy a 24 pack of White Claw online for $49.99 from Drizly. You can also buy variety packs in 12 or 18 cans.
How much alcohol is in White Claw Hard Seltzer?
White Claw's original line of hard seltzer is 5% ABV and so is the brand's hard iced tea. White Claw Hard Seltzer Surge is a little stronger at 8% ABV.