Cincoro Tequila's rise up the popularity ranks can be summed up in just a few numbers:
Four: the number of markets the brand claims it sold out before its official launch party.
300: the number of cases sold in Massachusetts alone within the first three days.
Seven: the number of days it took for reorders to fly in for those who sampled this peppery, spicy spirit and decided they simply must enjoy more of it.
The best part? Cincoro Tequila was mostly a surprise baby of the spirit world. While other alcohol connoisseurs may spend weeks plotting the launch of the world's next favorite spirit, Cincoro came about after its five owners got stuck waiting together over a dinner reservation. 
Michael Jordan, Wyc Grousbeck, Emilia Fazzalari, Jeanie Buss and Wes Edens were relative strangers back in 2016, as they sat around at upmarket pizza joint Pasquale Jones waiting for a reservation that had mistakenly been booked for the following week.
Small talk turned to alcohol talk, which turned into — fast forward — one of the world's fastest selling luxury tequilas currently on the market. Now, Cincoro Tequila is far more than just serendipitous dinnertime small talk: it's a range of crystal clear through to dark amber spirits, known for its copper overtones, orange, fig and date undertones and a perfect blend of intense, elegant and tempting flavors. In short, it's a joy to drink.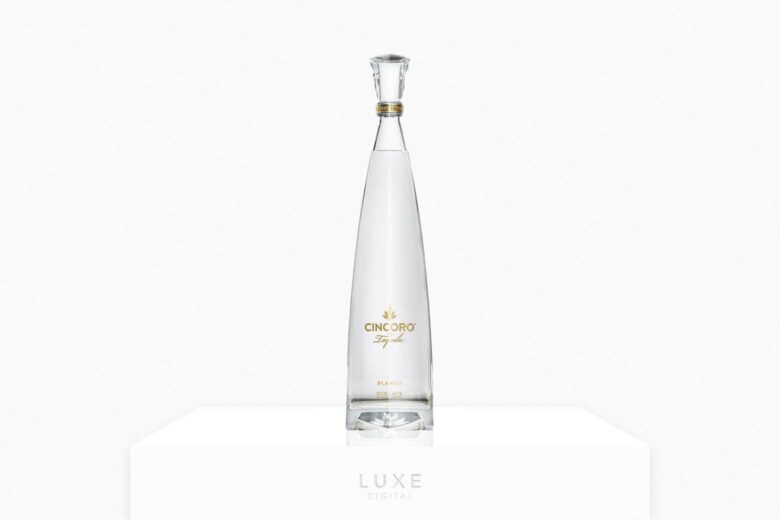 The best bottles of Cincoro Tequila to buy in 2021
| Bottle name | Size | Est. Price (USD) |
| --- | --- | --- |
| Cincoro Blanco | 750 ml | $74.99 |
| Cincoro Reposado Tequila | 750 ml | $94.99 |
| Cincoro Anejo Tequila | 750 ml | $131.99 |
| Cincoro Extra Anejo | 750 ml | $1567.99 |
Cincoro's five co-founders weren't particularly thinking long-term when they launched their spirit. All of the brand's owners are already millionaires, so their focus was more on producing a great tasting tequila rather than something that would bring in the riches. But with great taste comes a clamoring audience, which resulted in an almost suspiciously fast sellout. Cincoro gave the people what they wanted: a premium spirit that goes down almost effortlessly, sold in a stylish bottle that looks just as great in the glass as it does on the bar cart. 
While Cincoro might be produced in a distillery that also produces many other spirits, its unique flavor profile comes from its aging process. Of course, the brand's Blanco tequila has enough character to shine through without waiting for the days to tick past in ex-American whiskey barrels, but Cincoro's other three offerings make good use of this time and come out proving that good things come to those who wait.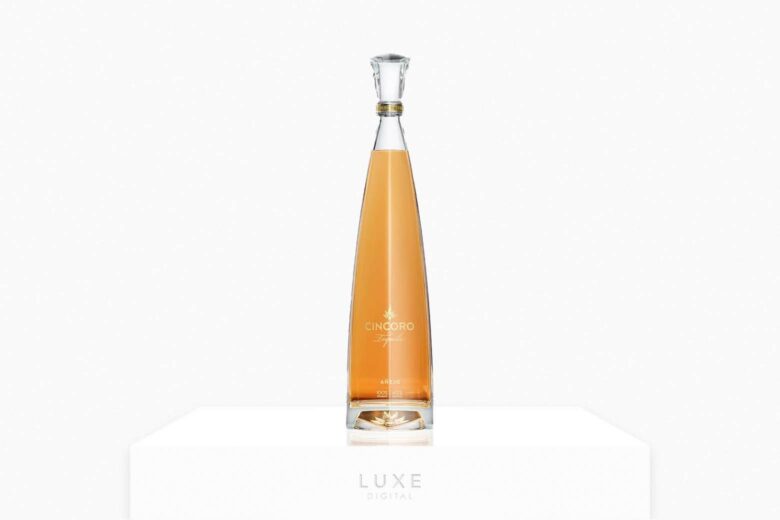 As big tequila drinkers, it only made sense for the five co-founders to use their expertise when crafting their own bottles. Just to be properly sure they knew exactly what else was on the market, the five tested more than 1,000 different tequilas before deciding on their own blend.
Finding the perfect mix between a smooth flavor, complex body and delicious notes was something of a challenge, although probably not too much of a hardship for those involved with the tasting process. And it paid off: it's hard-pressed to find any negative reviews of Cincoro. It's certainly not a tequila you need to dilute with lime, salt or anything else on your liquor cabinet.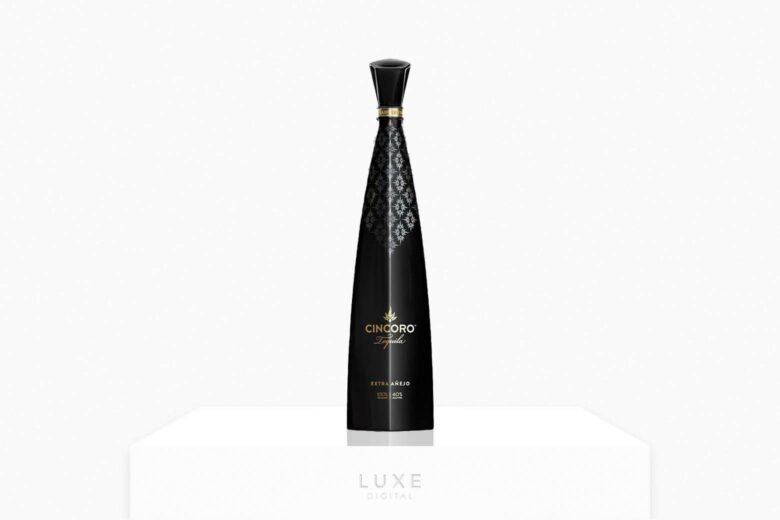 Cincoro claims its tequilas are aged for longer than many other brands, although the exact timings are unknown. What we do know is the Añejo is matured for another 10 to 14 months more than the minimum 12 months required. Cincoro's Extra Añejo is a recipe in patience; sitting for 40 to 44 months in its barrels to truly bring out its flavors of vanilla, caramel and dried fruit. 
Of course, a tequila with such prestige needed a suitably swish design to bring it together. It's what's on the inside that counts but it's the outside you'll admire before you pour your next measure. The co-founders brought in Mark Smith, vice president of Innovation Special Projects at Nike, to design the bottle.
Its five sleek sides vaguely represent agave leaves, and its base tilts up at 23 degrees to represent Michael Jordan's iconic jersey number. The stopper — made from crystal — is an inverted replica of the bottle and the Extra Añejo takes it one step further with a hand-polished black crystal bottle with golden accents.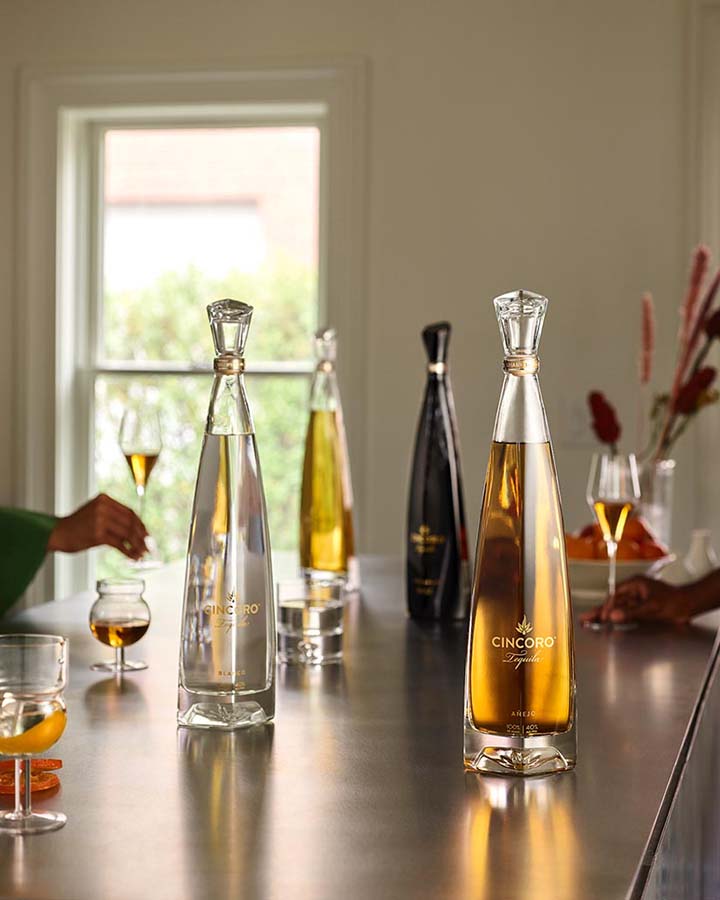 How to drink Cincoro Tequila
Cincoro Tequila is one of the world's most premium tequila brands and deserves to be enjoyed accordingly. While there's nothing stopping you from pouring it into shot glasses and throwing it back in one gulp, you'll get far more enjoyment out of this spirit if you take your time to bring out each of its unique flavors. 
Cincoro Tequila should be kept in the fridge so it's perfectly cold for serving, if you want to drink it authentically Mexican. Skip the lime and salt in favor of a neat drink if you're a regular tequila drinker or the addition of ice if you find it too strong alone. This is the best way to ensure your Cincoro is at the perfect temperature for its pungent peppery notes. 
If you're looking to mix your Cincoro into a batch of cocktails, be selective with your ingredients and choose those that allow the tequila to shine through. Sour, sweet and spicy notes all bring out Cincoro's unique taste.
The best cocktails to make with Cincoro Tequila
Cincoro Old Fashioned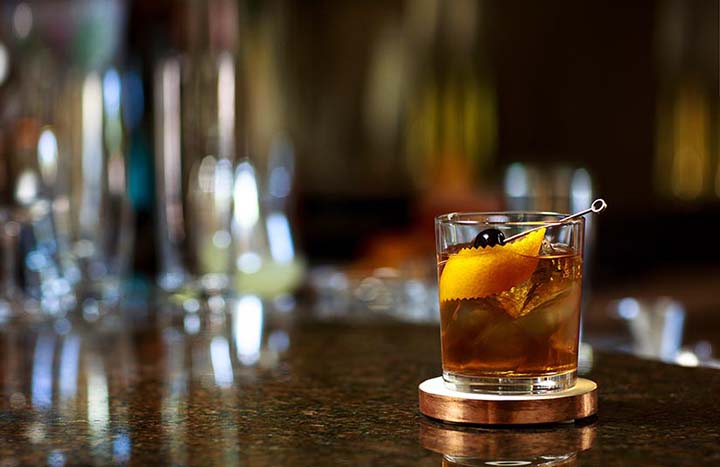 75ml Cincoro Añejo Tequila
15ml Light Agave Nectar
Three dashes of Angostura bitters
Orange swath
Maraschino cherry
The classic Old Fashioned steps up a notch with the addition of a silky smooth tequila. Offering a modern twist on a classic cocktail, the Cincoro Old Fashioned is easy to make and even easier to drink. Make one by pouring all ingredients into a mixing glass, stir and strain directly in a Rocks glass over ice.
Cincoro Diablo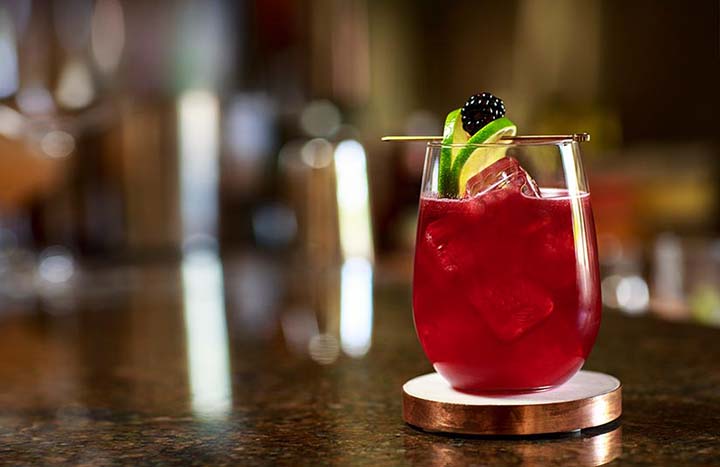 60ml Cincoro Reposado Tequila
15ml Agave Nectar
60ml Ginger Beer
Splash of soda water
Muddled blackberries
Lime wheel
Fresh blackberry
The name El Diablo means "the devil" in Spanish and the Cincoro Diablo is devilishly good. A fruity, sour, sharp and spicy drink, the Cincoro Diablo is bright on the eyes and on the taste buds. To make, place blackberries, lime juice and light agave nectar into a mixing glass. Then, muddle to extract their juice before adding ice and tequila. Finally, shake and strain over fresh ice in a Collins glass and top with soda and ginger beer.
Cincoro Margarita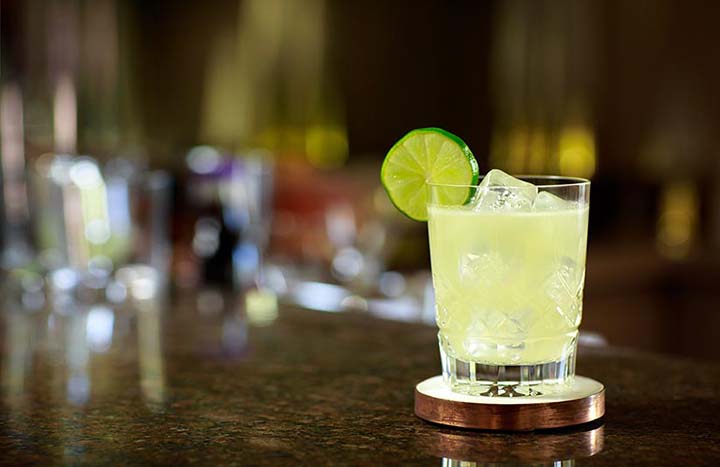 60ml Cincoro Blanco Tequila
30ml Fresh lime juice
25ml Cointreau
7ml Agave Nectar
Light and refreshing, the Cincoro Margarita is a perpetual winner in the world of crowd-pleasing cocktails. Its ease of concoction means you'll never struggle to top up your glass, either. To make one, shake all ingredients together with ice and strain into a double Old-Fashioned glass with fresh ice.
Frequently asked questions about Cincoro Tequila
How much is a bottle of Cincoro tequila?
A bottle of Cincoro Tequila starts at $74.99 for the brand's Cincoro Blanco 750ml. The most expensive bottle is the Cincoro Extra Anejo, which is aged for 44 months and costs around $1567.99 for a 750ml bottle.
Who owns Cincoro tequila?
Cincoro tequila is owned by Michael Jordan, Wyc Grousbeck, Emilia Fazzalari, Jeanie Buss and Wes Edens.
How do you drink Cincoro tequila?
Cincoro tequila, as a super premium tequila brand, is designed to be enjoyed neat. It can also be served on ice or in a specialty cocktail that brings out the tequila's long and luxurious finish.
Where is Cincoro tequila made?
Cincoro tequila is made using blue agave from private grounds in the highland and lowland regions of Jalisco, Mexico, in a distillery called Destiladora del Valle de Tequila.