Italy—so they say—is a dream that keeps returning for the rest of your life. Nowhere is this more evident than in Luca Faloni's wanderlust-inducing, timeless collections, casting a spell over all who enter this year-round destination.
Dreaming of an Italian summer? Luca Faloni's SS22 campaign, Meet me in Lecce, is the invitation you don't want to miss. 
Encapsulating the soul of "the Florence of the South"—the breezy collection illustrates the city's laidback vibe and inherent Italian charm, conjuring a mirage of the stunning Baroque architecture and watercolor-washed cityscape. Indeed, dressed in Luca Faloni, you'll bring a slice of Lecce with you wherever you're spending the season.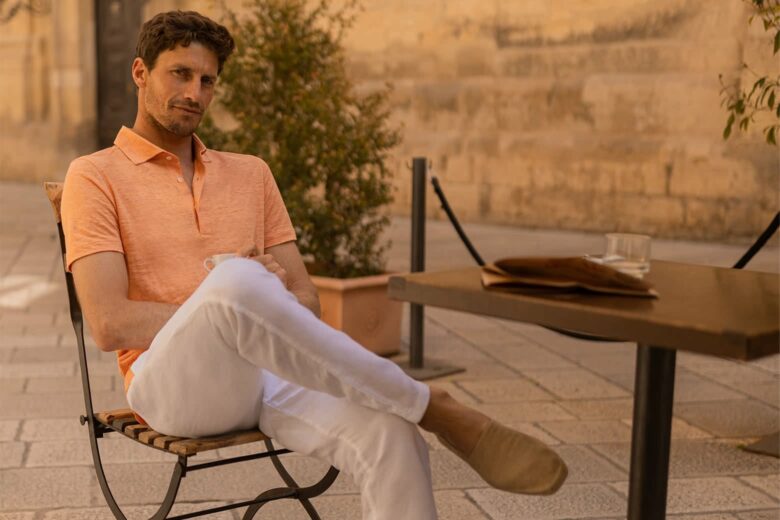 The city, like the garments, epitomizes a gilded Italian summer like nothing else. Located in sun-washed Puglia—on the heel of the Italian boot—Lecce sings La Vita e Bella from the sandstone skyline. And thanks to Luca Faloni and its timeless collection, you can join the ensemble. Painting from the city's dreamy palette—think gold-bathed Baroque buildings, pastel-blue morning skies, rich olive trees, and sparkling seascapes—the SS22 campaign mirrors the beauty of its muse.
Through the fine linen jersey, silk-cotton tees, and airy linen shirts, you'll traverse the creamy cobblestone streets, discovering the unique allure of Lecce. Yes: one of Italy's best-kept secrets (you heard it here first), Luca Faloni's MO is capturing the essence of the most picturesque locations within the mecca of the fashion world, transforming it into easy-wearing, cornerstone pieces. Which, just like Italy, you'll return to again and again.
Come for the craftsmanship of centuries past; stay for the contemporary cool vibes.
Your passport to a world of Italian style
The Italian word for craftsmanship is artigianato, but it might as well be Luca Faloni. An Italian brand with an Italian heart, Luca Faloni keeps things local, down to every last stitch. Partnering with artisans and family-owned Italian workshops, the premium quality intrinsic to Italian fashion is evident in every garment. Supporting traditional artisanship and sourcing the finest materials from all corners of the nation, every single piece is 100% made in Italy—without exception.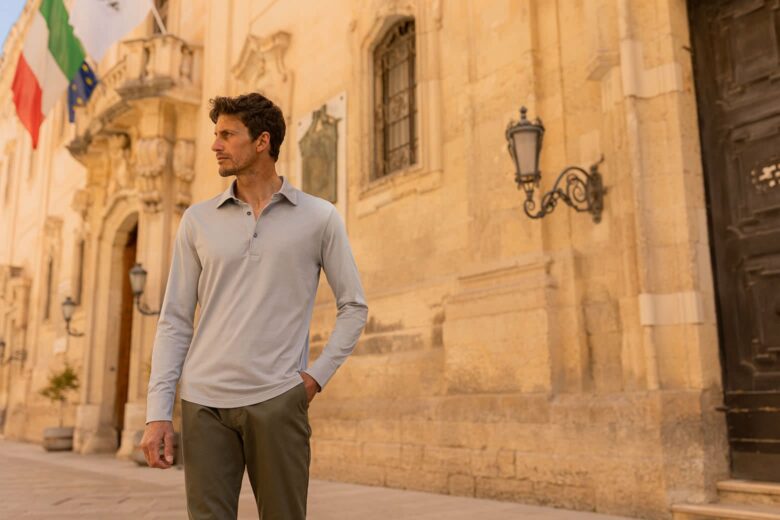 From linen cloth sourced from the Italian North—deftly weaved by skilled artisans with three generations of handed-down experience—to silk cotton from ninth-generation artisans, Maggia, every thread is refined.
Consciously designed to be comfortable, breathable, and ultimately wearable, Luca Faloni is proving over and over that one needn't sacrifice style for comfort. Soft against your skin, airy as a summer breeze, and awakening your most chilled-out self, these pieces are calm, free, and flowing.
Of course, style is about how you feel: Unveiling a portal to real Italian escapism, you need only throw on one of the modern-fit pieces to channel that Southern Mediterranean charm.
Yes, each pair of chino shorts, suave polo, and devil-may-care shirt transports your mind (and your style) to a sun-soaked bistro terrace; simply imagine an espresso in hand and sun glinting through your shades—and just like that, you'll personify Italy's easy-living appeal.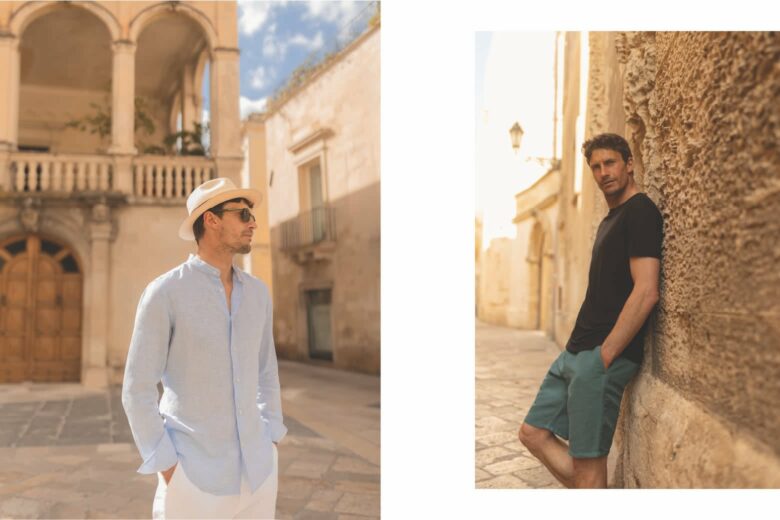 Easy, effortless, enduring
Everybody who's tasted la dolce vita knows the value of a day-to-night wardrobe. Nobody wants to fritter away precious hours of sunlight rummaging through their closet—and thanks to Luca Faloni, you won't have to. Soak up every golden minute and meander from morning espresso to evening aperitivo; your outfit will see you through in grace and finesse, no matter your plans.
Effortless and enduring, you'll find yourself wearing the classic tees, neutral linen trousers, and understated, just-the-right-thickness cashmere-silk cardigans for many a summer.
Picture-perfect summer: Meet us in Lecce
In the SS22 campaign (and just like any other seasons, for that matter), Luca Faloni celebrates Italy's coveted timeless style—serving it on a golden platter to all who sport the brand's staple pieces.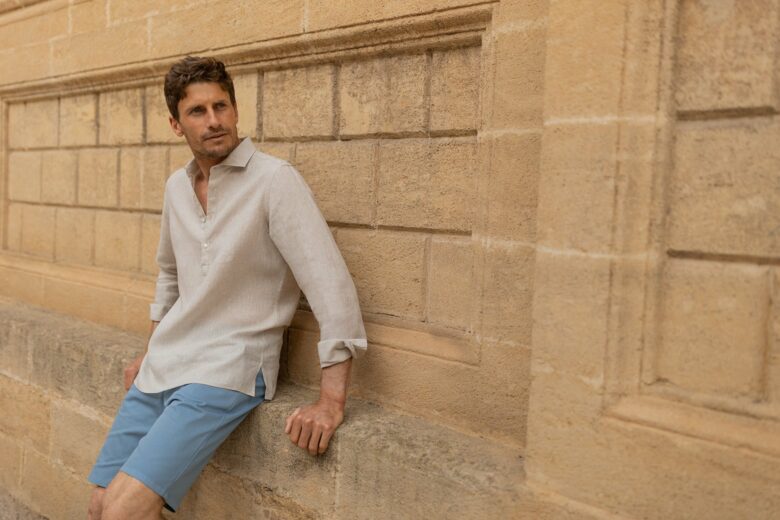 All you need now? A plane ticket (ideally, to Italy). We'll meet you in Lecce. Buon viaggio!
Nothing but clear blue skies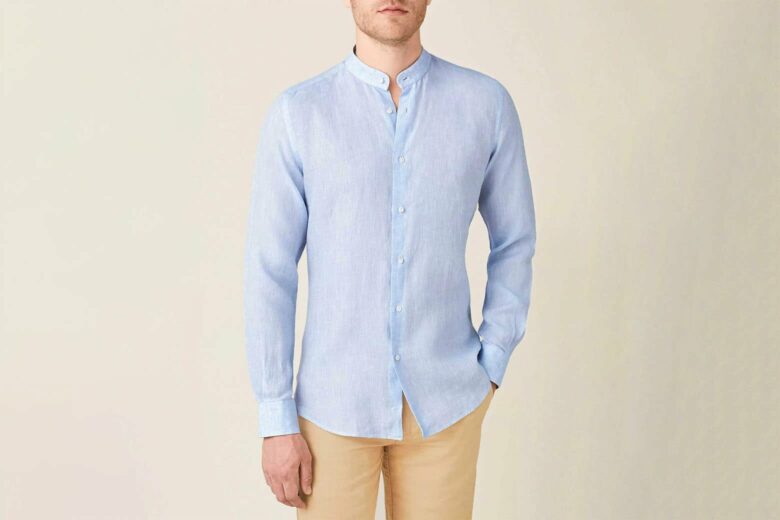 Sure to become your favorite summer shirt, the Versilia Linen Shirt in Sky Blue is (seemingly) weaved by a gust of sea breeze. Expertly crafted in Bergamo and dotted with illustrious mother-of-pearl, this linen shirt teases your lighthearted spirit out to play.
Airy and amiable, you'll feel the luxe of the pure Italian linen, inviting you to kick back and enjoy life to its fullest, just as the Italians do. The band polo collar ensures your aesthetic stays firmly on the side of casual—but not to worry: there's no ritzy bar that'll turn you away in the Versilia Linen Shirt.
Best for: Drawn-out afternoon aperitivos in a cobbled-street bistro.
Barocco Leccese cream stone streets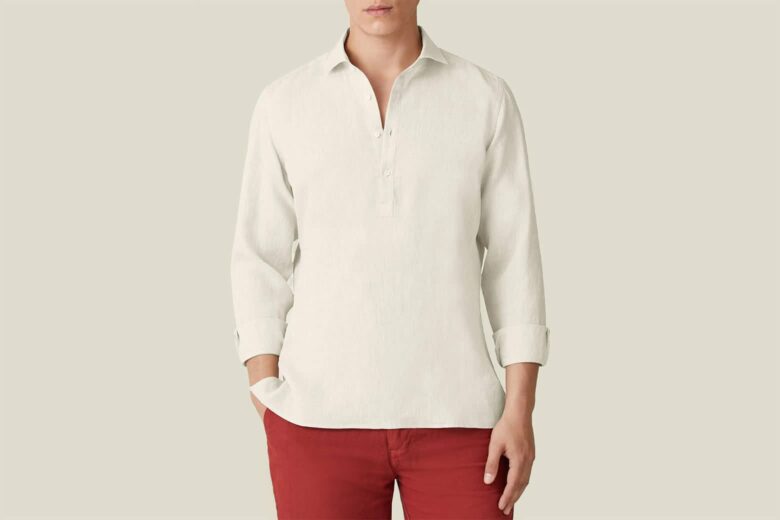 A dream away from your run-of-the-mill white shirt, the Ravello Linen Shirt is a cut above; with its cutaway collar, and loose-fitting style allowing you to sink into deep relaxation whenever you throw it on. We love the subtle contrast of casual kaftan with the smarter cuffs and mother-of-pearl button, nodding to that coveted continental poise.
A pillar of any thoughtful wardrobe, the Ravello Linen Shirt effortlessly embodies the easy-going simplicity inherent in Italian style.
Best for: Inspiring a carefree mood.
Sunkissed green fields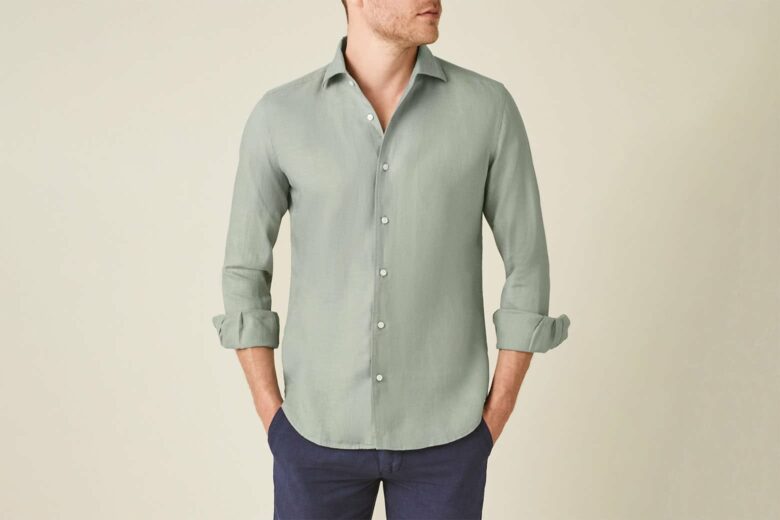 Luca Faloni's signature shirt, the Portofino Linen Shirt, is the ultimate in after-dark suave. That's not to say you can't rock it in the daylight hours, too. In fact, this Italian-linen shirt will take you effortlessly from beach to bar.
The Paramontura collar oozes sophistication, and the subtle mother-of-pearl detail elevates the Portofino Linen Shirt to sky-high style nirvana. Select your flavor from countless chic shades, from Sage Green (our favorite) to Dusty Pink to classic Black.
Best for: Inspiring respect (not to mention a dash of envy).
The Adriatic sea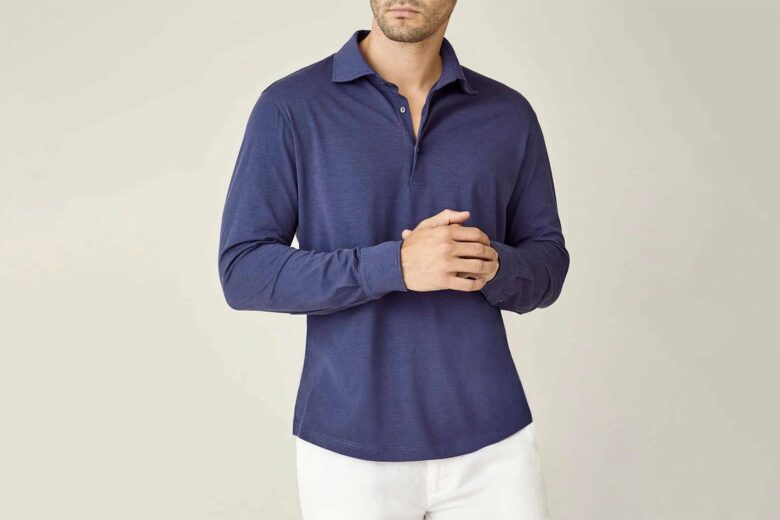 The ultimate smart-casual hybrid, the Silk Cotton Polo Shirt is laidback and put-together in equal measure. Woven from a cloud-like blend of silk and cotton hailing from the Piedmont region of Alpine Italy, the Silk Cotton Polo Shirt will see you through all seasons in true comfort and timeless style.
Roll up those sleeves for a day on the yacht (if you're so fortunate), or keep them down and rock those smart cuffs for a—molto romantico—dinner à deux.
Best for: Versatile style for all seasons and occasions.
Splendid sunrises and sunsets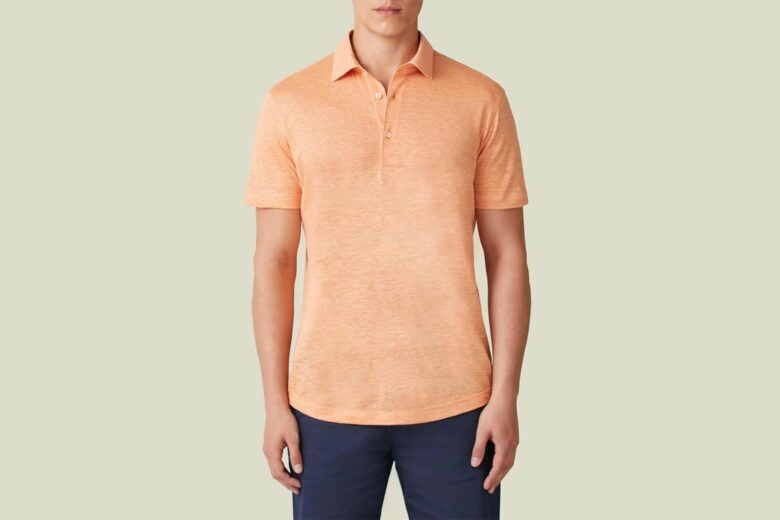 Your go-to for ocean-side strolls and city wanders, the Elba Linen Jersey Polo is quietly confident. It doesn't get more comfortable than—oh, only one of the finest linen jerseys in the world.
Indeed, woven from plush-yet-lightweight, airy-yet-snug linen jersey, you'll stay cool and calm rocking the Elba Linen Jersey Polo. Made in Brescia, Northern Italy, this polo is subtly fitted and finished with mother-of-pearl for a whisper of luxe.
Best for: Hitting your 10,000 steps in the summer breeze.
Soft, sandy beaches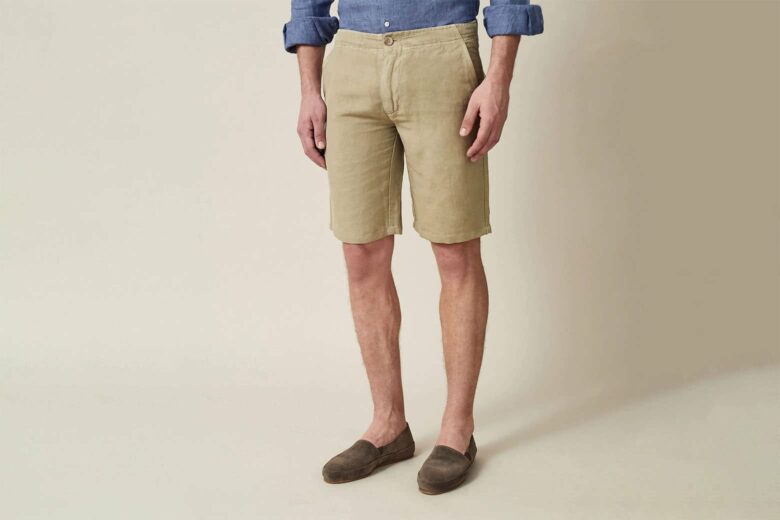 Thought we'd forgotten about your bottom half? Of course not. The Panarea Linen Cotton Shorts are perfect for gallivanting around the city or splashing your feet in the tide. Woven from a luxurious blend of linen and cotton, these shorts strike an exquisite balance.
With a smart silhouette yet casual feel, the apogee of the Panarea Linen Cotton Shorts is the tinto capo dying process, providing a light-wash effect and a (very) slightly rugged aesthetic.
Best for: Dipping your toes in the sea before sipping a Negroni.
Seas of olives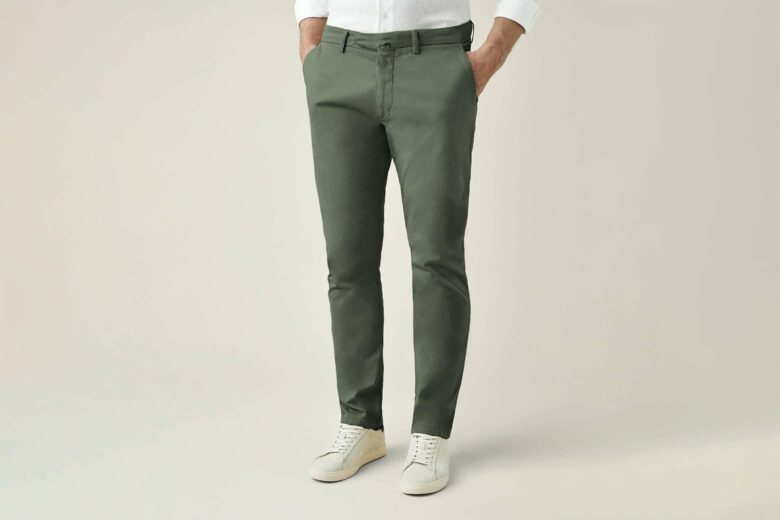 Every man needs a classic pair of chinos for those smarter events, be it a brunch with the in-laws or an evening bar-hopping in the city center. Enter: Luca Faloni's Cotton Chinos.
Cut with a dapper silhouette and plenty of details for extra panache, the Cotton Chinos are absolutely stellar in style. From the slightly stretchy elastane and Italian cotton blend to the internal waistband for a flawless shirt tuck, no detail is too small with these charming chinos.
Best for: Uncomplicated flair and a polished aesthetic.
Past and present in a warm décor of earthy colors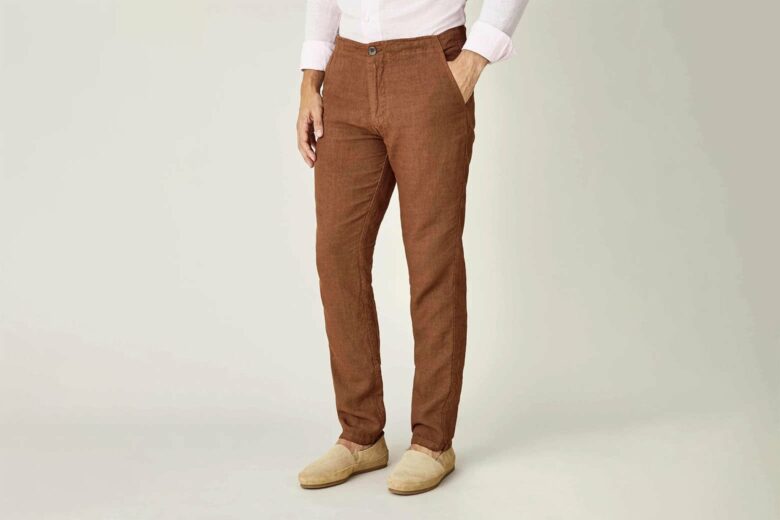 Whether you're jet-setting to the Puglia coast or staycationing in a picturesque part of your own country, don't forget to pack the Lipari Linen Trousers. The epitome of sun-baked style, these lightweight trousers allow the cool breeze to seep through to your soul.
We love the tapered fit, giving a total Hemingway-in-Antibes look; roll up those hems for dipping your toes in the tide, or pair the Lipari Linen Trousers with a loose linen shirt for beach-bar vibes.
Best for: Barefoot beach strolls and alfresco dining.