Think of the best sleep of your life, and then imagine something 10 times better.
The superlative-adorned sibling to the regular throw blanket, weighted blankets have become the bedroom accessory du jour: perfect for soothing anxious sleepers, relieving stress, encouraging a deeper sleep, and all-around helping you to wake up feeling a little more refreshed.
Even if the initial weight surprises you a little, you'll start to understand the benefits after a few nights of being swaddled in soft comfort.
It's thought the consistent deep pressure of this heavy blanket helps to release feel-good hormones like serotonin in your brain, comforting your body as you dream the night away. Wrapped up tight and reminiscent of a reassuring hug, you'll find yourself feeling a little bereft next time you — gasp — try to sleep without one.
From the best weighted blankets for couples to the washable weighted blanket, we swaddled ourselves through some of the best you can buy for an unparalleled, restful sleep.
The 11 best weighted blankets
Check our special weighted blanket buying guide after the list to see exactly what you should pay attention to when shopping for a blanket online.
Saatva: Best overall weighted blanket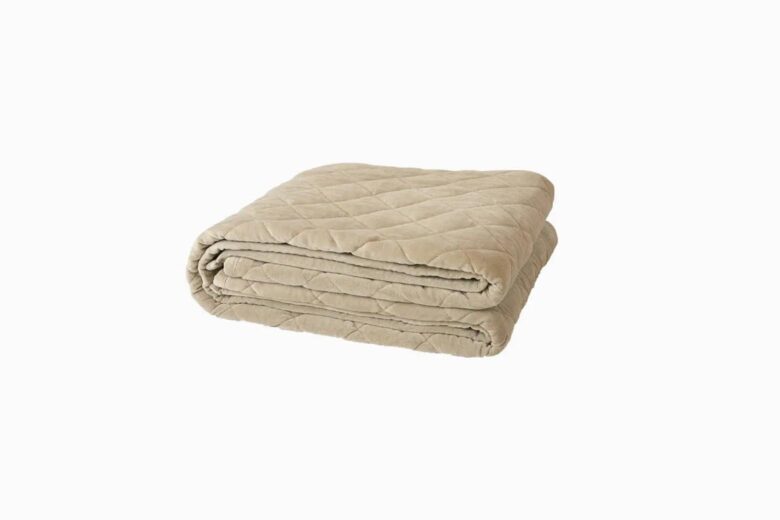 Remember the story of the princess and the pea, who couldn't fall asleep with a pea 100 layers beneath her? You'll have the opposite problem with the Saatva Organic Weighted Blanket. It won't matter what kind of surface you find yourself on as soon as you find yourself enveloped in this plush, perfectly weighted blanket, you'll feel instantly relaxed with drooping eyelids and mere seconds before you fall asleep.
The beauty of this weighted blanket comes from its simplicity. Its combination of luxurious 100% organic cotton velvet, soft diamond quilting and evenly distributed glass beads will help even the most tense of sleepers to reach new levels of tranquility. The Saatva weighted blanket is also one that feels just as good on the body as it does on the brain. Sustainably made with fair trade cotton, you can drift off to sleep under its deep pressure stimulation knowing that your blanket is made from organic and environmentally friendly sources, too.
Best for: Daydreaming about wrapping yourself up when you're not already dreaming, tucked inside.
| | |
| --- | --- |
| Weights: | 15lbs/6.8kg, 25lbs/11.3kg |
| Type of weights: | Natural glass beads |
| Machine washable: | No |
| Colors: | Taupe, Graphite |
Bearaby: Most stylish weighted blanket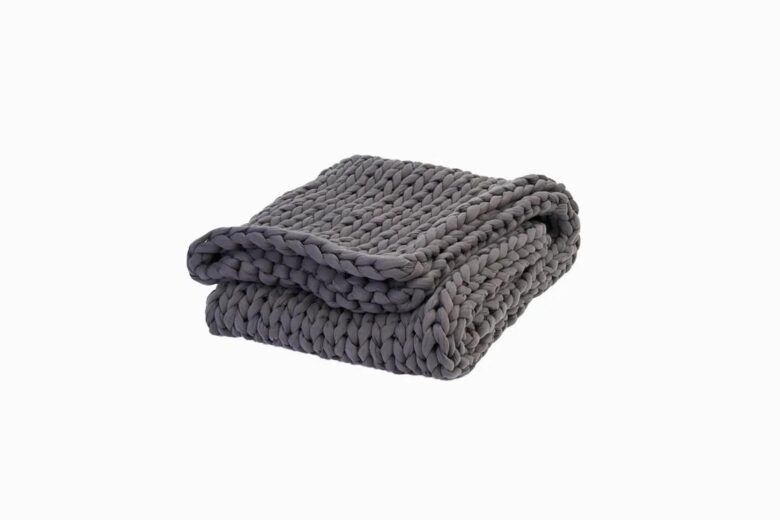 Comfort and style don't have to be mutually exclusive, and, in the world of weighted blankets, you'll sleep even deeper at night knowing your new favorite bedroom addition looks just as cozy as it feels. Bearaby's Cotton Napper weighted throw blanket comes in five different shades, which means you can easily coordinate it to suit your bedroom or living room decor. Made from buttery soft materials, this weighted blanket combines a chunky knit style with soft and breathable GOTS-certified organic cotton in a blanket that truly takes the definition of "comfort blanket".
Cocoonable and couch-worthy, you'll want to keep this one near whenever you're having a movie night or need a reassuring hug before bed. The hand knit nature of this blanket also adds an extra level of care and attention on top of the sense of relief you feel as soon as it's wrapped around you.
Best for: Being Vogue-ready even at 3 am.
| | |
| --- | --- |
| Weights: | 15lbs/6.8kg, 20lbs/9kg, 25lbs/11.3kg |
| Type of weights: | Cotton padding |
| Machine washable: | Yes |
| Colors: | A range including grey, navy, rose |
YnM: Best value weighted blanket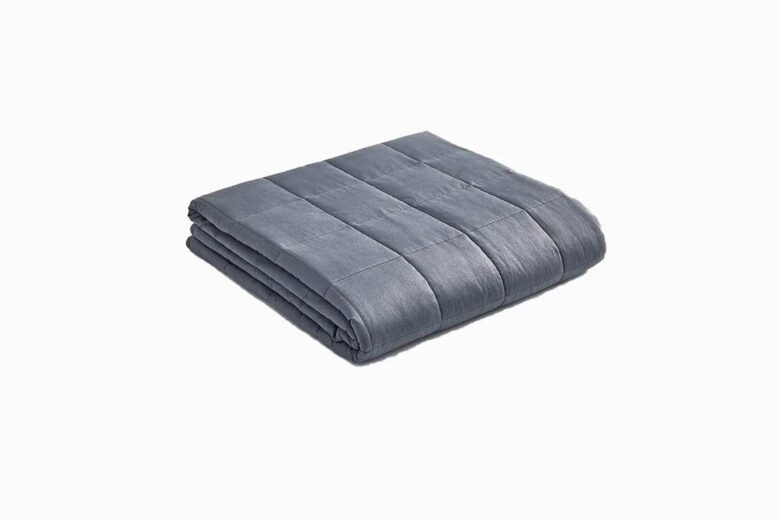 You'll never find yourself lying awake worrying about how much you've spent on a cozy throw if you choose to buy a YnM Weighted Blanket. Budget-friendly with enough padding to keep even the lightest sleeper in the land of nod, this weighted blanket comes in a huge variety of sizes fit for anyone and everyone. Loved by millions of people around the world, the YnM blanket is soft, cozy, and personalizable.
A huge range of colors and patterns means it'll easily blend in with your duvet covers, and the premium-grade bamboo cotton makes this weighted blanket gentle to the touch. Its glass bead added weight helps to distribute weight evenly throughout the blanket, which means you'll always feel suitably cozy without the blanket becoming overbearing or overheating your body. Expect to wake up simultaneously ready to start the day while wishing you could stay under the blanket forever.
Best for: Invaluable quality of sleep.
| | |
| --- | --- |
| Weights: | 5lbs/2.2kg through to 30lbs/13.6kg |
| Type of weights: | Glass beads |
| Machine washable: | Yes |
| Colors: | A range including light blue, cream, grey |
Brooklinen: Best weighted comforter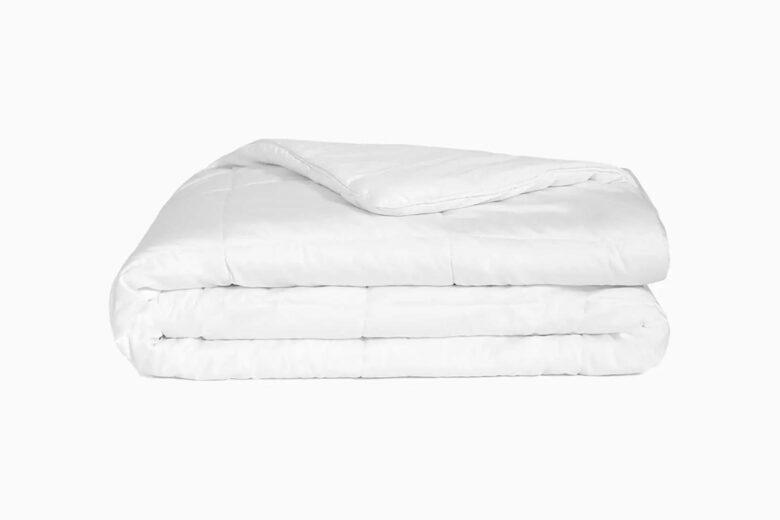 A weighted comforter brings things back to basics with a bedroom addition that you'll swear by no matter how many new beds, linen sets, or houses you find yourself moving through. Set to be a bedtime constant for the foreseeable future, the Brooklinen Weighted Comforter is a game changer when it comes to sleep quality. Like being engulfed in a hug at all times, your only regret with this comforter will be not treating yourself to one sooner.
Perfect for anyone who struggles to settle down at night, this comforter firmly holds on to the edge of your duvet, helping you to feel secure and well-rested from the very first night you use it. Even if you're someone who's prone to tossing and turning throughout the night, you'll wake up in the morning feeling suitably secure, fresh, and ready to start the day. It's a comforter in every sense of the word.
Best for: Becoming a non-negotiable part of your bedtime routine.
| | |
| --- | --- |
| Weights: | 15lbs/6.8kg, 20lbs/9kg, 30lbs/11.3kg |
| Type of weights: | Glass microbeads |
| Machine washable: | No |
| Colors: | White |
Gravity Blanket: Best extra-heavy blanket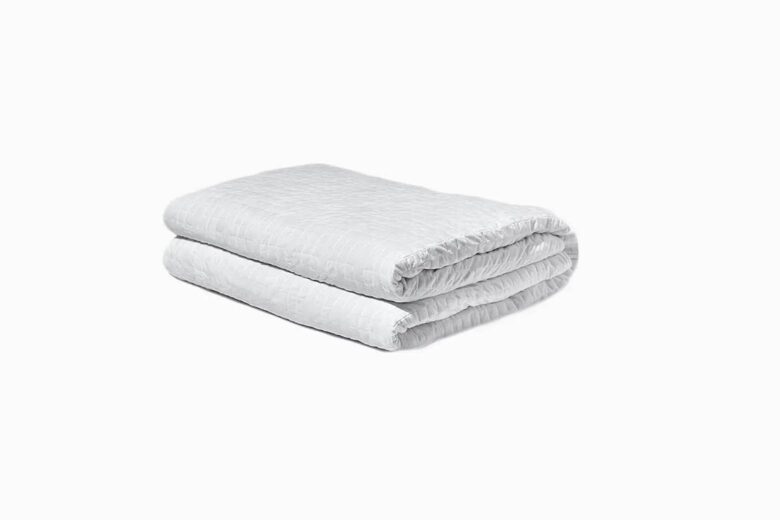 Your parents might have warned you against joining gangs when you were a teenager, but this is likely one of the few exceptions where you'll be able to tell them, proudly, about your latest sworn-in lifestyle change. That change comes in the form of Gravity's Blanket. One of the most popular weighted blankets around, there's a reason why you feel a little like you've joined one of the world's most niche cults when you've added it to your basket.
The Gravity weighted blanket is maybe the heaviest weighted blanket around and is both luxurious and therapeutic. It's dense enough to keep you cozy but made from light enough materials to stop you overheating in the middle of the night. The gravity blanket is perfect for many reasons: its huge, enveloping size makes it perfect for sharing or keeping to yourself, and its removable inner section is securely tied but ideal for frequent washing. You'll never regret joining the club.
Best for: Elevating cozy nights in with the OG of weighted blankets.
| | |
| --- | --- |
| Weights: | 35lbs/15.8kg |
| Type of weights: | Glass beads |
| Machine washable: | Yes |
| Colors: | Grey, navy |
Baloo: Best weighted blanket for hot sleepers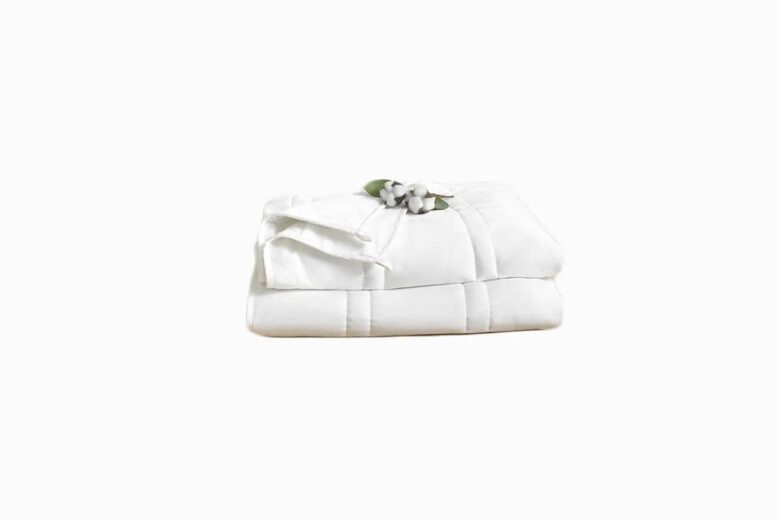 If you often find yourself waking up in the middle of the night overheating and pushing the covers back, you might scoff at the very notion of a thick blanket improving your quality of sleep. But extra layers don't have to come in the form of extra heat, and the ideal weighted blanket could even help to keep you cool and regulate your body temperature more than a typical duvet would.
The Baloo Weighted Blanket is made from high-quality, chemical-free breathable cotton for optimum temperature regulation. Its equal weight distribution stops the material from bunching up, making it perfect for anyone who often finds themselves a little too warm at 3 am. Baloo's whole focus as a brand is on the notion that a good sleep shouldn't be season-specific, which means you can use this weighted blanket year-round and find yourself nicely refreshed come rain or shine, summer or winter.
Best for: Waking up deliciously cool and refreshed.
| | |
| --- | --- |
| Weights: | 15lbs/6.8kg, 20lbs/9kg, 25lbs/11.3kg |
| Type of weights: | Glass microbeads |
| Machine washable: | Yes |
| Colors: | White |
BlanQuil: Best cooling weighted blanket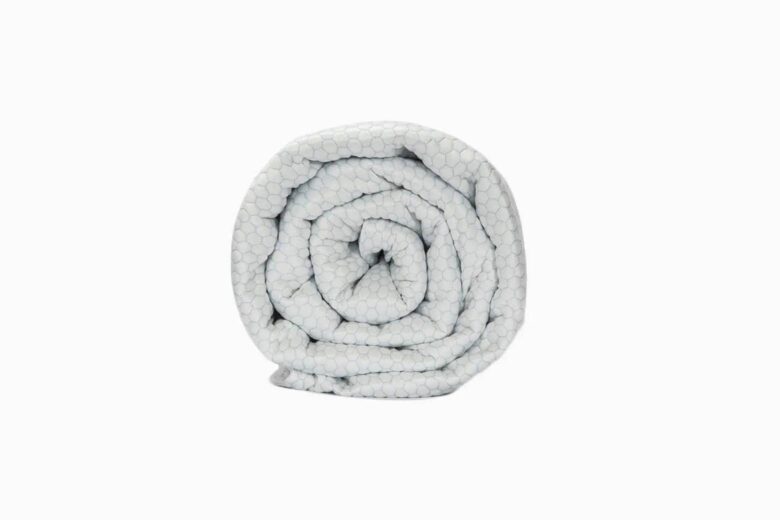 There are weighted blankets that promise not to heat up your body, and then there are those that take it one step further, designed specifically to cool your body down. What might seem like an oxymoron is actually the result of some very smart science that combines to give you an excellent night's sleep and the chance to educate all of your friends on the intricacies of cooling blankets. BlanQuil's Chill Cooling Weighted Blanket is best suited for those who love a good hug but also firmly appreciate their own personal space – in blanket form.
Absolutely the best cooling weight blanket, it uses gentle pressure and moisture-wicking fabric to absorb body heat and maximize relaxation. Give yourself no more than 15 to 20 minutes to get cozy inside your cooling cocoon, and you'll find yourself drifting off into a deep and peaceful sleep. Expect to wake up, perfect temperature and bright-eyed like never before.
Best for: Feeling like you're very comfortably defying science.
| | |
| --- | --- |
| Weights: | 15lbs/6.8kg,20lbs/9kg |
| Type of weights: | Glass pellets |
| Machine washable: | Yes |
| Colors: | A range including Grey, navy, frost |
Dr. Hart's: Best anxiety blanket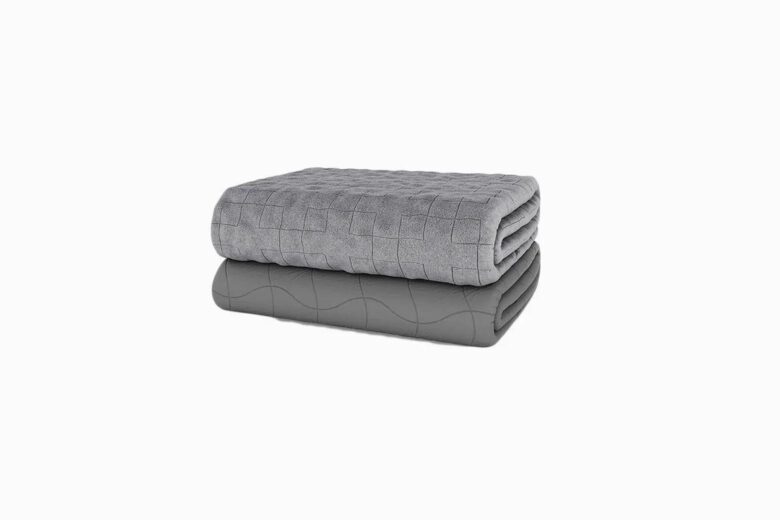 You might consider yourself a little too old for a comfort blanket or a childhood teddy nowadays, but you'll immediately disregard all of those fears after you've spent a night safely wrapped up in Dr. Hart's Weighted Blanket. Think of its effects like a culmination of a hot mug of cocoa, a loved one gently stroking your hair, and your favorite old movie on TV while you lay there and let serenity wash over you.
This blanket has the magic powers to bring about a sense of calm like no other, with a reassuring weight and a luxuriously soft outer that welcomes itself to you whenever you're in need of a hug. This is a weighted blanket specifically designed to promote relaxation and a natural deep sleep, which means everything from the even weight distribution to the calming colors, patented ContourWave organic design, and oversized fit will play their part to help you feel calm again.
Best for: Pairing with a hot mug of tea and your favorite Netflix series.
| | |
| --- | --- |
| Weights: | 20lbs/9kg |
| Type of weights: | DreamBeads quartz microspheres |
| Machine washable: | Yes |
| Colors: | Grey |
Sweetzer & Orange: Best weighted blanket for kids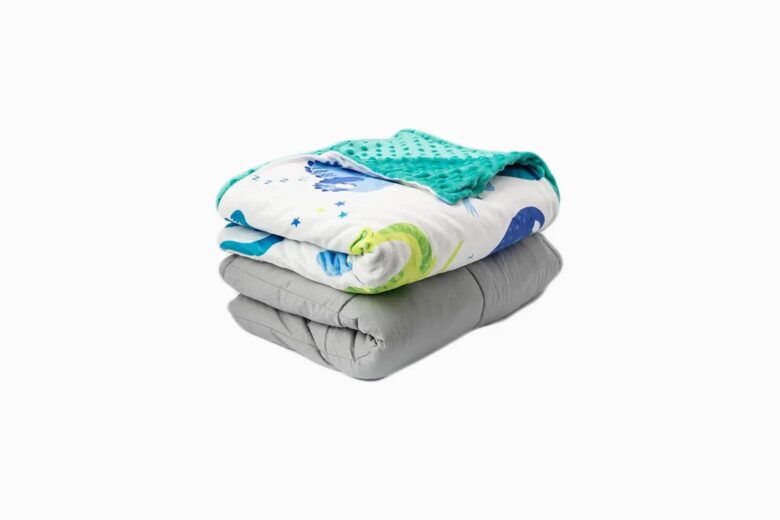 There are two benefits to buying a child-size weighted blanket: first, the child in question can fall asleep easily with a weighted blanket that's the correct weight for their size. Secondly and, arguably more importantly, it means you can keep your own weighted blanket to yourself: no sharing necessary. The Sweetzer & Orange Weighted Blanket is fun-sized with a variety of cute patterns that all promise a quick journey into the land of nod.
These miniature weighted blankets are perfect for summer or winter, with cooling technology and nubbed minky "dots" on the underside of the blanket for extra soothing. From the colorful patterns to the non-toxic beads inside, these blankets are perfectly designed for kids who need an extra boost of reassurance before heading off to sleep. No matter whether they'd prefer Sleepy Dinosaurs, Sleepy Animals, or Yawning Unicorns, this weighted blanket might just become the magic wand that makes bedtimes a breeze again.
Best for: Replacing counting sheep with dreaming wild.
| | |
| --- | --- |
| Weights: | 5lbs/2.2kg, 7lbs/3kg |
| Type of weights: | Non-toxic glass microspheres |
| Machine washable: | Yes |
| Colors: | 3 patterns |
Quility: Best weighted blanket with removable cover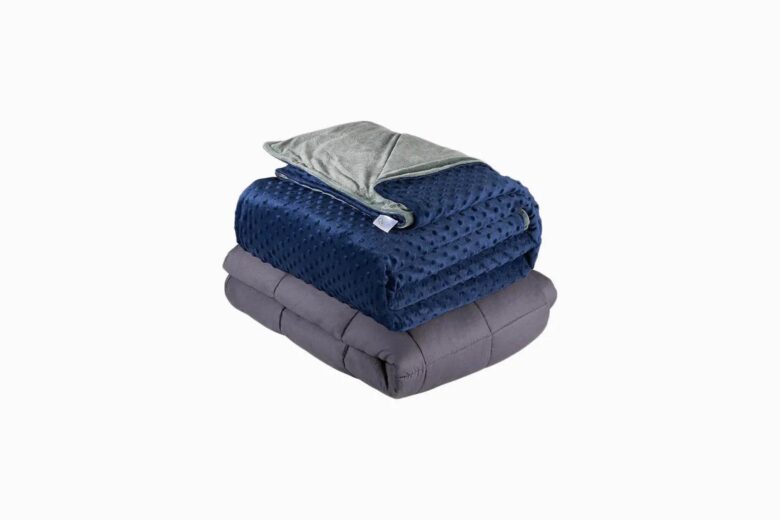 Quility takes the stress out of weighted blankets with the perfect option that's customizable to everyone's taste with enough consistent features to win over even the lightest sleeper. The Quility Weighted Blanket is a lifesaver both in its makeup and its effects. As well as having a brilliantly removable cover for a quick washing, it also comes in a huge variety of weights, which means you can get down to the specifics when choosing one for your size.
All-natural and ultra-breathable, this super soft cover will accompany you from the sofa to your bedroom night after night. Once it's become part of your evening routine, you'll find yourself a little bereft without it. Say goodbye to tossing and turning throughout the night with this weighted blanket that gently but firmly keeps you in the right position from the moment your head touches the pillow to the time when your eyes open in the morning.
Best for: Experiencing that "fresh bed sheets" feeling night after night.
| | |
| --- | --- |
| Weights: | 5lbs/2.2kg – 30lbs/13.6kg |
| Type of weights: | Micro glass beads |
| Machine washable: | Yes |
| Colors: | Aqua, grey, pink |
Luna: Best budget weighted blanket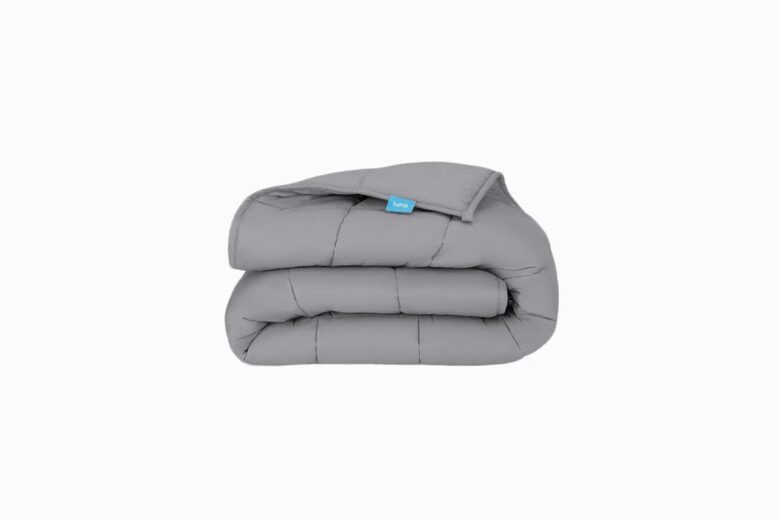 The Luna Weighted Blanket might be the best cheap weighted blanket on the market, but it's worth its weight in gold. Ultra soft and filled with cloud-like fabric, it's a blanket you'll wrap around yourself and instantly feel calmer. Deep pressure stimulation helps to renew this feeling of tranquility throughout the night without waking you up once. Even if you're someone who typically wakes a few times before the sun rises, expect to shut your eyes at bedtime and not open them again until sunlight is blazing through the crack in your curtains.
The Luna weighted blanket features eight individual ties, which stop the blanket from moving around over the course of the night. Think of it as sort of very gently strapping yourself into a big hug before bedtime that promises enough room to breathe. Soft and comfortable, don't be surprised if you start mentioning "Luna" in conversations akin to if she were a good friend rather than a cozy blanket.
Best for: A cozy purchase that won't weigh your budget down.
| | |
| --- | --- |
| Weights: | 5lbs/2.2kg – 30lbs/13.6kg |
| Type of weights: | Glass beads |
| Machine washable: | No |
| Colors: | A range includinggrey, navy, lavender |
Buyers guide to weighted blankets
What are weighted blankets?
More than just a heavy blanket, a weighted blanket is a therapeutic blanket weighed down with glass pellets, beads, or other filling that can help alleviate anxiety and relax the nervous system.
Originally used to help anxiety sufferers or those with PTSD, these larger-than-life and twice-as-heavy blankets are now a popular choice for anyone who wants a little extra comfort and reassurance before bed.
Do weighted blankets work?
Although a weighted blanket isn't a cure-all for sleep-related problems, it's thought to work by relaxing the body and is known for its beneficial results for those suffering from insomnia or other sleep disorders.
The pressure from the weighted blanket mimics a therapeutic technique called deep pressure stimulation. Some weighted blanket benefits include lessening a pounding heart, relieving pain, and improving mood.
How heavy should a weighted blanket be?
The purpose of weighted blankets is to gently add pressure that's deep enough but without being overbearing, so a weighted blanket generally weighs between 5 – 30 lbs (2 – 13kg). To find the best one for you, choose a blanket that weighs around 10-15% of your body weight. If you're between two sizes, size up.
How to use a weighted blanket?
The important thing when using a weighted blanket is consistency. Your body will need around five nights to get used to the extra weight before you'll start to feel the effects, so don't expect immediate results as soon as you've added it to your bedtime routine. However, after a few nights, you should start to sleep deeper, remain in the same position throughout the night and wake up feeling more refreshed.
Are there any dangers of using a weighted blanket?
Those with back problems, obstructive sleep apnea, claustrophobia, or asthma should avoid weighted blankets. If you have concerns before buying yourself a weighted blanket, it's best to check with a medical expert before buying.
Frequently asked questions about weighted blankets
What is the best weighted blanket on the market?
The best weighted blanket depends on what you're looking for: a knitted weighted blanket, a weighted comforter, or a weighted throw blanket? Brands like Saatva, Bearaby, Brooklinen, and Gravity are offering some of the best weighted blankets on the market. 
How do I choose a weighted blanket?
Choose a weighted blanket that weighs between 10-15% of your body weight. If you're between sizes, choose the next size up. You should also take into account the inner material of your weighted blanket, which could be glass beads, pellets, thick cotton, or something else, as well as the color and design of the outer material and whether it's machine washable.
Is it OK to sleep with a weighted blanket every night?
Yes — it's actually preferable to sleep with a weighted blanket every night so your body can adjust to the weight. You might find if you use the weighted blanket interchangeably that you don't notice its benefits as your body isn't used to the extra heaviness.