Let's be real, a comfortable pair of workout shoes and your favorite activewear are just the tips of the iceberg of a great sweat session. You need the right gym set up.
With the best home gym equipment, you get all the benefits of a good exercise session at your favorite studio. Still, you don't have to pay membership fees or share the changing room with anyone, and you get to choose the tunes. Plus, you're that much closer to the fridge for a treat once you're done.
Whether you are only beginning to build or simply optimizing your at-home gym capabilities, upgrading your living room training sessions with real exercise equipment will take your workout to the next level. After all, there's only so much multitasking your household-items-turned-workout-equipment can do.
But don't sweat it: We rounded up some of our favorite home gym equipment for any space on any budget – from fitness corners to full-fledged exercise studios (building a garage gym, anyone?). Our curated list covers everything you need to exercise from the comfort of your own home: from starter kits for fitness novices to smart bikes for shred missions, from weight bench to get you seriously hench to gym essentials that can be ideally stored under the bed or into your closet.
Team with one of the best fitness trackers to really take it to the next level.
The 37 best home gym equipment
Take a look at our home gym equipment buyers' guide after the list to see exactly what you should pay attention to when shopping for home fitness gears online.
P.volve Starter Kit: Best gym equipment for beginners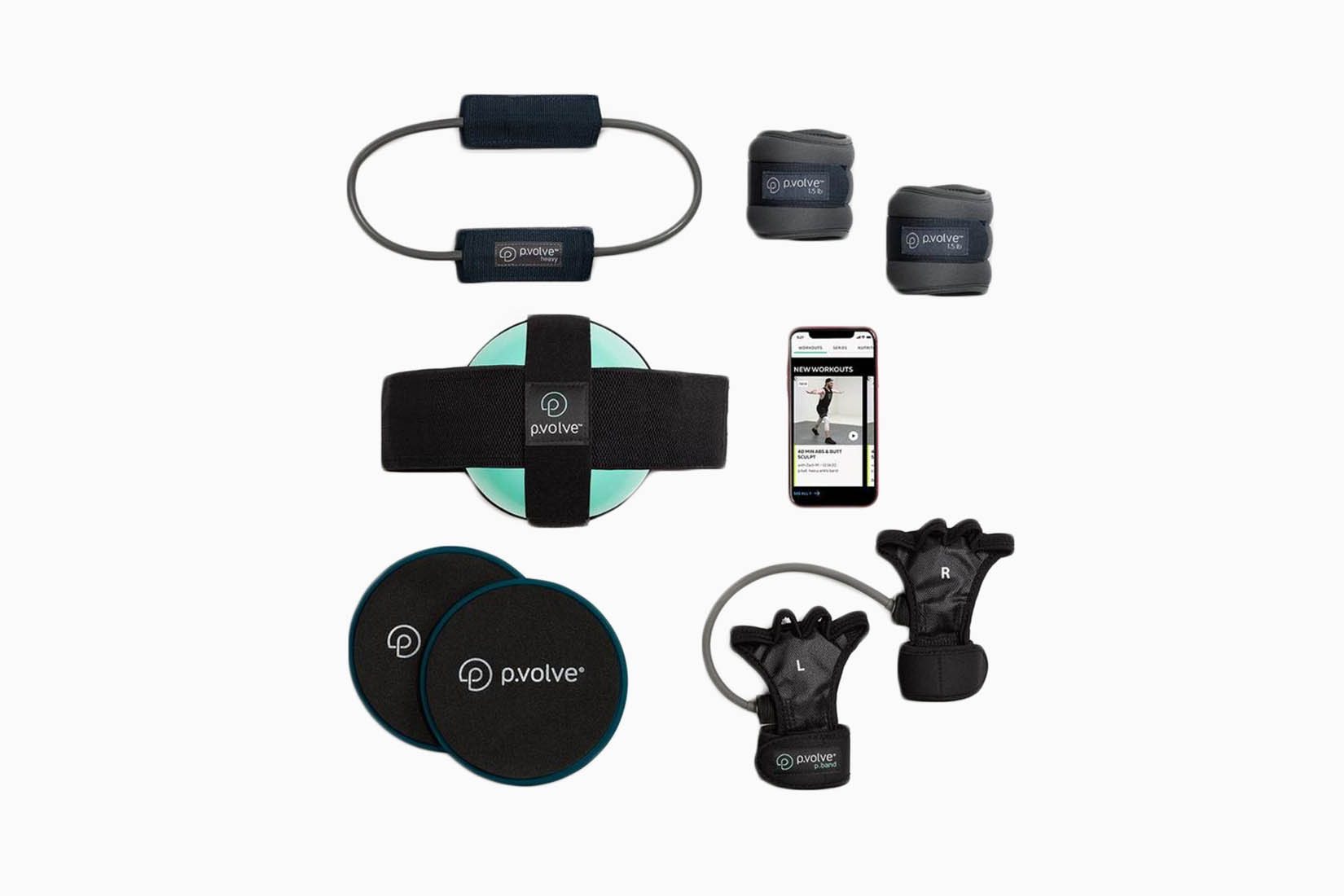 Finally ready to stop stalling and get in shape? Here to help you on your fitness journey is P.volve's Starter Kit.
This kit contains everything you need to begin your exercise adventures with the brand's signature p.ball (to activate glutes, thighs, and core), a resistance band, ankle weights to augment any exercise move, and gliders for a fun, original, and high-intensity addition to your fitness routine. Essentially, it contains everything you would expect from the best home exercise equipment for beginners.
Most excitingly, however, this P.volve Starter Kit includes a three-month membership to the P.volve digital platform, which includes the Starter Kit Strength & Sculpt program so you can learn how to use your fitness equipment in the most effective and engaging way.
Best for: Going from fitness freshman to a modern-day gladiator.
Bowflex: Best value home workout equipment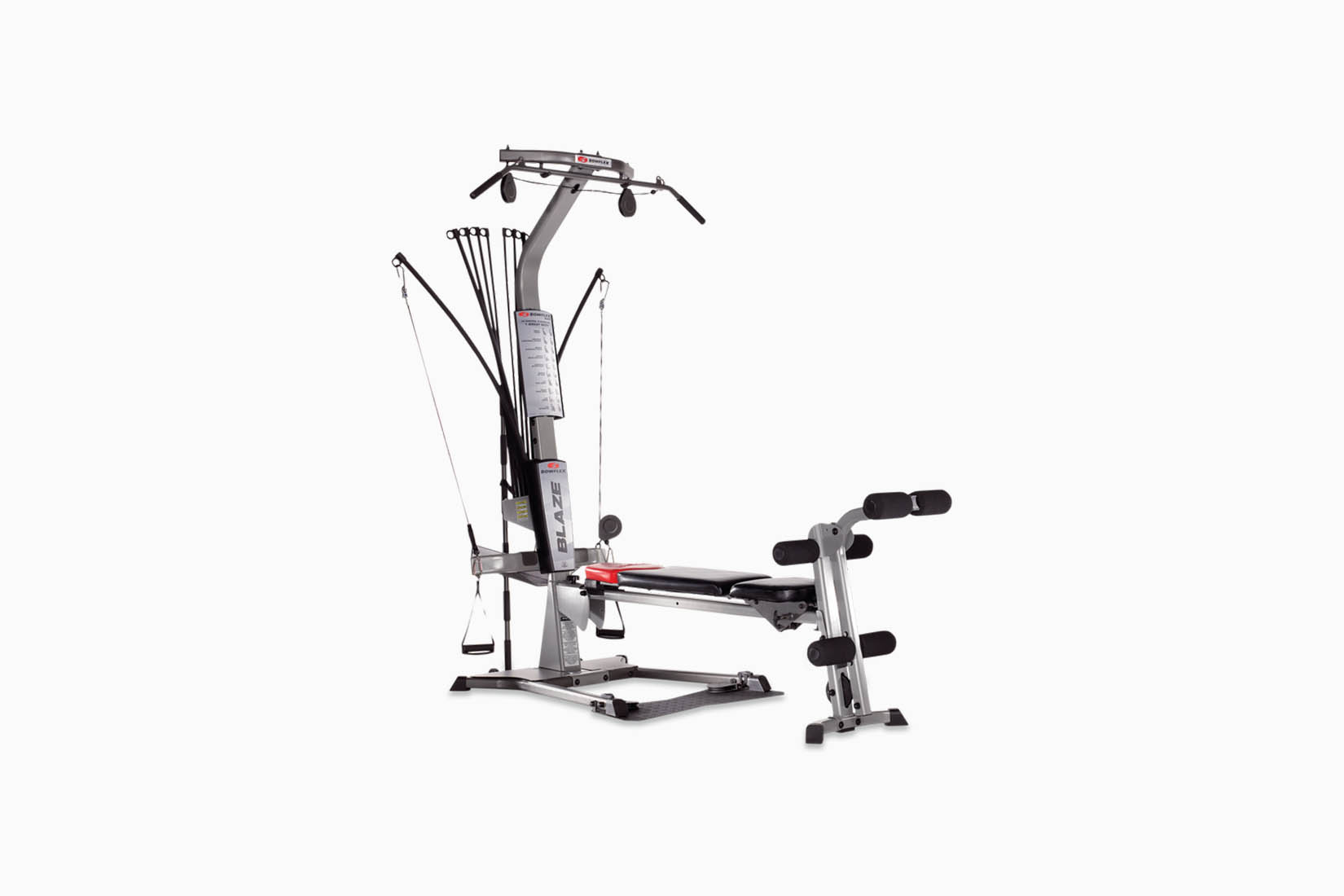 This Bowflex Home Gym Series comes in at under $1,000. Use it a couple of times a week and you've quickly recouped your gym membership costs.
Bowflex is one of the best gym equipment brands and this Home Gym Series offers over sixty different exercises. There are also seven free trainer-built workout regimens for you to follow—one for each day of the week.
A sliding seat allows for aerobic rowing to really get your heart rate soaring as well as leg presses to tone up and strengthen. There's also a lat and squat bar included while wheels and a folding bench means you can easily store this home gym setup.
If you want solid and multi-functional home workout equipment that won't leave you penniless, check out the Bowflex Home Gym Series.
Best for: Proof that home workouts can come with a friendly price tag.
Alo Yoga Studio Set: Best home gym equipment for yoga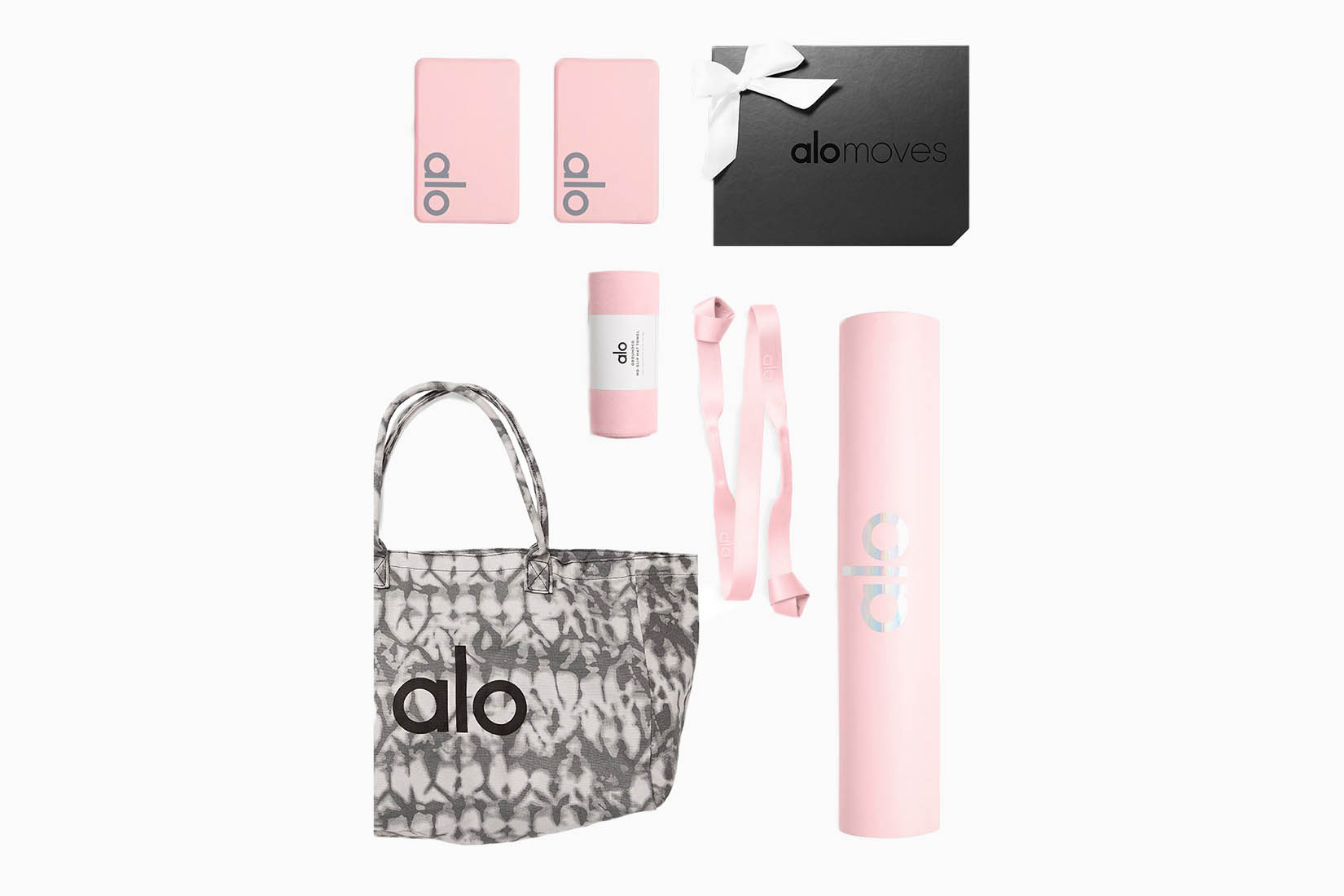 Elevate your sun salutations and yin yoga stretches with Alo Yoga's Studio Set, containing everything you need for a professional-level vinyasa flow without ever stepping outside your bedroom.
If you're yet to take up yoga, or just want to treat yourself to the most deluxe of yoga packages, this yoga studio set by Alo Yoga is any yogi's dream.
It includes the brand's popular Warrior Mat, two Uplifting Blocks (for balance and stability), a yoga strap that doubles as a handle for your mat, and an Alo Shopper Tote to carry it all around in. All you need now are some Alo Yoga leggings.
The Alo Yoga Studio Set also includes an annual membership to Alo Moves, which means access to heaps of world-class yoga, meditation, and fitness videos to stream.
Best for: Finding your own unique flow.
Tempo: Best home gym equipment for weightlifting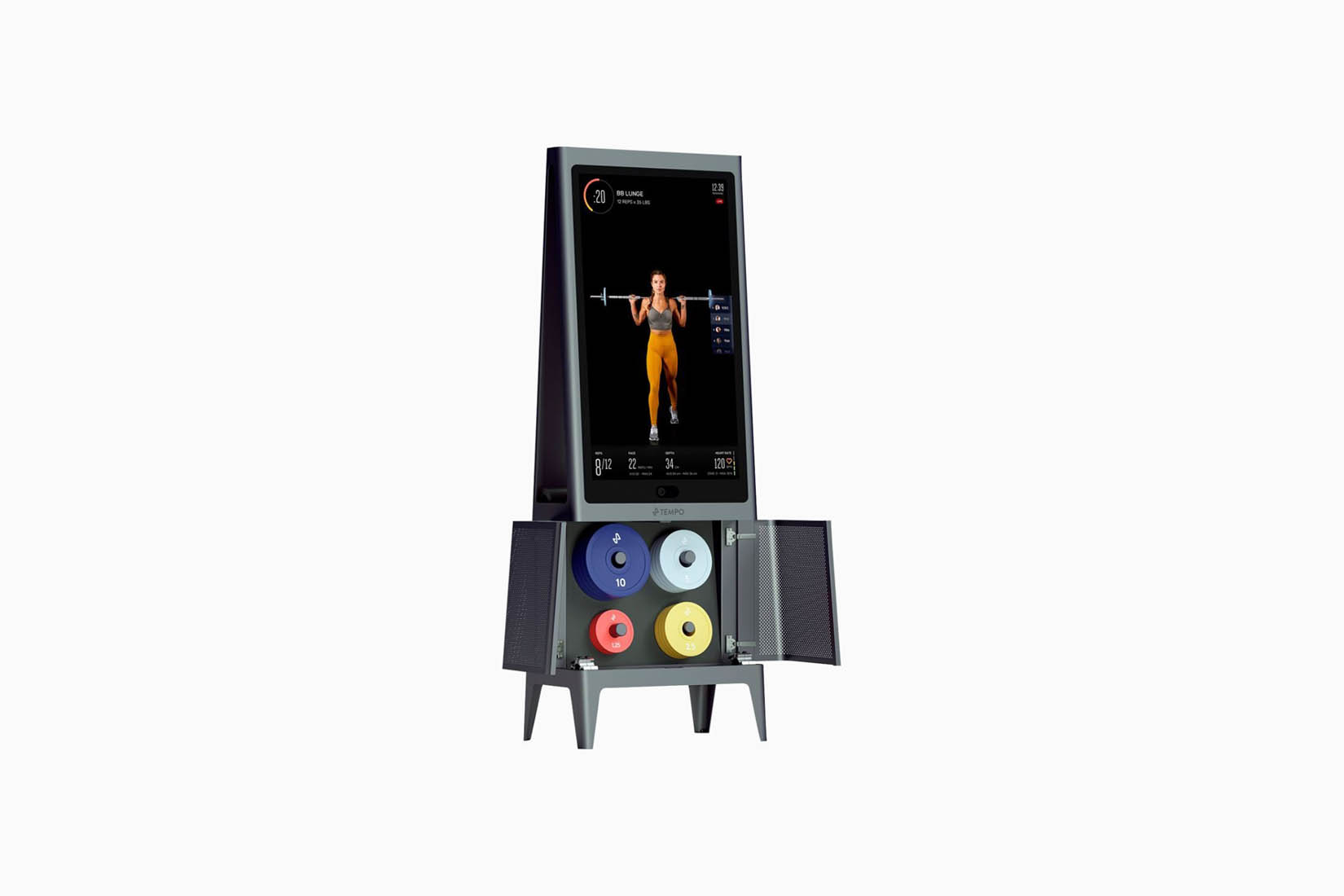 Whether you're a veteran bodybuilder or new to weight-lifting, Tempo is here to transform your experience of jacking steel with its all-in-one weightlifting studio.
Ensure you hit your personal fitness goals again and again with the Tempo Studio, which includes weights (plates, barbells, and dumbbells), feedback, and expert coaching to help you reach and beat your PB on a more regular basis.
Design a workout schedule that fits into your busy lifestyle, choose from hundreds of classes, learn how to improve with instant feedback, and watch yourself progress.
The Tempo Studio even includes a workout mat and roller to help your muscles recover faster afterward. Plus it looks sleek and stylish and only takes up 3 square feet (0.28 square metres) when not in use (although you'll need 8 feet, or 2.5 meters, between you and the machine when working out).
Best for: Never having to deal with those guys hogging the weights at the gym again.
Tonal: Best home gym equipment for strength training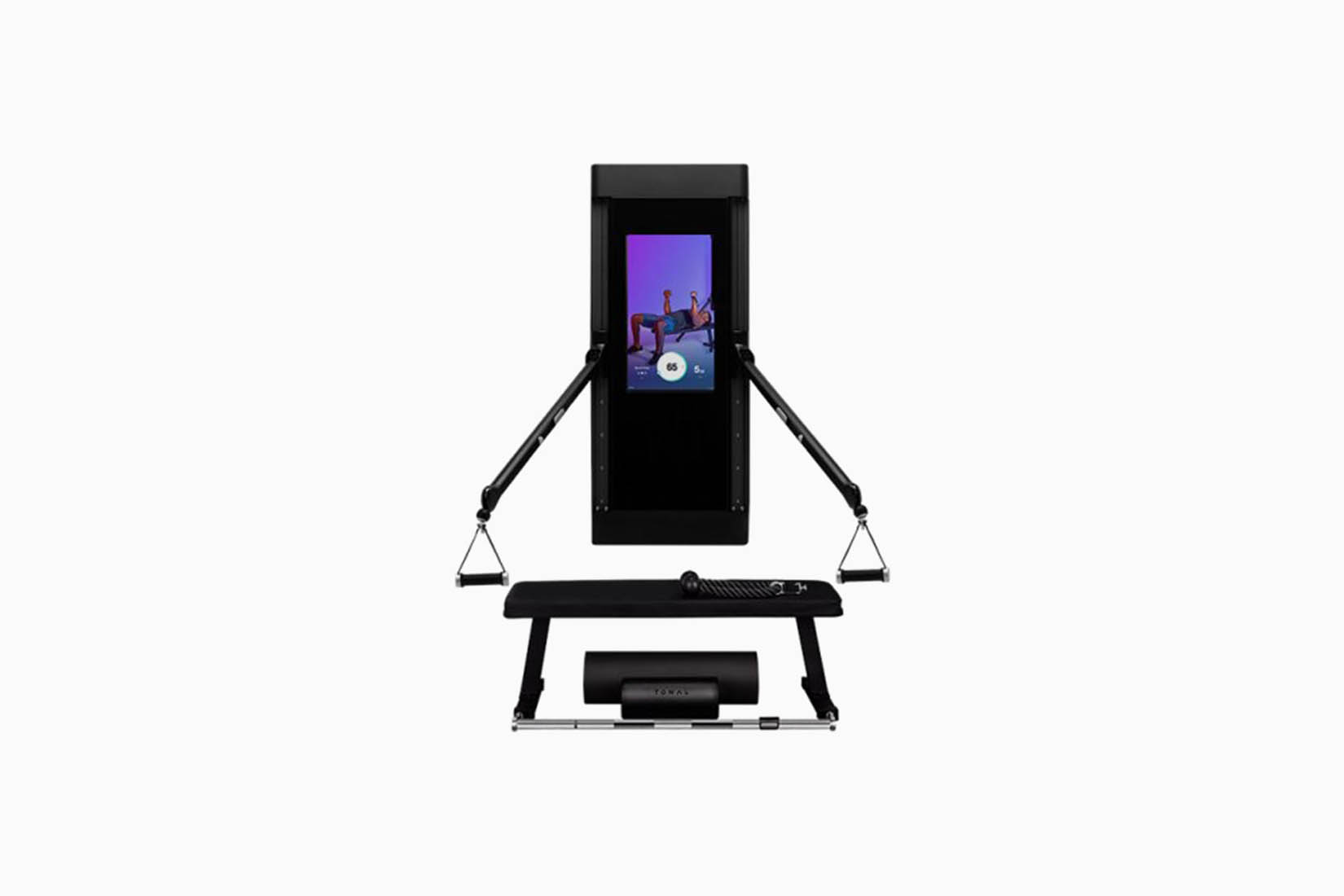 Bring a new level of efficiency to your home workouts with Tonal's strength-building home gym. No more faffing around in the studio trying to decide what to do next. Tonal will keep you on track and help you beat your record.
This two-in-one home gym setup includes the strength-building exercise equipment you need to get your body moving as well as intelligent personal training to make sure you're exercising effectively and efficiently.
With up to 200 pounds (90kg) of digital weights, this strength training machine gives you lots to play with. The ultimate smart home gym, Tonal also accurately measures your reps, sets, range of motion, and a host of other metrics to help you track your gains over time. You can also choose from hundreds of expert-led workout programs tailored to your body and goals to inspire you to get stronger.
The company will deliver Tonal straight to your home and install it. All you have to do is change into your workout gear and get ready to pump.
Best for: Ultra-effective and engaging strength-training that makes you feel epic.
Marcy Smith Cage: Best all-in-one workout station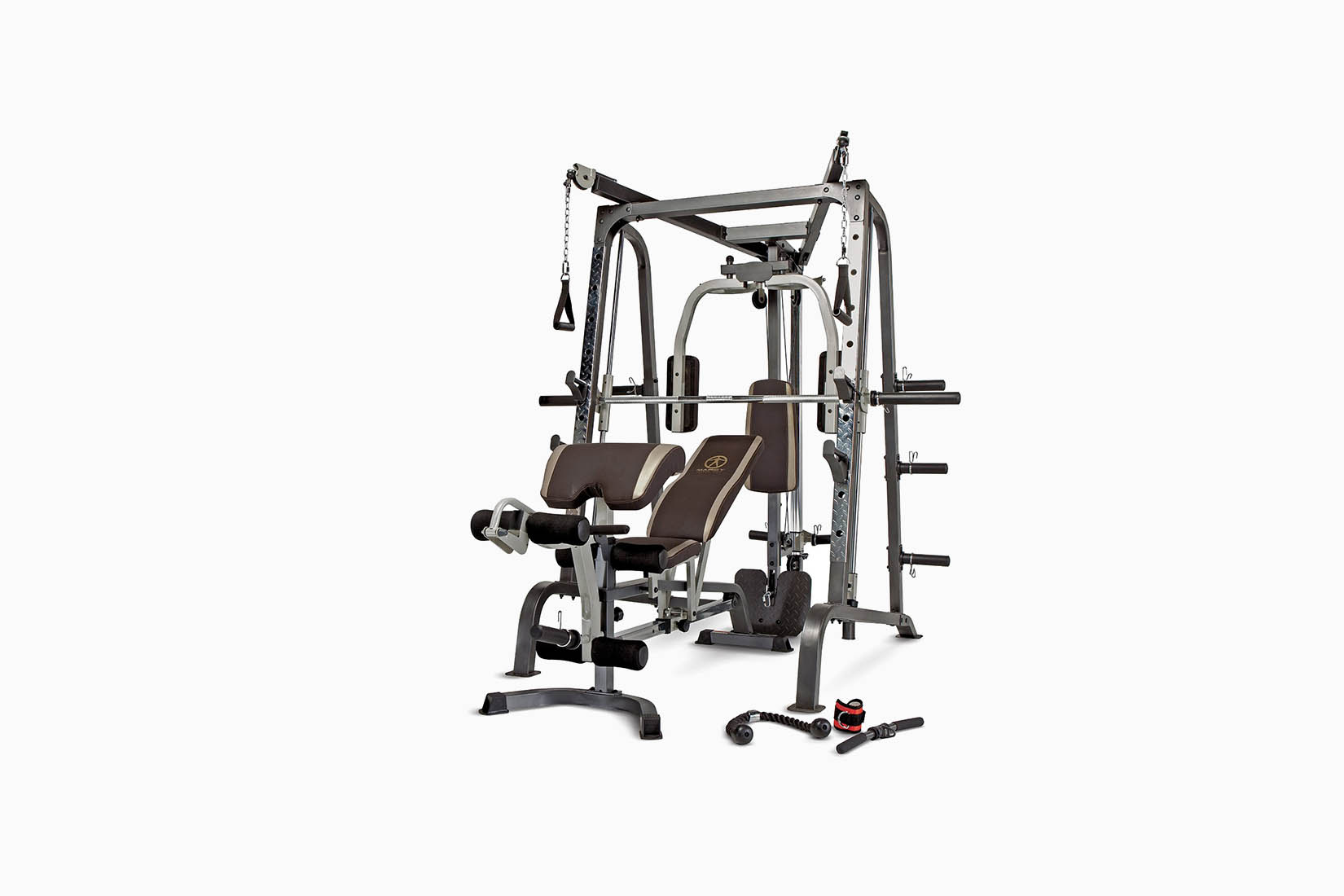 The best overall exercise equipment for home has to be this Marcy Smith Cage, a total-body training system that can be installed in your house for hassle-free workouts whenever you fancy.
You've got multi-functional press arms to perform a variety of arm and chest exercises (get ready to watch those biceps blossom). Then there's a dual-action leg developer to get your lower body moving. The pivot point ensures you maintain proper body alignment during workouts and there's an Olympic free-weight rack for weightlifting and strength training.
This Marcy Smith Cage workout station has everything you need for a comprehensive exercise session. All we need now is Netflix playing in the corner to keep us entertained.
Best for: A one-stop-fitness-shop.
P.volve P.3 Trainer: Best home workout equipment for toning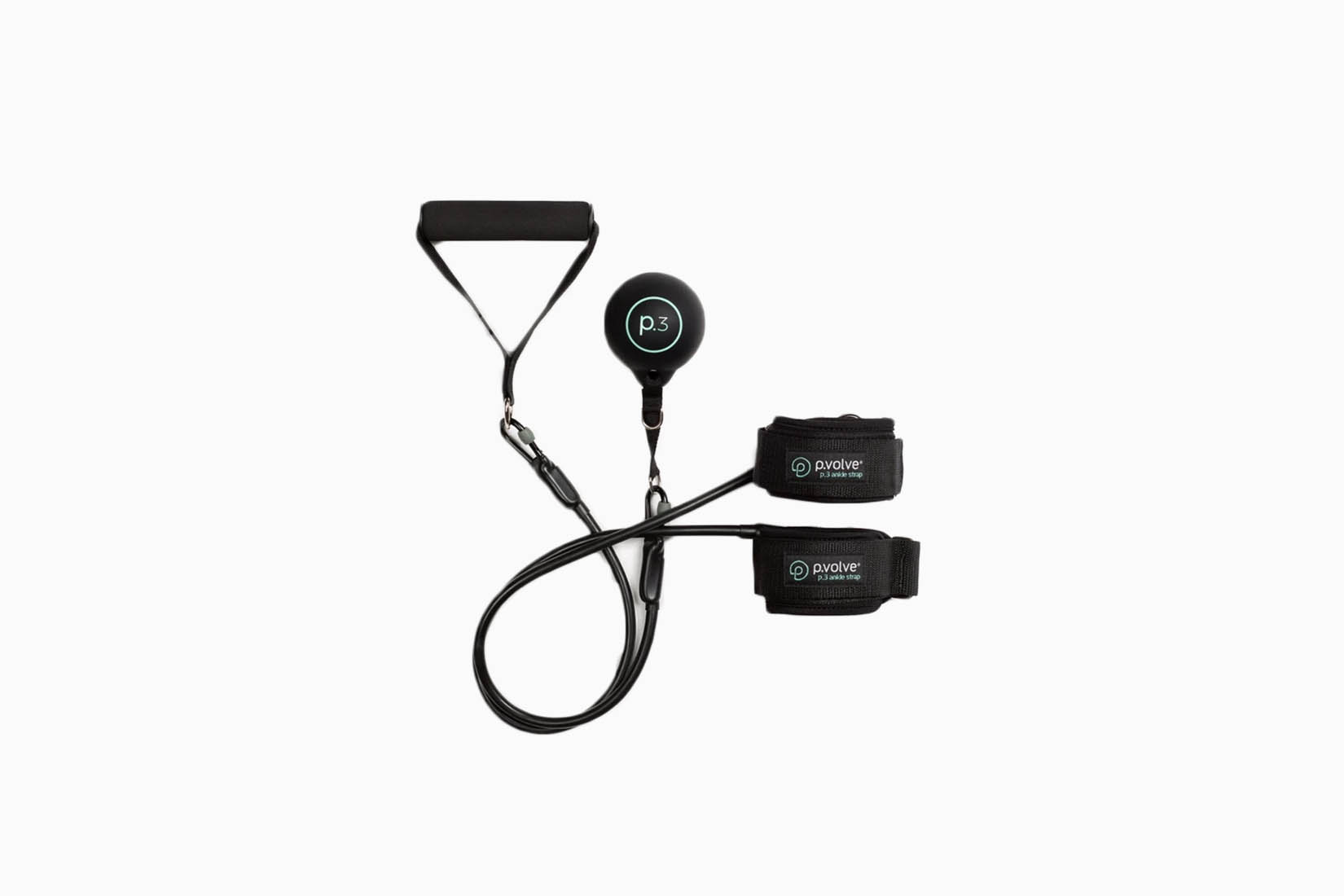 Thinking about getting beach-body-ready? Need to tone up? The best home gym equipment for defining muscles and getting lean and lithe has to be P.volve's P.3 Trainer.
P.volve describes this exercise equipment as a total-body toning system, and we like the sound of that. Sculpt, smooth, and lift your way to the most photogenic you with this revolutionary product that uses resistance training to get to work on the entirety of your body.
Included are two resistance bands, two ankle straps, an attachable handle, and an attachable ball. With this fitness gear, you can do movements standing up or on a mat. Awaken, engage, and push all your muscles to their limits with the P.volve P.3 Trainer. Time to feel a true body burn.
Best for: Your body—but now perfectly sculpted.
TRX: Best home gym equipment for total body training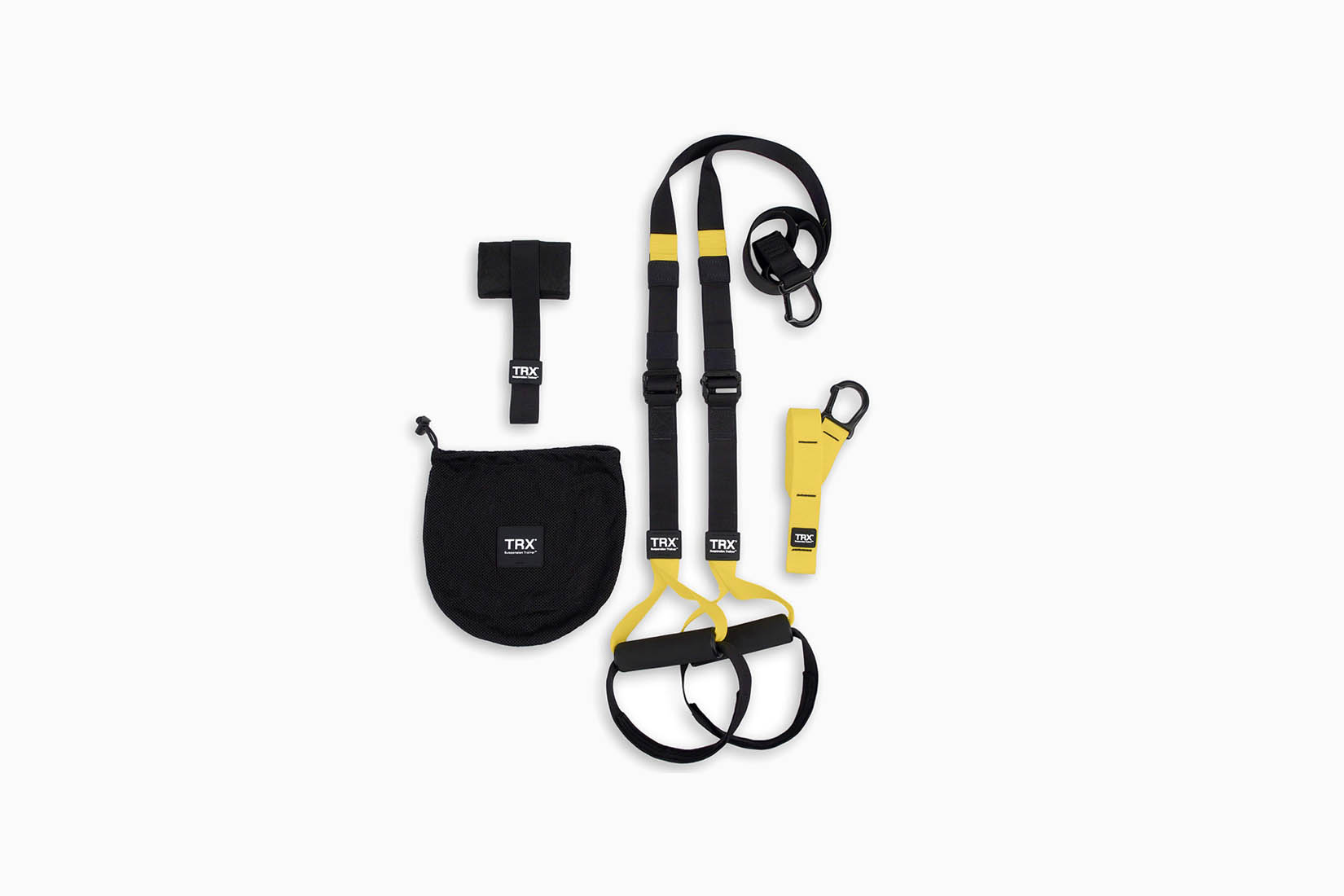 Fancy home workout equipment that will let you exercise outdoors when it's sunny and indoors when it's chilly? The most versatile piece of home workout equipment we've found is this TRX All-in-one Suspension Training System.
This kit comes with a suspension training strap, anchors to be used either indoors and outdoors, a 35-page workout guide, two bonus workouts, and free access to the TRX app to get you started.
Whatever your fitness level or health goals, this suspension system can be used to build muscle, burn fat, strengthen your core, increase your endurance, and boost your flexibility. In other words, it's the fitness gear you've always dreamed of.
Push, pull, square, lunge, hinge, and rotate your way to peak physical well-being. The TRX Suspension Training System is the best suspension training kit out there.
Best for: A travel-friendly, fitness-optimized, results-oriented workout solution.
Peloton: Best smart bike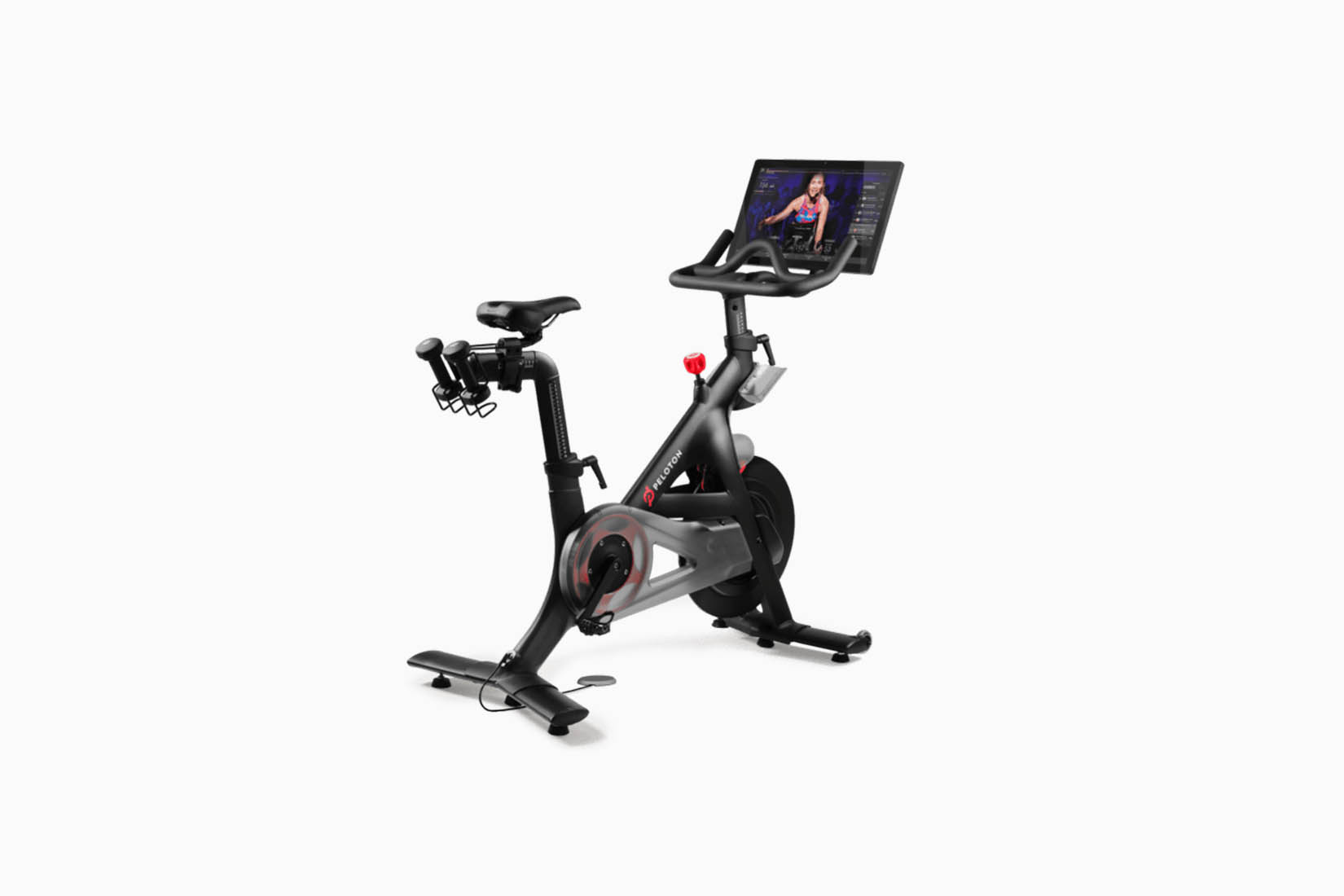 Everyone's raving about the Peloton Bike and once you hop on board, you'll see exactly why.
The problem with a standard exercise bike is that it gets boring staring at the wall while your legs go round and round. But the Peloton smart bike is a whole world apart, offering immersive cardio that's incredibly addictive.
You get access to workouts from world-class instructors with a range of themes, difficulty levels, and music genres. You can monitor your performance metrics, see how you compare to others, and join live classes or browse the on-demand library. Basically, it's all the benefits of your favorite cycling class at your local studio and none of the disadvantages (read: smelly changing rooms and terrible music videos).
The Peloton smart bike is one of the best additions to any smart gym and will have you racking up the miles without even realizing. Tour de France, here we come.
Best for: Indoor cycling made smooth, stress-free, and seriously fun.
ADVENOR: Best stationary bike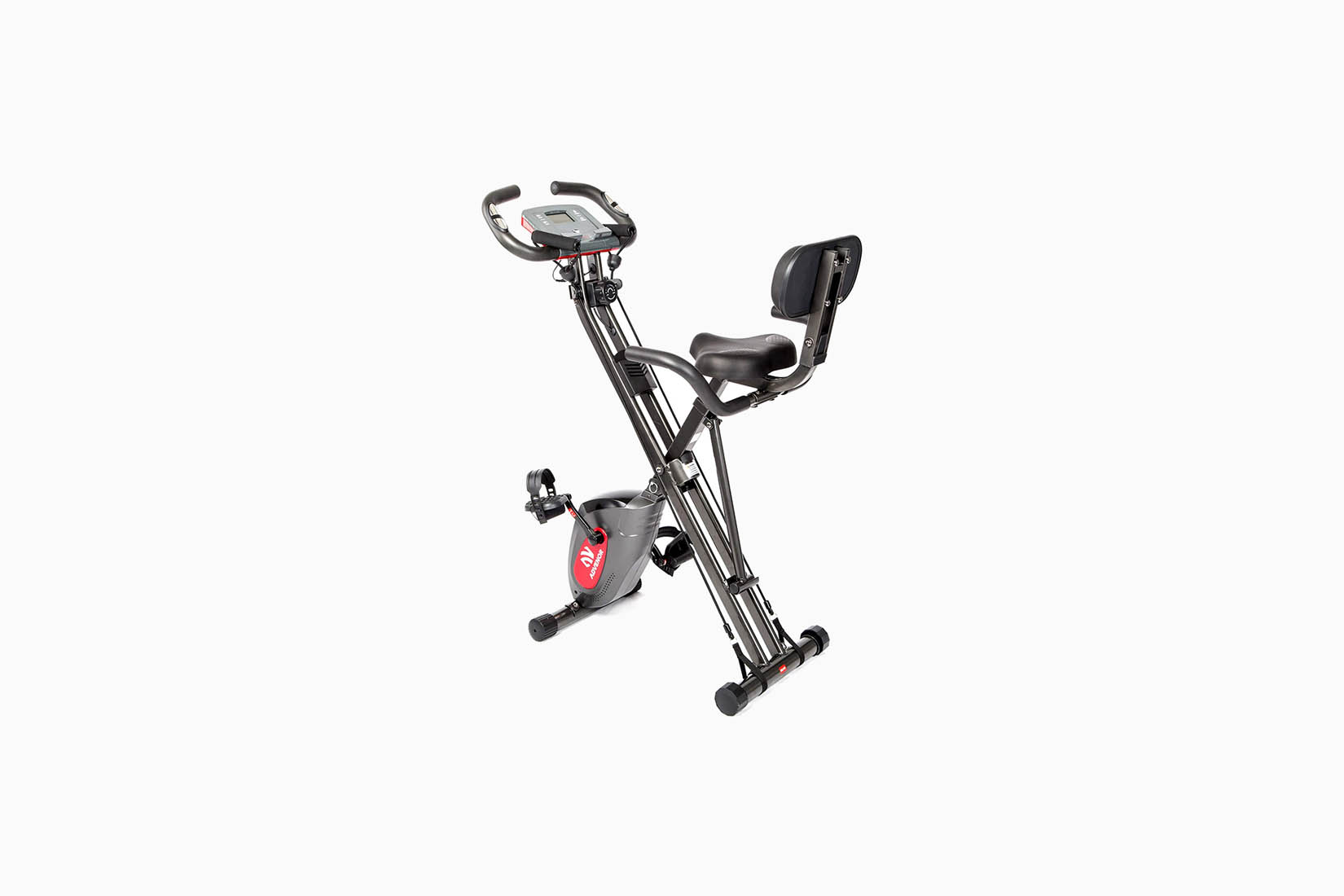 Looking for an exercise bike but don't want it to become the centerpiece of your living room? You need a bike like this one by ADVENOR, which can be folded up and stored away when not in use.
Another major advantage of this exercise bike is that it works your upper body as well as your lower body thanks to the arm resistance bands. Plus, the fully-padded PU seat is comfy to sit on for extended periods while non-slip pedals ensure you won't tumble off, even during the most energetic cycling sessions.
A digital tracking monitor and pulse sensor gives you access to all the most important workout data, including your heart rate, speed, time, distance, and calories burned. Most importantly, there's a spot to hold your tablet or phone so you can watch workout videos or stream your favorite TV show to take your mind off the burn.
Best for: Saving space and shedding pounds.
Ergatta: Best rowing machine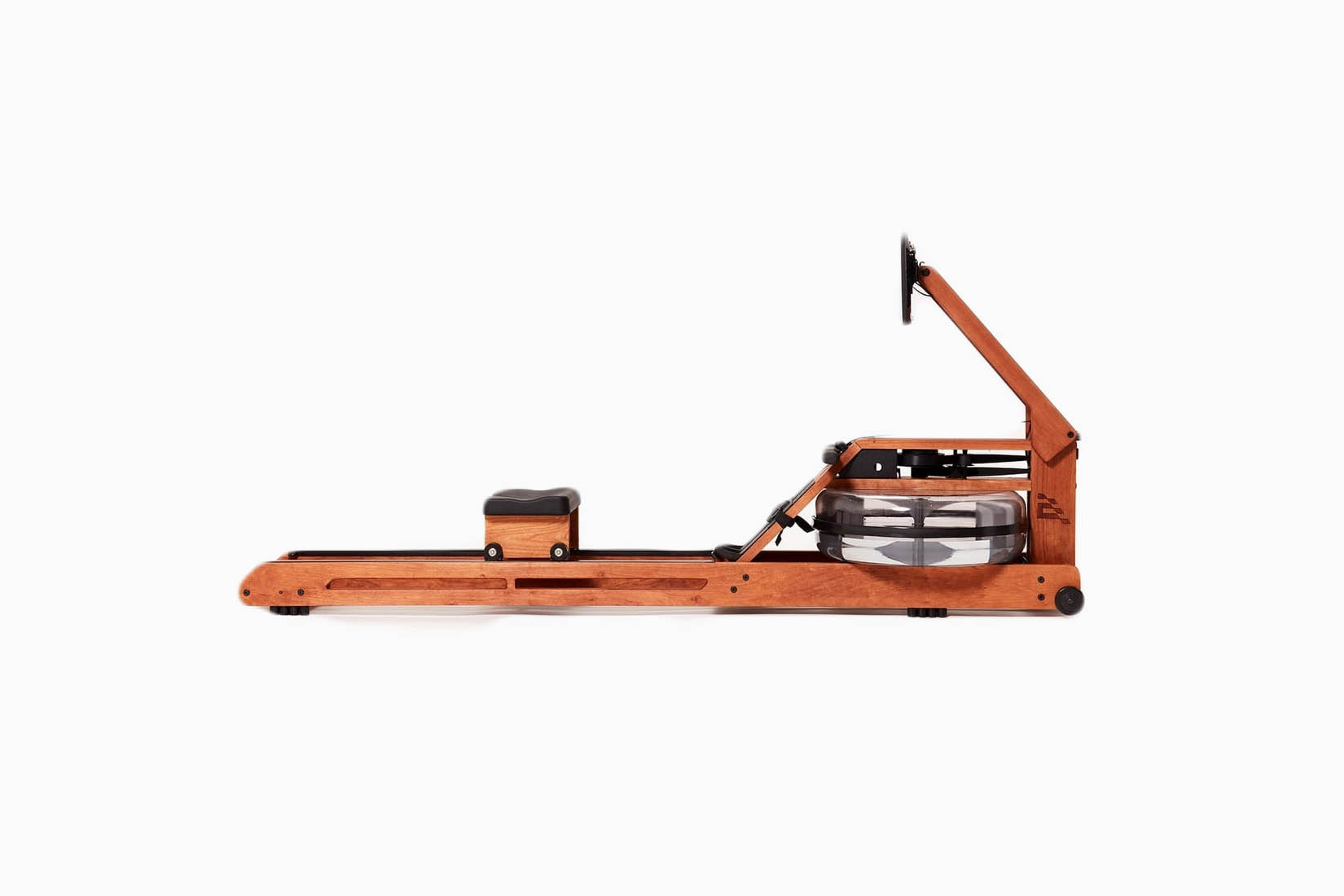 There's nothing worse than standing around the gym waiting for a rowing machine to become free. So get yourself your own personal machine. Ergatta's rower is our favorite.
The next best thing after rowing down a river at top speed on a sunny morning has to be rowing in the comfort of your bedroom or living room. The Ergatta Rower includes everything you need for a comprehensive workout that's the perfect balance of challenging and enjoyable.
The machine features an Android-powered touchscreen in full HD and is Bluetooth-enabled for use with heart-rate monitors and audio. Choose from different workout styles and enjoy a full-body low-impact workout. Definitely a must-have addition to your smart gym.
Purchase includes delivery and installation and once inside your home, the Ergatta is easy to move around thanks to the wheels.
Best for: Discovering why rowers are so insanely ripped.
ProForm: Best elliptical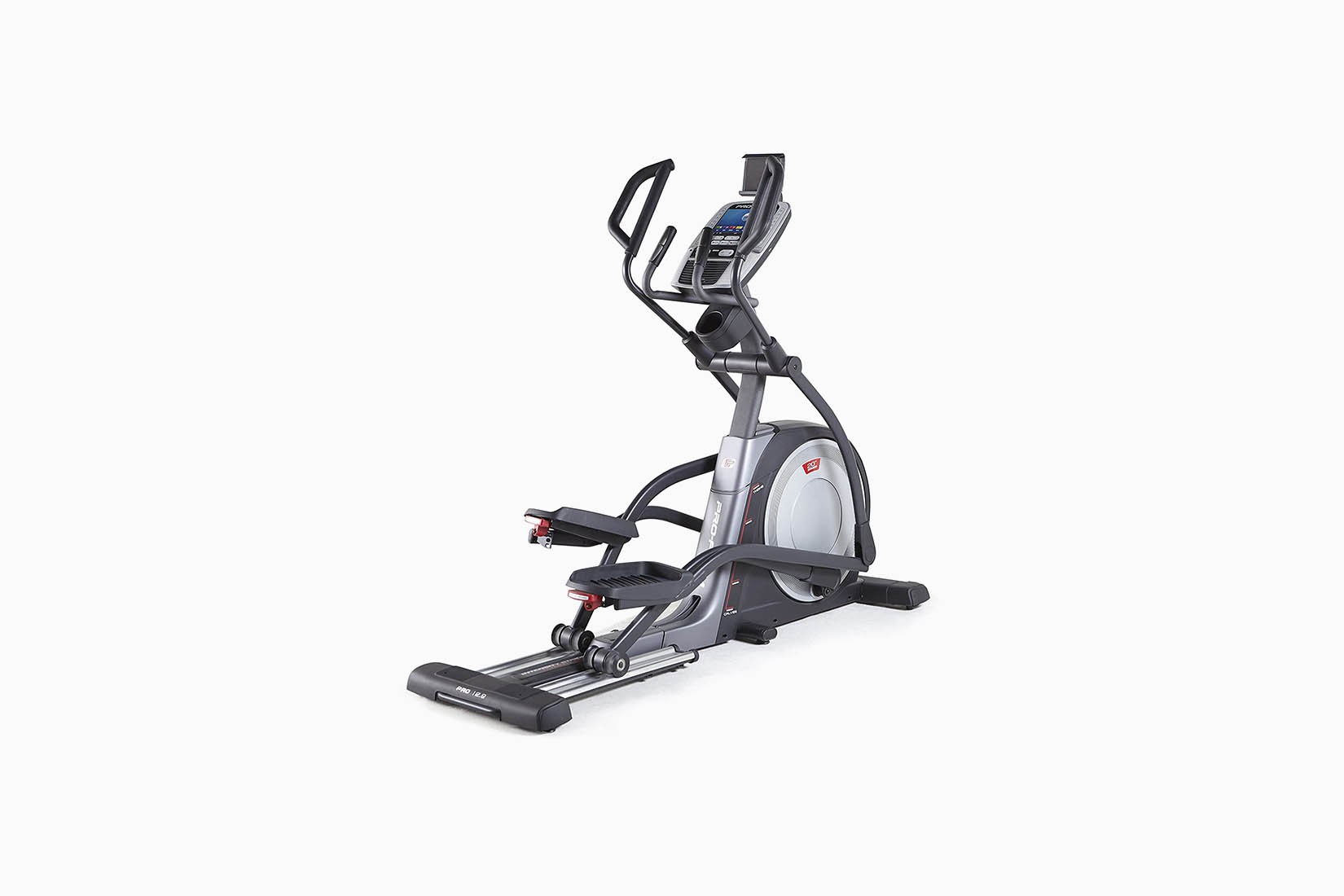 For a full-body workout that targets everything from your glutes to your back to your biceps, get your hands on this ProForm Elliptical. Your dream body is suddenly within easy reach.
The ramp on this elliptical can adjust your incline up to 20 degrees, helping you to target different muscle groups and giving you the feeling of climbing a mountain without having to lace up your hiking boots. Incline training puts this elliptical up there with the best home exercise equipment for weight loss.
Integrate with the iFit fitness platform to go on virtual adventures to the likes of Paris or the Swiss Alps and customize your workouts with unlimited programs designed by professional trainers.
Added bonus: it comes fully assembled. So you can hop on the ProForm Elliptical as soon as it arrives and enjoy an expertly engineered piece of gym equipment that feels silky smooth to use with no squeaks or creeks.
Best for: A high-powered sweat session that will have a big effect on the scales.
NordicTrack: Best treadmill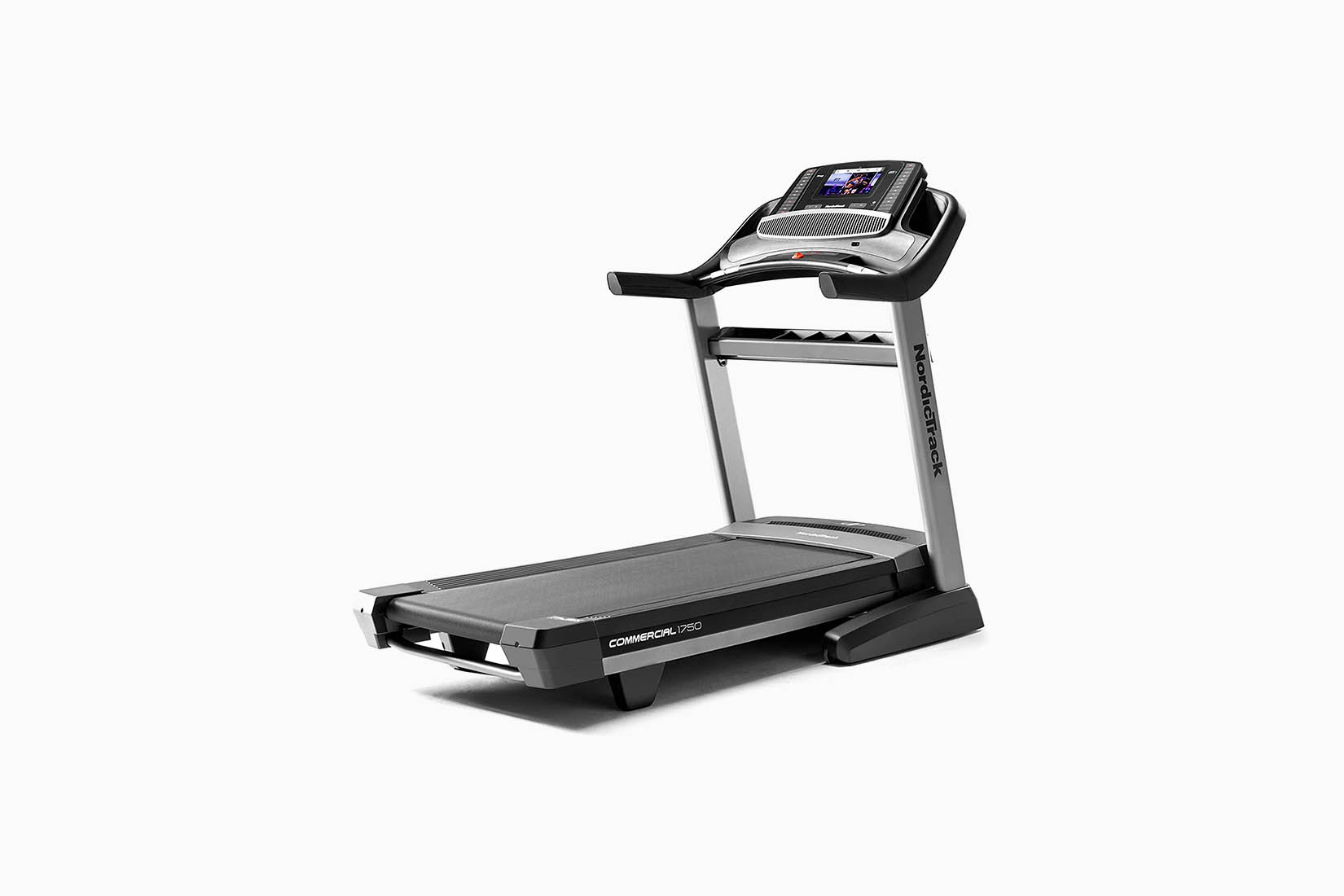 NordicTrack is one of the best gym equipment brands and this treadmill exemplifies why. The fact you can stream live workouts by iFit trainers is one of the best features. Join fitness professionals in their homes, out on their trails, or in other locations around the world, traveling the globe virtually and enjoying HD graphics that make it feel like you're really there.
Challenge yourself to beat others in the iFit community, embracing your competitive side, pushing yourself, and celebrating your triumphs. Your trainer can digitally adjust your incline, decline, and speed, and you can even text them in real time. This is a truly interactive fitness experience.
Does the Grand Canyon feature on your bucket list? You can hike through this natural wonder virtually thanks to NordicTrack's Commercial 1750 Treadmill. We never thought working out could be this fun.
Best for: Interactive treadmill training that will get you psyched to sweat.
FLYBIRD: Best weight bench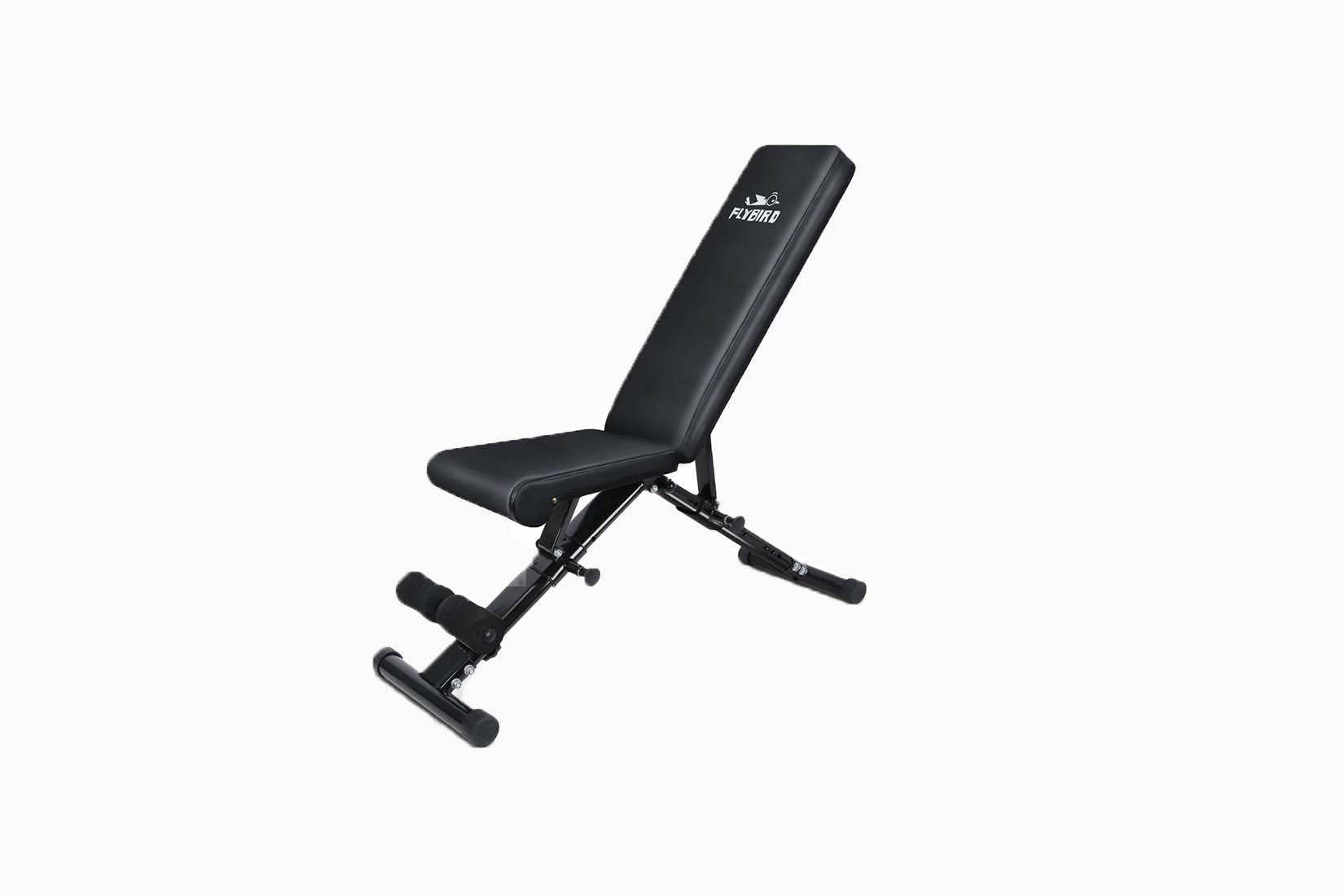 This bench by FLYBIRD was designed according to the expertise of a professional fitness coach and is made of heavy-duty steel. Plus, it's passed thousands of weight tests to ensure it's safe to use. In other words, this is one trustworthy piece of fitness equipment.
There are seven back positions and three seat positions so you can customize according to your body frame. The soft foam padding on the backrest and seat ensures you stay comfortable.
The FLYBIRD weight bench is also easy to carry, requires no assembly, and can be folded away in the corner or under your bed once you've finished.
Best for: Sneaking in a few bench presses while still in your slippers.
Everlast: Best punching bag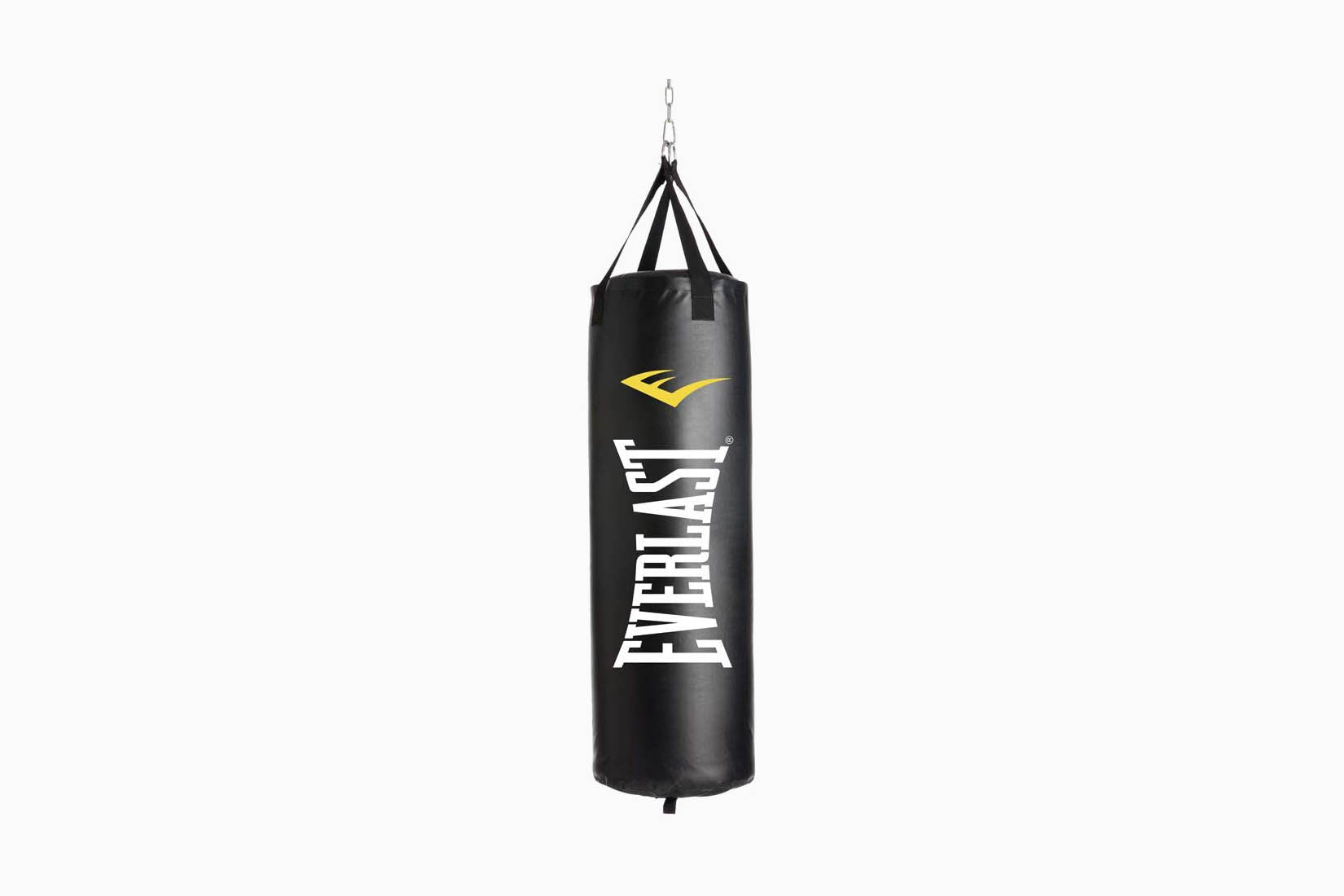 Made of premium synthetic leather with reinforced webbing, this punch bag by Everlast will last no matter how frequently you do battle with it. The blended filler of sanitized synthetic and natural fibers deliver long-lasting and resilient shock-absorbing qualities while heavy-duty nylon straps mean no danger of it landing on you mid-swing.
Boost your aerobic health, core stability, and coordination, level up your stamina and endurance, and watch your biceps turn rockhard with this Everlast punching bag.
Best for: Pretending you're a heavy-weight boxer in the privacy of your bedroom.
P.volve Ultimate Kit: Best women's home workout equipment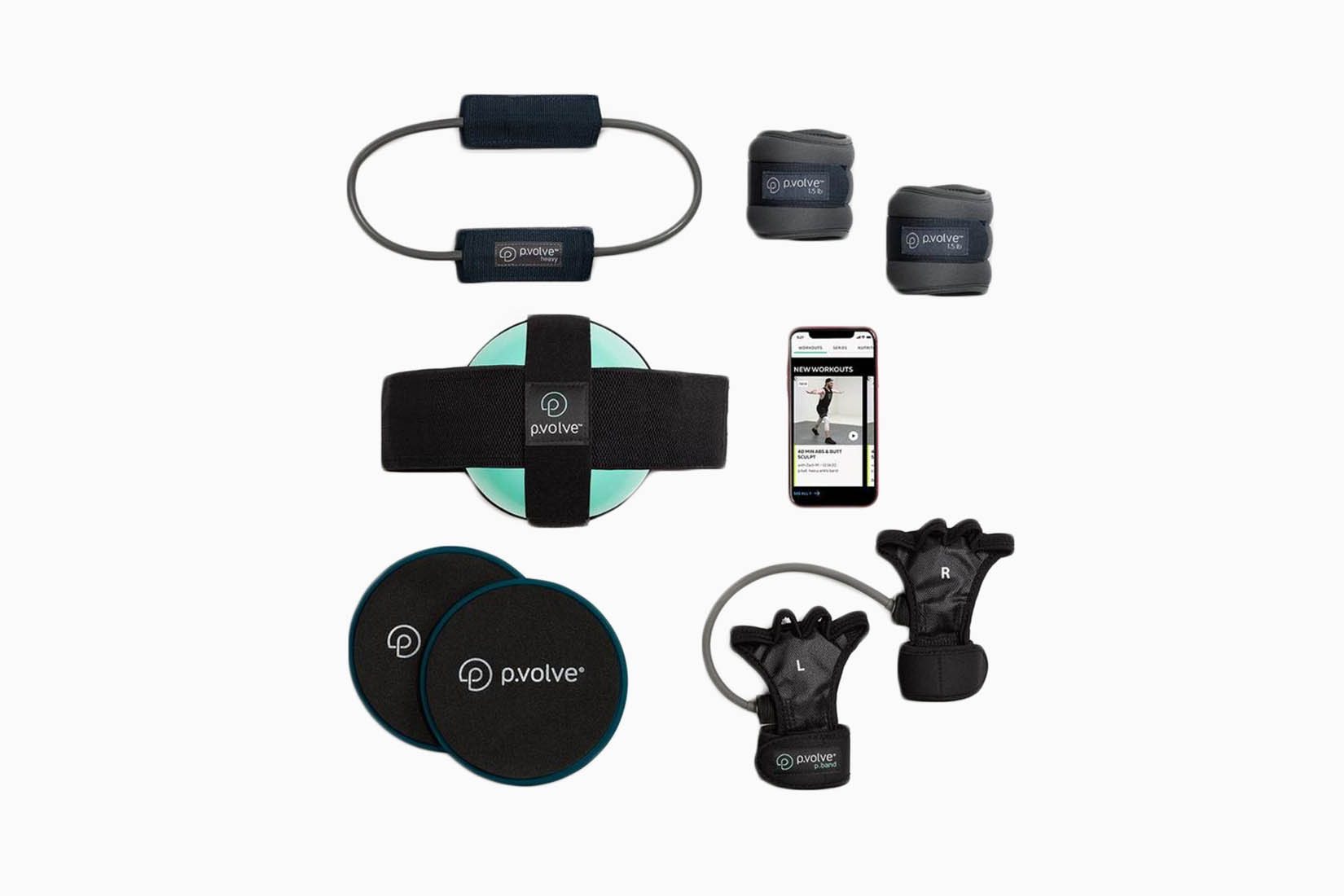 P.volve's Ultimate Kit is designed to give you the all-round holistic workout experience you want without having to install a clunky piece of fitness equipment in your front room.
The kit includes a p.ball (one of the brand's patented inventions, designed to work the glutes, thighs, and core), gliders, hand weights, two ankle bands, ankle weights, and a p.band, aka a resistance band, specifically designed for hands-free training.
With P.volve's Ultimate Kit, not only do you get all the gym accessories you could possibly need but you also get a three-month all-access pass to the company's library of workout sessions.
These are all based on the P.volve method—a high-intensity low-impact exercise concept. Filter according to your goal and pick from a selection of cardio, sculpting, and recovery videos. There's new content added multiple times a week so no danger of getting bored.
Best for: An all-inclusive premium women's fitness package.
MiM USA: Best home multi-gym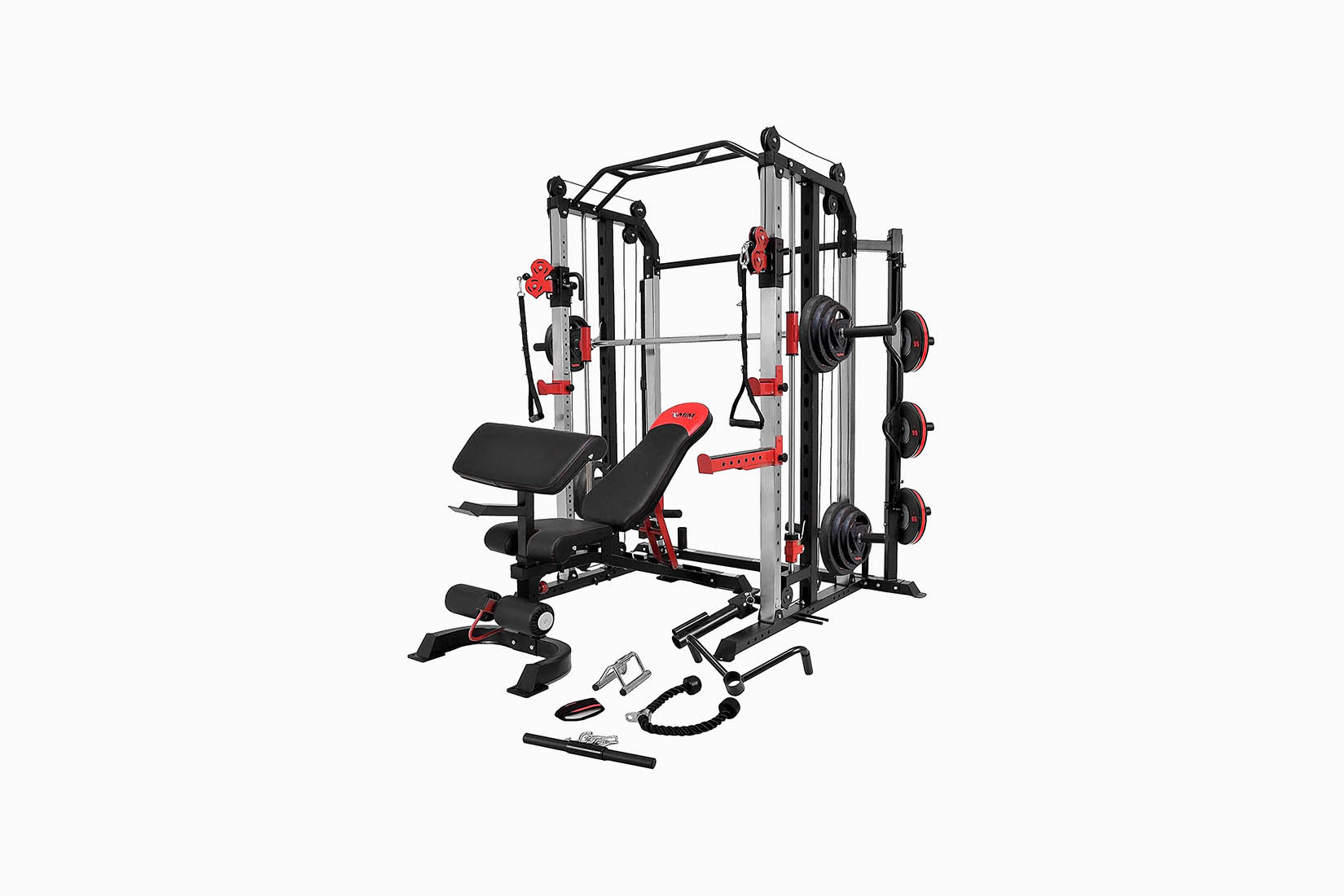 Can't decide what kind of workout you like best? You can do them all with MiM USA multi-gym. It has everything you could want to give your fitness a hefty boost.
You've got a power cage for barbell exercises, a leg press to get your quads, glutes, and hamstrings working, an adjustable weight bench for toning pectorals, arms, and shoulders, plus a leg extension for a more full-body exercise.
This multi-gym has all the home gym essentials and is easy to assemble with clear instructions so even the least DIY-savvy can manage. Once up, it feels strong, sturdy, and durable.
A multi-purpose and multi-functional piece of home exercise equipment like this one from MiM USA makes us wonder why we ever went to the gym in the first place.
Best for: An ultra-versatile multi-gym for a mega-dose of fitness motivation.
Sportsroyals: Best pull-up bar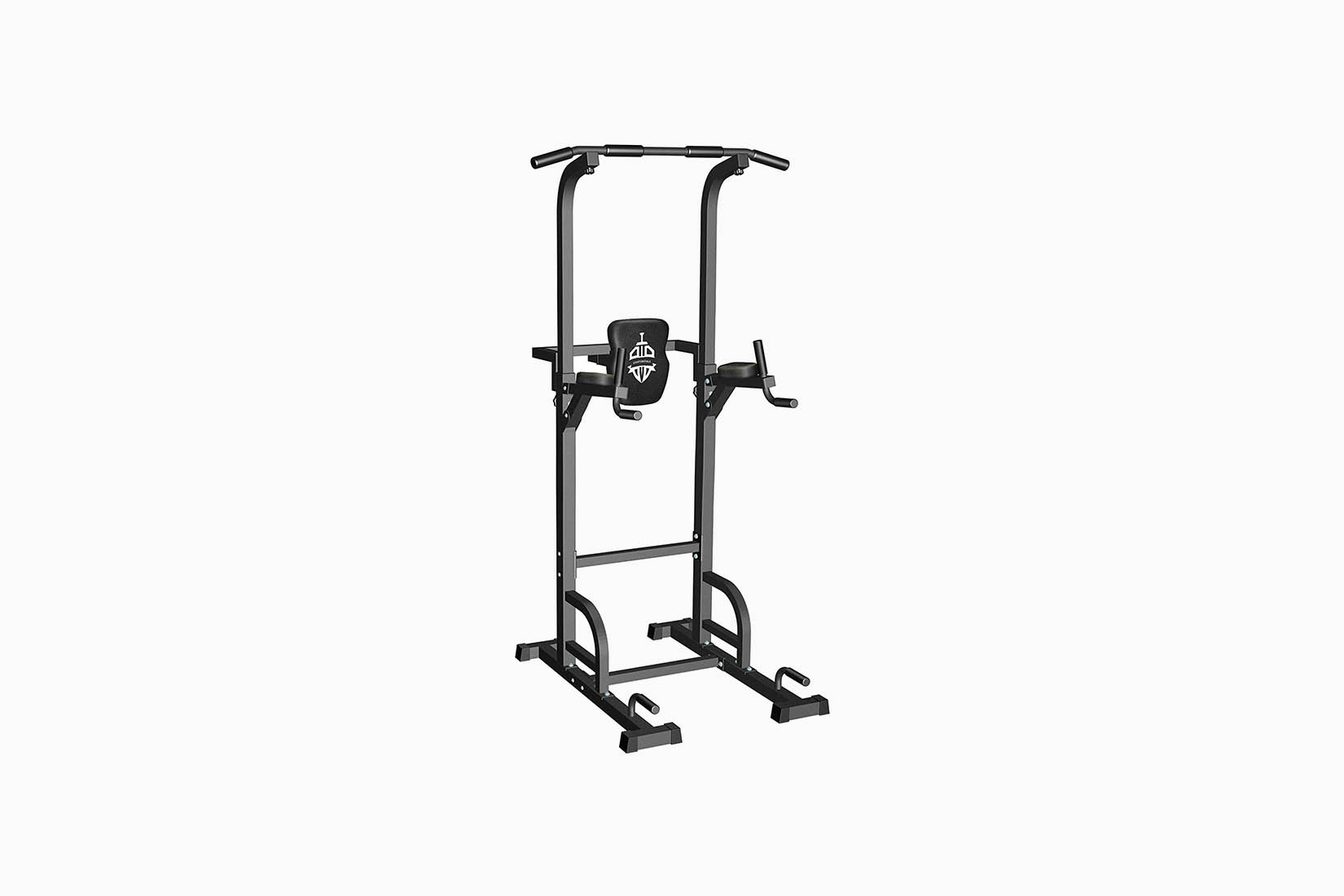 When it comes to pull-up bars, sturdy construction is number one priority and this one fits the bill. Its 14-gauge heavy square steel frame with scratch-resistant finish can hold up to 400 lb (181 kg) and withstand long-term use while the long base and eight support points increase stability. Plus, you've got PU pads to protect your elbows.
You can use this piece of equipment for more than just pull-ups, too. What about vertical knee raises, push-ups, and dips? Send your arms to a boot camp they'll never forget with this Sportsroyals pull-up bar. One of the ultimate home gym essentials, it's not called a power tower for nothing.
Best for: Seeing rapid pull-up progress and cultivating compliment-worthy muscles.
Total Gym XLS: Best home gym equipment for small spaces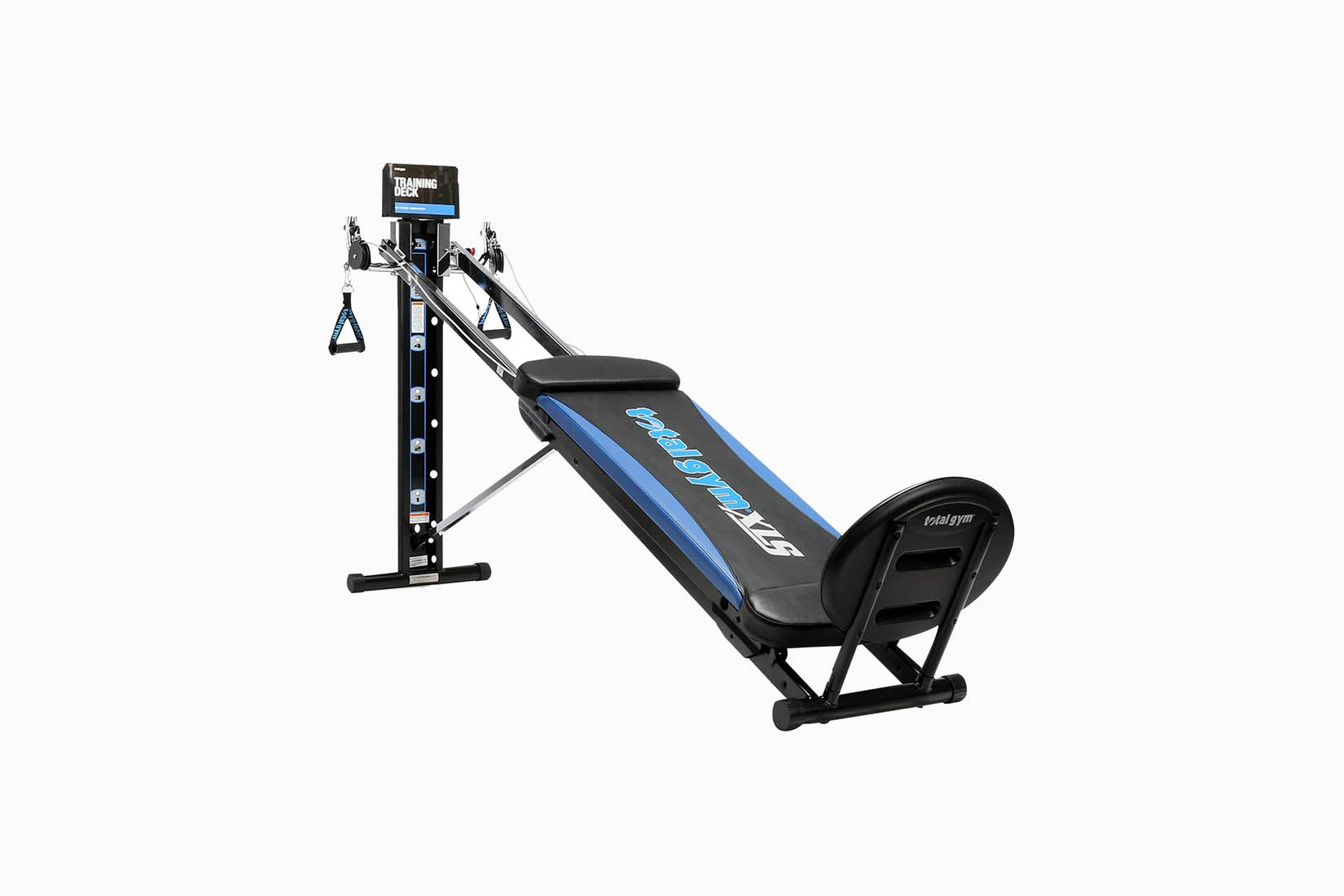 If you're looking for compact workout equipment for your home gym, you're in luck. Total Gym's Total Body Training Machine is the answer to the prayers of apartment dwellers everywhere as it can fold up for storage when not in use.
Despite having just a single glide board and a few attachments, the Total Gym XLS offers over 80 exercises to choose from and 6 levels of resistance. You also get free access to Total Gym TV for extra training guidance.
Use this Total Gym machine for cardio, strength training, and stretching. It also comes with a ribbed squat stand, leg pull access with two ankle cuffs, training deck, and even a nutritional meal planning guide to help you cultivate healthy habits.
Best for: Saying goodbye to space-hogging and clunky exercise machines.
BodyBoss 2.0: Best portable home gym equipment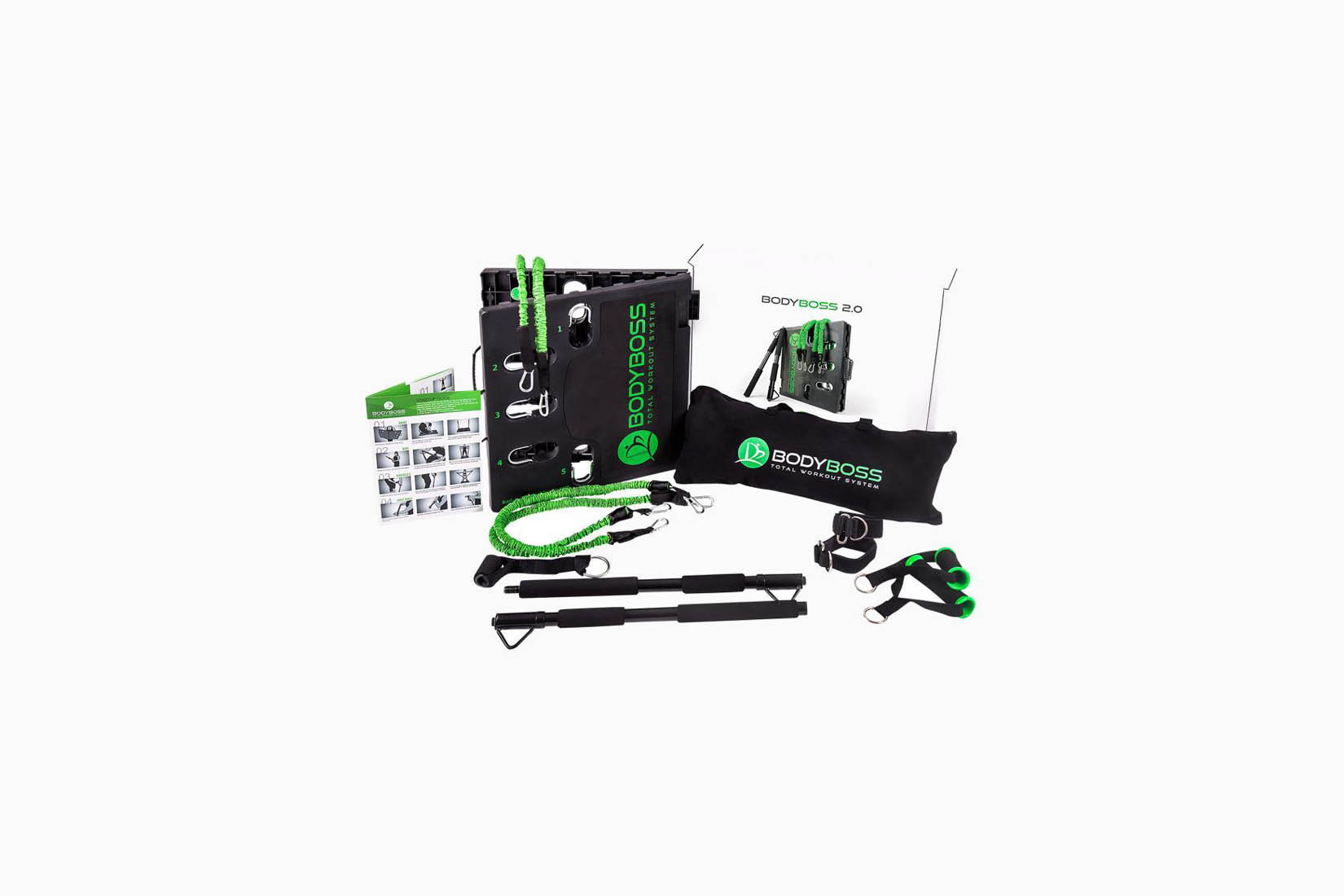 Forget bulky gym equipment that takes up half your living room. BodyBoss 2.0 is a game-changing workout concept that allows you to do all the fat-busting heart-pumping exercise you'd do in the gym and yet it weighs only 16.1 pounds (7.3 kg).
Who knew that all that hulking fitness equipment could easily be simulated by a few simple workout tools? The BodyBoss 2.0 is a gym you can take anywhere with you, whether that's on a business trip abroad or to the office for a lunch break sweat session.
Do an upper body or lower body workout or challenge yourself with a cardio resistance boxing session, all with just one piece of lightweight and compact home gym equipment. With just six accessories—a non-slip grip base, a bar, resistance bands, handles, straps, and a door anchor—the BodyBoss 2.0 allows you to simulate any exercise you would normally do at the gym.
Best for: A packable portable gym that's more or less the size of a briefcase.
The DB Method: Best home gym equipment for squats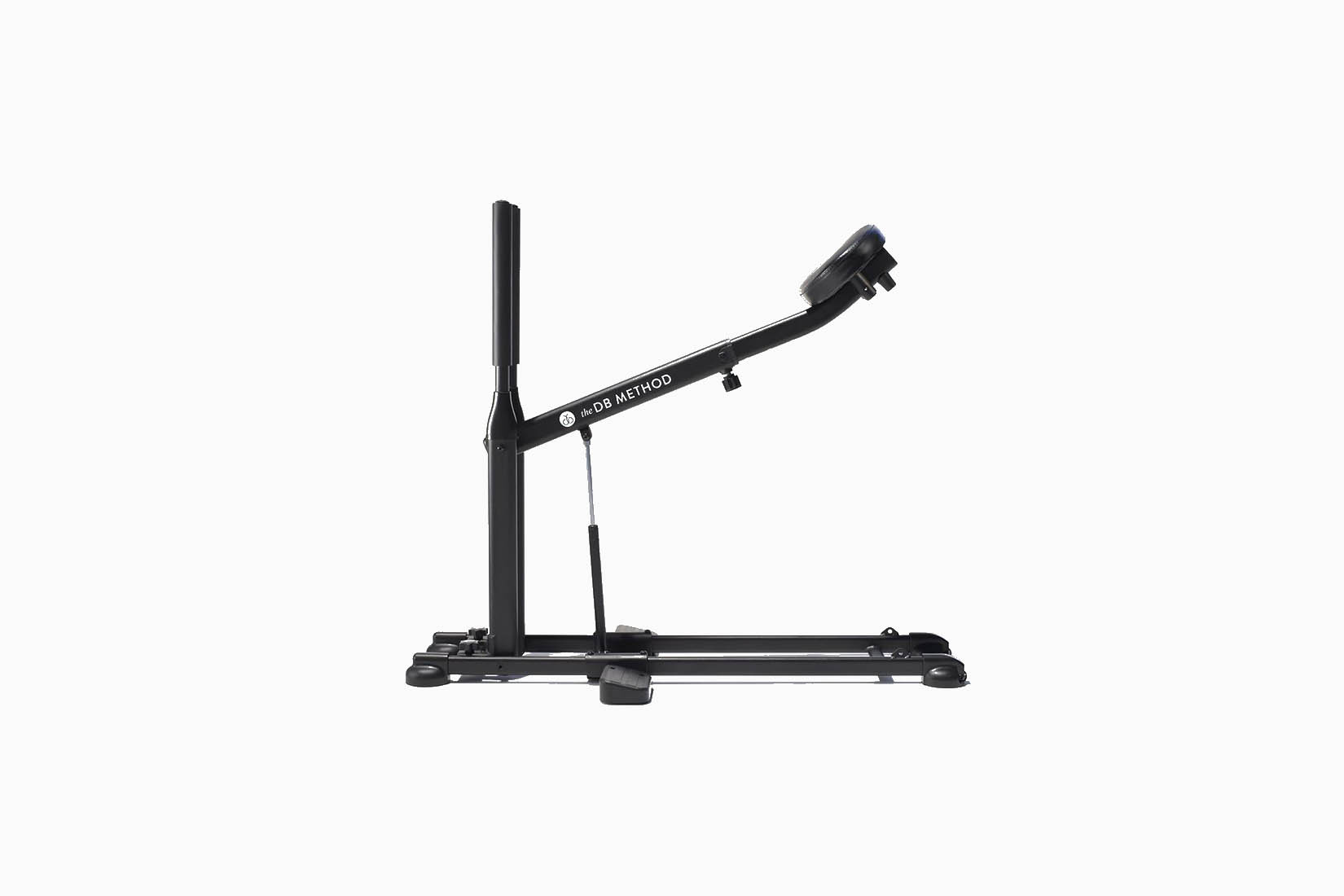 You've never done a proper squat until you've squatted with The Machine by the DB Method. It shifts your body weight into your hips, allowing direct access to your glutes. Perfect form suddenly becomes as easy as pie as the machine guides you into correct alignment. You simply need to relax and enjoy the sensation of creating your most exquisitely toned lower body ever.
How many times have you been corrected on your squat by your personal trainer? Now, with the DB Method Machine, you can guarantee that you're doing it properly and see visible gains in your butt, thighs, and legs. Up there with the best home exercise equipment for weight loss.
Best for: Cultivating the world's most sensational squat.
P.volve: Best gliders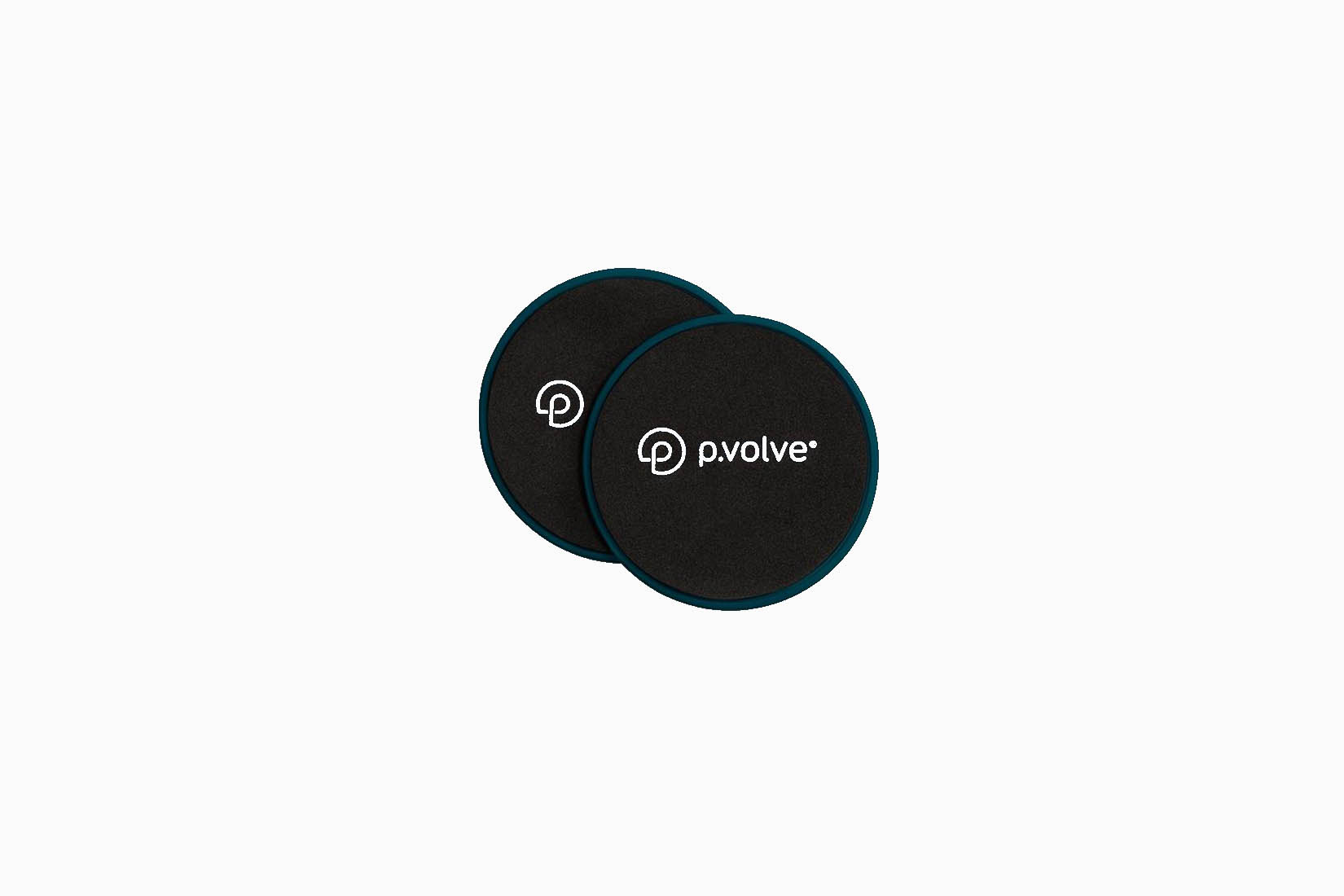 If you haven't added gliders to your workout yet, there's no time like the present. And there's no better pair of gliders than these ones by P.volve.
These gliders may look lowkey but the results are anything but understated. They'll help you lengthen and strengthen your legs as well as lifting and tightening your butt for the kind of body that calls out for a slinky swimsuit.
Use these P.volve Gliders in plank position and they'll tone up your biceps, triceps, and core. Use them on mountain climbers to take an already difficult exercise up a notch. These tiny home gym essentials help you improve strength and stability as your body tries not to slide all over the place.
Best for: The slimmest legs and the tightest butt.
Letsfit: Best resistance bands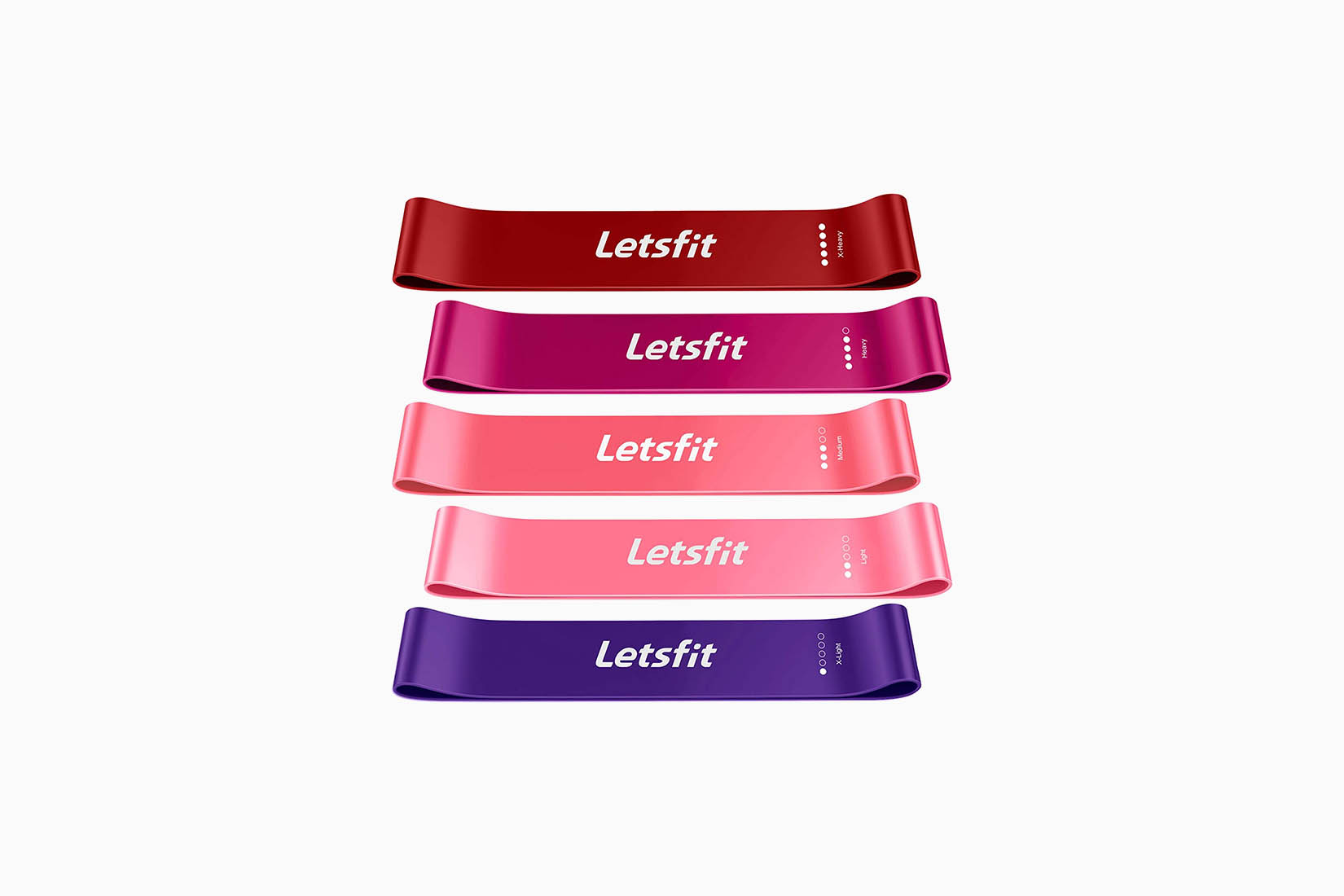 Resistance bands are God's answer to the prayers of fitness fanatics everywhere, offering an easy, straightforward, and budget-friendly way to work out. At under $10, this set of five resistance bands are proof that getting an impeccably toned body doesn't require you to shell out all your savings.
The set includes bands of five different resistance strengths, from extra light to extra heavy, and they're color-coded for ease of use. Take advantage of these bands in any number of workout routines, from yoga to strength training.
Watch your fitness results rocket with these Letsfit resistance bands, a super simple but highly effective way to boost strength fast.
Best for: A total-body workout solution that is hard to resist.
Garage Fit: Best exercise rings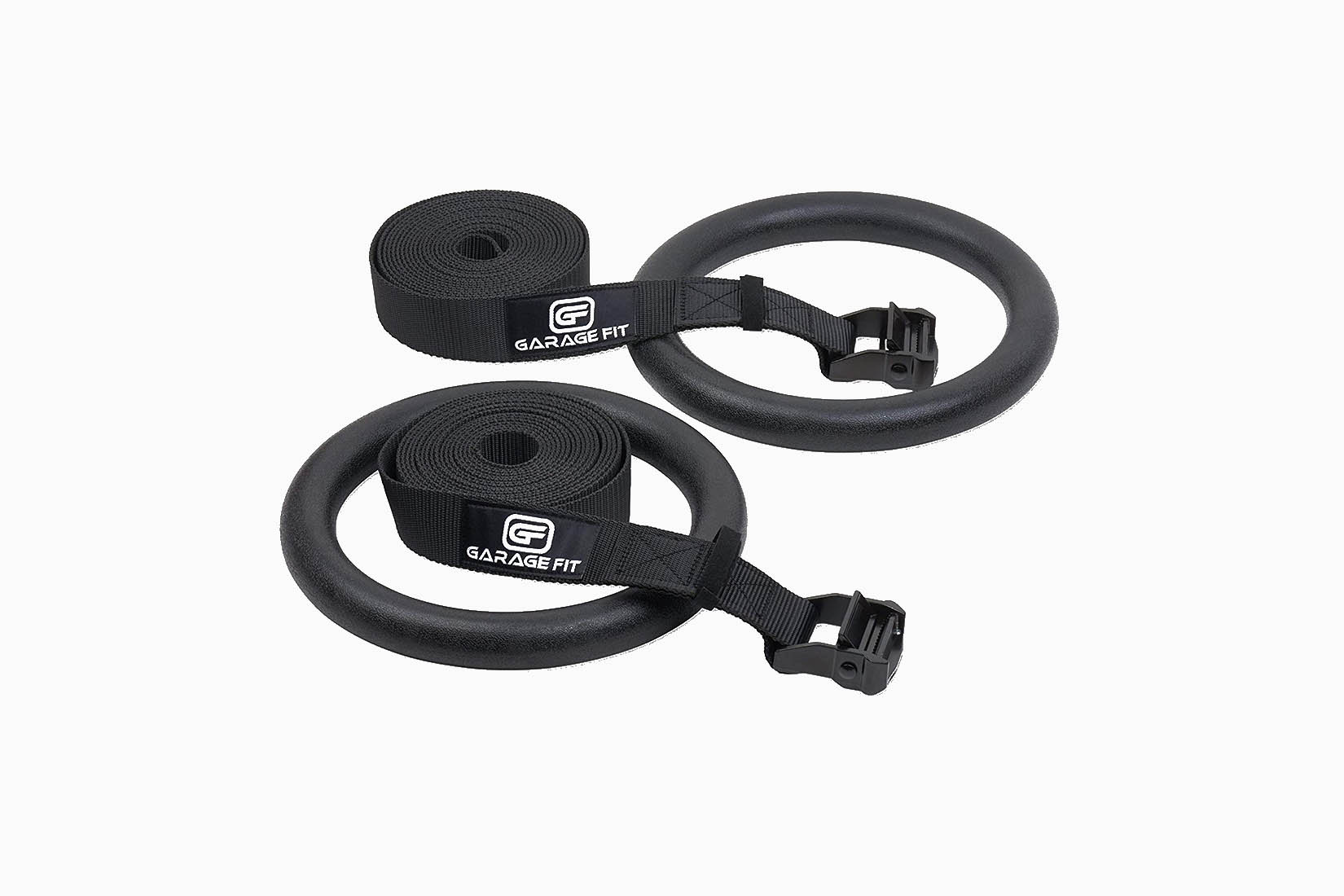 Transform your home into a legitimate fitness center with these exercise rings from Garage Fit. These gymnastic rings are ideal for cross-training or pretending you're a competitive gymnast, even if you only ever manage one pull-up on them.
This game-changing gym gear can be used to perform any number of bodyweight exercises, from push-ups to dips. Made from textured BS plastic, your hands won't slip around, no matter how sweaty they get. Plus, these Garage Fit exercise rings can handle up to 550 pounds (250 kg) so no danger of them breaking when you're hanging upside down.
Best for: Finding your inner Olympian.
P.volve p.ball: Most innovative fitness ball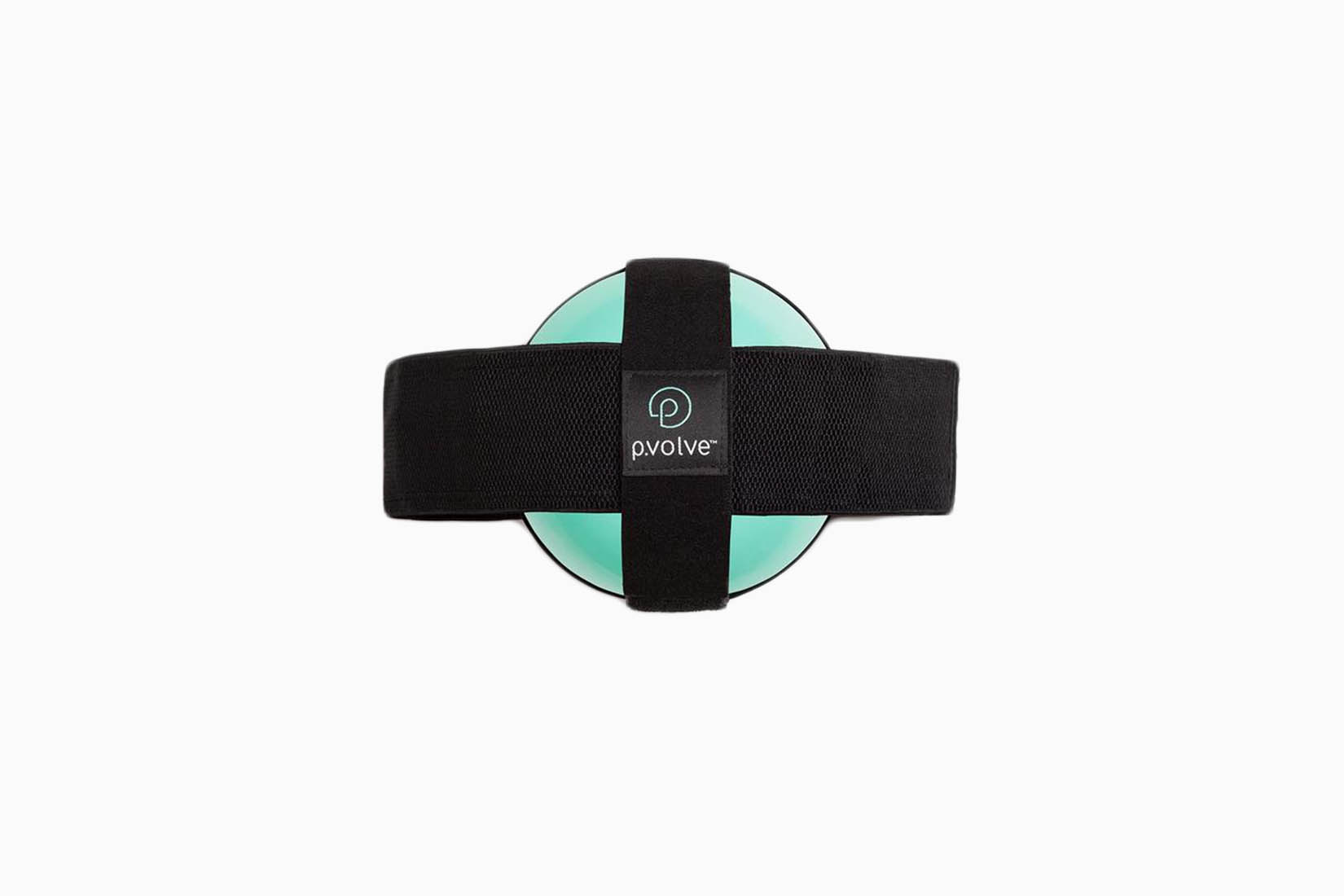 P.volve's Pilates Ball is a patented and radical workout solution that has the potential to revolutionize your exercise regime.
Another cutting-edge product from P.volve, the p.ball is essentially an inflated ball with an elastic band that you use by strapping it around you so that the ball sits between your legs. It has been meticulously designed so that it can fit perfectly between your thighs, forcing you to fire up muscles that barely ever get used.
By activating and toning your glutes, thighs, and core, you get a more sculpted and defined body. Who wouldn't want that? The P.ball is an incredible little exercise accessory that has the power to completely upgrade your workouts.
Best for: Proving that precious things definitely do come in small packages.
FITFORT: Best jump rope for home workouts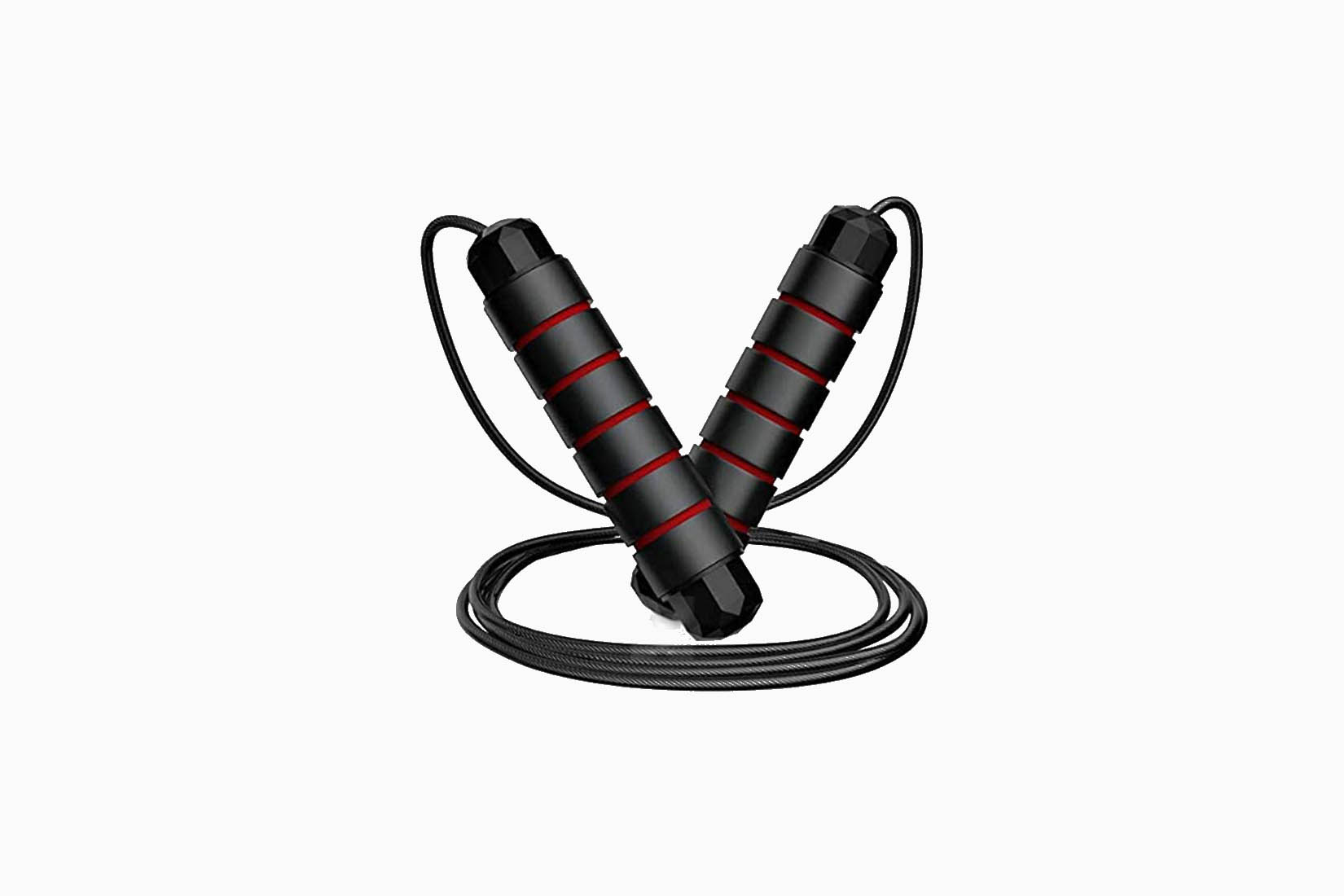 Remember jumping rope when you were a kid? Well, turns out it's one of the best ways to get into shape. Which is why this jump rope from Fitfort has made it onto our list of the best home gym equipment. When it comes to a vigorous workout that's great value for money, jumping rope is hard to beat.
Made from steel wires coated with PVC, this is one seriously durable jump rope. With an adjustable length, you can customize according to your needs or height. High-quality ball bearings ensure smooth jumping and minimize tangles. And the foam handles are ergonomic with anti-slip and moisture-wicking properties to keep your palms dry.
Stick this FITFORT Jump Rope in your gym bag to use in your lunch break or enlist your kids for a weekend workout in the garden.
Best for: Turning skipping into a veritable shred session.
Trideer: Best stability ball for home workouts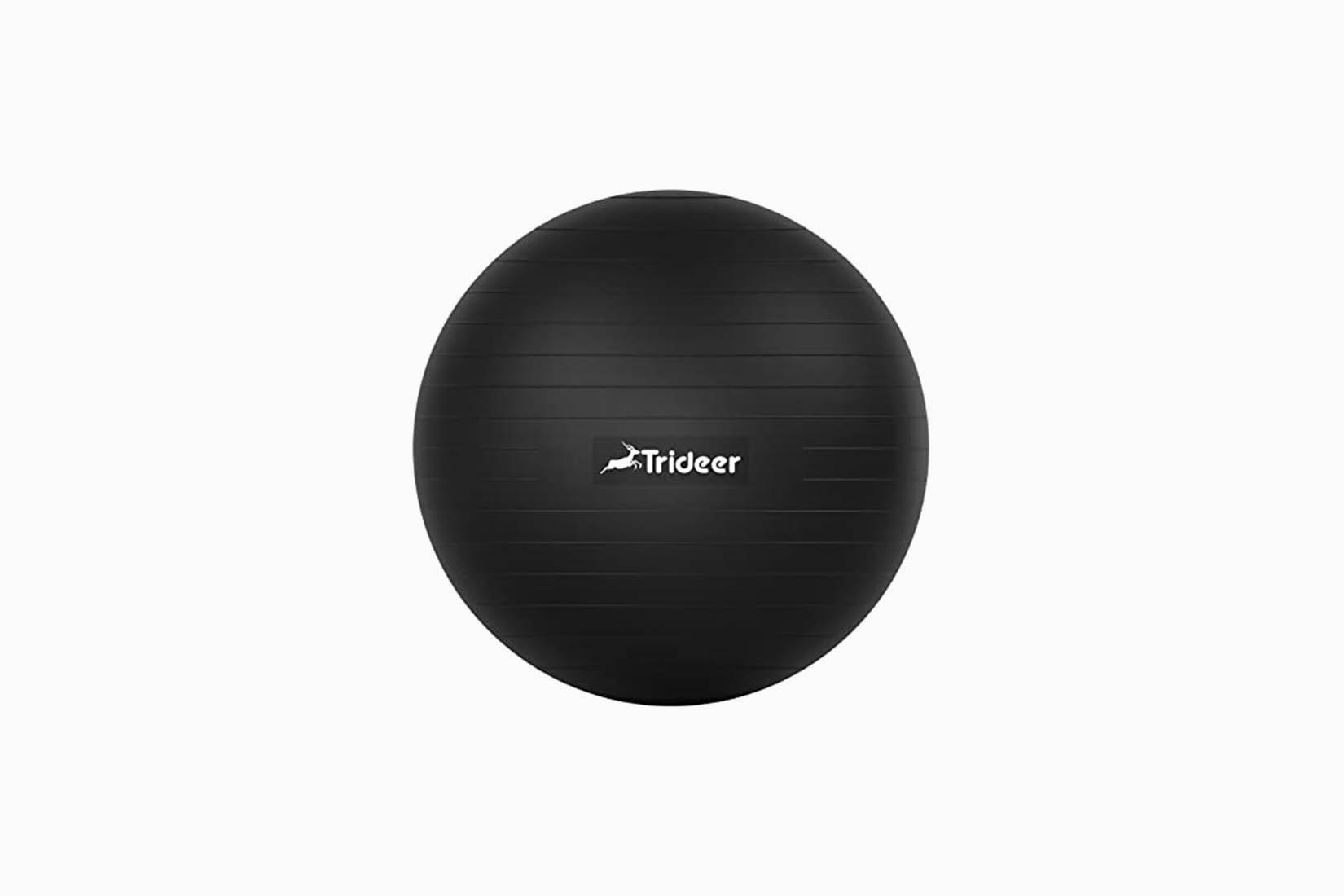 Our favorite thing about this Trideer Exercise Ball? Not only will it help us improve our balance and flexibility, but we can also use it for sitting on when we're working in our home office. Working out and working simultaneously? Yes, please.
Ideal for low-impact exercise, this exercise ball is especially well suited for use in pilates and yoga classes as well as for strengthening your back and abdomen.
This Trideer exercise ball can resist up to 2200 pounds (997 kg) so you don't have to stress about it bursting. It's also made of non-toxic PVC material and is easy to inflate with the included foot pump.
Best for: Evidence that you're never too old to bounce.
FLYBIRD: Best dumbbells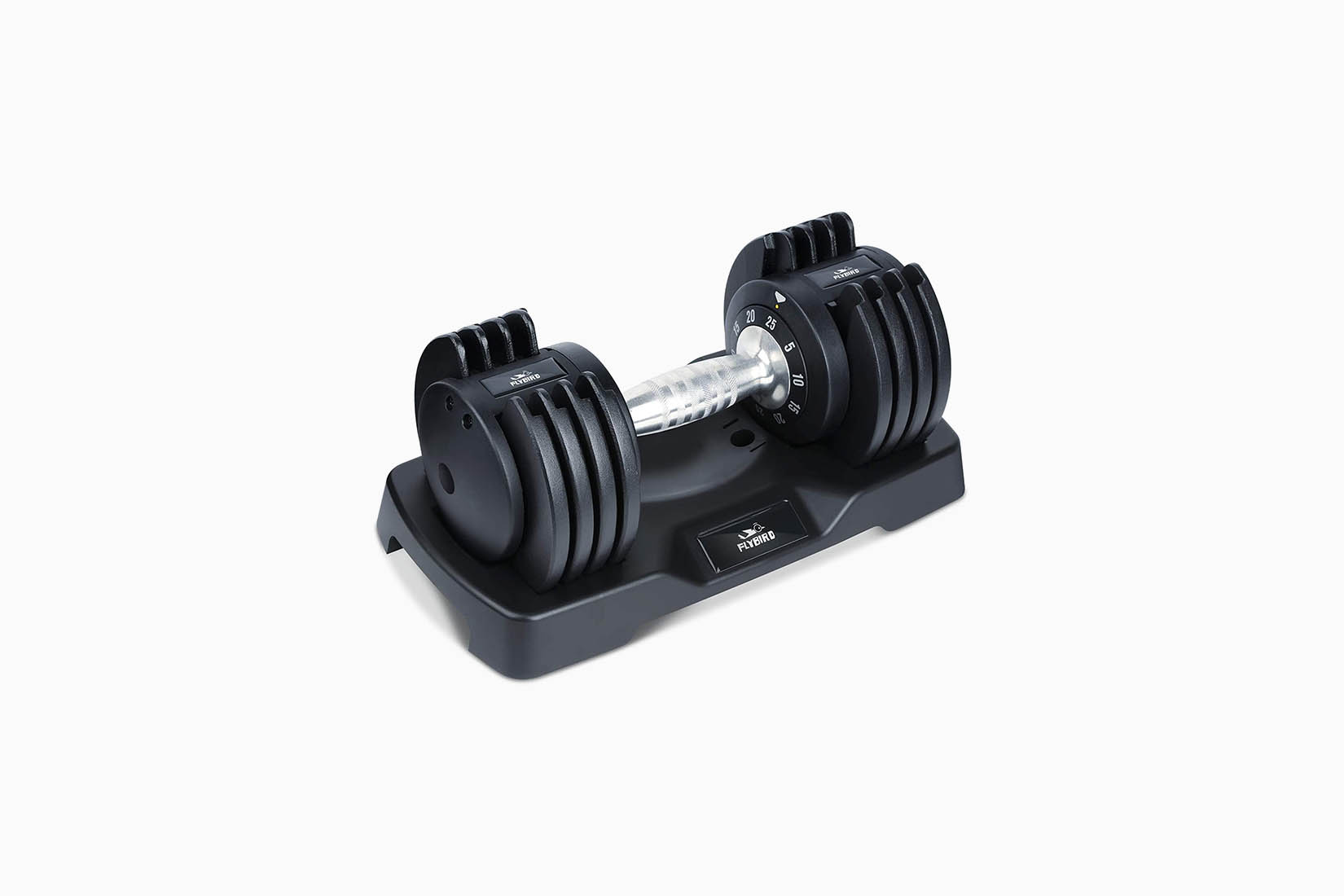 No home gym setup is complete without a set of dumbbells and these ones by FLYBIRD are our favorites thanks to their professional-grade design.
This 5-in-1 set of dumbbells is ideal for saving space without compromising on your weight-lifting goals. Change quickly and easily between different weights from 5 lb to 25 lb (2 kg to 11 kg), pushing yourself and watching yourself progress.
Another bonus is that these adjustable dumbbells don't jiggle or clink around as you move them. The handle grip is solid and secure, and while it doesn't seem like much, the dumbbell tray is actually incredibly handy for storage.
These FLYBIRD Dumbbells are definitely one of the best additions to your home workout equipment for strength training.
Best for: Nailing that squat-swing combo like the king of the gym that you are.
The Step Original Aerobic Platform: Best fitness step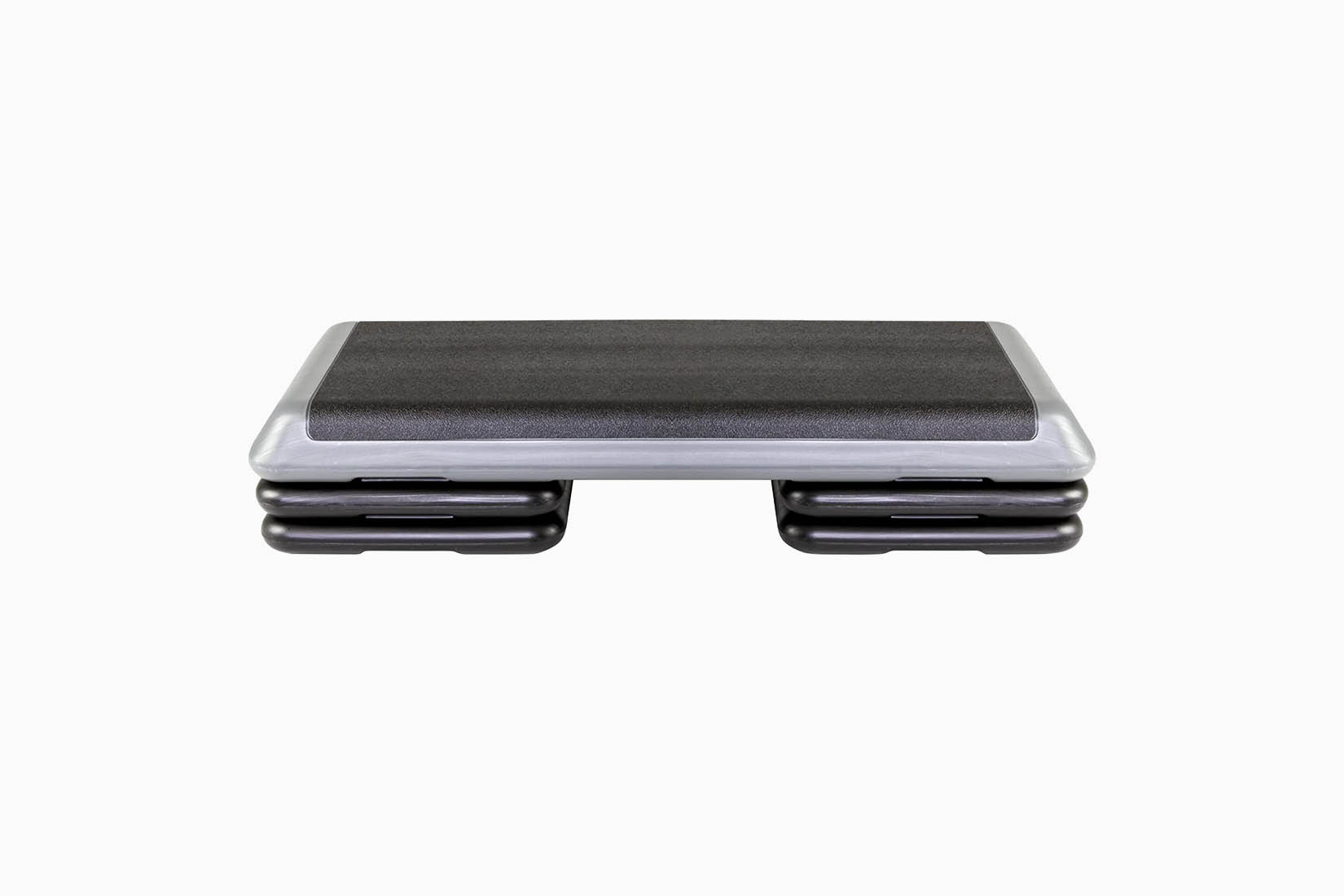 As this Step Original Aerobic Platform will quickly demonstrate to you, not only is aerobics a great high-energy and high-impact workout that really gets your heart racing, but it's also a major mood booster too. Crank up the tunes to see what we mean.
This aerobic platform may look simple but it has a few subtle details that make it a stand-out purchase. Firstly, it's made of high-density polyethylene, which is durable and hard-wearing. The premium non-slip surface can support up to 350 pounds (158 kg) while the four non-skid feet will grip firmly to the floor, ensuring you don't trip up as well as stopping your hardwood floors from getting scratched.
Plus, you can vary the difficulty of your workout easily by adjusting The Step Original Aerobic Platform's height.
Best for: Getting the endorphins flowing with a front-room-friendly aerobics set-up.
Bionic Body: Best kettlebells for home workouts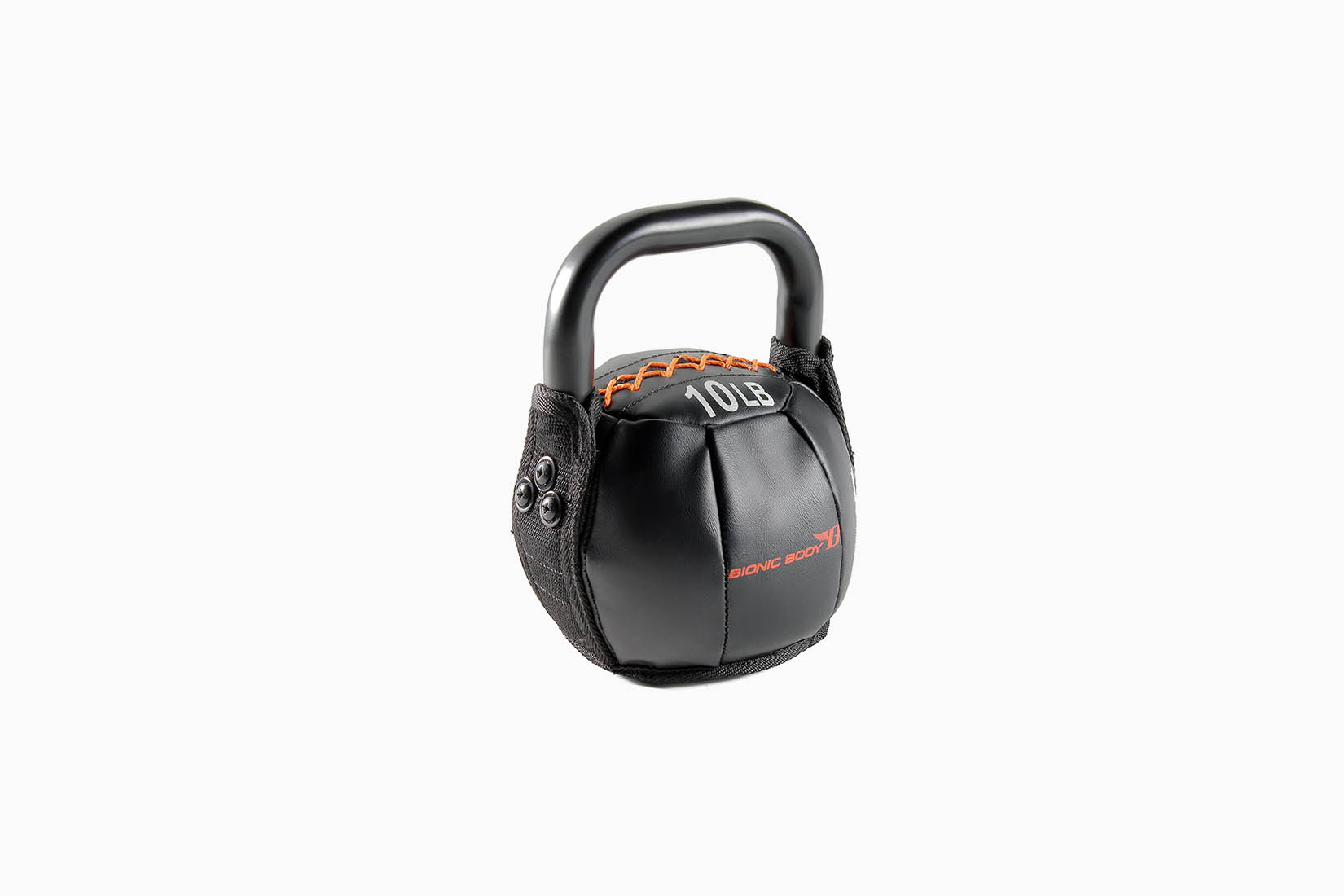 Bionic Body makes the best kettlebells for home gyms with their combination of heavy-duty but soft materials. This means they'll last but they won't damage things or injure you if you drop them. And the large handle provides an ergonomic grip in even the most vigorous swings.
Combine this Bionic Body kettlebell into your HIIT workout routines, using it to amp up your squats, deadlifts, and other moves. The offset center of gravity ensures the weight is perfectly distributed as you move it around.
Best for: A softer and safer version of the cannonball classic.
Amazon Basics: Best medicine ball for home workouts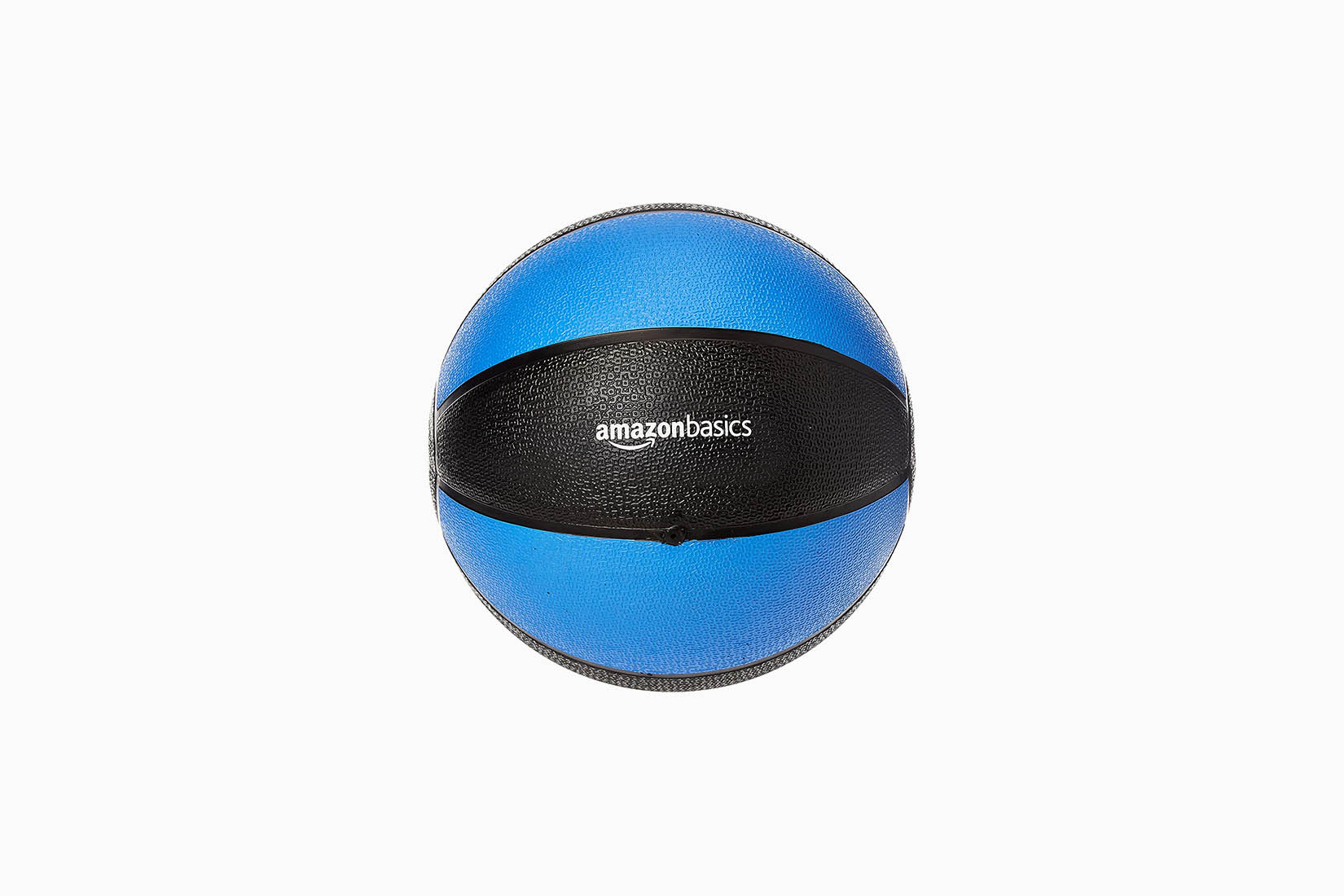 If you haven't introduced a medicine ball into your home workout routine yet then add this Amazon Basics Medicine Ball to your cart pronto. These weighted balls are ideal for a whole range of strength training exercises. Plus, they're small enough to fit in the back of your wardrobe.
These medicine balls come in a range of weights so you can pick according to your fitness level and goals. Use the ball to develop strength with a combination of moves including squats and deadlifts. You can also use this gym favorite to take push-ups to the next level by rolling it between your arms in between lifts.
This Amazon Basics medicine ball has a textured finish for optimal grip while the sturdy rubber construction ensures a solid bounce and long-lasting durability.
Best for: A space-friendly and versatile addition to your home workouts.
Bala: Best wrist & ankle weights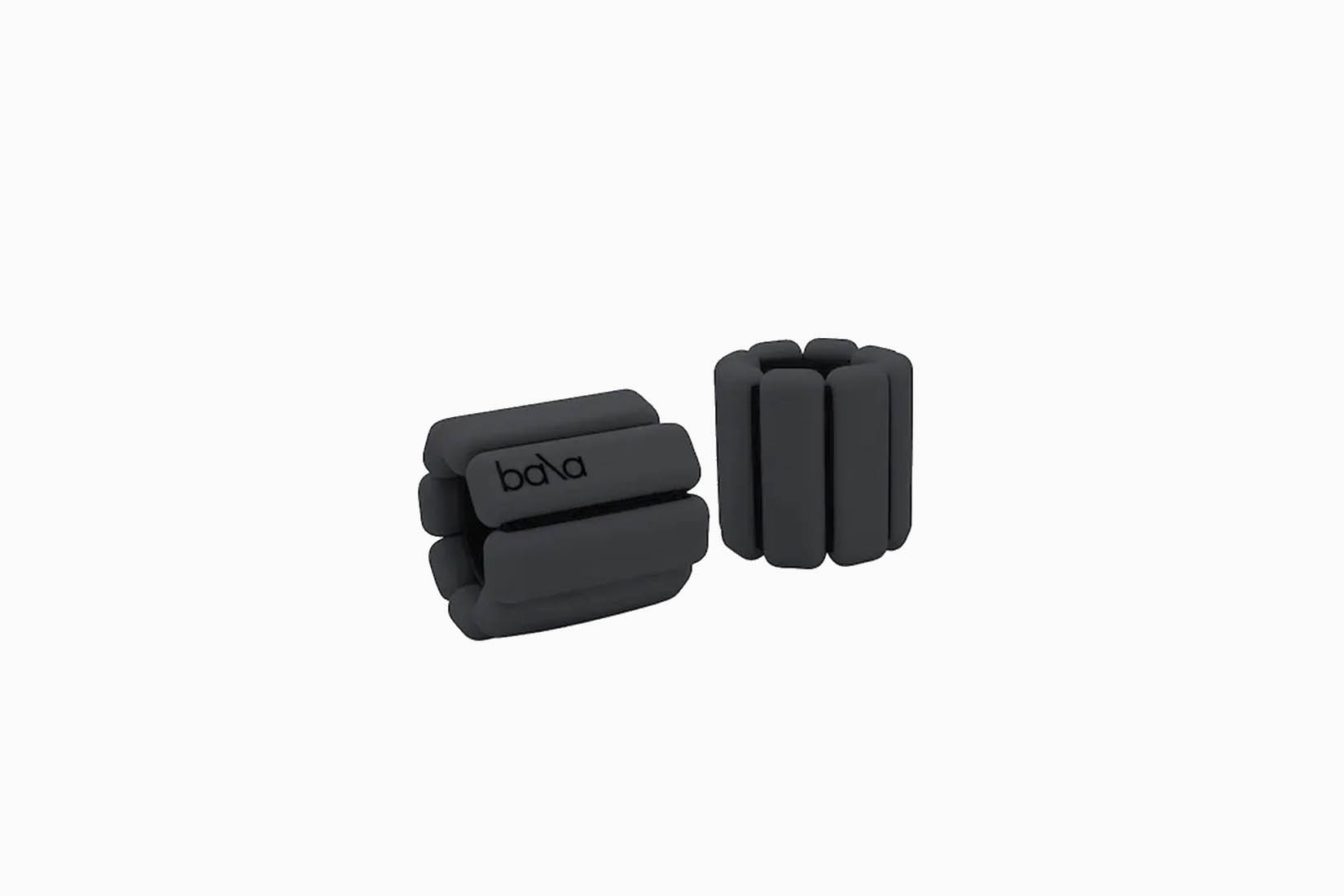 We can't get enough of these Bala wrist and ankle weights. You can wear them for a whole host of activities, from yoga to pilates to hiking, and amp up the fat-burning-potential of any workout you do.
Formed of eight cast-iron bars coated in a recycled silicone skin, these are comfortable to wear on your wrist or ankle to add a bit of extra weight and make your body work that bit harder. It's an easy yet effective way to increase heart rate, burn calories, and build muscle.
Adding resistance to any body movement is a simple way to turn daily activities into a workout. These wrist and ankle weights by Bala are the perfect tools for the job.
Best for: Turbocharging all your exercise sessions.
P.volve: Best foam roller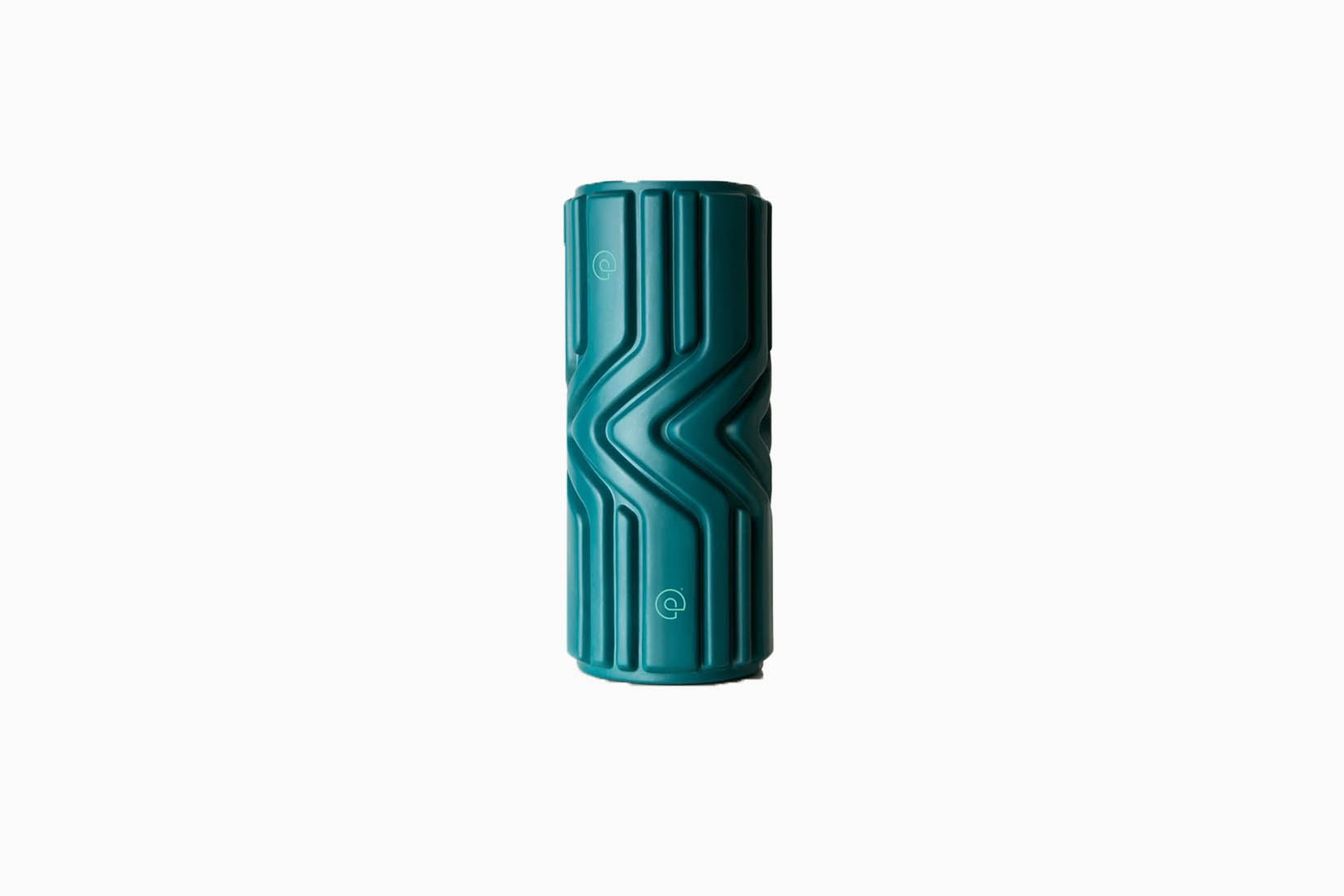 One of the best budget-friendly, space-saving, and adaptable additions to your home gym, this P.volve foam roller is a must-have for anyone who's serious about creating the dream at-home fitness retreat.
The perfect workout routine is not just about burning fat and building muscle. You also need to make sure you recover properly afterward. Place this roller under sore or tight muscles after a workout to gently release tension.
You can also use the roller before workouts to increase your range of motion and get the blood circulating. Plus, this P.volve foam roller is made of lightweight material and is small in size which makes it great to travel with.
Best for: The indispensable fitness essential you didn't realize you were missing.
Lululemon: Best exercise mat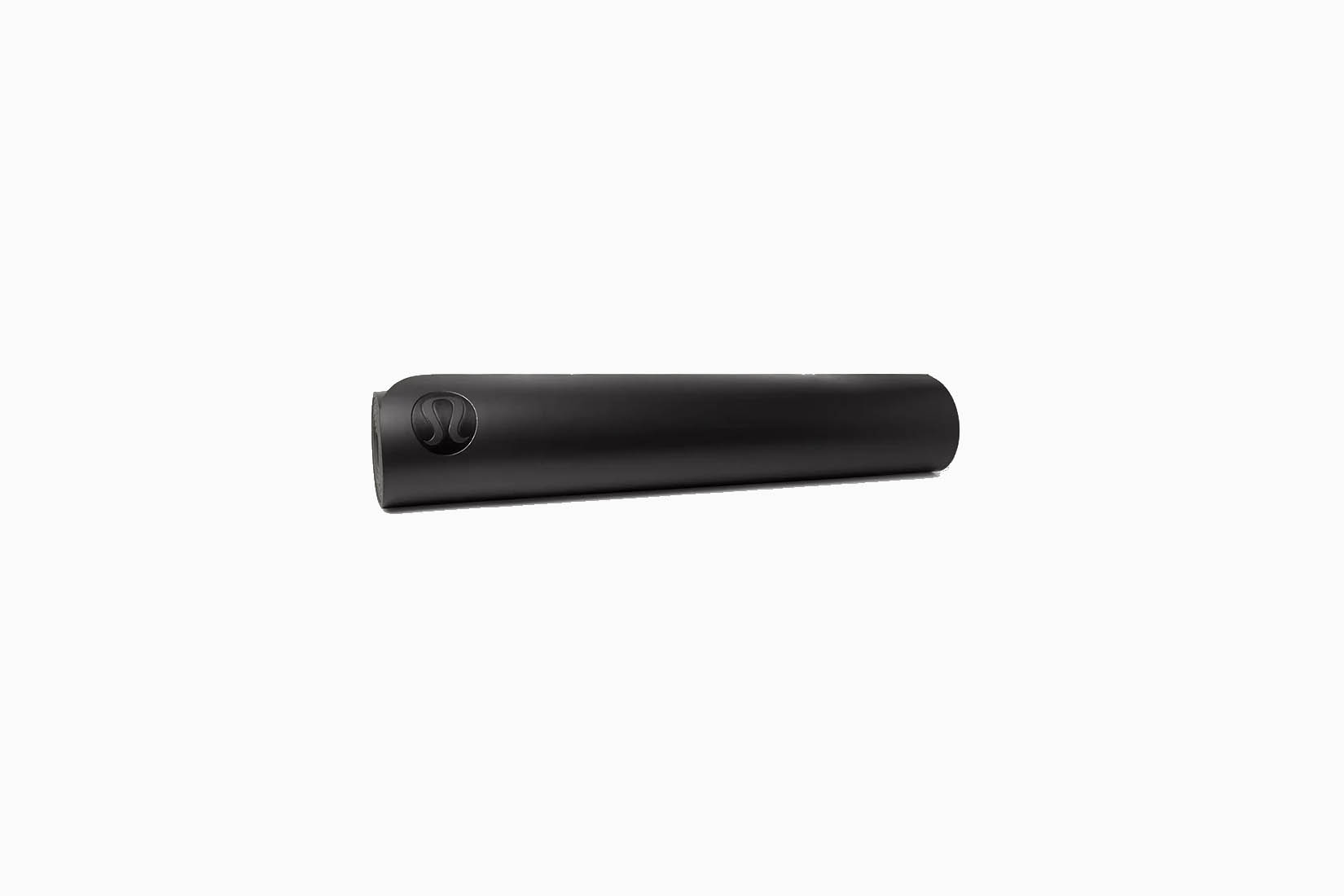 Lululemon makes some of the best exercise mats in the industry and one of our favorites is this Reversible Yoga Mat which comes in a sleek and practical shade of black.
Protect your home floors and your joints with this spongy polycarbonate mat that's 5mm thick. Not so squidgy that it affects your stability but providing enough cushioning to be comfortable during stretches and cooldowns.
This Lululemon mat is designed with a no-slip grip so you can tackle more difficult poses with confidence. The anti-bacterial finish means no nasty odours and it rolls up and stores away nice and neatly.
Best for: Providing comfort and protection in every training session.
Mirror: Best at-home virtual trainer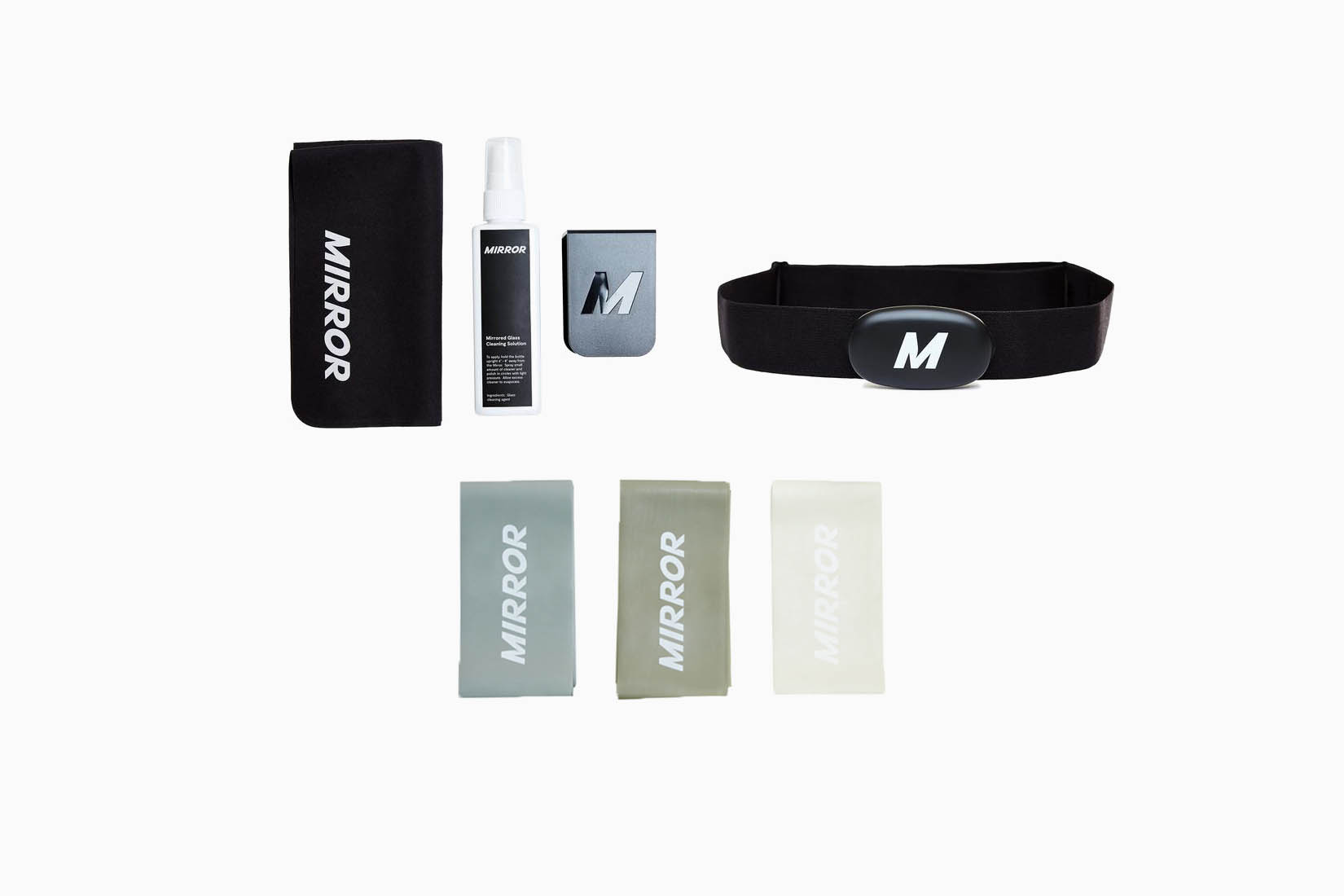 The Mirror virtual trainer is as close to a miracle as you can get when it comes to working out. Sure, it won't give you your perfect body overnight but it does magically transform from a mirror into a high-functioning all-purpose fitness device.
The Mirror is pretty much invisible. The super elegant design means it looks like a stylish interior design addition, blending seamlessly into your room scheme.
But when you want to work out, the Mirror turns into a virtual trainer, powered by advanced camera technology and machine learning. This is some seriously cutting-edge software with algorithms to deliver real-time feedback on your performance.
Enjoy over fifty genres of classes ranging from five to sixty minutes and designed for every level of fitness. There are live classes weekly as well as a library of thousands of sessions for you to join on-demand according to your schedule. The Mirror even allows you to work out with friends.
Best for: Adding a little sorcery to your exercise sessions.
Weider: Best budget home gym equipment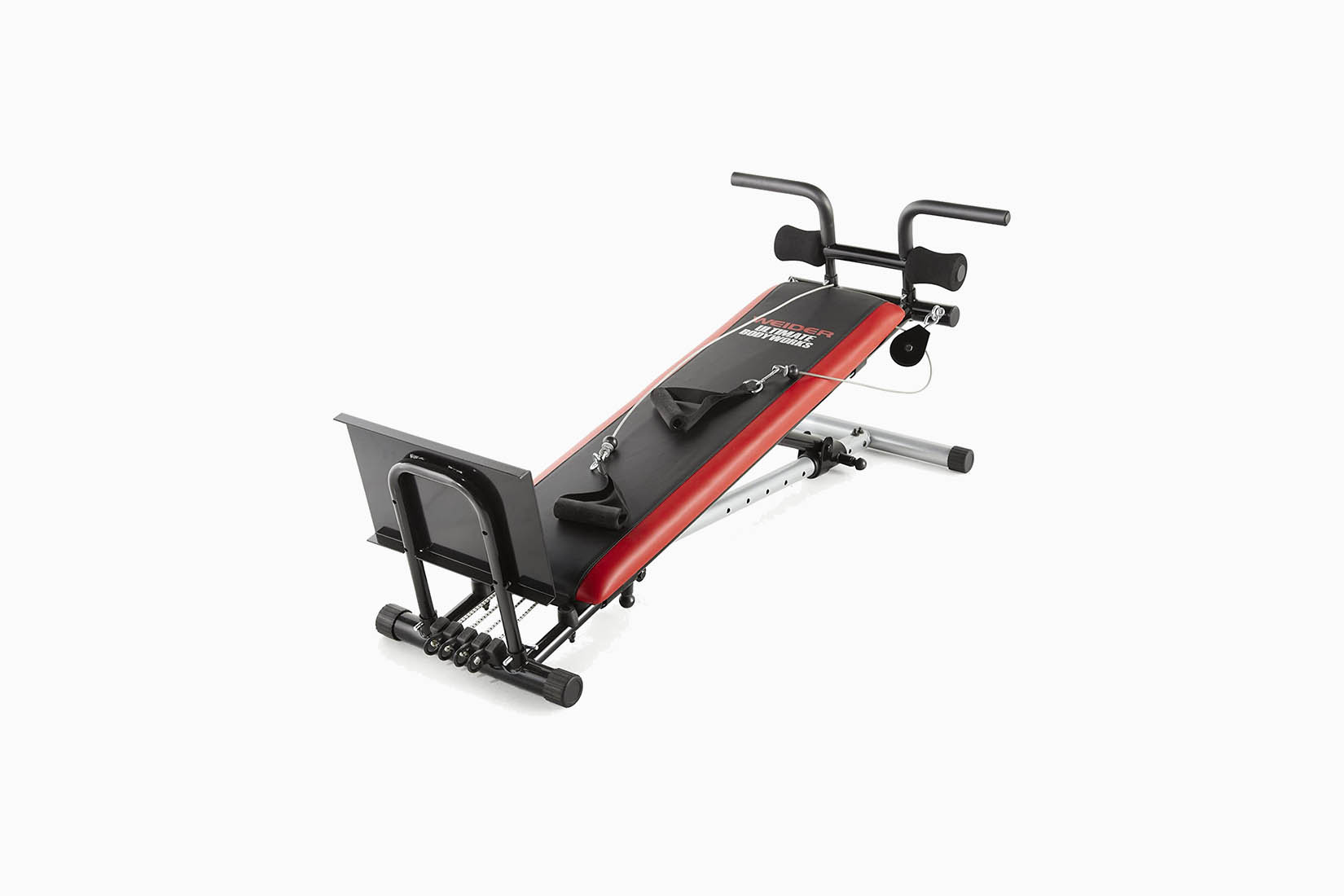 Whether you've got dreams to enter an IronMan competition, or you simply want to shed a few pounds and tone up, working out is easier if you don't have to spend all your money on gym gear. Which is why we love Weider's Ultimate Body Works.
At under $200, the Ultimate Body Works is very good value considering what you get. You can choose from four different resistance bands depending on how much effort you feel like making. There are also eight levels of incline to allow you to further customize your workout, while the space-saving design means the bench can be stored in a cupboard or under a bed between sessions.
From chest presses to squats to crunches, you can perform a whole range of moves on the Weider Ultimate Body Works Bench. And it won't break the bank either.
Best for: Breaking a sweat without breaking the bank.
NOHrD: Most expensive home gym equipment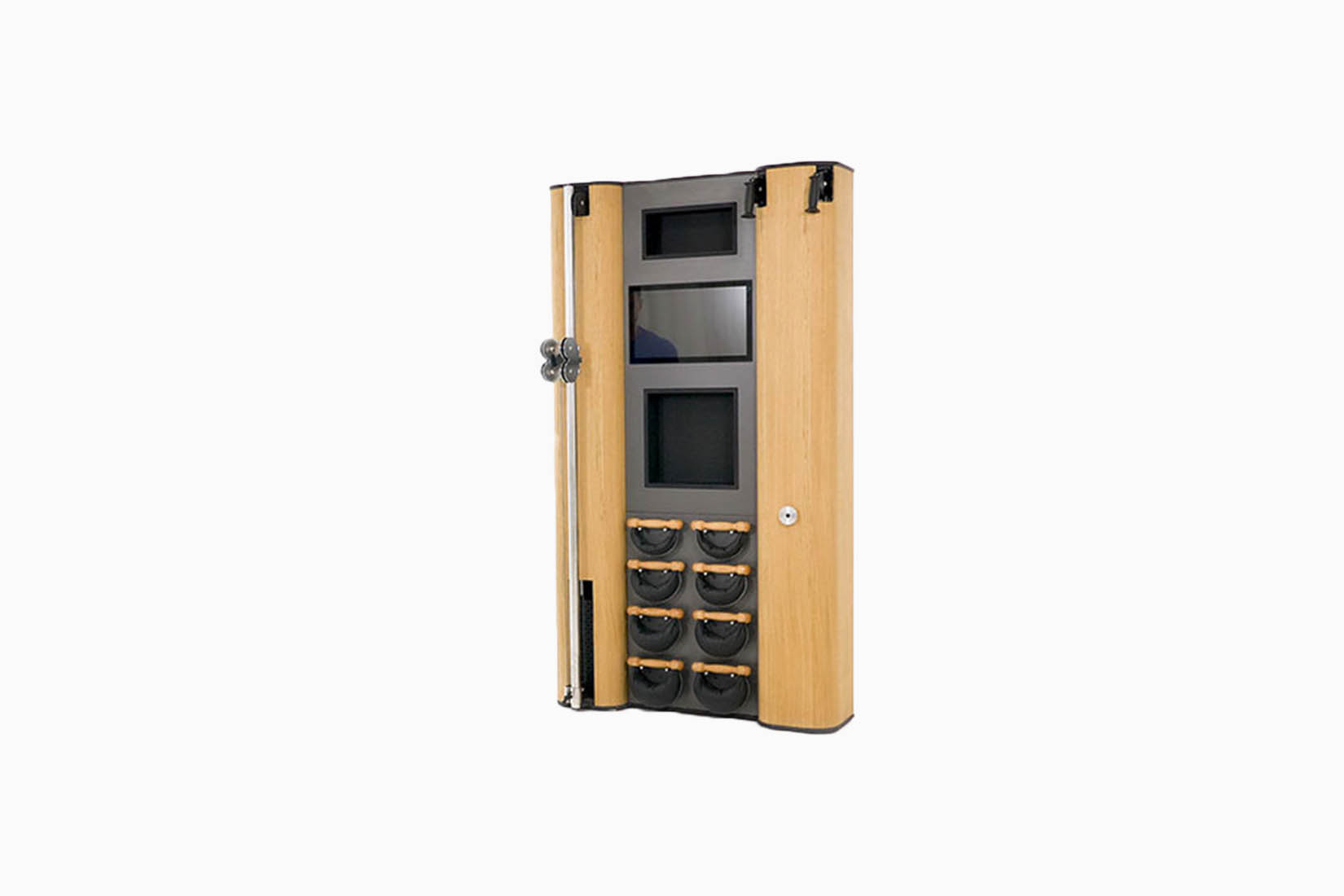 For fitness equipment that's as much about aesthetics as aerobics, check out this NOHrD exercise wall. It's sleek and sophisticated and would fit perfectly inside any upscale home.
All contemporary glamour, this exercise wall comes in a choice of different fine wood finishes. It also has everything you might need for a full-body workout.
Use the interactive virtual trainer or opt for daily streamed workouts on the built-in touch screen. Wear a chest belt monitor to get access to heart rate data and a highly-accurate calorie burn analysis. Then you've got hand-stitched leather swing bells for strength training while the NOHrD-Ski ergometer cable machine works multiple muscle groups at the same time and promises to really get the sweat pouring.
A top contender for the best smart home gym.
Best for: Giving your home workouts the 5-star treatment.
Buyers guide: how to choose the right home gym equipment
When choosing home gym equipment for you, there are a few things to bear in mind.
Fitness goals
There are four aspects to fitness: strength, balance, flexibility, and endurance. Decide what's your priority. This will help you to determine what kind of gym equipment to buy.
Ideally, however, you should try and get all four exercise components during the week for a holistic approach to fitness.
Endurance – these aerobic activities boost heart rate and improve overall health. They are also the best for helping you to lose weight. Bikes, treadmills, and rowing machines will all help improve endurance.
Strength – building strength helps prevent injuries and aids in overall fitness goals, especially balance. Look for kettlebell weights, weight machines, resistance bands, or do bodyweight exercises on a yoga mat. Elliptical trainers are also good for toning up.
Balance – good balance is key to everyday health and fitness. An exercise ball is a great way to focus on balance.
Flexibility – flexibility improves mobility and posture and minimizes the chance of injury. Get a good exercise mat for stretching, a roller to smooth out muscle contractions, and stretch bands to further boost flexibility.
Expert tips for post-workout recovery: Further optimize your home workouts with the Apollo Neuro, a wearable wellness device that uses vibrations to help your body recover from stress. This will help speed up your post-workout recovery, as well as improving your overall heart rate and sleep quality, both key factors in physical well-being.
You might also treat yourself to a post-practice massage. The Alo Yoga rest spray combines soothing magnesium, arnica, and aromatherapy oils to relieve sore muscles and ease tension.
The size of your space
For larger spaces, you can go all out and invest in a rowing machine, treadmill, cross trainer, or exercise bike. For smaller homes, you might want to consider more space-efficient training solutions such as small kettlebell weights, a jump rope, or resistance bands.
Budget
Evidently, some pieces of gym equipment are cheaper than others. And you don't necessarily need to spend a fortune to get in shape at home. Weights, a yoga mat, resistance bands, and a jump rope could be all you need to improve your fitness.
However, if you've got some spending cash, you might consider smart gym equipment such as a smart bike or smart treadmill. Smart gym equipment allows you to track your performance and even join live classes from your home.
Frequently asked questions about home gym equipment
What equipment should I buy for a home gym?
The best equipment to buy for a home gym is a combination of gym accessories to achieve different fitness goals. Opt for kettlebells for strength training, a jump rope or exercise bike for cardio, resistance bands for toning, and a yoga mat for flexibility. 
Is it worth buying home gym equipment?
It's worth buying home gym equipment if you want to get in shape. Not having to leave the house to work out makes it easier to establish a consistent fitness regime. You can also adapt your workout to suit your mood, schedule, or preferences that day. 
What is smart gym equipment?
Smart gym equipment is gym equipment that's connected online so you can record workouts and access fitness data, including calories burned or average heart rate. You can also download exercise classes or join live workout classes. 
How much should I spend on a home gym?
The amount you spend on your home gym essentials depends on your budget but sometimes all you really need are a few key pieces of gym equipment. You can pick up gym accessories such as dumbells, a yoga mat, and resistance bands for around $30 each.