Nothing can predict sales and future growth for a luxury brand quite as accurately as its popularity online right now. That's why Luxe Digital's team analyses the online popularity of the world's best luxury brands to rank the top 15 most sought-after brands among affluent consumers in 2020.
The luxury industry is first and foremost a brand-driven industry. People buy luxury goods and services because they trust and appreciate the brand. More than any other category, premium goods and services are driven by their brand's perception and popularity.
$445

the global luxury goods market will reach $445 Billion by 2025.
It is the third year in a row that we publish our list of the top luxury brands online. Our methodology has proven to be a reliable indicator of future sales. The high-end brands that made our top 15 will show strong performances throughout the year. Every luxury brand on our list is enjoying significant customer attention. They each drive substantial online conversations across social media channels and search. They are at the centre of what matters to modern affluent consumers and influencers.
Why stopping at 15, you may ask. Because we observe a significant drop in the share of online interest beyond number 15th. You'll see that even within the top 15, the top 5 brands alone are already capturing more than 60% of the affluent consumers' attention. Consumer's interest is indeed highly concentrated at the top of our list.
How do we estimate the online popularity of a luxury brand? We take into account a combination of brand value, search share of voice and social media conversations to create this list. You can read more details about our methodology and data sources at the end of this article.
In this article, you will discover which luxury brands are the most talked about and sought-after online in 2020. You'll also see the results of their marketing efforts in terms of consumer engagement and brand awareness.
We focus here exclusively on brands within the luxury fashion, beauty and "hard luxury" (jewellery and watches) categories. We're preparing a separate report for premium car brands and the transportation industry in general.
The top 15 most popular luxury brands online in 2020
1. Gucci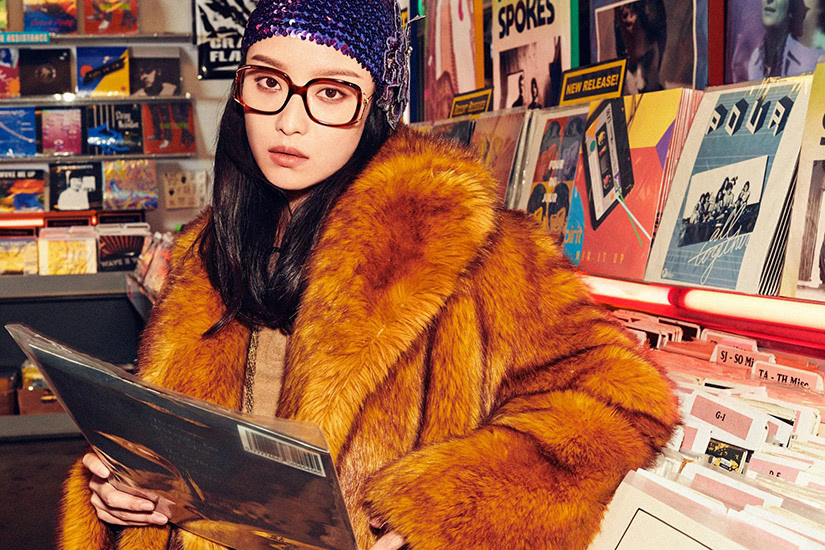 Gucci maintains the top spot on our list of the most popular luxury brands of 2020, well ahead of all its competitors. The popularity of the brand is slightly declining in 2020, however. Online searches for Gucci dropped by 19% year over year.
This is partially due to an exceptional run for the Italian fashion brand over the previous years. Affluent millennials love the edgy design of the brand. The Italian luxury manufacturer maintains a particularly strong presence in the designer sneakers market.
But other premium brands also started to catch up with Gucci in 2020. Balenciaga, Valentino, Saint Laurent, and Fendi, in particular, are all seeing their share of online popularity growing over the same period.
That said, Gucci continues to reign king on the luxury market. Social media mentions for the brand across all digital platforms dwarfed all the other luxury fashion brands worldwide. The brand is discussed over 11 million times per month, on average.
Most popular Gucci items online
Top Gucci items for women
Top Gucci items for men
Online interest for Gucci over time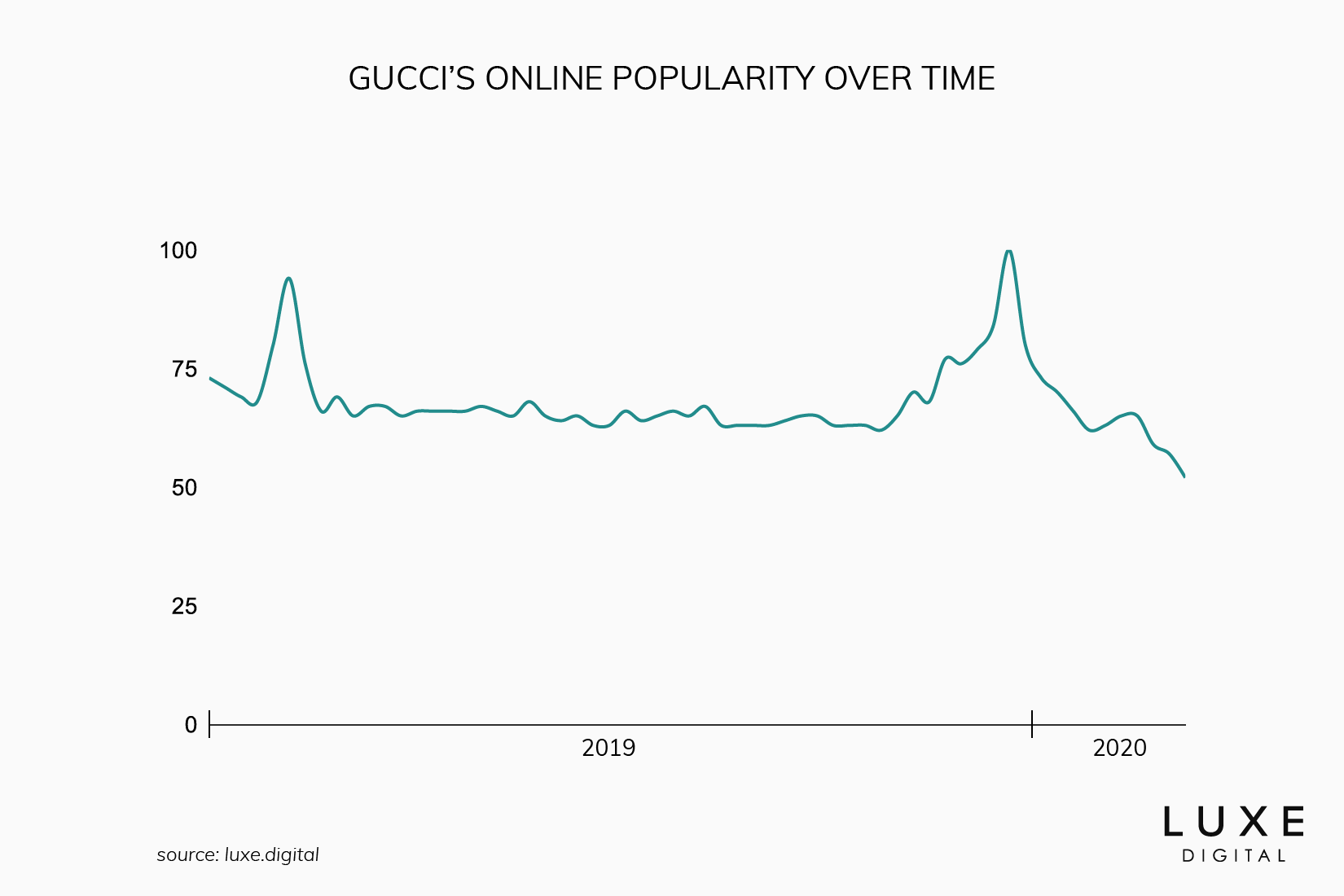 2. Louis Vuitton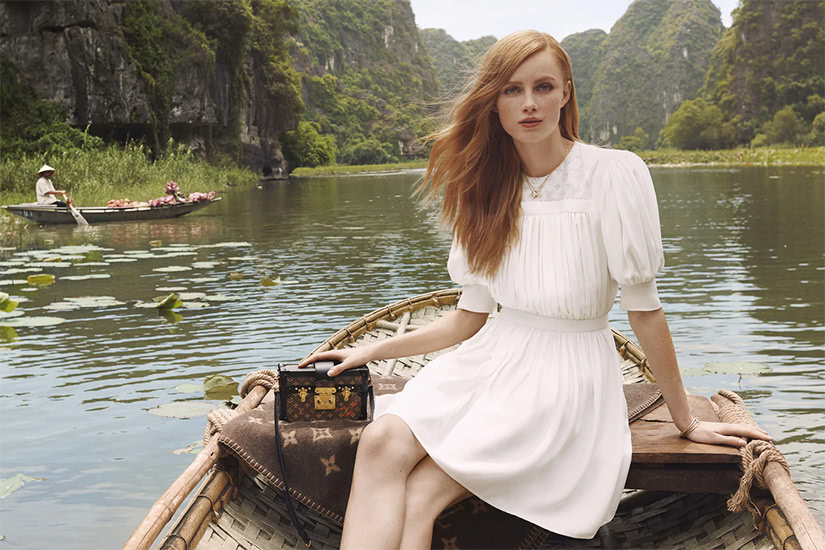 Famous French luxury house Louis Vuitton, or LV, gained one point to rank number two on our list of the most popular high-end brands online. The popularity of the brand has particularly grown after streetwear celebrity designer Virgil Abloh became their menswear Artistic Director.
Louis Vuitton continued to drop much-hyped collaborations across various fields. After working with New York cult streetwear brand Supreme to connect with Millennial luxury shoppers, LV partnered with premium audio company Master & Dynamic to design high-end wireless earbuds. These are just two examples among many broad-ranging collaborations to reach new audiences.
The value of the Louis Vuitton brand is estimated at $39.3 Billion in Forbes' 2020 most valuable brands index. It's the highest-ranking luxury brand on their list.
Most popular Louis Vuitton items online
Top Louis Vuitton items for women
Top Louis Vuitton items for men
Online interest for Louis Vuitton over time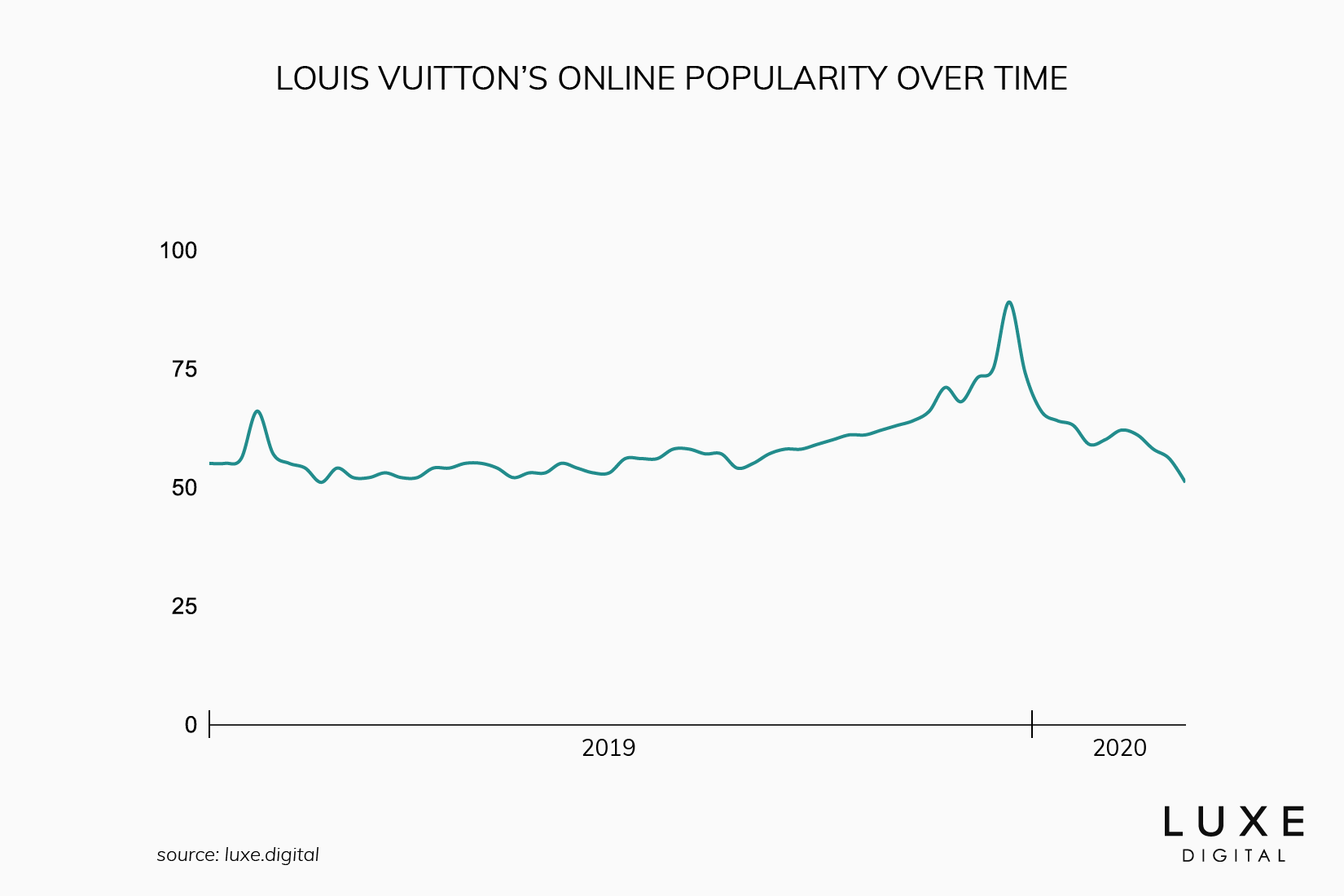 3. Chanel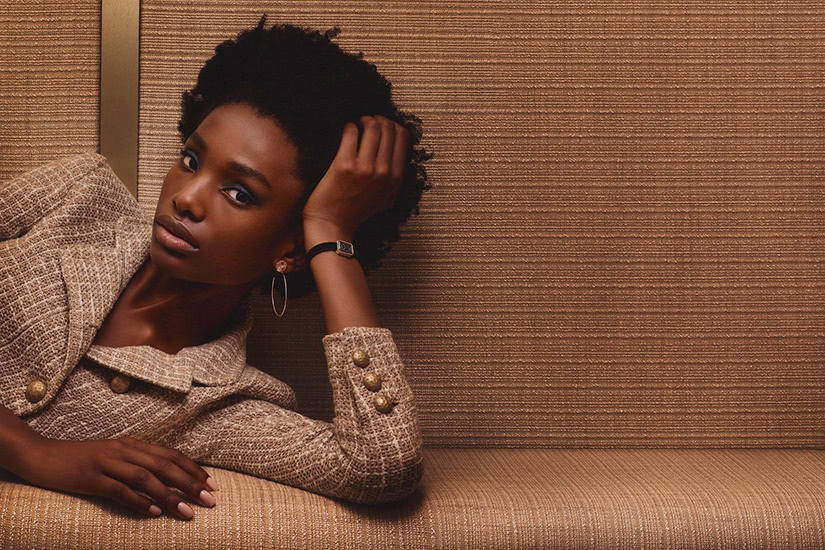 Luxury French fashion house Chanel dropped one point on our list to rank as the third most popular luxury brand online. The haute-couture house increased its overall value, however, with an estimated brand value of $9 Billion (+1 Billion in a year).
Interestingly, despite its minimal e-commerce adoption, Chanel has been investing successfully in other areas of digital. Chanel is leading in digital luxury storytelling with thumb-stopping visuals and engaging videos that drive interest across platforms. The luxury brand excels at launching narrative-led and celebrity-driven campaigns to its audience, but also behind-the-scenes and tutorial-based content.
Chanel remains a privately held company owned by Alain and Gerard Wertheimer, grandsons of Pierre Wertheimer, who was an early business partner of Coco Chanel. The product range includes clothes, fragrances, handbags and watches. The brand is most famous for its "little black dress", the Chanel No. 5 perfume and the Chanel Suit.
Most popular Chanel items online
Top Chanel items for women
Top Chanel items for men
Online interest for Chanel over time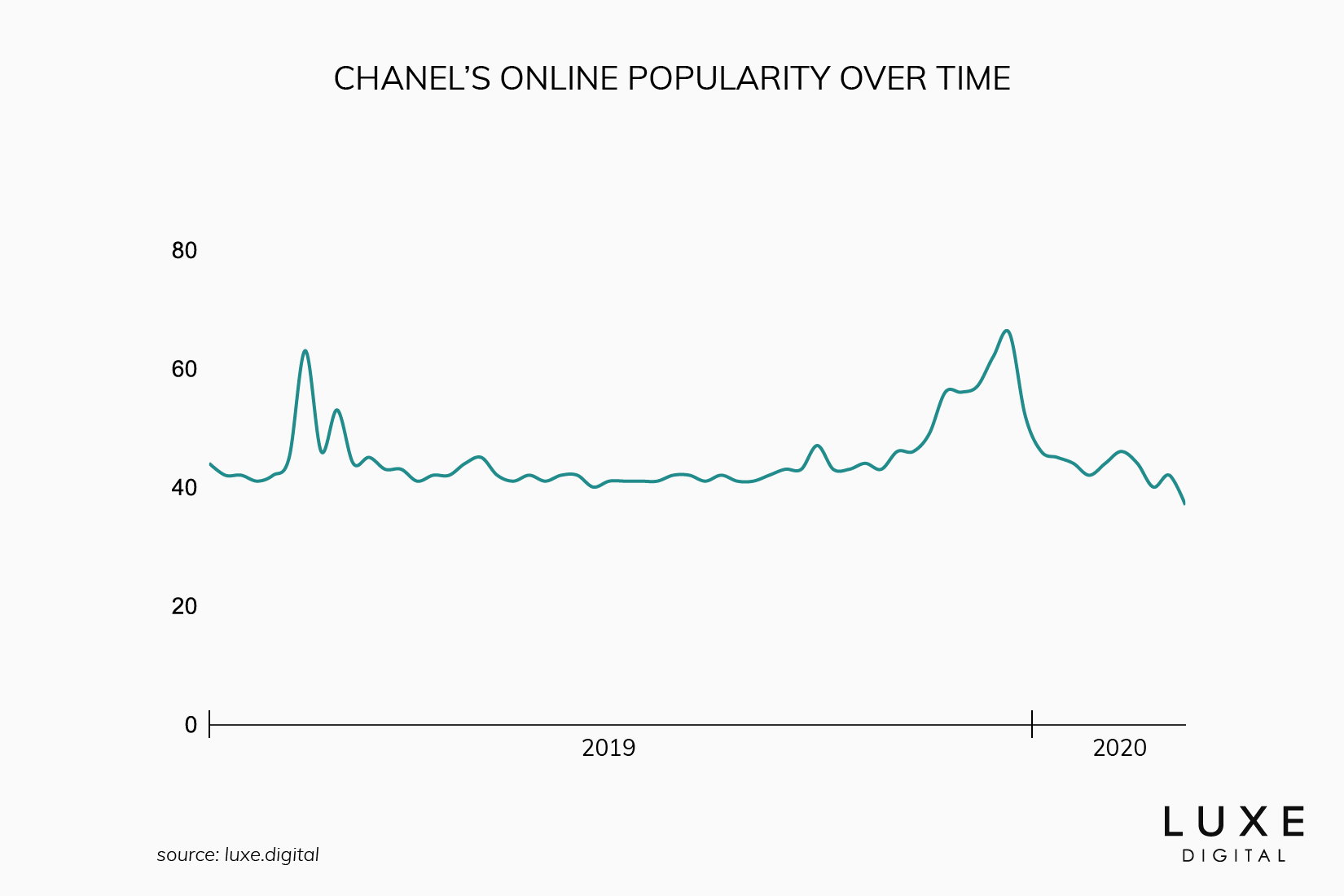 4. Rolex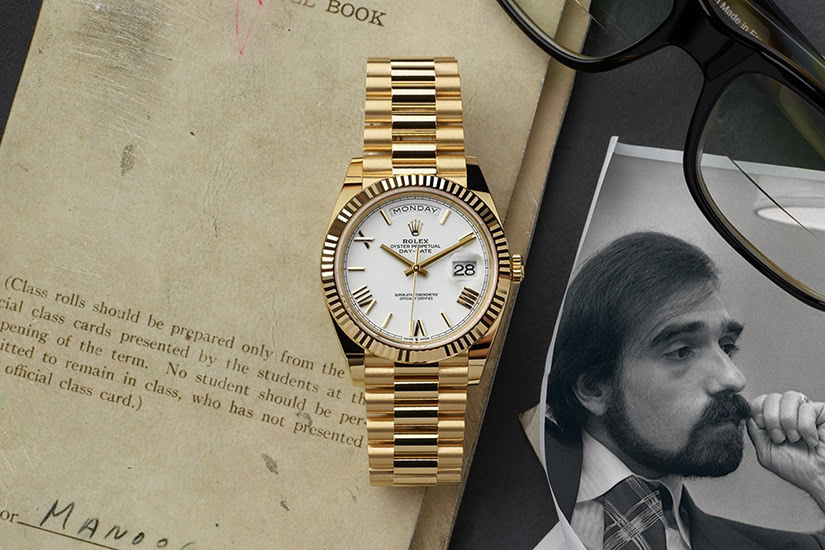 Swiss luxury watch manufacturer Rolex takes the fourth place on our list, gaining one point in 2020. The world-renowned luxury watch company is also featured on Forbes top 100 most valuable brands in the world, taking spot 78 with an estimated brand value of $9.1 Billion.
As is the case every year, new watch models are driving most of the online conversations around Rolex. The constantly increasing aftermarket value of vintage Rolex watches is also fueling interest for the brand. Just take a look at our list of the top 15 most expensive Rolex to see the affluent consumer's interest for rare pieces.
Rolex has a substantial brand presence in the world of sports with endorsements in golf, motorsports, tennis and yachting. Some of the world's most famous athletes advertise for Rolex watches including Roger Federer, Lindsey Vonn and Phil Mickelson.
Most popular Rolex items online
Top Rolex watches for women
Top Rolex watches for men
Online interest for Rolex over time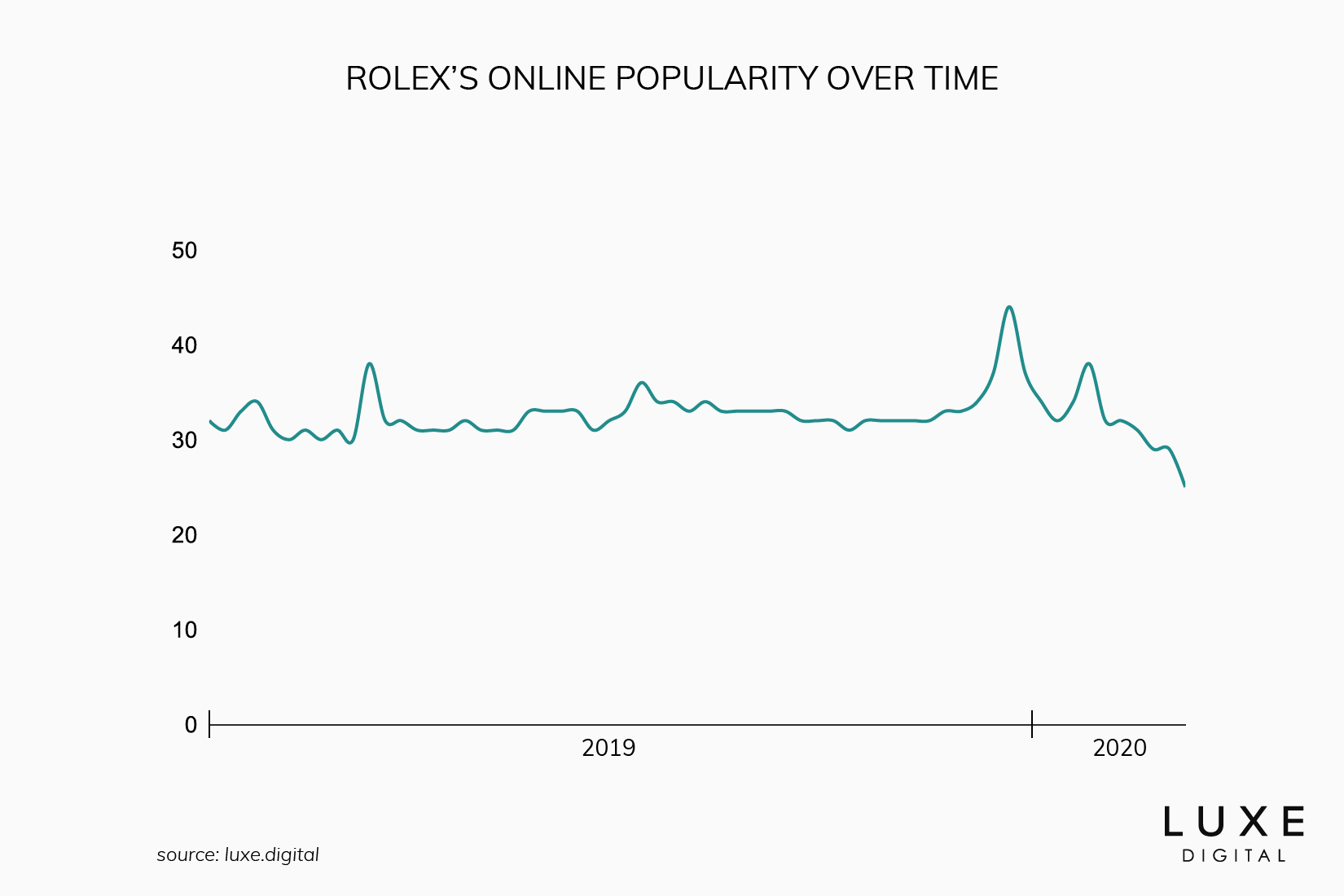 5. Dior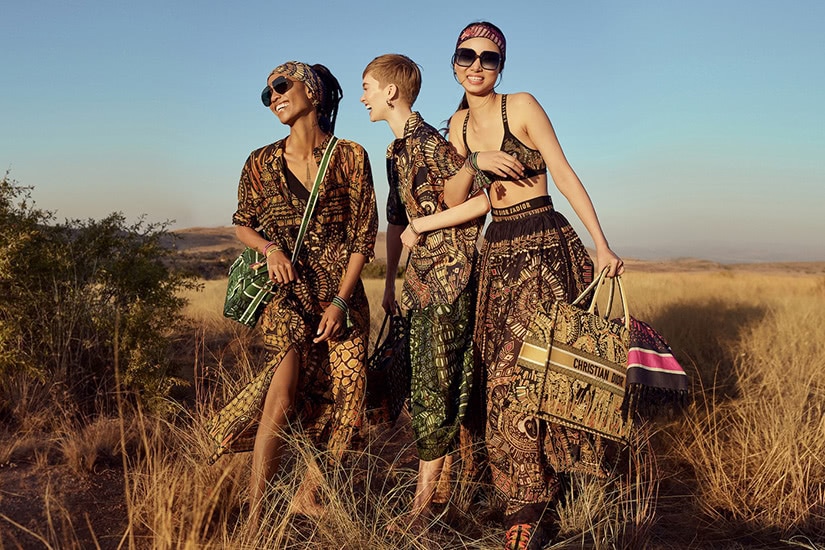 French luxury goods company Christian Dior, or just Dior for short, gained two points on our ranking of the best brands. Dior takes the fifth place thanks to its exclusive collections and premium beauty product line.
Maria Grazia Chiuri, who became the creative director of the French luxury brand in July 2016, brought a Millennial-friendly approach to Dior. Her famous "We Should All Be Feminists" statement t-shirt and the social media-friendly "J'adior" branding among kitten heels and bags attracted huge attention on Instagram and are now paying off in increased popularity.
Previously reluctant to invest in Direct-to-Consumer e-commerce, Christian Dior is now focusing on omnichannel retail and online growth.
Most popular Dior items online
Top Dior items for women
Top Dior items for men
Online interest for Dior over time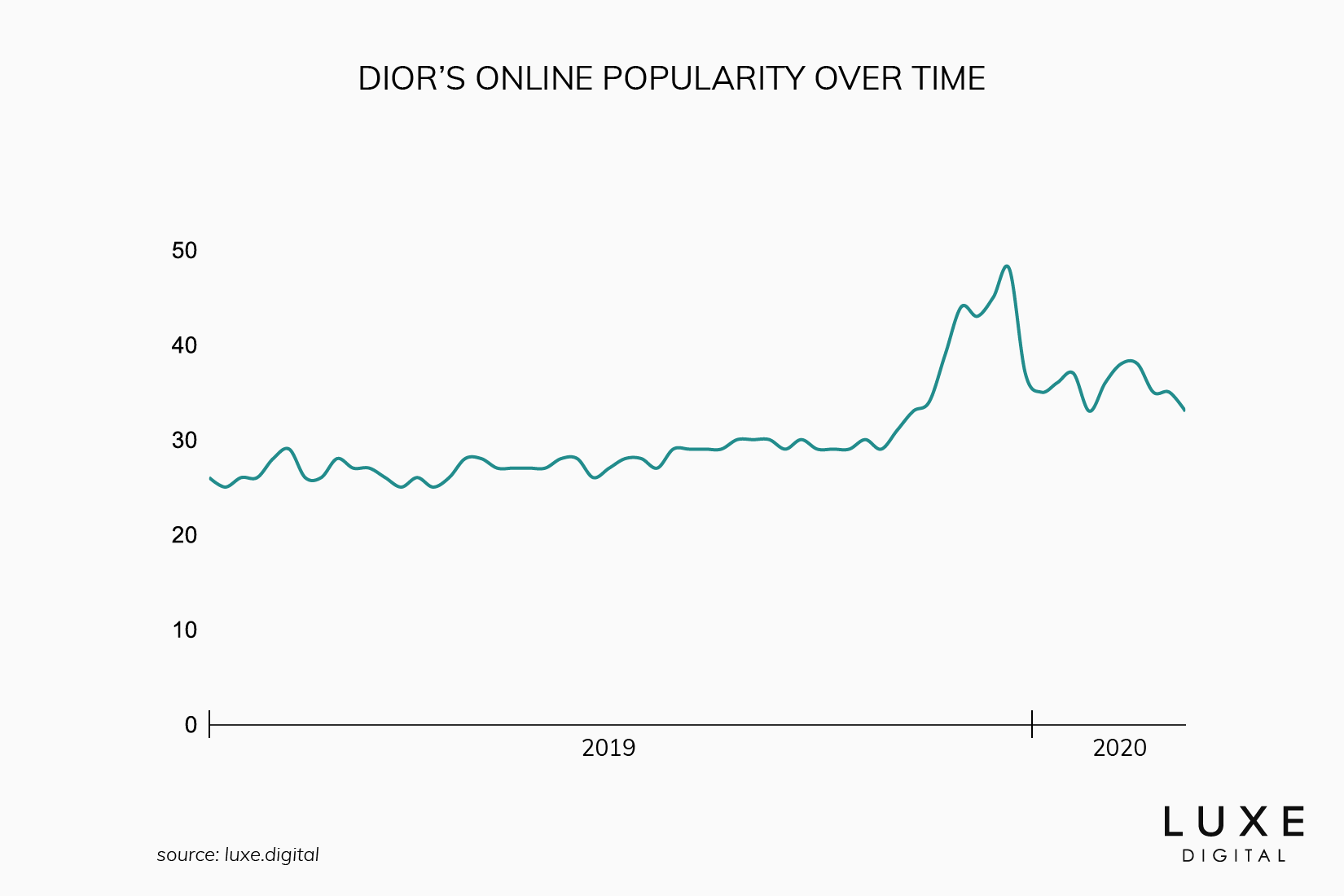 6. Balenciaga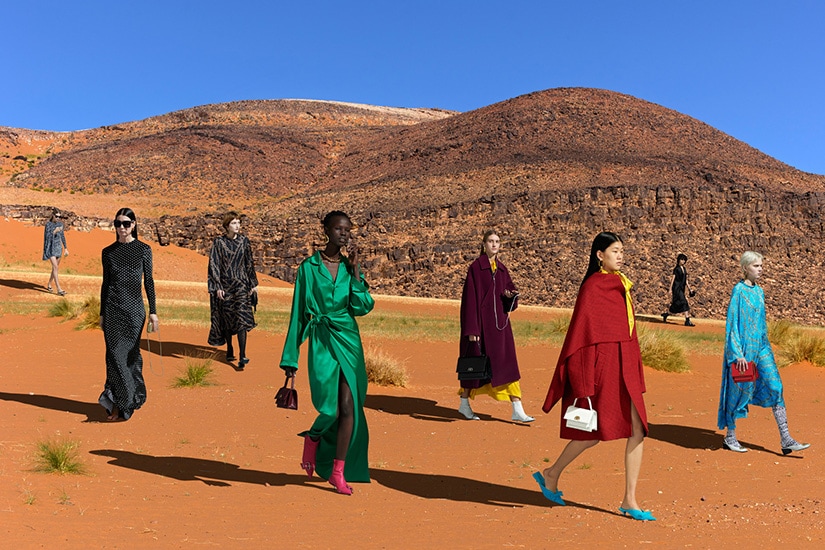 Balenciaga, part of French luxury group Kering, confirms its place as one of the fastest-growing fashion luxury brands in the world. The fashion house gained four points to rank number six on our list. It's the second-fastest mover.
Helmed by designer Demna Gvasalia, the reinvention of Balenciaga with a streetwear and athleisure feel has attracted Millennials and Generation Z luxury shoppers. Young consumers make up 60% of Balenciaga's shoppers. The brand's bold and fashion-forward design is also driving Balenciaga's popularity with fashion influencers and runway shows.
Balenciaga has seen impressive growth in certain categories, including handbags, clothing and footwear. The Speed Trainers and Triple-S sneakers, in particular, continue to turn heads.
Most popular Balenciaga items online
Top Balenciaga items for women
Top Balenciaga items for men
Online interest for Balenciaga over time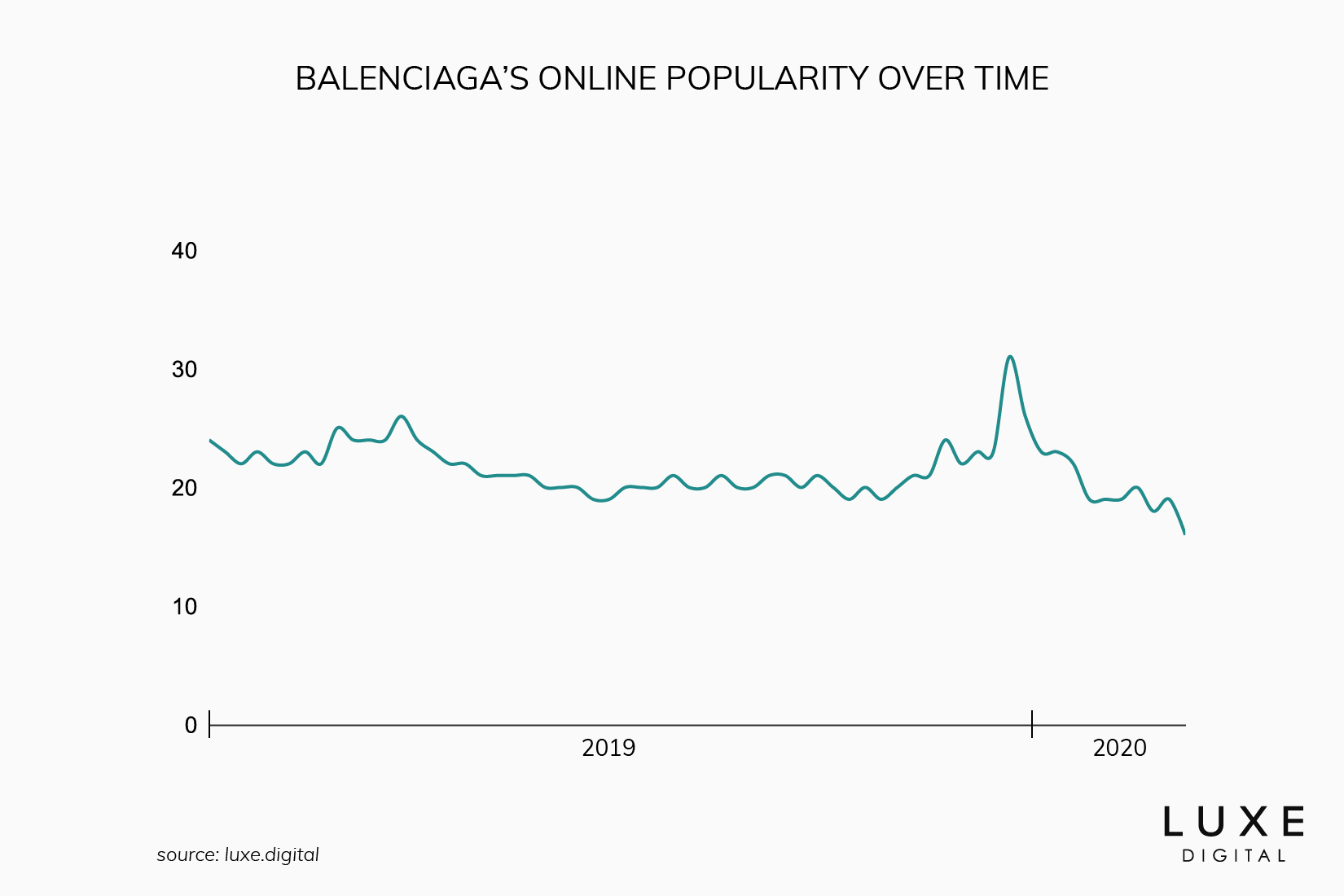 7. Armani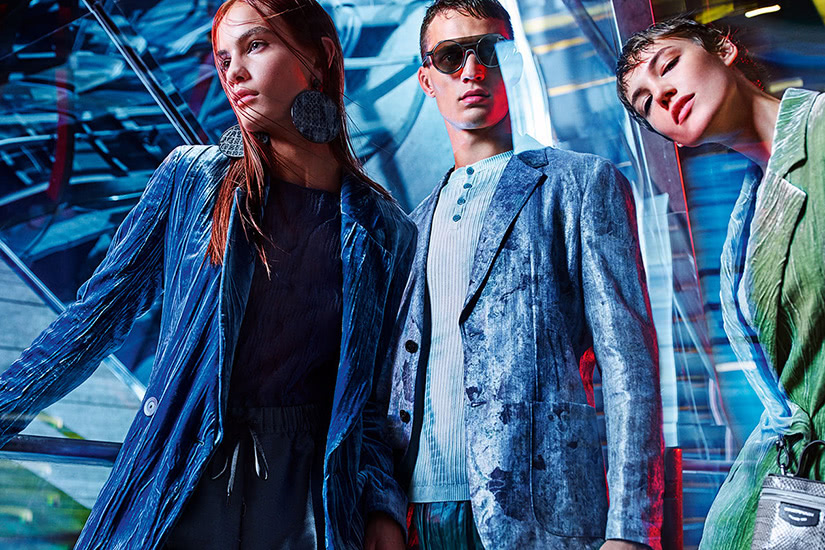 Armani, the privately-owned Italian luxury fashion house founded by Giorgio Armani in 1975, gained one point to rank number seven on our list of the best luxury brands. The fashion house offers a broad range of designer products – from leather goods and ready to wear, to watches, shoes, jewellery, accessories, and more.
In line with the new way affluent consumers shop for luxury goods and dress today, Armani focuses on consolidating its brands. Armani reduced its number of brands from seven down to the core three, namely: high-end Giorgio Armani, mid-range Emporio Armani and youth-oriented A|X Armani Exchange. These three names are also to be the most popular search terms for Armani online.
Most popular Armani items online
When searching for Armani online, people most often look for the following collections:
Armani Exchange
Giorgio Armani
Emporio Armani
Online interest for Armani over time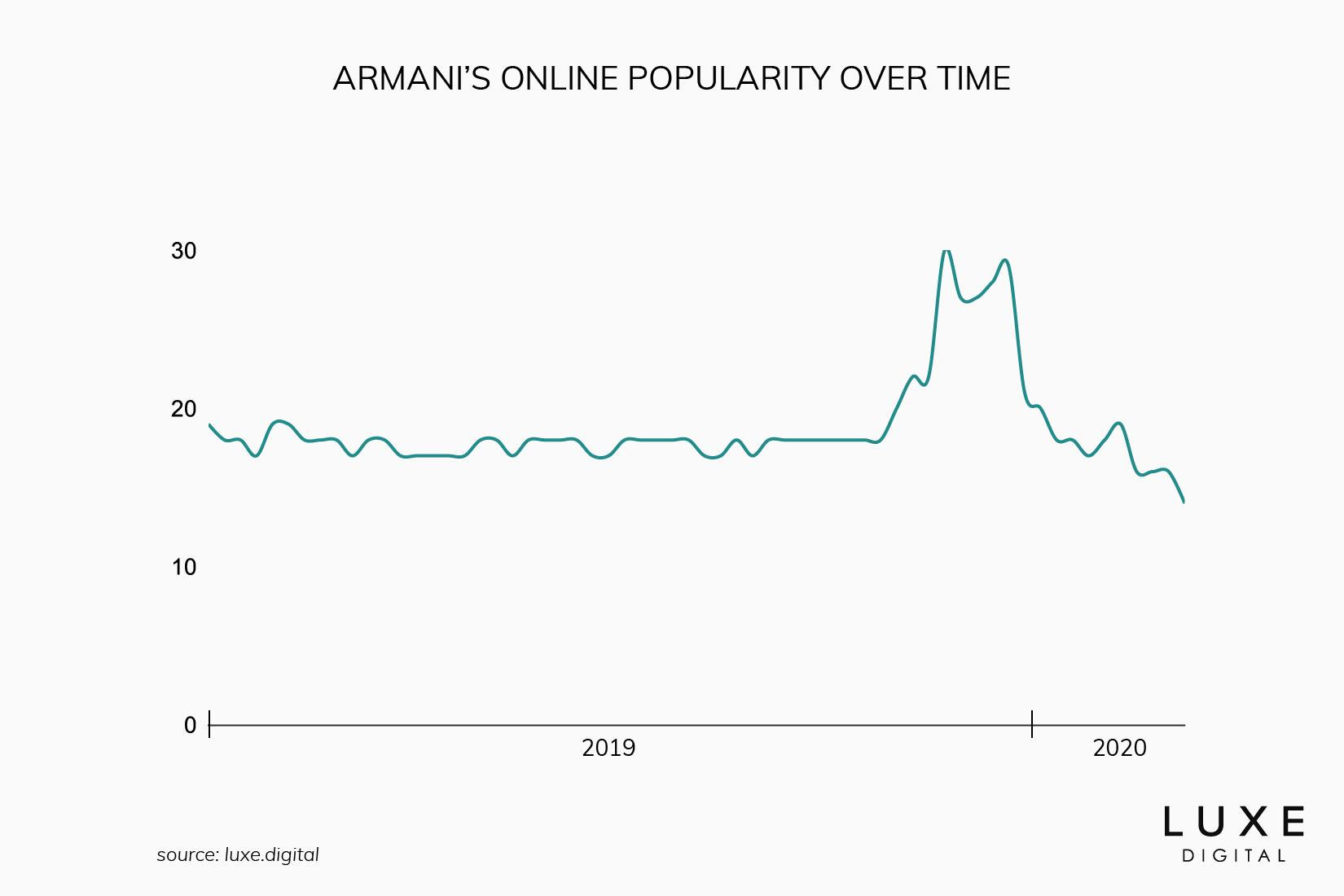 8. Yves Saint Laurent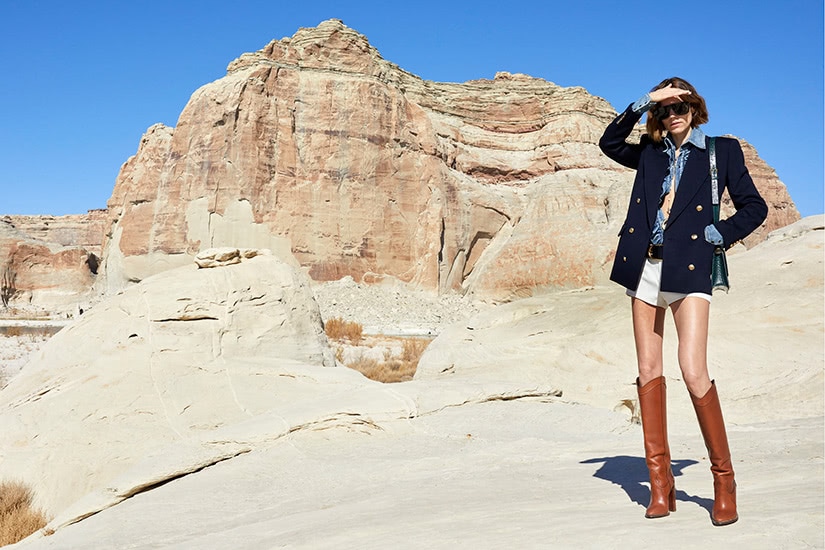 Founded in 1961, Yves Saint Laurent is a French luxury fashion house and Kering's second-largest brand. It's also the fastest-growing brand on our ranking, gaining six places to rank number height on our list.
Yves Saint Laurent's current success can be attributed in part to diversification, from ready-to-wear to leather goods, premium sneakers, eyewear and more.
Most popular Yves Saint Laurent items online
When searching for Yves Saint Laurent online, people most often looked for the following products:
Yves Saint Laurent cologne
Yves Saint Laurent perfume
L'Homme Yves Saint Laurent
Online interest for Yves Saint Laurent over time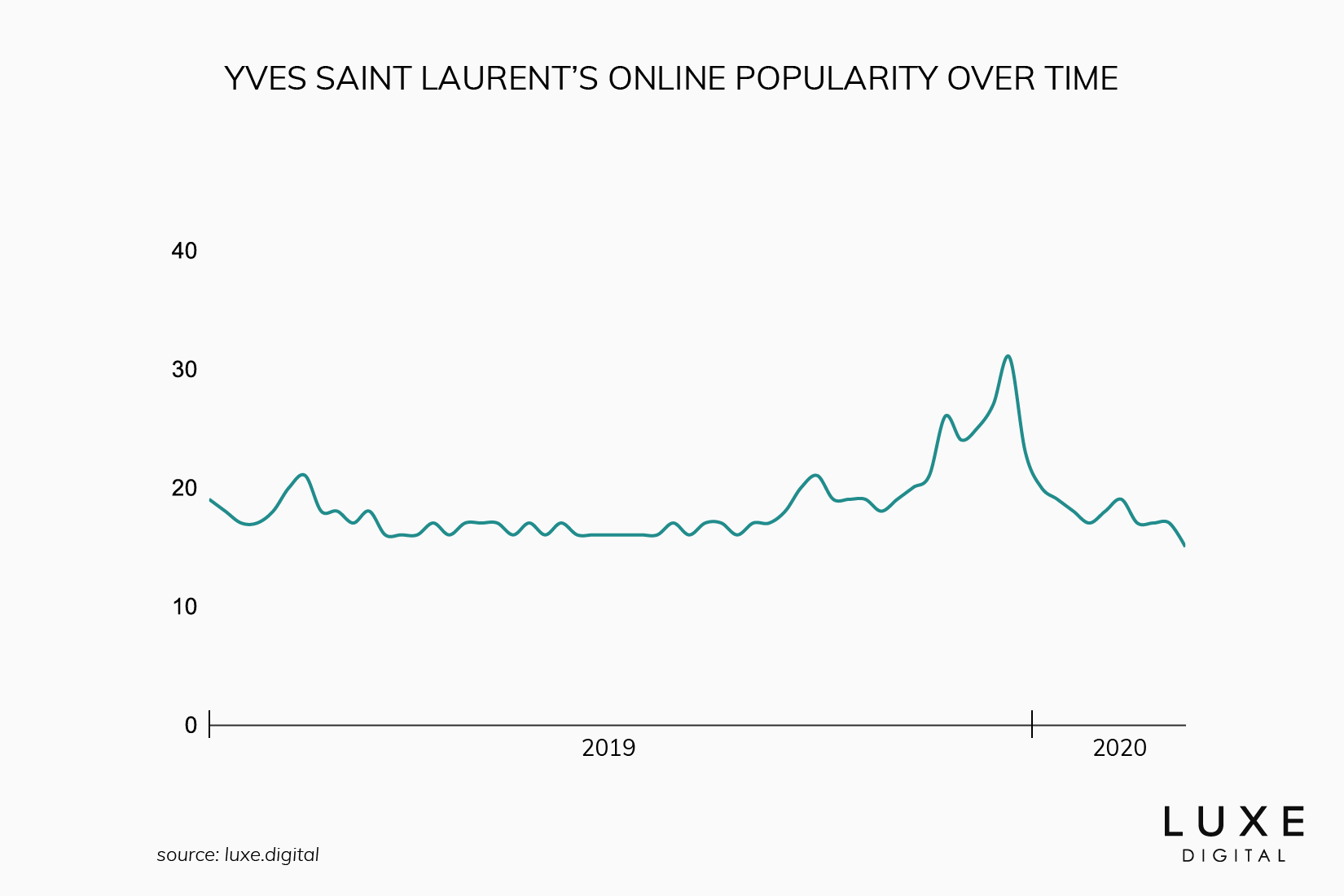 9. Tiffany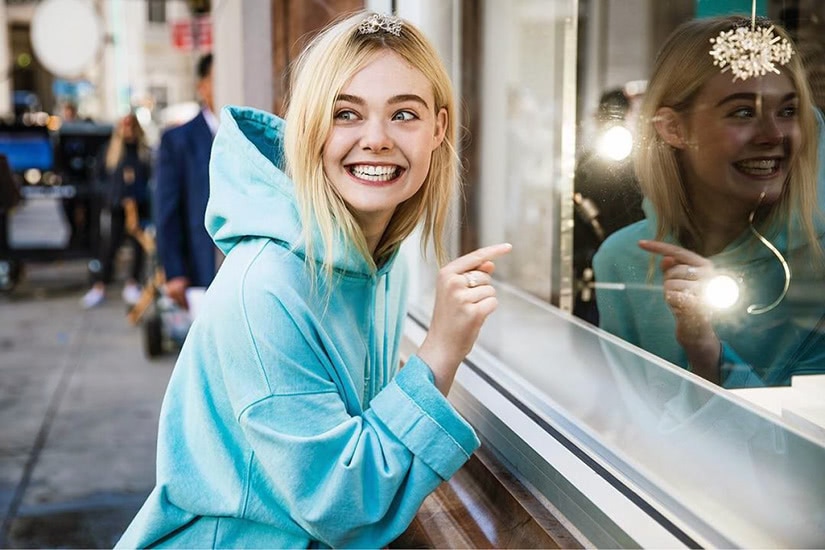 American high-end jewellery brand Tiffany & Co. made the headlines in 2020 for agreeing to be purchased by French luxury group LVMH. The hard luxury jewellery brand is declining in our ranking, however, dropping by three places to end number ninth on our list.
Tiffany's product range includes jewellery, crystal, stationery, water bottles, fragrances, and watches. The brand started to sell a selection of styles online in collaboration with Net-a-Porter (the first retailer to sell Tiffany online, outside of its own channels) to reach a new generation of customers.
Tiffany performs particularly well on social media, especially Instagram, where it is often quick to embrace new features to connect with young affluent customers.
Most popular Tiffany items online
When searching for Tiffany online, people most often looked for the following products:
Tiffany rings
Tiffany necklace
Tiffany bracelet
Online interest for Tiffany over time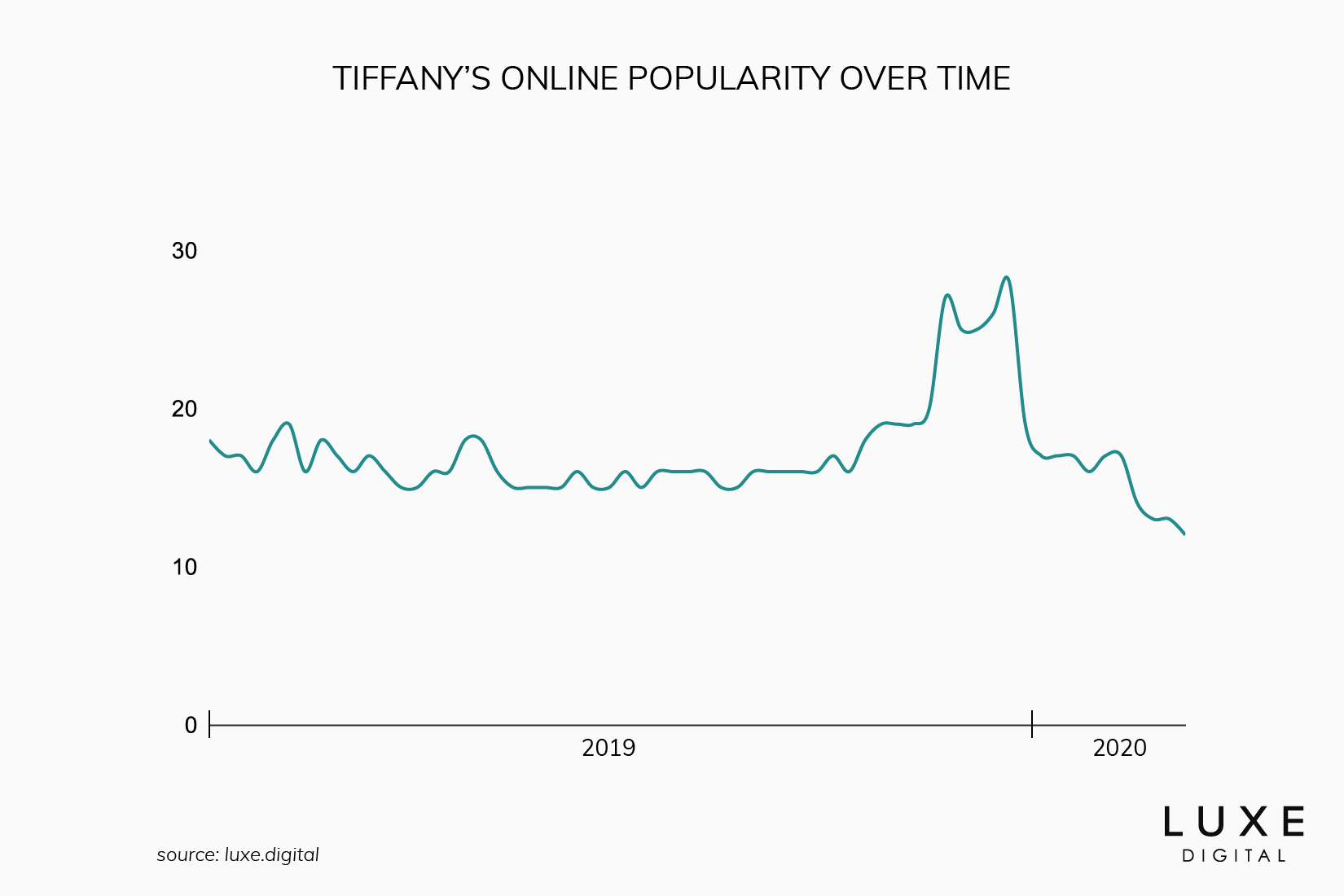 10. Burberry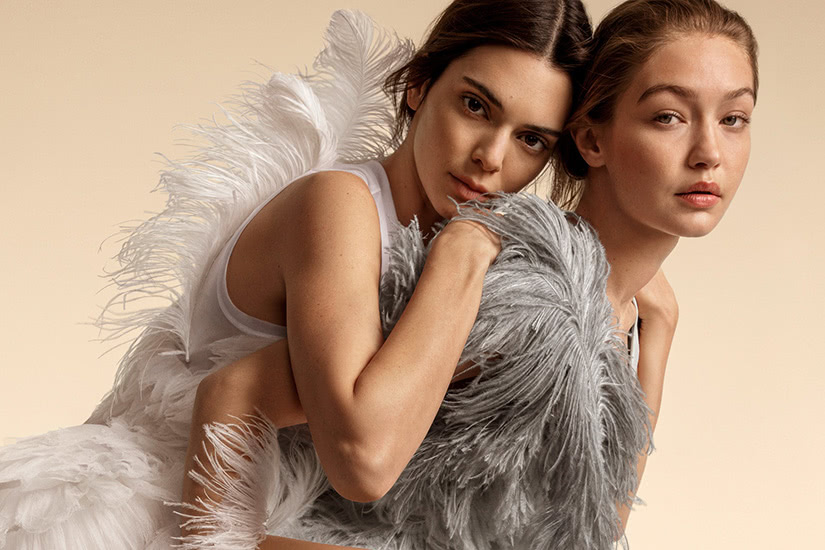 British luxury brand Burberry gained two points to rank number ten on our list of the best luxury brands. The premium fashion house was founded in 1856 and is known the world over for their iconic trench coats, ready to wear clothes, fragrances, fashion accessories, cosmetics, and sunglasses.
Burberry continues to gain attention with its forward-looking digital retail spaces and its sleek online video campaigns.
While their signature checked patterns remain a top seller for men jackets, the brand has also ventured into new product lines, namely its watches and perfumes collections.
Most popular Burberry items online
When searching for Burberry online, people most often looked for the following products:
Burberry scarf
Burberry watches
Burberry perfumes
Online interest for Burberry over time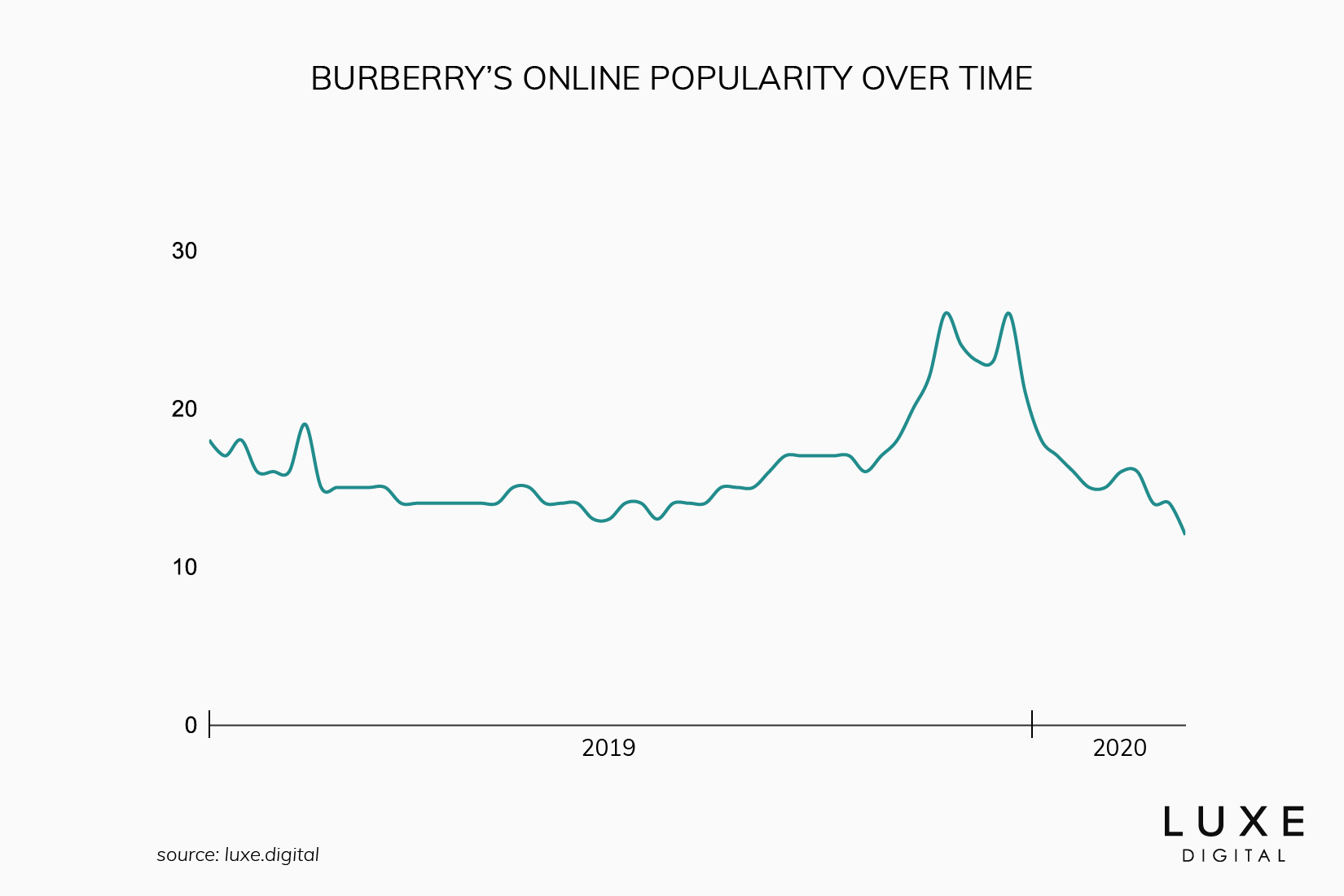 11. Hermès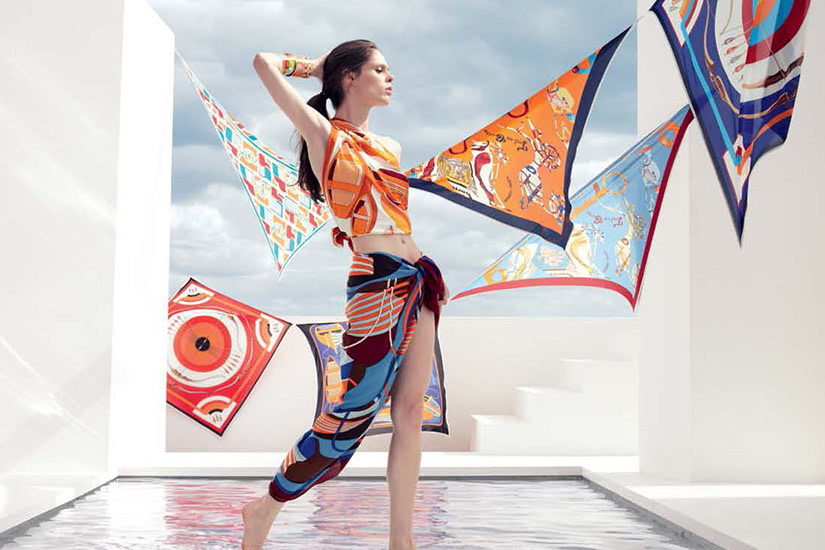 Hermès is one of the rare remaining private luxury houses on our list of the top high-end brands. The brand's ranking tanked in 2020, however, losing seven points to rank number eleven.
Offline, Hermès continues to enjoy the popularity of its timeless classics, such as the very sought-after Birkin bag. But Hermès online efforts haven't paid up yet.
Conceived and designed with an omnichannel approach, the "digital flagship" Hermès online store pairs content and commerce. The prestigious brand's website is rich in editorial content but only sells a limited quantity of items. As a result, the secondhand market for Hermès is booming on sites such as Fashionphile, Rebag, and The RealReal.
Most popular Hermès items online
Online interest for Hermès over time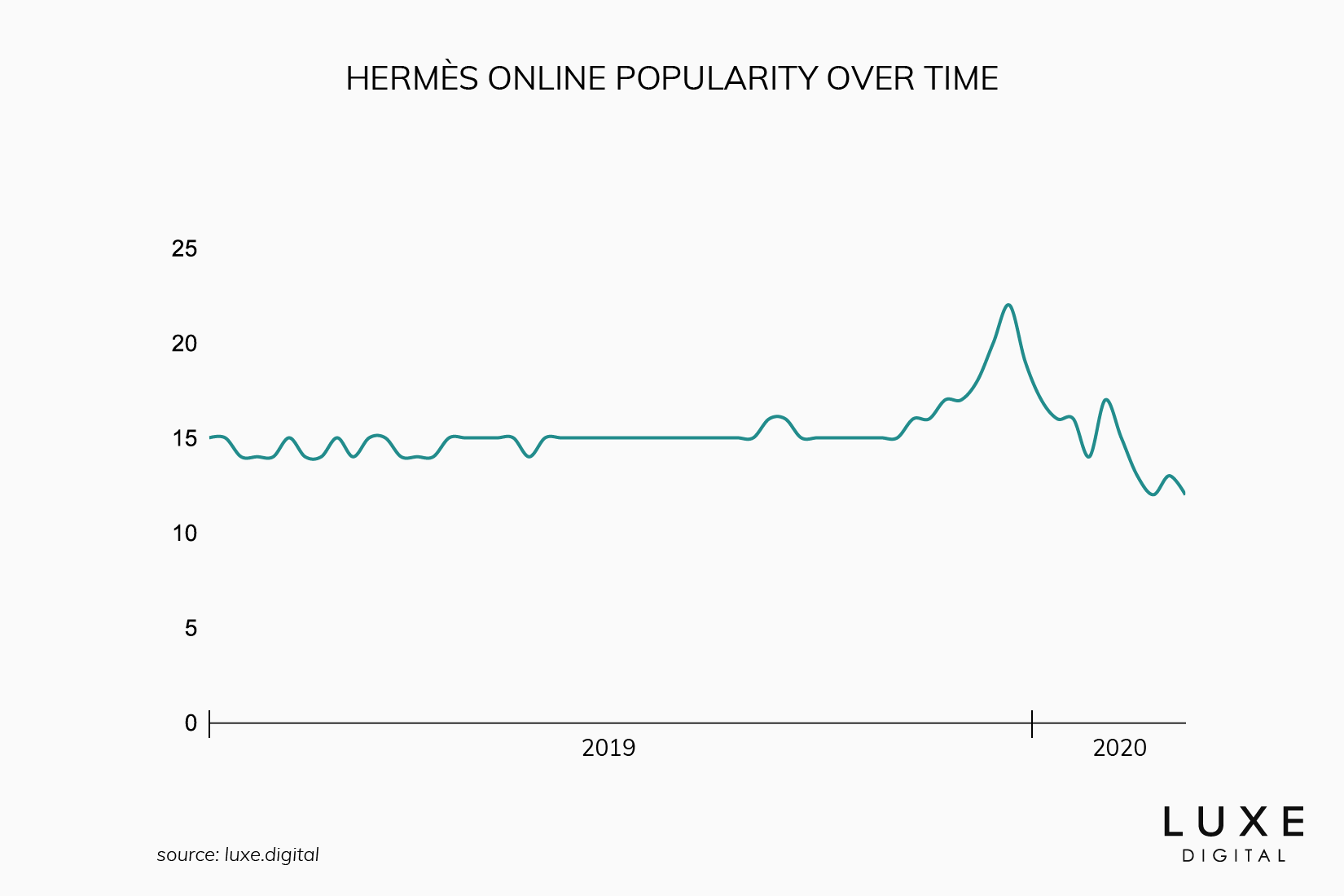 12. Cartier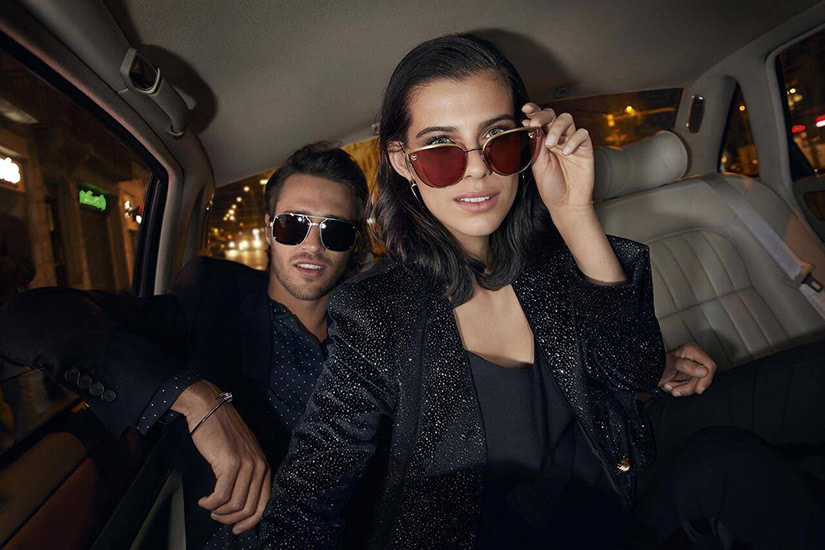 Cartier takes the twelfth place on our list of the most popular luxury brands online, dropping by one spot. The French luxury jewellery and watch brand continues to produce a combination of highly polished videos and timeless design.
Cartier appeals to the younger generation of luxury shoppers who covet Cartier's love bangles and Panthers watches, and are comfortable purchasing them online. Cartier makes 43% of its sales to consumers who are under 35 years old worldwide. The trend is even more apparent in Asia, where more than half of their customers are Millennials.
Most popular Cartier items online
When searching for Cartier online, people most often looked for the following products:
Cartier love bracelet
Cartier watch
Cartier glasses
Online interest for Cartier over time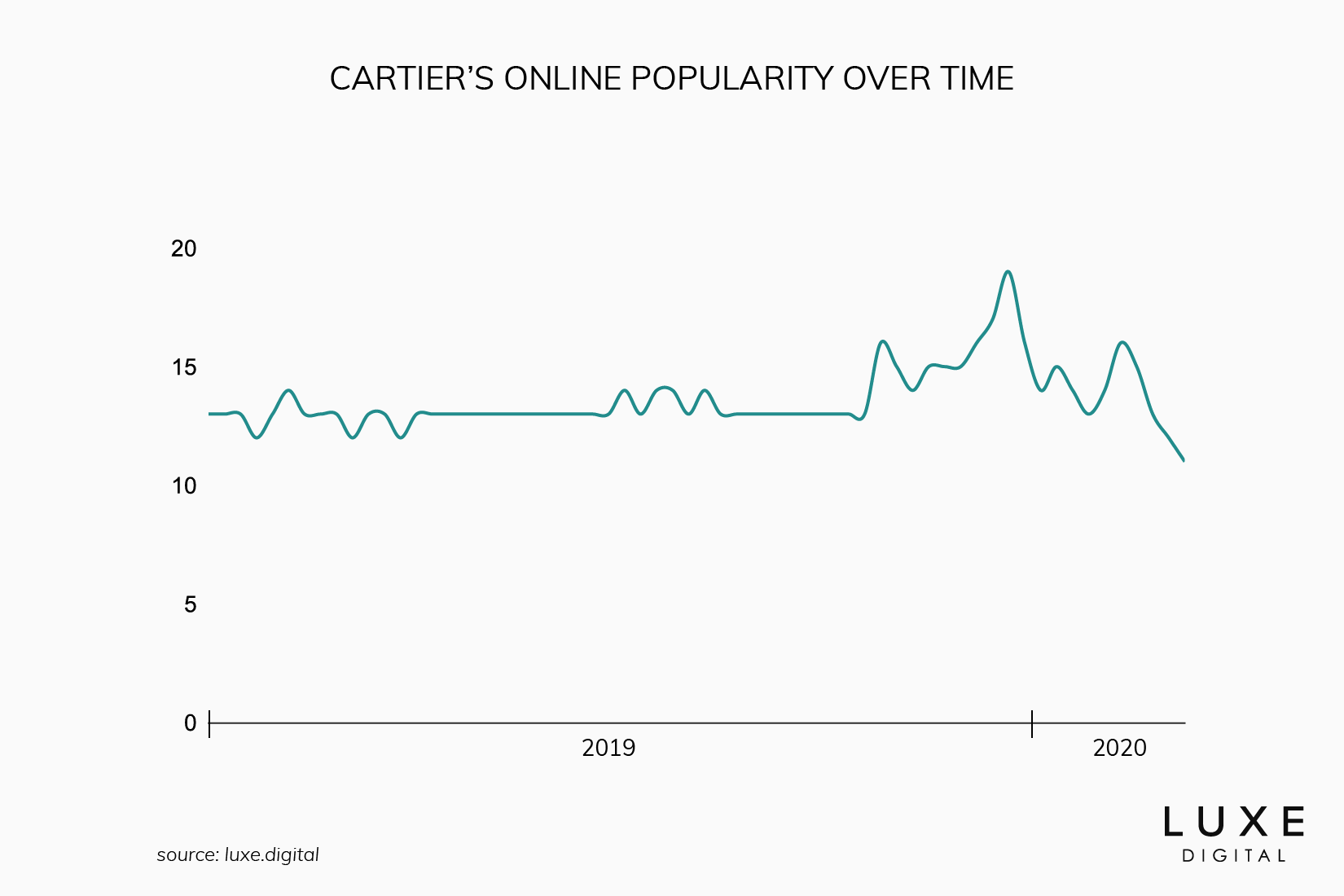 13. Prada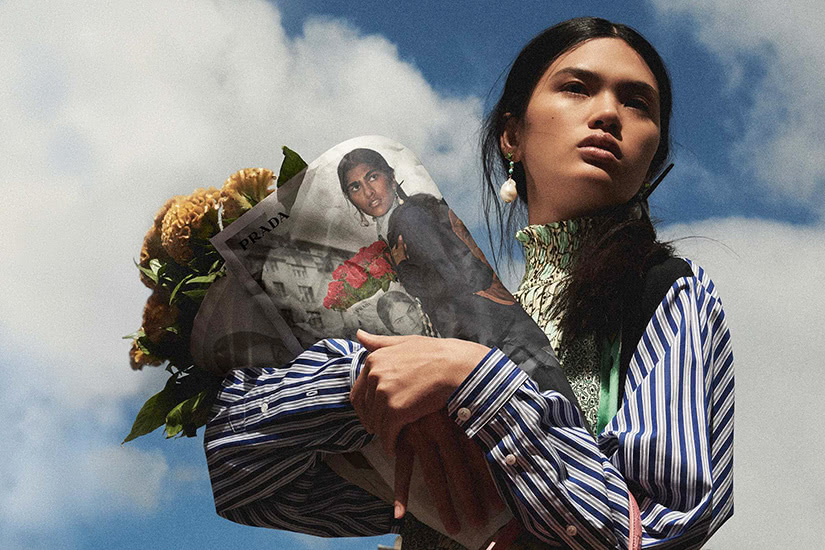 Founded in 1913 by Mario Prada, Italian luxury fashion house Prada has grown into one of the most notable luxury brands in the industry.
It's the rise of athleisure and designer sneakers that pushed Prada to the top of the most popular luxury brands online in 2020. It successfully captured new interests with its inspired marketing campaigns and new product lines, such as its popular sneakers collaboration with Adidas.
The Italian fashion brand's efforts weren't sufficient to keep up with its competition, however. Prada dropped four points on our list in 2020, to end at position thirteen.
Most popular Prada items online
When searching for Prada online, people most often looked for the following products:
Prada sunglasses
Prada bags
Prada shoes
Online interest for Prada over time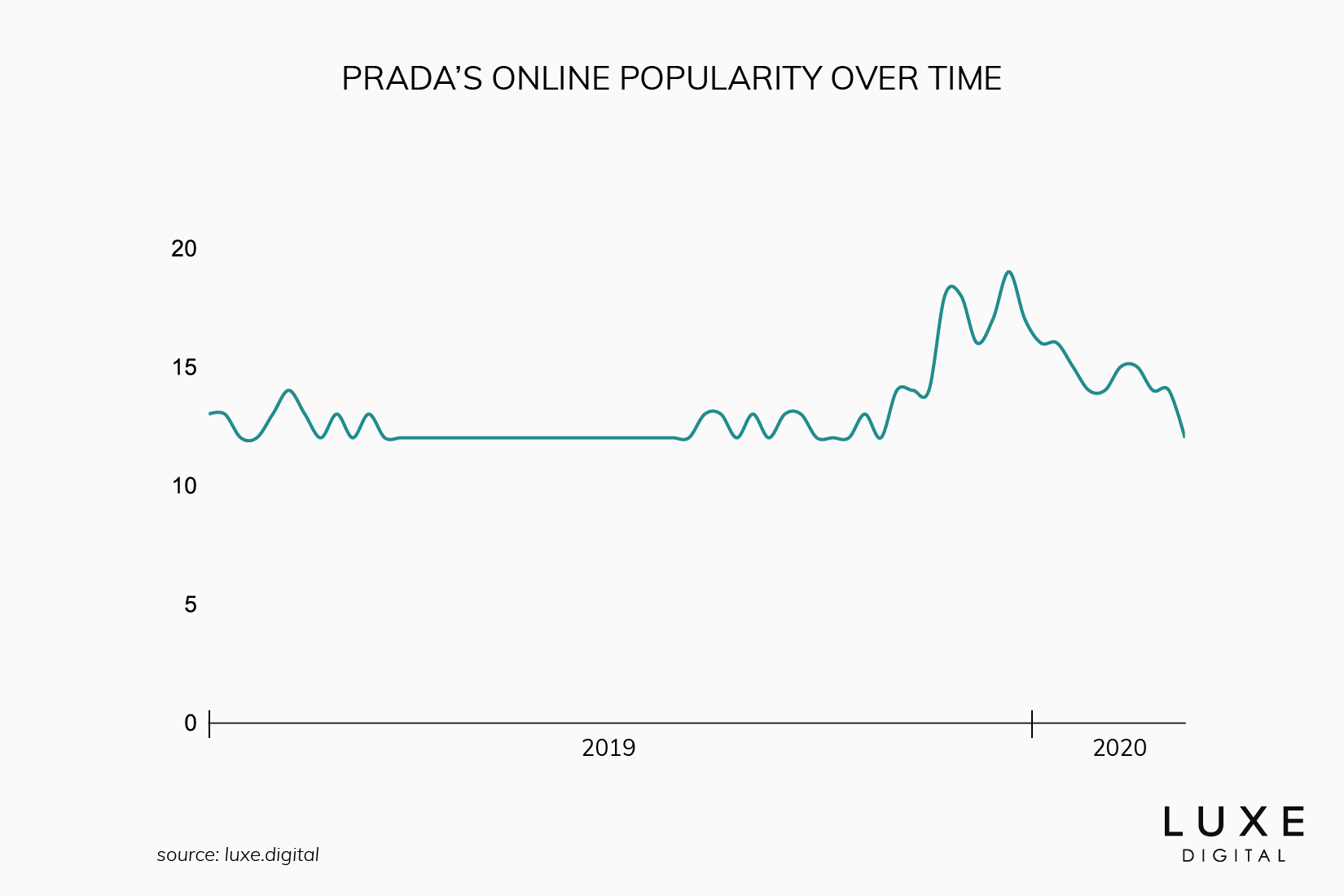 14. Fendi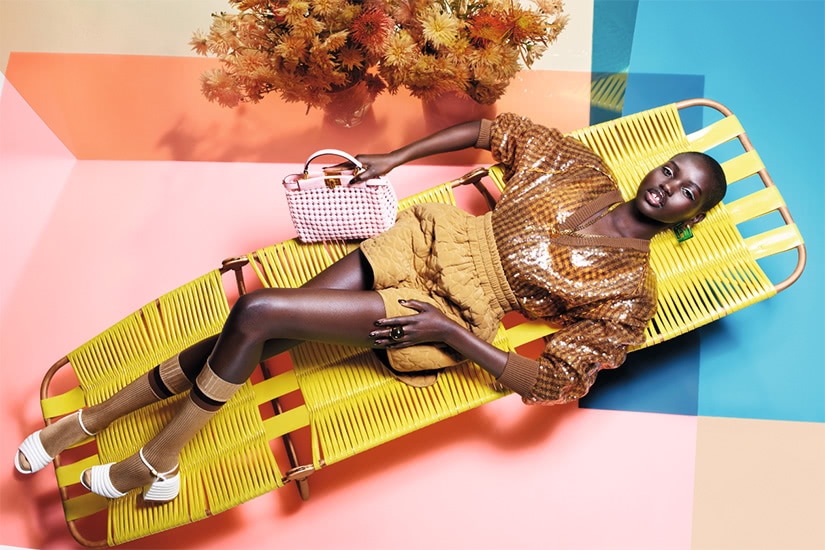 Fendi is the only new entrant on our list this year. The Italian luxury fashion house, part of LVMH, gained three points in 2020 to rank fourteen on our list. The brand's popularity is driven by high celebrity adoption and social media mentions.
Created in Rome in 1925, Fendi started as a fur and leather goods designer. The company rapidly expanded while remaining a family business. In 1965, Karl Lagerfeld joined Fendi and gave a real boost to the brand's design. In 2001, the LVMH group acquired Fendi and helped finance the global expansion of the luxury brand.
Most popular Fendi items online
When searching for online, people most often looked for the following products:
Fendi handbag
Fendi sneakers
Fendi wallet
Online interest for Fendi over time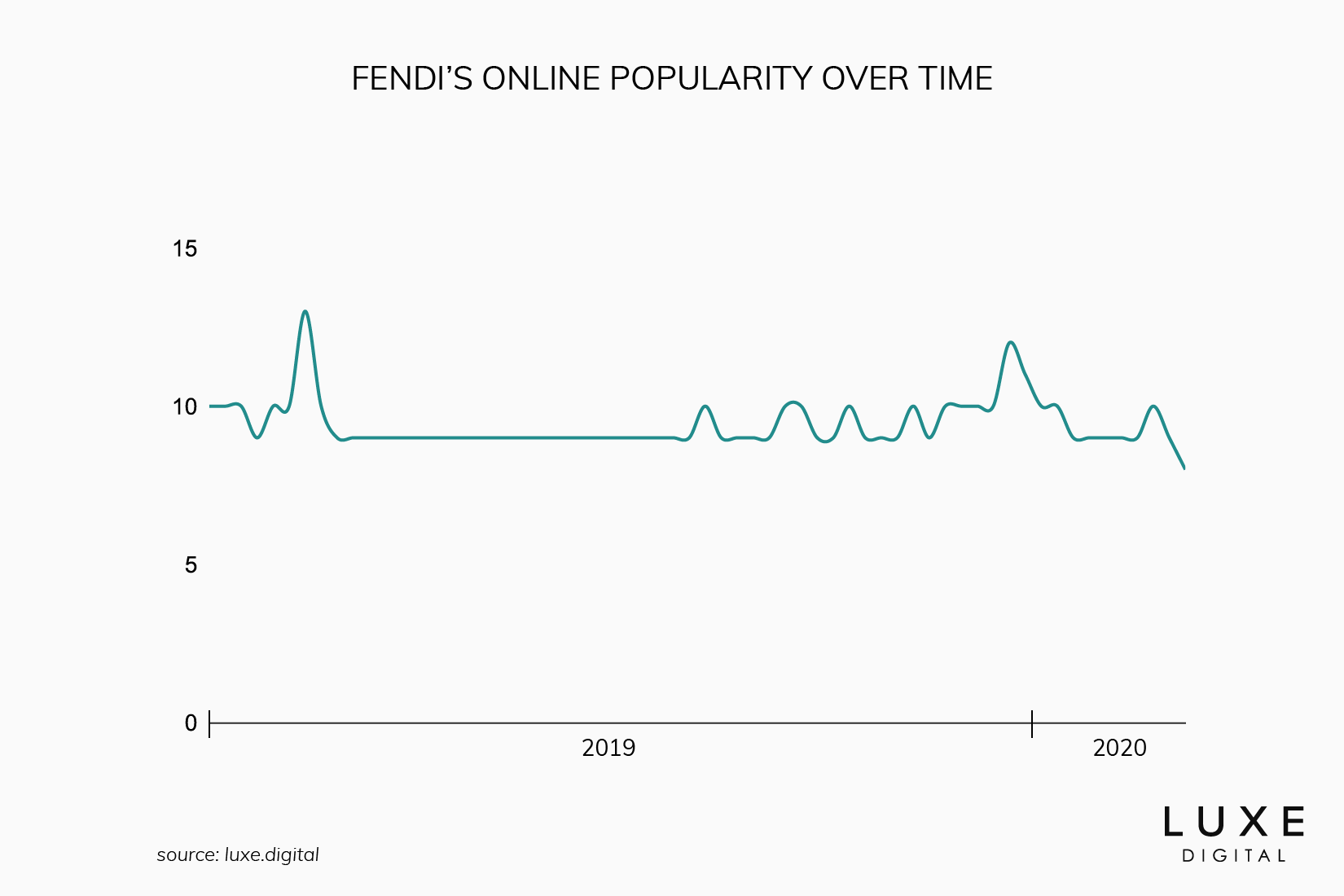 15. Lancôme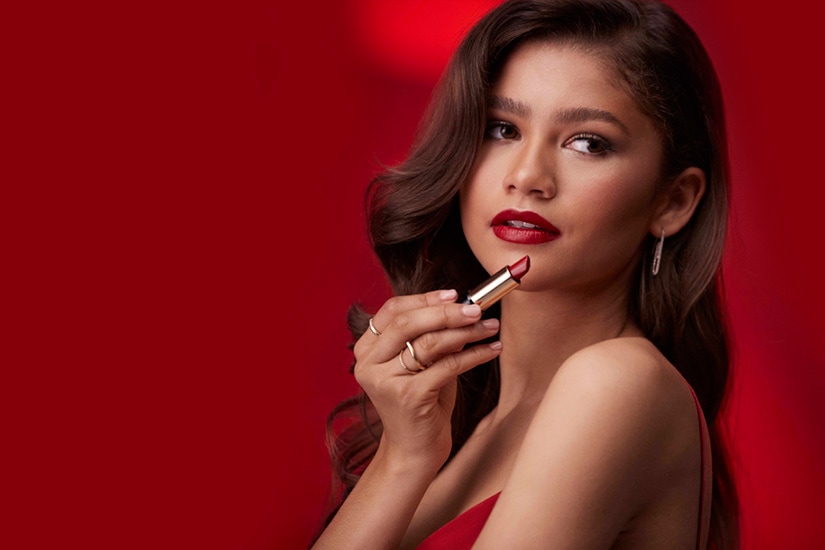 Premium beauty brand Lancôme dropped two points to end number fifteen on our list. Part of L'Oréal Paris, Lancôme is a French luxury perfume and cosmetics house.
Lancôme is the first and only purely beauty luxury brand on our list of the most popular luxury brands online.
Lancôme's digital performance is topped off with a high volume of editorial content and how-to videos uploaded onto their site. Lancôme collaborated with some of the most popular YouTube stars, including Estée Lalonde and invested in display and video advertising. The unboxing video series for the launch of La Vie est Belle generated over 1.5 million views.
Most popular Lancôme items online
When searching for Lancôme online, people most often looked for the following products:
Lancôme foundation
Lancôme mascara
Lancôme perfume
Online interest for Lancôme over time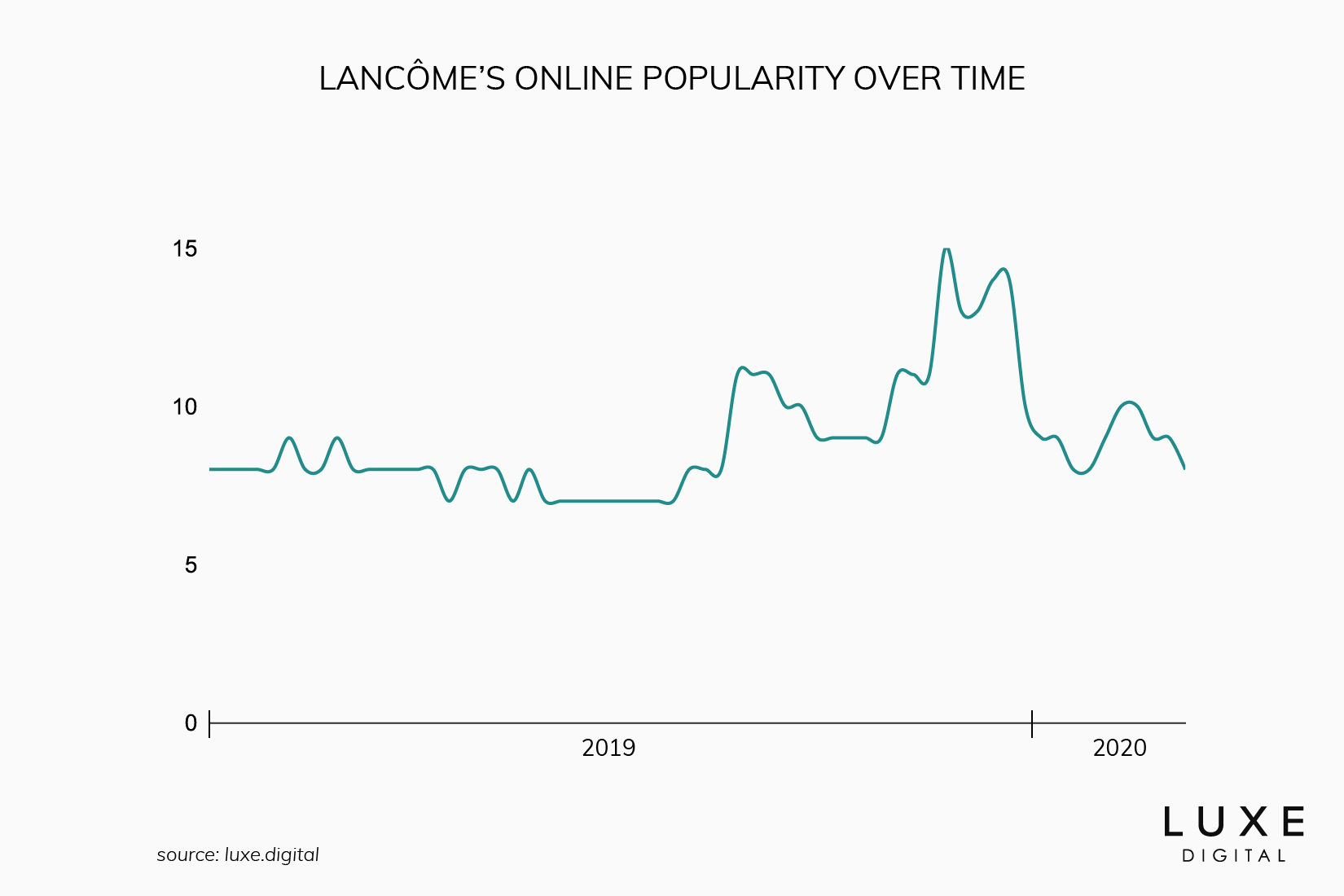 Best luxury brands of 2020: Key takeaways
2020 marks the third edition of Luxe Digital's ranking of the best luxury brands online. Because our methodology and data sources remained constant through the years, we can offer valuable insights and takeaways by looking at the most important year on year changes.
Digital remains the growth engine of luxury sales
The importance of digital for luxury continues to grow. We estimate that 14% of the global luxury sales will take place online in 2020, well on track to reach our prediction of 20% of all luxury retail sales to take place online by 2025.
Digital isn't just driving online sales, however. We estimate that 75% of all luxury sales are influenced in some shape or form by what consumers saw online. Digital is indeed playing a crucial role in the fragmented consumer journey.
Generation Z and Millennials are the fastest-growing segments
Young consumers are driving 85% of the global luxury market growth. They are such an essential segment for all luxury brands that their influence is shaping new collections. Their expectations for a seamless experience across platforms is also pushing brands to invest in digital and social media to connect in meaningful ways with their consumers.
Consumers spend more on brands that align with their personal values
The emergence of direct-to-consumers digital-native luxury brands is partially driven by affluent shoppers spending more on brands that align with their personal values. Younger consumers, in particular, are buying into socially conscious brands, with 73% of Millennial willing to spend more on a product if it comes from a sustainable or socially conscious brand.
Luxury becomes increasingly casual
The exceptional growth of luxury sneakers for men, activewear for women, and increasingly casual dress codes in general (see our recent stories on men's loungewear and casualwear), is one of the clearest examples of Millennials and Generation Z consumers' influence on the luxury fashion industry.
The best luxury brands enjoy long-lasting top position
While every brand on our top 15 has changed position since last year, except Gucci that retains its top spot, there aren't many newcomers on our list.
Virtually every brand on our list has launched casual collections or created sub-brands to be relevant to their younger consumers. The biggest gainer is Yves Saint Laurent with a jump of six places up. The biggest loser is Hermès dropping 7 points. But the only new entrant is Fendi that pushes Bulgari to position 21, well outside of our list.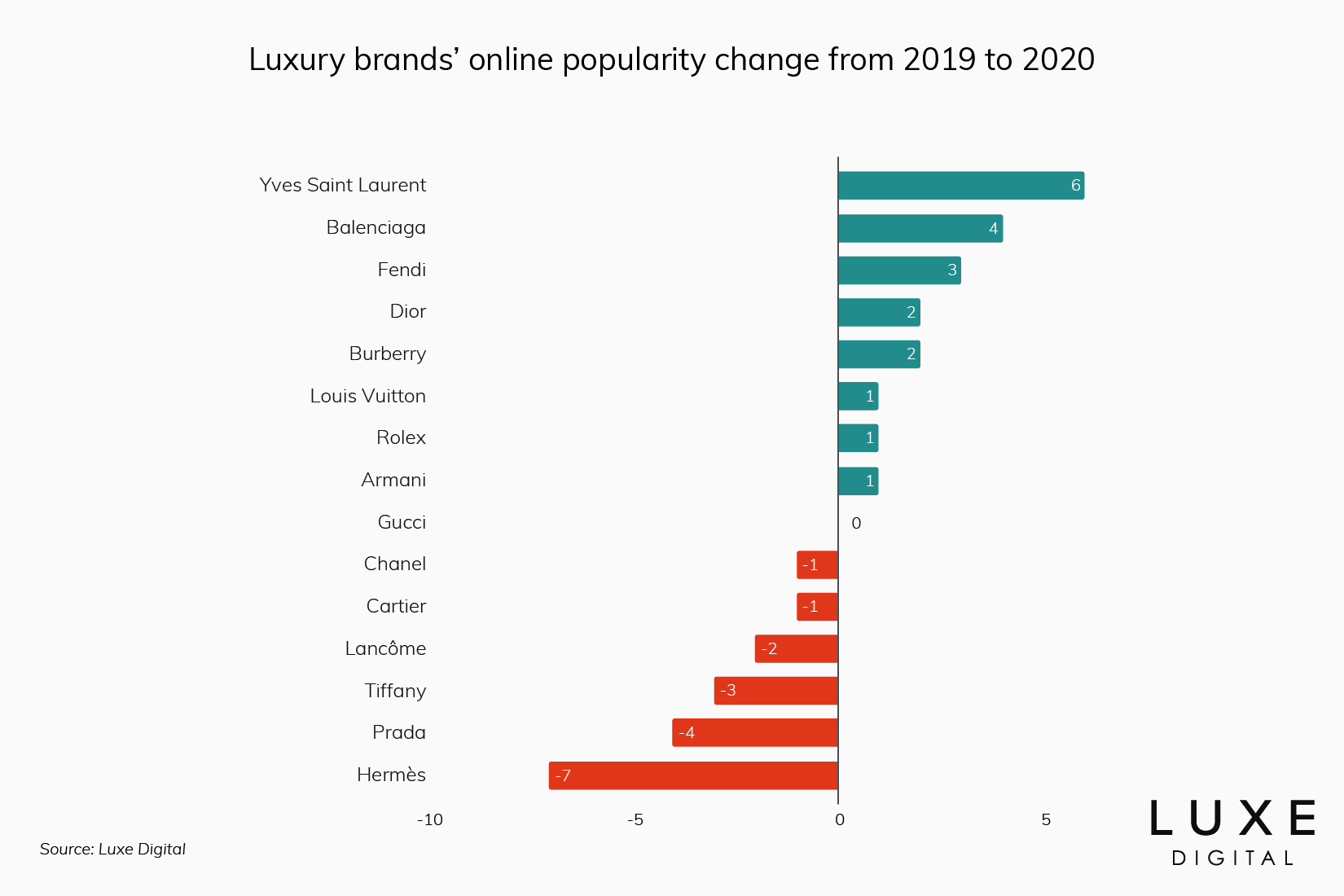 Methodology and sources: How we rank the best luxury brands of the year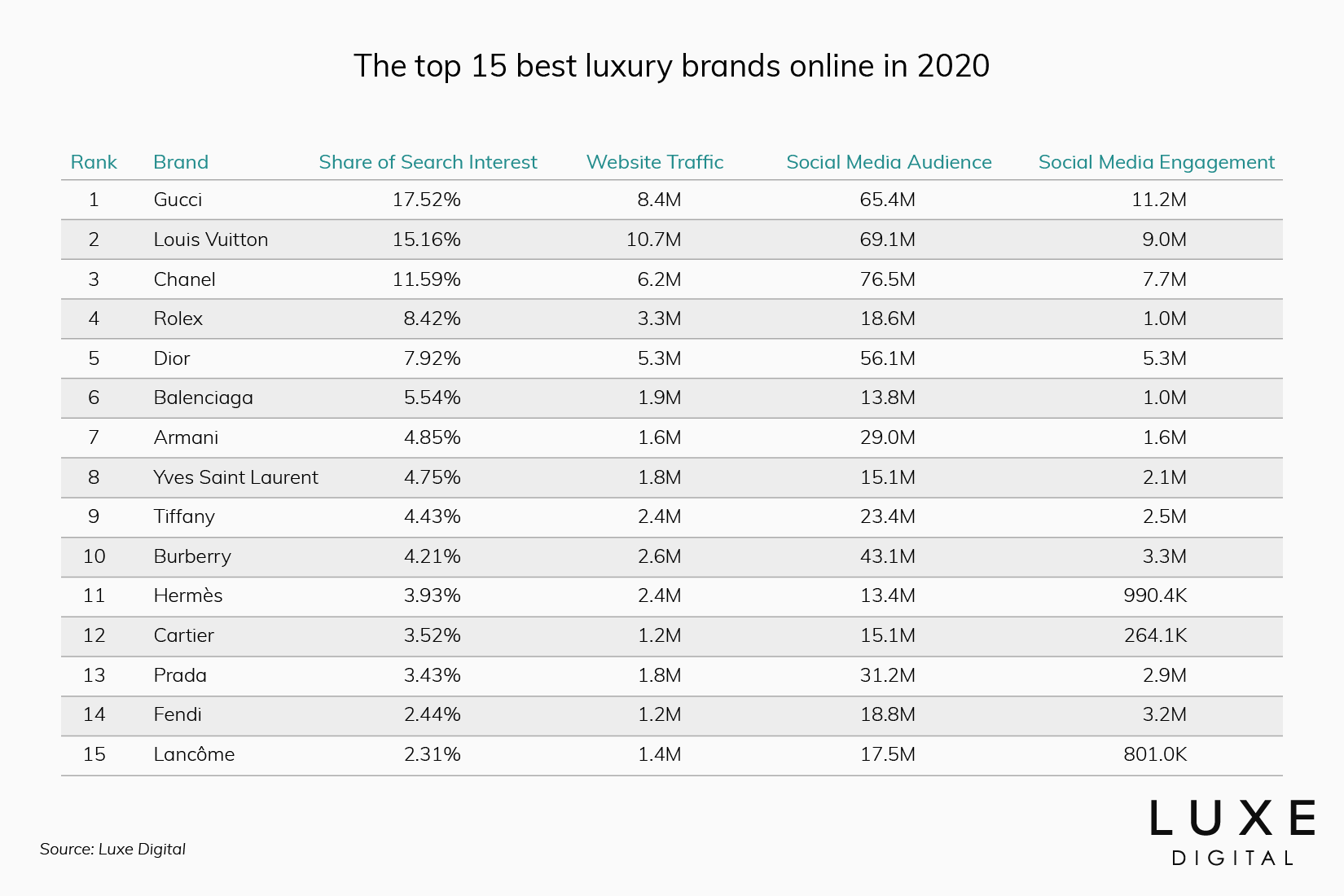 Luxe Digital's luxury brands ranking aims to provide a real-time and insightful analysis of the most popular brands online. Our ranking offers a clear picture of how each brand is performing online and can help business leaders predict future growth.
With over ten years of experience in luxury and online marketing, our team has a deep understanding of what drives a brand's popularity among affluent consumers. We know how crucial a thoughtful digital marketing strategy is to business growth. Get in touch with our marketing agency to see how you could grow your online presence and create a loyal customer base.
See the latest version of our ranking of the best luxury brands online to learn more about our methodology is discover the updated list.