Fancy experiencing true escapism? Of course, you do. Well, hello, Dubai. Whether you've got the passport stamp or not, you've likely seen it all over Instagram—Dubai is renowned for being a picture-perfect world away from (most of) our day-to-day lives. A city where everything seems possible, Dubai is awash with intrigue, opulence, and (bigger, brighter, bolder) sights to pique one's curiosity—if not blow your mind entirely. However, as glamorous, breathtaking, and extraordinary as it is, there's yet another marvelous micro-universe existing within, one that commands to be noticed: Atlantis The Palm.
A true feat of human engineering, Atlantis The Palm stands proud, in the heart of a beachy crescent, on the world-famous man-made Palm Island (which, yes, is as idyllic as it sounds) and opens its arms to intrepid globetrotters—at least those with a love for all things luxe. 
Built in 2008 as Dubai's first entertainment resort destination, it's matured like a fine wine.
As you'd expect, there's a positively oceanic theme afoot here, so pull on those (figurative) flippers and dive in—You are about to have your expectations blown out of the water.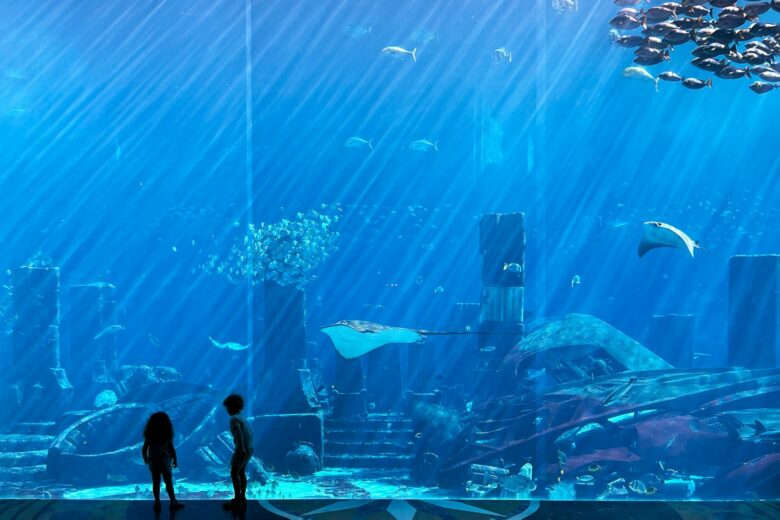 Boasting over 65,000 marine animals in the various lagoons, you won't be short of weird and wonderful sights here. Your mecca will be the Lost Chambers Aquarium, a modest affair of an aquarium, with 11 million liters of water and enough aquatic species to bedazzle the most seasoned diver.
Step into this glorious new world, and believe us, you'll be reconsidering that return flight. Yep, whether you've booked 3 days, 5, or a whole week, you'll always leave wanting more.
Propelling opulence to a whole new level, prepare to be astonished. How? The 46-hectare exotic garden is a fine place to start, alive with tropical flora in psychedelic hues—and not without a generous helping of palm trees, naturally. Not to mention the palatial interiors, giving you a taste of the royal lifestyle you're sure you should've been born into.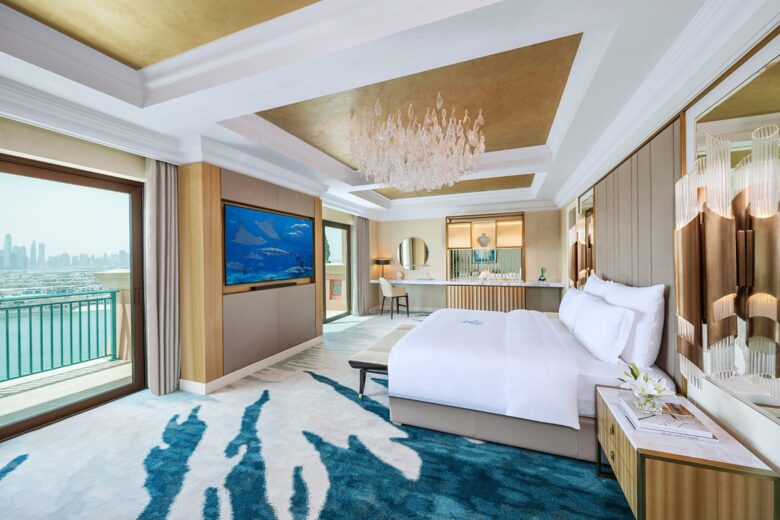 Solo travelers, foodies, sun-worshippers, and adrenalin junkies alike have space to revel, relax, or spend quality me-time as they please thanks to the formidable feast of deluxe rooms, sparkling swimming pools, world-class restaurants, and bountiful activities—all under one roof.
In brief
First impression – Palatial paradise
Staff – A thousand smiles
Food and drinks – The world on a (luxury) plate
The stay – Spacious sanctuary
The crowd – International
The vibe – Careful and carefree, by the Arabian sea
In a nutshell – A man-made oasis in its glittering glory
The stay: Splendor under the sun
Your experience begins as soon as you step your flip-flopped foot into the gargantuan lobby. Featuring a Dale Chihuly centerpiece, your mind will be as blown as the 600 pieces of glass from which it's made. This impressive introduction alone makes your (probably) arduous voyage worthwhile.
Embodying Dubai's famous duality, the rooms follow suit: on one side, you'll enjoy the sparkling seascape of the Arabian Sea—on the other, the white sands of Palm Jumeirah framing Dubai's iconic skyline, easily giving NYC a run for its money. So, pick your flavor and procure the room of your dreams; it's right within reach.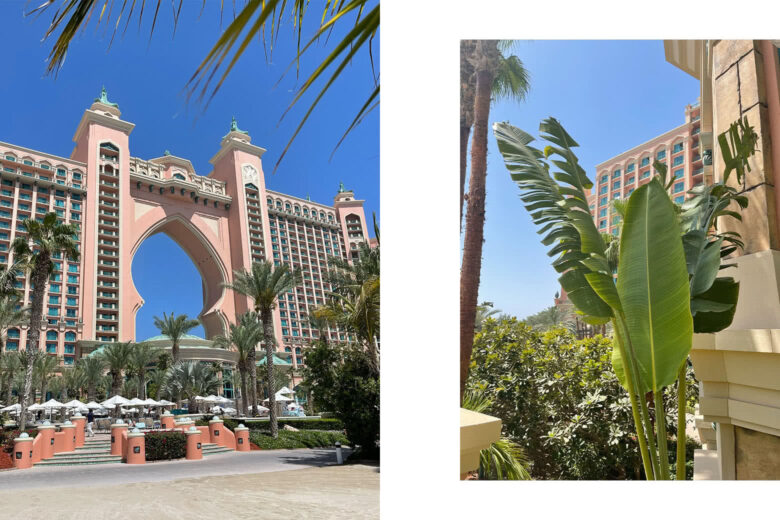 In fact, you won't need to reach for a single thing during your stay at Atlantis The Palm. No, with an army of accommodating staff on hand to help you with every whim, you'll have your queries answered, problems solved, and activities organized with the click of a finger.
The app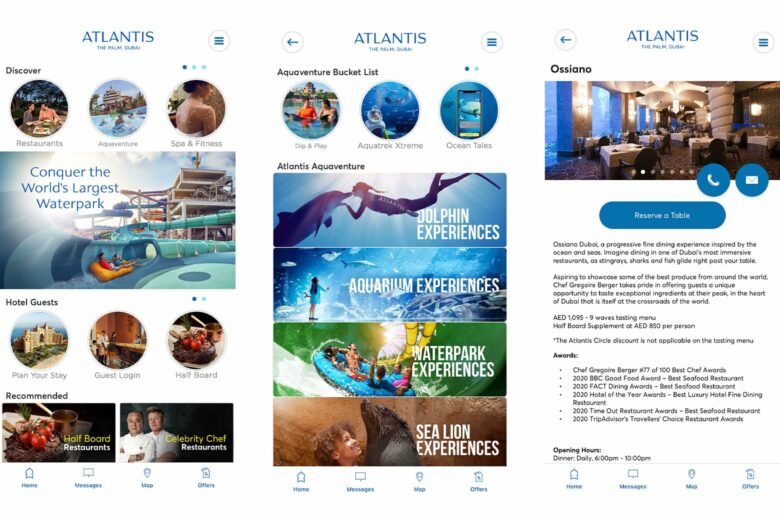 An actual pocket butler, The Atlantis Dubai app is the pinnacle of modern hospitality. No longer will you need to desperately catch the eye of a passing waiter, fumble with the room service phone, or negotiate table bookings. No, with The Atlantis Dubai app, it's all at your fingertips—literally. Technophobes, don't be perturbed: this app is so easy to use, you'll be converted forever. Available in a host of languages, from English to Arabic to Greek to Russian, you'll instantly eliminate risky miscommunications. Wherever you're from, you'll feel at home at Atlantis, The Palm.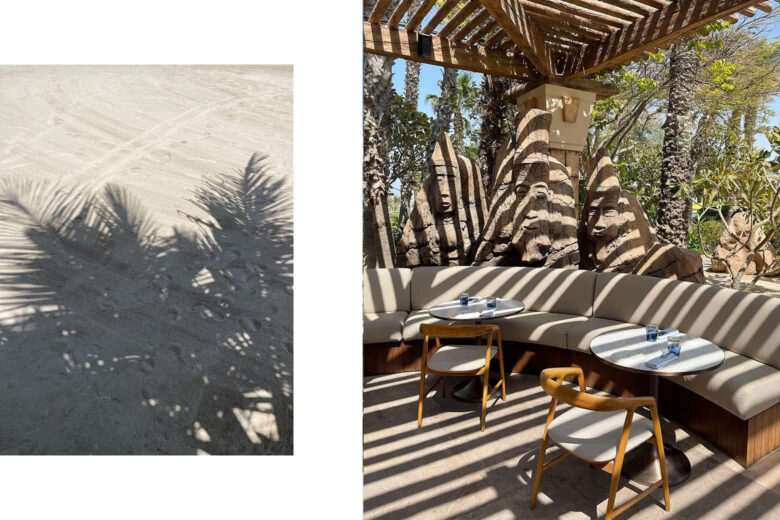 The food: A world-class culinary journey
With more dining options than you can count on both hands, it's all too easy to dine around the world without ever leaving the luxury resort.
No matter what you're longing for, Atlantis The Palm is the answer. Fancy a trip to Japan? Head to Nobu. Those dreaming of a taste of the British Isles can head to Gordon Ramsay's Bread Street Kitchen and Bar. Yes, the culinary world is your (actual) oyster at The Palm, with 35 world-class restaurants—Some star-studded, some casual, all tasty and tasteful.
Below are some of the gastronomic gems we experienced during our stay at Atlantis, The Palm.
Saffron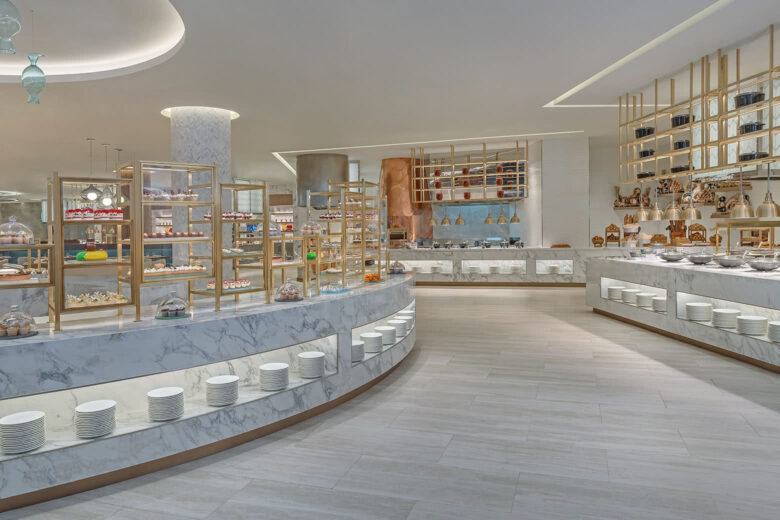 On vacation, brunches are king. And there's no better place to get energized for the day ahead than with a breakfast buffet at Saffron, boasting a mouthwatering 220 dishes.
Watch the magic happen at the 20 live cooking stations, and taste a world of cuisines. We highly recommend the Silk Road dining experience, a culinary adventure a la Marco Polo with delectable dishes spanning from East to West.
Nobu
A much-desired global culinary icon, with restaurants dotted around desirable destinations like New York, London, LA, and Tokyo, it's telling that you'll find a Nobu at Atlantis, The Palm.
With waves of bamboo frames from floor to ceiling and rich, ruby-red accents, Nobu Dubai's interior is sleek and warm, just like the chorus of 'irasshaimase' welcomes greeting guests upon arrival.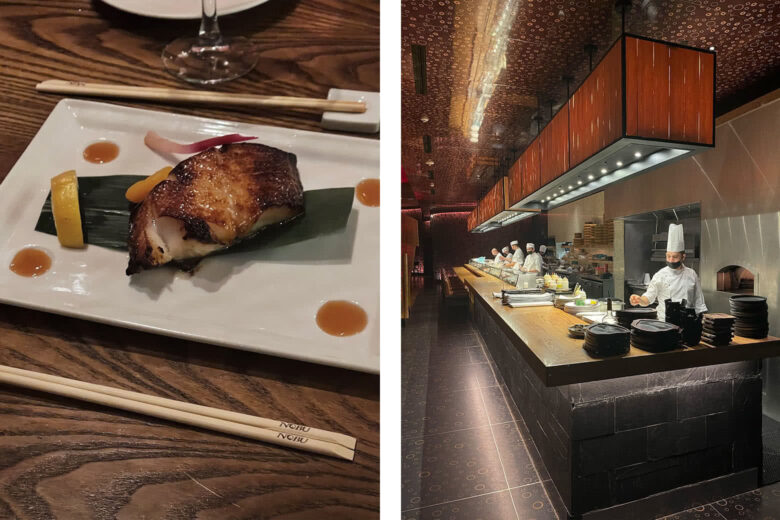 Begin the night with cocktails in a traditional sake lounge, or find your zen in the Japanese garden.
Nobu has proven enduringly popular amongst the world's A-Listers and the finest palates—and deservedly so. Combining Japanese cuisine with Peruvian influences, the overall dining experience is exquisite. Be sure to sample celebrity chef Nobu Matsuhisa's iconic Black Cod Miso, Crispy Salad With Truffle, and the signature Yellowtail Jalapeño sashimi. Oh, and steak lovers? Don't miss out on the melt-in-your-mouth Japanese Wagyu Beef.
Gordon Ramsay's Bread Street Kitchen And Bar
If you want to experience quintessential Britain, celebrity chef Gordon Ramsay's tables are where the—palate—party's at. Transplanted straight from its London counterpart (based in Bread Street, no less), Bread Street Kitchen And Bar Dubai serves up hearty, contemporary British cuisine that is show-stopping.
Expect elevated classics reinvented by the multi-Michelin starred Chef, like the traditional Fish and Chips in a craft beer batter, the signature Beef Wellington served with truffle mash (a must-try), or the Spicy Tuna Tartare—and we can't speak highly enough of the Sticky Toffee Pudding, served as if straight from a quirky village locale.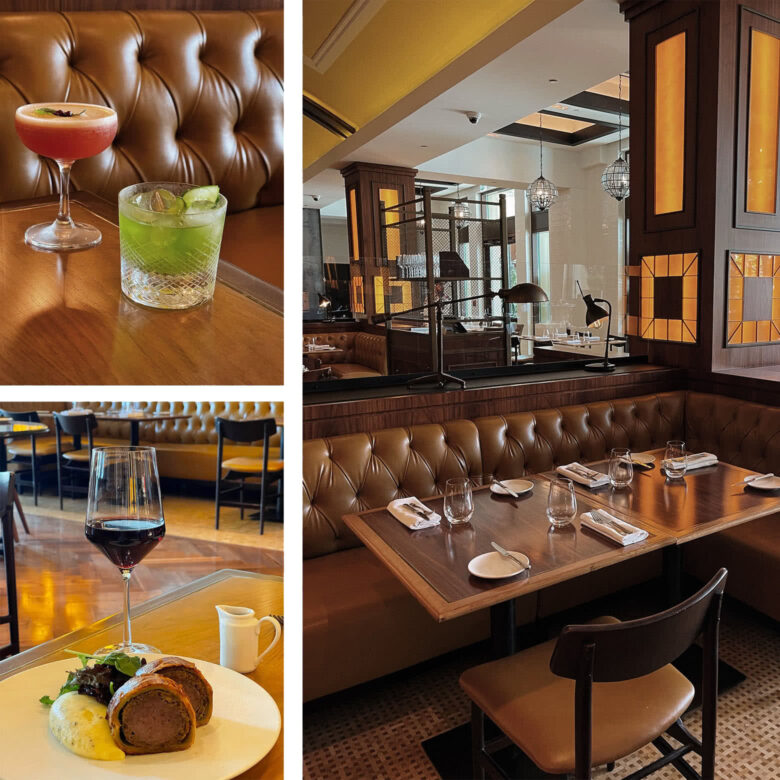 The high standards of the British celebrity chef's casual gourmet dishes are echoed in the vibrant, light-filled interiors of the warehouse-style restaurant— complete with brown leather sofas and a vast vaulting ceiling. But the pièce de résistance in the dining space is perhaps the bar area, where a team of innovative mixologists concocts classic and creative cocktails. The all-day restaurant also boasts an extensive collection of world wines and features a garden terrace (the perfect spot for lively weekend brunches) for those who prefer to dine al fresco.
Seafire Steakhouse And Bar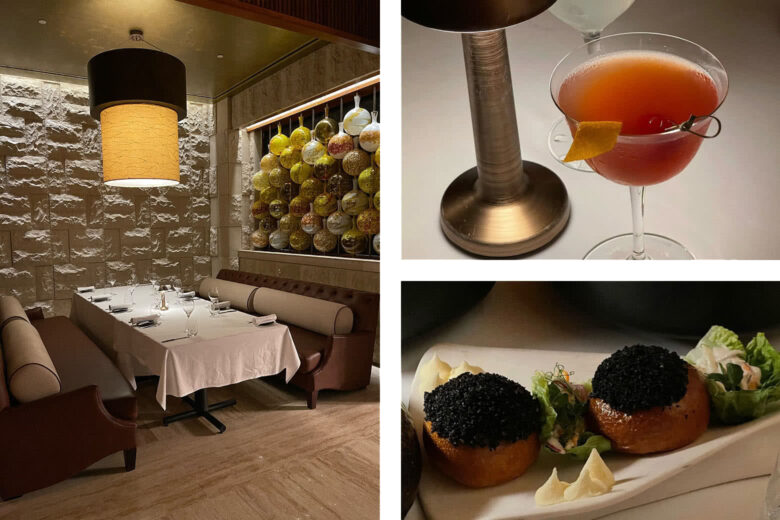 Big into steak? Join the club. At the Seafire Steakhouse And Bar, you'll experience classic steakhouse and New York jazz club-like vibes with all the dark oak, roaring fires, live music, and full-bodied wines that make it up.
Aside from the Certified Atlantis Steak, hailing from their very own species of cattle, you're spoiled for choice. In fact, you'll get to choose the cut, age, and marble score (read: the degree of visible intramuscular fat) of your steak. And if that wasn't bespoke enough, the restaurant also offers an international menu of—wait for it—steak knifes.
From the Savory Short Rib Donuts to Australian Wagyu with a side of Parmesan & Truffle Fries to Smores Oreo Chocolate Lava Cake—and the all-time favorite, the New York Baked Berry Cheesecake. Let's just say this: our taste buds had a feast.
Ayamna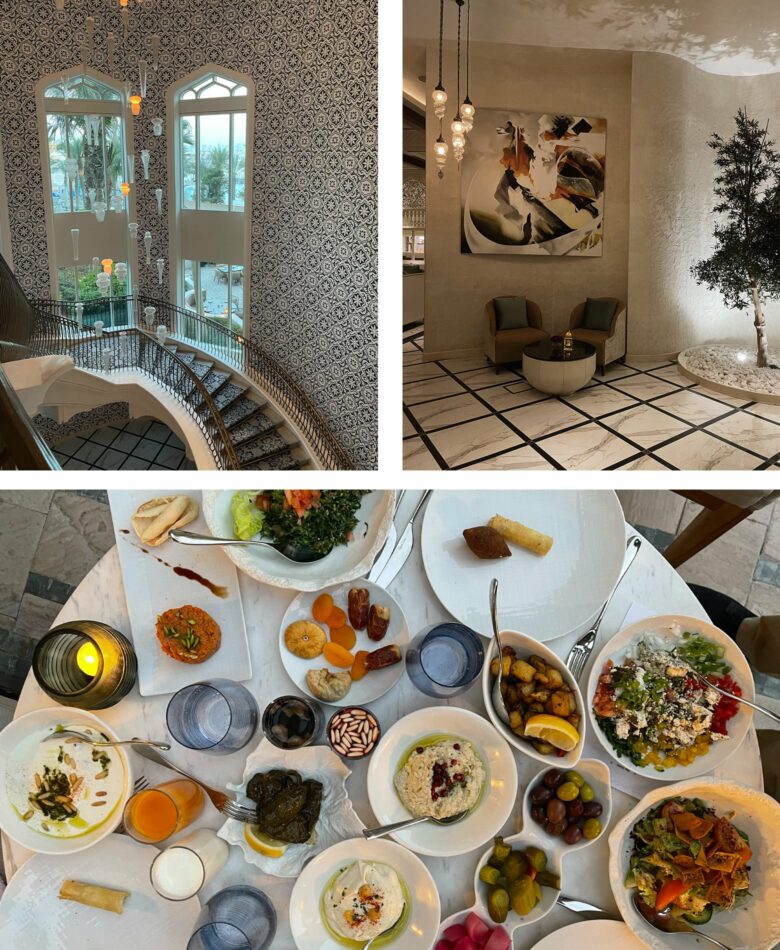 Take the winding, majestic staircase and be immediately transported to another time and place worthy of "One Thousand and One Nights".
Ayamna—which translates to 'the Good Old Days' in Arabic—is Atlantis The Palm's very own authentic Lebanese restaurant. Chef Ali El Bourji uses local, organic, and sustainably produced ingredients to recreate the flavors of his childhood with a modern flair. And we have to say; nostalgia has never tasted so fresh and lively.
Enliven your tastebuds with finger-picking mezze or chow down on juicy chargrilled meats; whatever you choose, it'll be a spread you won't forget. We mean, even the humble hummus tastes magical here.
Take your pick from the swirly marbled dining room or eat under the stars amongst flickering lanterns on the gorgeous terrace.
White Restaurant
For a true "I'm on vacation" feel, head over to White Restaurant. This boho-beachside destination is what colorful summer dreams are made of: A slice of the Mediterranean by the Arabian Sea.
Overlooking the beach via an open-air terrace, White Restaurant is the kind of sun-soaked place where your lunch seamlessly segues into laidback lounging and happy hour set to a soulful soundtrack.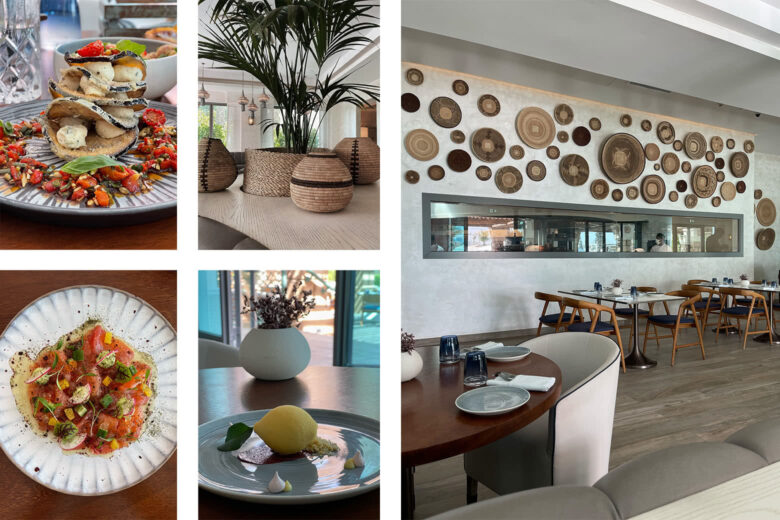 Harnessing an understated palette of white-washed walls, natural linen, and neutral, tactile textures, the beachy-chic eaterie serves up a seafood smorgasbord to nourish your body and soul. Check out the Yellowfin Tuna Tartare, Cured Salmon Gravlax, or, if you're veggie, munch on the Cauliflower Arancini and the Aubergine Parmigiani (so good, we had to nickname it 'Dubai's tastiest skyscraper'). And to finish? Satiate that sweet tooth with the crunchy chocolate mousse or zesty white lemon cheesecake, the perfect palate freshener—Now, don't judge us, but we ordered both.
If you are looking for a refined yet relaxed hangout, this is the sweet spot. Between the earthy ambiance, the sea of delicious dishes, and warm service, our visit to White Restaurant felt like a vacation within our vacation.
Wavehouse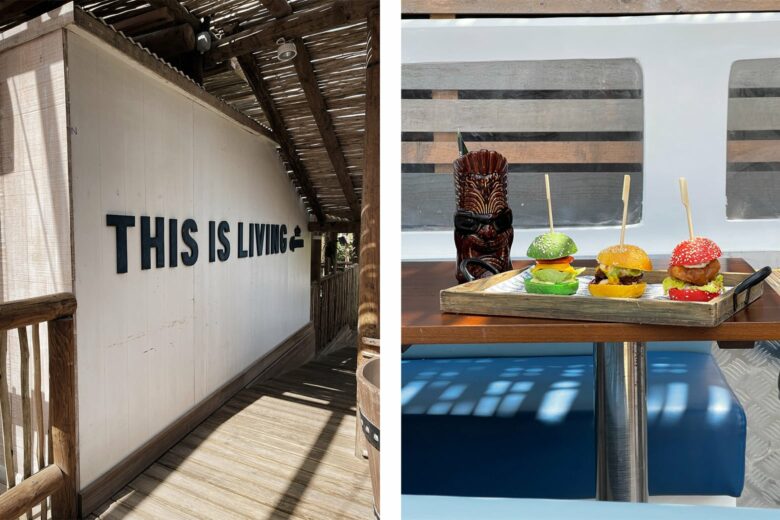 Serving up something for everyone (particularly if you're hungry after a venturesome day at Aquaventure), Wavehouse is the ultimate family dining destination.
Take a break from bowling with a Poke Bowl. Or celebrate an arcade win with an ice-cold beer and Wavehouse's highly photogenic burgers—the Rainbow Sliders. Festive, lively, and where it's at, Wavehouse is a guaranteed crowd-pleaser.
The spa: Relaxation, refined
Is a vacation even a vacation if you don't have at least one spa day? We think not. Naturally, The Palm boasts an opulent spa, sure to melt away the woes of your daily life. The award-winning ShuiQi Spa is the destination to relax, unwind, and find peace.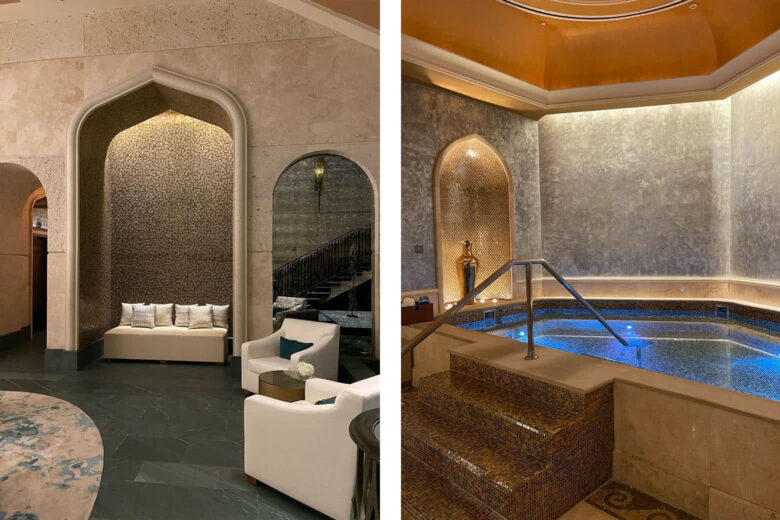 What's special about it? For starters, the Himalayan Salt and Rose Quartz tailored treatment, created exclusively for ShuiQi Spa. Commencing with a body scrub blended with mint, eucalyptus, and Himalayan salt, you'll then be treated by a warm salt disc massage (like a hot stone massage, but better), and finishing with a rose quartz crystal chakra placement to restore balance and regeneration in your body and soul, no part of you will be left unpampered.
If you're done with one-to-one treatments, kick it freestyle in the Jacuzzi, sauna, and steam rooms; perfect for sweating out any residual stress from regular life and purifying your skin and your mindset.
Aquaventure: The world's biggest waterpark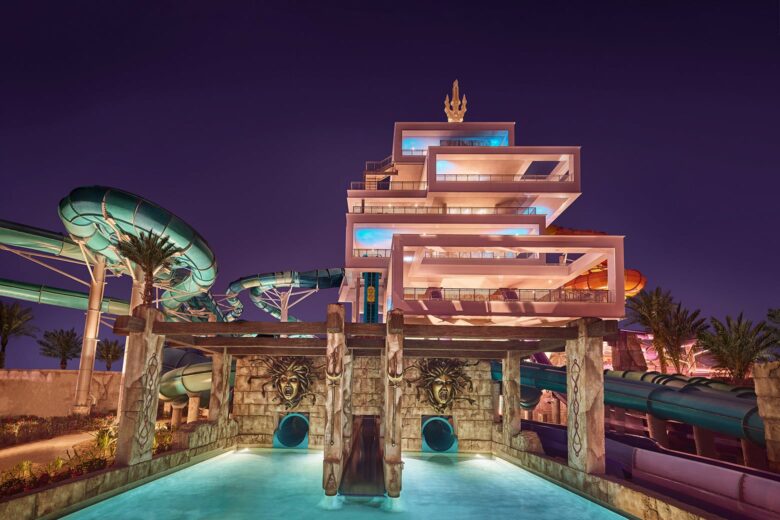 If you missed the memo, Dubai doesn't do things by half measures. And Aquaventure is yet another prime example.
Kids and adults alike can enjoy an exhilarating day at the world's biggest waterpark, a maze of 105 record-breaking slides, mind-boggling sights, and remember-forever experiences.
Spanning 22 hectares, Aquaventure is a day out and a half. From the head-spinning Aquaconda—a 25-meter-high tube slide jetting you up to 35 kilometers per hour—to a relaxing (!) plunge into a shark tank from a vertical 40-meter-long toboggan, you're thirst for thrill-seeking will be quenched here.