Imagine: a cool breeze blows through your hair as you zoom down the street; heads turn, cameras flash, and pairs of eyes follow you with barely-concealed envy. And no, we're not talking about driving a convertible car (or jogging, for that matter). Indeed—this is much cooler. Introducing OKAI: empowering people across the globe to get to work, hit the shops, or simply take a leisurely ride on the swankiest e-scooters in town.
A global leader in the booming light electric vehicle manufacturing and micromobility industry, OKAI is rumbling up the market. Operating with a multinational team with over 500 employees, OKAI enjoys insider info of the streets and culture from Europe to Asia. As intrepid travellers will know, you'll encounter shared e-scooters in cities like Paris, London, and Stockholm. But now? You can have your own. And it won't cost the Earth—in all senses of the term.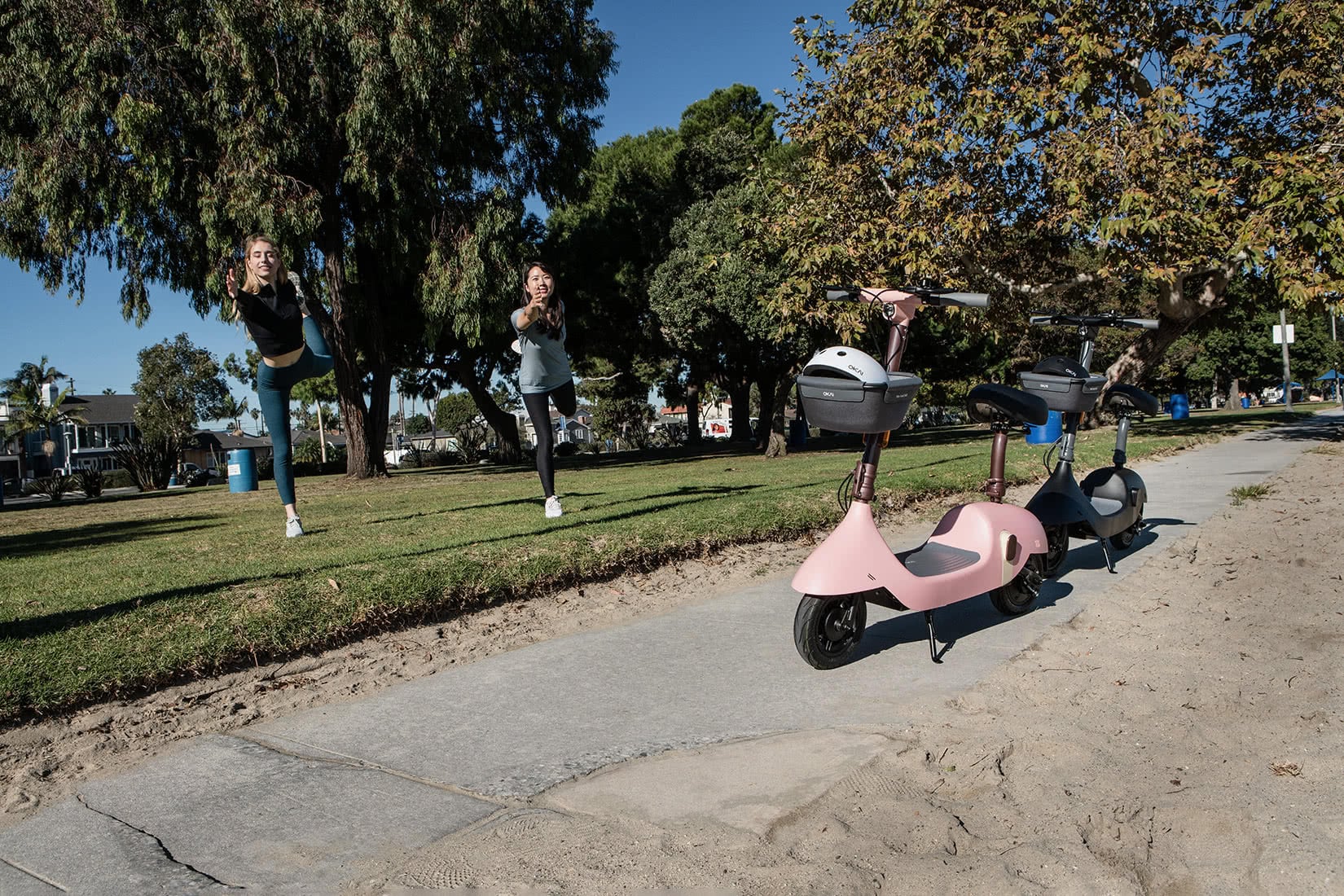 From supplying systems and components to the shared e-scooter space, OKAI has taken the leap to offer their very own e-scooters: the Beetle EA10 and the Neon ES20. Employing top-of-the-range technology and with an active passion for reducing their—and subsequently, our—carbon footprint, OKAI's raison d'être is to minimise the ecological damage to which we're sadly habituated. And, they've done a pretty good job. So far, they've curtailed around 88,500,000 gallons of gas emissions and 529,000,000 kilograms of CO2. Now, we like those numbers.
OKAI Beetle e-scooter: Taking a (comfortable) seat at the urban micromobility table
Meet the new kid who's less on the block, and more zooming around it with enviable style: say hi to the OKAI Beetle EA10A. The ultimate hybrid of bike and moped, the OKAI Beetle takes the best of both worlds and flaunts a low-emission transport method you have to see to believe.
The first of its kind, it takes just one whip-around the street on this seated e-scooter to have you head-over-heels (don't worry, not literally). Smooth, slick, and sure to have you anticipating your commute in a wildly unfamiliar way, the OKAI Beetle is the eco-chic ride of the future and yours for $699. Think we're simply gushing? Read on:
Dream design
It could be the most eco-friendly, speediest, and most feature-packed e-scooter in town. But without a slick design? It'd be a flop. Fortunately, the OKAI Beetle EA10 is built to enchant (not to mention, it possesses all of the above by the bucketload):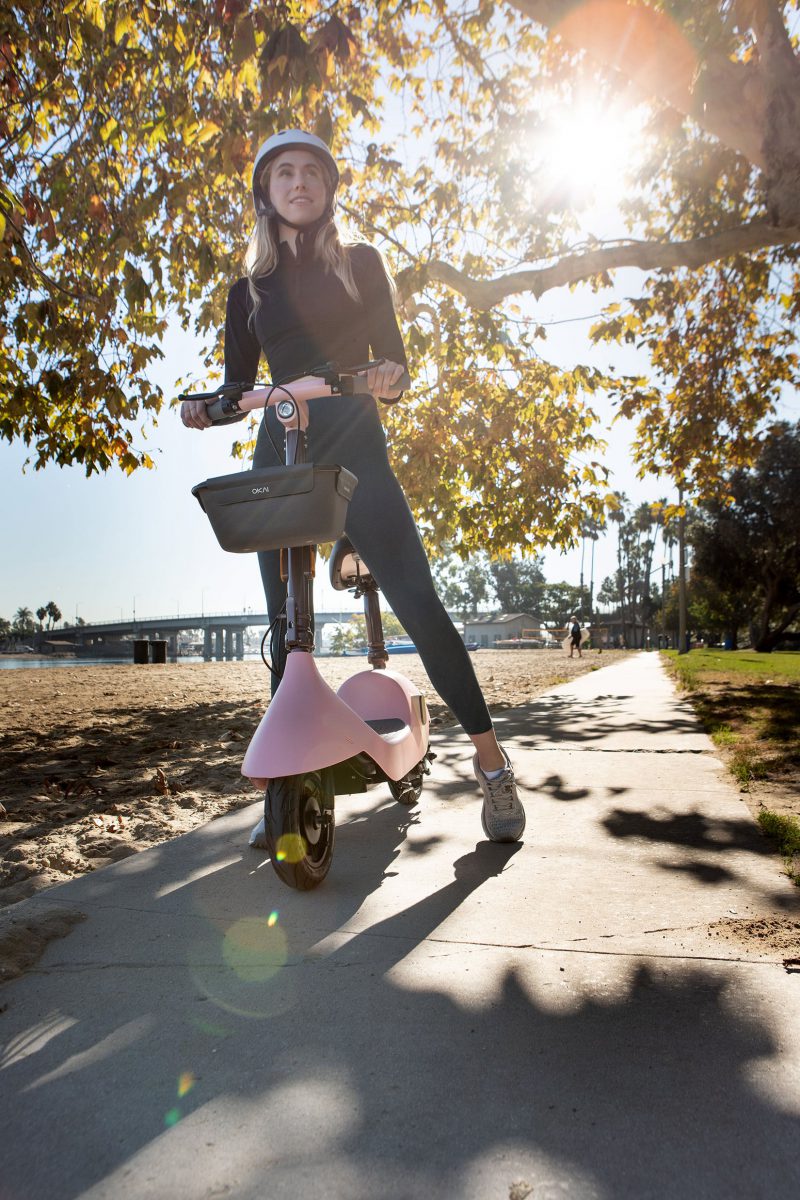 Boasting an ergonomic design, this futuristic e-scooter oozes smart features, sure to have onlookers slinging their car keys in the hedge and heading straight to OKAI. Pick from three chic colours, including Cherry Blossom Pink, Dream Black, and Rural White.
Comfort is key
A trailblazer when it comes to unmatchable comfort, OKAI cuts no corners here. With every detail considered, you'll remain in a state of utmost comfort whether you're taking a 1-mile (um, really though? Get those steps in, people) or a 10-mile trip.
Perch yourself on the soft, roomy cushioned seat that curves to the unique shape of your body memory foam-style, and avoid that pesky but all-too-familiar digging in. Yes, with every detail considered, even your feet will rest on the extra-large footrest, ensuring you're comfortable head-to-toe.
Got uneven or badly maintained roads in your area? Don't get us started—thankfully, you'll hardly feel a bump, pothole, or rough terrain on the OKAI Beetle. Presenting an extra layer of suspension support and 10-inch tubeless pneumatic tires, those unpleasant bumps and lumps will be happily muted—come newly-paved road or backwater country lane. Oh, and there's far less chance of a flat tire, too (however, we still recommend clueing up on tire changes—just in case).
Portability in motion
With many of us living in high-rises, working in offices, or generally being pretty dynamic with our lifestyles, optimal portability is of the essence. But, true to form, OKAI has covered all bases: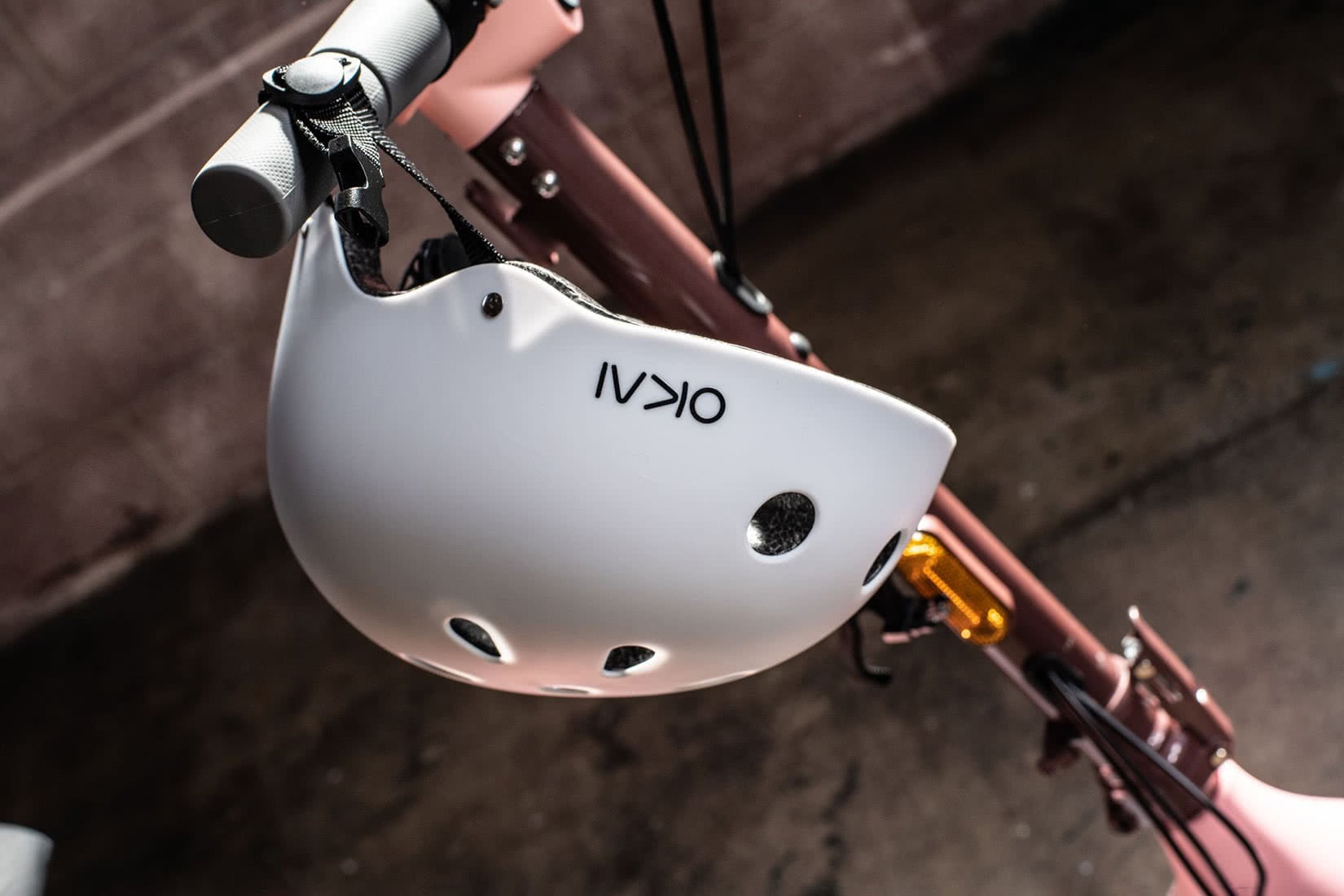 With both the seat and handlebars nicely foldable, you can pleat this e-scooter up into a neatly origami'd package. Unlike a car (or—gasp—the bus), you won't find yourself traversing a multi-storey car park or running like the wind to reach your transport. With the OKAI Beetle, it can be just inches from you (even under your work desk)—always at arm's reach, and always in sight.
Pride in performance
Anyone who's dabbled in e-scooter riding before will appreciate the importance of a healthy range. OKAI goes above and beyond (so you can too) with up to an impressive 25-mile (40km) range, opening up a world of commute, social, and leisure possibilities.
And if you run out of juice? With a little forethought, all is not lost: simply swap out your tired battery for a new one thanks to the 10.4 Ah smart battery system, a unique feature that's the difference between cruising home or breathlessly lugging your e-scooter. Logistics worriers, take note. And, if you're simply popping around the corner, leave your spare battery charging at home so it's ready for that mammoth trip later on.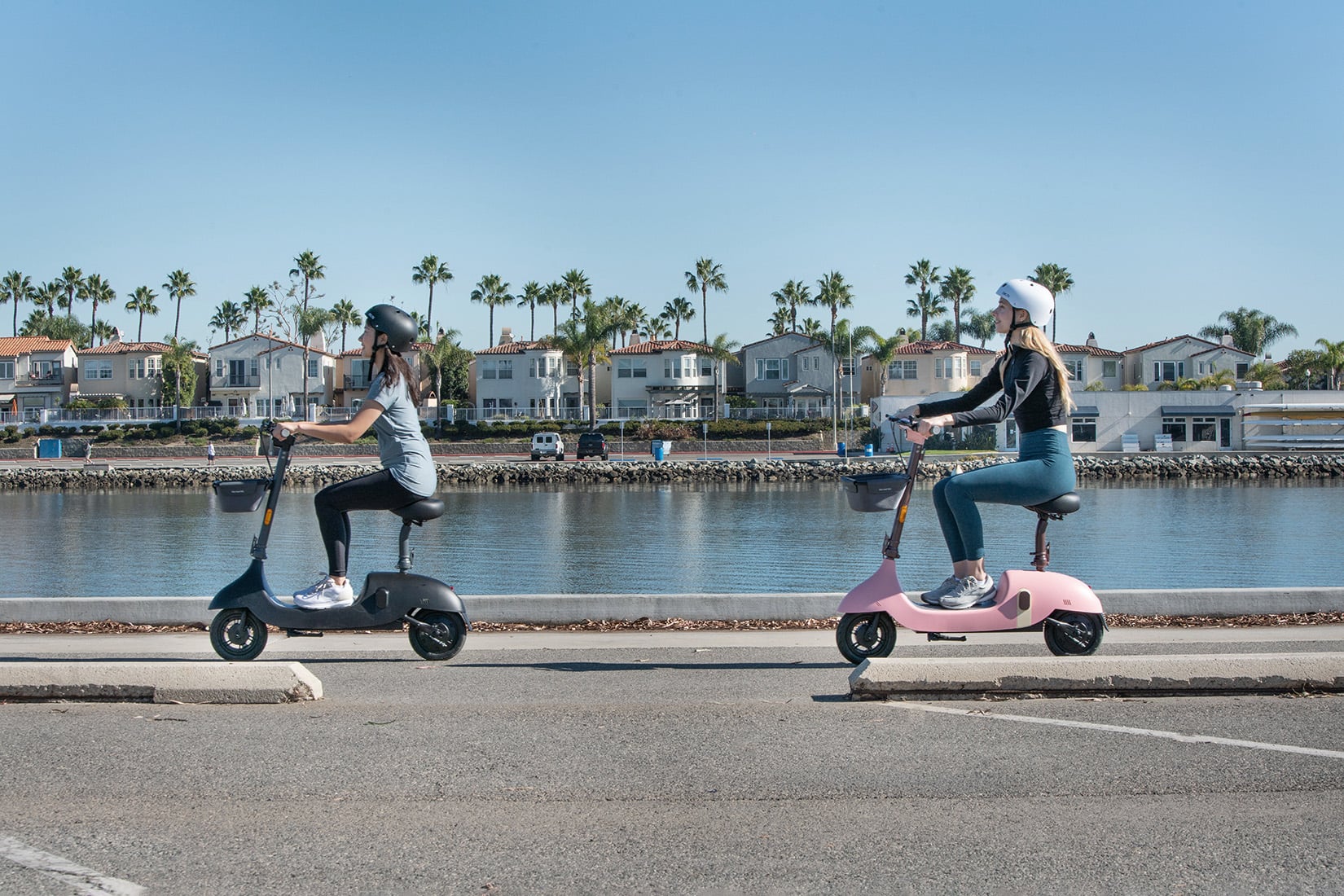 Breaking the norm with 560W of peak power and 16mph (25km/h) top speed, you'll hardly be going at a snail's pace, either. And, you can switch between three ride modes to suit your journey: Eco for busy streets and narrow alleys, Sport for uphill climbing, faster travel, and solid acceleration, and Standard for, well, everything else. You can even eliminate the need for holding the accelerator down with the easy-to-use Cruise Control feature, giving you the freedom to simply enjoy the ride.
High touch high tech
Thought that's about it? Please stand corrected: OKAI has peppered their e-scooter with the all-important finishing touches: unsurpassable technology to elevate your experience even further.
Stay up to speed
Connect with the OKAI Smart App (it is the 2020s, after all) and enjoy additional security features, self-diagnostics, ride statistics, battery health, and so much more. You can even unlock your vehicle via the app—or, if you prefer to remain old-school, use the traditional NFC-enabled key for a throwback to all things manual. Simply download the OKAI Smart App on iOS or Android and stay up to speed with, well, everything.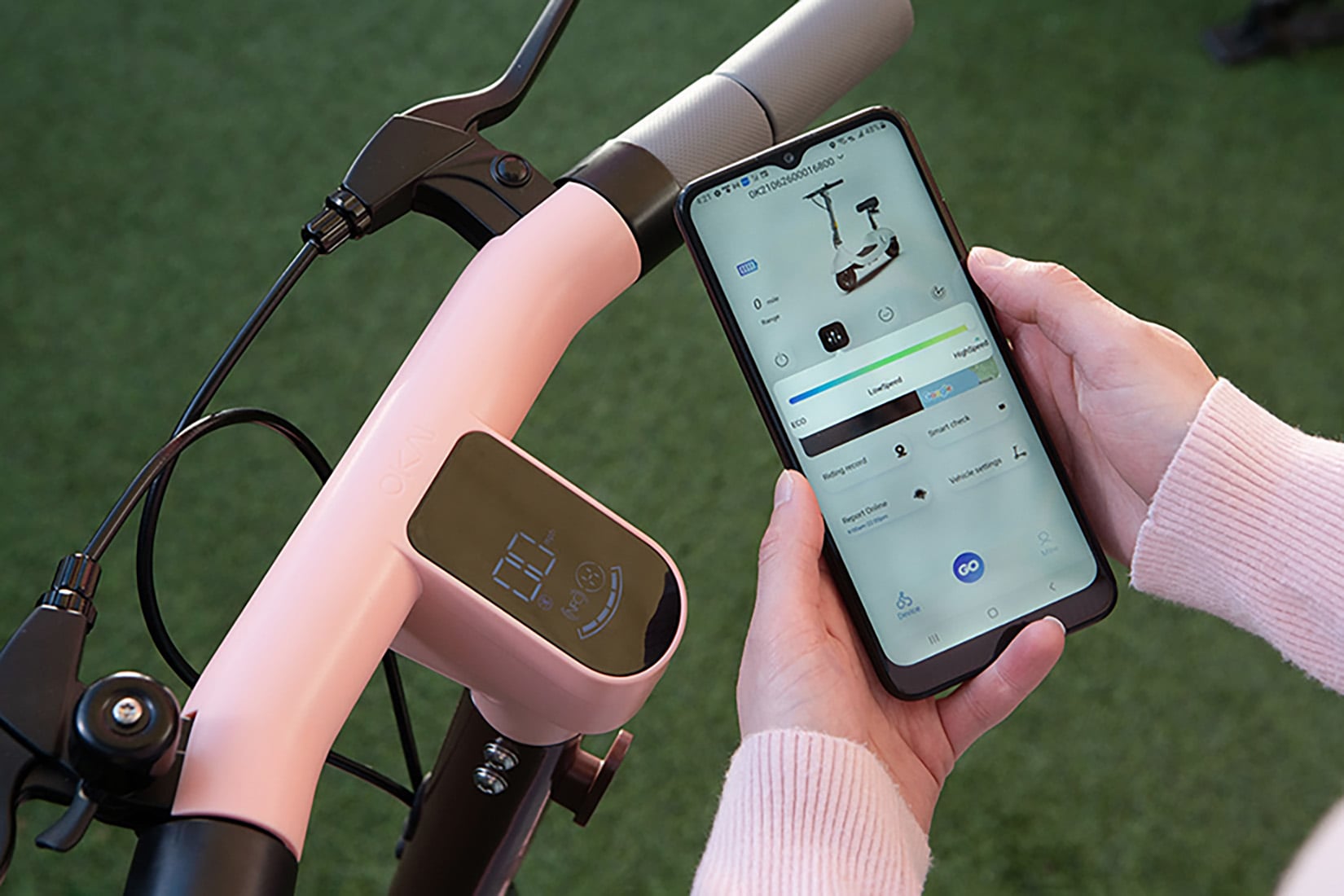 Don't worry, you won't need to fumble for your phone whilst on the road: check your battery status, speedometer, and mode on the large crystal-clear LED display, where a quick glance will give you all the information you need.
Stay safe
Finally, safety is paramount to your peace of mind and staying on the right side of other road users. So, ride without worry any time of day or night with the reliable double braking system and the bright LED headlights and tail-light keeping you firmly visible while you cruise.
So, join the future of urban mobility with OKAI's Beetle EA10A—trust us: our planet (and your street-cred) will thank you.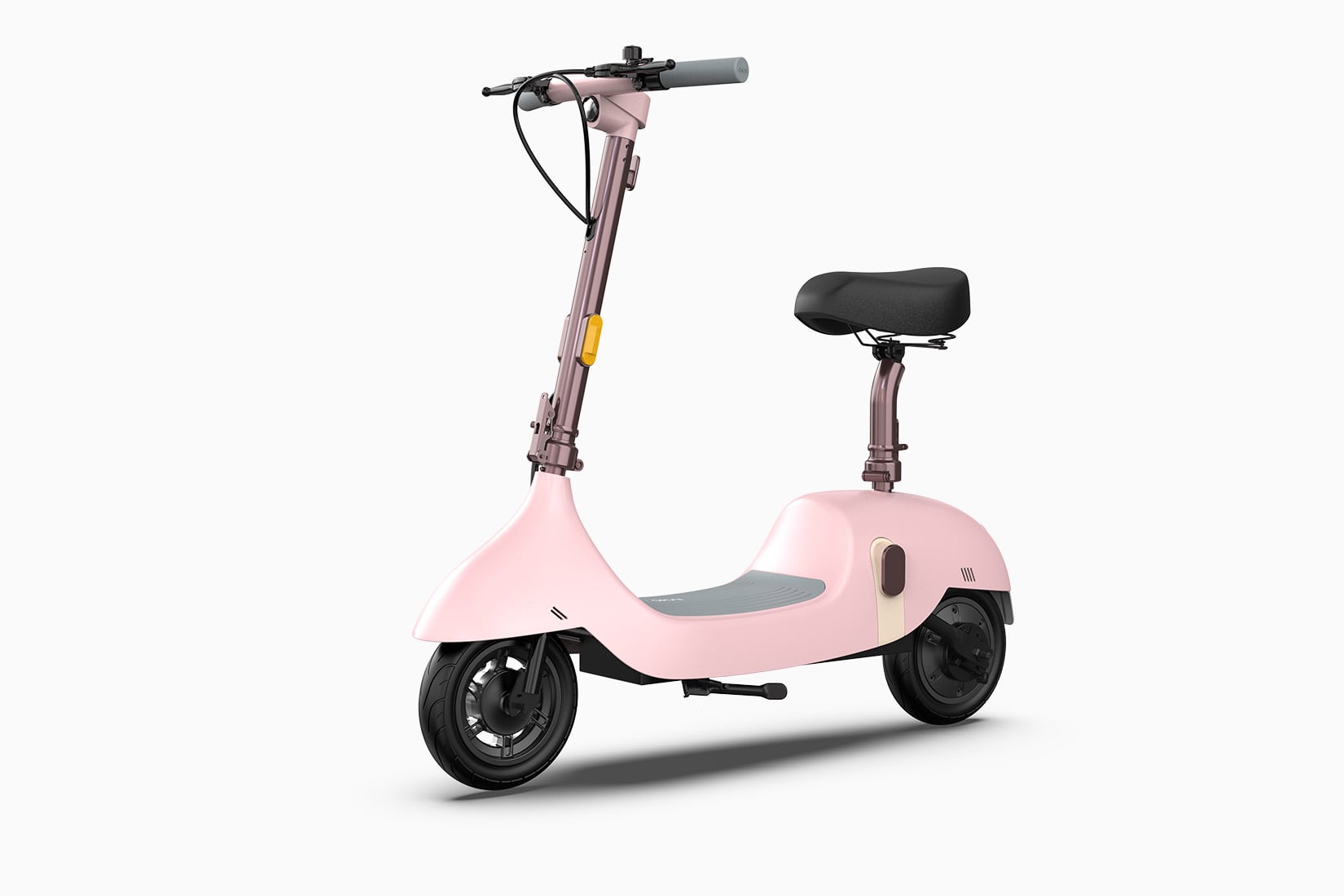 Range: Up to 25 miles / 40 km
Max speed: 16 mph /  25 km/h
Hill grade: up to 20%
Charge time: 4 hours
Weight: 58.4lbs / 26.5 kg
Max rider weight: 220lbs / 100kg
Foldable: Yes
Removable battery: Yes
Colours: Black, White, Pink