Conveying visions through Italy's most picturesque places, Luca Faloni is as much an odyssey as it is a digital destination.
And this winter season, we're only going up…
Luca Faloni's AW 2023 Collection connects with nature through its reinterpretation of the Alpine View. And while the Italian piazzas don their most dazzling attires, this year, we're returning to our roots, inspired by Christmas trees in their natural habitats—the snow-frosted, ice-caped Alpine regions.
Wherever you choose to spend "the most wonderful time of the year", Luca Faloni is our number one Italian destination to miss the crowds, while simultaneously experiencing the best the bel paese offers—superlative style.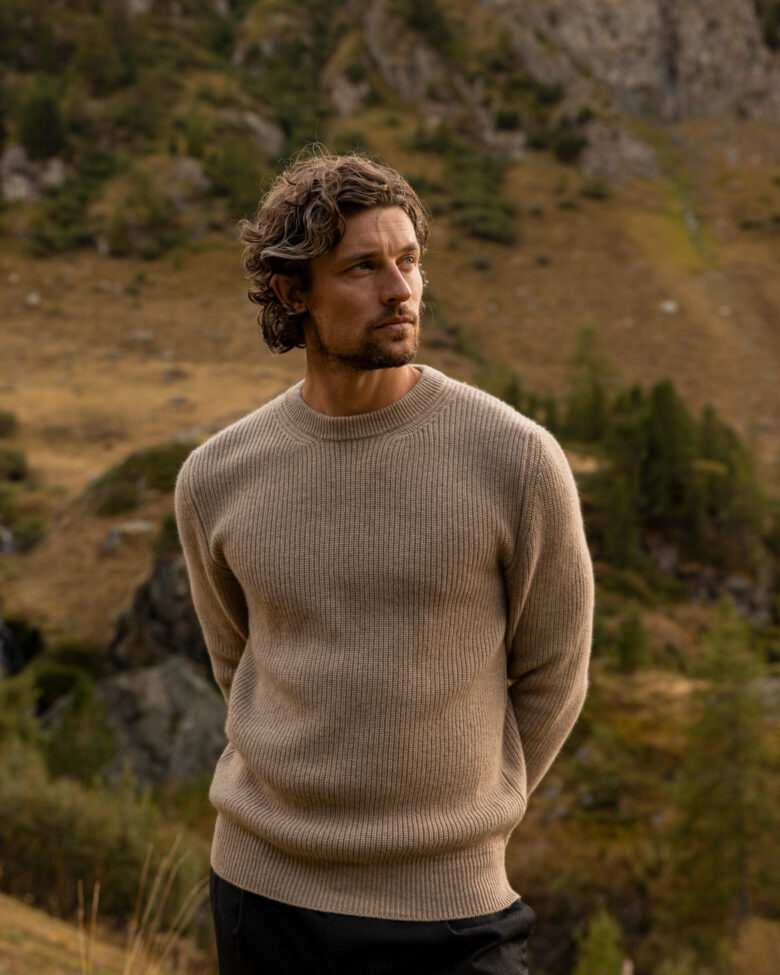 Dedicated to preserving the traditions of Italian craftsmanship, Luca Faloni's artisanal ensembles are meticulously hand-stitched by third-generation, family-run businesses. The brand's natural color palette is reminiscent of Italy's inherent poetry. And its timeless designs and finest fabrics are a feast for the senses.
Giving off that "cabin in the mountains" feel, Luca Faloni explores new heights of relaxed-but-refined luxury menswear with its 2023 Winter collection. Replacing end-of-year functions with fire retreats, canapes with panettone, and black-tie with cashmere cardigans, classic chinos, and denim shirts, the Italian label is an invitation to embrace the sparkiest of seasons—al nostro ritmo.
For us, that's la dolce vita.
A mountain of timeless, treasurable treats: Sartorial gifts from Luca Faloni
Whether you wish to experience the Mediterranean magic for yourself or gift Italian craftsmanship to the gentlemen in your life, Luca Faloni is our favorite vision of holiday cheer—alluring authenticity.
From soft cashmere cardigans and warm knits to sumptuous shirts and exquisite accessories, every one of Luca Faloni's made-in-Italy pieces embodies the essence of timeless style and exceptional quality.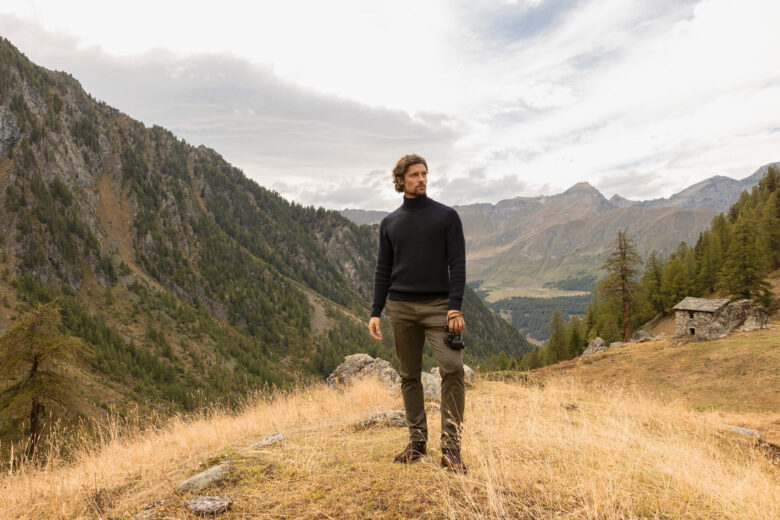 To: you, From: Luca Faloni—Enjoy 10% off first orders and complimentary gift wrapping with a personalized note. It's the perfect way to bring warmth and joy to loved ones from afar, or to treat yourself after a year of hard work.
Below, our favorite elevated essentials from Luca Faloni's Christmas Gift Guide. Don't forget to add in a treat for yourself. After all, not everyone has your gift for gifting.
Chunky Knit Cashmere Zip Cardigan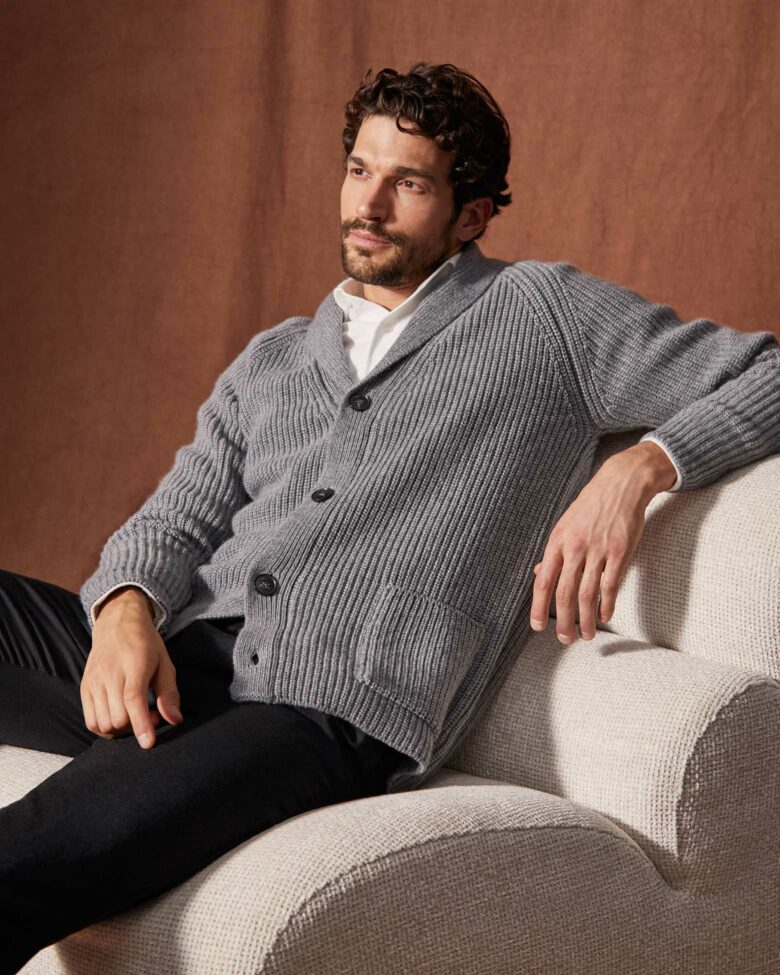 Relaxed and refined, this chunky knit cardigan is the ultimate winter layer. Whether you're on the Apres-ski slopes or you're reading a novel by a crackling fireplace, the impossibly soft garment is as stylish as it is snug.
Knitted in Northern Italy, Luca Faloni's four-ply cashmere is crafted from premium Cariaggi Yarn, featuring a polished ribbed effect. Slightly heavier than most cardigans, the zipped jumper is superlatively warm and temperature-regulating whilst simultaneously elevating any ensemble with an elegant aesthetic.
We especially love the Chunky Knit Cashmere Zip Cardigan in Midnight Blue for a touch of, well, magic at midnight.
Best for: Layering up with luxury.
Cashmere Country Crew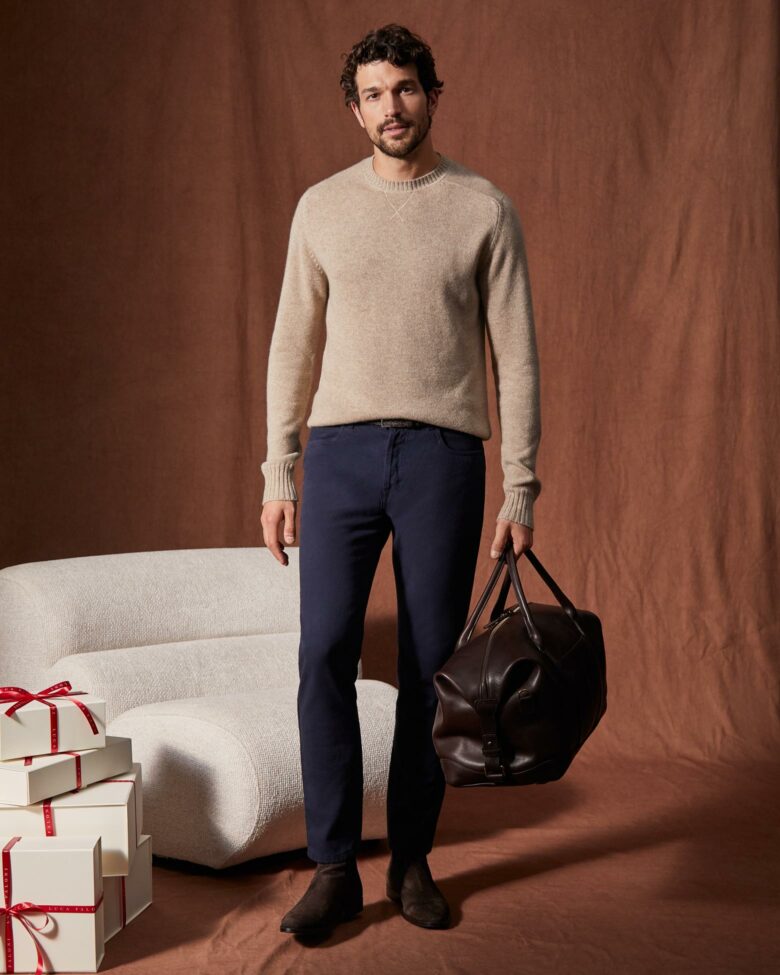 It's right there in the name: This cashmere crew neck is reminiscent of the cozy charm of the countryside. Designed to make your country retreat a little more sophisticated, the elevated essential doesn't compromise on anything.
Made in Northern Italy from the brand's signature four-ply cashmere, the decadent piece is superlatively soft and non-scratchy. Coming in Navy, Beige, and Olive, it's versatile and timeless. While meticulous details and impeccable finishings speak to the intrinsic luxury and quality of Italian craftsmanship.
Pair your Cashmere Country Crew Neck with a pair of denims and white sneakers for a look that is paired back, but still polished.
Best for: The G.O.A.T of cocooning comfort.
Cashmere-Cotton Shirt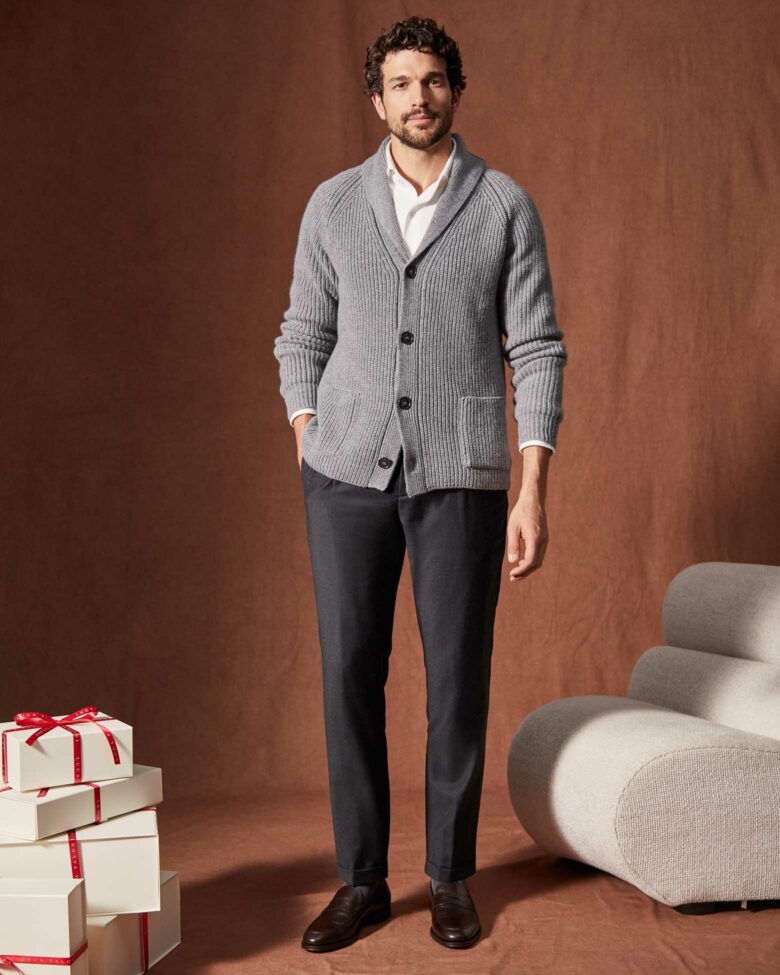 Don't know what to get him? Luca Faloni's Cashmere-Cotton Shirt is a fashionable failsafe for any man. Whether it's your nephew, your brother, your husband, your father, or all of the above, this elevated staple is guaranteed to bring joy and success.
Even if they're less sartorially inclined and can't appreciate the finer details, such as a one-piece Paramontura collar and mother-of-pearl buttons, they'll instantly appreciate the quality of the all-natural materials. Made from a cashmere-cotton blend, the streamlined shirt is unbelievably breathable and temperature regulating, reducing sweat patches, even in the most stressful situations.
The Cashmere-Cotton Shirt comes in a range of signature hues—from Forest Green to Light Pink to Charcoal—so there's a version for every man in your life.
Best for: A gifting genius.
Cortina Cotton Chinos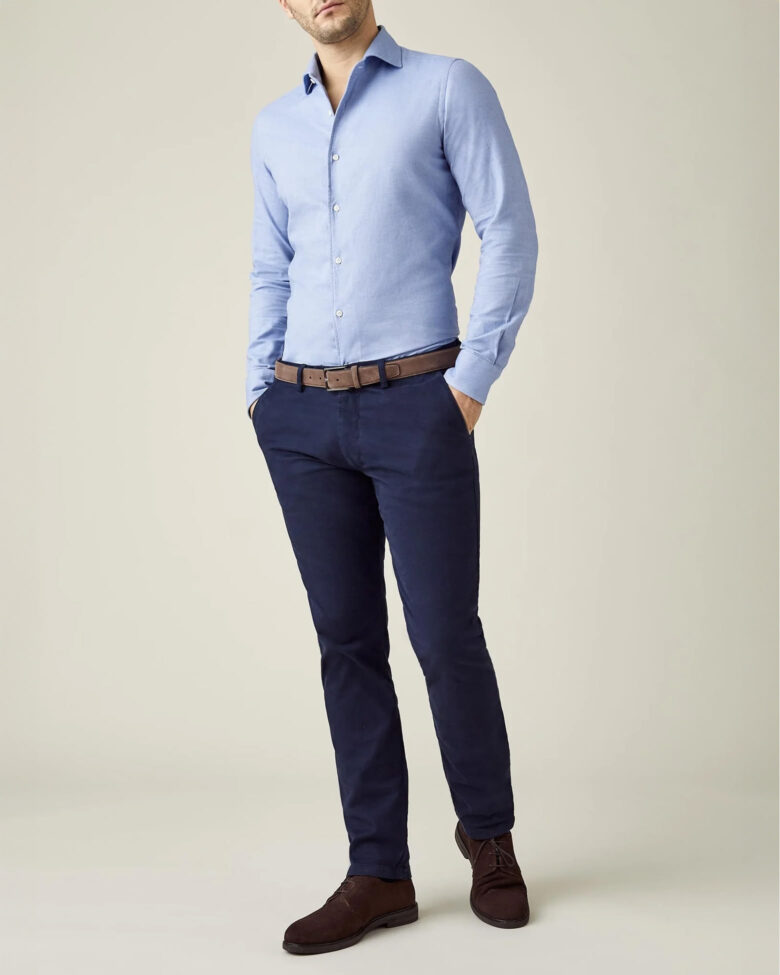 Regardless of how many chinos you own, we doubt any come close to the Cortina Cotton chinos by Luca Faloni. Made from a soft cotton twill, the mid-rise silhouette is effortlessly comfortable and easy to wear.
Hitting the elusive sweet spot between smart and casual, the versatile trousers are perfect for almost any occasion. Dress them up with a tucked-in shirt for the office. Or make them relaxed with a loose-fitting linen shirt during the weekend. Either way, the slightly tapered fit always looks great.
We love the Cortina Cotton Chinos so much that we have them in Camel and Navy. And we already have our eye on a third pair in another one of the brand's eight natural colorways.
Best for: Heading straight from the boardroom to the bar.
Wool Pleated Trousers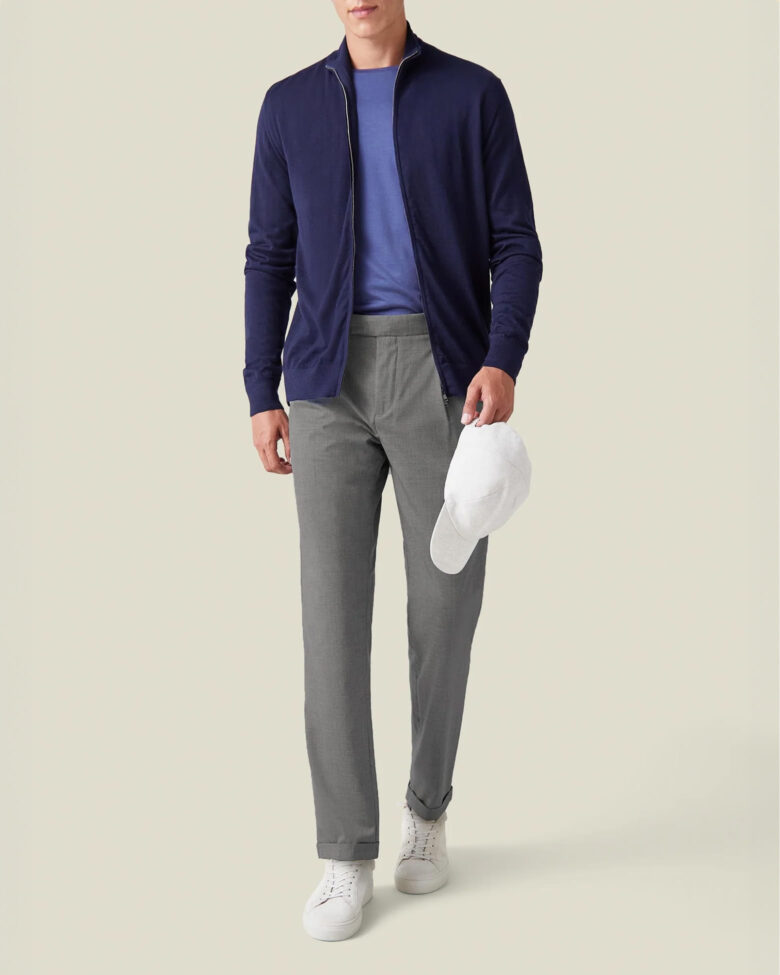 Slightly more formal than your Cortina Cotton Chinos, the Luca Faloni Wool Pleated Trousers prove that formal dress codes and comfort shouldn't be mutually exclusive. And while the pleated design may seem similar to many of your smart trousers, it's the thoughtful details that make all the difference.
Featuring a tailored waistband (with a secret internal drawstring), they are flattering on almost every body shape. The discreet hooks provide easy closure. And made from lightweight virgin wool, the soft material is exquisitely lightweight and breathable.
So much so that we wear the Wool Pleated Trousers year round.
Best for: Making formal functional.
Leather Belts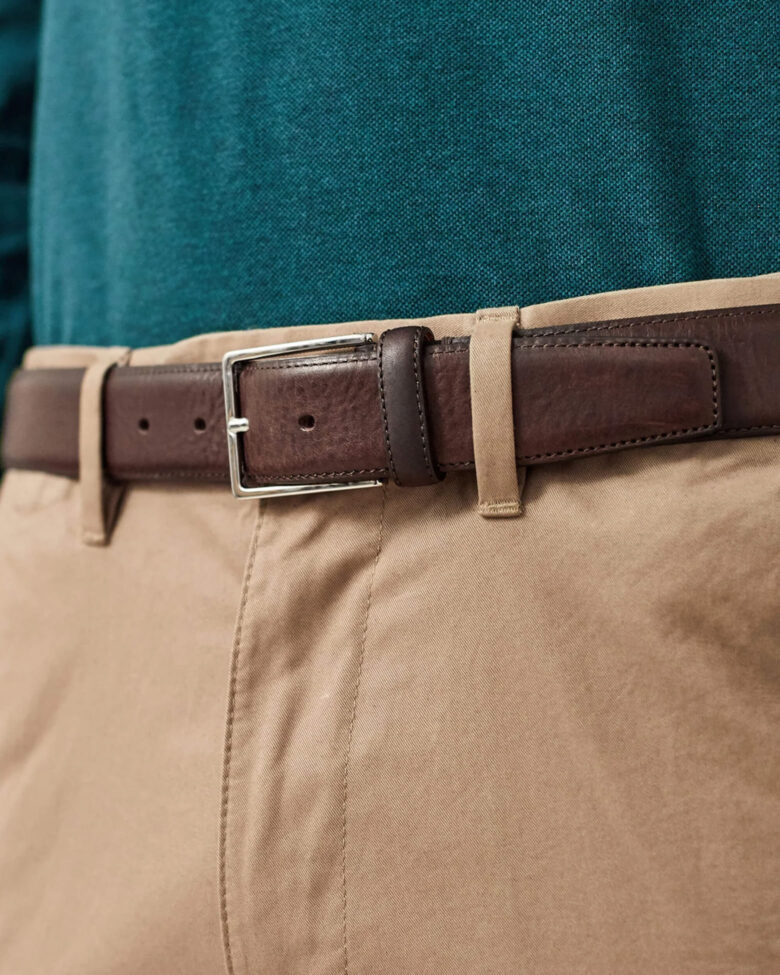 Luca Faloni leather belts are another great gift for the men in your life (yourself included.) Handmade in Bergamo from the finest full-grain leather, these belts pay homage to third-generation Italian artisans and the passion they share in their craft. Every stitch is meticulously woven, and the leather beautifully brushed.
Luca Faloni Leather Belts come in a range of styles and colorways. Braided or unbraided, the suede nubuck belts come in a variety of blacks, browns, blues and grays. While the polished calf leather belt comes in classic black and brown, as well as a reversible option for those who can't decide.
Best for: Buckling up for the holidays.
Weekender Travel Leather Bags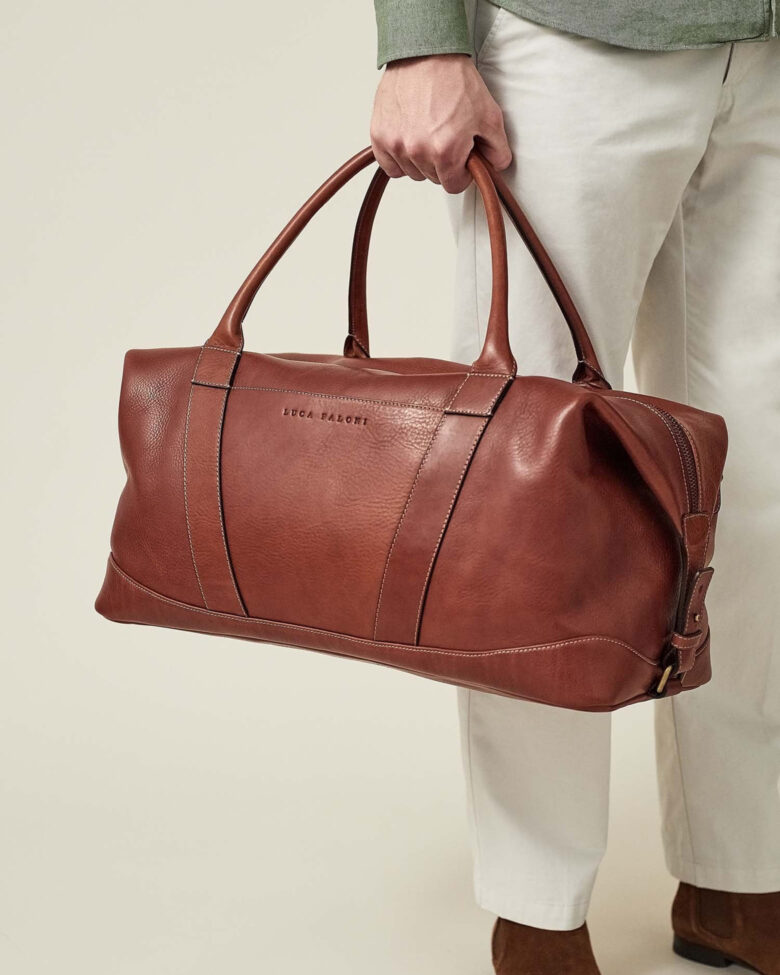 Much like a fine Merlot, Luca Faloni's Weekender Travel Leather Bags mature with grace, developing the coveted patina of a lifetime of adventures. The leather is sourced from Santa Croce and is traditionally (and sustainably) tanned with vegetable oil.
Crafted for leisurely strolls along cobblestone streets and visits to historic sites, the handcrafted design exudes quintessential European elegance. Three zip pockets effortlessly organize your smaller items. And the padded, detachable shoulder strap, lined with anti-slip suede further speaks to the brand's commitment to unparalleled quality and comfort.
If you plan to get away for the holiday, this may have to be an early Christmas gift to yourself. You won't want to wait.
Best for: A lifetime of seamless getaways.
Cashmere Baseball Caps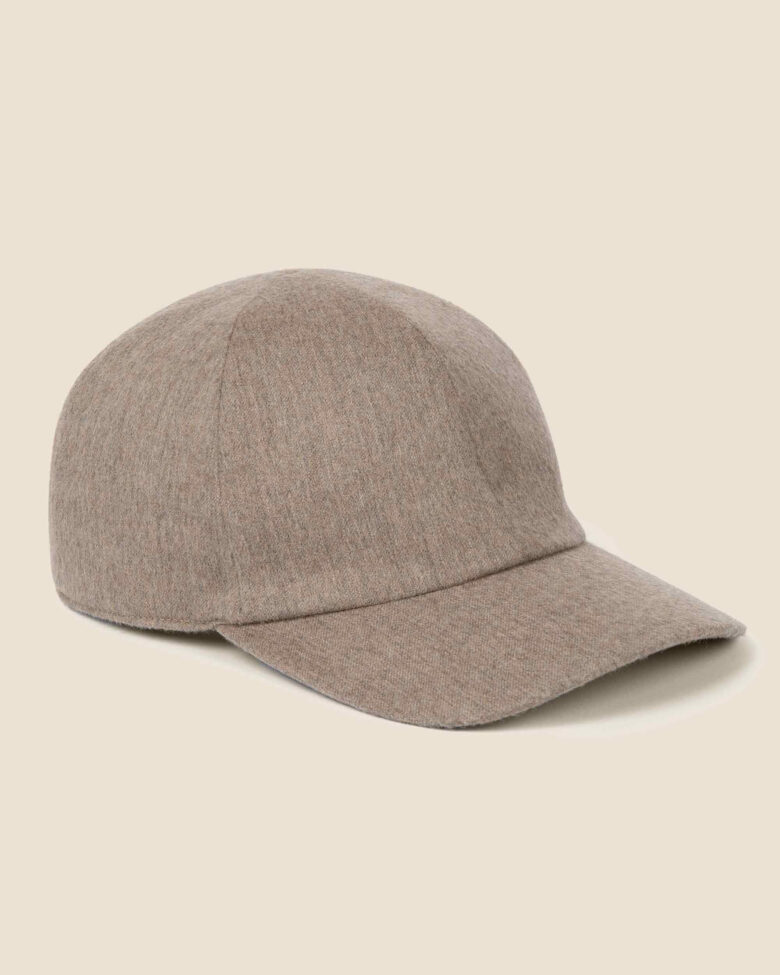 We love a spin on a classic. Luca Faloni's cashmere baseball caps hit the ball out of the park when it comes to function and fashion.
Made in Northern Italy from the brand's signature soft cashmere, the elevated peak is a slightly cooler (or rather, hotter) alternative to your everyday beanie. The brushed cashmere is designed to reduce pilling. The natural fiber is lightweight, breathable and temperature regulating. And the elasticated strap provides a tailored fit.
Luca Faloni's soft and sophisticated Cashmere Baseball Cap comes in Navy, Oatmeal and Light and Dark Grays—all of which make great gifts for the men in your life.