The peacock effect immediately entices you and pulls you towards this beautiful gemstone. Then once you experience the strong spiritual effects, you'll never want to put it down. Labradorite is a gemstone that leaves you with a deep imprint.
Energy healers believe the metaphysical properties will grant you increased wisdom by opening your crown chakra and aid you in the pursuit of betterment. You'll feel calm when holding the smooth stone, grounding your mind.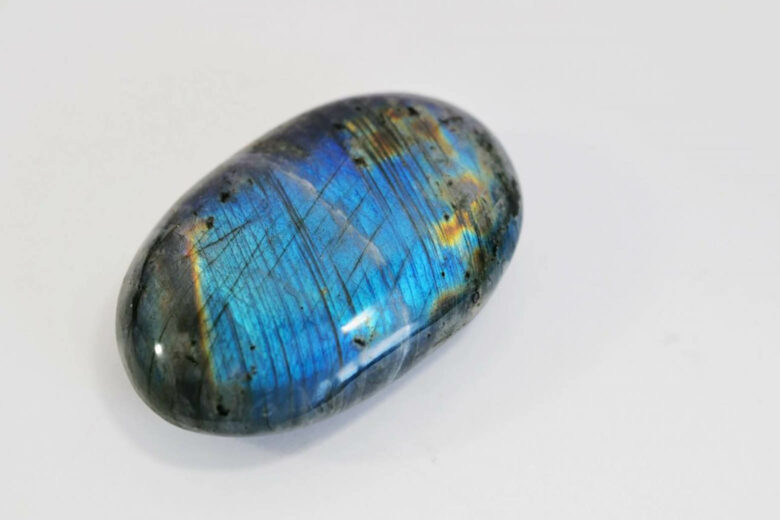 | | |
| --- | --- |
| Labradorite Color | Shades of blue and green |
| Zodiac Sign | Cancer |
| Hardness Scale | 6.5 on the Mohs Scale |
| Mineral Class | Silicate family |
| Symbolism | Wisdom and self-improvement |
What is Labradorite gemstone
Labradorite is found in mafic igneous rocks and is made of calcium sodium. Formation occurs under intense heat and pressure when multiple types of minerals and rocks merge before crystallization. Labradorite is considered a semi-precious gemstone, making it an affordable yet beautiful option to purchase.
Labradorite is often confused with moonstone. Although similar in appearance and part of the feldspar group of minerals, they're made of different elements. Moonstone can only display a small range of colors compared to the large spectrum of Labradorite.
Unlike other gemstones, labradorite can currently not be manmade. The unique 'play-of-color' is just too challenging to recreate.
An inexpensive gemstone, you could expect to pay roughly $40 a carat for high-quality Labradorite. The most expensive color is red, which will fetch a significantly higher price per carat. Color is arguably the most important factor in determining the value of the Labradorite, taking into account the stone's labradorescence, hue, and natural beauty.
What does Labradorite look like
Each piece of Labradorite is irreplicable. The internal structure defines the stone, adorning it with its unique color. The weathering exposes the stone's natural beauty before being displayed in the final cut.
The most typical color is a shade of green-blue, but it also comes in other colors such as red, yellow, gray, and colorless. The signature look is the 'Peacock,' an array of different shades and hues across the stone, similar to the peacock's tail feathers.
Labradorite can display beautiful iridescence (play-of-color), where the color changes depending on which angle you view the stone. So much so, that the Labradorite spawned the new word 'labradorescence.' It displays a schilling pattern caused by light entering the stone and reflecting back by the unique atomic structure.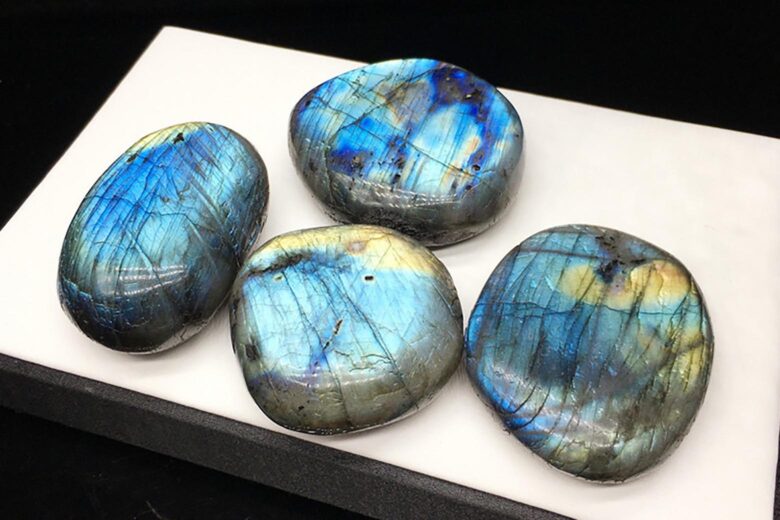 History of the Labradorite stone
Labradorite had been popular in Inuit and First Nations culture for hundreds of years, but it wasn't until the late 18th century that it was discovered by the outside world. After its discovery, it quickly became famous for jewelry pieces in Europe. Around the world, deposits have now been discovered.
One beautiful myth is that the Northern Lights shone down on the rock and got stuck inside, imprinting stone with the beautiful peacock pattern. Released from the rock after being struck by a spear. Any rock left untouched still has the Northern Light pattern.
The meaning of Labradorite
Labradorite gets its name after being found in the Labrador area of Canada.
Labradorite is known as the stone of friendship, and of all the minerals, it is considered the most powerful protector.
Labradorite has strong associations with increasing consciousness and becoming wiser, often used in the opening of the crown chakra. Opening the crown chakra is said to increase the flow of energy and cause an 'awakening'.
Labradorite claims to cleanse and help protect you from negative thoughts. Allowing you to gain more clarity and focus. Labradorite is a gemstone that's said to encourage and support you in reaching your unbound potential.
Where does Labradorite come from
Labradorite deposits are found near the surface of the Earth, making them easily accessible to prospectors.
Since being first discovered in Pauls Island, Labrador, Labradorite has also been found in the USA, Finland, Poland, Norway, Madagascar, Australia, and Slovakia. Each deposit has a slightly different range of colors, with the most prized found in Finland.
There are significant deposits in Utah, Ohio, and Oregon in the USA. In Sunstone, Oregon, there is a public mine where locals can extract red Labradorite. All the mining uses hand tools making for a fun day out.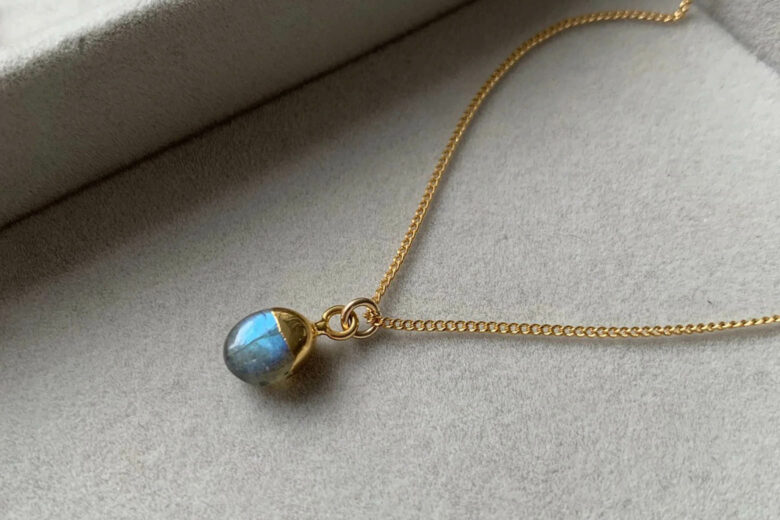 Labradorite and zodiac signs
Labradorite is not an official zodiac sign or birthstone for any month or star sign. However, this gemstone has a strong affinity with Cancers (June 21st – July 22nd) due to its deep spiritual meanings.
Emotional, nurturing, compassionate and caring are words used to describe a Cancer. Labradorite is said to enhance these traits even further, helping with psychic abilities.
The negative traits associated with Cancers are hyper-sensitive and temperamental. For them, a Labradorite is meant to be the perfect stone to rebalance. By removing negativity and creating a protective shield, the Cancer will find harmony and peace by replacing their negative emotions with positive thoughts.
Which family is Labradorite from
Labradorite is a plagioclase feldspar making it a member of the silicate family. A giveaway sign is the white streaks running through the gemstone. Labradorite, being made of calcium sodium, projects a full range of colors.
Birthstones chart
Find your birthstone by month
---
Frequently asked questions about Labradorite
Is Labradorite a precious gemstone?
No, Labradorite is considered a semi-precious gemstone. It's a commonly found gem that is easy to mine, with abundant deposits in many locations, reducing its value. The only 4 precious gemstones are diamonds, rubies, emeralds, and sapphires.
What is Labradorite crystal used for?
There are many uses to Labradorite including, beautiful jewelry pieces, spiritual awakening, and energy healing too. Labradorite is said to remove negative energy and is used to improve the mood of those who use this gemstone. It is believed to create a protective shield and positive aura around the wearer.
Who can wear labradorite gemstone?
Most commonly aligned with the astrological sign of Cancer, Labradorite is best worn as a necklace or ring. As it's believed to remove negativity, reducing the stress and anxiety of daily life, Labradorite can also be worn by anyone feeling pessimistic or gloomy.
What chakra is Labradorite?
The throat, eye and crown chakras are opened by Labradorite. Energy healers claim that opening the throat chakra helps with breathing, while the eye chakra increases awareness and the crown increases wisdom.