Note: We have an updated version of our list of the fastest cars in the world if you want to discover the latest models.
The heady rev of a high-powered motor. The breathtaking vacuum a supercar leaves behind as it zips around a corner. The downright strength it takes to drive the world's fastest cars of 2021.
It's an endurance sport. It's a spectator thrill. This year's fastest cars offer something for everyone. The fact that they're only getting faster excites each of us, as we watch fast-beyond-words cars vie for that most longed-after title: the fastest car in the world.
This year's cars are lighter, sleeker, and more powerful than any that have come before. Now boasting top speeds far beyond the previous 'golden threshold' of ~480km/h (300mph), the newest hypercars and supercars are works of art in motion. This year, we've narrowed down our definitive ranking to introduce you to the seven fastest cars of 2021 – cars from historic auto houses that you should keep your eye on.
If you blink, you'll miss them.
Some of these may look familiar, as they've held titles ranging from the most expensive to the fastest before. Other names are brand-new – but certainly worth remembering. The Devel Sixteen, in particular, should capture your attention: This will be its second year winning our coveted #1 ranking as the fastest car of 2021. The car remains in development, however, with a claimed top speed of 347 mph.
Join us as we introduce the cars that the world will be talking about for at least the next year – and, likely, for a long time after that!
The 7 fastest cars in the world in 2021
7. Hennessey Venom GT: 270 mph (434 km/h)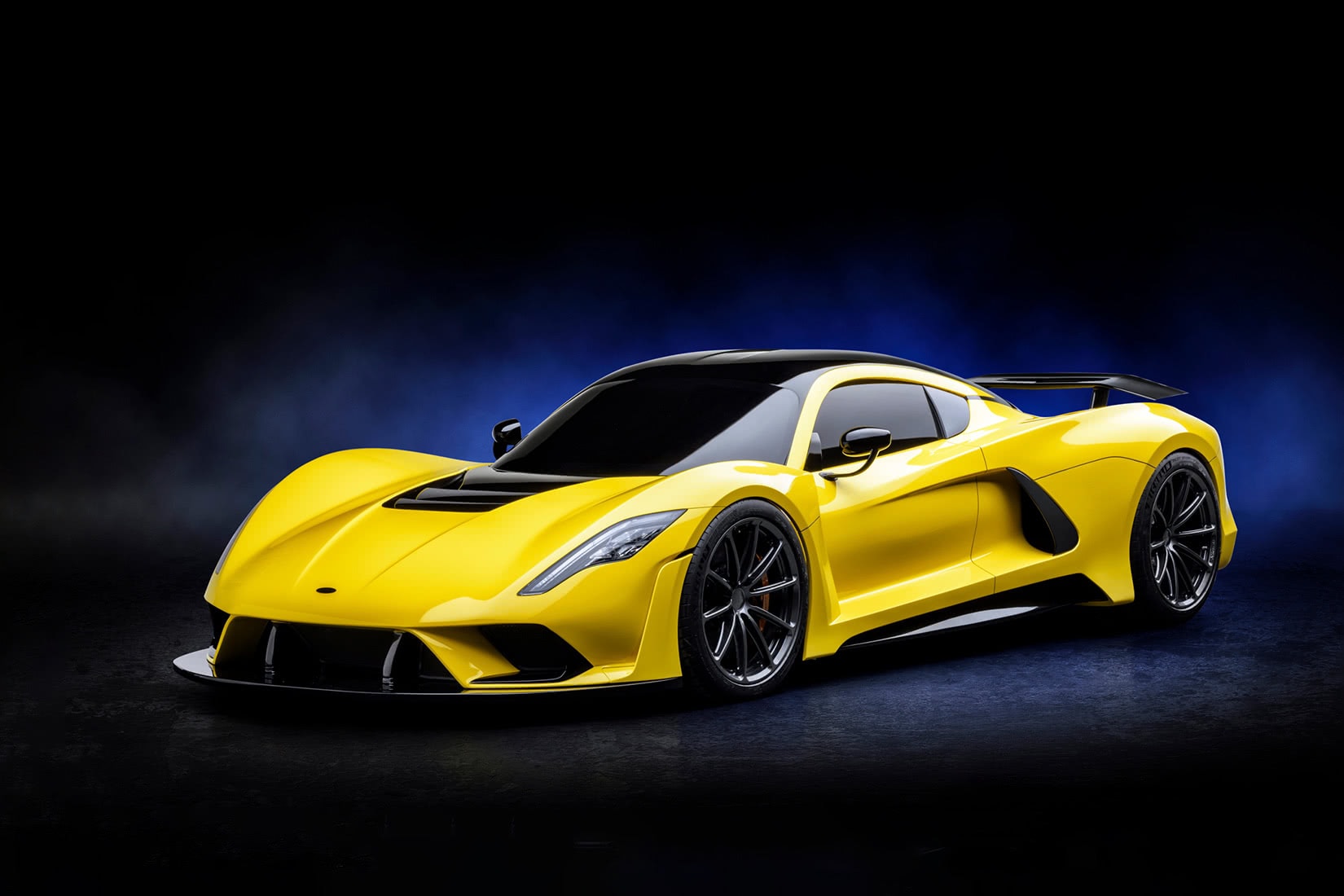 On Valentine's Day in 2014, John Hennessey of Hennessey Performance declared an end (for a time, anyway) to his feud with Bugatti. After years of sparring, the American car manufacturer saw his Venom GT seize the World Record for Fastest Car on NASA's Kennedy Space Center's runway.
The car took two full years to engineer and develop. 29 were made; the manufacturer has only let them go for approximately 1.2 million apiece.
The supercar itself is gorgeous, with sinuous curves and a sleek body. Featuring an ultra-light carbon-fibre chassis, the Venom GT almost reads feline, as if it's a black panther poised to leap forward at any second.
And leap, it does: The Venom GT reached a top speed of a then-unprecedented 270mph or 434 km/h. While performing its World Record tests, it achieved an acceleration of 0-100km/h or 0-60 mph in 3.05 seconds.
Website: www.hennesseyspecialvehicles.com
6. Bugatti Chiron Super Sport 300+: 304 mph (483 km/h)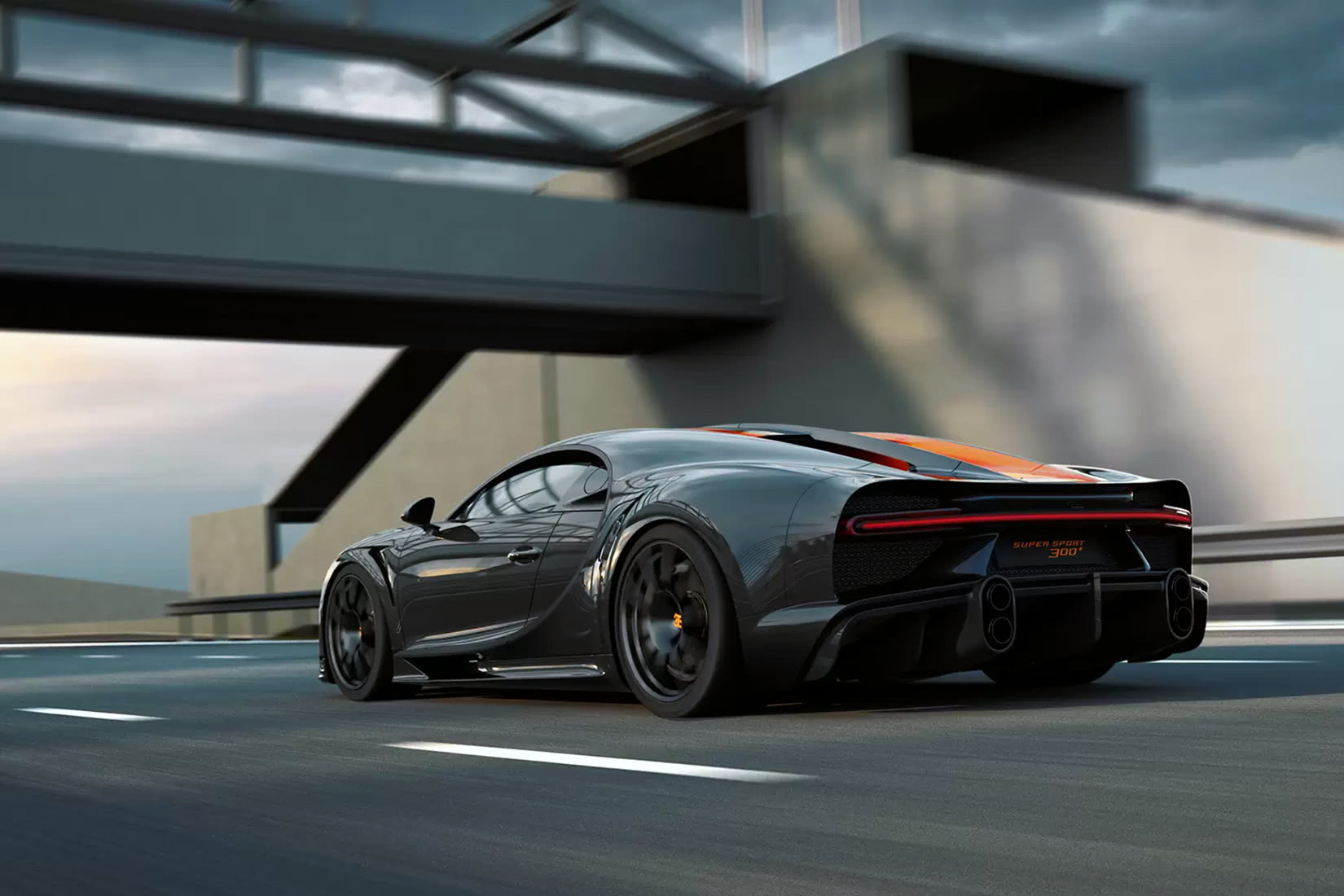 Bugatti has been a storied name in luxury hypercars for years, naturally. The intensely upgraded quad-turbocharged W16 that powers the Chiron upgraded the speed of this iconic speed added some brawn to the beauty – with the result that, now, Bugatti has not one but two places in our ranking of the fastest cars of 2021.
While it may no longer be the absolute fastest car out there (we'll get to that envied title in a minute!), Bugatti's Chiron Super Sport 300+ has a claim to fame that will be chronicled in history books and awed conversations for years to come: It was the very first car to cross the then-unheard-of barrier of 300 mph (or 483 km/h).
It still represents a flawless balance between form and function, aerodynamics, and aesthetics. With an acceleration from 0-100 kilometers per hour (0-60 mph) in 2.4 seconds, this Bugatti certainly has speed and style, all at the same time.
Website: www.bugatti.com 
5. Hennessey Venom F5: 310 mph (484 km/h)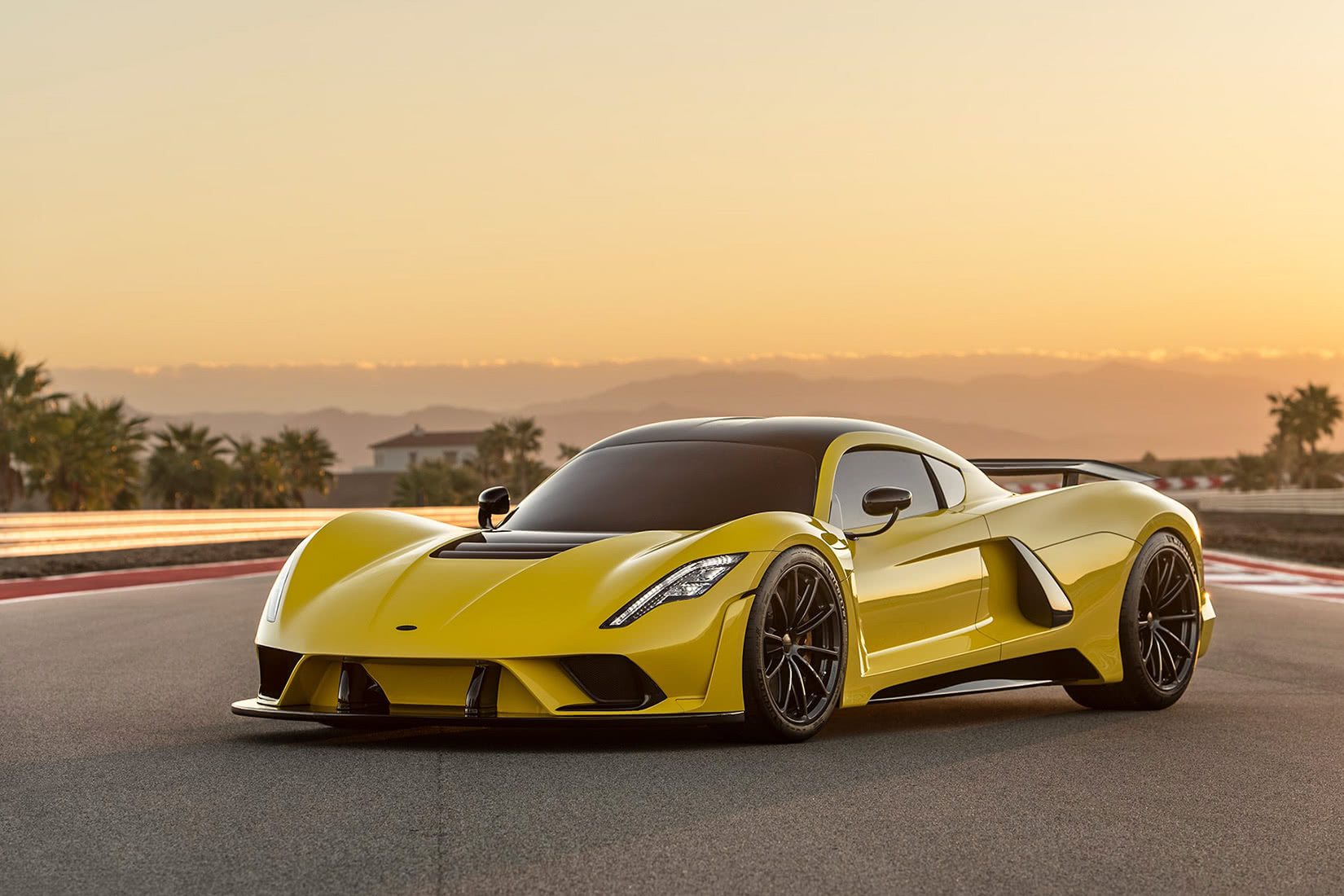 Next in the lineup of Hennessey's record-breaking vehicles is another in John Hennessey's Venom line: the F5. The name is a reference to the very fastest type of tornado – a natural force that the Hennessey emulates with its immense power and incredible speeds.
Under the hood of the Venom F5 is an American-made twin-turbocharged engine; the result? Nearly 2,000 horsepower. This gives the Venom F5 precisely what it needs to reach a top speed of 484 kilometers per hour (301 mph). Its acceleration is equally impressive, as it can accelerate from 0-100km/h or 0-60mph in less than two seconds.
Built to help Hennessey smash a world record it had previously broken with the GT, the F5 was amped up in style, exclusivity, price, and speed. Only 24 were made. The sticker price was 1.6 million dollars. The bright yellow carbon-fiber shell? Instantly iconic.
Website: www.hennesseyperformance.com
4. Bugatti Bolide: 310+ mph (484+ km/h) – estimated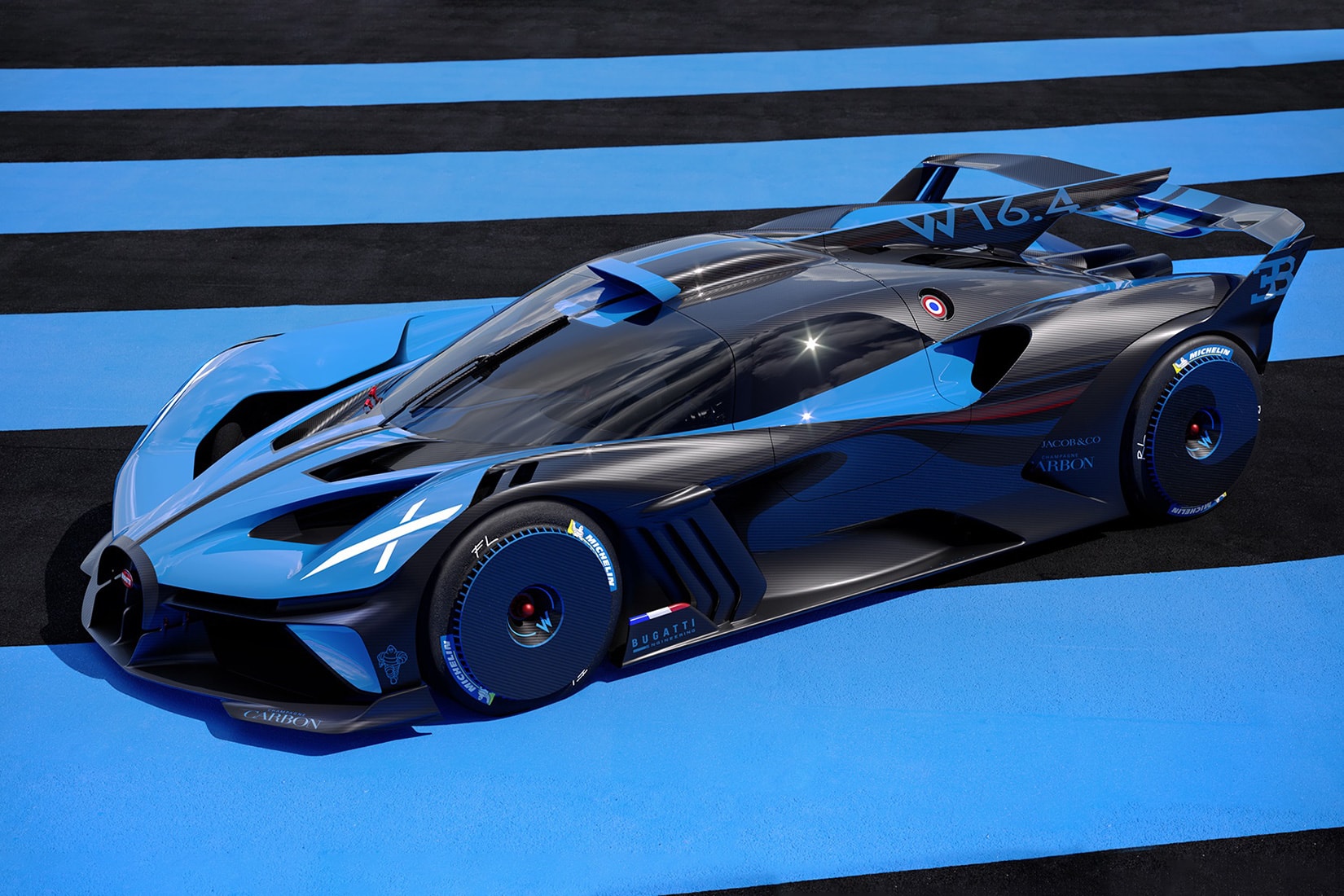 After the success of the Chiron Super Sport, Bugatti went back to the drawing board. The innovative, historic auto house needed to one-up itself; but how can one do that when the Super Sport 300+ was already, seemingly, perfection on wheels?
The answer? Simple.
Enter: an 8.0L W-16 motor. 1825 horsepower. A stunning 1364 lb-ft of torque.
Clearly, this car is going places.
Bugatti's Bolide is a lightweight hypercar that showcases the true extent of Bugatti's range in terms of beauty, power, and innovation. Using the same bespoke engine from the storied Chiron line, but with more turbos to amplify the effect, the Bolide will truly show the world what the W-16 motor is capable of. It's also light, futuristic (powder blue paint sits sparingly on its exposed carbon-fiber frame), and tiny: The Bolide only stands 39.2 inches off the ground. Its claimed top speed is 310mph or 498 km/h; it can do 0-60mph (0-100km/h) in 2.17 seconds.
In other words: It's worth every penny.
Website: www.bugatti.com
3. Koenigsegg Jesko Absolut: 330 mph (531 km/h) – estimated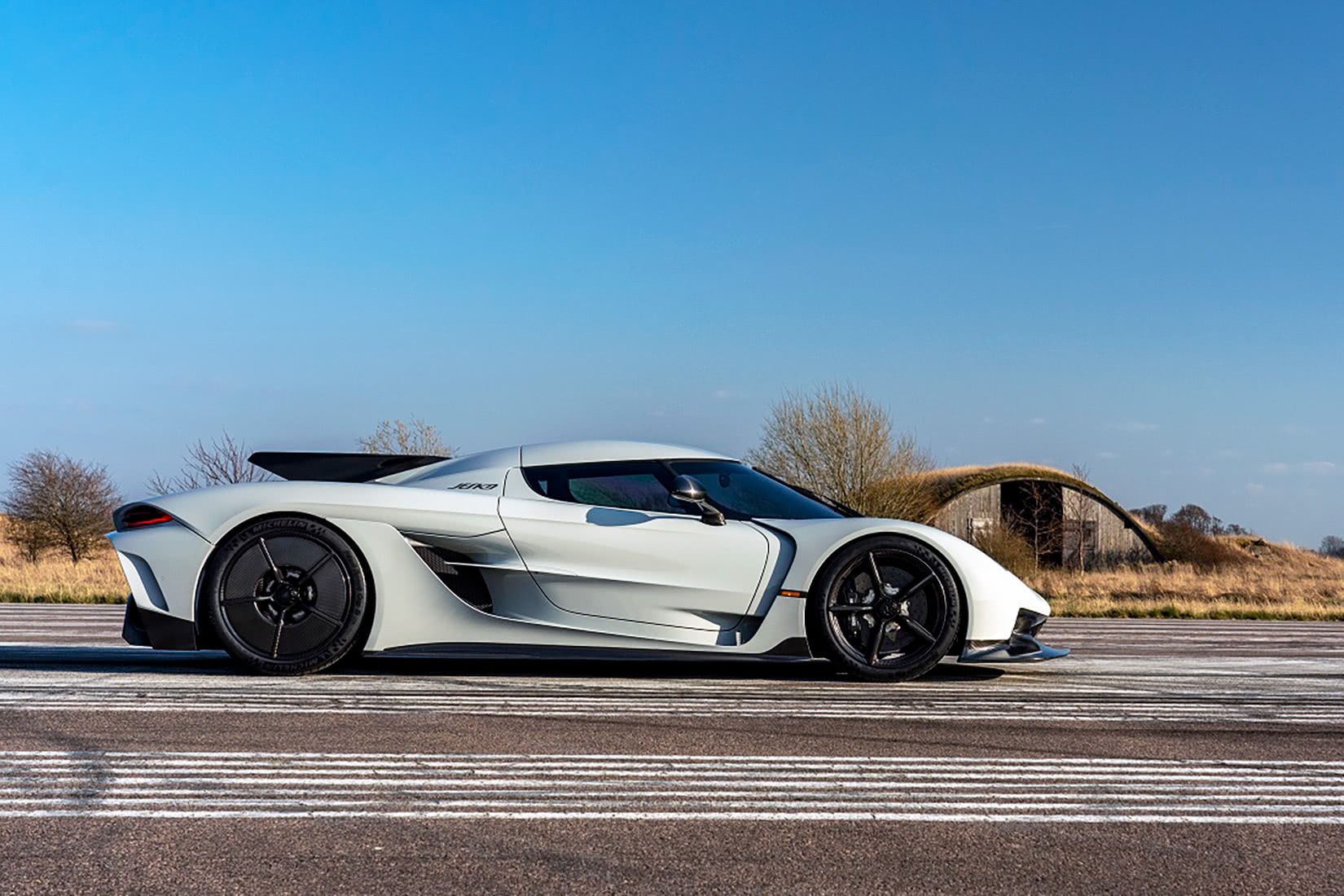 Thus far, it may seem that the race to determine the fastest car of 2021 has been mostly between two auto manufacturers: Bugatti and Hennessey. That makes sense. They're both impeccably pedigreed houses, producing incredible cars just packed with raw power.
But! That doesn't mean they've got this race.
Introducing: the Koenigsegg Jesko Absolut – a hypercar that ups the ante by an astonishing twenty miles per hour. For a long time, if anyone wondered what the fastest car in the world was – it was definitely this car.
Swedish auto manufacturer Koenigsegg introduced this vehicle to set a new world record. As such, they updated the engine from their other popular supercar, the Agera RS; they invested in more precise handling, and they made this car lighter and more aerodynamic for optimal performance.
However, this car isn't just about speed. There's pleasure built-in as well, with the type of climate control, infotainment, and head/leg room that usually gets glossed over when it comes to the fastest cars in the world.
The Jesko Absolut reaches a top speed of 330mph (or 531km/h); the manufacturer has not released acceleration information – but with that type of top speed, it's sure to be impressive.
Website: www.koenigsegg.com
2. SSC Tuatara: 331 mph (533 km/h)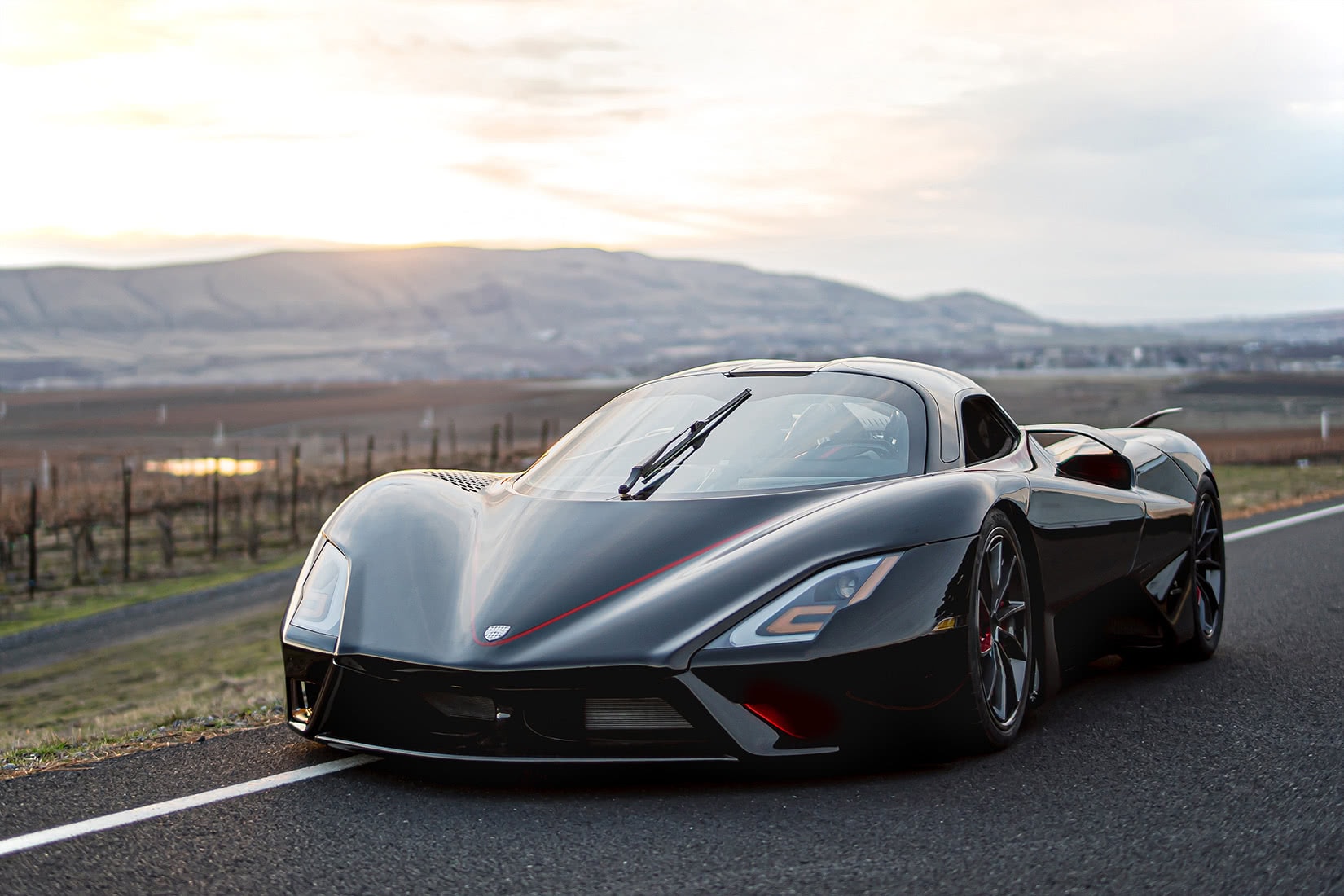 What's faster than 330mph, you might wonder?
Simple answer. 331mph.
North America-based SSC has built a beautiful supercar that's simply packed with the latest and greatest in automotive innovations. In October 2020, in Nevada, on a seven-mile stretch of road, Shelby SuperCars confirmed that their fastest supercar had reached an eye-watering speed of 331mph – or over 530km/h.
Unfortunately for those who see themselves zipping around their favorite cities at this breakneck pace, this car isn't quite road-legal: It uses a camera system, instead of mirrors, to help with steering.
With 1750 horsepower, a custom, all-alloy, flat-plane-crank 5.9-liter twin-turbo V-8 motor, and a $1.9M price tag, the SSC Tuatara perhaps didn't need a speed record, as well, to be completely distinctive. Of course, it certainly doesn't hurt.
The SSC Tuatara boasts an acceleration of 0-100 kilometers per hour (0-60mph) in 2.5 seconds.
Website: www.sscnorthamerica.com
1. Devel Sixteen: 347 mph (550km/h)*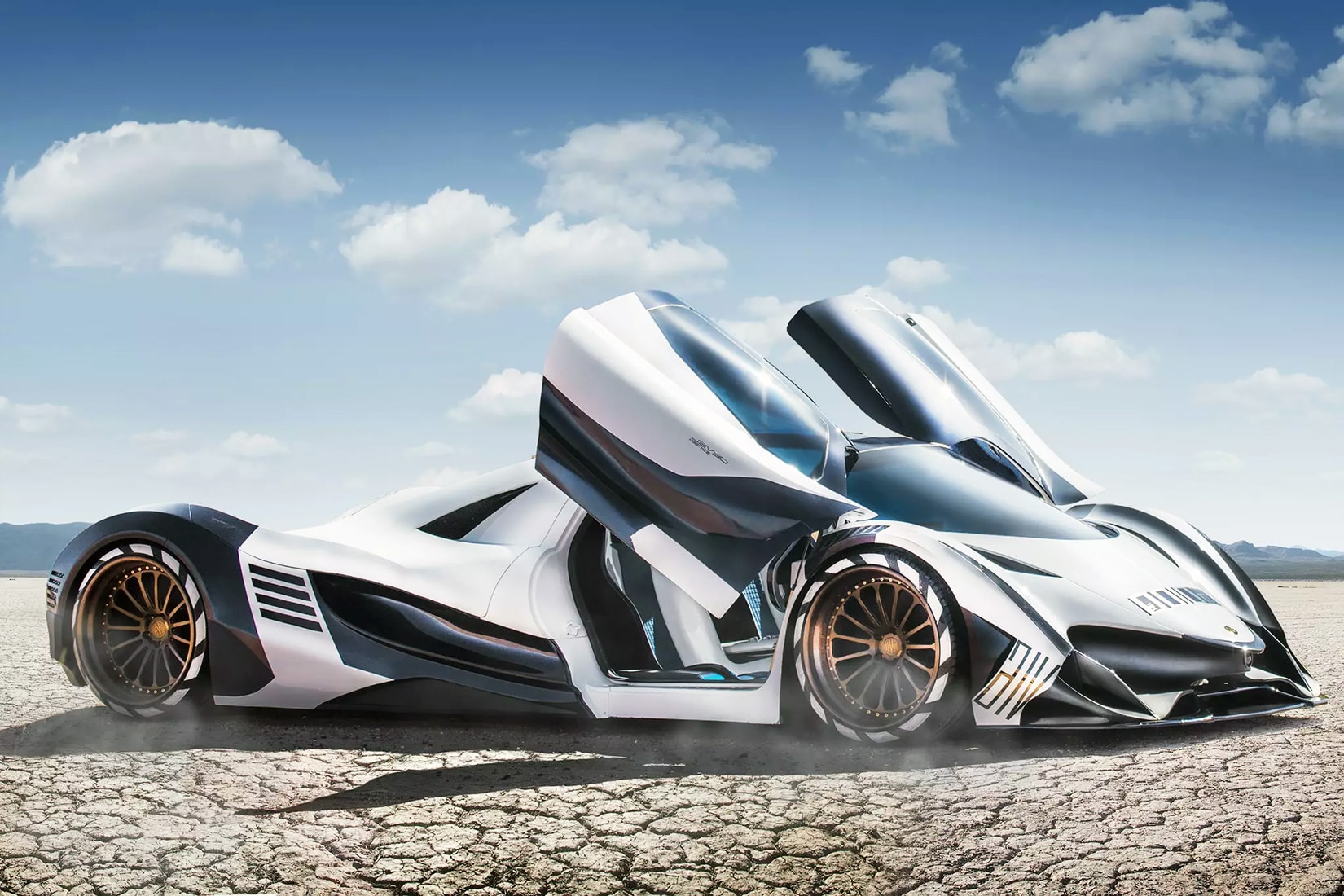 We've come to it: The fastest car of 2021, an almost unheard-of amount of power and speed from the Devel Sixteen – a car that seeks to smash all of the current records it faces. With a claimed top speed of 347mph (or 550+km/h), the Devel Sixteen stares down the next speed standard: 350 miles per hour.
First debuted years ago, the Devel Sixteen boast stats that have had the automotive world whispering, mystified, as we wait for production: It has an incredible 5,007 horsepower, an 81mm Quad Turbo 12.3L V16 engine, and a general 'inquire for price', intriguing aura constantly surrounding it. This car is certainly one to keep an eye out for in 2021, as what we do know about it signals that it'll be the car to beat if its stats are confirmed.
*The Devel Sixteen remains in development at the time of publishing this ranking. The brand's claimed top speed hasn't been confirmed yet. We will update this article as soon as more information is available.
Website: www.develmotors.com
Frequently asked questions about the fastest cars of 2021
What is the #1 fastest car in the world in 2021?
The #1 fastest car in the world is currently the Devel Sixteen. It travels at a blistering 347 miles per hour, cementing its status as an incredibly performing, extremely speedy supercar.
Which is the fastest commercially produced car in the world?
The SSC Tuatara is the fastest production car in the world. It recently beat out the Koenigsegg Agera RS, which held the title in 2017. The SSC Tuatara has a top speed of 316mph.
What are the 5 fastest cars in the world?
The 5 fastest cars in the world are the Devel Sixteen, the SSC Tuatara, the Koenigsegg Jesko Absolut, the Bugatti Bolide, and the Hennessey Venom F5. It's an elite group of hypercars that represent some of the most creative innovations in the worldwide automotive industry.
How fast is the Koenigsegg jesko Absolut?
The Koenigsegg Jesko absolute is able to attain a top speed of an estimated 330mph. This puts the Jesko firmly in the running for the fastest car of 2021, even if it doesn't quite clinch that winning speed.