From real ride-on for kids to electric cars for toddlers, the high-tech toy industry offers safe yet thrilling ways for the whole family to have fun. Driving in a luxurious and powerful car is now a joy you can pass on to your child with a miniature version of your favourite ride.
The best battery operated cars for kids are far more than just toys, however. With the advancements in automotive technology making their way down to children's ride-on cars, owning a fun-sized car with children can be an accessible and enjoyable way to teach lessons about road safety and sustainability.
With electric cars suitable for 9-year-olds, one-year-olds, and everything in between, you can help make sure that the next generation of drivers understands early on of the sustainable options available to them!
There are many other benefits of electric cars for kids: Playing with toy cars of all sizes, including ride-on electric cars, can help foster a kid's sense of imagination and improve their motor skills.
Gift your sense of automotive style to your children! Electric cars can give them the thrill of feeling the steering wheel's power from a young age. We pick the 15 best electric cars for kids in this guide, as well as popular and important safety features to look for when buying them.
The best electric car for kids of 2021
After due consideration, the best ride-on car for kids of 2021 is the Ride-On Jeep, with its two-seater capacity, lifelike details, and three-speed system with parental controls for ultimate safety.
1. Ride-On Jeep: Best overall kids electric car of the year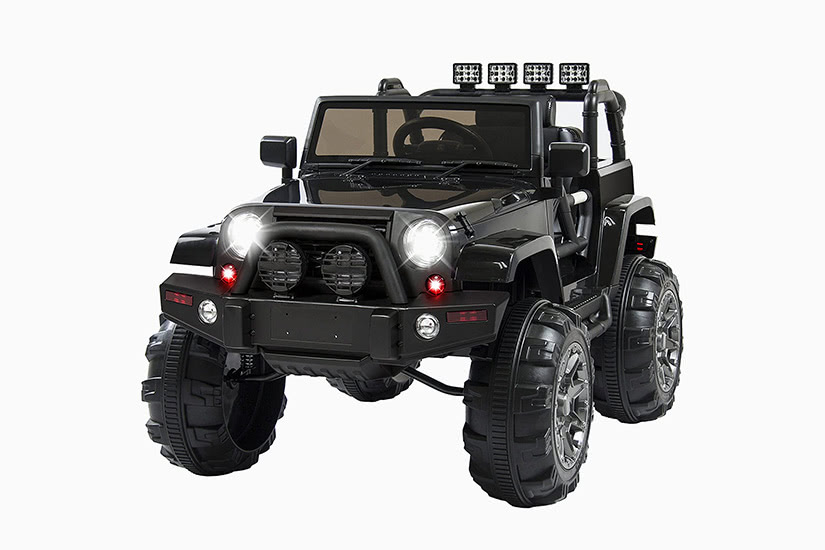 If you're looking for an electric car for your kid that can cope in pretty much any situation and comes with all the necessary safety features, you can stop reading here. This ride-on Jeep got it all. No wonder it's an Amazon bestseller with nearly 3,000 positive reviews.
Before we tell you more about it, there's only one scenario for which we wouldn't recommend this car: indoor use. It's just too big to be safely and comfortably driven indoors. Except if you have a lot of space. Check the mini Cooper further down below for the best indoors car.
Otherwise, this Jeep is absolutely great. The build quality is excellent. It comes with a durable 12V battery, which we think is the best balance between safety, fun, and speed for a ride-on kids car. It also has adjustable seatbelts and three speed levels, so it's easier for your kid to control their pace.
Because it also comes with a remote control, you can use it with younger children if you want. The large wheel base and chassis make it a solid and safe option.
There's even an MP3 player on the dashboard so your kid can play their own tune while cruising around. The car comes in black, blue, green, red, and white, so you can pick your child's favourite colour.
2. Toyota Tundra: Best ride-on pickup truck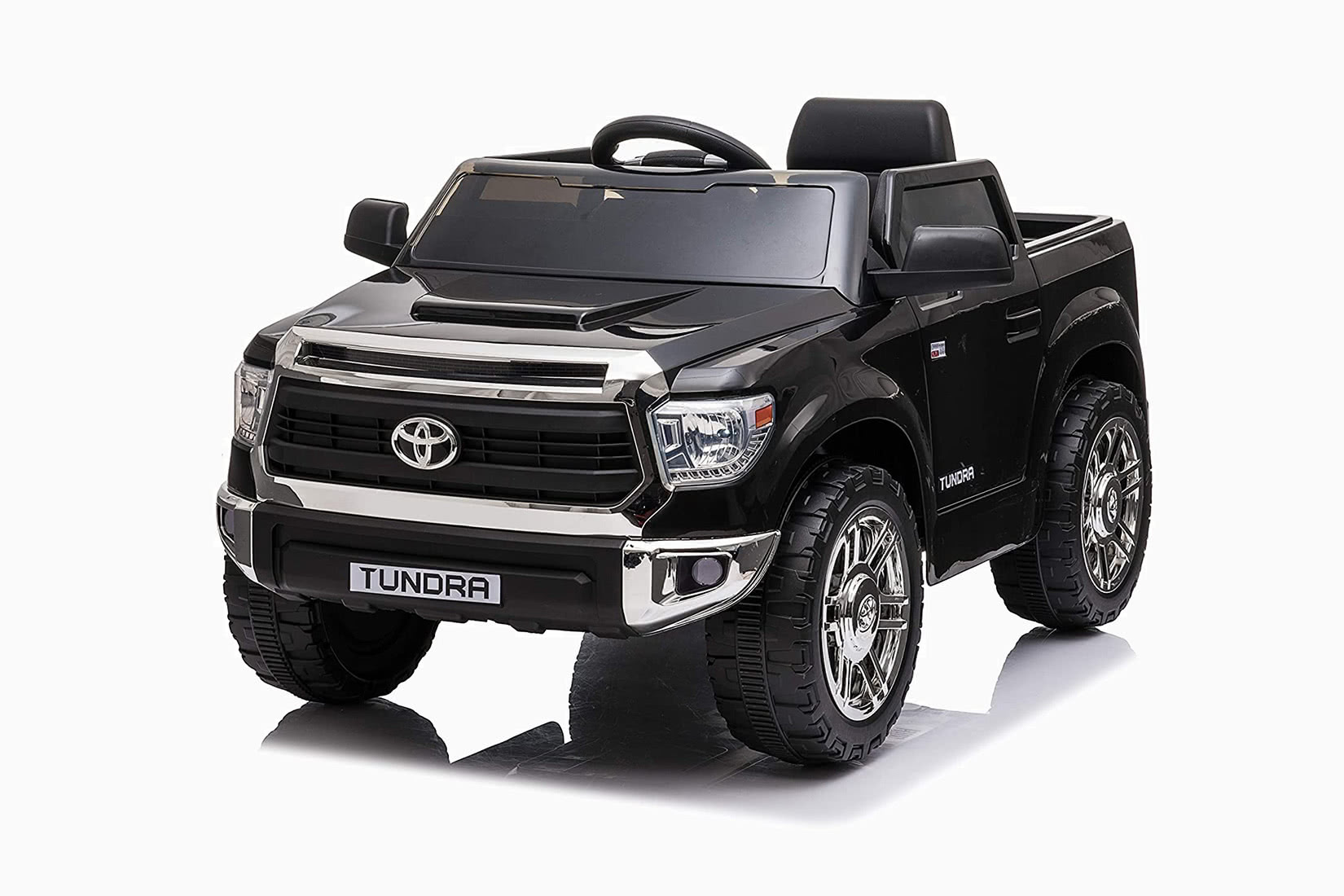 Looking for a fun toddler car with serious style? The officially-licensed Toyota Tundra pickup truck for children delivers with more than just great looks: with a top speed of 3mph thanks to its 12V battery, this mini electric car even comes with 4 wheel suspensions. The electric truck also includes LED headlights, a built-in MP3 player, lockable doors, a storage compartment, and a reliable electric brake system. Your child will be able to go wherever they want in serious kid-sized luxury.
The electric Toyota Tundra comes with a long-range parent remote control and emergency brake, so you ensure that your toddler is always safe when out and about.
As one of the best electric cars for kids on the market, the Toyota Tundra can hold up to 66 lbs in its cabin, and its dimensions are slightly larger than other, more compact children's cars at 45.28″ (L) x 29.13″ (W) x 23.62″ (H). This makes the mini pickup truck great for children three years and older, for use both indoors and outdoors!
3. Mercedes Benz GT: Best two-seaters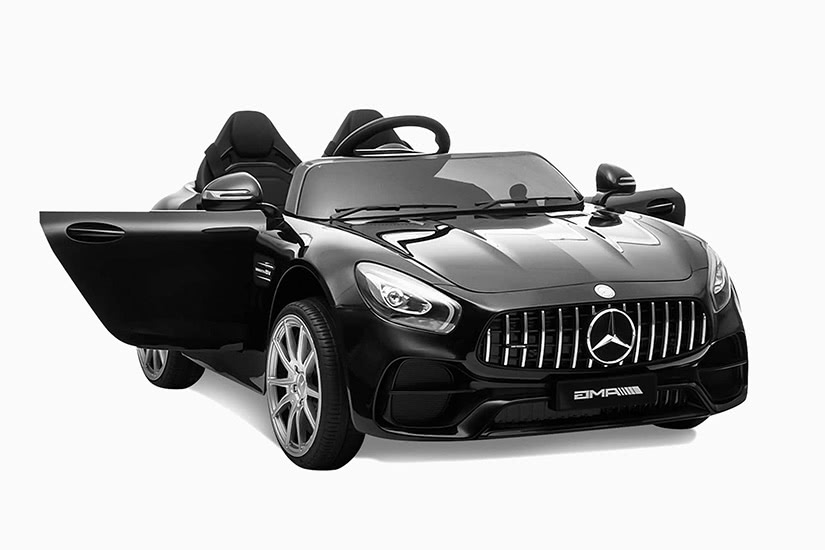 Featuring the iconic grille and streamlined shape for which Mercedes Benz is known, this mini car is perfect for a child who wants to cruise indoors or outdoors in style. With radio, USB, and auxiliary connectivity as well as remote control steering assistance, this two-seater is made for easy—and realistic—child-appropriate driving fun.
This tiny Mercedes Benz GT comes with three speed settings for a max speed of 3.72 mph, along with reverse and brake functionalities. It can support 88 lbs in its cabin, and its dimensions are (46x 29 x 19)" for its length, width, and height. This tiny electric car is appropriate for children aged 3 to 8 who would love to drive an officially licensed Mercedes Benz electric car!
We're happy to introduce the Mercedes Benz GT Kids ride-on car as our pick for the best street-ready ride-on car (two-seater edition!).
4. Razor Dirt Quad: Best 24V ride-on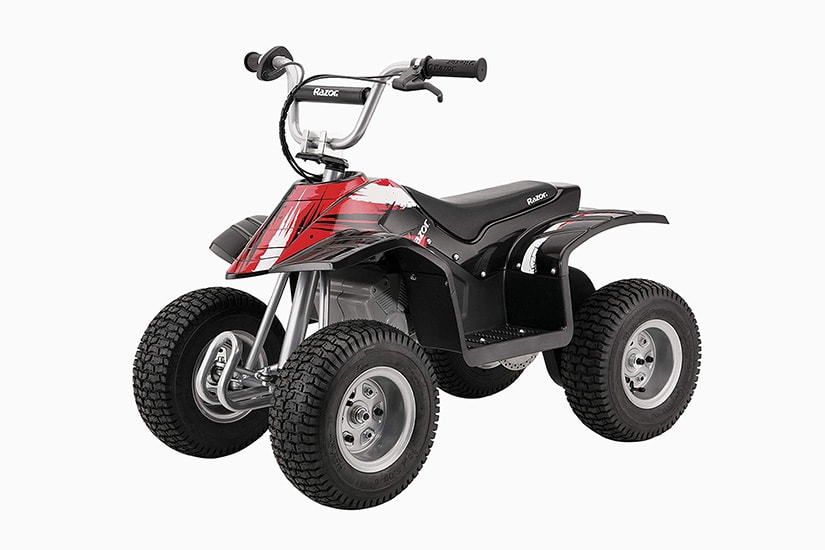 For children aged 5 to 10 who are comfortable behind the wheel, check this Razor-Dirt-Quad. It comes with a 24V battery, so it's the most powerful ride-on model on our list. Do not use it with younger children, it's simply too powerful and unsafe under 5 years old.
The Razor-Dirt-Quad is the best premium ride-on car for school-age children. It can easily carry two kids at the same time, or even a child and an adult depending on their total weight. A fully charged battery can easily last two days of continuous driving.
With its large wheelbase, you can take the Razor-Dirt-Quad from the road to the beach or the woods. You kid will be able to follow you along pretty much anywhere.
5. Lamborghini Aventador: Best for driving on the street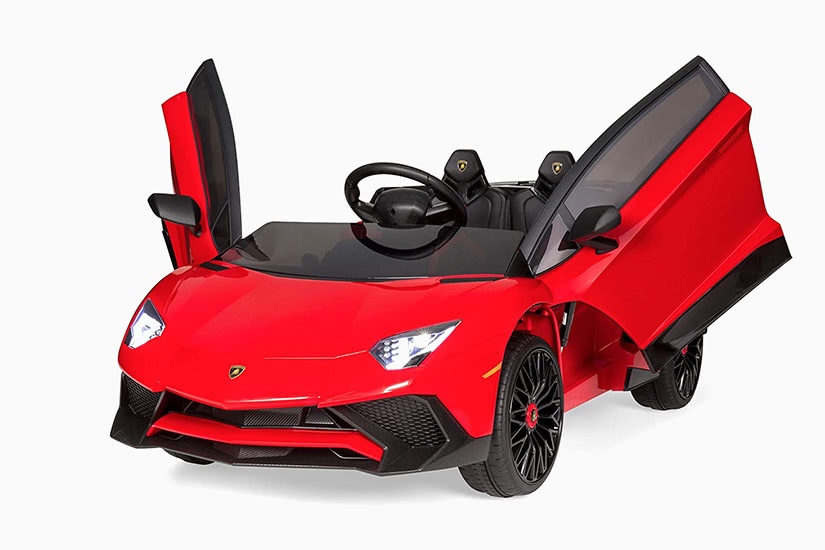 Looking to introduce your child to auto luxury from an early age? This officially-licensed Lambo features doors that swing upwards for that high-tech sports car feel. With technological features such as LED headlamps and a built-in auxiliary outlet so you can port your own music through the car, the mini-sized Aventador delivers a real-car feel with maximum street presence in a tiny package.
Measuring in at 52" long, 28.75" wide and 18" high, this car is best suited for children between the ages of three and eight. It clocks in at a max speed of 3.7 miles per hour, and it can be steered by both a child in-cabin and by a parent via remote control. This kid-powered car has a weight limit of 66 pounds and can be used both indoors and outdoors.
The Lamborghini Aventador is our pick for the best street-ready ride-on car.
6. Dodge Viper SRT: Best for woods exploration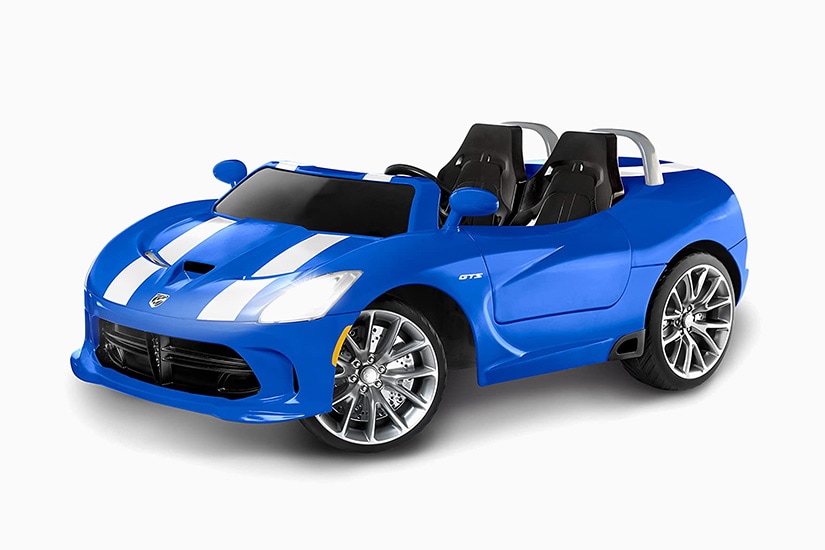 For a safe, adventurous all-terrain sports car, turn to the Dodge Viper SRT (for kids!). With rubber traction strip tires, this car is ready for whichever road you take it on—indoors or out. Combining the ruggedness of a durable vehicle with the good looks and high-tech accessories of a coupe, the Dodge Viper mini electric car is a great choice for kids on the go.
With a top speed of 5 mph, room for 2 riders up to 130 lbs, and even an FM radio for in-cabin tunes, the Dodge Viper is built for whole-family fun. Its dimensions are 58 x 23 x 33 inches (L×W×H), and it's best suited for kids between 3 and 7 years!
With its all-terrain rubber traction tires, the Kid Trax Dodge Viper is best for woods and forest exploration.
7. John Deere Ground Force: Best ride-on tractor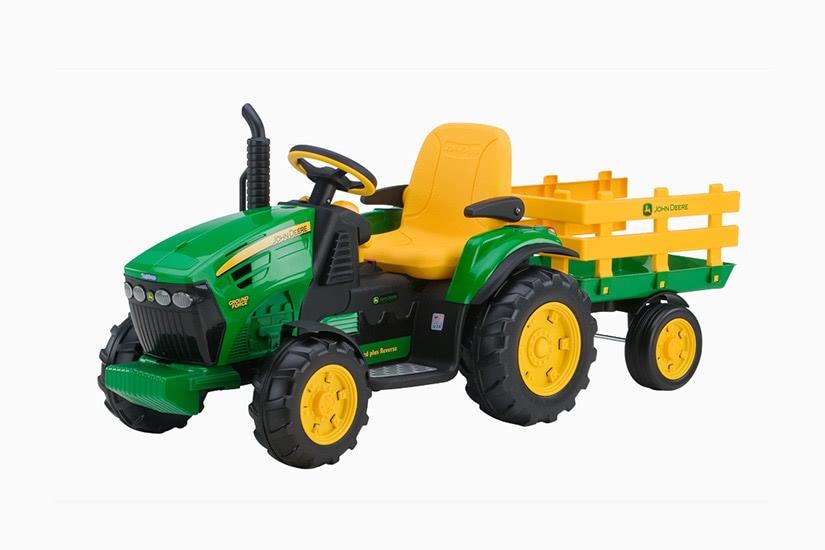 Your kids want to help in the garden? This John Deere tractor with a trailer will be perfect! It's manufactured by premium Italian brand Peg Perego. They also create luxury infant cars seats with excellent safety ratings, so you can trust the quality of this car.
And then there's the look. This John Deere tractor replica is absolutely gorgeous!
The car is built with tons of smart little features. It offers two speeds and a reverse option, which most other cars don't have. For added safety, there's also an automatic braking system.
The large tractor wheels can easily drive through tall grass, dirt, or gravel. So your kid can easily follow you in the garden. And the large trailer is handy to carry toys or small gardening tools around.
For safety, the seat comes with adjustable seat belts and flip-up armrests on both sides. To complete the look, there's also an FM radio on the dashboard.
8. Best Choice Products Ride-On: Best pink electric car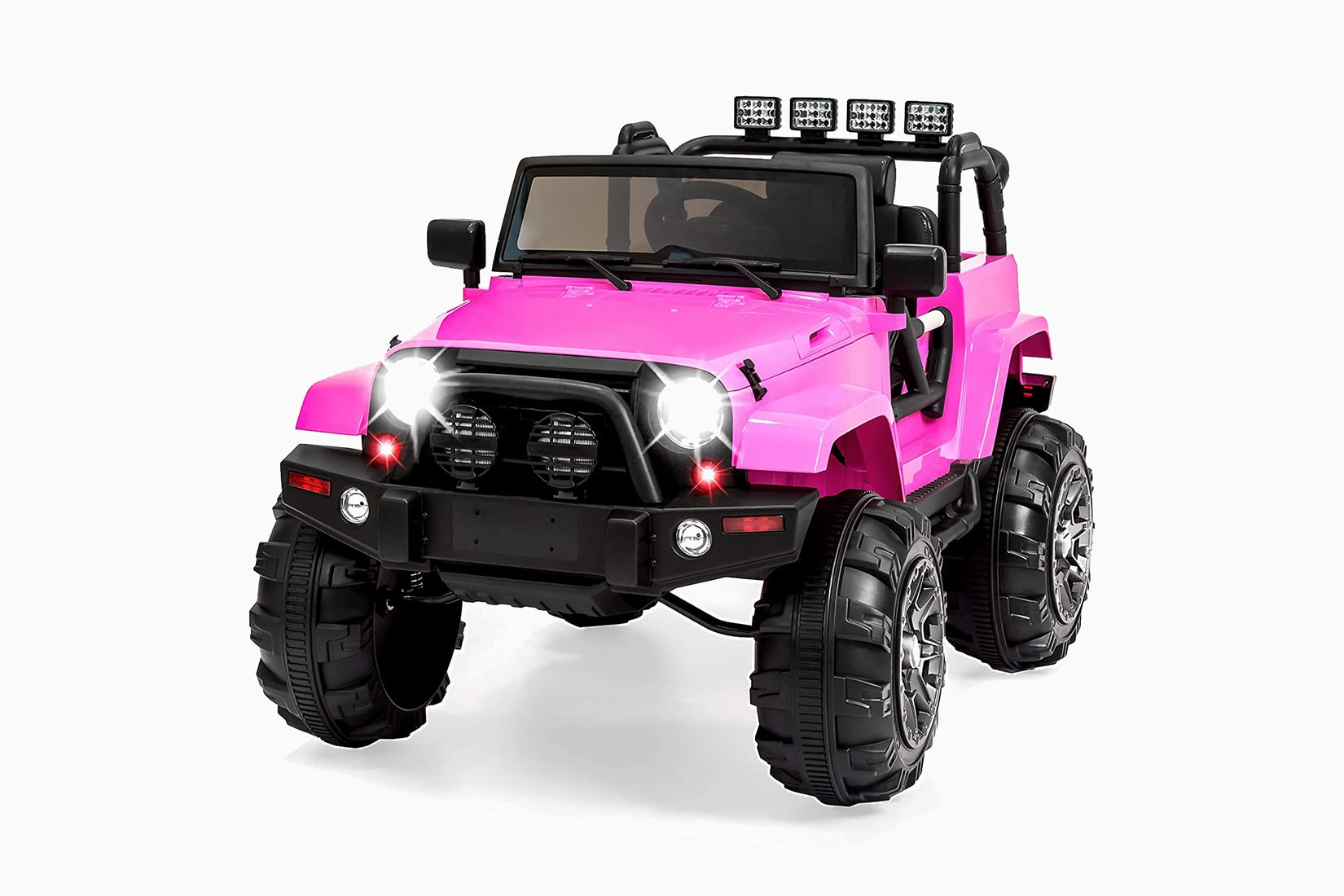 Sometimes the right colour is more important than anything else. If you're little one wants nothing but pink, this is the car for them. Manufactured by Best Choice Products, the car is the perfect size for children from 36 months to 7 years.
The one-seater comes with tons of little extra features to stand out from the rest. It has front and roof LED lights, engine sounds and even a real horn. You can also play your own music through Bluetooth.
In terms of safety features, the car comes with a remote control for parents and sturdy seat belts and locking doors. It's a 12V battery with 2-speed levels and a max speed of 3.7mph.
9. Ride-On Truck: Best car to drive in the garden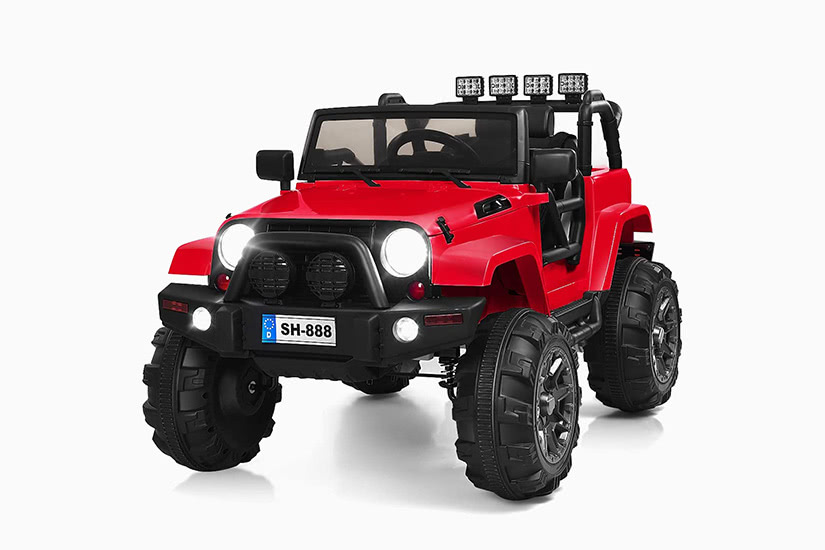 Looking for a realistic Jeep-style ride-on car for kids? Look no further: With this Costzon Ride-On Truck, the believability and artistic details it offers will delight your child. Featuring a remote-controlled safety mode, three different speed settings, wear-resistant wheels, fully-functioning front and rear lights and a spring suspension system, this ride-on truck is primed for hours of safe and secure fun.
With overall dimensions of 46.5"×31"×29"(L×W×H), recommended age limits of 3-7 years, a 3.7mph top speed and 66 lb weight limit, this one-seater ride-on car is perfect for driving around your yard any time of year!
Because of its versatility, we're naming the Costzon Ride-On Truck the best car for leisurely garden drives.
10. Dune Racer: Best for driving on the beach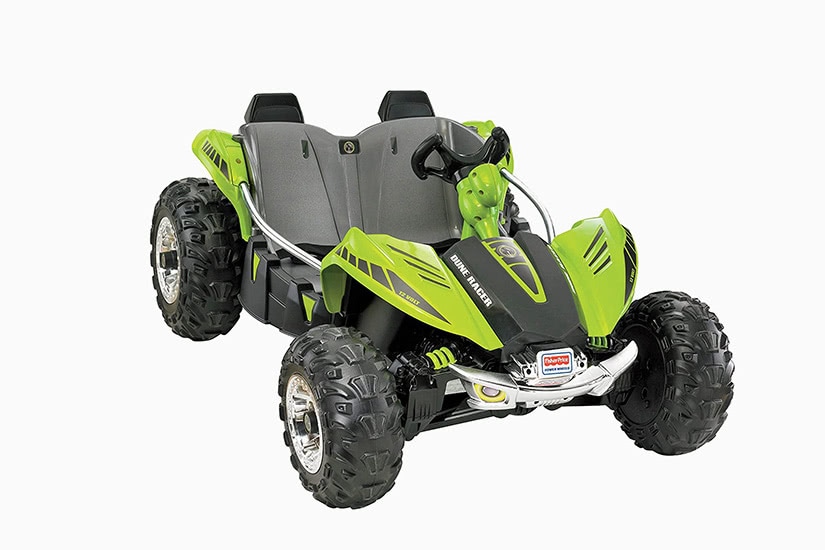 For fast-paced fun, this Dune Racer is truly a versatile choice: it's primed to drive on any surface, whether it be wet, slick, rugged or paved! As its name implies, the rugged, grooved tires are well suited especially for racing along a sandy beach.
Featuring a fast 5mph as a top speed (with 2.5mph reverse speeds) and a power lock brake system, this is a mini car for kids that will keep them safe and happy for hours on end.
At 25 x 46 x 15 inches (L×W×H) and a maximum weight limit of 66 lbs, this Dune Racer is appropriate for children between the ages of 3 and 7. Interested in a truly rugged ride? The child-sized Power Wheels Dune Racer is the way to go.
We're pleased to name the Power Wheels Dune Racer as the best electric car for driving on the beach.
11. Maserati GranCabrio: Smoothest ride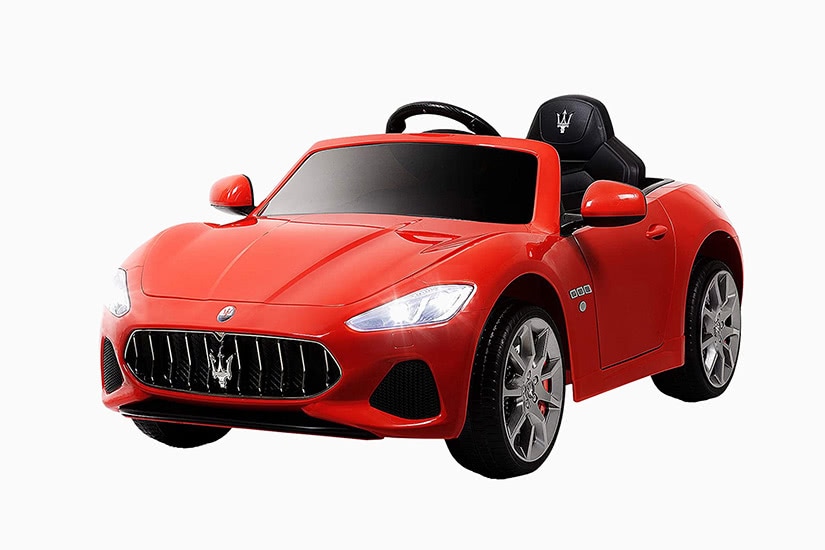 This fun-sized Maserati GranCabrio delivers the smoothest ride a young child could ever wish for with its EVA wheels and spring suspension—mimicking the quality modeled in the original vehicles! This ensures your child will have a safe, seamless experience behind the wheel of this mini electric car.
However, the enjoyment will not stop there. With a radio, built-in music and stories for your child to listen to while driving, and preprogrammed horn and engine sounds, your child will be thrilled with this car that looks and sounds like the real thing! At 48.4", 23.2", 20" (L×W×H), this vehicle is most appropriate for children between 2 and 5 years old.
With a maximum speed of 3mph and a weight limit of 77 lbs, the Maserati GranCabrio for kids can be used for a continuous hour of drive time, both indoors and out. Because of its spring suspension, we're naming the Maserati GranCabrio 12V Kids' Car the smoothest ride for toddlers to enjoy!
12. Audi TT: Best first electric car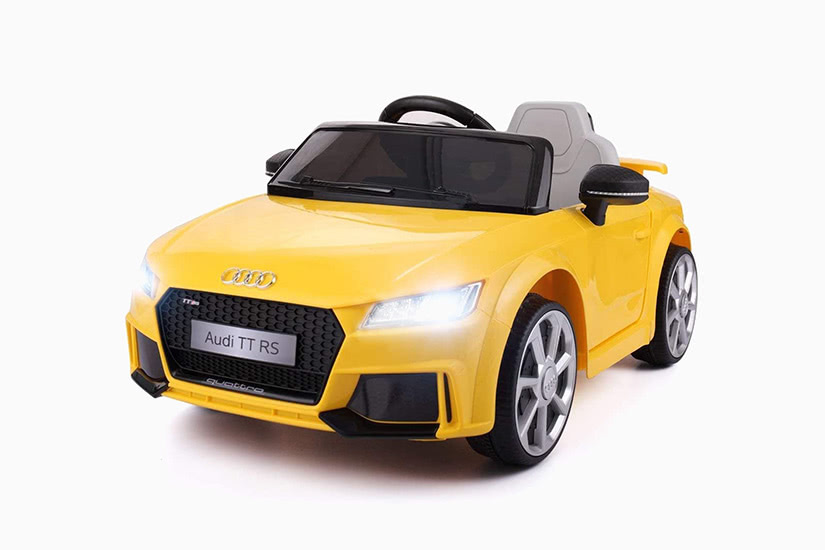 Looking for the thrill that only a dual-powered motor can deliver—for your child? With the Audi TT electric car for kids which can be controlled by children in-cabin and parents via remote control, you'll find all the joys of a luxury working vehicle—built to scale for kids to enjoy.
With working turn signals and realistic start-up sounds, your child will truly feel like they're driving around in this sporty coupe. However, at 44.5″ X24″ X20″(LxWxH) and with a weight limit of only 55 lbs, the joys of this model are specifically geared toward very young children, of one to three years of age.
Instill a joy for fine cars in your infants and toddlers with this tiny Audi TT, which can zoom around indoors and outdoors with a maximum speed of 3.1mph. Because of its younger age range, we've found that the Audi TT 12 Electric Kid's car is the best choice for a child's first electric car.
13. Volkswagen Beetle: Best for general outdoor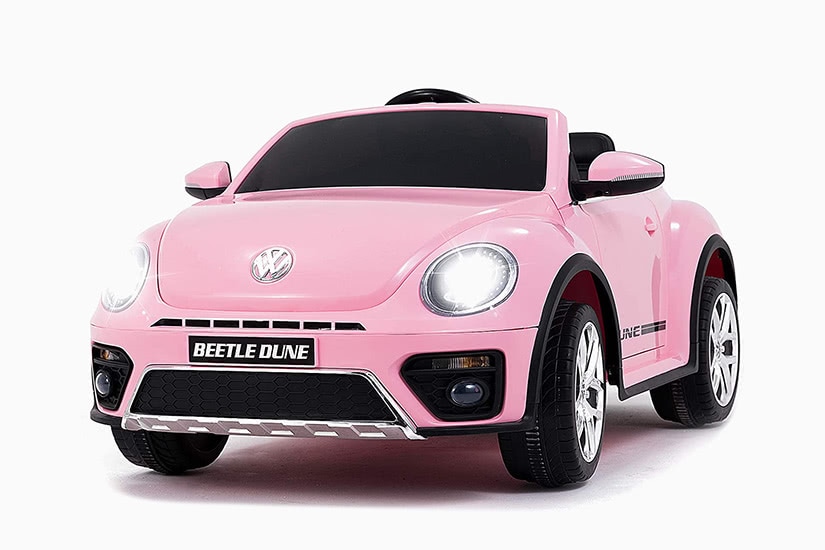 With double doors, a thick base, safety straps and a spring suspension system, this petite Volkswagen will allow your child to drive himself around in safety—and, thanks to the four colorways this mini electric car comes in, in style as well. This real car for kids has a working brake pedal, shift lever, and steering wheel as well as a remote control by which the parent can assist with steering.
Featuring dimensions of 49", 28", 20"(L x W x H) and a weight limit of 77lbs, this tiny car is most appropriate for children between the ages of 2 and 5. However, this Volkswagen Beetle's max speed of 3.1mph will surely be just as enjoyable for the parents watching this car zoom around—indoors or outdoors—as it is for the child inside it!
Because of its durable base and forgiving suspension, we're pleased to announce that the Volkswagen Beetle 12V Ride-On Car is the best for general outdoor use.
14. TOBBI : Best kids' electric police car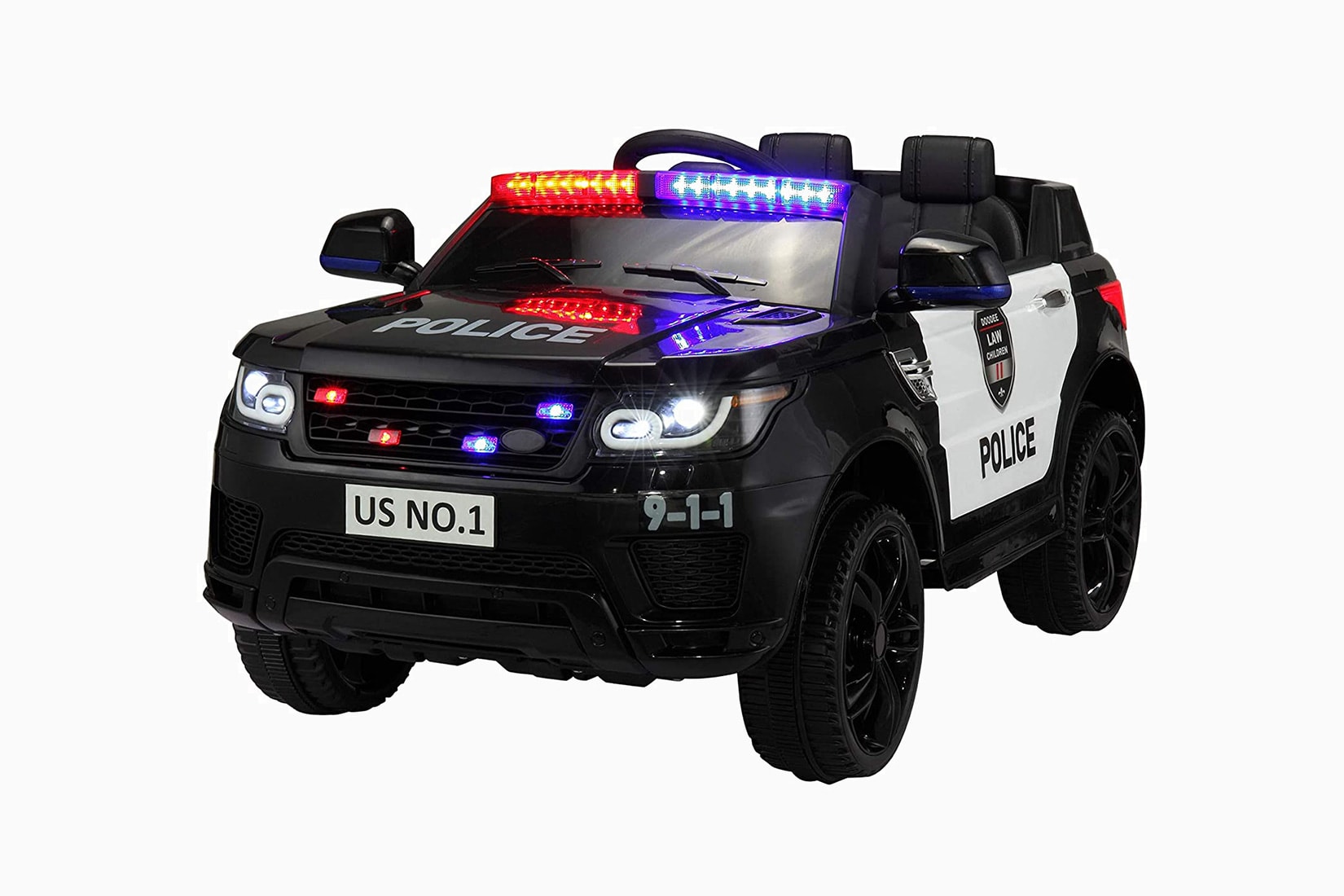 Does your child look up to policemen and other public service heroes? With this functioning, small police truck, your child can emulate their role models to their heart's content. This mini cop car has a real megaphone, working police lights and headlights, horn, rearview mirror, and MP3 music input to help your children really get into the experience!
In terms of safety, the TOBBI children's electric car offers a spacious sitting space with a seat belt and a seat backrest. You also have a parent remote control in case of emergency. The ride-on car can be comfortably used both outdoors and indoors and is also available as a firetruck or a British police car.
15. Kidzone Racer: Best for indoor use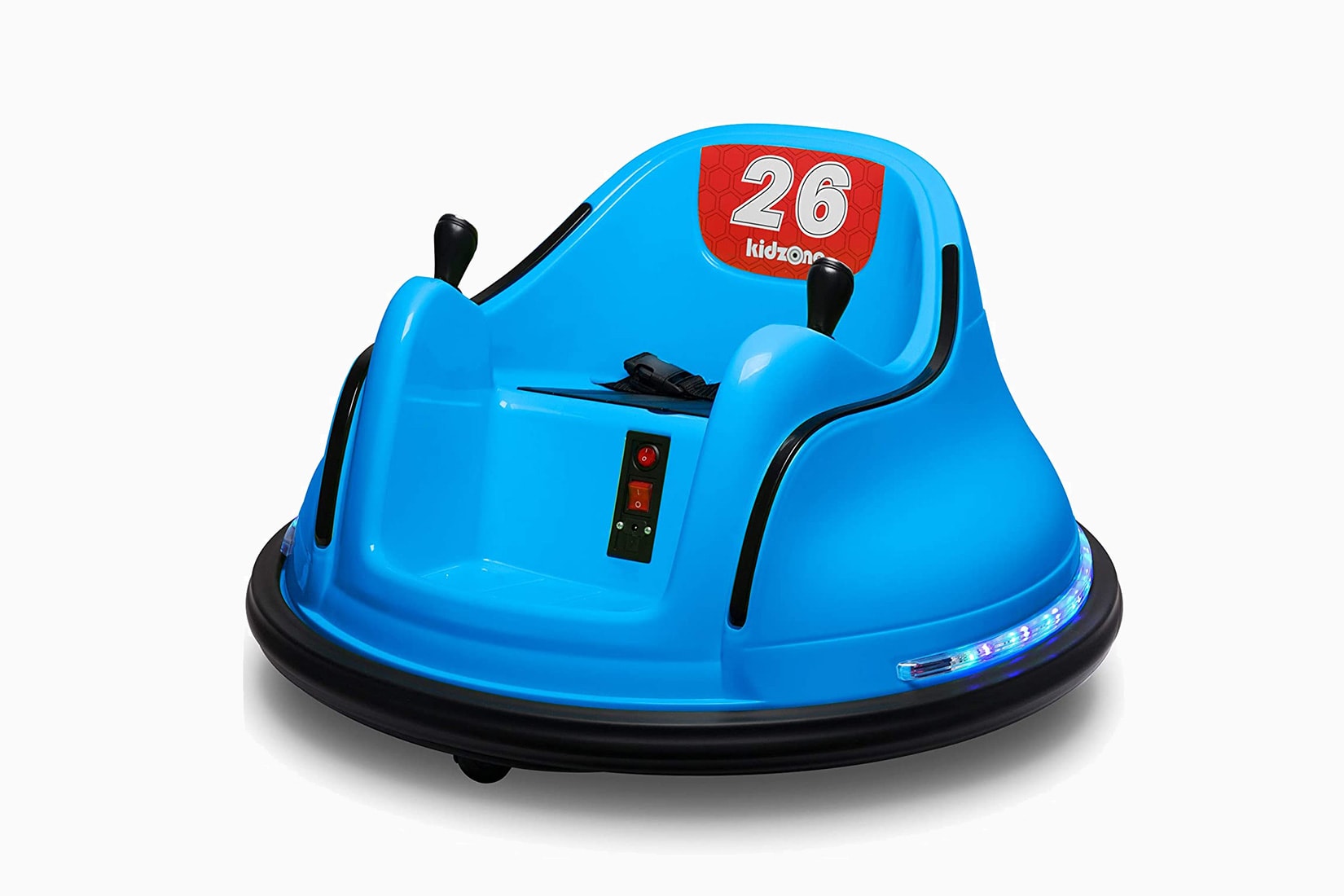 Bad weather outside? No problem, with the Kidzone Racer your kid can have all the fun indoors. The ride-on toy can spin a full 360 degrees with its joystick. Parents can also participate thanks to the included remote control. The electric car is surrounded by soft bumpers, so there's no risk for your child or your furniture. It also makes for a great bumper car if you get another one for a sibling or a friend.
The Kidzone Racer is available in a large range of colours, including pink, navy blue, white, and yellow. It comes with a 6v electric motor, so the maximum speed is limited to 0.75mph. There's also a safety belt, anti-flat tires, and LED lights on the side and back of the car.
Because of its smaller frame and battery, we're choosing the Kidzone Racer Electric Ride-On Bumper as the best electric car for indoor use.
Buying guide: What to look for in the best electric cars for kids
When you're looking to purchase an electric car for your children, you want them to have fun—but you also want them to be safe! Electric cars for boys and girls alike need to be secure, speedy, and fun. Here are the main items you'll want to look for when you're hunting for the best battery car for kids:
Safety: These electric cars for kids and toddlers need to be extremely safe for your peace of mind! Fortunately, these high-tech toys mimic their real-world counterparts, often incorporating similar safety features in their designs.
The best ride-on electric cars for kids include spring suspensions for smooth and seamless rides and sophisticated braking mechanisms. Remember, too, that even though these cars are never going more than 5 miles per hour, that investing a vehicle with seat belts is always a good idea.
Remote Control: One practical feature these cars include is the ability to be driven in-cabin by children as well as remotely by parents who might have better control of their reflexes (and wisdom about where these cars should be headed!). Ensure that the model you're buying comes with a good remote control system, and test that feature out before your child takes the car for a spin!
Speed: The range of speeds on these electric cars for toddlers varies from about three miles per hour to approximately five—which might not seem like much, but is certainly enough for a toddler to have a good time! Remember to exercise caution and always stay on alert when your child is playing with their electric ride-on car.
Battery: The most common type of ride-on car for kids is a 12V rechargeable battery. Depending upon the load it carries and how frequently it is used, this battery should ensure your child one to two full hours of driving time. Make sure that your model comes with all of the equipment necessary to completely recharge your car's battery!
Design: Aside from bringing the sheer joy of zooming down the sidewalk and around your backyard, a ride-on car can also present a stylish opportunity to teach your children about high-quality cars. From tiny Maseratis to minuscule Mini Coopers, you can get your child a kid-sized version of truly high-end vehicles with all the great design they offer!
Extra Features: While having MP3 or Bluetooth connectivity may not be crucial for children's motorised vehicles to work, the best battery-operated cars for kids often have these features—and others, such as working turn signals and retractable windows.
These features are nice because they not only make the car feel more 'real', they also add to the car's utility as an entertaining toy. Listening to their favorite songs in their car will make children love their electric cars even more!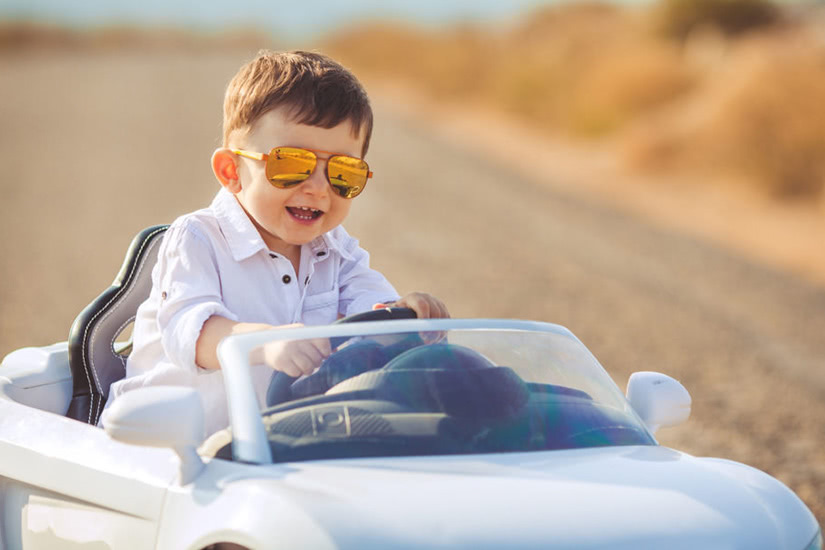 Are electric cars good for kids?
The results are in: Kids love zooming around the streets and sidewalks safely in their electric cars. However, it's becoming more apparent that these dynamic toys aren't just fun for kids to play with—they can also be great tools for education, presenting as they do an attractive way for children to practice balance, safety, and even fine motor skills.
Playing with these cars can help kids learn how to navigate, the cause and effect of steering, even the basic concept of innately knowing their right from their left! Driving in familiar territory with parental assistance can help children with early cognitive function as well as help them begin to develop the autonomy needed to travel on their own later in life.
Finally, having an electric car for kids and toddlers can set them up to learn twenty-first century skills such as caring for a car and the rules of the road. You could even use a miniature electric car as a jumping-off point to discuss the principles of electricity and sustainability!
However, it's important to note that even though there are many benefits of allowing a child to drive an electric car, they are still a potential safety risk. At all times while your child is using the toy car, there should be a parent or adult watching with the included remote control to help steer the car clear of danger if needed.
When you're looking to purchase a ride-on car, check with its manufacturer or a governing entity such as the Consumer Product Safety Commission or the ASTM International's Standard Consumer Safety Specification for Toy Safety to see if it complies with all recommended safety standards, such as curb impact requirements and the inclusion of safety straps.
Frequently asked questions about electric cars for kids
What age are ride-on cars for?
Ride-on cars are for children ages 1-9, in general; the specific age range recommended will vary per vehicle.
Are there any safety features on electric cars for kids?
There are many safety features on electric cars for kids, including seat belts, spring suspensions systems, and parent remote control systems.
How much is a kid car?
Kid cars can go for a range of prices; from what we've seen, depending upon the quality and whether the car is branded, you can expect to pay anywhere between $100-$300.
What age are battery-powered cars for?
Battery-powered cars are for children between the ages of 1 and 9; however, due to weight restrictions and safety features, the specific age range recommended will vary.
What is the best power wheels for a 5-year-old?
The best power wheels for a 5-year-old would be the Power Wheels Dune Racer. It's primed to drive on just about any surface!
Can kids drive an electric car on their own?
Kids should not drive an electric car on their own. Parents should always be nearby, with the remote control system, to step in and steer or brake if need be.
Can the kids drive electric cars inside the house?
Kids can drive electric cars inside the house—as long as there is enough room for them to do so, and precautions are taken around stairs and anything fragile within the home.