A new year is on the horizon, and that means one thing: time for reflection. And time for reflection, we certainly had it in spades as the global pause forced us all to think more deeply about what we truly value in our lives—and in the brands we live with.
In times of reflection, luxury leaders must remain agile and understand the forces that will shape the industry so they can forge a path to success in a rapidly changing world.
Though 2021 was a challenging year in many ways for the luxury industry (encompassing both goods and experiences), it was an improvement from 2020, with worldwide sales reaching approximately $1.29 trillion USD. That alone is worth celebrating.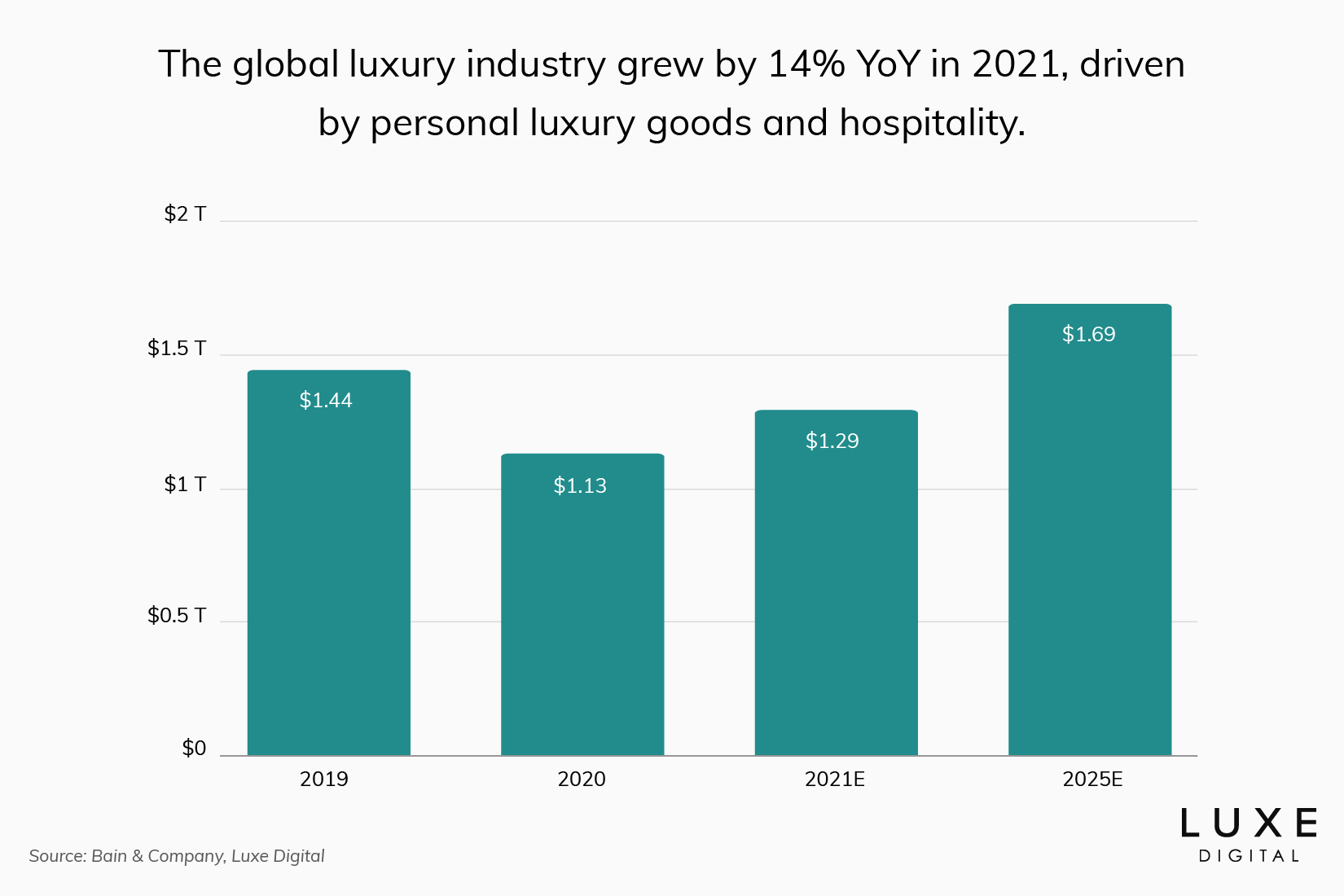 Luxury is one of the most resilient industries there is. It's also one of the fastest to rebound after a crisis. And once again, it did. The global luxury industry bounced back faster than expected, with fundamentals looking stronger than ever.
The global luxury market is set to return to its historical growth trajectory ahead of most predictions. Well, except maybe ours: We did highlight luxury's inherent ability to recover fast in our 2021 forecasts last year. Our business articles haven't become a leading source of insights for nothing [insert happy, proud emoji].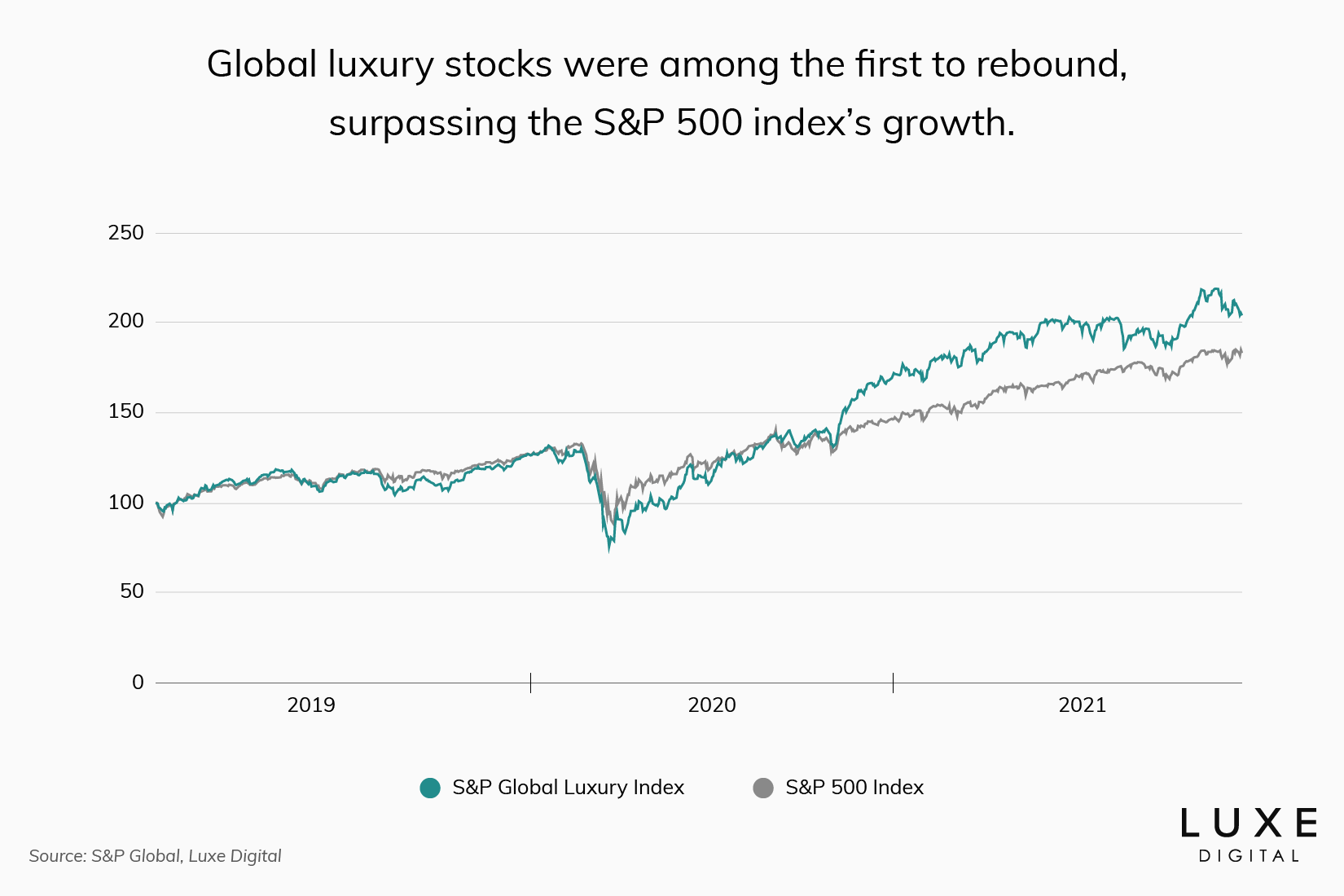 Taking a closer look at the different segments, the personal luxury goods' category is leading the charge—growing at 29% year over year in 2021 versus 14% for the luxury industry as a whole.[1] However, growth in 2022 will vary widely depending on the category you're looking at, as the different parts of the world recover at different speeds across each segment.
We expect the very meaning of luxury will continue to evolve in 2022, becoming even more diversified and contextual.
Customer centricity and relevancy—and as a result, desirability—have never been more important for businesses. Affluent consumers' demand  for seamless cross-channel experiences, always-on convenience, luxury as investment, and genuine commitment to sustainability, inclusivity and social responsibility,  will only grow stronger in 2022.
As we said last year, to thrive, luxury brands will need to deliver a timely and timeless form of meaningful value and empower expressions of individual identities.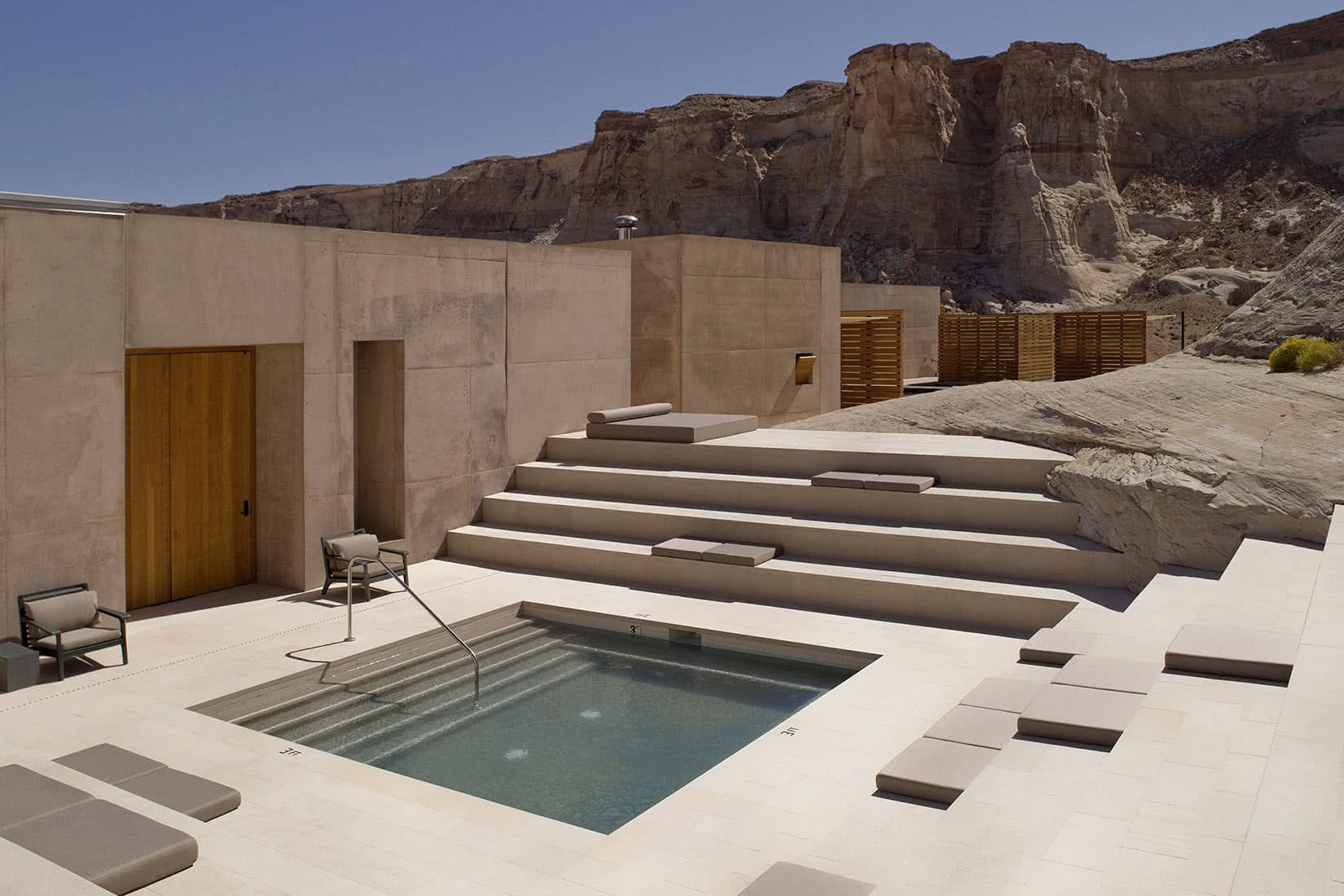 We believe "New Frontiers" will be one of the key themes to take centre stage in 2022, with new worlds for luxury brands to explore and engage with their affluent consumers. And that means a growing sense of phygital fluidity and bolder moves towards more seamless multidimensional virtual realities.
The future of luxury: 3 macro shifts
We're starting our 2022 luxury trends report this year by looking at three underlying themes that are fundamentally reshaping the global dynamics and the business playbook for luxury brands. We call them macro shifts and they run across each of the seven trends we've identified for 2022.
Online will soon surpass all other luxury sales channels
Global lockdowns in 2020 and 2021 were the perfect stepping stones for online luxury sales channels to prove their worth. Early digital adopters saw exponential growth, while latecomers were forced to rapidly adapt and (finally) embrace digital. The share of online sales nearly doubled for personal luxury goods, growing from 12% in 2019 to 22% in 2021, reaching $70.1 billion.[2]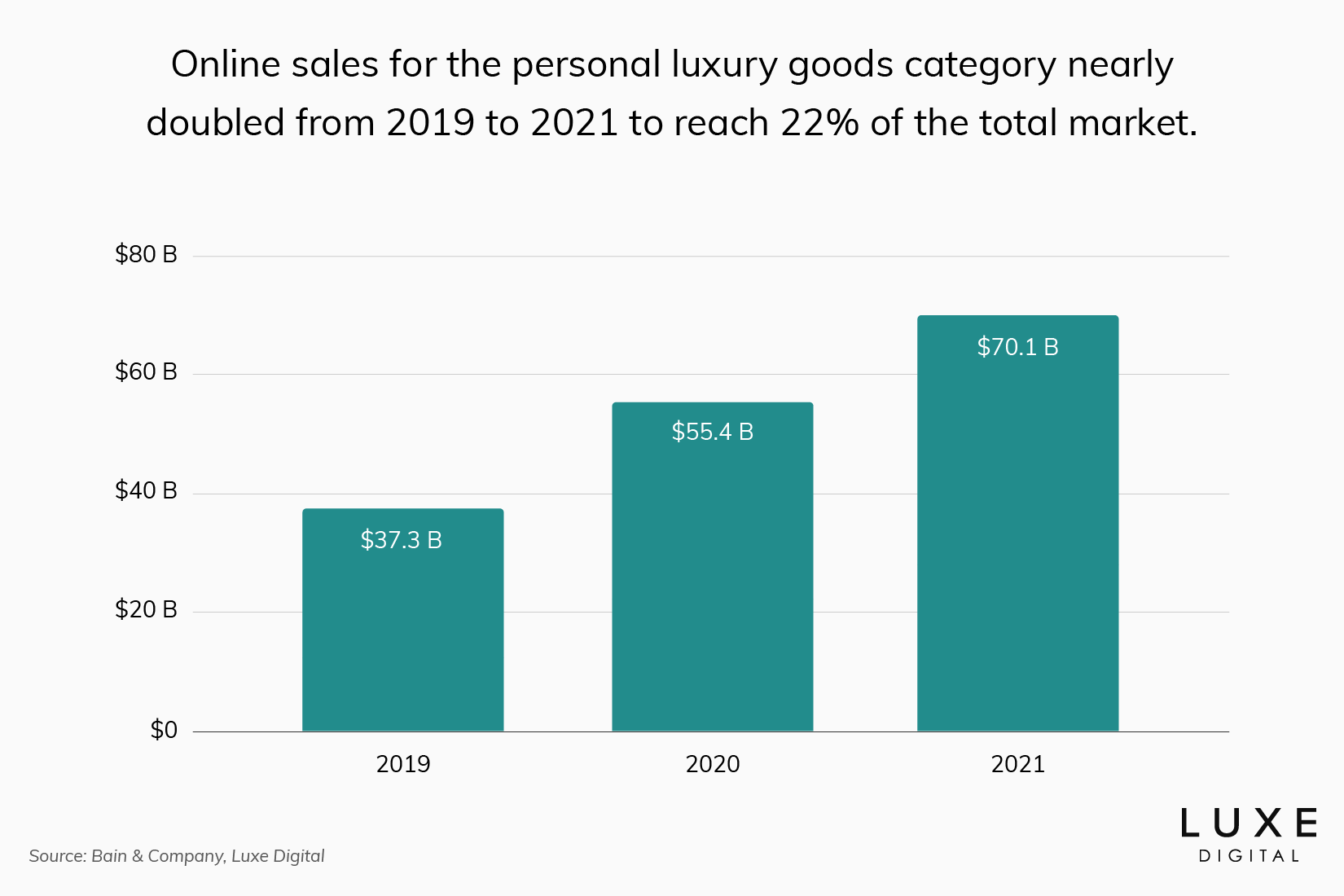 In 2022, online luxury sales will continue to outpace most other channels across all industries. Even the luxury car category will see online sales growth. It's now not a question of if but when will online sales surpass all the other luxury sales channels to drive the most revenue for the industry.
Global consultancy group Bain & Company forecasts that online sales will indeed become the single biggest channel for personal luxury goods by 2025, making up 30% of the global market, followed by monobrand physical retail stores (28%), outlet stores (14%), specialty stores (11%), department stores (11%), and travel retail (6%).[3]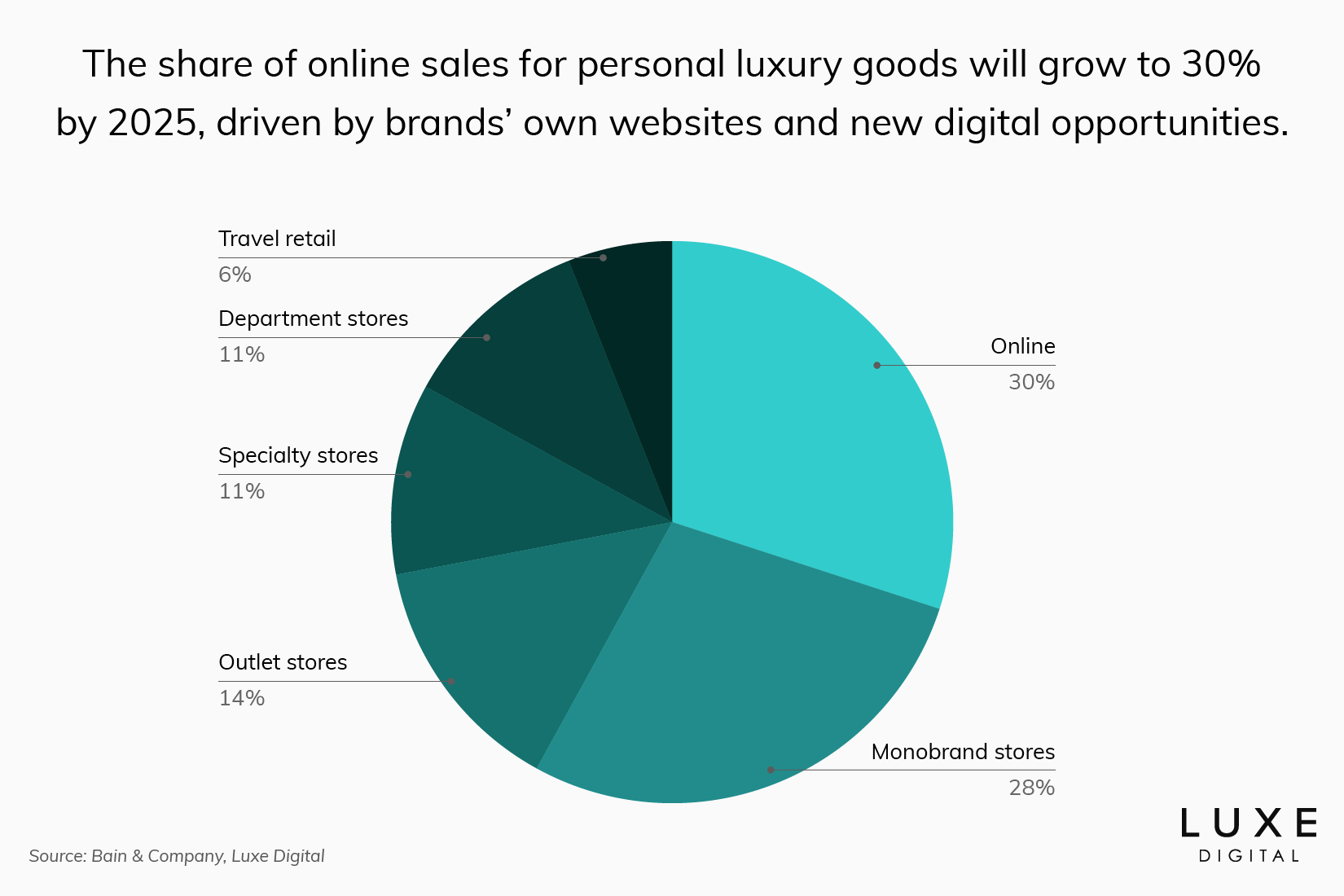 Websites and mobile apps are indeed the new dominant sales channels for most brands. Considerable work has been done to improve user experience online and build trust by reassuring customers that returns and exchanges can be done seamlessly.
30%

of all luxury sales will take place online by 2025.
Interestingly, we also see brands increasingly driving sales through their own websites. Gucci, for example, is increasingly empowering customers to purchase goods from their directly operated stores, with a focus on ecommerce, instead of relying too heavily on online multibrand retailers like FARFETCH and NET-A-PORTER, reflecting the luxury House's strategy of "gradually enhancing the exclusivity of its distribution network."[4]
Luxury brands' direct online sales now account for 40% of the online segment, compared to 30% in 2019, driven by improvements in ecommerce, exclusive collections, and more marketing budget allocated to the category.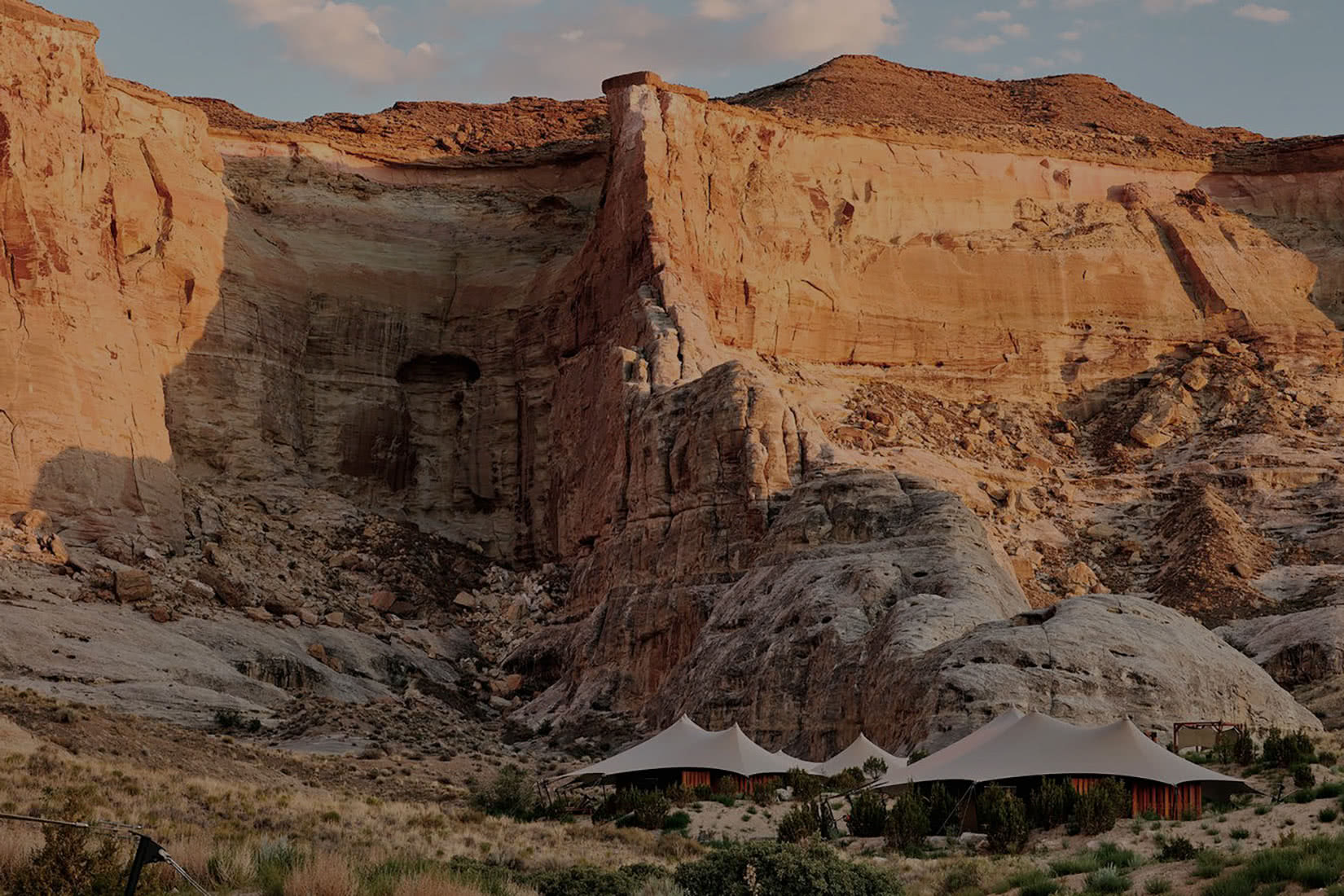 The online channel growth also shows how important the younger customer demographic has become for the global luxury industry. Gen Z and Millennials are indeed the industry's growth engine (see our second macro trend below).
Millennials and Gen Z drive luxury growth at accelerating rates
Without a doubt, Millennials (Gen Y) and Gen Z customers will continue to assert their position as critical growth levers for the luxury sector in 2022. And this generational shift will only accelerate in the coming years.
Together, these younger generations of affluent consumers are set to account for 70% of the luxury market by 2025 and contribute 130% of luxury market growth.[1] Yet, they are still underserved by many luxury brands.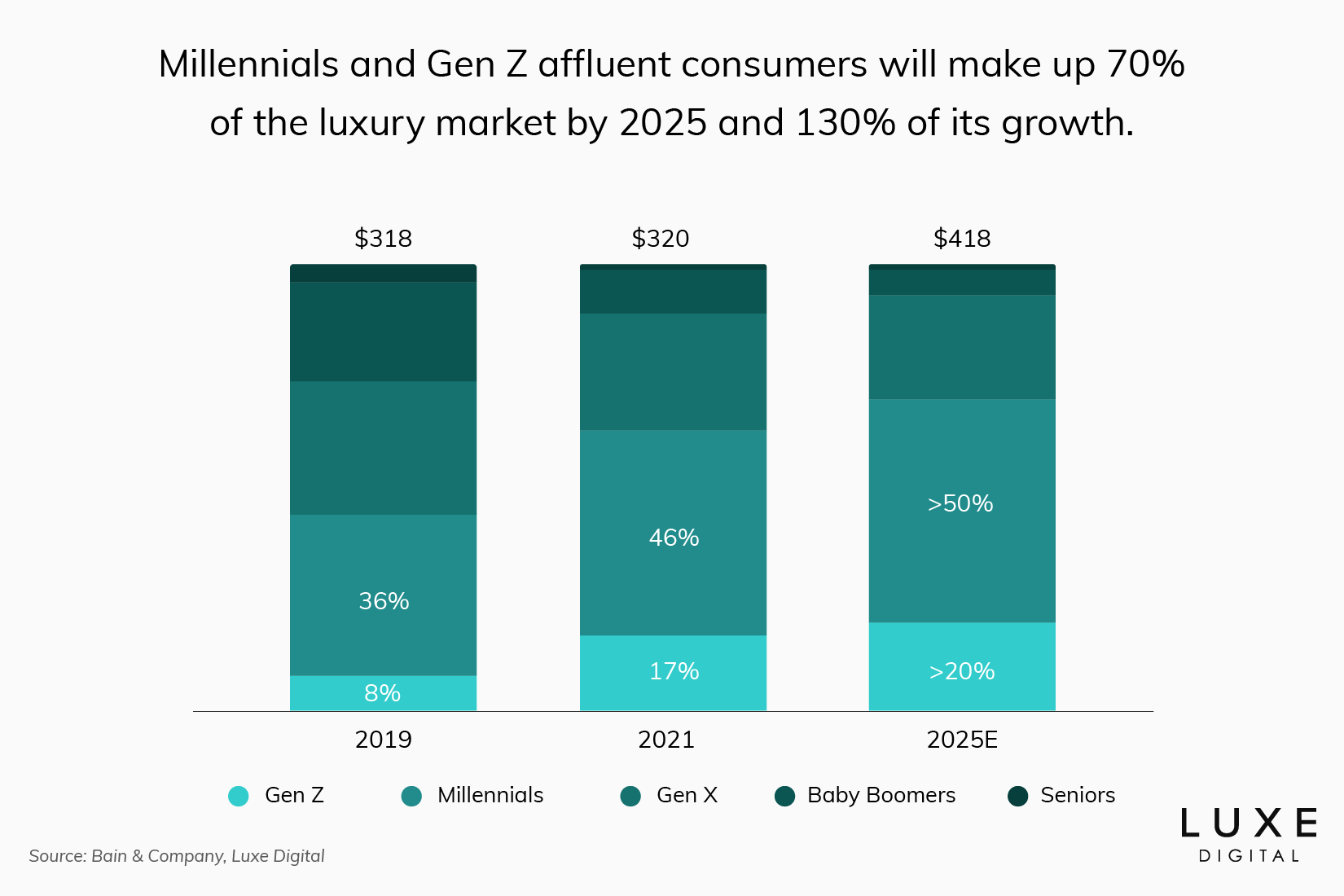 Collaborations such as Gucci x Balenciaga, Fendi x Versace, and Tiffany x Supreme are testaments to some level of realisation of the importance of these younger cohorts by legacy luxury brands and proof that brand collaborations haven't reached oversaturation yet.
As the largest segment of luxury buyers, these next-gen affluent consumers are already rewriting the luxury rulebook with their value-driven expectations and digital-infused lifestyles.
70%

of luxury sales will be made by Gen Z and Millennials by 2025.
To grow, luxury brands must understand how to relate to and win over these younger generations. It's not just a question of pivoting at speed in an ever-evolving market but also a capacity to shift their business mindset.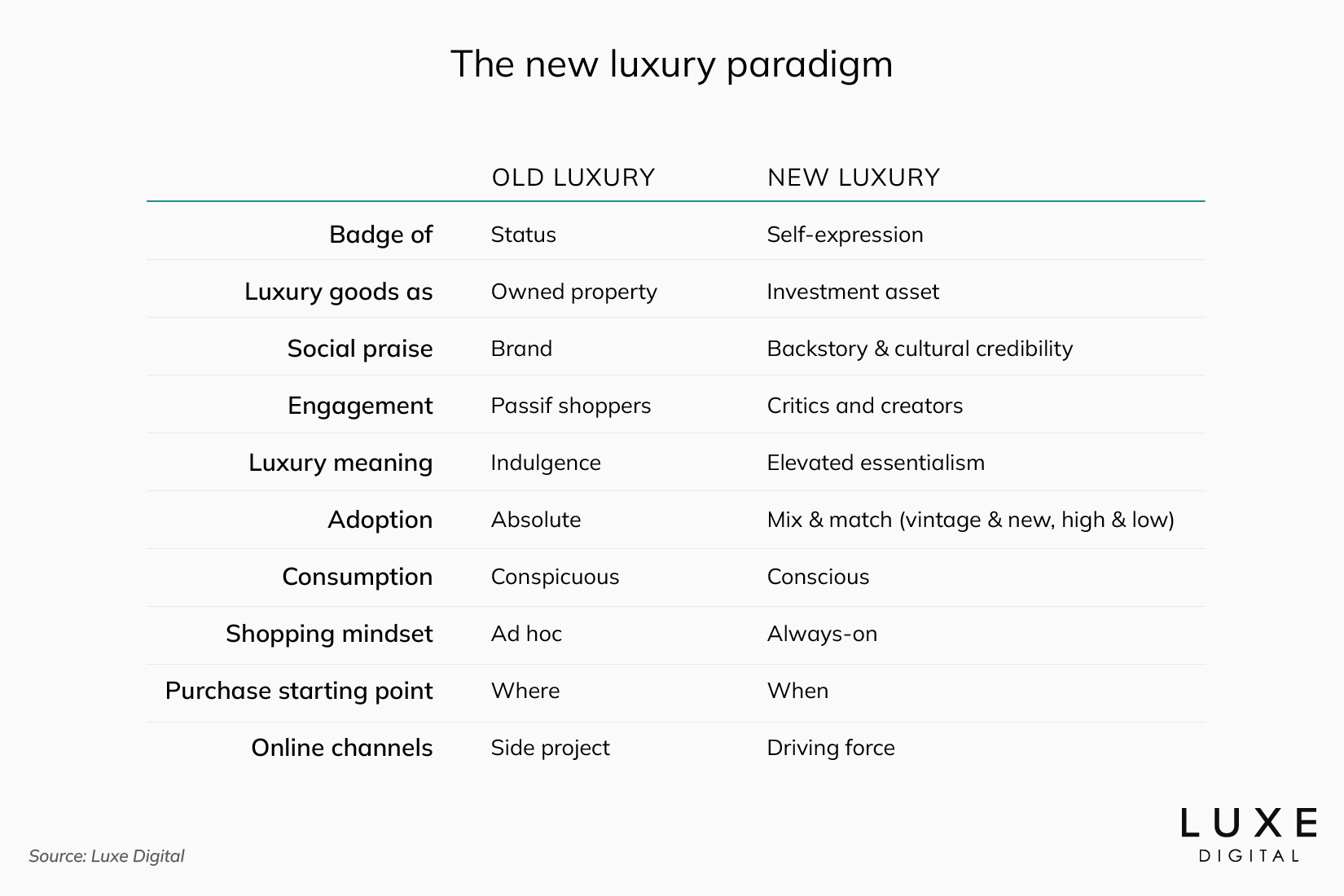 Indeed, these younger cohorts are digital natives and both creators (they want to co-create with brands) and critics: they love to seamlessly engage with online content and are expecting luxury brands to operate at their high standard.
With a vested interest in giving back and being among the most vocal and socially active consumers, younger generations (Gen Zers perhaps even more so than Millennials) also value authenticity and integrity from brands. Sustainability, in particular, cannot be an afterthought; it must be honest, transparent and backed by action.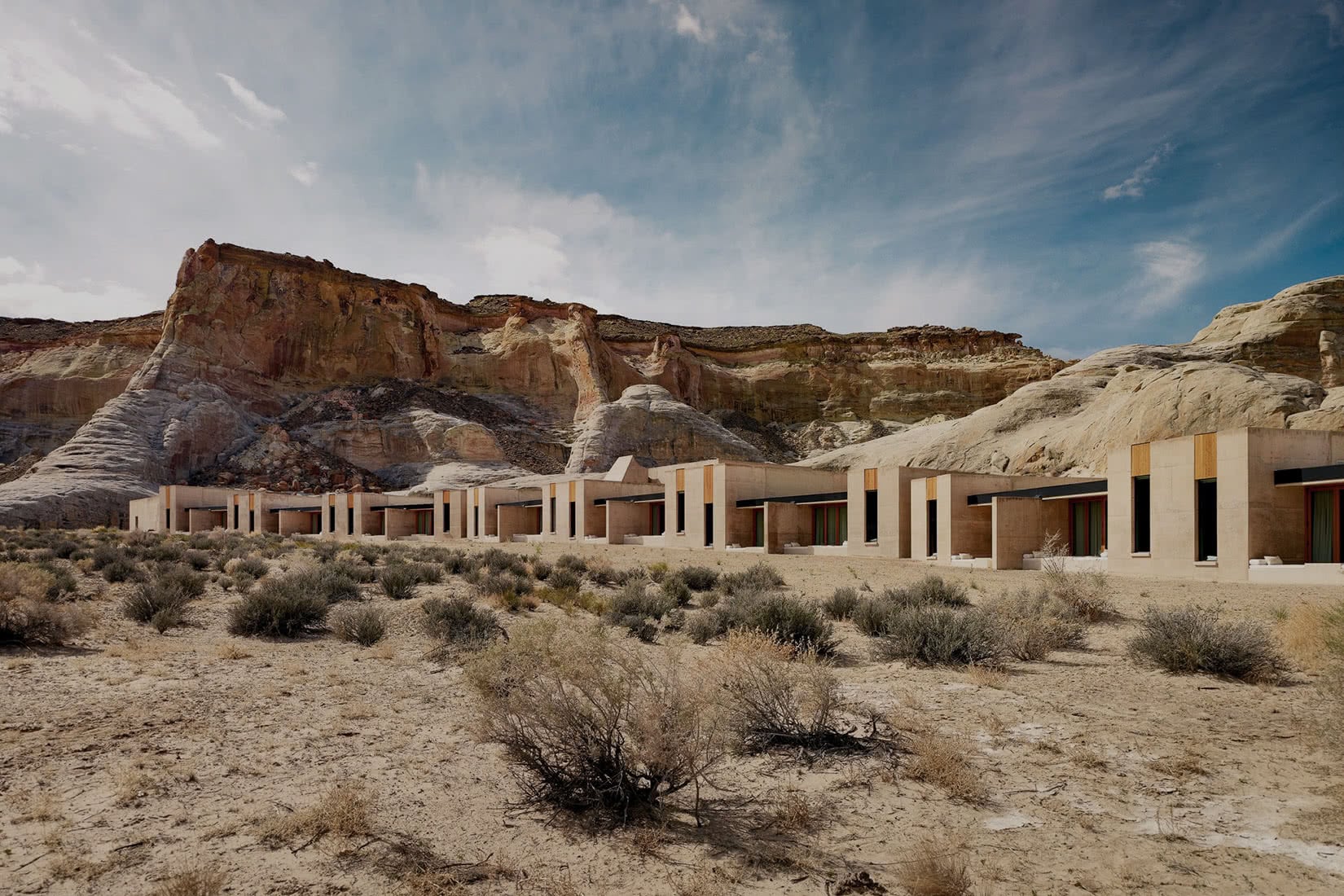 Thus, for luxury brands to remain in sync with younger global luxury consumers, they need to communicate their stances on environmental, ethical and social issues and most importantly deliver on these goals.
The $725 Billion question: What will China do?
Chinese affluent consumers will come back to driving the majority of worldwide luxury sales between 2022 and 2023, but things might be about to change.
In 2020 and 2021, we saw for the first time domestic luxury sales in China surpassing international sales due to travel restrictions. Domestic sales accounted for 21% of global sales in 2021 versus just 11% in 2019. In parallel, we also saw US domestic sales surpassing Chinese domestic sales, growing from 22% in 2019 to 31% of worldwide sales in 2021.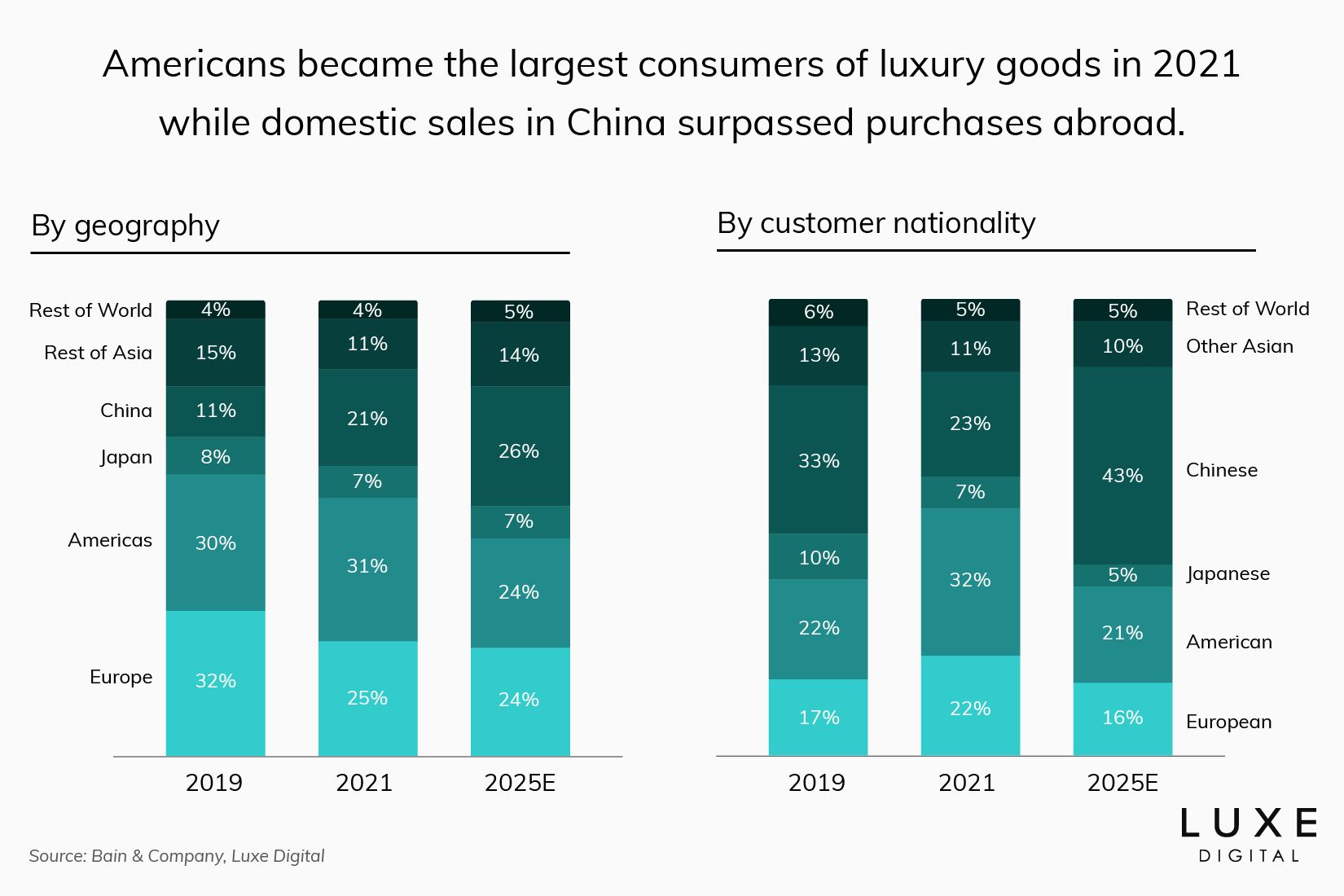 Bain expects Chinese consumers to surpass their previous share of global luxury goods sales to reach 40% to 45% by 2025. Based on our projections, that would represent $725 billion worth of sales being driven by Chinese consumers, out of a total market of $1.69 trillion.
The consultancy group predicts that the growing middle-class desire to purchase luxury goods will be sufficient to drive that growth. We think the market is facing significant headwinds, however. Particularly with China's political focus on "Common Prosperity" goals and the resulting pressure exercised on affluent consumers to minimise external signs of wealth.[5]
42.5%

of global luxury sales will be made by chinese consumers by 2025.
In a recent speech, Chinese President Xi Jinping articulated his vision for the country's growth with a focus on domestic production to satisfy Chinese consumers' demand. "When we talk about common prosperity," said Xi Jinping, "we mean prosperity for everyone. It means that the people are rich in their material and spiritual life simultaneously. It's neither prosperity for only a few people nor egalitarianism."[6]
"If President Xi Jinping institutes policies hinted at in his "Common Prosperity" speech this past August," says Pamela Danziger, a senior contributor at Forbes magazine, "it could send the country's uber-wealthy underground and suppress demand among the rising middle-class who have shown an unquenchable desire for luxury brands."[7]
Add to the political changes the growing desire by Chinese consumers to buy from local brands and you have a challenging scenario for global luxury brands that rely too heavily on China to generate sales. The rebound in the US and European sales offer a hint of optimism for a more balanced outlook on worldwide sales between the three regions, however.
7 luxury trends that will shape 2022
Let's now take a closer look at the seven most important trends that will shape the global luxury industry in 2022.
Resale race: Second hand luxury becomes first-class priority
The global second-hand market is estimated to reach $77 billion in 2025, with growth rates outpacing the wider luxury market. Resale (thanks to its more curated assortments) is driving the growth and is expected to grow 11 times faster than ordinary clothing retail.[8]
Resale is heating up in luxury. The very essence (timelessness, enduring desirability, durability, and in some cases, scarcity) of luxury goods makes it particularly well-suited and promising for the resale market.
The luxury resale industry is tapping into an expanding demand from affluent consumers for a more circular economy and more conscious consumerism on one side and expanding supply (enlarging competitive arena with more online resale platforms facilitating how pre-owned products can be bought and sold) on the other.[9]
The generational shift in luxury consumers continue to fuel and shape the resale market as Millennials and Gen Z consumers see resale as 1) a convenient, sustainable replacement for fast fashion 2) an opportunity to acquire luxury goods at more affordable prices 3) a means to feed their interest in vintage styles and 4) a new form of investment (luxury resale value).
With fast growth comes the market's natural inclination for consolidation and scale. So, we can expect to see more acquisitions, new partnership models and innovative technology solutions crystallise (i.e Rise of resale-as-a-service companies) and empower new players' entry into the lucrative pre-owned market.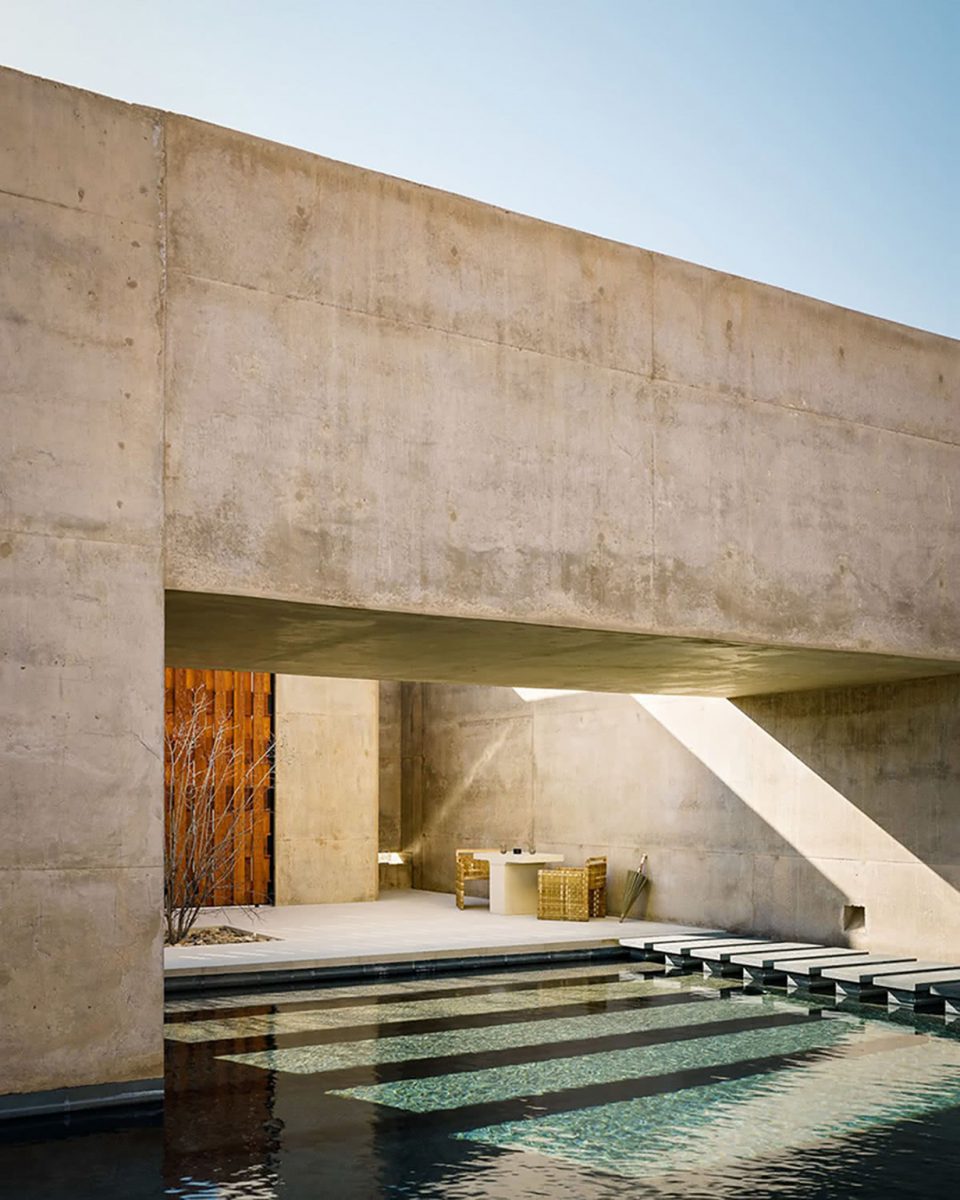 But, with resale on the rise, product authenticity and traceability will be especially critical for luxury brands. Investments in blockchain technology, in particular, is an interesting approach to improve the authentication process from the moment a new product is sold to ensure greater traceability and transparency, track a product's sustainable credentials and tackle counterfeiting (thanks to digital 'product passports'), ultimately boosting consumer trust. However, common standards remain to be developed collaboratively for this new technology to be truly effective at scale.
What's clear is: the relationship between luxury's primary and secondary markets is set to grow deeper in 2022. The only question is: how deep.
Priceless pixels: NFTs to the moon
Non-fungible tokens, or NFTs, were one of the most popular buzzwords of 2021. So much so that the term was chosen to be the "Word of the Year" by Collins Dictionary.[10] Interestingly, metaverse and crypto were also on the shortlist, demonstrating the growing interest in this space (see next trend below).
Analysts at Morgan Stanley expect the luxury NFT and metaverse market to reach $56 billion by 2030.[11] In 2022, luxury brands will continue to experiment with NFT collections, either to sell alongside physical goods, or as standalone digital collectible assets.
From the consumers' perspective, generating profits with NFT is still currently reserved for a small portion of participants. A study by Chainalysis found indeed that buyers who can mint or be whitelisted to buy newly minted NFTs first will make a profit 75.7% of the time, while users who buy NFTs later on only make a profit 20.8% of the time.[12] As a result, it's nearly impossible for late comers to make a profit with NFTs if they aren't part of the very first sale.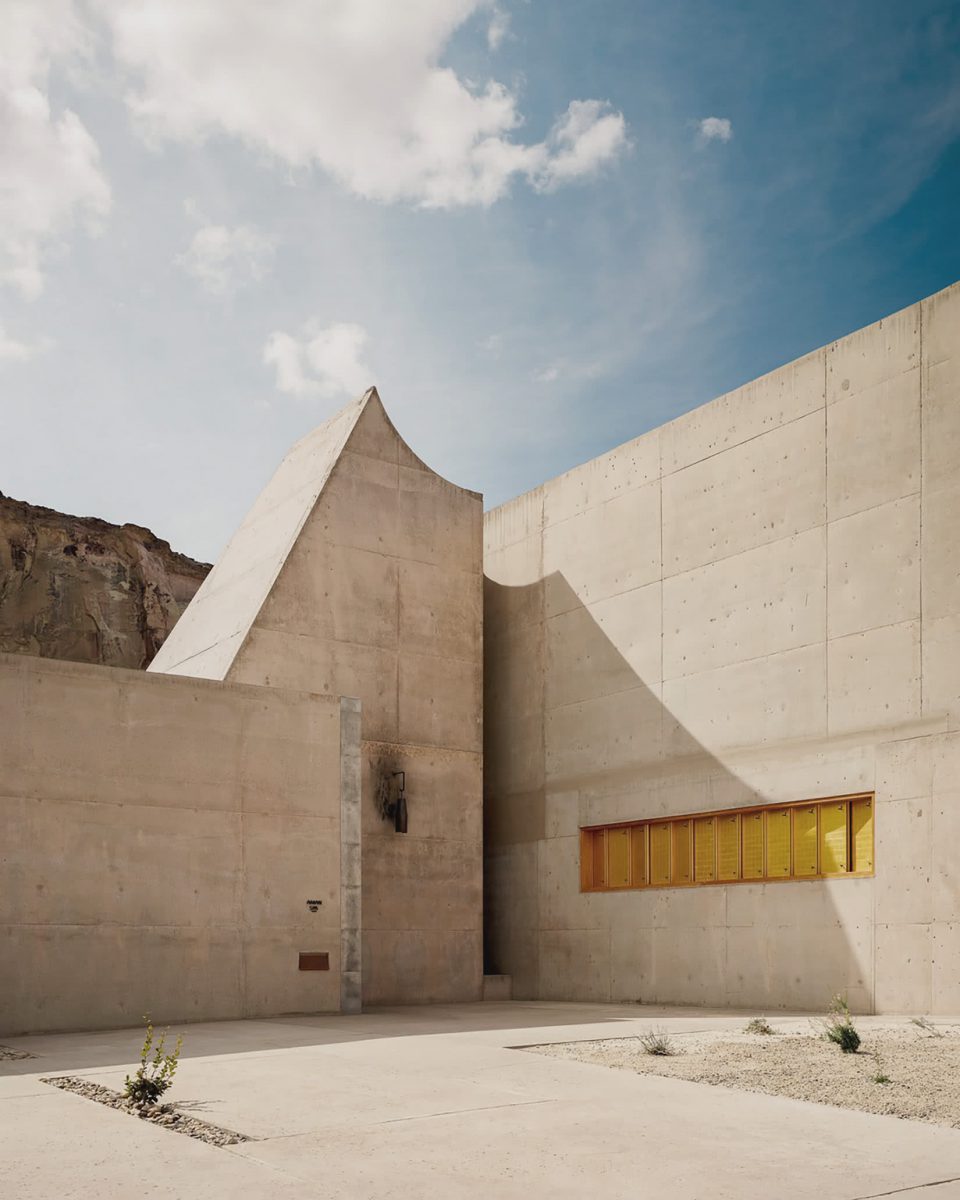 This is an opportunity for luxury brands to offer exclusive access to upcoming NFTs for selected customers. Linking physical products with NFTs, for example, is a great way to offer long term value for customers. And they're becoming more broadly adopted now that you can post and sell NFTs on Instagram.
Into the Metaverse: Worlds of creativity at play
At the crossroads of digital, gaming, AR, and VR, the metaverse―a portmanteau of the words meta (meaning beyond) and universe―represents another significant opportunity for luxury brands.
In 2022, we expect luxury brands to launch dedicated virtual experiences to enhance their customers' experience both online and offline. Online, this will mostly happen through the brands' own websites and one-off VR experiences. Offline, we expect augmented reality experiences to delight customers in-store and post-purchase, adding a virtual layer to a handbag or a pair of sneakers, for example.
For the metaverse to broaden its appeal, we'll need significant technological improvements, particularly with AR and VR headsets. Gucci and Balenciaga already filed trademarks for smart glasses and connected clothes.[13] We think 2022 will see the first releases of such products. They won't be perfect, but they will capture the affluent consumers' attention as more of our lives takes place online.
Investment bank Morgan Stanley estimates that the metaverse and NFTs will make up 10% of the entire luxury goods market by 2030, representing a $56 billion revenue opportunity, of which $10 billion to $20 billion will come from an entirely newly addressable digital market.[14]
The bank thinks that brands that focus on soft luxury such as ready-to-wear, small leather goods and shoes, are particularly well-positioned to benefit from the metaverse as affluent consumers' demand for digital fashion grows.
Seamless shopping: Social commerce goes live, globally
In 2021, TikTok (one of the very few apps to surpass 3 billion downloads globally) announced TikTok Shop in partnership with Shopify, allowing for products to be tagged in TikTok videos.
In testing phases in the UK and USA, the native shop will be further rolled out to other markets in 2022.
Social commerce—from in-app checkouts on social media to live stream sales—is set to continue to grow as the digital space become that much more shoppable (with improved platform functionalities for a more seamless shopping experience from discovery to checkout) and consumers are increasingly seeking entertainment and engagement in their shopping experience.
Already popular in Asia for some time, live shopping will grow in popularity in 2022 across the world. See our story on how luxury brands use WeChat to engage with affluent consumers in China to learn more.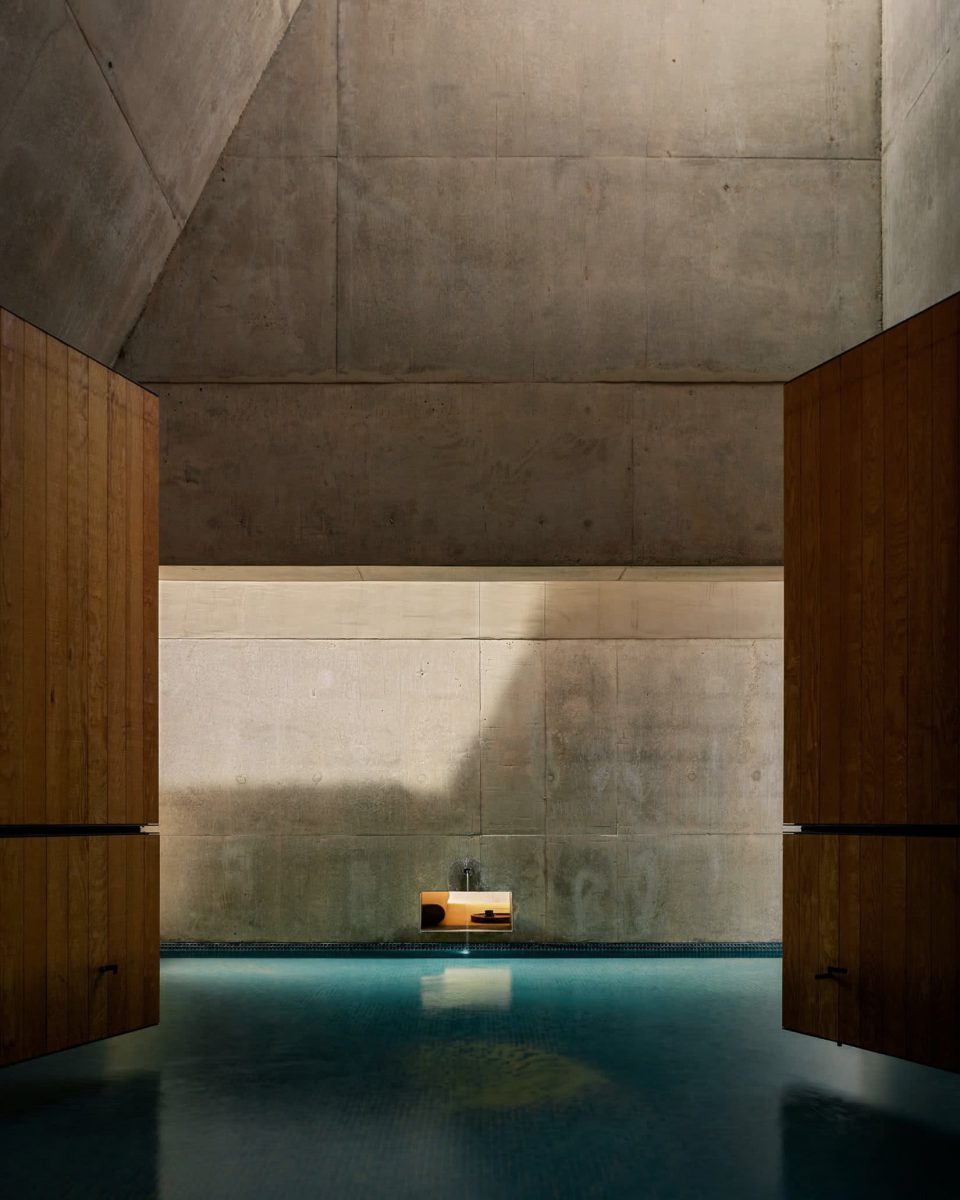 Sustainable sustainability: Towards a more holistic approach to values
Being more inclusive and more sustainable will be non-negotiable for luxury brands to remain relevant and win over younger cohorts. Some 43% of Gen-Z fashion consumers actively seek out companies with a solid sustainability reputation.[15]
After years of talking about sustainability, consumers are increasingly paying attention to what brands are really doing. Greenwashing isn't enough in 2022. On the contrary, brands accused of greenwashing risk being publicly shamed and see sales declining, together with their market capitalisation.
Consumers are increasingly demanding more transparency around the societal and environmental impacts of their purchases. In 2022, we could reasonably expect to see more luxury brands looking more seriously into tech innovations such as digital product passports to store and share a product's sustainability credentials (i.e materials, origins, manufacturing process, etc.)—offering the opportunity for customers to buy in accordance with their personal values. But beyond carbon footprint, though, it will be asked of luxury brands to be holistic in their commitment to sustainability, from water waste to human rights.
We will also continue to see innovations in sustainable materials as more customers demand ethically sourced and environmentally responsible materials. (Kering Group, for example, has officially announced it would go fur-free across its entire brand portfolio in 2022.)
However, there is another debate that has been on the agenda for years and still remains very much unsettled: real versus faux-leather. With leather goods being considered a luxury statement—a sign of quality and durability in luxury goods for so long—it will be interesting to see if luxury brands will take a firm stand.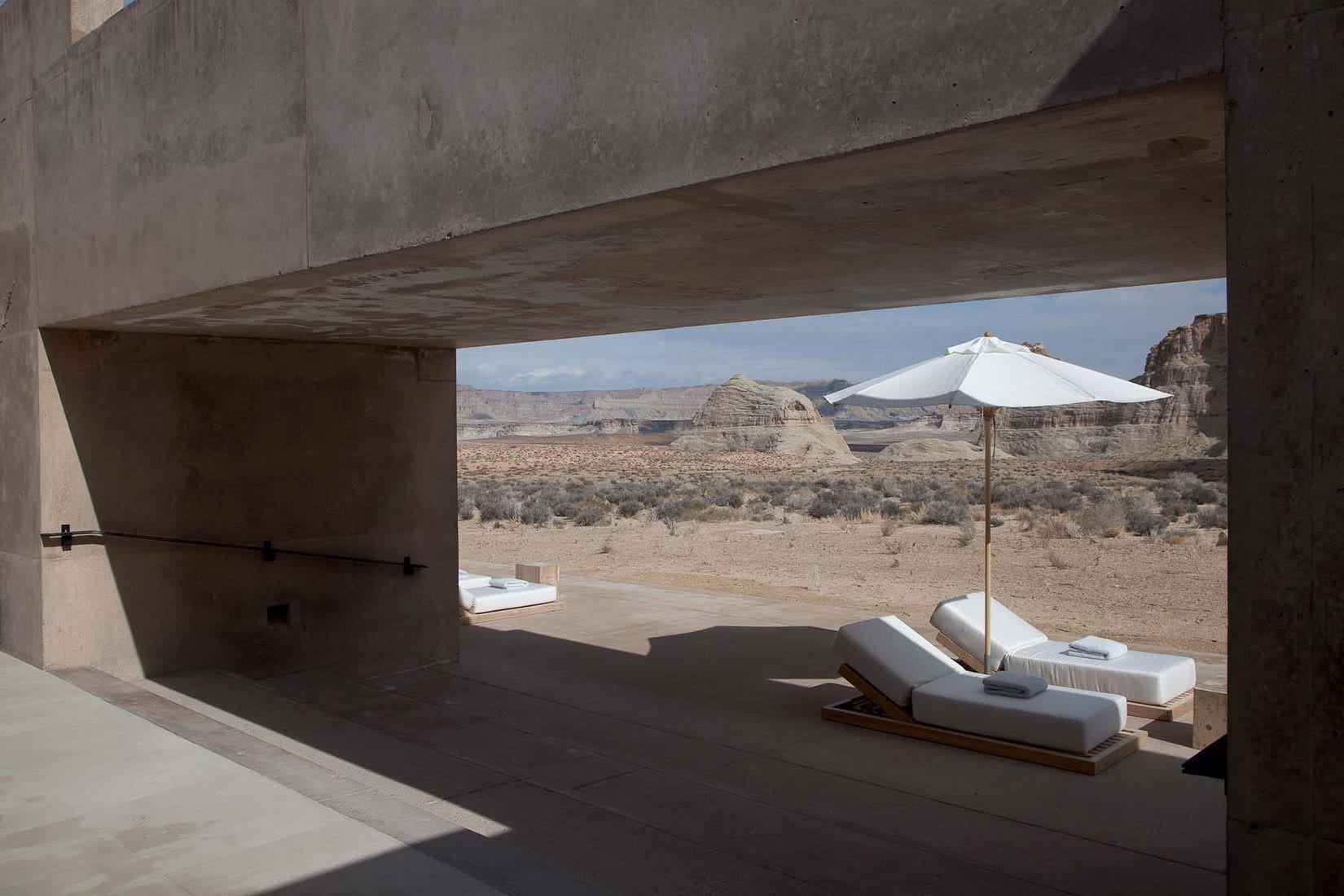 In any case, luxury brands will need to rethink their business models, product strategies and the lifecycle value of their customers in order to reflect the yet to be fully defined reality.
However, we feel it is also important to highlight a contrasted reality. Surprisingly, while we hear about a growing interest in sustainability especially amongst younger generations, we surprisingly also see fast growing companies built around the fast-fashion model à la Zara (but cheaper and faster) skyrocketing. Case in point: Chinese retailer SheIn has grown at speed by leveraging data, automation, and artificial intelligence to deliver on-trend clothes at low prices.[16] SheIn was the largest fast-fashion retailer in the US at the end of 2021 with 28% market share, ahead of Zara (20%) and H&M (11%).
Localisation, localisation, localisation: Domestic luxuries to journey away from the global sea of sameness
With international tourism not expected to fully recover for another year or so, we will continue to witness growing interest and preference of affluent consumers for locally-made products and local shopping destinations in 2022. Shoppers want to support their local economy and focus on proximity e-commerce channels for luxury brands.
This focus comes hand in hand with the increased understanding of the environmental cost of global shipping and manufacturing. Luxury brands who can capitalise on this local sensibility and engage more deeply with domestic consumers will be better positioned to grow.
In 2022, we can expect to see enhanced localisation strategies (from product offering to communication) from luxury brands to better adapt to local tastes and cultures in order to be locally relevant.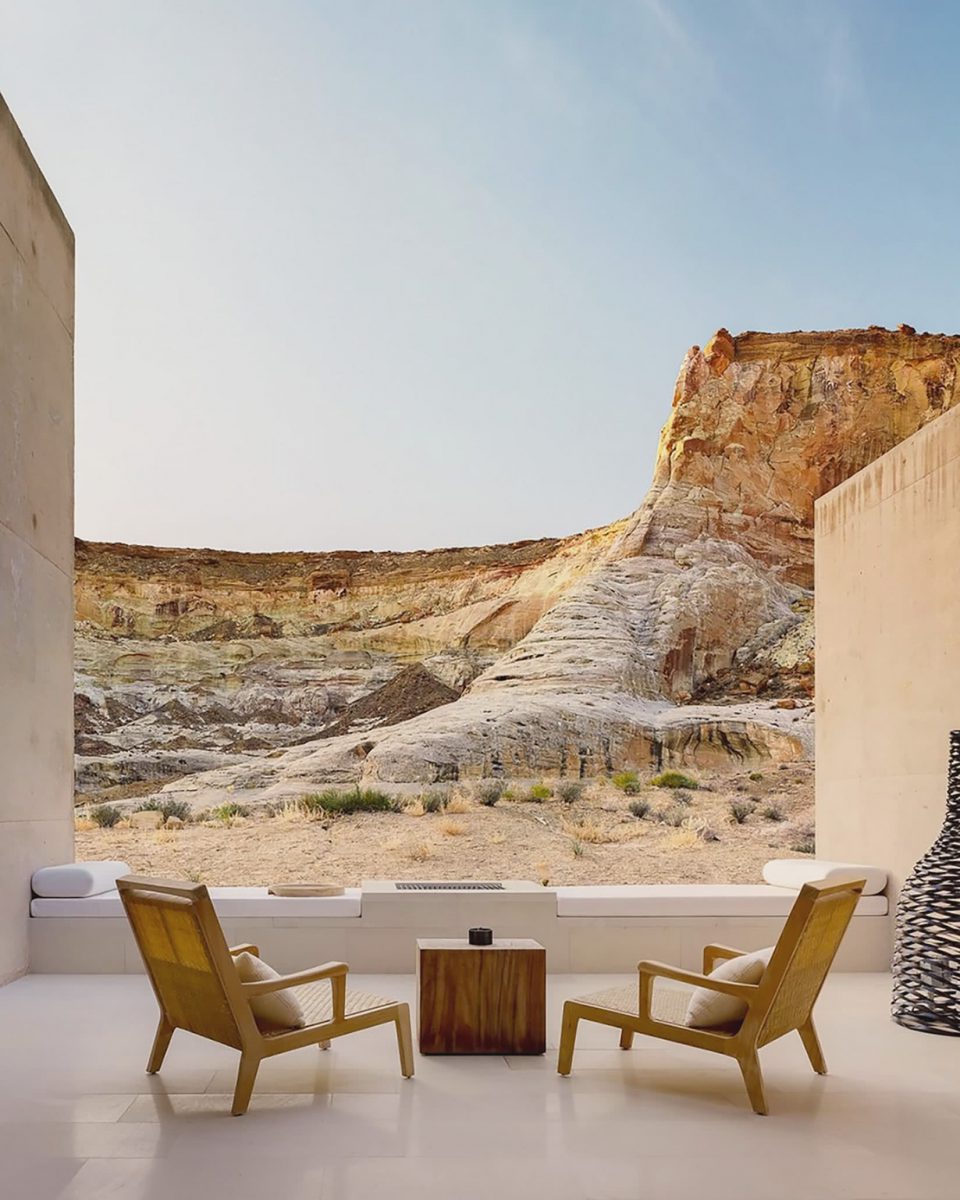 The heightened sense of supporting local businesses, coupled with the new prime position of online channels, will also give the opportunity for local names and digitally-savvy luxury DTC brands (the likes of Senreve, Oliver Cabell or Anine Bing) to assert their place in the market in the year ahead.
Youthful you-niverse: Data-driven digital experiences as a competitive advantage
Experiential luxury (including hospitality, jets, yachts and cruises) was a main focus for years as young affluent generations were said to be more interested in experiences rather than buying luxury products. Then 2019 happened.
And if we have been talking about the experiential transformation of luxury goods for some time. Now, it is more important than ever.
Experiences will continue to play an increasingly important role in consumers' purchase decisions.
In 2022, brands will need to embrace digital experiences as an added layer to their products to engage their customers as in-person events and boutique experiences will remain constrained. This provides an opportunity for luxury brands willing to fully embrace the digital realm and meet their consumers where they are—online.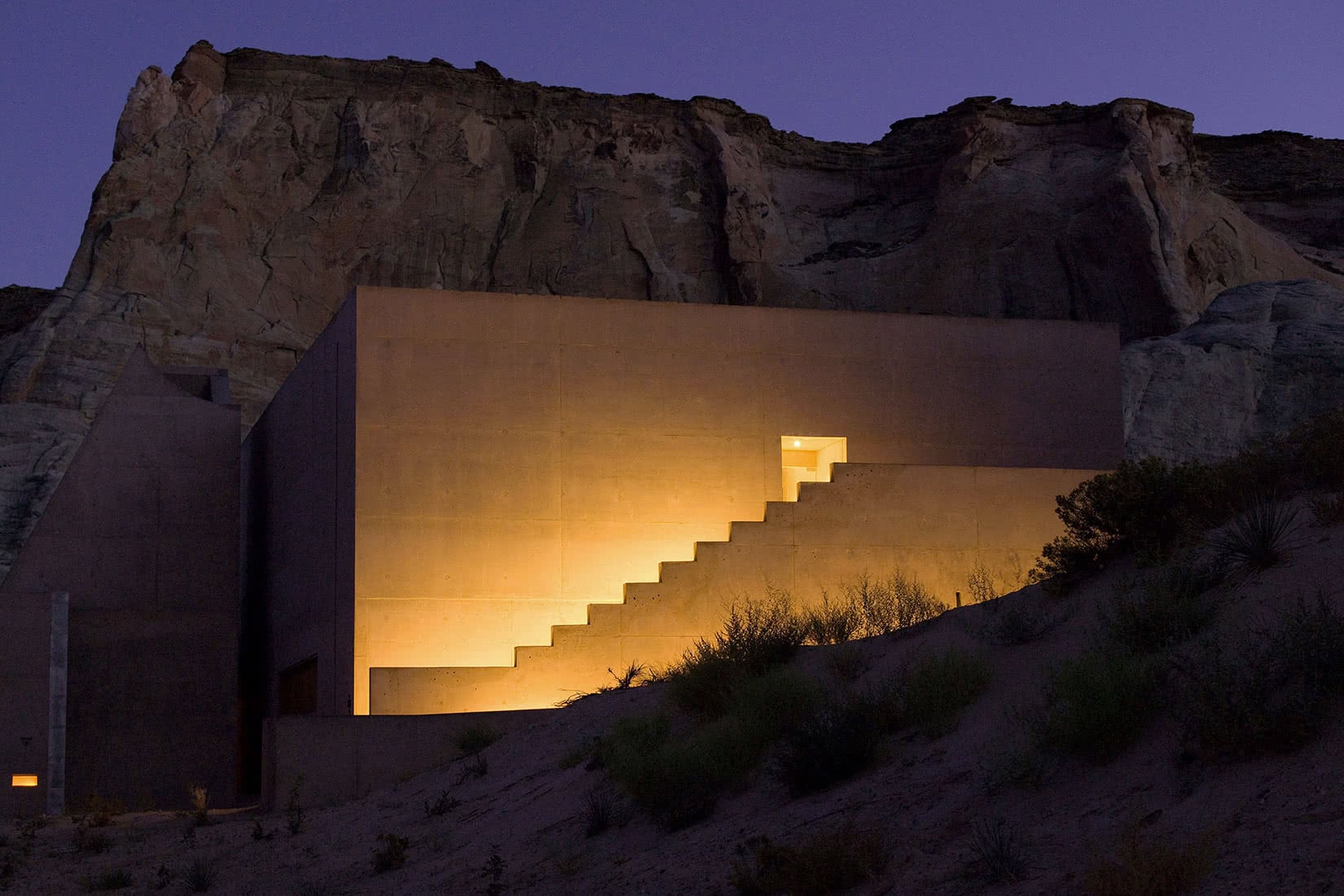 Digitisation will also continue to drive an increasing amount of data, which means both consumers and businesses will increasingly seek a single source of truth and use data for betterment.
In 2022, affluent consumers will continue to ask luxury brands to demonstrate meaningful benefits of data sharing-expecting personalised perks in exchange for giving up some level of privacy. No matter the digital channel, luxury brands will be expected to offer first-class online experiences that feel truly bespoke to affluent consumers, from personal shoppers to private viewings, personalised treatments, targeted recommendations, and recognition across all channels.
---
Images by Aman Hotels