Founded in 2014 by husband and wife Chaz and Esti Chazanow, LIV watches are flawlessly engineered to defy the status quo and still stand the test of time. Originally from New York, Chaz grew up with an uncanny enthusiasm for sophisticated watches. And after receiving his first Swatch at the age of 12, his infatuation with finding perfection and originality only continued.
In 1993, Chaz got his first official job working for a boutique Swiss watch brand—Daniel Mink. The job gave him invaluable insight into the industry as he gained a deeper understanding of the market and production. Harnessing this newfound expertise, he started buying and selling high-end watches for almost ten years. Naturally, this only heightened his obsession with impeccable design and craftsmanship that was also modern and affordable.
Like many successful entrepreneurs, when he realized there was nothing on the market to satisfy his uncompromising desires, he decided to take on the task himself. In 2012, Chaz spoke through his dreams with his wife, Esti, who believed in his vision for a Swiss-made brand that did everything differently from other affluent labels. And together, that is exactly what they did, creating LIV Swiss Watches.
Living in Miami with three children, the couple (and now co-founders) launched the distinctive watch brand in the city renowned for its non-stop nightlife and youthful spirit. Daring to LIV  and think out of the box, they cut out all unnecessary costs, selling premium Swiss quality watches at affordable price points. Unsurprisingly this approach was a hit.
And today, they continue to add to their fanbase of sustainable luxury-seekers—of which we are proudly a part.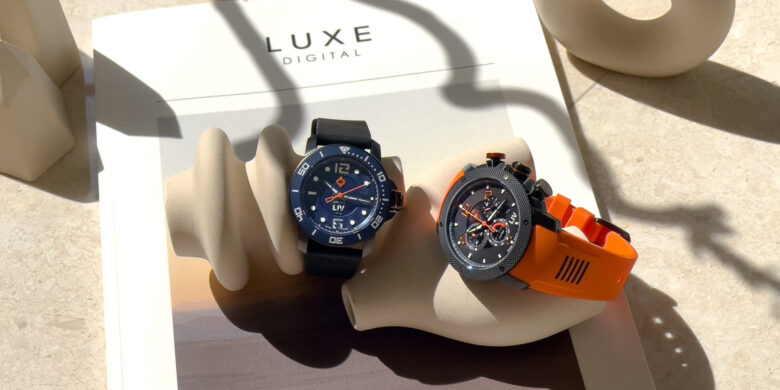 Luxe Digital: Hello Esti and Chaz, thank you for taking the time to speak to us. Let's start with your business. How would you describe LIV Swiss Watches?
Esti and Chaz Chazanow: When we initially thought about our brand, we thought about a distinct design. This watch would turn heads, and we would create it using top-quality materials using traditional Swiss watchmaking methods.

The design was to have the following attributes.
Distinctive case design
3D multilayer dial
Robust technical construction
Scratch-resistant sapphire crystal
Custom integrated strap
A watch to which we would feel comfortable giving a five-year warranty
LIV's brand ethos is also unique in many ways; being a member of Gen X, a generation still remembers going to a local store to shop for everything, including my passion, watches. The local watch shops not only allowed us to touch and feel the product but also an opportunity for human connection and communication that the new generation finds hard to come by.
That is what I wanted to replicate with LIV, a brand that not only focuses on selling and educating those who want to know more about the brand and products. We do not use the words customer and prefer to call everyone a FAN. If you own one of the watches, you become an ambassador, and that makes sense; you took your hard-earned money to buy one of our watches, and now you have it on your wrist for all to see.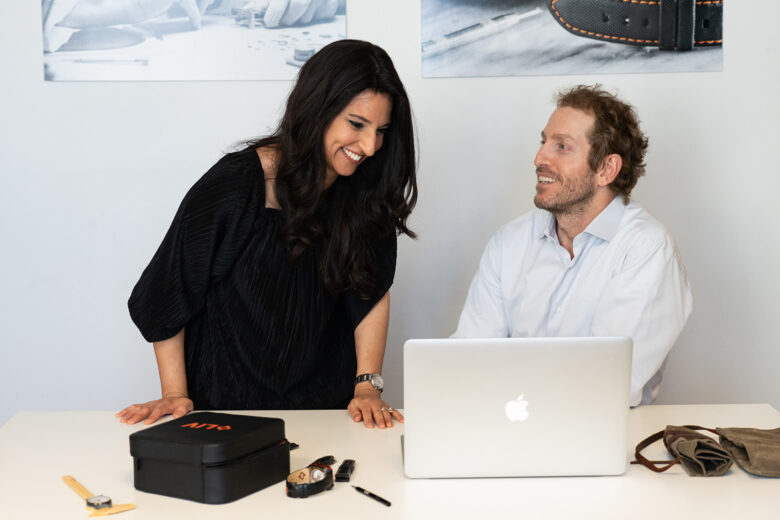 Luxe Digital: Why did you decide to launch your own brand after several years in corporate roles?
Esti and Chaz Chazanow: Many things came together for us in late 2013 that spurred the decision to start a watch brand. Primarily the advent of the smartphone and the ability to advertise directly to consumers through digital marketing. We realized we could go directly to an audience that normally would have been extremely costly and burdensome to reach.
Luxe Digital: Who is LIV Watches for? What are your customers seeking when buying watches from LIV Watches?
Esti and Chaz Chazanow: They first want a unique, quality watch that their buddies don't have. And as a boutique brand, we're constantly coming out with new limited-edition pieces. They also want Swiss quality and affordability. That's what they are looking for when they find us. And our business model enables us to meet this desire using materials, movements, craftsmanship, and quality equal in every respect to the legacy brands.
Our typical fans are independent-minded individuals who want a timepiece on their wrist that reinforces that image. They want watches that rival the best Swiss Made offerings from name brands with designs and colors you won't find anywhere else. They also want the watch to be durable enough to go with them on their adventures, from the office to the great outdoors.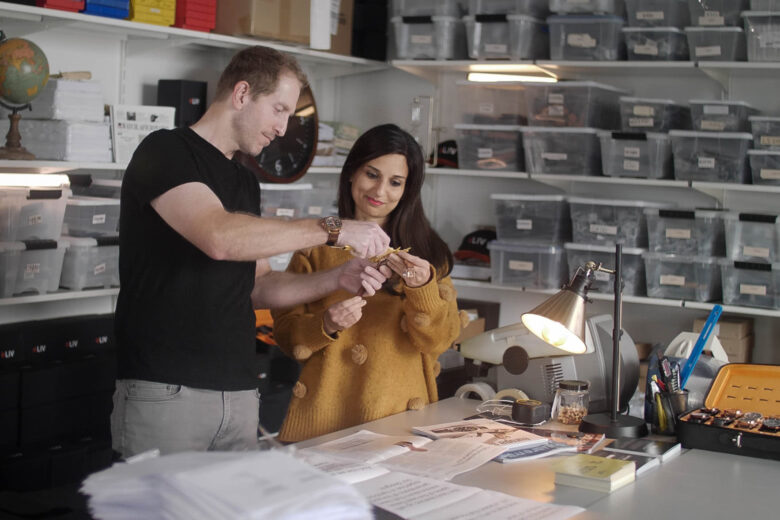 Luxe Digital: Any interesting stories to tell about a particular customer who loves your brand?
Esti and Chaz Chazanow: One of our fans co-owns a professional auto-racing series here in the US. He bought some of our watches for himself and loved the quality, design, and value so much that he encouraged all his friends to buy a LIV watch. And he took his enthusiasm for our watches to another level when he made us the official timepiece of his racing series, promoting our brand at live events and online. That kind of authentic endorsement is what our brand is all about. It's how we have grown at so rapid a rate so organically, literally through word of mouth.
Luxe Digital: LIV Watches focuses on designing bold and high-quality watches for modern men. How do you think men should build their essential wardrobe to accompany your watches?
Esti and Chaz Chazanow: This question is like the chicken or egg conundrum, i.e., which came first, the clothes or the watch? Our watches are bold and unique in a sea of bland, monotonous designs. Since we are a young brand, guys who like our watches for their uniqueness typically already have a wardrobe to match their self-image. Therefore, many of our fans buy a watch that echoes their wardrobe choices.
Then some want to shake up their look, starting with a statement timepiece. Here, we see men adding powerfully designed t-shirts and unique sweaters and sneakers to accompany their LIV Watch.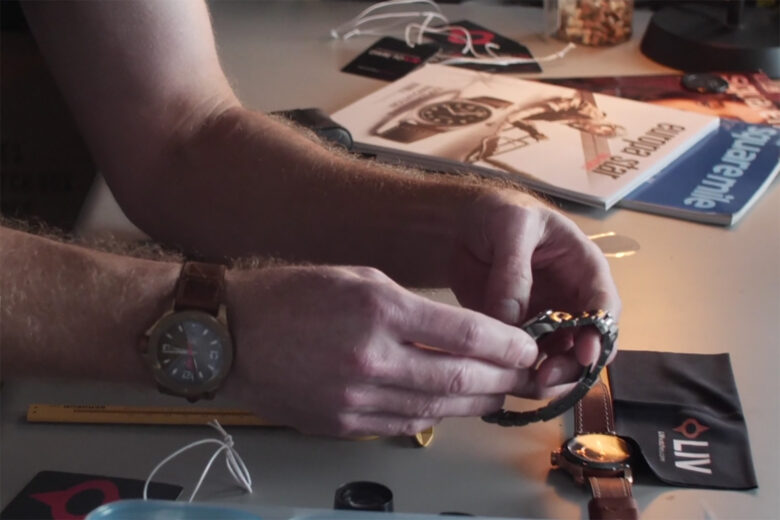 Luxe Digital: At Luxe Digital, we champion conscious, elevated living. How does LIV Watches embody this definition of luxury?
Esti and Chaz Chazanow: Step 1: Swiss Watchmakers – LIv Watches are handmade in the heart of Switzerland, where watchmaking traditions go back generations.
Step 2: Cases built to last – Our three-part cases are constructed from 316L stainless steel, high-grade titanium, or a bronze-titanium alloy; our watches are all constructed to be water-resistant up to 200 meters, and their screw-down crowns and case backs also contribute to their durability.
Step 3: Multilayered dials – Many LIV dials feature a four-layer sandwich construction dial with uniquely stenciled numbers that bring analog time to life.
Step 4: Super-LumiNova BGW9 – BGW9 luminescence is delicately applied by master watchmakers on the dials for ultimate clear visibility at night.
Step 5: Sapphire crystal – Scratch-resistant sapphire crystal interiors are carefully coated with an anti-reflective coating for optimal display.
Step 6: Accurate movements – Movements are sourced from leading Swiss makers like ETA and hand adjusted and tested for accuracy.
Step 7: Perfect placement – Movements are meticulously placed in cases to facilitate specific watch functions (chronograph, moonphase, etc.)
Step 8: Top quality leather – Straps are curated from the best French and Italian tanneries and are then handcrafted and individually stitched.
Step 9: Intricate testing: Painstaking inspections are completed for every watch to test for water resistance, condensation, and more.
Luxe Digital: What trends do you think will have the most impact on the luxury watch industry in the next 5 years?
Esti and Chaz Chazanow: A couple of things are shaping our industry today and will continue to do so over the next five years. Premium watch movements are in high demand, and supplies are very tight. We see this continuing. Fortunately for LIV, we have excellent relationships with key movement suppliers and have access to movements for our watches.
Online brands like LIV will continue to grow and change how people buy luxury timepieces. Online shopping was already popular when COVID made it the only option for many people. Websites and eCommerce apps make it easy to shop for a watch and buy it securely.
More and more boutique brands will enter the space, following the model we developed to some degree or another. It's like the craft beer movement, where hundreds of breweries have opened in the last 20 years as beer connoisseurs have sought alternatives to the uninspired brews of the major companies.
We see more women buying our watches for the same reason men do: value, quality, Swiss Made, and unique designs. The traditional "ladies" watch is too small and fragile for some women. Our 42 – 44 mm case sizes offer these potential fans a Goldilocks choice; not too small or too large, it's just right!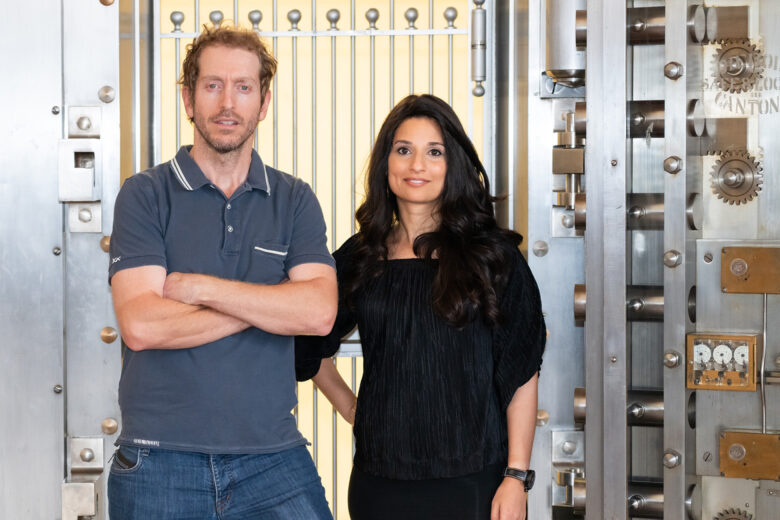 Luxe Digital: What does the future reserve for LIV Watches?
Esti and Chaz Chazanow: We are experimenting with new, lighter materials like dense carbon, and we are super excited about that. We have more new designs on the drafting boards and are excited to let our fans see them. We're looking into combining other cases, dials, bezels, and watch materials into new breakout LIV designs. We're also considering additional accessories that fit into the LIV lifestyle.
A few words that say a lot:
A book that influenced your life: Shoe Dog: A Memoir by the Creator of Nike, by Phil Knight
Luxury in one word: Exclusive
The future of digital in one word: Accessibility
If you were to only pick one color: LIV Signature Orange