With its complex engineering and obtuse lingo, the story of watchmaking can be dry and dense at times. But when Piaget comes on the scene, things start to get interesting.
This Swiss luxury watch brand is behind some of the most glamorous chapters in horological history. From creating some of the thinnest movements in the watchmaking world to the most dazzling and decadent pieces of haute joaillerie, Piaget doesn't make watches. This brand makes art—for your wrist.
At a glance
| | |
| --- | --- |
| | |
| Industry: Watches | Founded: 1874 |
| Headquarters: Switzerland | Founder: Georges-Édouard Piaget |
| Watch Collections: dress watches, sports watches, women's watches, and jewelry watches. | Parent organization: The Richemont Group |
| Annual Revenue: $287 million USD | Website: piaget.com |
Piaget watch prices
How much does a Piaget watch cost?
The starting price for a Piaget watch is $5,050 for a Possession timepiece in steel. Piaget watch prices for an entry-level Piaget Altiplano is $12,000. The cheapest Piaget Polo Date is $11,600. Meanwhile, the most expensive Piaget watches reach over $80,000.
What is the most expensive Piaget watch?
The most expensive Piaget watch is the Piaget Emperador Temple at $3.3 million. Featuring 481 brilliant-cut diamonds and 207 baguette-cut diamonds, plus a large emerald-cut diamond in the center, it also has a bracelet with 350 baguette-cut diamonds.
Check out our guide to the most expensive watches in the world to see how it compares.
What is the cheapest Piaget watch?
The cheapest Piaget watch is a Piaget Possession in steel which currently has a starting price of $5,050. The cheapest Piaget Altiplano is an Altiplano Origin at $12,000. You can pick up a Piaget Limelight Gala for $16,800 and the cheapest Piaget Polo is the Piaget Polo Date automatic with a starting price of $11,600.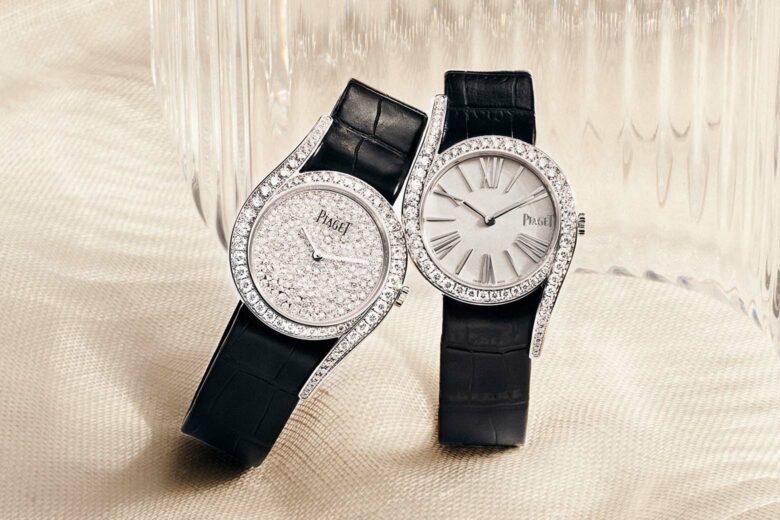 About Piaget
History of Piaget
Piaget was founded in 1874 by Georges-Édouard Piaget who built his watchmaking workshop on his family's farm in the Swiss canton of Neuchâtel. His high-precision watch movements were soon coveted by some of the biggest and most renowned watch brands.
In 1911, his son Timothée Piaget took over the business and continued to grow the watch company with a similar passion and enthusiasm for watchmaking. But it wasn't until 1943 that Piaget started making luxury watches under its own name.
In 1945, a new manufacture was built, which, by 1957, had established a reputation for highly accurate and ultra-thin movements. The first of these was a hand-wound movement equipped with the now legendary Calibre 9P and was only 2mm thick. The world's thinnest self-winding automatic movement, the Calibre 12P, was released three years later and was just 2.3mm thick.
Throughout the 1960s, Piaget continued to innovate and present the watchmaking world with ever more creative inventions. In 1979 came the iconic Piaget Polo watch, powered by an ultra-flat quartz caliber, and established the brand's enduring alliance with the sport.
The exceptionally popular Piaget Altiplano collection was launched in 1998 and in 1999 came the Piaget Emperador watch series.
Then, in 1998 the company was sold to The Richemont Group, which also owns prestigious watchmaking brands such as Jaeger-LeCoultre and IWC Schaffhausen. Despite the change in ownership, Piaget has remained true to its original business motto, "Always do better than necessary", creating outstanding luxury Swiss timepieces that are among the most desirable in the world.
Interesting facts about Piaget
Piaget is one of the oldest Swiss watch manufacturers.
Piaget's technical finesse helped with the restoration of the Torre dell Orologio clock in St. Marks Square in Venice.
In 1959, the first 'Salon Piaget' was launched where the brand exhibited its luxury jewelry as well as Piaget watches.
The brand's daring 21st Century Collection was a favorite among famous 20th-century actresses like Elizabeth Taylor and Sophia Loren as well as style icon Jackie Kennedy.
Wondering about Piaget pronunciation? It's said Pee A Jay ​[pja.ʒɛ]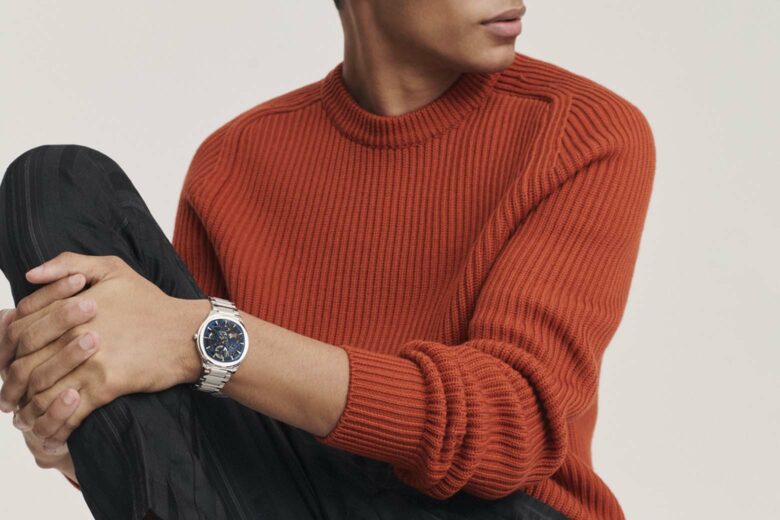 Piaget product range
Piaget makes watches for men and women. The Piaget product range can be divided into 3 categories.
First, there are the brand's sports watches: the iconic Piaget Polo, whose simple elegance also makes it black tie appropriate; and the covetable Altiplano with its innovative ultra-slim case.
Then there are Piaget's women's watches with the curvaceous Limelight Gala collection and the diamond-decked Possession quartz watches. You also have Piaget's jewelry watches, which are available with automatic, hand-wound, and quartz movements.
Finally, there are the brand's haute horlogerie and haute joaillerie collections, which include some of the most exclusive and complex Piaget watches from the 5 other main collections.
Signature materials and craftsmanship
Piaget is most famous for making ultra-thin watches and movements. In 2013, for example, Piaget created a hand-wound watch that was only 3.65 mm in height thanks to an integrated case construction where parts of the case also functioned as part of the movement.
Piaget also makes incredibly intricate and heavily-jeweled women's watches. It has ateliers in Geneva dedicated to goldsmithing and gem-setting and the brand is also an industry leader in using unusual natural stones to make dials, such as carnelian, lapis lazuli, jade, opal, meteorite, and mother-of-pearl. As a member of the Responsible Jewelry Council, Piaget promotes ethical and environmental practices throughout its gold and diamond supply chains.
Some of Piaget's most notable craftsmanship is in movement finishing where circular-graining, decorative perlage (grinding a series of tiny overlapping circles), and anglage (also known as chamfering), are all accomplished with impeccable results.
Dials feature ancient artisan techniques such as miniature marquetry, guilloché, enameling, engraving, micro mosaics, and miniature painting. You'll also find thermally-blued screws (heat-treated for durability and aesthetics), the Côtes de Genève motif on the watch bridges, and oscillating masses with the company's coat of arms.
There's also the brand's exclusive Décor Palace, which first appeared in the 1960s, involving engraved horizontal grooves of various depths and thicknesses on watch bracelets for a distinct texture that resembles raw silk.
Where is Piaget made?
The original Piaget workshop was in La Côte-aux-Fées in the Neuchâtel canton of Switzerland. Today the company has a manufacture in Plan-les-Ouates on the outskirts of Geneva where the assembly of Piaget watches takes place as well as the manufacture of cases and bracelets. However, the brand's movements are still made in La Côte-aux-Fées.
Brand values
| | |
| --- | --- |
| Vegan options: | No |
| Carbon-neutral: | No |
| Gives back: | Yes |
Piaget watches
Piaget Polo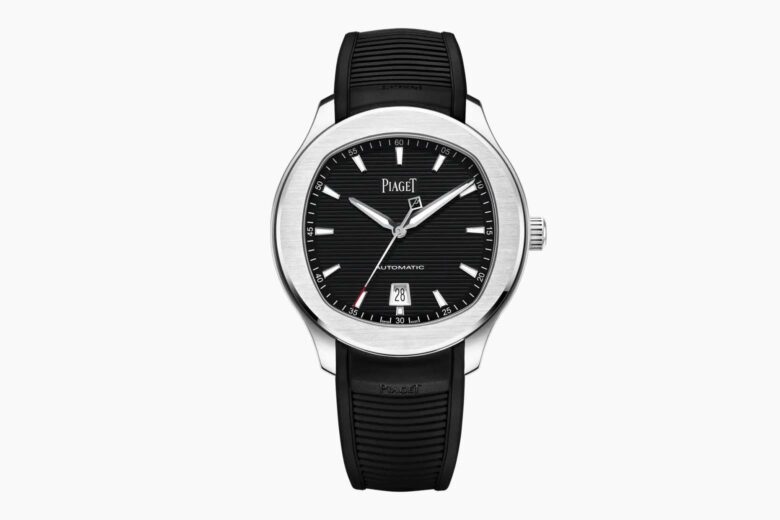 The Piaget Polo is one of the first Piaget watches to establish the brand's position as a top watch manufacturer. These luxury sports watches were inspired by the prestigious sport and its timeless elegance and playful spirit. The watch series has evolved since its first release in 1979 and today you'll find everything from the simple and streamlined Piaget Polo Date to the extravagant Piaget Polo Emperador Dual Time in white gold and decked in diamonds.
| | |
| --- | --- |
| Price: | $11,600 – $81,000+ |
| First release year: | 1979 |
| Current case size: | 36 mm – 42 mm |
| Movement: | Automatic |
| Water resistance: | 30 m – 100 m |
| Crystal: | Sapphire |
Limelight Gala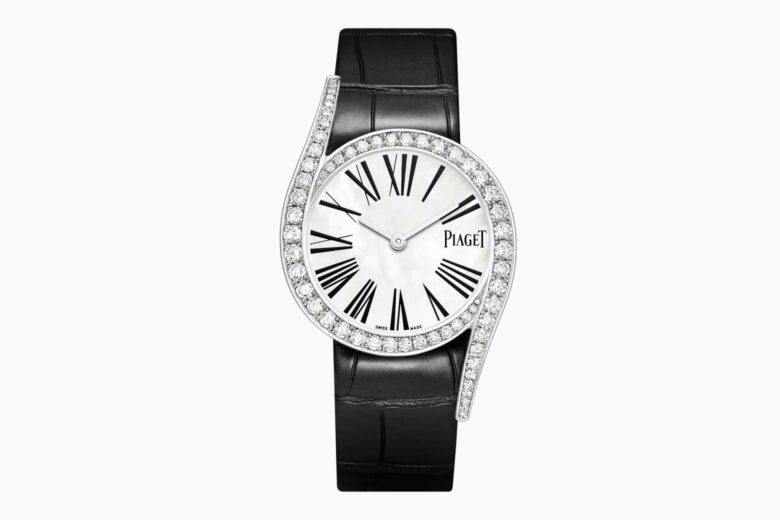 The exceptionally feminine Piaget Limelight Gala watch series is defined by the unique and compelling curves of its case. Effortlessly glamorous, these diamond watches for women are as much miniature works of art or ultra-functional pieces of luxury jewelry as they are timekeepers. Take your pick from refined 26 mm cases up to 32 mm and choose from a range of straps, from Milanese mesh to satin.
| | |
| --- | --- |
| Price: | $16,800 – $68,500+ |
| First release year: | 1970 |
| Current case size: | 26 mm – 32 mm |
| Movement: | Automatic, manual, and quartz |
| Water resistance: | 30 m |
| Crystal: | Sapphire |
Altiplano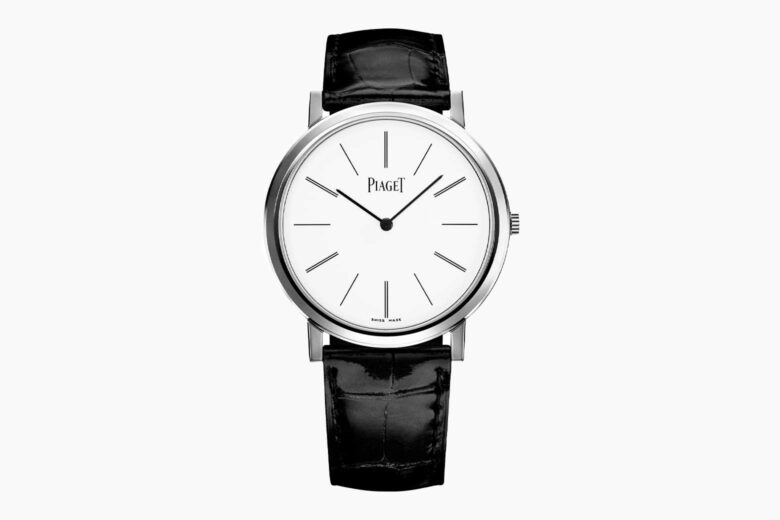 Arguably the timepiece that truly catapulted Piaget into the horological limelight, the Altiplano is instantly recognizable with its large dial and slim case. Available in a range of precious metals including rose and white gold or cobalt alloy, the most opulent Piaget Altiplano watches are skeletonized and dazzle with diamonds and precious gems. But you'll also find more subtly sophisticated models in a range of colors, including black, pink, and blue.
| | |
| --- | --- |
| Price: | $12,000 – $88,000+ |
| First release year: | 1998 |
| Current case size: | 19 mm to 42 mm |
| Movement: | Automatic, manual, and quartz |
| Water resistance: | 20 m – 30 m |
| Crystal: | Sapphire |
Possession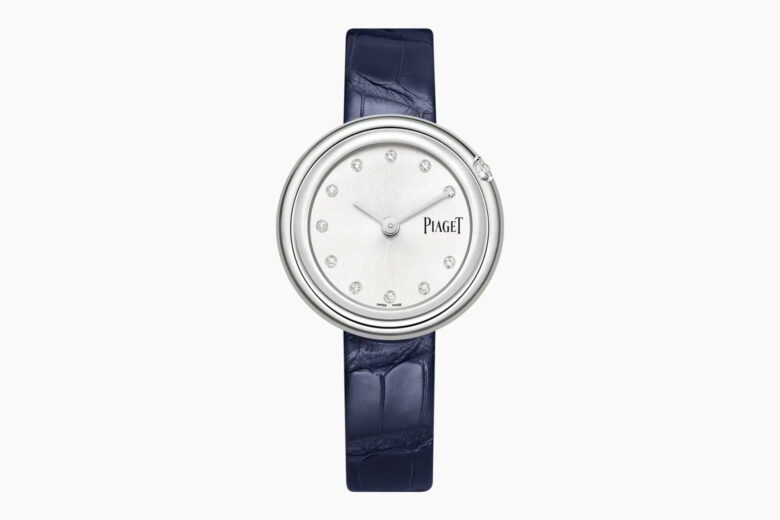 The Piaget Possession is an undeniable showstopper of a timepiece. These women's watches feature diamond-encrusted bezels that spin around a silvered dial. While the dial and case are fairly pared-back, the luxury lies in the combination of exquisite materials. Think malachite, turquoise, and white chalcedony. Of particular note is the Possession High Jewellery cuff watch with its 162 diamonds.
| | |
| --- | --- |
| Price: | $5,050 – $38,400 |
| First release year: | 1990 |
| Current case size: | 29 mm – 34 mm |
| Movement: | Quartz |
| Water resistance: | 30 m |
| Crystal: | Sapphire |
Jewelry watches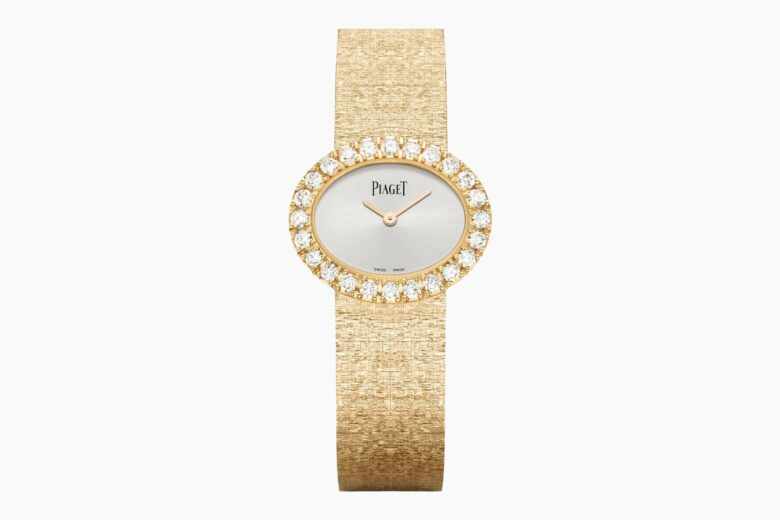 In this collection, you'll find Piaget watches in a range of colors and designs, with cases that vary from cushion-shaped to inverted tonneaus or ovals. There are plenty of diamonds and gemstones but also impressive functionality in the form of meticulously crafted moon phases and the brand's superbly high-quality movements visible through sapphire-case backs.
| | |
| --- | --- |
| Price: | $25,700 – $62,500 |
| First release year: | 1959 |
| Current case size: | 27 mm – 45 mm |
| Movement: | Automatic, manual, and quartz |
| Water resistance: | 30 m |
| Crystal: | Sapphire |
High-watchmaking watches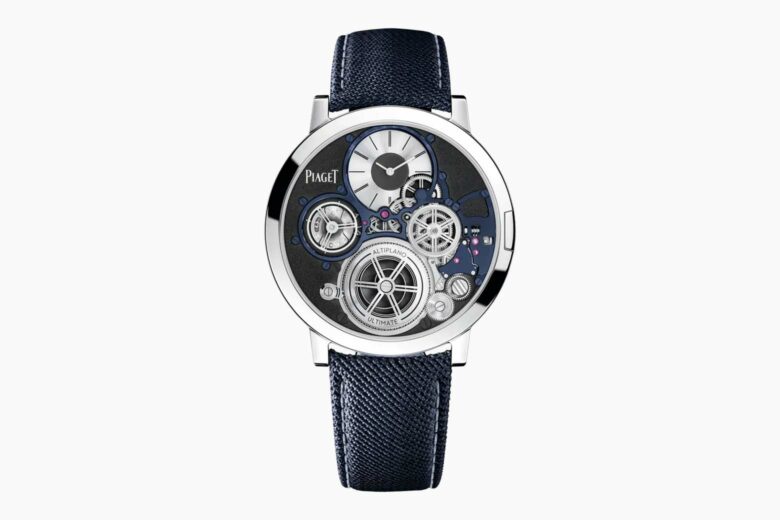 This haute horlogerie collection represents the pinnacle of Piaget's watchmaking prowess. With potent aesthetics and world-renowned performance, these timepieces are precise, prestigious, and exceptionally impressive. Expect minute repeaters, flying tourbillons, skeleton movements, as well as, of course, the brand's signature ultra-thin calibers, along with ground-breaking dial designs and sumptuous materials.
| | |
| --- | --- |
| Price: | $61,500 – $78,500 |
| Current case size: | 38 mm – 49 mm |
| Movement: | Automatic and manual |
| Water resistance: | 20 m – 30 m |
| Crystal: | Sapphire |
High jewelry watches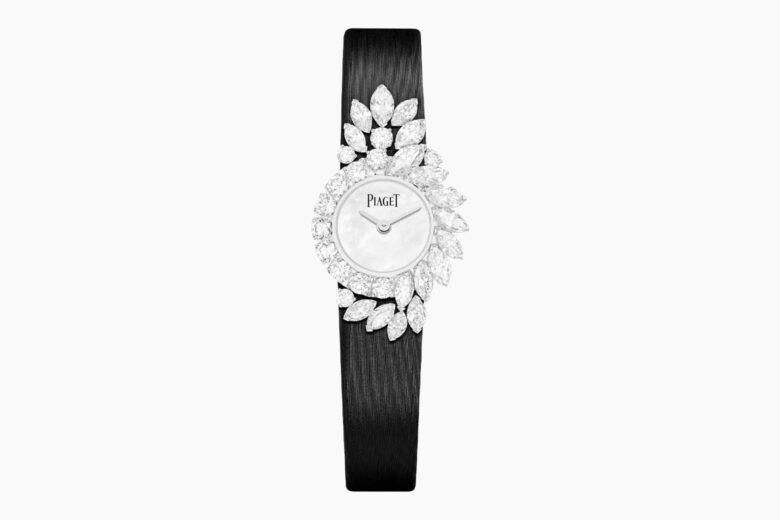 A meeting place for Piaget's flair for jewelry-crafting and watch manufacturing genius—a marriage between haute horlogerie and haute joaillerie—this collection does it all. These are the watches you'd expect to see on the wrists of the brand's most exclusive clients. In 2005, for example, Piaget was the first to put a skeleton movement with diamonds in a high-jewelry luxury watch—one that also featured a flying tourbillon, one of watchmaking's most challenging complications.
| | |
| --- | --- |
| Price: | $71,500 – $87,000 |
| Current case size: | 18 mm – 49 mm |
| Movement: | Automatic, manual, and quartz |
| Water resistance: | 30 m |
| Crystal: | Sapphire |
Where to buy Piaget watches
You can buy a Piaget watch online from the brand's website or from one of the company boutiques. You could also buy a Piaget watch from a trusted online retailer such as FARFETCH, Mr Porter, or Bob's Watches, where the authenticity of the timepiece is guaranteed.
For more about buying a luxury watch, see our watch guide.
Piaget shipping
Piaget offers complimentary shipping on all Piaget watch orders and delivery takes an estimated 4 to 6 business days. Piaget offers shipping within the US and to many European countries. If you buy your Piaget watch from Bob's Watches, delivery is $150, and Mr Porter and FARFETCH charge different rates depending on the country.
Piaget return policy
Purchases made online can be returned or exchanged within 30 days. Return your Piaget watch online or via telephone, free of charge. Simply contact the Client Relation Service and you will be refunded 2-3 days after they receive your returned watch. If your watch has been customized in any way, you will not be able to return it.
FARFETCH accepts returns within 14 days for a full refund and Mr Porter allows returns within 28 days.
Piaget customer service number
You can order a watch or receive personalized help from a Piaget ambassador if you call +1-877-874-2438.
Piaget social media profiles
Frequently asked questions about Piaget watches