As the race toward creating the world's most popular electric car heats up, plenty of notable names charge forward. NIO cars and SUVs fuse offer a luxury-filled experience on high-performance platforms.
But what sets NIO electric vehicles apart from the crowd is the replaceable battery design. Forget about charge time or battery degradation, and step into a world of worry-free battery swapping.
At a glance
| | |
| --- | --- |
| | |
| Name: NIO | Industry: Automotive |
| Founded: 2014 | Founder: William Li |
| Headquarters: China | Parent organization: NIO Inc. |
| Revenue: $7.14 billion USD | Website: nio.com |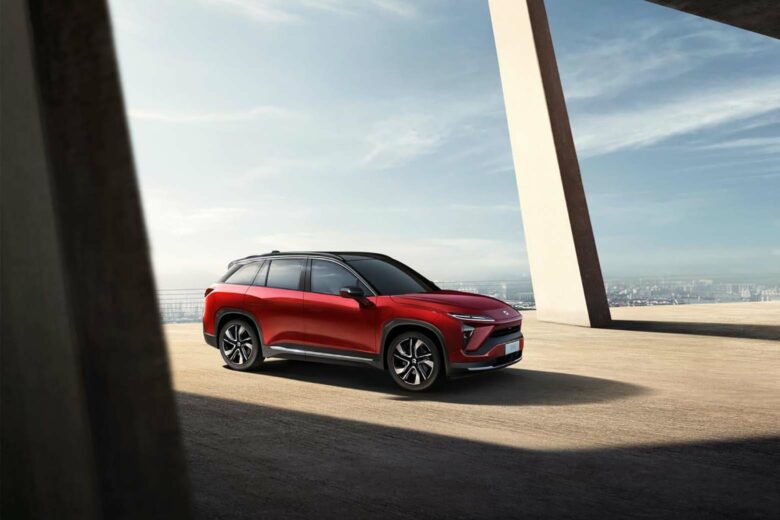 NIO price
How much does a NIO cost?
Every NIO car features a powerful electric drivetrain paired with a luxurious cabin and sophisticated styling. With all of these characteristics, it's no surprise to find that NIO car prices are comparable to many of the best electric cars.
While they're not yet available in the United States, the NIO cars starting price based on other markets is the equivalent of around $46,100 for the NIO ET5 electric sedan. The NIO EC6 price is another moderately-priced model at $52,400 starting.
Other NIO car prices stretch into the upper $60,000 range for the base model. When well-equipped, the electric NIO models can sell for over $70,000.
What is the most expensive NIO?
Not all NIO models are the same, especially when you're talking about the single most expensive NIO car. The luxury brand's first creation was a hypercar with over 1,300 horsepower and exotic styling. And the NIO EP9 price is just as awe-inspiring, starting at $1.48 million.
Thankfully, most NIO models are much more moderately priced. You don't have to have the pockets for Rolls-Royce, Bentley, or Bugatti prices to get a NIO in your driveway.
The NIO ES8 price is the most expensive for mass-produced models, starting at $75,500 for this stylish SUV. The sleek NIO EC7 crossover SUV is another high-priced NIO car, starting at $70,600.
How much is the cheapest NIO?
If you want to save your money for other purchases, the cheapest NIO car only sets you back $46,100. That is the starting price for the NIO ET5 sedan, which has nearly 500 horsepower and a maximum range of up to 621 miles (1,000 km).
The NIO EC6 price is also relatively reasonable, starting at $52,400 for the five-seater sportback SUV. If you prefer the regular crossover SUV body style, the ES6 NIO SUV price starts at a slightly higher $55,800.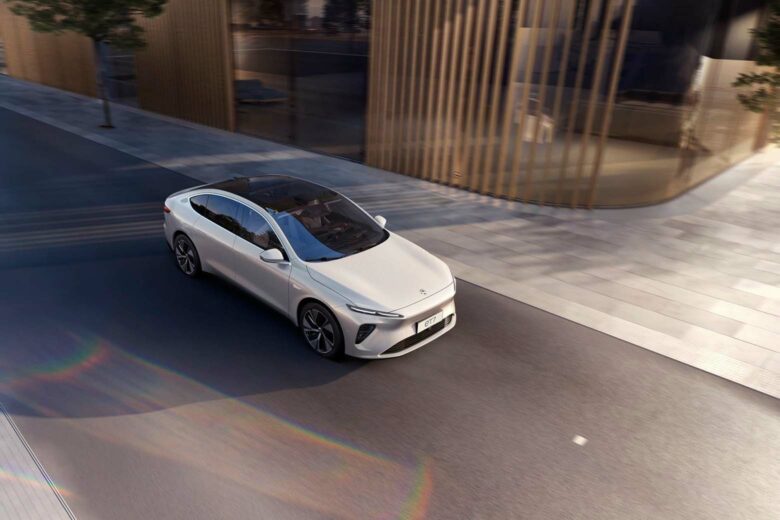 About NIO
History of NIO
Li Bin (William Li in English) first found success with Bitauto, an internet platform focused on automotive services and news. Then in 2014, Mr. Li founded NextEV Inc., the company that would eventually turn into NIO.
The brand was also known as Shanghai Weilai Automobile. Weilai translates the blue sky coming, a guiding philosophy of NIO cars, focused on building a brighter future through sustainable technology.
NextEV started with a bang by sponsoring a Formula E racing team with Nelson Piquet Jr. behind the wheel taking the 2014-2015 championship title.
This race experience led to the rapid development of the 2016 NIO EP9 hypercar with 1 mW of power (1,341 hp). This stunning example took the world by storm, securing many production car lap records at the most demanding tracks.
NIO continued forward with its production line by stepping into the large SUV segment with the NIO ES8. It was the first to showcase the luxury brand's ability to appease a wider range of buyers, but it would be far from the last.
Since this start, NIO has introduced an entire lineup of electric cars and SUVs. There are two NIO sedans and five NIO SUVs currently for sale, all with the characteristic ability to rapidly swap out the battery packs.
NIO stock went public in 2018 on the NYSE, and since then, the NIO share price has had dramatic swings in both directions.
The company is based in China and has primarily focused on its domestic sales. But more recently, it has started to expand to other countries. NIO cars are now sold in various European markets and intend to start sales in the United States by 2025.
Understanding NIO car range
NIO cars follow a naming convention that is straightforward and helps make understanding their car range easy.
All NIO car and SUV model names start with E, which stands for electric, and end with a single-digit number. The higher the number, the larger and more luxurious the vehicle.
This middle number represents the body style. S stands for SUV, C for coupe SUV (crossover SUV with a sloping rear roofline), and T for the sedan types.
Interesting facts about NIO
All NIO electric cars have one incredible feature that makes them stand out in the world of EVs. Like some of the best electric motorcycles, you can rapidly swap out the NIO car and SUV battery packs.
Instead of hanging out around charging stations, you can have your near-empty battery pack replaced with a fully-charged unit in less than five minutes.
Battery degradation is another concern plaguing the EV industry. By creating this shared battery ecosystem, NIO car owners can forget these concerns and let the company take care of battery conditions.
Where is NIO made?
NIO has worldwide headquarters located in Shanghai, China, and manufacturing facilities in Hefei and Nanjing, China. But NIO has operations spread throughout the world.
The San Jose, California, USA office handles its research and development for intelligent driving, while NIO's global design center is located in Munich, Germany.
NIO electric cars
All NIO cars and SUVs are fully powered by an electric drivetrain. The company is relentlessly focused on pushing for a more sustainable transportation industry, all while staying committed to high-performance vehicles with luxurious amenities.
NIO models
Let's dive into the details of the NIO cars and SUV list.
NIO EP9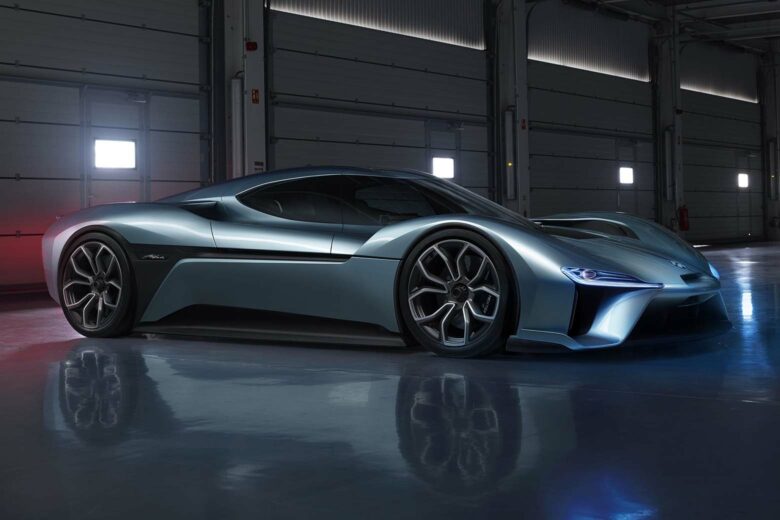 The first NIO electric car hit the ground running. This electric hypercar boasts four electric motors dishing out 1 mW (1,341 horsepower) combined. The nearly $1.5 million starting price puts them in the same league as the most expensive cars in the world.
The NIO EP9 set new lap records at some of the most elite tracks on the globe, including Germany's Nürburgring, France's Circuit Paul Ricard, and the US's Circuit of the Americas.
The hypercar performance is impressive, but looking at metrics like the fastest car by top speed, the EP9 doesn't live up to those set by Koenigsegg and Pagani.
| | |
| --- | --- |
| Price: | Starting at $1.48 million |
| Release year: | 2016 |
| Engine: | Four electric motors |
| Top speed: | 124 mph – 200 km/h |
| 0-60 mph: | 2.7 sec |
| Power: | 1,341 hp |
| Torque: | 1,091 lb-ft |
| Range: | 265 miles – 426 km |
NIO ET7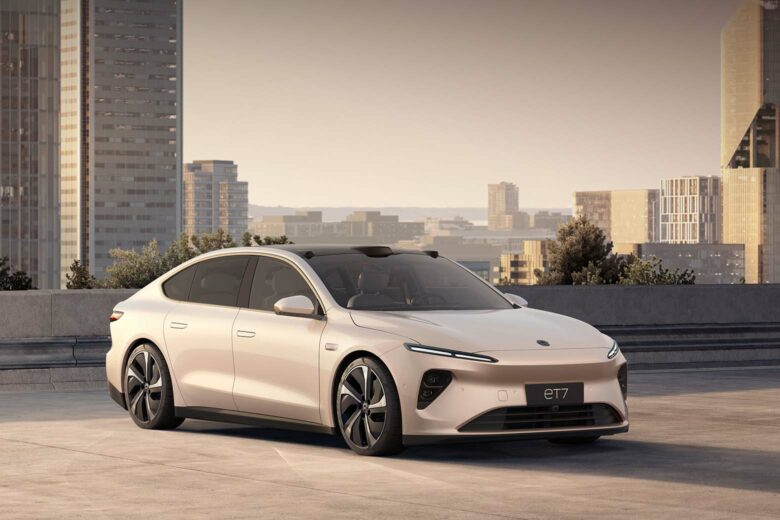 The luxury executive sedan segment is no stranger to incredible electric cars. But even when compared to the Tesla Model S and Lucid Air, the NIO ET7 price cannot be ignored.
It comes with a class-leading wheelbase and width, providing a more spacious interior for all occupants. The minimalist design fuses modern touches with incredible technology, such as invisible smart air vents and plentiful sensors for autonomous driving.
The NIO ET7 with an available 150 kW battery pack also happens to have one of the longest single-charge ranges for any EV. Under NEDC testing, it is rated at a whopping 621 miles (1,000 km).
| | |
| --- | --- |
| Price: | Starting at ~$66,600 |
| Release year: | 2022 |
| Engine: | Two electric motors |
| Top speed: | 124 mph – 200 km/h |
| 0-60 mph: | 3.8 sec |
| Power: | 644 hp |
| Torque: | 627 lb-ft |
| Range: | 621 miles – 1,000 km |
NIO ET5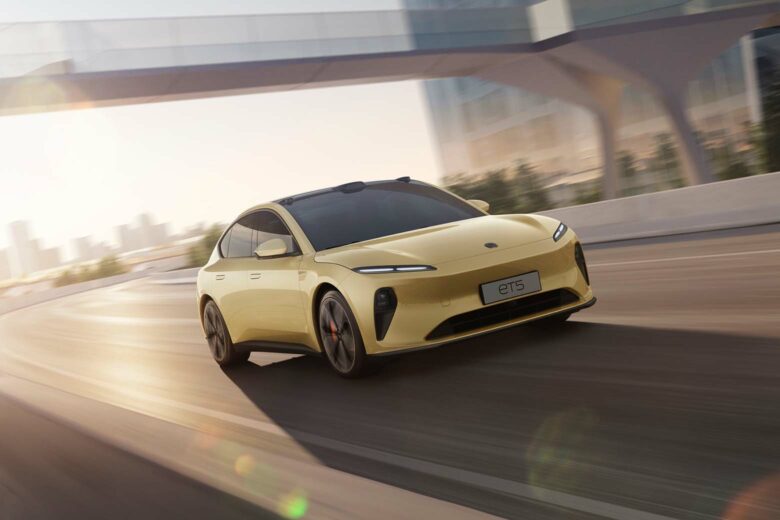 Although hypercars and executive sedans tend to steal the spotlight, the NIO ET5 mid-size sedan is the practical model that you're more likely to spot around the world. It keeps up the style with a fastback silhouette and still delivers a powerful punch.
When compared to electric car rivals like the Polestar 2 and more upscale BMW i4, the ET5 again goes above and beyond with the available 150 kW battery pack.
Not only is NIO eliminating single-charge range anxiety, but the available rapid battery swap lets you also eliminate concerns about recharging on the road and battery degradation. Other revolutionary luxury brands like Faraday Future, Rivian, and Karma can't say the same.
| | |
| --- | --- |
| Price: | Starting at ~$46,100 |
| Release year: | 2022 |
| Engine: | Two electric motors |
| Top speed: | 124 mph – 200 km/h |
| 0-60 mph: | 4.1 sec |
| Power: | 483 hp |
| Torque: | 516 lb-ft |
| Range: | 621 miles – 1,000 km |
NIO ES8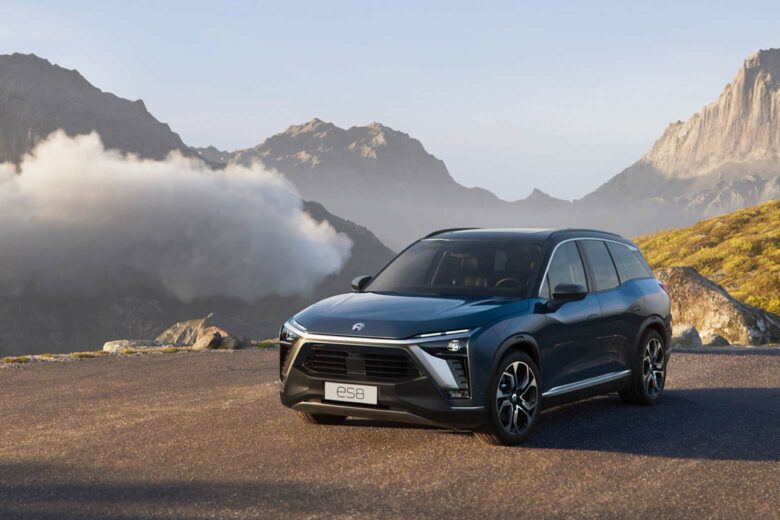 When your life demands more capability and capacity, the NIO ES8 is there to deliver. Now in its second-generation design, this 6-seater SUV offers a sleek exterior that draws your eye to a powerful platform with a luxurious interior.
By focusing on exquisite materials and sophisticated details, the ES8 car leaves excess behind. The minimalist front displays and comfort-focused seats are a purist's dream, allowing you to focus on the road ahead and the more important things in life.
Although it's not yet on our list of the best luxury SUVs, it does extremely well in comparison to those like the Volvo EX90, Mercedes-Benz EQE, and Genesis GV70.
| | |
| --- | --- |
| Price: | Starting at ~$75,500 |
| Release year: | 2018 |
| Engine: | Two electric motors |
| Top speed: | 124 mph – 200 km/h |
| 0-60 mph: | 4.1 sec |
| Power: | 644 hp |
| Torque: | 627 lb-ft |
| Range: | 559 miles – 900 km |
NIO ES7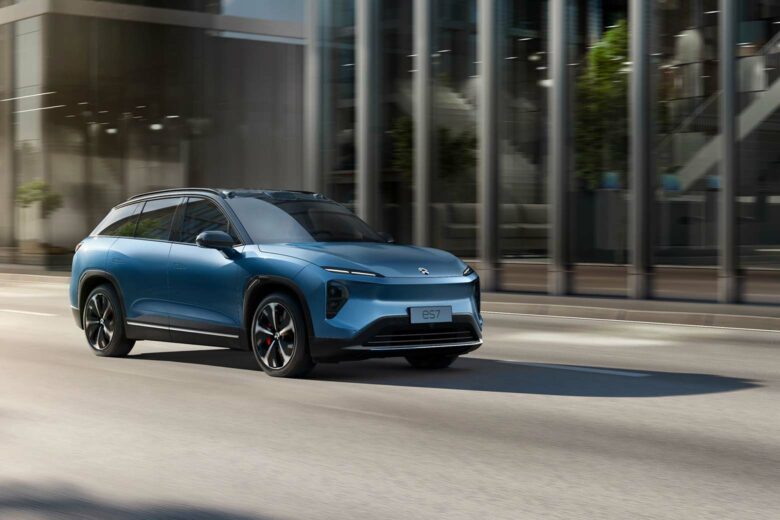 With a low drag coefficient, all-wheel drive standard, and a completely aluminum body and chassis, the NIO ES7 brings a lot to the table. It also has the same battery-swapping capabilities as the other NIO electric cars, alleviating many EV concerns.
In Europe, the same model is sold as the NIO EL7, and while it's not quite as capable as the Range Rover Evoque or as jaw-dropping as the Aston Martin DBX, it's an excellent choice for more practical purposes.
The ES7 is also a great choice if you have a camping trailer to haul with up to 4,440 lbs. (2,000 kg) capacity. And it supports vehicle-to-load (V2L) discharging to power your devices while off the grid.
| | |
| --- | --- |
| Price: | Starting at ~$69,700 |
| Release year: | 2022 |
| Engine: | Two electric motors |
| Top speed: | 124 mph – 200 km/h |
| 0-60 mph: | 3.9 sec |
| Power: | 644 hp |
| Torque: | 627 lb-ft |
| Range: | 578 miles – 930 km |
NIO ES6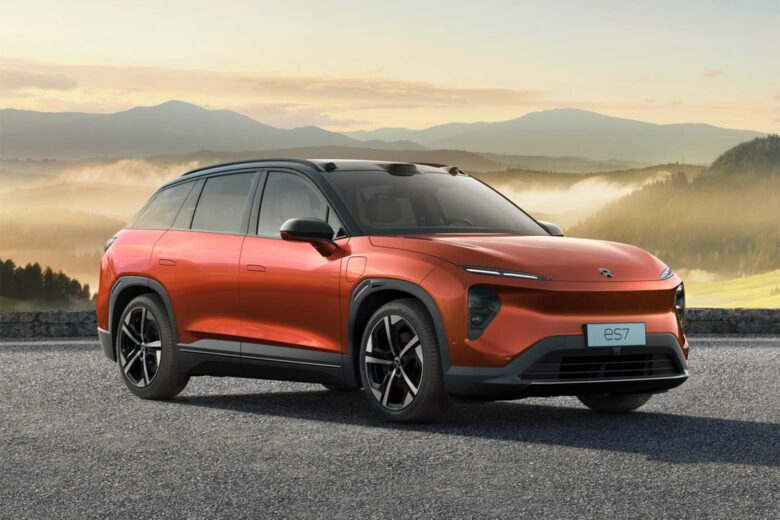 Filling out the NIO electric SUV lineup, the ES6 comes in on the more compact side of the scale but still delivers big. Now featuring a second-generation update on the NT 2.0 platform, this luxury SUV easily handles tight city streets while also tackling slick conditions.
The two electric motors bring in the best of two worlds, a high-performance sensor motor for performance with a permanent magnet motor for endurance.
The NIO ES6 price is another attractive feature, matching up well compared to the Jaguar I-Pace and Audi Q4 e-tron.
| | |
| --- | --- |
| Price: | Starting at ~$55,800 |
| Release year: | 2019 |
| Engine: | Two electric motors |
| Top speed: | 124 mph – 200 km/h |
| 0-60 mph: | 4.7 sec |
| Power: | 544 hp |
| Torque: | 535 lb-ft |
| Range: | 559 miles – 900 km |
NIO EC7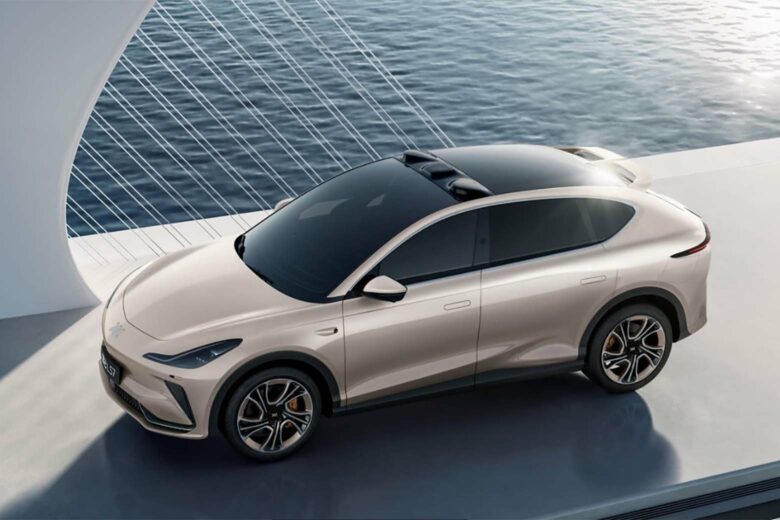 When you want the cabin space of an SUV but the sleek design of a sportback coupe, the NIO EC7 hits the target dead-center. It's a stunning example of striking proportions with spacious seating for five.
The active rear spoiler provides aerodynamic flow for efficiency, but when sport mode is engaged, it ramps up the downforce so you can cut through the canyons.
The EC7 holds up well against other slick designs like the practical Lexus NX, the sporty Porsche Macan, and even the fanciful Lamborghini Urus.
| | |
| --- | --- |
| Price: | Starting at ~$70,600 |
| Release year: | 2023 |
| Engine: | Two electric motors |
| Top speed: | 124 mph – 200 km/h |
| 0-60 mph: | 3.8 sec |
| Power: | 653 hp |
| Torque: | 627 lb-ft |
| Range: | 584 miles – 940 km |
NIO EC6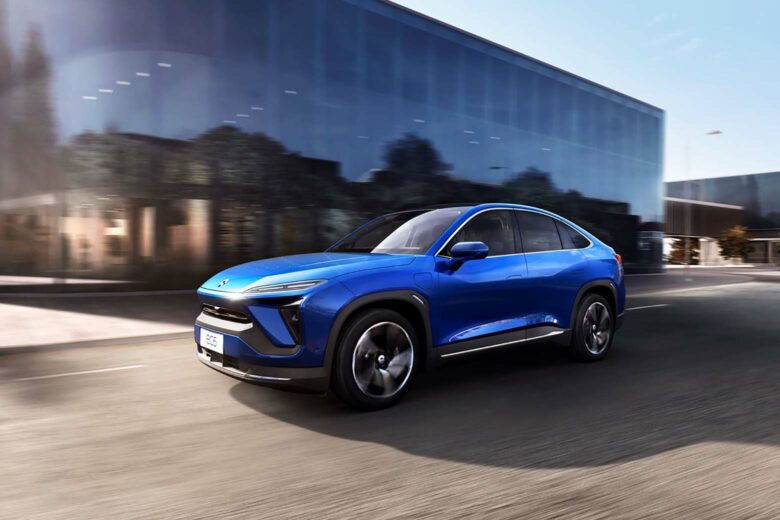 With the largest panoramic sunroof in its class, the NIO EC6 sportback crossover SUV lets in the sunshine. Yet with its superior lamination, it keeps out over 99.9% of harmful UV rays and 83% of heat, giving you the best of both worlds.
The athletic body slices through the air as you roll down the road in style. And the interior steps up to another level, with available multi-tone upholstery schemes and innovative Haptex-covered seats that are not only breathable, they're also eco-conscious.
Despite the style-forward look, the NIO EC6 electric SUV can still handle life's needs. The rear seat folds flat to provide ample cargo space, unleashing you into a world of adventures.
| | |
| --- | --- |
| Price: | Starting at ~$52,400 |
| Release year: | 2020 |
| Engine: | Two electric motors |
| Top speed: | 124 mph – 200 km/h |
| 0-60 mph: | 4.5 sec |
| Power: | 544 hp |
| Torque: | 535 lb-ft |
| Range: | 566 miles – 910 km |
NIO customer service number
You can visit the NIO Contact Us page to view the available customer service options.
While it's challenging to find a NIO customer service number, you can try calling their corporate office locations at +1-408-518-7000 for the United States, +47-916-68-678 for Norway, and +86-216-908-3306 for China.
NIO social media profiles
Stay up to date with the latest news and events by following the official NIO social media profiles:
Frequently asked questions about NIO
How much does a NIO car cost?
If you're wondering how much does a NIO car cost, the NIO ET5 price starts at around $46,100 as the lowest-priced model. The full-size SUV NIO ES8 price starts near $75,500 as the most expensive NIO car, except the $1.48 million NIO EP9 hypercar.
Can I buy a NIO car in the US?
If you want to buy a NIO car in the US, you'll need to wait a little longer. The China-based luxury EV brand is expanding and they expect to start selling NIO cars in the United States by 2025. NIO cars are already available in select European markets.
Is NIO a good car to buy?
NIO cars are known as good cars to buy. They have high customer satisfaction ratings as high-performance EV models with sleek styles. NIO electric cars also remove any concerns about battery degradation due to the swappable design.
What is the range of a NIO car?
The range of NIO cars is one of the best in the industry thanks to the newly-released 150 kW battery packs. Based on NEDC testing, all NIO models can drive a minimum of 559 miles (900 km) on a single charge. Some are rated at up to 621 miles (1,000 km).