For Maurice Lacroix, one of the few luxury Swiss watchmakers to remain privately owned, self-sufficiency is an intrinsic part of its identity. You won't find Maurice Lacroix watches making horology headlines. But this underrated brand has no need for public praise and accolades.
Instead, Maurice Lacroix quietly goes about its business making its own impeccable in-house movements and cases, all for the delight of those lucky wearers smart enough to recognize an excellent deal when they see one. Because did we mention Maurice Lacroix watches are surprisingly affordable too?
At a glance
| | |
| --- | --- |
| | |
| Industry: Watches | Founded: 1975 |
| Headquarters: Switzerland | Founder: Desco von Schulthess |
| Watch Collections: sports watches, dress watches, and women's watches | Parent organization: Privately owned |
| Annual Revenue: $37 million USD | Website: mauricelacroix.com |
Maurice Lacroix watch price
How much does a Maurice Lacroix watch cost?
Maurice Lacroix watch prices begin at $1,000 for a Maurice Lacroix AIKON. Maurice Lacroix watch prices for a Maurice Lacroix Pontos start at $1,750. At the other end of the spectrum, some Maurice Lacroix watches reach over $10,000.
What is the most expensive Maurice Lacroix watch?
The most expensive Maurice Lacroix watch is the Roue Carrée Seconde at $29,000. Part of the brand's flagship Masterpiece collection, it features a square-shaped gear wheel mounted on the dial and a rose gold case. There are only 88 pieces available in total.
See how this compares to the world's most expensive watches.
What is the cheapest Maurice Lacroix watch?
The cheapest Maurice Lacroix watch is a Maurice Lacroix AIKON #Tide, currently retailing for $750. You can also pick up a Maurice Lacroix AIKON quartz for $1,000 or an AIKON Automatic for $1,850. Maurice Lacroix watch prices for a Maurice Lacroix Masterpiece start at $5,800.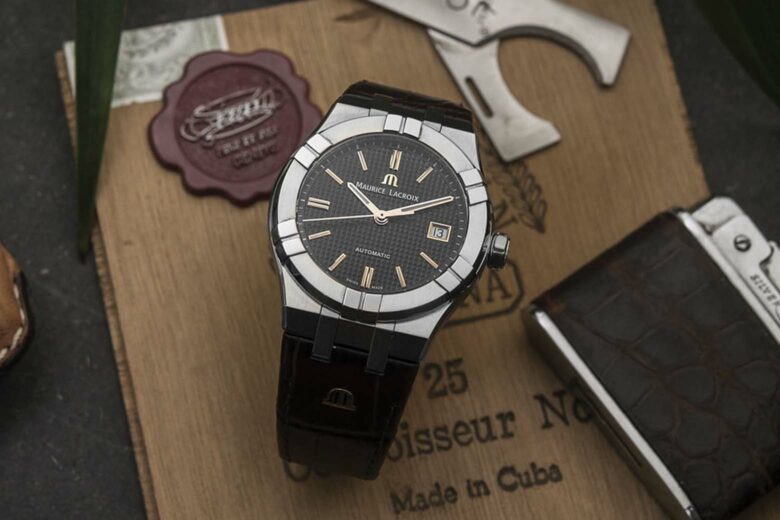 About Maurice Lacroix
History of Maurice Lacroix
Maurice Lacroix was founded in 1975, making it fairly young by watchmaking standards. However, the origins of Maurice Lacroix can be traced back to 1889 when Maurice Lacroix's parent company, Desco von Schulthess, was founded.
Originally a business trading silk in Zurich, Desco began to venture into the luxury Swiss watch market in the 1940s, producing watches for third parties. Tiara, an assembly facility in Saignelégier, was purchased in 1961. This became the home of Maurice Lacroix, which launched its first watch in Austria in 1975.
In 1990, Maurice Lacroix released its first collection, known as the Calypso. In 1992 came the Masterpiece Cinq Aiguilles. This is when other high-end Swiss watchmakers first started to sit up and take note.
In 2003, the brand created the Masterpiece Double Rétrograde, developed entirely in-house. Two years later came the Masterpiece Lune Rétrograde, featuring two different complications. These innovations established the company's position among the top luxury Swiss watch brands.
During the 1980s, Maurice Lacroix's stopped production for third parties and focused exclusively on its own offerings. In 1989, the company acquired the case maker, Queloz S.A.
In 2006, Maurice Lacroix launched its first in-house mechanical caliber ML-106, a hand-wound chronograph. Two years later came the Maurice Lacroix Memoire 1, arguably one of the most complicated watches ever made with a movement assembled from 604 different parts and a memory function never before seen on a mechanical watch.
In 2014, the brand launched the Masterpiece Gravity with an in-house silicon escapement and oversized balance wheel. The Maurice Lacroix AIKON collection was launched in 2016, reinvigoration the Calypso line from 1990.
Today, Maurice Lacroix supplies watches to around 3,300 retail shops around the world. It's known for its accessible prices and commitment to Swiss watchmaking traditions.
Interesting facts about Maurice Lacroix
Musician Bob Geldof and tennis player Roger Federer are some of the celebrities that have endorsed Maurice Lacroix watches over the years.
Maurice Lacroix is an official partner for FC Barcelona as well as the Red Bull Cliff Diving World Series.
The brand is known for being relatively affordable by men's luxury watch standards, with prices that start at around $1,000.
The Maurice Lacroix Memoire 1 was the first mechanical watch to feature a memory function, allowing the user to switch back and forth between the chronograph mode and the conventional time-telling mode without losing the information provided by either.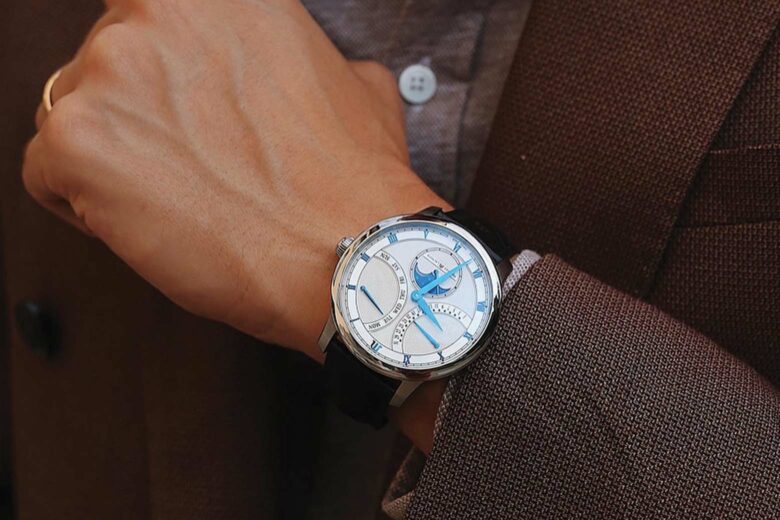 Maurice Lacroix product range
Maurice Lacroix's range of watches can be roughly grouped into three categories.
First, you have the brand's collection of high-end complications, known as the Maurice Lacroix Masterpiece watch series. Here you'll find the brand's in-house movements, including the ML Maurice Lacroix Masterpiece Mysterious Seconds.
Next, you have the brand's range of sports watches: the iconic AIKON Automatic collection, the AIKON quartz collection, the AIKON #tide collection of sustainable watches made from recycled plastic, as well as the Maurice Lacroix Pontos collection, featuring timepieces that could also be worn with formal wear.
Then you have the company's dress watches with the Maurice Lacroix Eliros collection, minimalist and elegant, and the Maurice Lacroix Fiaba series, very wearable at only 32 mm.
Signature materials and craftsmanship
Maurice Lacroix watches build on more than 40 years of technical know-how, skillful craftsmanship, industrial expertise, and a commitment to quality. The watch brand is defined by its talent for combining traditional techniques and old-school Swiss watchmaking values with contemporary aesthetic flair and technology.
Maurice Lacroix currently makes fourteen movements in-house. Known as the Masterpiece movements, they include the ML 106 integrated chronograph, the ML 150 retrograde calendar, and the ML 215 mysterious seconds movement, where the seconds' hand seems to float around a large sub-dial with no fixed central point. They are assembled either entirely by hand or on semi-automatic production lines. 
Cases are made from a range of materials that include tantalum, palladium, titanium, and titanium alloys, as well as more conventional steel, gold, and platinum.
Maurice Lacroix's signature style is minimal and graphic while still having timeless elegance. In 2022, the brand launched its innovative AIKON #tide collection, featuring quartz watches in collaboration with #tide, an organization that makes upcycled composites from ocean-bound plastic waste.
Where is Maurice Lacroix made?
Maurice Lacroix watches are made at the company's cutting-edge workshops in Saignelegier in the Swiss Jura mountains. There is Maurice Lacroix S.A., which develops the brand's movements and carries out all the finishing, assembly, and casing up. The Manufacture des Franches Montagnes produces the components for these movements. Meanwhile, the watch cases come from Queloz.
Brand values
| | |
| --- | --- |
| Vegan options: | Yes |
| Carbon-neutral: | No |
| Gives back: | Yes |
Maurice Lacroix watches
We've shortlisted the most popular Maurice Lacroix watch models to help you understand the luxury watch's large collection and the recommended retail prices of each model.
Maurice Lacroix Masterpiece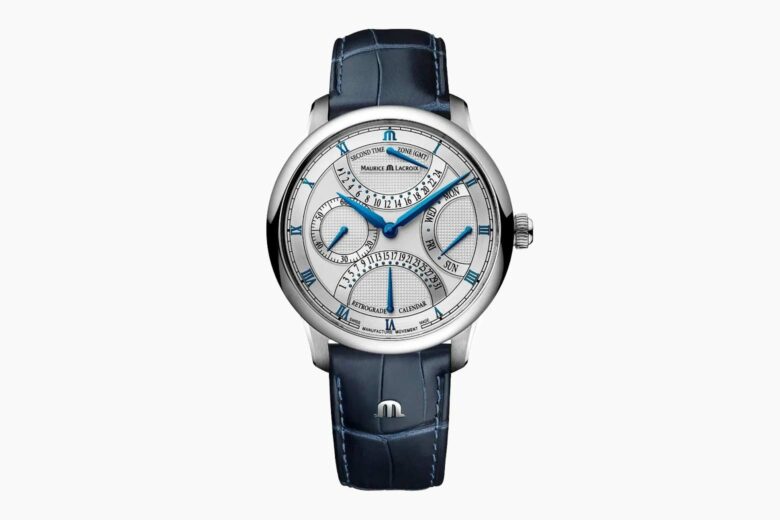 This is the brand's best-known collection and is described as a synthesis of Maurice Lacroix's watchmaking savoir-faire. This watch series is a stage on which the company is able to demonstrate its capacity to craft a range of complications, including retrograde displays and innovative features like a full silicone assortment. Given the technical know-how that has gone into these masterpieces, the price is relatively reasonable.
| | |
| --- | --- |
| Price: | $5,800 – $10,500 |
| First release year: | 1990 |
| Current case size: | 40 mm – 43 mm |
| Movement: | Automatic |
| Water resistance: | 50 m – 100 m |
| Crystal: | Sapphire |
Maurice Lacroix AIKON Automatic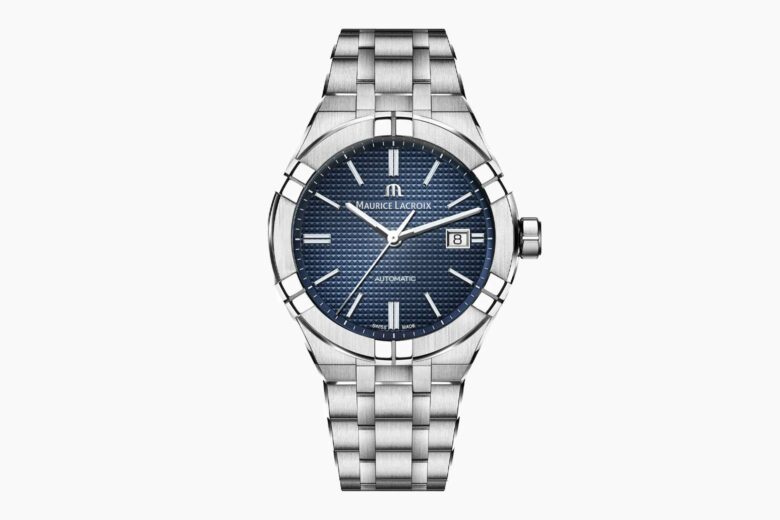 Maurice Lacroix AIKON timepieces are all about sporty elegance with polished bezel rider tabs and integrated bracelets and straps. This particular collection consists of those models with automatic movements and range from a subtle 35 mm across to a chunkier 45 mm case. Look out for the Maurice Lacroix AIKON Mercury with its free-spinning hour and minute hands as well as the Aikon Automatic Bronze with its warm metal case and blue dial.
| | |
| --- | --- |
| Price: | $1,850 – $8,500 |
| First release year: | 2018 |
| Current case size: | 35 mm – 45 mm |
| Movement: | Automatic |
| Water resistance: | 100 m – 300 m |
| Crystal: | Sapphire |
Maurice Lacroix AIKON Quartz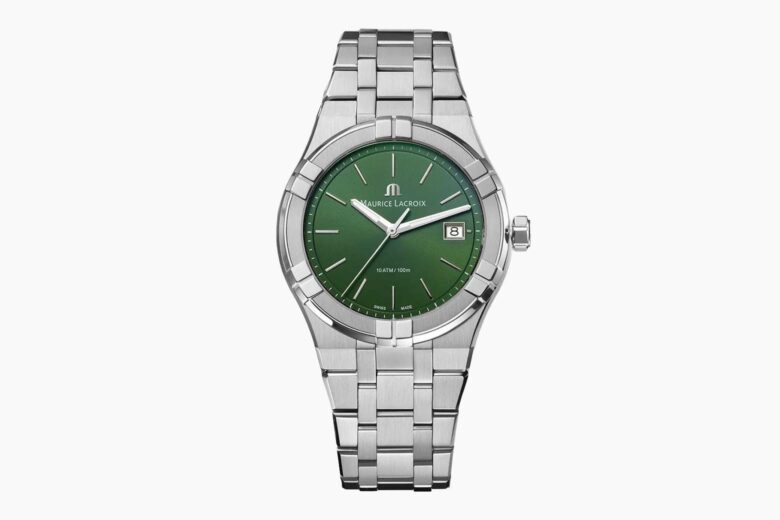 The Maurice Lacroix AIKON Quartz collection includes the brand's most iconic model along with high-quality and ultra-precise quartz movements. These watches are water-resistant up to 100 m, making them ideal for wear in the shower, pool, or even for snorkeling. Choose from a range of dial colors and materials, from steel and titanium to yellow-gold PVD.
| | |
| --- | --- |
| Price: | $1,000 – $2,200 |
| First release year: | 2016 |
| Current case size: | 35 mm – 44 mm |
| Movement: | Quartz |
| Water resistance: | 100 m |
| Crystal: | Sapphire |
Maurice Lacroix AIKON #Tide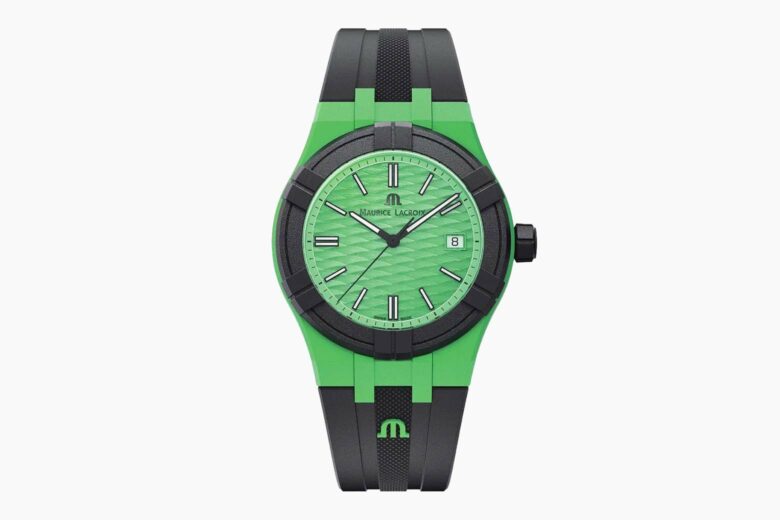 One of Maurice Lacroix's most recent innovations is the AIKON #tide, a wonderfully playful and creative take on the original AIKON, this time quartz-powered and made of upcycled ocean-bound plastic. Available in a range of vibrant colors, this series was born from a collaboration with the Swiss-company Tide Ocean, and the watches are created from 17 plastic bottles. 
| | |
| --- | --- |
| Price: | $750 – $925 |
| First release year: | 2022 |
| Current case size: | 40 mm |
| Movement: | Quartz |
| Water resistance: | 100 m |
| Crystal: | Sapphire |
Maurice Lacroix Pontos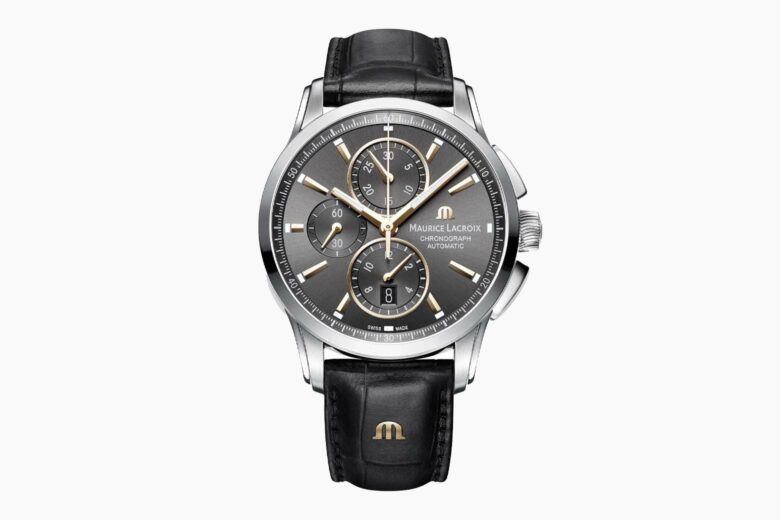 Maurice Lacroix Pontos watches exemplify the brand's capacity for highly functional and aesthetically pleasing design with superb performance and a pared-back profile with satisfyingly clean lines. The name Pontos comes from the ancient sea God and these watches have a water resistance of up to 100 m. Check out the Pontos S Chronograph, in particular, with its scratch-resistant ceramic bezel, chronograph, and day-date indications.
| | |
| --- | --- |
| Price: | $1,750 – $3,500 |
| First release year: | 2022 |
| Current case size: | 41 mm – 43 mm |
| Movement: | Automatic |
| Water resistance: | 100 m |
| Crystal: | Sapphire |
Maurice Lacroix Eliros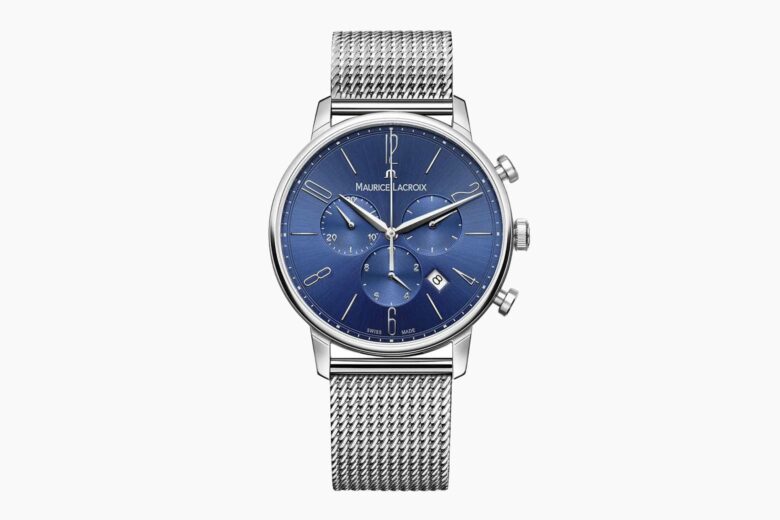 The Maurice Lacroix Eliros watch series is defined by its minimalist vibe and timeless elegance. Expect slim cases, restrained dials, and Roman numerals with lance hands. Choose from cases ranging from 30 to 40 mm and look out for models with chronograph functions or moon phase displays. Particularly noteworthy is the Eliros Date Sunshine Special Edition, a vision in gold with its monochrome gold color scheme and textured dial.
| | |
| --- | --- |
| Price: | $750 – $950 |
| First release year: | 1996 |
| Current case size: | 30 mm – 40 mm |
| Movement: | Quartz |
| Water resistance: | 50 m |
| Crystal: | Sapphire |
Maurice Lacroix Fiaba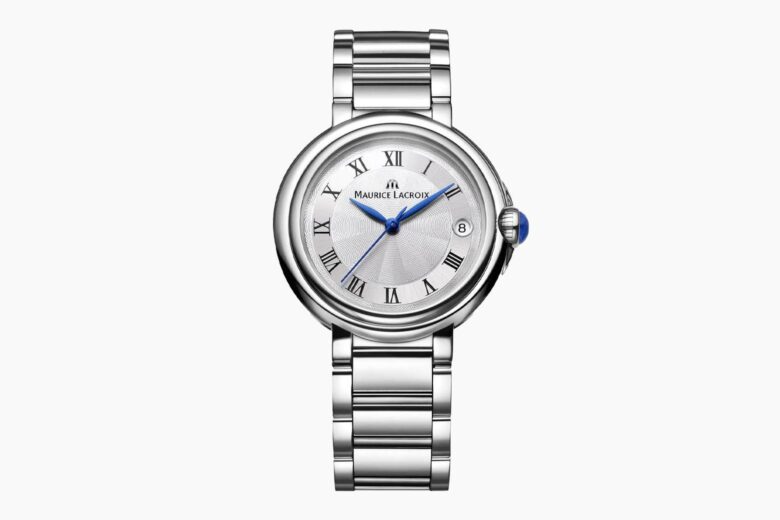 Fiaba means 'fairytale' in Italian, and this perfectly captures the enduring magic of this Maurice Lacroix watch collection. Think petite 32 mm cases, diamond set dials, and bi-color options. Check out the Maurice Lacroix Fiaba Moonphase, in particular, which blends femininity and functionality, as well as the Fiaba Date, reliable and refined in equal measure. 
| | |
| --- | --- |
| Price: | $980 – $1,600 |
| Current case size: | 32 mm |
| Movement: | Quartz |
| Water resistance: | 30 m |
| Crystal: | Sapphire |
Where to buy Maurice Lacroix watches
You can buy Maurice Lacroix watches online from the company's website or in-person from one of the brand stores, listed here. All Maurice Lacroix watches have a 12-month international warranty. 
You can also buy Maurice Lacroix watches from a trusted third-party retailer like FARFETCH where you can be sure of the authenticity of your timepiece.
For more about buying a luxury watch, see our watch guide.
Maurice Lacroix shipping
Maurice Lacroix ships in Switzerland, and all watch orders are shipped within 24 hours. FARFETCH offers international shipping to different countries for different fees. Shipping to the US is free if the product is over $200. Shipping to China, Hong Kong, and Taiwan Region, as well as CIS countries, is also free if the watch costs over the relevant threshold. Express delivery is available for the majority of destinations. 
Maurice Lacroix return policy
You can return your Maurice Lacroix watch to the company within ten days of shipping and within five days of the return authorization being issued. All products must be in a new and unused state, complete with the original packaging. 
FARFETCH accepts returns within 14 days for a full refund.
Maurice Lacroix customer service
You can contact the Maurice Lacroix customer service department by filling in the form here.
Maurice Lacroix social media profiles
Frequently asked questions about Maurice Lacroix watches
Is Maurice Lacroix a luxury watch?
Maurice Lacroix is a luxury watch brand that has been making high-end Swiss watches since 1975. Compared to many other watch brands, Maurice Lacroix timepieces are known for being relatively affordable, with some luxury watches under $1,000.
Do Maurice Lacroix watches hold their value?
Maurice Lacroix watches are not guaranteed to hold their value as they aren't as popular as timepieces by better-known brands such as Rolex or Patek Philippe. For more information about the luxury watch brand, see our Maurice Lacroix guide.
Is Maurice a good brand?
Maurice Lacroix is a good brand as far as affordable luxury watches go. You can pick up a Maurice Lacroix timepiece for under $1,000. While not among the best-known Swiss watchmakers, the brand is a good choice for an entry-level luxury timekeeper.
How many watches does Maurice Lacroix make a year?
Maurice Lacroix makes around 120,000 watches a year in its workshops in Saignelégier, Switzerland. For more about the brand, including history, product range, and prices, see our Maurice Lacro​​ix retail price guide.