Legend has it — along with some pretty persuasive branding — that a mysterious, giant squid-esque creature is the beast we have to thank for Kraken rum today. Known as The Kraken, this fatal monster was famed for attacking rum-carrying ships that sailed between the seas of the Caribbean. The initial bottle of Kraken was created after those who survived the attack found the single remaining bottle of rum, after all of the others were destroyed during the shipwreck.
A dash of squid ink (and, of course, the brand's 13 secret spices) turned the rum a dark brown, almost black color, resulting in the deliciously rich spirit that we know and love.
Admittedly, no one can say for sure that the Kraken doesn't exist. And a brand story that's almost as intricate as the rum itself certainly goes the full way to suggest that a mysterious beast, dwelling in the blackest depths of the sea, is responsible for creating Kraken.
But a scary tale doesn't seem to have put people off. Kraken spiced rum is a popular choice, famed for the blast of flavor it brings to even the most low-key cocktails and its concentrated notes of spice and blackstrap molasses.
Nowadays, you're more likely to find a bottle of Kraken at a popular bar than you are in the middle of the Caribbean Sea and, fortunately, it's much easier to get hold of than by sheer luck and chance after a shipwreck.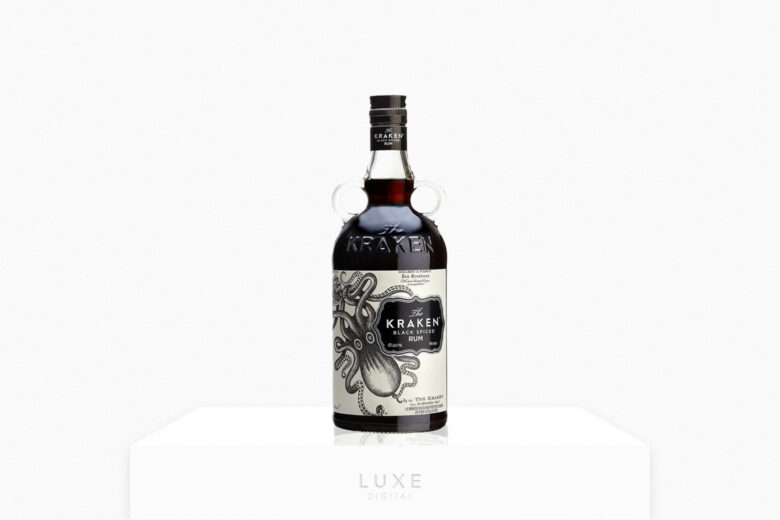 Kraken rum bottle prices and sizes
| Bottle name | Size | Price |
| --- | --- | --- |
| The Kraken Black Spiced Rum 70 Proof | 750ml | $20 |
| The Kraken Black Spiced Rum | 750ml | $22 |
| Kraken Black Roast Coffee Rum | 750ml | $24 |
Kraken rum history: Bottled in tropical history
Kraken originates from Trinidad and Tobago and enjoys an almost cult-like following with its dark plum-brown color and foreboding flavor profile. Infused with "the darkness of the depths", Kraken is the first of its kind in the world, with a range of secret spices that it keeps close to its chest.
Despite its olden days-esque branding, Kraken only launched in 2010. It nods to the past with a Victorian rum bottle shape, which features two hoop handles that would have been used to hang the container and prevent breakages.
Kraken quickly rose through the ranks of popularity, pushing spiced rum to the forefront of the cocktail industry with a variety of long drinks that would be intimidating if they weren't so delicious. Its offerings are strong, rich, and smooth, emulating all of the characteristics from its namesake fictional monster.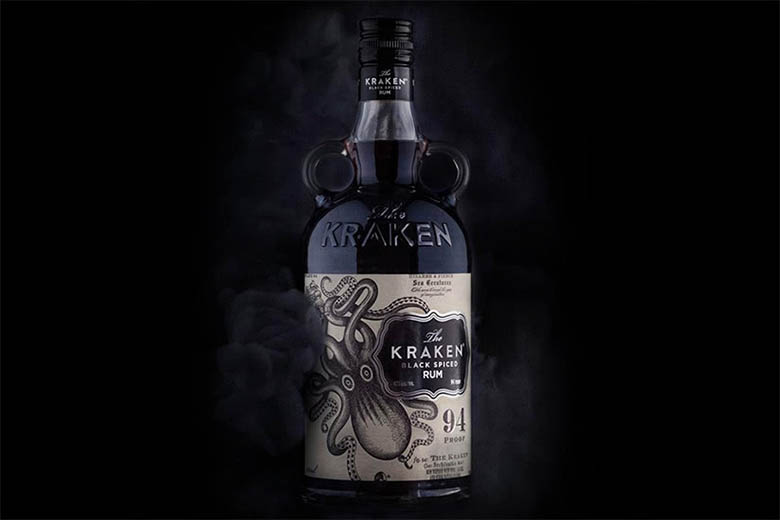 Sip only if you dare
Cocktail names like "The Bitter Beast", "Zombie Tentacle" and "Cephalopunch" act as a, well, punchy reminder of exactly what this spirit offers and a quick sip reveals an equally as idiosyncratic depth. Kraken rum ages in the barrel for one to two years before being bottled and sold but promises plenty of boldness that might not be expected from a young rum.
It takes pride of place as a perfect storm in the rum industry, with its exotic tastes and long, peppery finish. It's sweet and mellow, thanks to its locally-sourced sugarcane, and has a nutty scent with coffee, vanilla, cherryade, and gunpowder. It's a bottle you'll hold up to sample, before immediately pouring a measure and taking in its velvety smoothness. 
A mere sip reveals toasted brown sugar and a full-bodied explosion of flavor. One of the only complaints about Kraken is, simply, that the bottle empties far faster than anticipated. But that's just an excuse to buy another one. It's distinctive, dark, and delicious all rolled into one ominously colored bottle.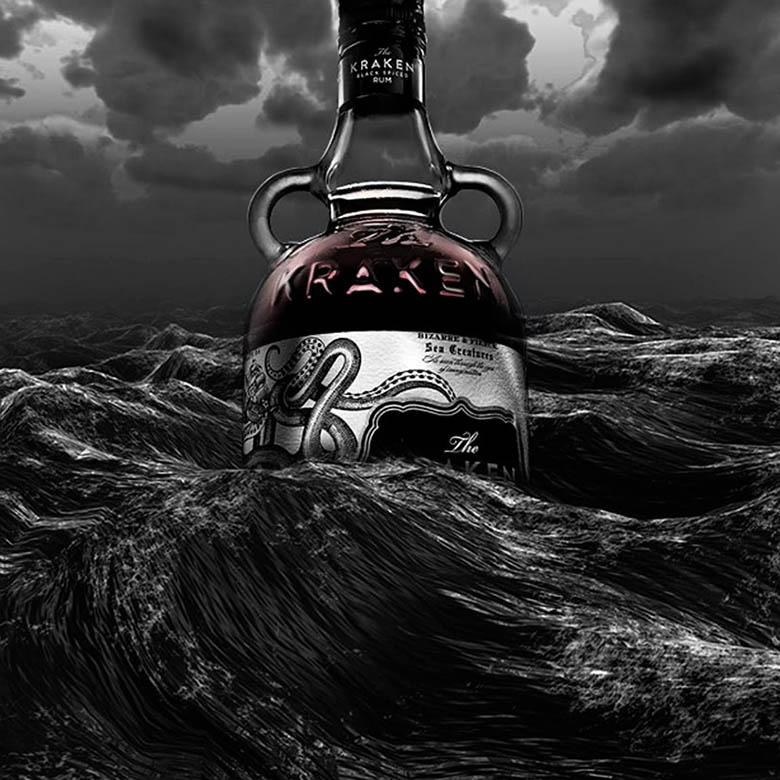 How to drink Kraken rum
Spiced rum is known for its huge array of flavors, which means that although it can be sipped neat, it's almost a waste not to maximize those spices by accompanying them with a range of sweet, sour, or spicy cocktail ingredients. 
Kraken is Caribbean rum and is enriched with 13 different spices, so there's plenty of room for experimentation when it comes to bringing out all of those different notes.
Not many spirits offer quite as much versatility as spiced rum, so take advantage of Kraken's open-minded nature by combining it with any number of new additions. The trick when mixing up a spiced rum-based cocktail is to let one element shine through.
Play around with the levels of spice with ginger beer, take a trip into the tropics with fruit juices or draw out the sweetness with a cool and icy lemonade. Or, stick to tradition and keep it simple with an easy rum and coke.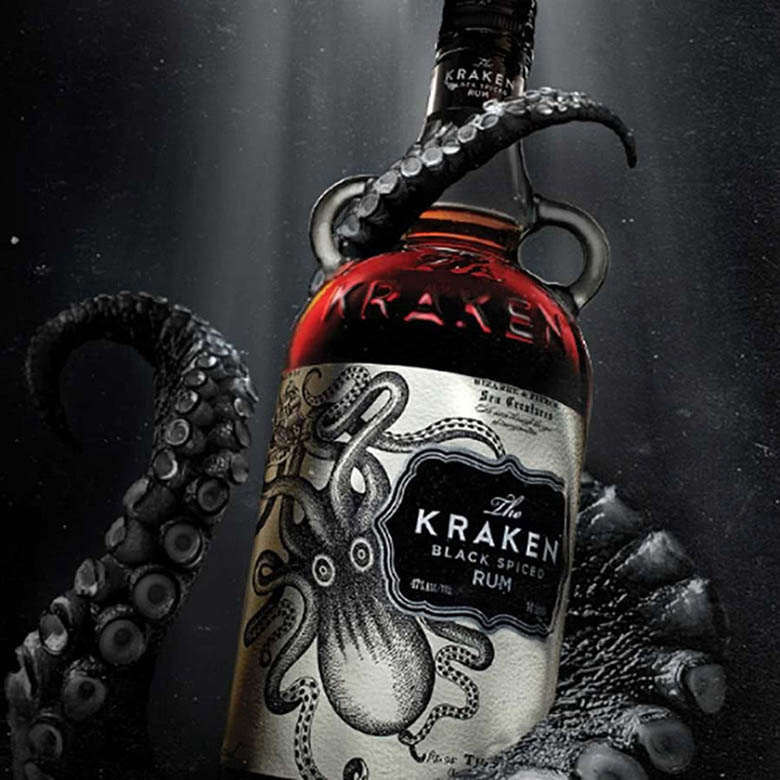 The best cocktails to make with Kraken rum
Here are the top three most popular cocktails to mix with Kraken rum.
Spiced Mojito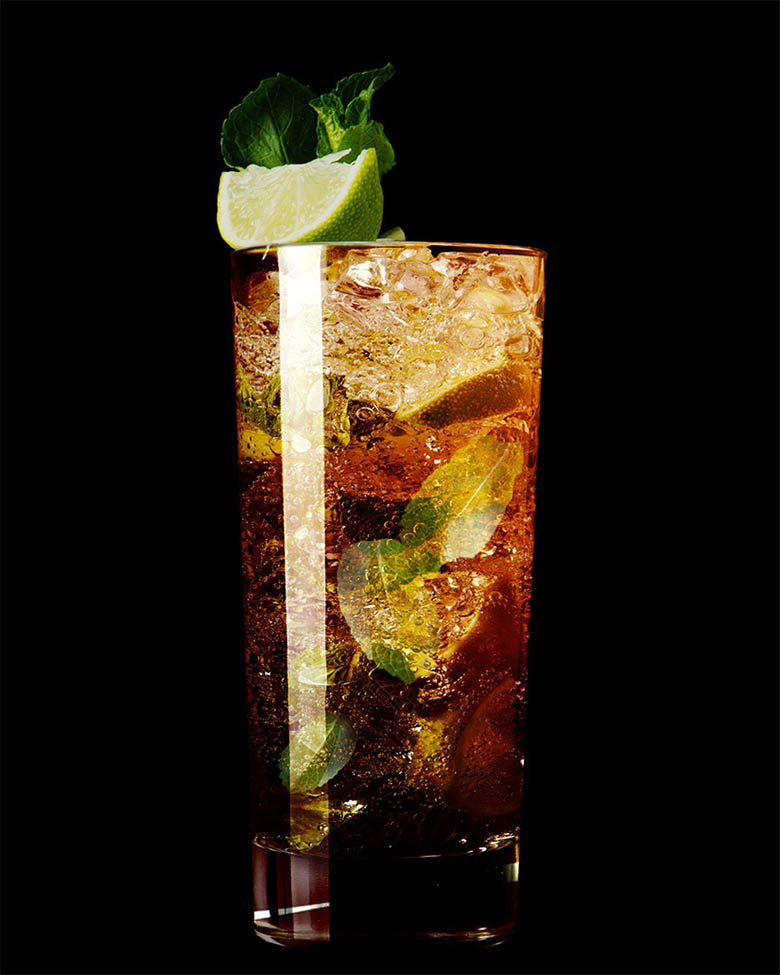 Ingredients:
60ml Kraken spiced rum
2 tsp raw sugar
8 to 10 mint leaves
30ml lime juice
120ml soda water
Ice
Cocktail recipes: Step up the game with a mojito with a difference: the addition of spiced rum adds a new depth and flavor profile to this popular long drink. Make it by muddling the lime juice, sugar and mint leaves together in the bottom of a glass before adding rum and ice and topping with soda water. Finally, garnish with mint leaves and a lime wedge before serving.
Rum punch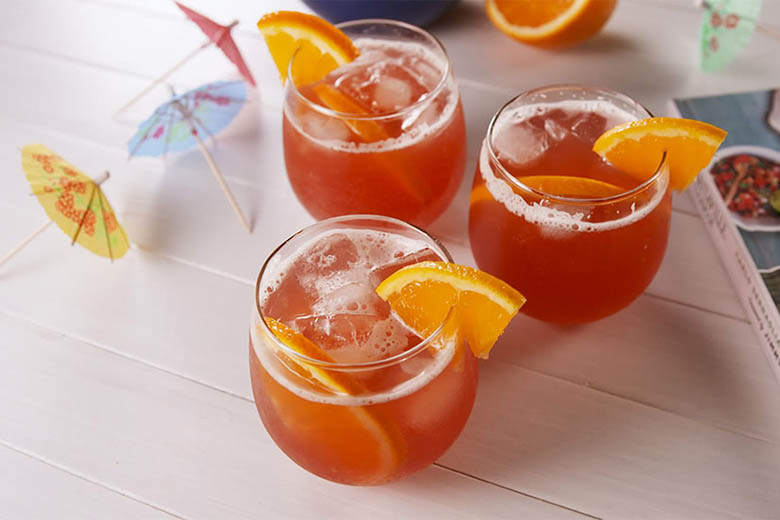 Ingredients:
75ml Kraken spiced rum
90ml orange juice
40ml lime juice
25ml sugar syrup
Dash of grenadine
Dash of Angostura bitters
Pinch of freshly grated nutmeg
Ice
Garnish with an orange slice and Maraschino cherries
Cocktail recipes: A party essential, Rum Punch is a versatile and easy-to-drink cocktail that tastes of summers in the Caribbean. Combine the juices, rum, sugar syrup, grenadine, and Angostura bitters before chilling for an hour. Then, sprinkle over the nutmeg and garnish with the orange and Maraschino cherries. Mix up a batch for an almost effortless sweet and sour winner. 
Rum Sunset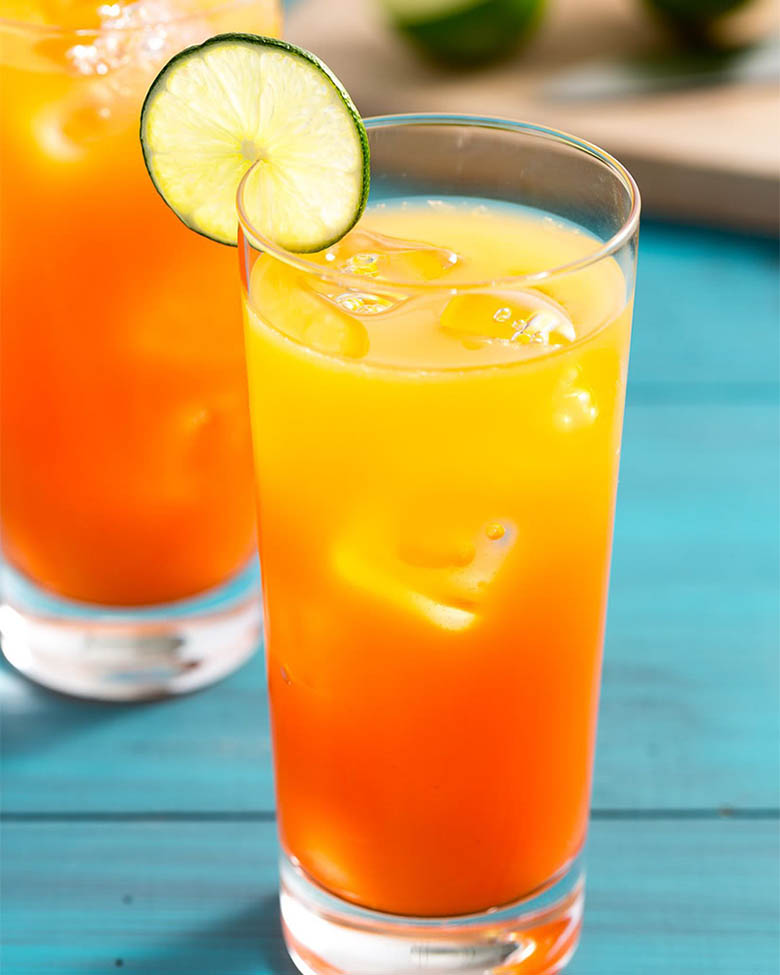 Ingredients:
90ml Kraken spiced rum
175ml orange juice
60ml grenadine
Garnish with a lime wedge
Cocktail recipes: A spicy take on a Tequila Sunrise, a Rum Sunset is the perfect way to end a day. A deliciously simple cocktail, make it by shaking orange juice, rum, and grenadine together before pouring into a large cocktail glass. Serve over ice and garnish with a wedge or two of lime. 
Frequently asked questions about Kraken Rum
Is Kraken Rum good?
Kraken rum is a firm favorite for many lovers of the spirit, with its incomparable mix of cinnamon, ginger and clove and dark and smooth, rich flavors. It's an accessibly priced rum that's versatile no matter how you like to drink the spirit. It works well as a standalone sipping rum but is also a go-to option for rum-based cocktails.
Does Kraken Rum have squid ink in it?
Kraken rum is named after The Kraken, a mythical giant squid-like sea monster. The rum is black in color and features a mix of 13 different spices. However, contrary to its detailed brand story, there is no actual squid ink in Kraken rum.
What is the best thing to mix with Kraken Rum?
Kraken rum is a versatile spirit and goes well with a huge range of mixers including soda water, Coke, and ginger ale. Tropical fruit juices like mango, pineapple, and papaya also go well with Kraken along with options like ginger beer, lemonade, and apple cider.
Can you drink Kraken rum straight?
Kraken rum's extraordinarily rich, spiced notes make it a great rum to enjoy straight. Pour a measure into a glass and warm it ever so slightly in your hands, before sipping and letting the flavors dance across your tongue. Alternatively, bring out the unique notes of caramel and molasses by mixing into a long drink or serving on the rocks.