We think it's safe to say that Harber London has gotten a handle on providing us with the perfect gifts. Going against the grain when it comes to environmental consciousness in fashion, all Harber London leather is eco-tanned and sustainably sourced. While the timeless silhouettes and personalized touches make unboxing the brand's premium leather good a sentimental affair.
Perhaps it's a monogrammed cardholder for your nephew's twenty-first. Or maybe it's a significantly embellished briefcase for your son's graduation. Either way, these are leather accessories to have and to hold for a lifetime to come. Sweet, right?
At a glance
| | |
| --- | --- |
| Brand: Harber London | |
| Founded: 2013 | Founders: Armando Isaac, William Mosquera, and Caroline Maldonado |
| Origin: United Kingdom | Industry: Fashion |
| Collections: Men and women's bags, wallets and accessories | Website: harberlondon.com |
| Shipping: International | Headquarters: London, United Kingdom |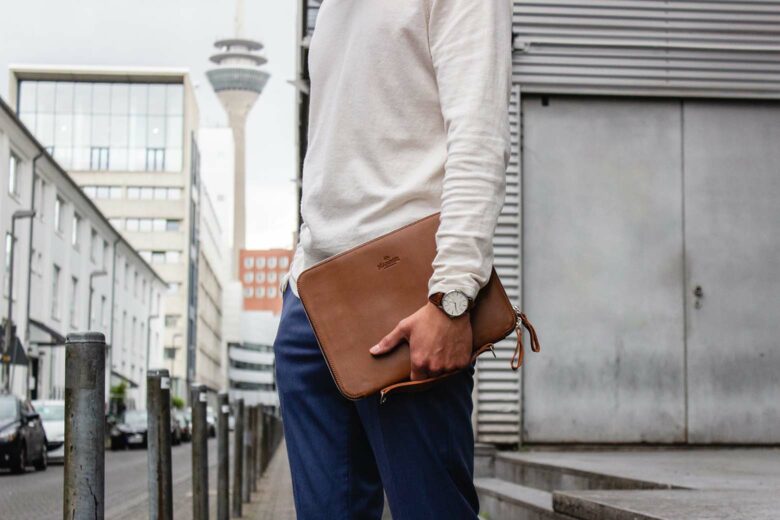 Behind the brand
History of Harber London
Founded in 2013, Harber London was born out of a disgruntled conversation around a kitchen table in a small flat in London. It turned out that Armando Isaac, William Mosquera, and Caroline Maldonado were all equally unimpressed by how difficult it was to find quality laptop sleeves.
Whilst the founding team had little knowledge regarding how to design or manufacture leather products, they harnessed their mutual genuine passion for handmade leather goods to make the vision come to life. Harbor London's leather bags and accessories hit the elusive sweet spot between timeless and trendy. And with a touch of personalized sentimentality, they quickly became the go-to present for gifting genius around the world—ourselves included.
Interesting facts about Harber London
You can never go wrong with gifting luxury leather goods. But when they're personalized too, well then you've almost certainly staked your claim at the top of the list of thank you notes. Every Harbor London bag, wallet or accessory can be customized with an extra touch of sentimentality. And we're not just talking about tiny initials (although we love those too.) The brand also does full-scale images and other meaningful details. Basically, if you can imagine it, they can do it.
When it comes to sustainable quality, Harbor London only uses premium ethical leathers. The brand only sources full-grain, naturally preserved leathers, ensuring that its products are durable, decadent and only improve with age. Only 15% of hides worldwide can be categorized as full-grain, so you really know that you are getting the best of the best when purchasing Harber London.
Besides their dedication to unparalleled quality and high-end finishes, Harber London is also intrinsically sustainable. The brand only sources leathers that are a byproduct of the meat industry. And all of its leathers are vegetable tanned. By only using organic materials, all Harbor London leathers are biodegradable and non-toxic to the planet or the people using them. Considering that almost 95% of leathers worldwide are dyed using environmentally harmful chemicals, this is a huge deal to us.
Also a big deal: security. Especially pertaining to our wallets and cardholders. These days, securing your finances isn't as simple as keeping your cash in your front pocket. Like everything else, pickpockets have gone digital with technologies that allow them to scan card details on the move. Equipped to take on big cities and all that comes with them, Harber London wallets and cardholders feature RFID blocking to protect your information from electronic pickpocketing. For us—this is an uncompromisable essential for travels and everyday commutes.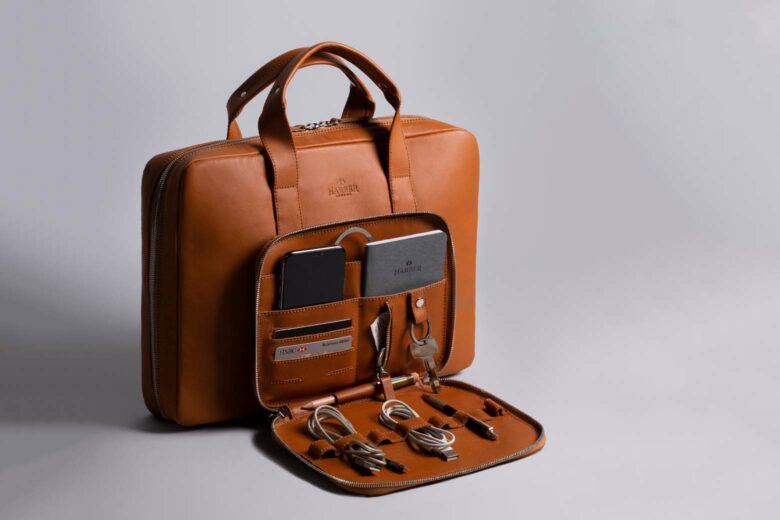 Harber London product range
Born out of the failure to find good quality laptop covers, we consider tech carriers to be Harber London's trademark. With some of our best tech organizers for men and women, the burgeoning brand epitomizes what it means to keep calm and carry on—a lot easier said when you're toting around the sartorial equivalent of a personal assistant.
Besides boardroom-ready briefcases and laptop holders, the brand's other office essentials include leather notebooks and mouse pads. Its signature backpacks and rucksacks make daily commutes breezy. While some of our best gym bags for men and best apple watch bands keep us fit and active.
Signature materials and craftsmanship
Made from hard-wearing, environmentally certified materials, all Harber London leather bags, and accessories are engineered to last long and to help the planet last longer. The brand's responsibly sourced materials include genuine leather, wool felt, microfibers, cotton twill and a fabric made from recycled plastic bottles.
Whilst genuine leather has gained a bad environmental reputation in the fashion industry, Harber London proves that when sourced sustainably and tanned consciously, it can actually be one of the most sustainable materials. Harber London only sources leathers that are a byproduct of the meat industry. And whilst you may argue that the industry shouldn't exist at all, while it does, we'd rather not see animal hides tossed aside.
Another huge environmental issue with traditional leather is that it is tanned using chemicals. Not only does this make the natural fiber non-biodegradable, but these chemicals are harmful to people and the planet. Cognizant of this, Harber London only uses vegetable-tanned leathers that are dyed using non-toxic, organic, renewable resources.
Wool felt and cotton twill are other premium, responsible materials used by the brand. Sustainably sourced, Harber London's wool and cotton are renewable and biodegradable. Soft, moisture-wicking and soil-resistant, wool felt makes the perfect fabric for the inside of the brand's laptop cases and tech organizers. While durable, classical cotton is used for backpacks and bags.
We appreciate that Harber London goes the extra mile to lighten the carbon footprint of all their products. But perhaps the most sustainably impressive product is the Classic Rucksack. Made from recycled plastic bottles, the hard-wearing fabric is water-resistant and durable. And it's got Mother Nature's back by keeping used bottles out of landfills and oceans.
Where is Harber London made?
Designed in London and handcrafted in Spain, Harber London marries a fast-paced lifestyle with slowly perfected craftsmanship. Stitched by hand, the impeccable attention to detail intrinsic to all Harber London accessories speaks to the highly-skilled craft of third-generation artisans. While the tech-specific sleeves and commuter-ready features take into account all that the modern professional requires to conquer each day with stylish organization.
Harber London brand values
| | |
| --- | --- |
| Vegan options | Yes |
| Carbon-neutral | No |
| Gives back | Yes |
Our favorite finds from Harber London
We've shortlisted the most popular Harber London products to help you understand the luxury accessories' large collection and the recommended retail prices of each model.
Harber London Bifold Wallet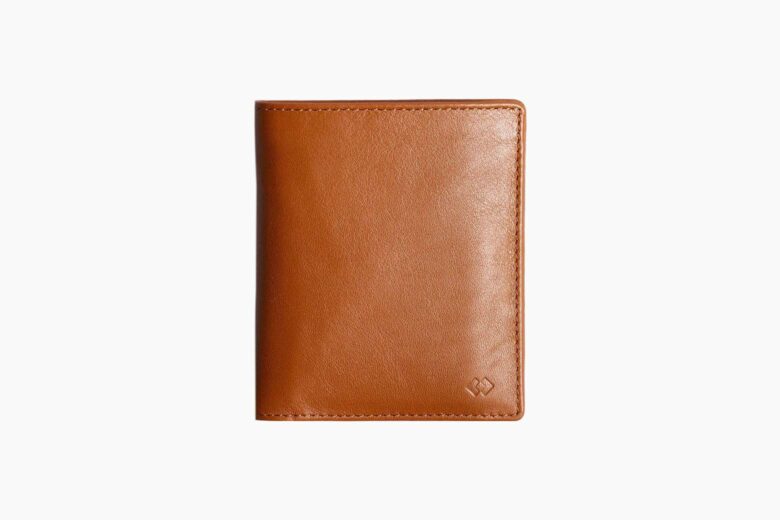 This bifold silhouette is easily one of our best wallets for men. But it's not just timeless and beautiful to look at, the functionality of the design actually makes our everyday life a little bit easier. The magnetic closure and convenient pull tag make our cards and cash easily accessible. But the real hero is the brand's signature RFID-blocking. Protecting our card information from digital pickpockets, this Harber London wallet relieves all travel anxieties.
Harber London Laptop Briefcase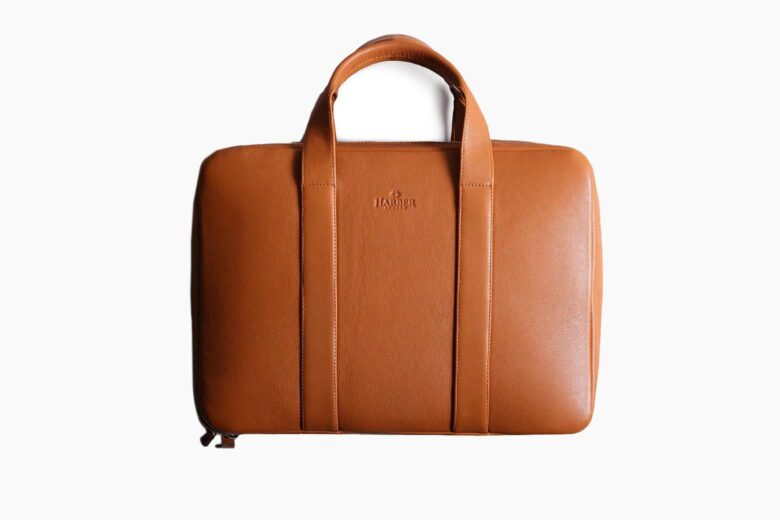 Born out of the failure to find high-quality laptop cases, Harber London's iteration showcased the attention to detail that clearly all the other brands were missing. Featuring Marie Kondo-approved organization, various slips and sleeves are thoughtfully designed to compartmentalize all our office essentials. As one of our best laptop cases, the laptop sleeve is big enough to fit a 16" device. And this leather briefcase even includes inner magnetic pouches specifically for chargers and other travel necessities.
Harber London City Backpack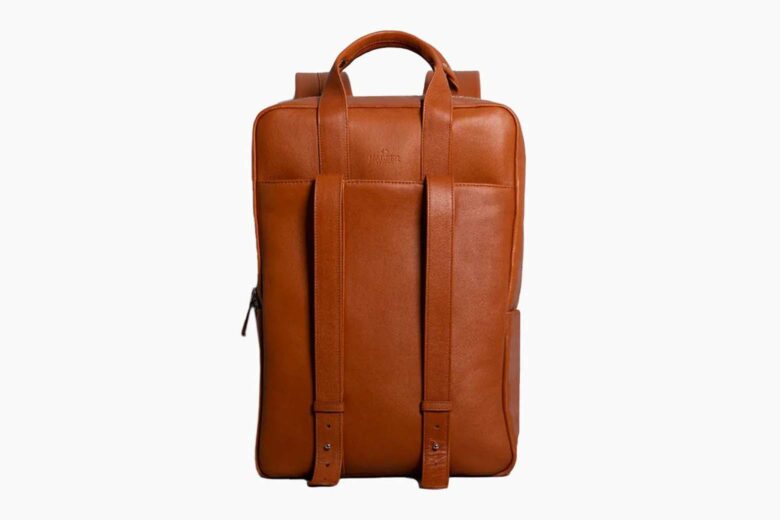 Ok, so street-stylists and contemporary commuters have already deemed our best EDC backpacks cool. But our more sophisticated sartorialists are struggling to hop on board the utilitarian trend. Enter: the Harber London totepack. The premium leather exterior exudes effortless elegance and class. While the double strap silhouette has our backs (pun intended) over long commutes and everyday errands. With a 16" laptop sleeve and a plethora of pockets, we always feel on top of our game. And we appreciate that the tote handles are slightly more boss-like when entering a boardroom.
Harber London RFID Cardholder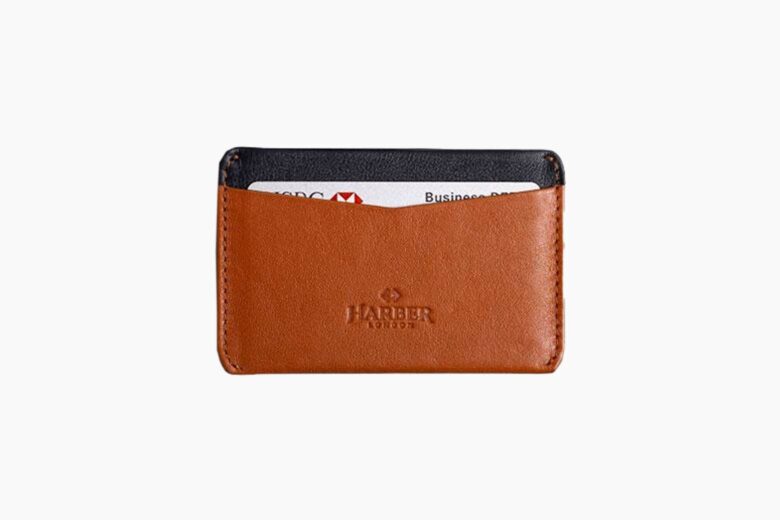 According to all the cool kids, less is more. And we couldn't help but agree. Especially when it comes to slim cardholders. This slender iteration is case in point. The Harber London RFID card holder slips into any pocket with a barely-there appeal. And featuring the brand's signature RFID-blocking protection, we love that we can take it from the office to the bar with the sound knowledge that our digital card information remains secure.
Where to buy Harber London
The best way to shop Harber London from anywhere in the world is the brand's official website. All products come with a one-year warranty, shipping is fast and it offers a full refund guarantee. This means that we can shop the brand's full collection of styles, sizes and colorways with the confidence that no purchase needs to be final. Although we doubt you'd ever want to return anything.
Harber London price
Harber London wallets range from $39 to $89. Harber London bags range from $189 to $889. And you can also find many gift options, such as desk mat or earphone wrap, for under $50.
Harber London discount
Using the Harber London promo code, the luxury brand offers a 10% discount off any purchase when subscribing to its newsletter.
Harber London shipping
Harber London offers free delivery worldwide. All orders are dispatched by the brand within a day and can be tracked on the Harber London website. UK and European will not be taxed as the products are made in Spain. USA orders under $800 are within the duty-free threshold and won't be taxed either. However any other international orders may be taxed depending on where the order is being sent.
Harber London return policy
Harber London has a full money-back guarantee on all orders returned unused, in their original packaging, within 30 days of purchase. Refunds are processed within 3 days of receipt of the return.
Frequently asked questions about Harber London
Is Harber London a luxury brand?
Despite the lower price tag, Harber London is still considered a luxury brand quality-wise. Handcrafted in Spain, it only uses premium materials and showcases impeccable attention to detail. In fact, when comparing it to similar brands, such as Harber London vs Bellroy, Harber London wallets and accessories could be considered to be slightly more sophisticated and classy.
What is Harber London?
Harber London is a luxury brand selling premium leather bags and accessories. Some of their bestsellers include the City London leather backpack, signature RFID-blocking wallets, and card holders, as well as hyperfunctional laptop sleeves and briefcases. To discover more about the brand, see Luxe Digital's in-depth Harber London review.