On the frontline of functional fashion, Alpha Industries is ready for combat. Originally designed to protect soldiers, pilots and sailors, the high-performance label is now best known for its battle against impractical clothing and volatile climates. But unexpected rain showers aren't the brand's only opponent. Fighting against climate change and fast fashion, Alpha Industries deserves a badge of honor for eliminating waste and engineering long-lasting wardrobe heroes.
At a glance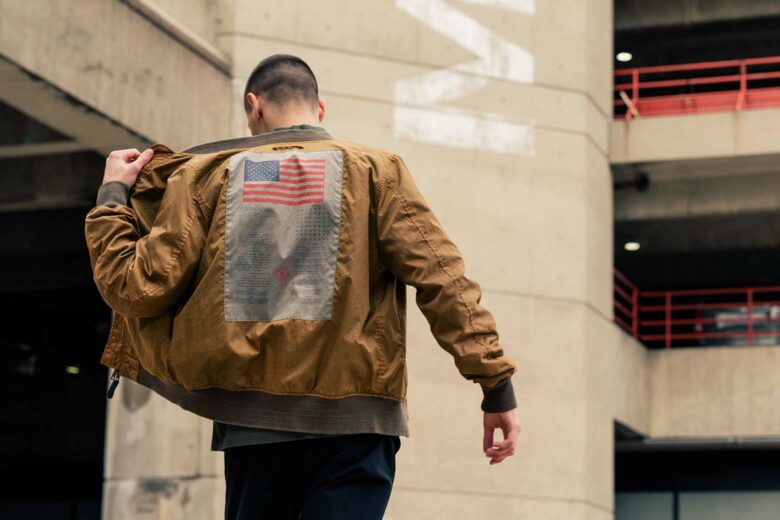 Behind the brand
History of Alpha Industries
Founded in 1959 by Samuel Gerber in Knoxville, Tennessee, Alpha Industries has remained a family-owned business since its inception. Alpha Industries was originally established to manufacture outerwear for the U.S Department of Defence. With the help of Knoxville business and experienced government contractor Breezy Wynn, the fledgling apparel brand was awarded its first contract with the Department of Defence to manufacture Air Force N-3B parkas and Navy shipboard shirts within a year of launching.
In 1961 John Niethammer joined the team to provide the quality control required for all Department of Defence contractors. Passing its first test with flying colors, Alpha Industries was awarded contracts for multiple outerwear essentials. These DOD contracts included the iconic MA-1 Flight jacket in 1963, followed by the M-65 Field coat in 1965. As one of the most innovative brands, Alpha Industries quickly became the dominant manufacturer of military wear.
In 1970, the burgeoning brand expanded into the commercial market with its range of authentic military wear—rather than reinterpreted style pieces. Alpha Industries' high-tech apparel proved to be just as popular with civilians as it was with the Department of Defence. Engineered to fight the cold and volatile climates, Alpha Industries was on the frontline of high-performance apparel.
But the brand's signature military accents such as department badges and neon stripes were also as much a fashion statement as they were utility features during wartime. And whether worn by real life soldiers or everyday frontline workers, the brand became instantly recognizable as quintessentially heroic—in function and fashion.
Interesting facts about Alpha Industries
Trusted by soldiers, sailors and aviators, Alpha Industries was initially contracted to design and manufacture high-performance outerwear for the U.S Department of Defence. When the brand expanded into the commercial sector, it sold authentic military wear to average civilians. At the time, many designers were inspired by military wear and reinterpreted the frontline apparel for everyday wear. Alpha Industries was the only brand to stay true to the original military specifications. And soon, the brand name became synonymous with the iconic MA-1 Bomber Jacket, M-65 Field Jacket and N-3B Parka.
Alpha Industries pulled from its archive with authentic military details. And so every piece told a story of the original purpose and utility of a particular silhouette or accent. The signature red ribbon on the utility pocket of the brand's jackets was removed before flight as a safety warning for take off. And the reversible neon orange interior was used to alert rescue missions to stranded pilots. These details may not be necessary for everyday wear, but the fashion-conscious crowd loved the heritage-rich accents. And Alpha Industries catapulted to cult-favorite status—counting David Beckham, Kanye West, Gigi Hadid and Rihanna amongst its never-ending list of celebrity fans.
Making a name for itself, Alpha Industries was approached by industry leaders to collaborate on co-branded products. Alpha Industries started taking on collaborations in 2005, partnering with big names like Doc Martens, Stussy and Breitling to create limited-edition collections. In 2017, the brand launched the Alpha Industries NASA collection, featuring "meatball" and worm logos, as well as official NASA gear. And in 2022, the brand released its MLB and NFL collections of official baseball and football team apparel. Go, New York Yankees!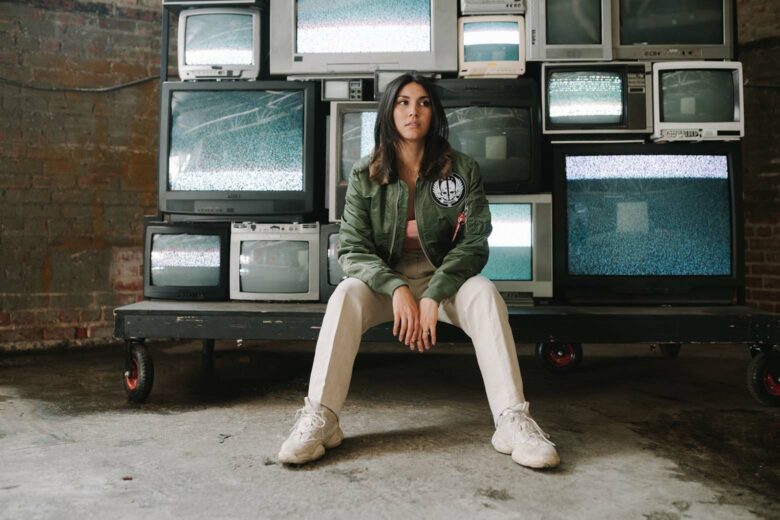 Alpha Industries product range
Alpha Industries is synonymous with OG military silhouettes. But since its inception, the utility label has expanded its range with various fashionably functional collections for men, women and kids.
The brand's famed range of utility jackets includes the iconic Alpha Industries Bomber, the Field Jacket and the Parka in a variety of different models and hues. Expanding into sportswear and everyday basics, the brand's best sellers include the cult-favorite Alpha Industries hoodie, as well as a range of sweats, shorts, tees and joggers. While Alpha Industries' line of accessories includes everything from bags, wallets and dog collars to hats, sunglasses and belts.
Signature materials and craftsmanship
Alpha Industries outerwear has been rigorously tested under strict quality controls and sky-high standards set by the U.S Military and Department of Defence. Today the brand stays true to original designs and specifications, making it unrivaled when it comes to performance, durability and comfort. Engineered to be worn in the cockpit, on the seas and in the battlefield, Alpha Industries uses the highest quality materials and high-tech innovations to create apparel that is just as ready to combat unexpected rainstorms as it is the enemy.
Besides achieving impossibly high standards for quality and durability, Alpha Industries is equally concerned with sustainability and fighting environmental causes. In 2021, the conscious brand released its Organics line, alongside its launch of Mission Sustainability. The Alpha Industries Organics line is manufactured in Turkey from GOTS-certified organic cotton (one of the most sustainable materials) and features 100% recycled thread embroideries.
In line with its launch of Mission Sustainability, Alpha Industries also changed its packaging and released other eco-friendly collections. Made from corn starch and recycled paper, Alpha Industries' entire packaging is now fully biodegradable and plastic free. While its deadstock and upcycled collections prevent unused materials and worn-out apparel from ending up in landfills.
Where is Alpha Industries made?
Alpha Industries apparel is designed in its headquarters in Knoxville. Alpha Industries' jackets were also initially produced in Tennessee. And whilst the brand still runs small factories in America, most of its apparel is produced in China and Turkey. However, Alpha Industries is committed to only using premium sustainable materials, quality production methods and only supports ethical factories.
Brand values
| | |
| --- | --- |
| Vegan options | Yes |
| Carbon-neutral | No |
| Gives back | Yes |
Our favorite finds from Alpha Industries
The company quickly became synonymous with the iconic MA-1 Bomber Jacket, M-65 Field Jacket, and N-3B Parka. Today, Alpha Industries continues to manufacture these ionic silhouettes for the civilian market, still true to their original military specifications.
Alpha Industries Bomber Jacket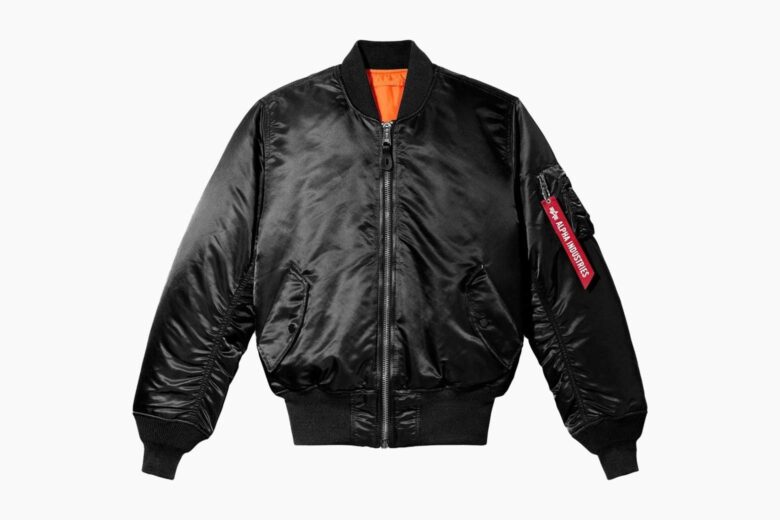 Mention "bomber jacket" to any in-the-know fashionista, and chances are this one comes to mind. Renowned as the world's most iconic bomber jacket, much of the brand's mainstream success is down to the Alpha Industries MA-1. Constructed from water-resistant flight nylon, this Alpha Industries jacket is kept as close to classic military specifications—including bright orange lining, the signature Remove Before Flight red ribbon, and a plethora of pockets.
If that's not the model you had in mind, check our curated selection of the best bomber jackets for men to see other options.
Alpha Industries Parka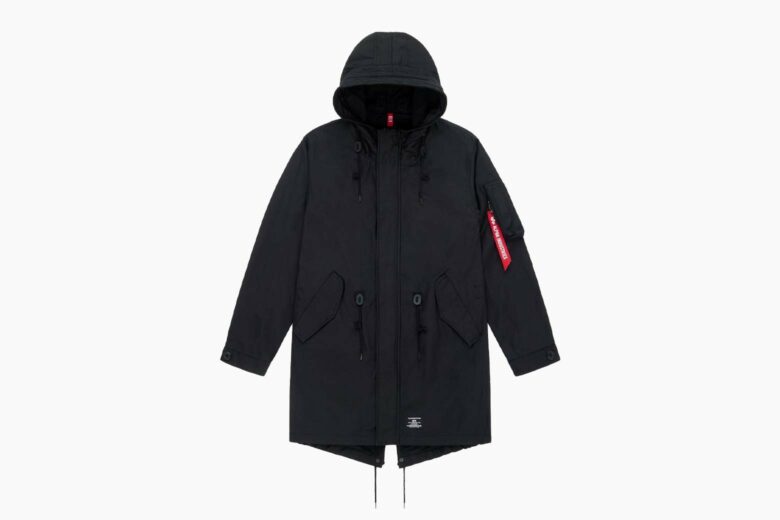 Originally designed for U.S flight crew stationed in extreme cold, Alpha Industries Parka is our go-to for combatting icy climates. The snug jacket is made from an irresistibly warm quilted lining with a water-resistant exterior. And known as the snorkel parka, the elongated silhouette zips all the way past the nose leaving just a hole to peek out of.
Alpha Industries' Parkas are so good that we shortlisted them for our round-ups of the best winter coats for men and women.
Alpha Industries Field Jacket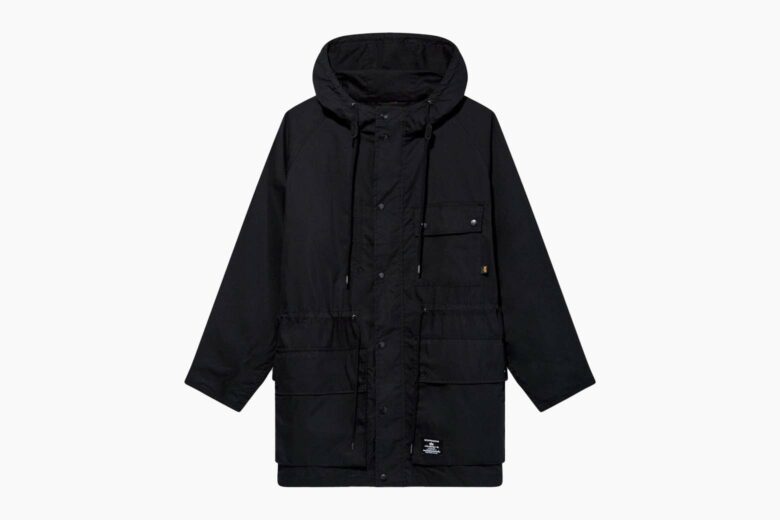 Providing maximum protection to American soldiers and civilians alike, this Alpha Industries jacket is quintessentially heroic. Wind and water-resistant, the nylon-cotton shell is just as good at battling volatile weather as it is at crossing enemy lines. And whilst the drawstring hood, signature wire field zipper and buttoned epaulets were designed with utility in mind, today these M-65 military accents serve as both functional and fashionable details.
The brand's field jackets are a must and a regular on our selection of the best field jackets for men.
Alpha Industries Liner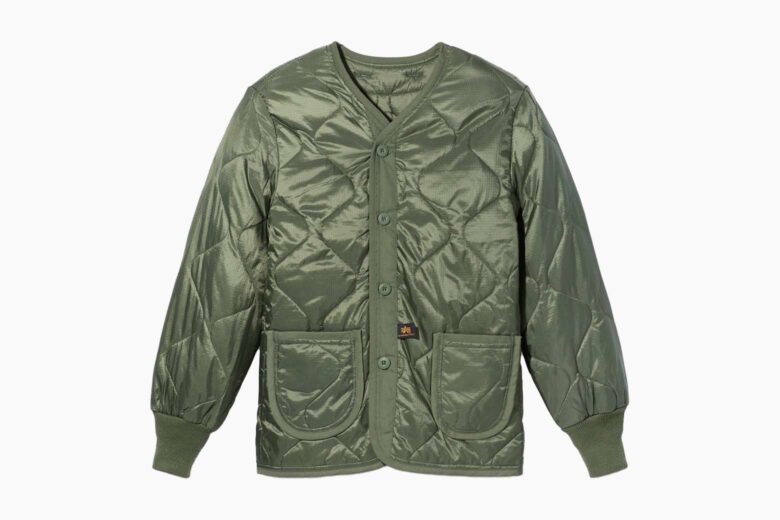 Alpha Industries liner is the ultimate transitional piece. Designed to be worn alone or buttoned into the Alpha Industries M-65 Field jacket, the versatile silhouette is the perfect extra layer of warmth. The knit cuffs make it extra toasty. The thick binding makes it extra durable. And the lightweight, compactable fabric makes this Alpha Industries liner extra easy to pack and throw on over absolutely anything.
Alpha Industries price
Alpha Industries is considered excellent value for money. Trusted by sailors, pilots and soldiers, the brand only uses premium, durable materials. But by selling directly to the consumer, Alpha Industries is able to price its high-quality apparel far below other affluent labels of equal quality. Alpha Industries jackets are priced between $170 and $250.
Where to buy Alpha Industries
Alpha Industries does have brick-and-mortar stores located around the world. But for the brand's full selection of outerwear, apparel, and accessories, we recommend shopping on the official Alpha Industries online store.
Selected Alpha Industries products are also available on reputable e-retailers such as Farfetch and Amazon.
Alpha Industries discount code
Continuing to reward everyday heroes, Alpha Industries has discount codes specifically for military workers, first responders, and medical professionals. And because the brand understands how tough it is to live comfortably without a full-time job, it also has a discount code for students.
For everyone else, you can also get great deals and discounts on Alpha Industries' end of season page.
Alpha Industries shipping
Alpha Industries offers free shipping to anywhere in the U.S on all orders over $150. Orders take 1-2 business days to process and should arrive at your doorstep within 3-8 business days. The brand also offers international shipping to most countries worldwide, as well as expedited shipping. International shipping costs and expedited shipping costs will depend on where the order is being shipped to and how big the order is.
Alpha Industries return policy
Alpha Industries has a generous return policy. The brand accepts returns up to 60 days from the date of purchase, provided the returned items are unwashed, unworn and still have all the original tags attached. Alpha Industries has a full money-back guarantee on all accepted returns, excluding return shipping costs. The only items not eligible for return are Final Sale items. And Vintage items must be returned within 14 days of purchase.
Frequently asked questions about Alpha Industries
Who owns Alpha Industries?
Founded in 1959 by Samuel Gerber, Alpha Industries has remained a family-run business since its inception. The brand is currently owned and led by Samuel's grandson, Mike Cirker, who took over the business after his father in 2011. Learn more about the brand's background with our in-depth Alpha Industries story.
Is Alpha Industries German?
Alpha Industries is an American brand. It was founded in Knoxville, Tennessee and was originally commissioned to manufacture outerwear for the U.S military before expanding into the commercial market.
Is Alpha Industries a military brand?
Alpha Industry initially manufactured jackets and outerwear for the U.S Department of Defence. In 1970, it expanded into the commercial market but remained the only brand to stay true to original military specifications. Today, Alpha Industry apparel is as close to the real thing as possible as it continues to feature most of the signature military details.
Are Alpha Industries American?
Yes, Alpha Industries was founded in 1959 in Knoxville, Tennessee. The American military brand was originally commissioned to design and manufacture outerwear for the U.S Department of Defence. Over six decades later, Alpha Industries remains one of the most iconic all-American labels, worn by celebrities and civilians alike.