Konnichiwa, Japan. The Far East island nation whose culture has fascinated and beguiled foreigners since time immemorial. From matcha to cherry blossoms, Pokemon to udon noodles, luxury skincare to flowing kimonos, we all have our own personal Japanese obsessions.
A country where ancient gods dine at the same table as ultra-modern robots and where frozen-in-time Buddhist temples neighbor high-speed railways, Japan is a land of enchanting contradictions. And the greater Kanto region—encompassing Tokyo and ten prefectures—truly has it all. Sure, it's (in)famous for its frenetic pace of life and futuristic skylines, but it's also a calm, inviting, and welcoming nation where you can discover peace and inspiration.
Nowhere else on Earth does the old and new coexist so effectively—where, within a day, you can find yourself steaming in a natural hot spring surrounded by lotus flowers, then bed-down in a robot-powered hotel room. Intriguing? Yes. Intoxicating? Absolutely.
So, you've decided to make the trip? Getting around Japan—which is just 1.6 times the size of the United Kingdom—is, thanks to its cleverly constructed radial highways—a consummate breeze. Jump on a high-speed train or shoot up the highways and enjoy the lesser-known (but no less worthy) corners of Japan to experience this beautiful Asian country to its fullest.
In fact, the train ride is sure to become a memorable part of your journey: boasting luxury cabins, panoramic views, and first-class service, your adventure begins just as soon as you take your seat. Because naturally, the journey is just as important as the destination.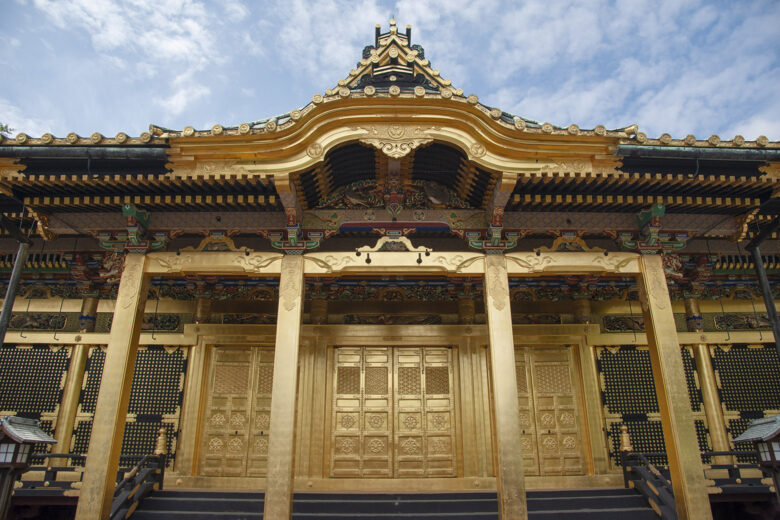 Asakusa, Tokyo
No trip to Kanto, Japan is complete without a day spent exploring the old-world charm of Asakusa. An area of Tokyo that's held onto its traditions, Asakusa oozes the culture and atmosphere of old Tokyo. No matter which corner you turn, you'll discover museums and art galleries, centuries-old traditional craft workshops, long-established Japanese restaurants and confectionery stores, and of course, those gorgeously photogenic temples we all associate with Japan.
What to do
Senso-ji Temple
If relics of bygone times get your wanderlust heart racing, there's no better place to head than the Senso-ji Temple—Tokyo's oldest religious building. One of the city's most recognizable landmarks, the Senso-ji Buddhist Temple has stood strong and stunning since the 7th Century. As beguiling today as it was 1300 years ago, the temple is comprised of several magnificent structures painted in brilliant vermillion. So, remember to pack your camera.
Speaking of photos, get snap-happy at the temple's entrance: the imposing Kaminarimon Gate, leading you straight to the vibrant shopping street of Nakamise Dori. As we said, bring your camera—but leave plenty of space in your bag for those colorful souvenirs!
Beyond Nakamise Dori, prepare to be stunned by the Senso-ji Temple's main buildings, including yet another gargantuan gate, Hozomon, and the iconic five-story pagoda of the postcards. Venture into the beating heart of Senso-ji and breathe in the main hall—one of Japan's most cherished national treasures. This hall is dedicated to the Japanese goddess of mercy—whose presence can be felt reverberating through the ornate walls.
Of course, you'll want to beat the crowds. So, be sure to visit early in the morning (pre-9am) or on a weekday night to get the best chance of quietude.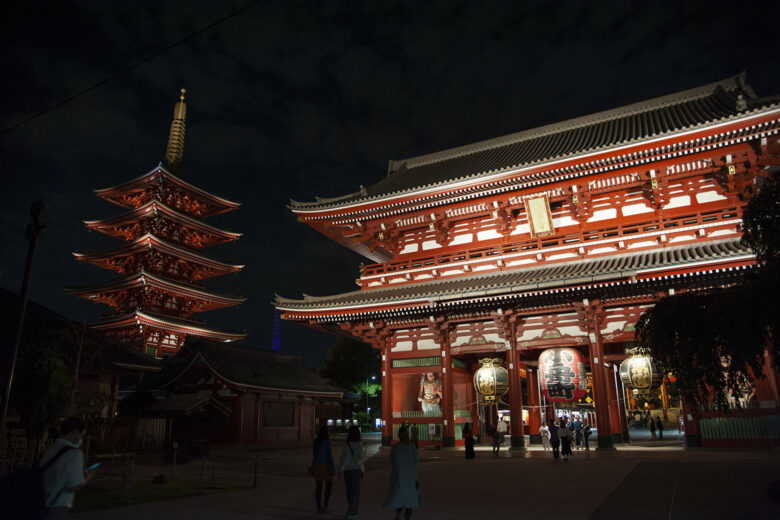 Nakamise Dori Street
When visiting Senso-ji, you can't miss Nakamise Dori street. And we mean literally—it's en route to the main Senso-ji Temple. This high-spirited, busy avenue is certainly worth a look around. It's the oldest shopping street in Tokyo. You can spend a few (thousand) yen on handcrafted souvenirs and tasty, traditional bites like kaminari-okoshi—gloriously moreish toasted rice crackers to fuel your day of sightseeing.
Where to stay
Henn na Hotel Asakusa Tawaramachi
We weren't joking about the robot-powered hotel rooms. When visiting Asakusa, you must experience the Henn na Hotel Asakusa Tawaramachi—it's certainly one to write home about.
The robotic rendezvous begins as soon as you step through the doors: at Henn na Hotel, queues and inefficiency are a thing of the past—animatronic reception staff make the automatic check-in process inventive, seamless, and, well—incredibly interesting. But don't rush through to your room; spend a minute enjoying the playful interactive animations, illuminating the floor as you wander through the Reception area.
Nothing if not ultra-modern—and typically Japanese—expect contemporary, thoughtfully-designed rooms and a sleek feel overall at this unique Tokyo hotel. Located downtown, you'll be within easy reach of the city's finest attractions, with Matsuba Park, and the unique World Bags and Luggage Museum just an amble away. And, when you've completed your sightseeing schedule, head to the hotel's terrace for an awe-inspiring view of Asakusa and Tokyo Skytree to top off your day.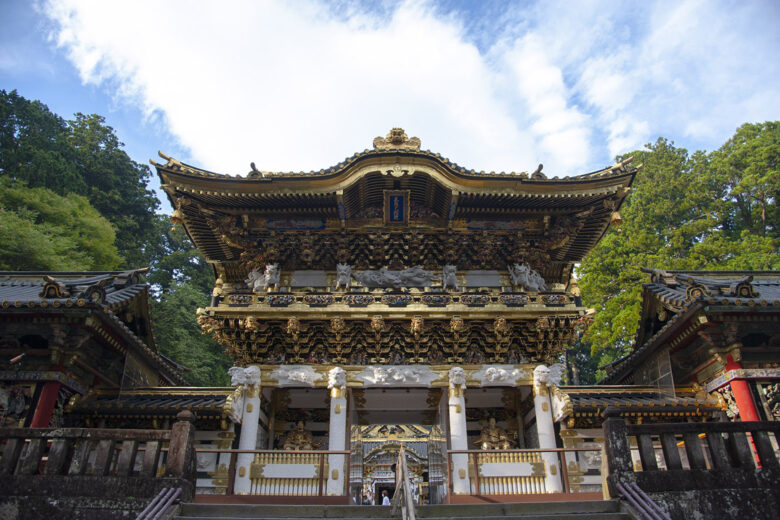 Nikko, Tochigi Prefecture
If the mountains are calling out to you, head to Nikko, a quaint, scenic city in Japan's Tochigi Prefecture. A truly special place—the Japanese even have their own saying for it: "Never say Kekko (meaning I am satisfied) until you've seen Nikko." And honestly? We're inclined to agree. So, do as the Japanese and discover serenity at the shrines, tour the temples, and breathe in the fresh mountain air.
How to get there
Situated 140 kilometers north of Tokyo, Nikko is easily accessible from the capital—especially if you're staying in Asakusa. Simply hop on the Limited Express Revaty Kegon at Tobu Railway Station, and express your way from Tokyo to Nikko, whizzing you to your next destination in under two hours. This is a great trip-within-a-trip for travelers who aren't keen on complicated logistics. But be warned: the trains separate at Shimo-Imaichi Station, so make sure you're in the correct carriage.
And, despite being a circa two-hour journey, every minute will be spent in pure comfort. The Revaty Kegon train is bursting with luxury: you can lounge on the comfy seats, store your luggage safely, and gaze at the splendid interiors as you chug towards Nikko.
When you disembark, be sure to get your hands on the NIKKO MaaS Digital Free Pass, giving you easy access to Nikko Toshogu, the Futarasan Shrine, the Nikko-zan Rinno-ji Temple, and Nikko Suginamiki Kaido (AKA the Avenue of Cedar Trees).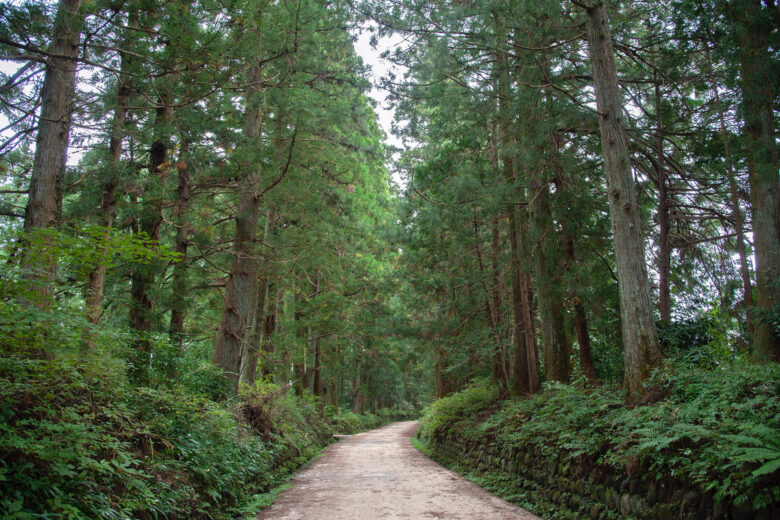 What to do
Nikko Toshogu
Your first point of call is the Nikko Toshogu Shrine—revered as one of Japan's most important spiritual sites. And you needn't be Buddhist (or Shinto, indeed) to appreciate its spectacular beauty.
Why is it so special? Well, the Nikko Toshogu Shrine happens to be the place where Tokugawa Ieyasu—the nationally-respected Shogun who oversaw the beginning of Japan's Edo period—is enshrined. So yes, you could say he was quite important. Be sure to leave the day open, as there's plenty of jaw-dropping architecture to discover, here.
Enter: the Yomeimon Gate. Colloquially named the Sunlight Gate due to its south-facing position, this glorious gate is bejeweled with carvings of every color imaginable. And, it sets the tone for the next stop: Nikko Toshogu's magnificent shrine.
Be sure to look in every direction, so you don't miss a thing: catch the trio of monkeys (thought to see, speak, and hear no evil), and Nemuri-niko, the slumbering cat who points the way, Cheshire-style, to the former Shogun's mausoleum. So strong is the tranquility, here, that even amongst throngs of visitors, you can unearth a pervading sense of peace at Nikko Toshogu.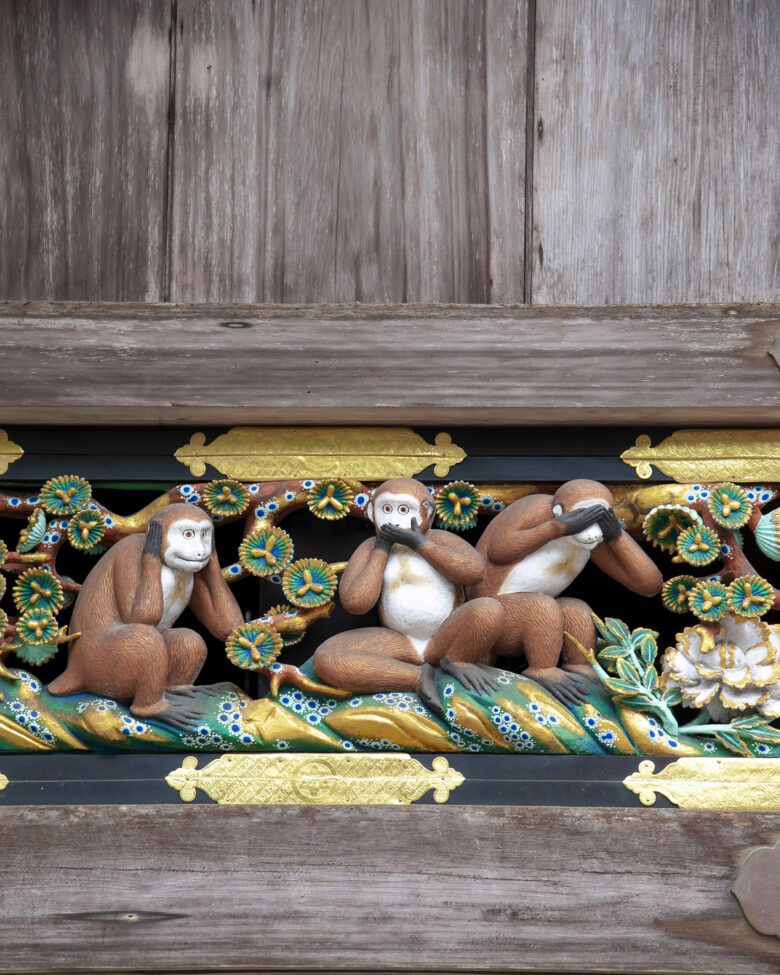 Nikko Suginamiki Kaido (Avenue of Cedar Trees)
Peek into the past down the Avenue of Cedars, or Nikko Suginamiki Kaido. Forest-bathe (or shinrin-yoku, as it's known locally), amongst the centuries-old, 12,000-plus cedar trees that line the 35-kilometer avenue—making it the longest tree-lined road in the world.
Make your pilgrimage between the towering cedars and experience for yourself the age-old atmosphere of the Japanese Edo era that still endures today. The sense of timelessness is innate at this resplendent spot, and the natural beauty is ripe for photo opportunities, too.
Where to stay
Kinugawa Onsen
The Kinugawa Onsen resort town along the Kinugawa River is home to numerous hot spring hotels and ryokan—traditional Japanese inns—providing convenient access to the area's must-visit attractions. We recommend staying in this area to enjoy a place of solace upon which to return after your days of adventuring.
You'll be just shy of an hour from Nikko if you take the train (which we strongly suggest you do), and nearby, you'll be treated to open-air baths, pedestrian footbaths on the streets—because why not?—and even two razzle-dazzle theme parks for the adrenalin junkies.
Whether you select a hot spring hotel or a ryokan, you'll be spoiled for choice when it comes to local Japanese cuisine. Proud of their culinary culture, you can gorge on soba, sushi, and traditional Japanese soups at the plentiful cafes and restaurants.
Overdone it at lunchtime? We get it. Simply walk it off on one of the pristine nature trails, or go adventure-rafting through the tumbling river. Nearby, there are several nature trails that are perfect for hiking or opt to go rafting along the rocky river. For a more gentle excursion, take a saunter to the Moonlight Flower Gallery, nestled in Kinugawa Onsen Park.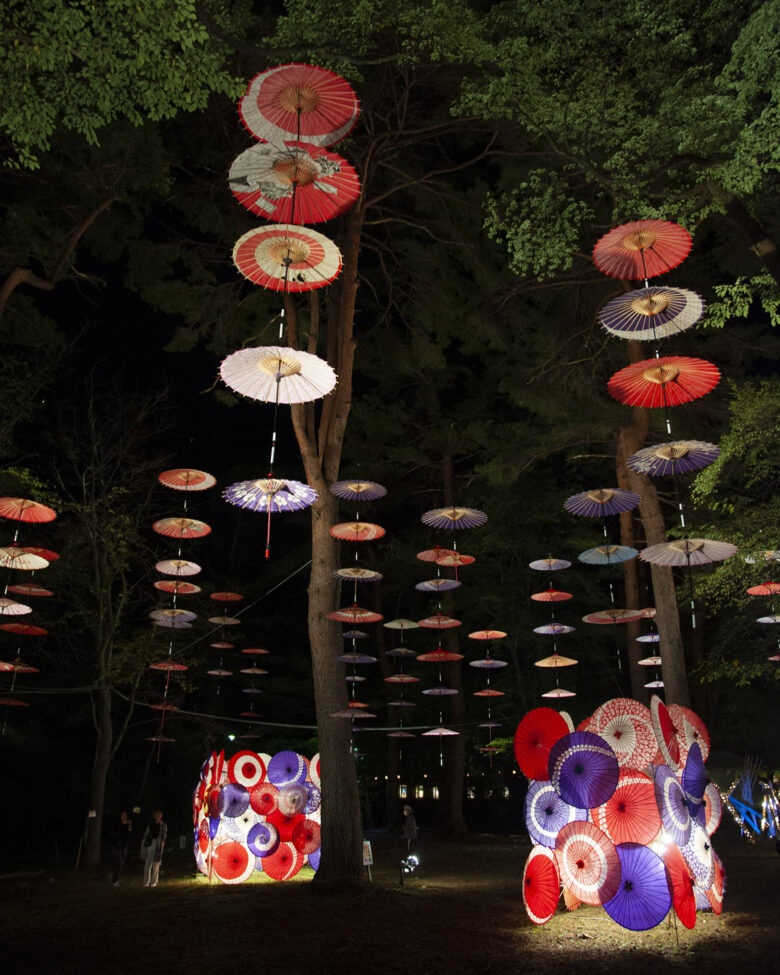 Fukushima Prefecture
Fukushima: the Japanese jewel that needs no introduction. But in case you missed the memo, Fukushima—in Japan's Tohoku region—is honored for its majestic mountains, sparkling lakes, and overflowing treasure chest of culture, history, and one-of-a-kind cuisine.
How to get there
Another easily-accessible destination gem, Fukushima is only a luxury train journey away from Japan's bustling hubs. From Tokyo, jump on the Yamabiko or Tsubasa train along the JR Tohoku Shinkansen line, taking just 90 minutes.
And from Kinugawa Onsen? Head to Aizu-Tajima Station and hop on the Revaty Aizu 113 Toll Limited Express, speeding along the Tobu, Yagan, and Aizu Railway lines—and taking just over an hour. You'll soak up Japan's gorgeous rural scenery from your window, with paddy fields to mountain peaks to the meandering Kinugawa River ready to ignite your mind.
When you reach Aizu-Tajima, take a moment to look around. Sample the area's culinary specialties at the station's bustling souvenir shop, and sip a sake for the road from the station's sake vending machine. Mind: blown.
Minamiaizu
Juhachinichi: Discover the scents of Japan
Your eyes and tastebuds will have been satisfied on your trip thus far—but what about your olfactories? Head to Juhachinichi—just minutes from Aizu-Tajima Station—and discover a specialty entirely unique to the region: locally-made essential oils.
Both fascinating and educational (totally our vibe), you'll learn how essential oils are made. Juhachinichi prides itself on using locally-sourced ingredients like peppery sugi tree oil and soothing hinoki oil, while gathering yuzu and lime from other regions of Japan, too.
If you get your timing right, you'll experience the Aroma Festival—check when the next one is happening before you plan your trip. Festival or not, try your hand at crafting your own essential oil blend to take a little piece of Japan home with you.
Ouchi-juku, Shimogo Town
Experience Japan more akin to Mulan than Tokyo Drift in Ouchi-juku. Beautifully preserved in the style of Japan's famed Samurai period, this charming village whisks you a few hundred years back in time. Switch the high-rises of Tokyo for low-lying thatched roofs and a fast pace for slow living here—your worldly troubles will seem eons away.
Enjoying its heyday as a thriving post town in the Edo period (it's situated on an important road connecting Aizuwakamatsu City and Nikko Imaichi), Ouchi-juku was a bustling little hub during the Edo period. Retaining its historic charm, you'll discover a functioning village of locals living and working here—gifting a unique insight into a lifestyle oh-so-different. And, thanks to the National Important Preservation District for Groups of Traditional Buildings, this delightful village is protected and its preservation actively supported.
You're likely to be hungry after all that culture, so don't miss the local specialty: negi soba. Several restaurants specialize in the fragrant dish, and you're sure to stumble upon one along Ouchijuku's main street. But be warned: leave your chopstick skills at the door—this amusing (yet tasty) dish is served with a giant leek. And that, our foodie friends, is going to be your cutlery. Meshiagare!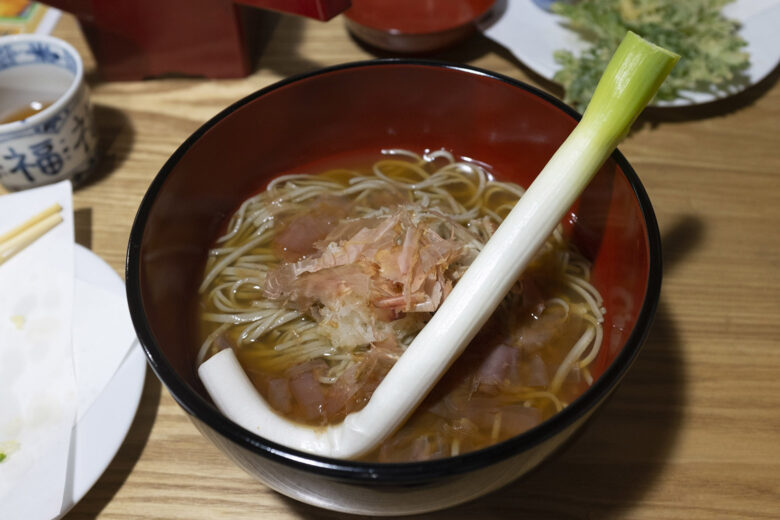 Aizu Wakamatsu
Located in the eastern part of the Aizu region, Aizu-Wakamatsu is defined by its architectural and natural beauty. Taking center stage is the bright-white and red Tsuruga Castle, surrounded by cherry blossoms, while the eastern area is home to the spectacular Lake Inawashiro—and a pretty flock of swans. Sold? We thought so.
Tennei-ji Temple
Where better to stumble across a Buddhist temple than the foot of a mountain? Such as it is with Tennei-ji Temple, an oasis of peace with a rich history and serene atmosphere. Try out a zen meditation class (don't knock it till you've tried it), and gain insight into the way of the Samurai—there's a lot to be learned. With strong links to the city's Samurai history, there's no better place to put on your student's cap.
Don't leave without checking out the graves of two important Samurai warriors; it is said that Hijikata Toshizo and Kondo Isami lie in rest at the end of a trail behind the temple. Our tip? Take a tour of Aizu Wakamatsu using the Samurai MaaS for stress-free exploration around the city.
Makie experience at Suzuzen Lacquerware Shop
No well-rounded travel adventure is complete without encountering the traditional crafts of a country or region. Far from your churned-out factory souvenirs, Suzuzen—established in 1832—expertly crafts intricate lacquered pieces at their six kura—Japanese-style historic warehouses.
Suzuzen uses the traditional Makie technique in their creations, from ornamental plates to colorful tableware and statement furniture. Try out the art yourself, or simply stock up on decor pieces to take home with you.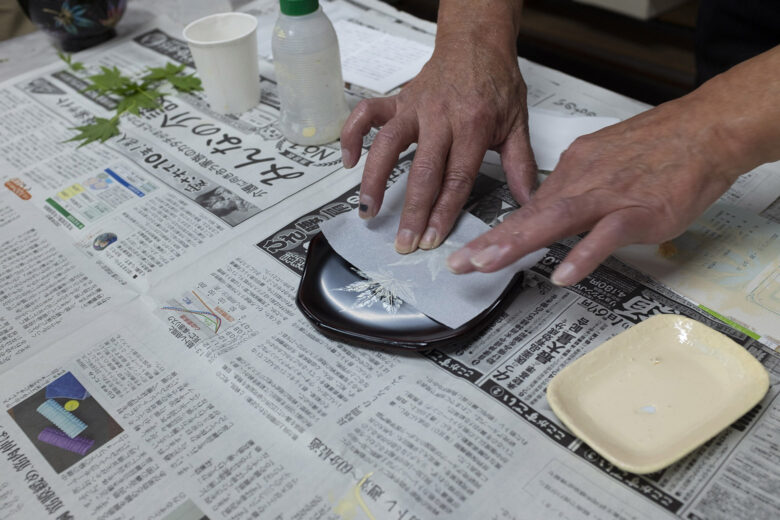 Aizu Railway
Concerned about getting around? Remember what we said about Japanese railways: they're simply excellent. Take a breathtakingly beautiful journey from Aizu Wakamatsu Station to Aizu Tajima, and don't miss an inch of Fukushima's glorious landscape. Then, hop on the Limited Express Revaty Aizu and head in the direction of Tokyo's Asakusa Station.
If you're weary from your travels, fear not: the train is bedecked in luxury, from the plush interiors to the free WiFi to the spacious seats. You'll be back where it all began in just over three hours. All-hail Japanese efficiency, right?
Where to stay
Higashiyama Onsen
When your feet are achy from all that pavement pounding, all you crave is a peaceful place to rest. Say Konnichiwa to Higashiyama Onsen. Legend has it that Buddhist Monk Gyoki discovered the Japanese hot spring resort over 1,300 years ago.
Loved by noble samurai, priests, and famous artists and poets, this is a place harboring tradition like no other. Nestled in a lush mountain valley, Higashiyama Onsen is gifted with a constant supply of fresh hot spring water. Soak up in one of the fine baths and emerge totally rejuvenated. And, when your batteries are juiced-up, you can head to the nearby cultural hotspots, including the mysterious Sazaedo temple and majestic Tsurugajo Castle. Take a bus, or hit the road in your own car if you prefer a more flexible day trip.
Kanto District Transport Bureau sponsored this article with the support of Taito City, Nikko City, Minamiaizu Town, Shimogo Town, Aizuwakamatsu City, Tobu Railway, Yagan Railway, and Aizu Railway.