OKAI is pushing boundaries in the market and on the roads, in the very best of ways. Worldwide kingpins in convenient, eco-conscious transport, OKAI is about as trailblazing as it gets. Creators of the coveted (but oh-so-accessible) OKAI Beetle, this forward-thinking company not only drives innovation at a lightning rate but helps you zoom around leaving far fewer carbon emissions in your wake, too.
Possessing back-of-hand knowledge of city roads and culture from Paris to Phnom Penh, OKAI operates with a committed team of over 500 employees from all four corners of the globe. Not to mention, they come from a wildly successful background in creating shared e-scooters (like the ones you'll have encountered everywhere, from Bristol to Budapest). So, you could say they know their stuff. And, with a primary focus on sustainability and eco-friendly transportation, they're firmly a company of our times.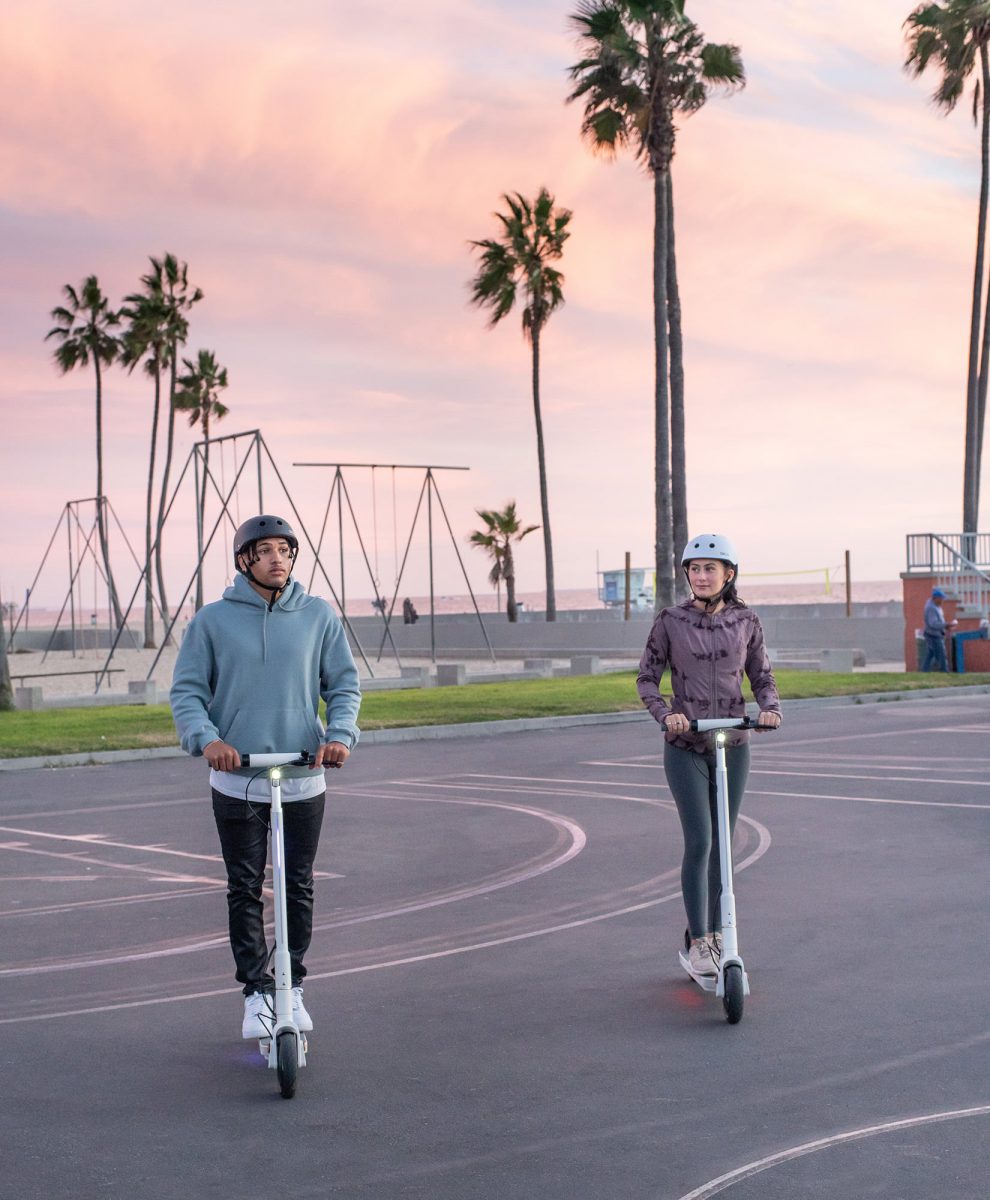 Amalgamating sleek, contemporary design with state-of-the-art technology, OKAI's modus operandi—indeed, their special talent—is unbeatable attention to detail. With their e-scooters, no stone has been left unturned. So, there's no surprise that the latest addition to the OKAI clan—the OKAI Neon—carries those same dominant genes:
OKAI's Neon e-scooter: customizable, portable and street smart
Naturally, we all need our transport (whatever it may be) to be reliable, functional, and comfortable. This trio is the basis on which the rest of the pyramid of needs sits. However, nobody wants an unsightly old-school (unless it's firmly retro) whizz-around, only reducing your street cred and having you dreading your journey. Enter: the Okai Neon. Combining epic style with innovative functionality, the Okai Neon will not only illuminate the road ahead, but it'll light up your life, too:
The first e-scooter to feature entirely customizable neon lighting, you can paint the town red—or indeed, whichever colour floats your boat—making this model the life (and light) of the party.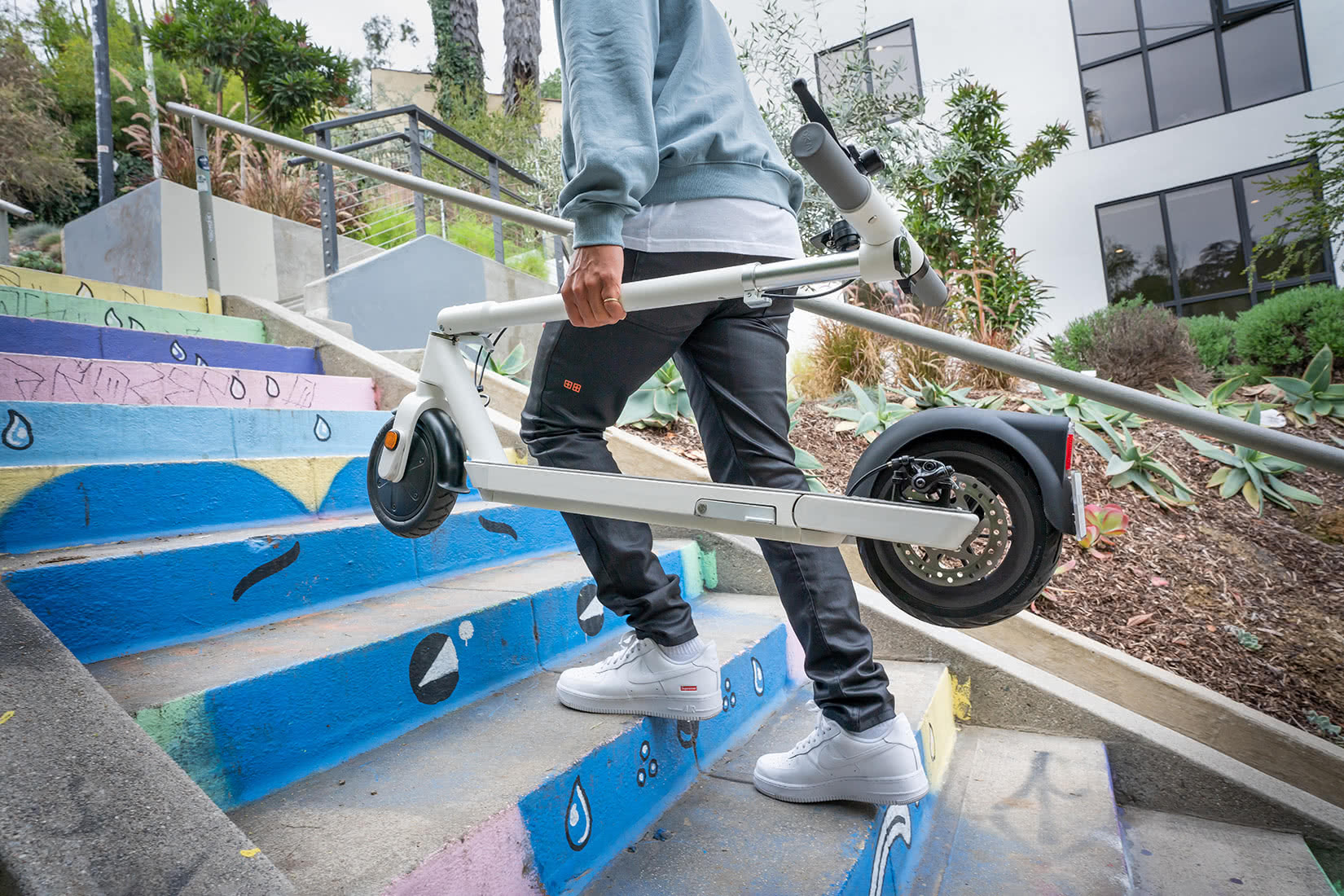 But no fear: the jazzy lighting is not to distract from an inferior operation; no, you'll also benefit from top-class motoring power, ensuring the OKAI Neon ES20 is plenty more than just a pretty face. Oozing street attitude, panache, and enviable style, you'll be lighting the way (literally) and inspiring others to jump on the e-scooter wagon.
Luminous, by design
So how does it work? Wait: put away your screwdriver, please. All you'll need to set those twinkling lights to your preferred shade is the OKAI app. And it doesn't stop at colours, either. Customize the brightness, display face (pick from Tech, Classic, or Vintage), and more with just the touch of a button.
Not only will this moveable discotheque look all the rage, but of course, your visibility on the roads will vastly improve, too. Riding at night has never been safer or sleeker. Picking up a pizza at 1am? No judgements here—arrive in style with the Neon. Heading out for a pre-dawn ride? (Again, you do you)—you'll glow like a firefly for those early-morning drivers.
While safety is of the utmost importance, naturally, the customizable nature of this e-scooter allows you to express yourself on the road in entirely new ways. Sure, you could add a sticker or two (joking, this is not 1996), but tailoring those lights to your unique preferences is—well, the 2020s equivalent of plastering your ride with your favourite band stickers—only much, much cooler.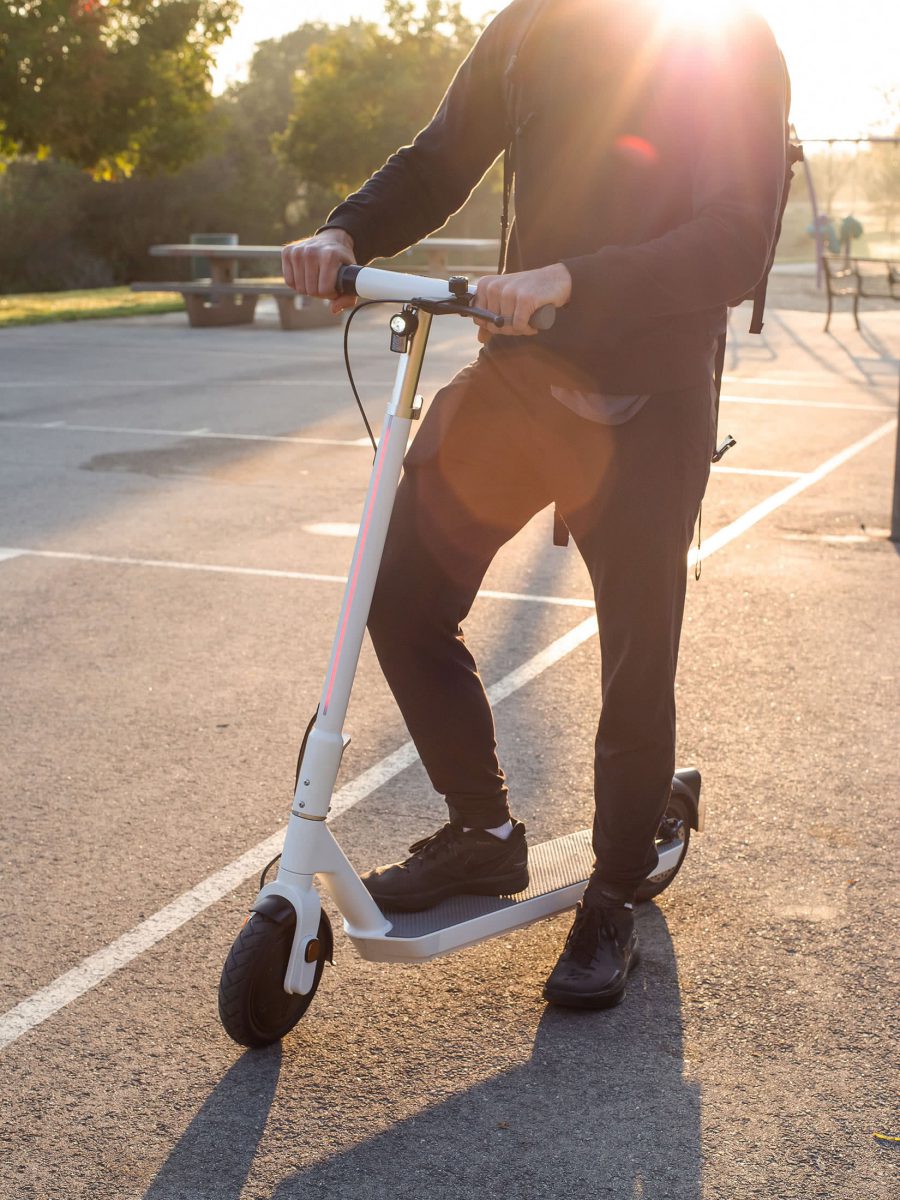 Yep, you'll find dual, wide-spectrum neon light bars on both the stem and undercarriage. And, all that's asked of you is this: simply hightail over to the app and start experimenting until you find your very own signature lighting design. It'll be yours, and only yours.
Ride quality
Looking for a sweet ride? OKAI's your guy. Boasting an 8.5-inch air-filled front tire with a talent for shock-absorption (bye-bye bumpy rides), and a rear—also 8.5-inch—tubeless tire, you can hit the road with peace of mind thanks to the puncture-proof design, too.
Not just sweet, but smoother than a melt-in-your-mouth chocolate truffle, you're in for a breezy ride with the OKAI Neon. With a helping hand from the uniquely engineered hidden suspension, Front Electronic Braking System, and rear disc braking, this ultimate trio ensures you enjoy a seamless and responsive journey every time you hit the road.
Portability
With our on-the-go lifestyles in full swing, portability is truly of the essence. The good news? OKAI has you covered: with the OKAI Neon weighing in at a featherlight 35 lbs (16 kg), you'll be able to get up and go without breaking a sweat. Simply use the one-click folding system to neatly compact your e-scooter, and carry it in, out, and out and about with airy finesse.
Performance
Like we said: it's not just a pretty face. If the OKAI Neon was human, it would be of Alma Clooney's ilk: breathtakingly beautiful, and sharp as a tack:
Running on a powerful 500W engine, you can cruise up 20% hill inclines like you're freewheeling across a flat plain—it won't show signs of struggle, giving the notorious "uphill climb" a refreshingly positive spin. Complete with a 9.8Ah smart battery, you can meander (or zoom, if you're late for work) for up to a generous 25 miles (40 km) on a single full charge. Trust us, as far as e-scooter range goes, this is impressive.
Technology
The e-scooter equivalent of, say, the Tesla Model Y, the OKAI Neon is brimming with hi-tech features. Not one to stay behind the times, you'll find a smorgasbord of slick tech to make travel even easier: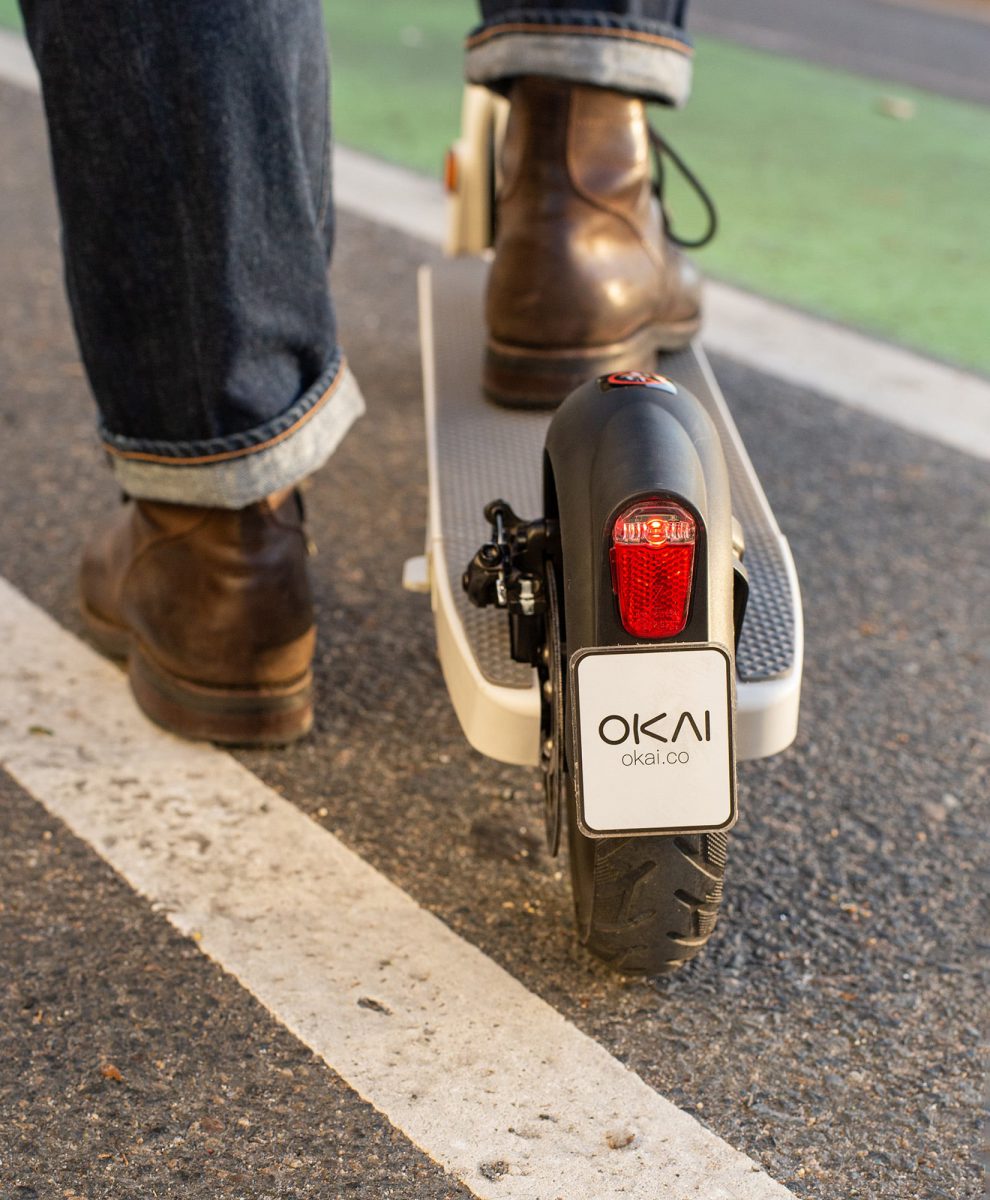 With OKAI Smart App control (compatible with both iOS and Android), you can even change up your lights on-the-fly. Plus, you'll enjoy access to more practical settings like locking, battery health, and ride metrics, you can stay in-the-know (and in control) at all times. It's as simple as connecting your e-scooter to your phone via Bluetooth or NFC.
Of course, with an e-scooter so light-centric, it's a no-brainer that the safety lights would be on-point, too. Featuring an ultra-bright LED headlight, rear-lit tail-light, and integrated brake lights, you'll set off in a luminous safety net of visibility. Not limited to daytime driving, you'll feel confident zooming off in the darkest hours, so you can enjoy true freedom of movement no matter what the clock says—or, in fact, what the weather is up to:
Yes, finished with a water-resistant (IPX5-rated) construction, your new e-scooter will hold its own against drizzle, so you can get to cover quickly come the unexpected rain. Yes, your OKAI Neon will still perform at an A-star standard, but we can't speak for your hair.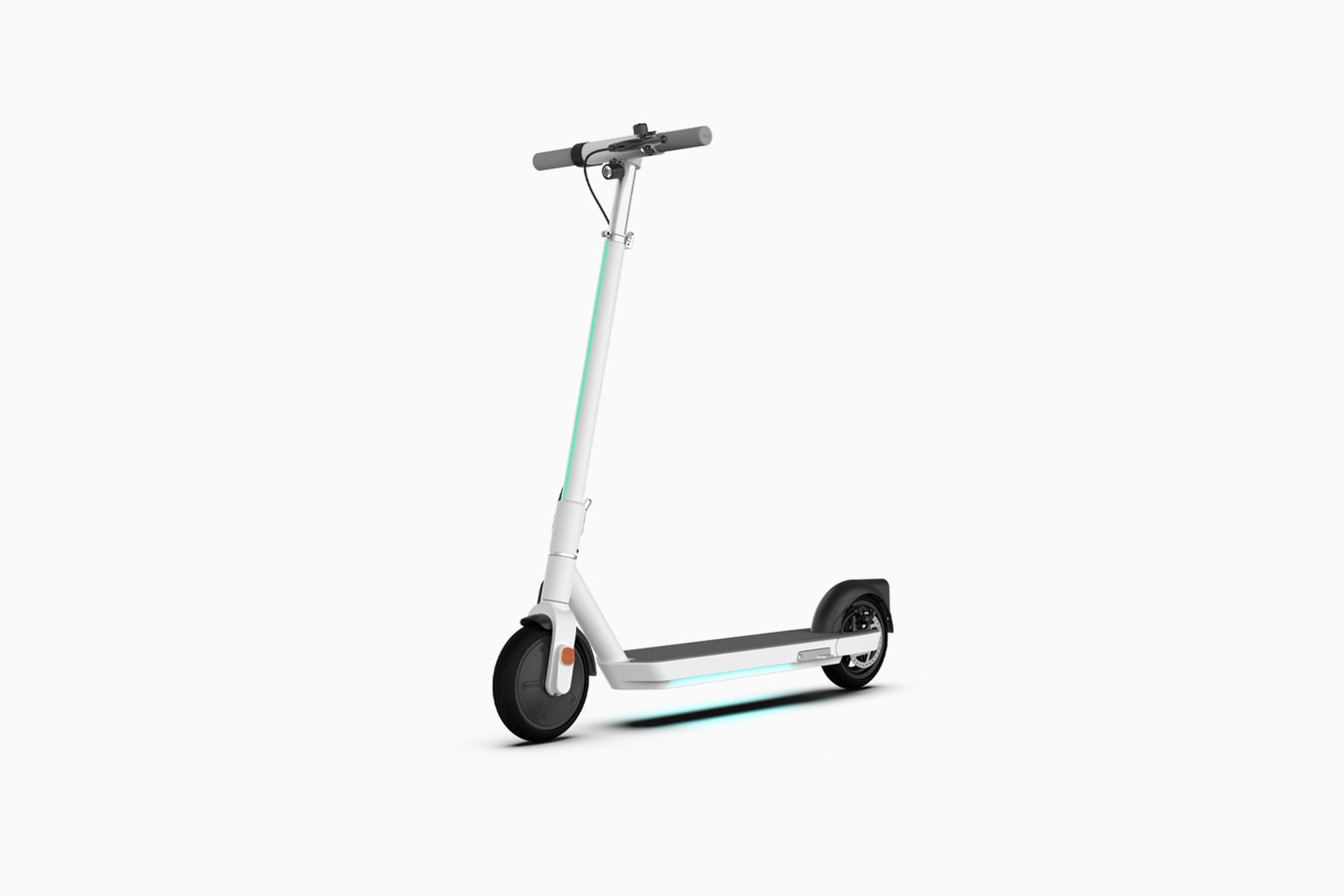 Range: Up to 25 miles / 40 km
Max speed: 16 mph /  25 km/h
Hill grade: up to 20%
Charge time: 6 hours
Weight: 35.27 lbs / 16 kg
Max rider weight: 220 lbs / 100kg
Foldable: Yes
Removable battery: No