Not just reserved for Silicon Valley tech guys rushing from one end of the office to the other, electric scooters are suitable for anyone looking to zip across town more efficiently.
The answer to eco-friendly journeys when you'd rather avoid public transport and don't have the time (or inclination) to walk, an electric scooter is emission-free, relatively safe and a far cheaper alternative to an electric car.
Because it turns out that "Four legs good, two legs bad" is not only a famous literary quote but also the reaction once you've tried out an electric scooter for the first time. Replace those extra two legs with two motor-powered, high-speed wheels and you've found yourself the perfect commuting companion or quick-spin-around-the-block assistant.
Of course, you could also complete your journey on a swish new electric bike, but if you'd rather stay standing and complete your journey without a change of clothes or tackling the traffic, an electric scooter is the answer.
With plenty of motorised scooters on the market, it can be tricky to know which is perfect for you. Read on for our favourite e-scooters for commuting, a little bit of fun, or both.
The 11 best electric scooters
Check our special electric scooter's buying guide after the list to see exactly what you should pay attention to when an electric scooter online.
Unagi The Model One: Best overall electric scooter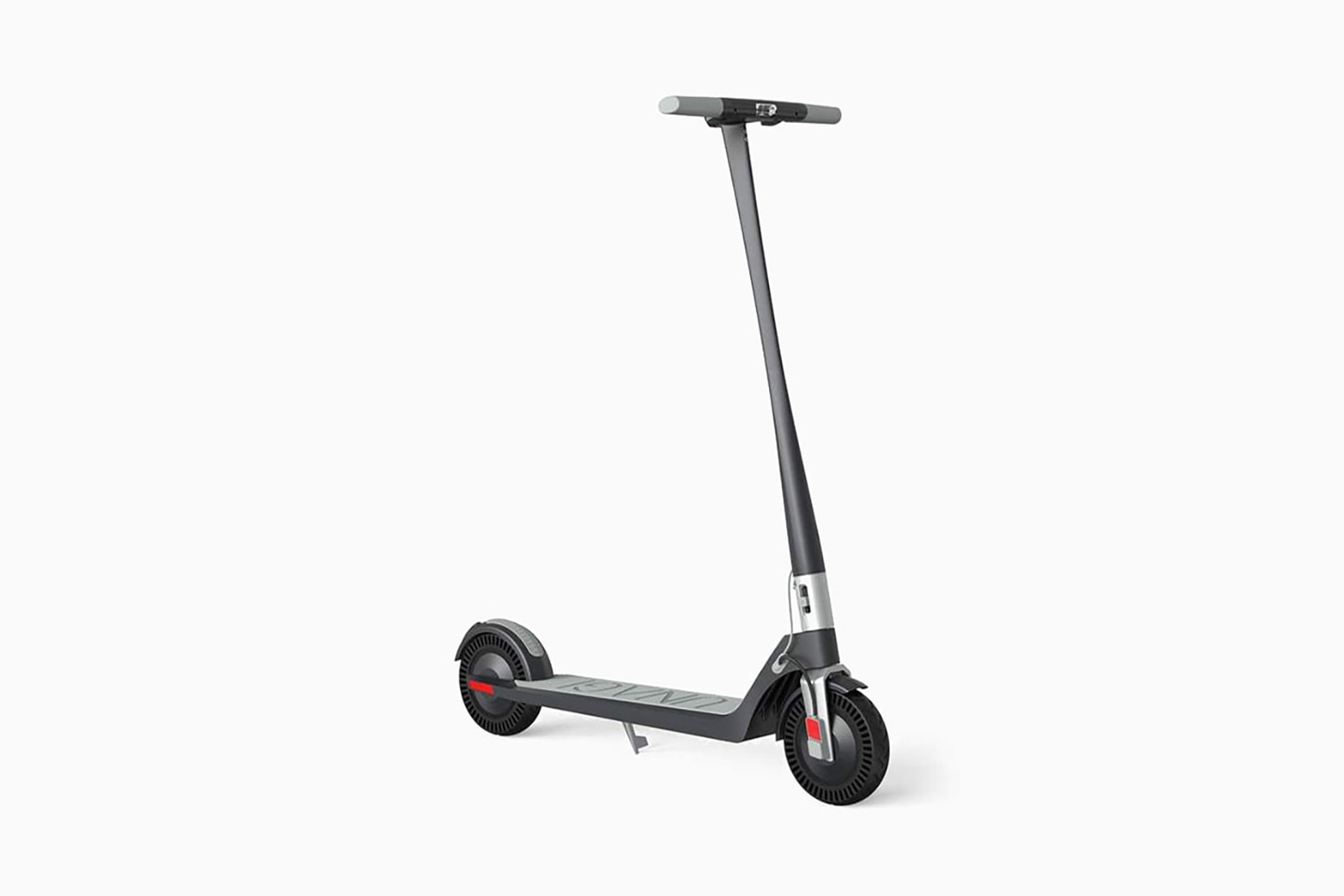 Unagi took a little from column A and a little from column B when designing The Model One. And, on top of that, it also included a little from column C, D and E along with basically the rest of the alphabet. In short, Unagi's The Model One is the best electric scooter on the market for adults, thanks to its endless array of features and ease of use. This electric scooter comes in four different colours and is lightweight, easily foldable and striking when on the move.
Its aluminium and carbon fibre makeup helps you to glide along the road in a slim, portable fashion that works for both commuting and journeying for pleasure. Undoubtedly one of the most swish electric scooters on the market, Unagi is the tonic to many other clunky designs. Combining the best that structural engineering and physics has to offer, it's the best all-rounder available.
Best for: Incorporating into your lifestyle like a second pair of legs.
Range: 15.5 miles / 25 km
Max speed: 20 mph /  32 km/h
Charge time: 5 hours
Weight: 12kg / 26.4lbs
Max rider weight: 275lbs / 125kg
Foldable: Yes
Removable battery: No
Colours: Black, blue, salt, red
Apollo Phantom: Best high-end electric scooter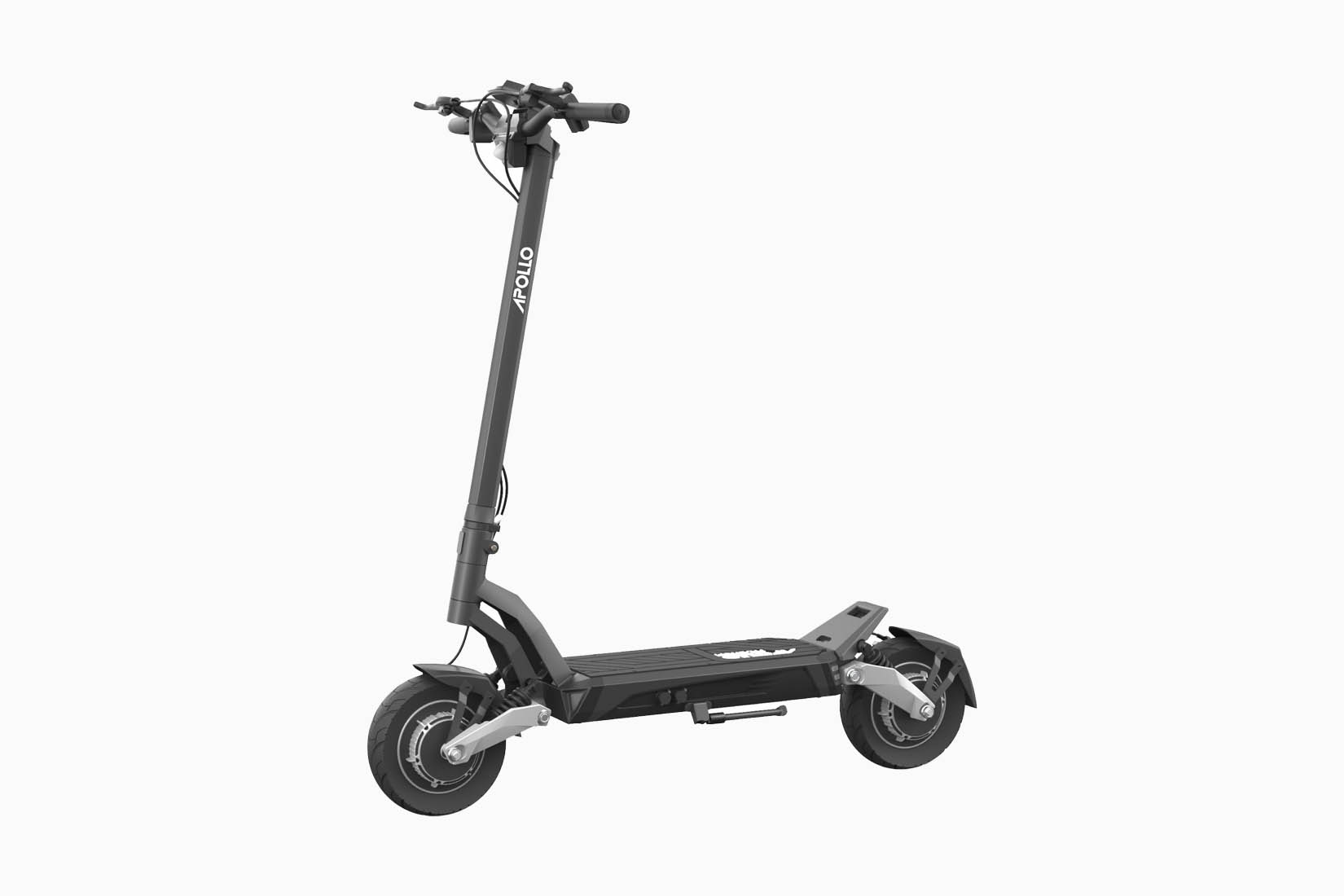 The Apollo Phantom is a high-end electric scooter that's not messing around when it comes to taking you from point A to point B, looking stylish as you speed down the road. As you might expect from a premium electric scooter, this is one that comes with all of the bells and whistles; carefully tucked away to ensure a streamlined design, of course.
Expect an effortless journey that's smooth and stable, on an electric scooter that anticipates your needs and becomes preferable to taking a car or, God forbid, walking. The Apollo Phantom was carefully-crafted based on feedback from 20,000 other scooters sold, which means it brings together all of the good features and hastily removes any of the bad. It's made from aerospace-grade aluminium, giving it strength without the bulk. It's also one of the fastest on the market.
Best for: A streamlined e-scooter pushing science and design to its limits.
Range: 40 miles / 64 km
Max speed: 38 mph / 61 km/h
Charge time: 12 hours
Weight: 77lbs / 35kg
Max rider weight: 300lbs / 136kg
Foldable: Yes
Removable battery: Yes
Colour: Black
Xiaomi Mi: Best value electric scooter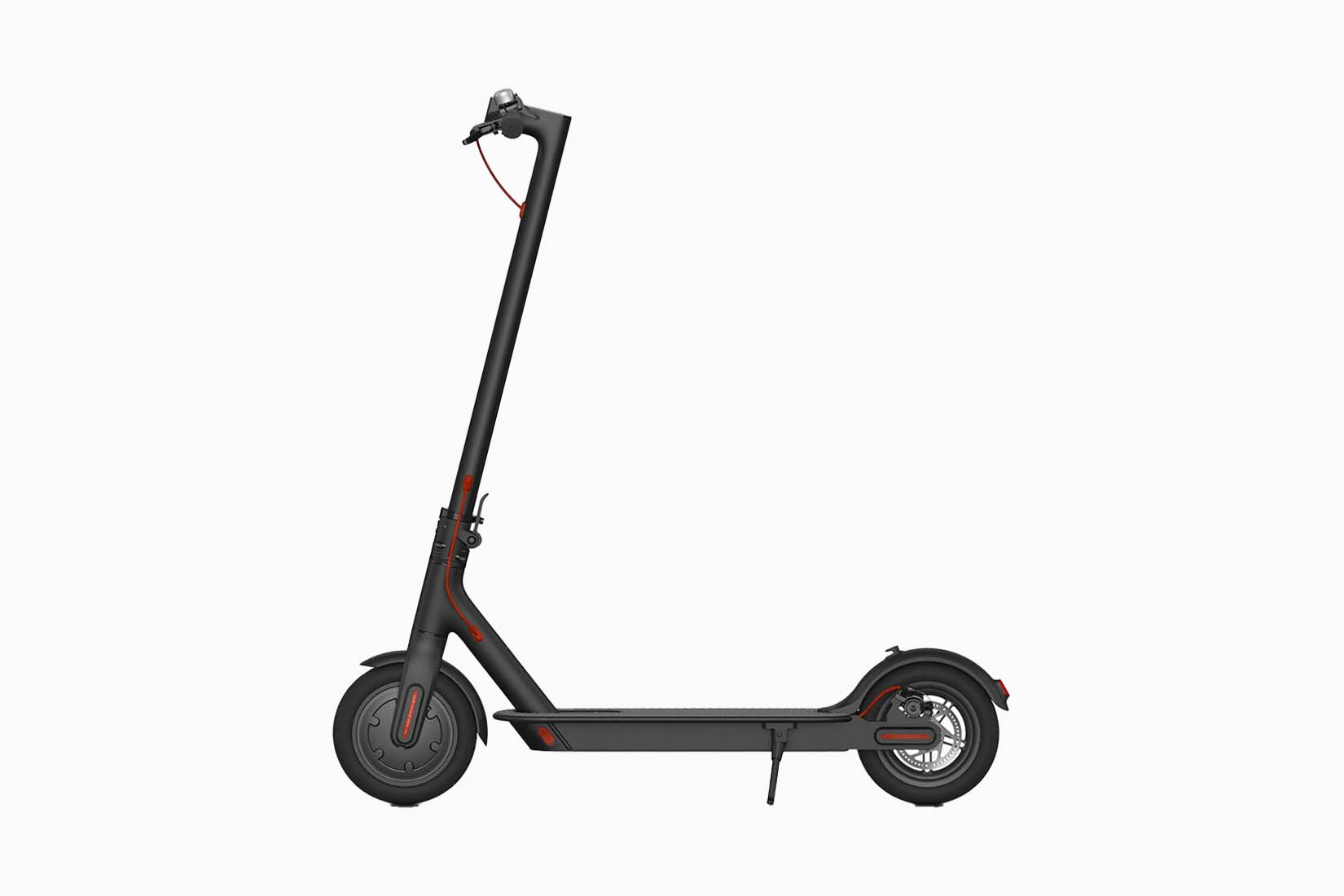 Xiaomi used to be known as Birdride and was launched by an ex-Uber exec. Nowadays, you'll see these scooters all over places like Santa Monica, where high-flying workers hire them out for an hour at a time to whiz around the city with no limits. With both of those facts in mind, you can be reassured that Xiaomi knows what's what in the world of electric scooters. Better yet, the Xiaomi Mi Electric Scooter brings together this ease of use and versatility in a scooter that's quick, efficient and cost effective.
It's one of the most budget friendly electric scooters on the market, with a 18.6 mile maximum distance that makes it suitable for medium distances and spontaneous trips. Its portable design and lightweight frame combines with an intuitive and easy to use system that easily removes any fears of extensive set-up programmes or complex electronics.
Best for: Saving you even more money on your commute than anticipated.
Range: 18.6 miles / 30 km
Max speed: 15.5 mph /  25 km/h
Charge time: 5 hours
Weight: 26.9lbs / 12.2kg
Max rider weight: 220lbs / 100kg
Foldable: Yes
Removable battery: No
Colours: Black
Glion Dolly : Best electric scooter for commuting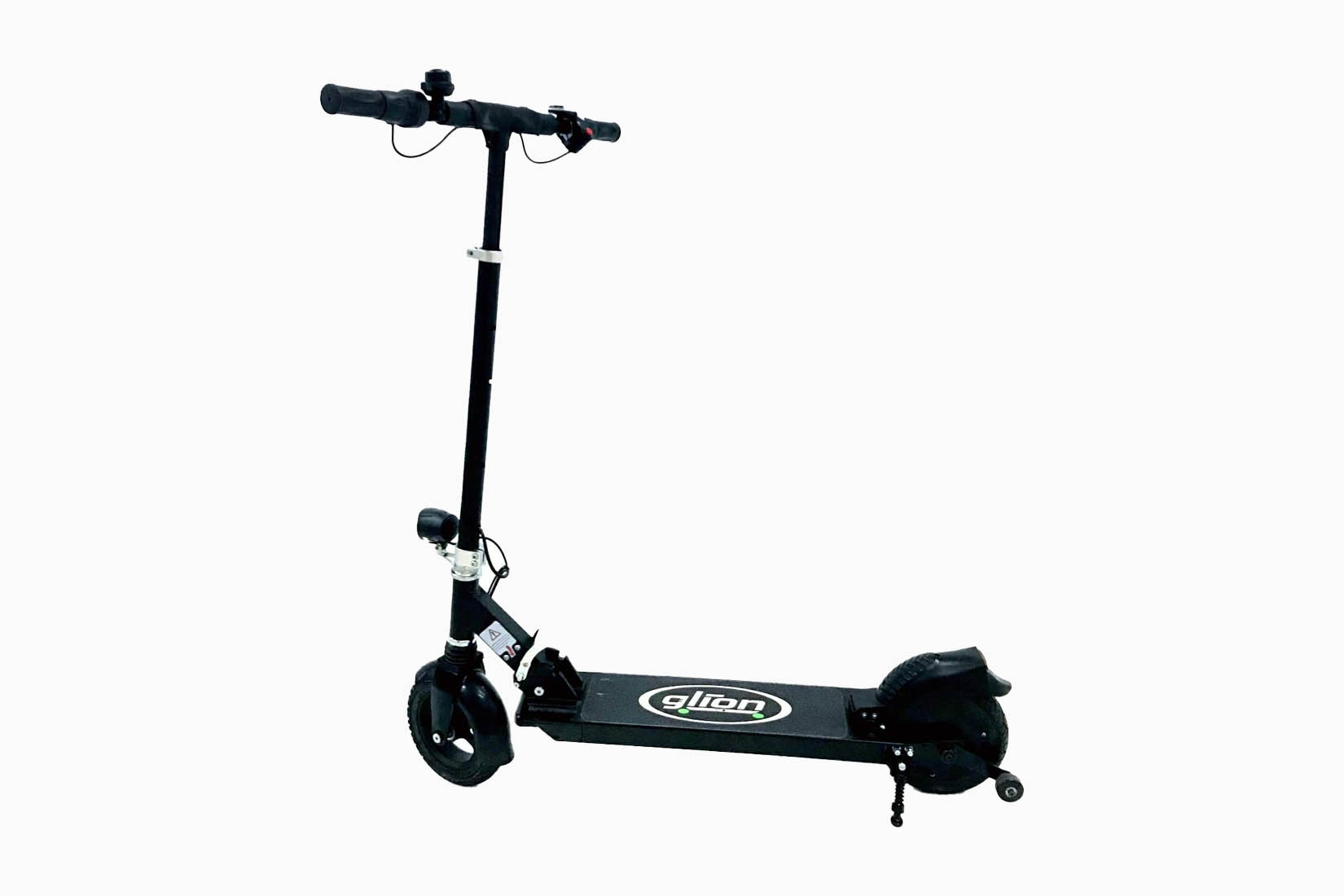 Commuting becomes a breath of fresh air – literally – when you swap your too-warm-for-comfort walk or hotter-than-the-sun public transport journey for an electric scooter. The Glion Dolly is sleek and jet black, propelling you forwards towards the office at a comfortable speed that ensures you'll never walk in late again.
Despite its lightweight style, the Glion Dolly doesn't hold back when it comes to speed and power. An aircraft aluminium frame utilises the best that the industry has to offer and a convenient vertical self-standing feature allows quick and easy transitioning from commuting to starting your first call of the day. Roll it out like a suitcase, twist it into position and you're ready to go.
Best for: Arriving at work with the wind in your hair and a smile on your face.
Range: 15 miles / 24 km
Max speed: 15 mph /  24 km/h
Charge time: 3.25 hours
Weight: 28lbs / 12.7kg
Max rider weight: 255lbs / 115kg
Foldable: Yes
Removable battery: No
Colour: Black
Segway Ninebot MAX: Best electric scooter for long commutes and heavy adults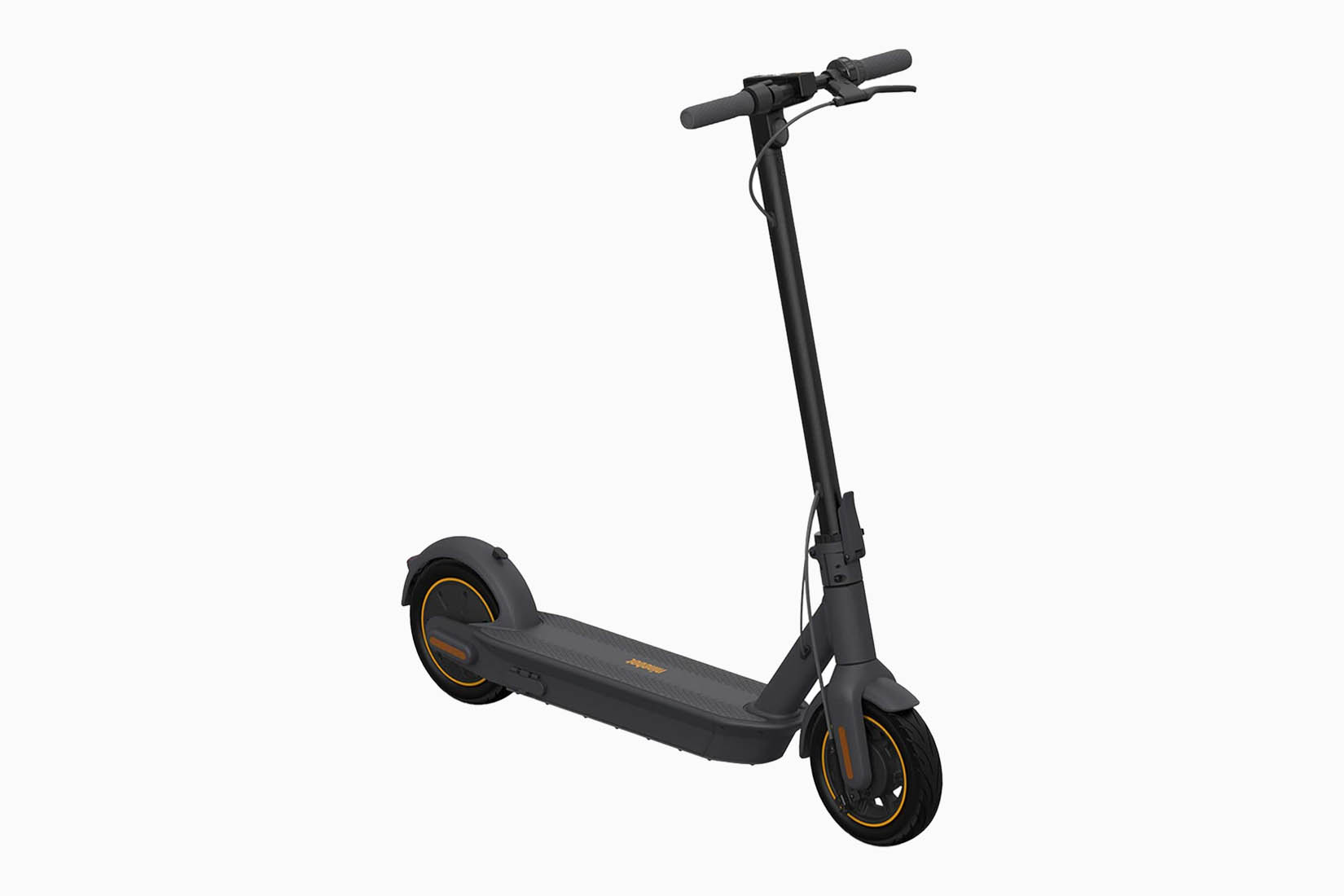 The Segway Ninebot MAX looks at the dictionary definition of an electric scooter and steps it up a notch in every way possible. While some electric scooters are limited when it comes to maximum weight capacity, distance and battery life, the Segway Ninebot MAX promises to remain loyal for longer distances, heavier rides and faster speeds.
This is an electric scooter in the professional sense: a scooter that comes in a smooth dark grey shade with a powerful 350W motor and a Smart Battery Management System that both assures the battery safety and also extends its life. LED display, bluetooth capabilities and cruise control add to this electric scooter's already impressive list of features. And, despite its intense specs, it's fairly lightweight and easily portable.
Best for: Proving that electric scooters really are suitable for everyone.
Range: 40 miles / 64 km
Max speed: 18.6 mph /  30 km/h
Charge time: 6 hours
Weight: 41.2lbs / 18.7kg
Max rider weight: 220lbs / 100kg
Foldable: Yes
Removable battery: No 
Colour: Black
Razor E300: Best electric scooter for teens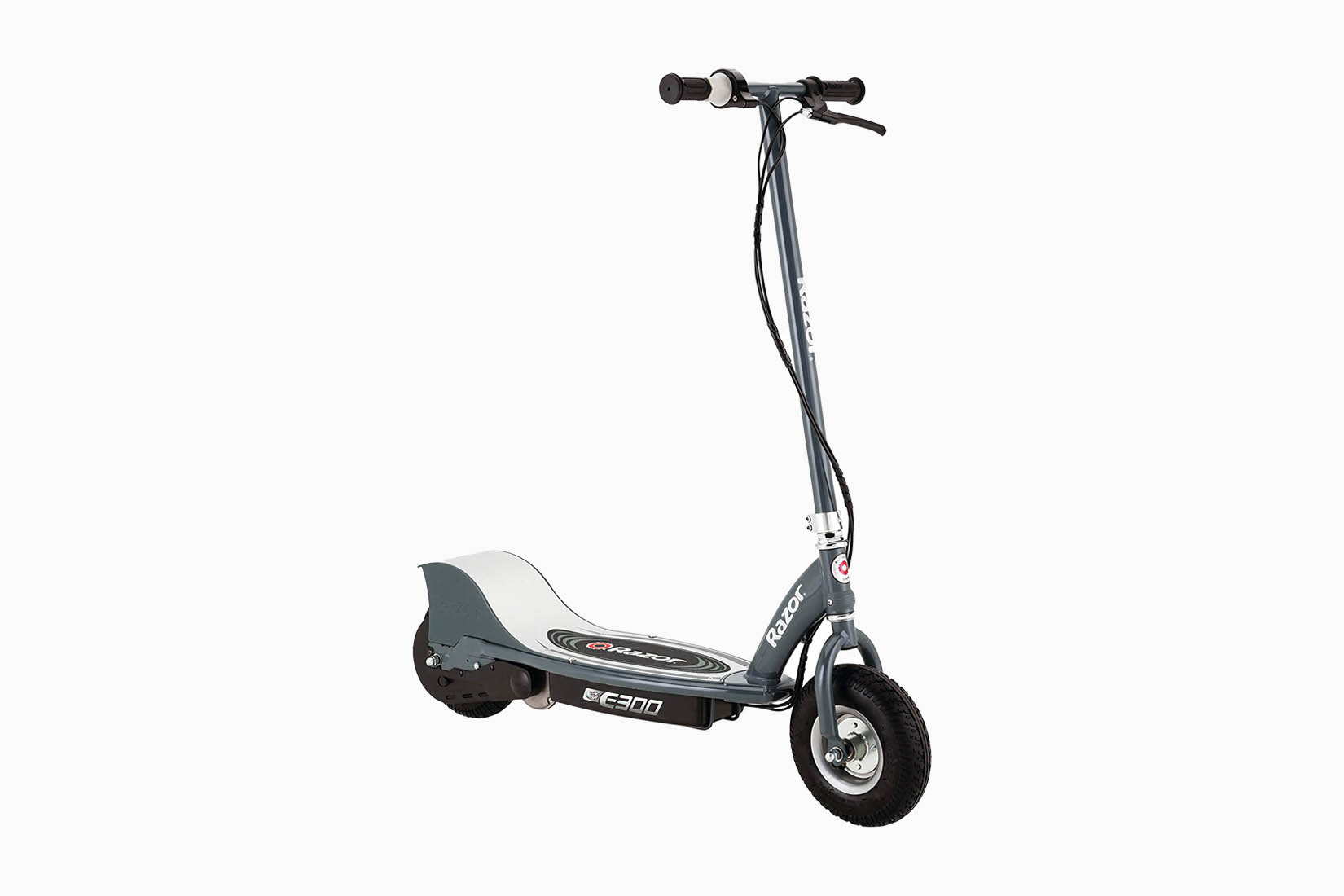 Finding an electric scooter that hits the midpoint for teenagers can be difficult… unless you're purchasing the Razor E300 Electric Scooter. Larger than those designed for kids but with not quite the same amount of power as electric scooters designed for commuting, the Razor E300 has an all-steel frame and fork for a solid ride that's smooth on even the roughest of surfaces. Assembling this bike takes mere minutes, which means that after a quick charge, it's ready to go for all kinds of adventures.
While it's suitable for teens, it's also got a strong enough base for adult riders, which makes it a great electric scooter if you're looking to branch out into the world of eco-travelling without all of the power of a full-sized scooter. It's one you'd maybe buy for a teen before not-so-subtly using yourself.
Best for: First-time users and those taking a first step into electric scooting.
Range: 10 miles / 16km
Max speed: 15 mph /  24 km/h
Charge time: 10 hours
Weight: 43lbs 
Max rider weight: 220lbs / 19.5kg
Foldable: No
Removable battery: No
Colour: Matte grey
Gotrax GKS: Best electric scooter for kids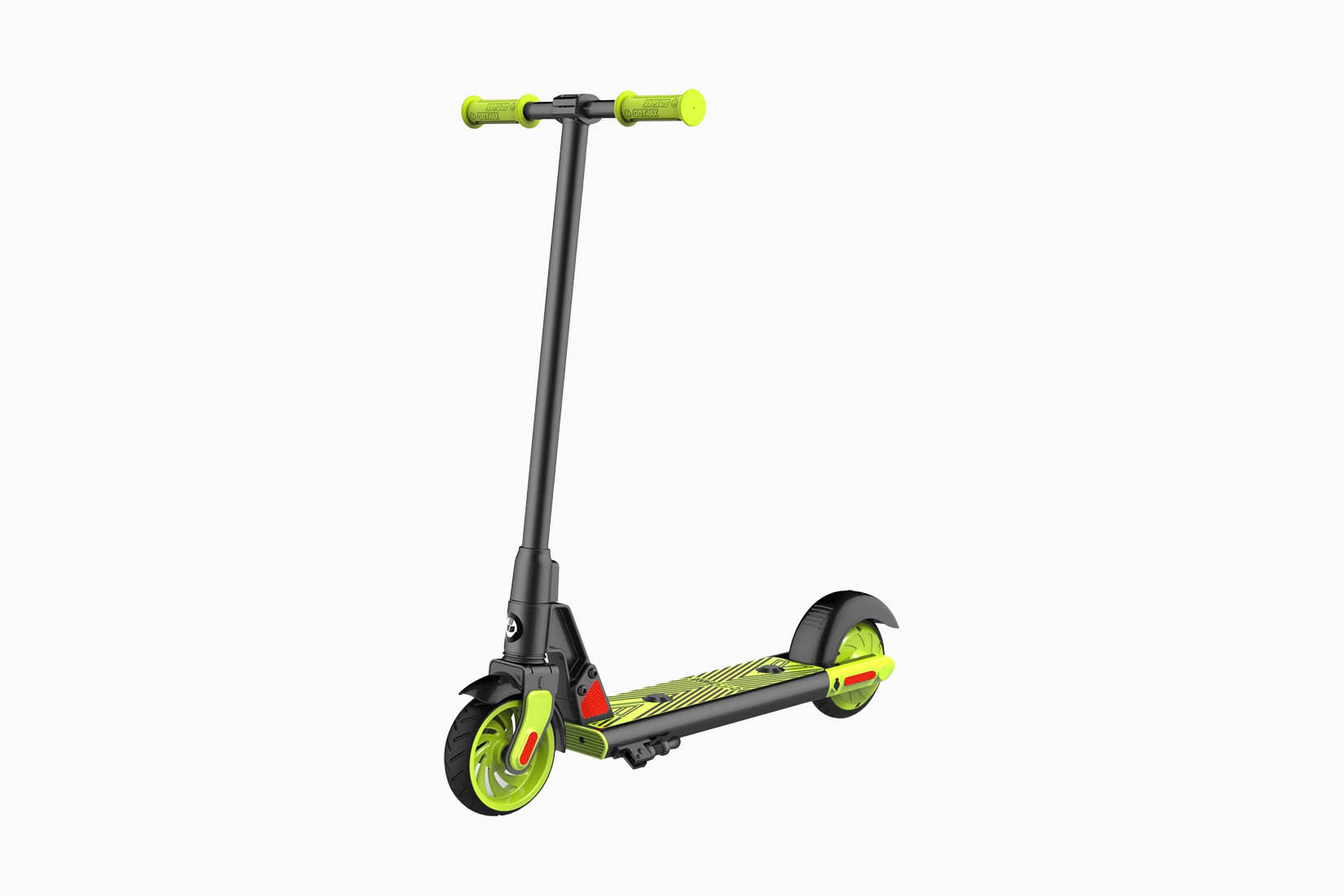 A new electric scooter is the difference between kids dragging their feet along those slightly longer walks and racing ahead of you, feet on the scooter and excitedly calling back for you to hurry up. In short, if you're someone who often finds themselves in a rush, an electric scooter for kids could be the answer to getting back on track. The best electric scooter in question? The Gotrax GKS Electric Scooter. Its luminous edges make this scooter a talking point before you even get to its impressive, child-friendly statistics. Perfect for children aged between 6-12, this scooter functions both as an electric model but also a traditional kick scooter.
Best for: A colourful addition to your life that bridges the gap between entertainment and genuine usefulness.
Range: 4 miles / 6.4 km
Max speed: 7.5 mph /  12 km/h
Charge time: 5 hours
Weight: 17.8lbs / 8kg
Max rider weight: 154lbs / 70kg
Foldable: No
Removable battery: No
Colours: Black, green, pink, blue
Razor EcoSmart Metro: Best electric scooter with seats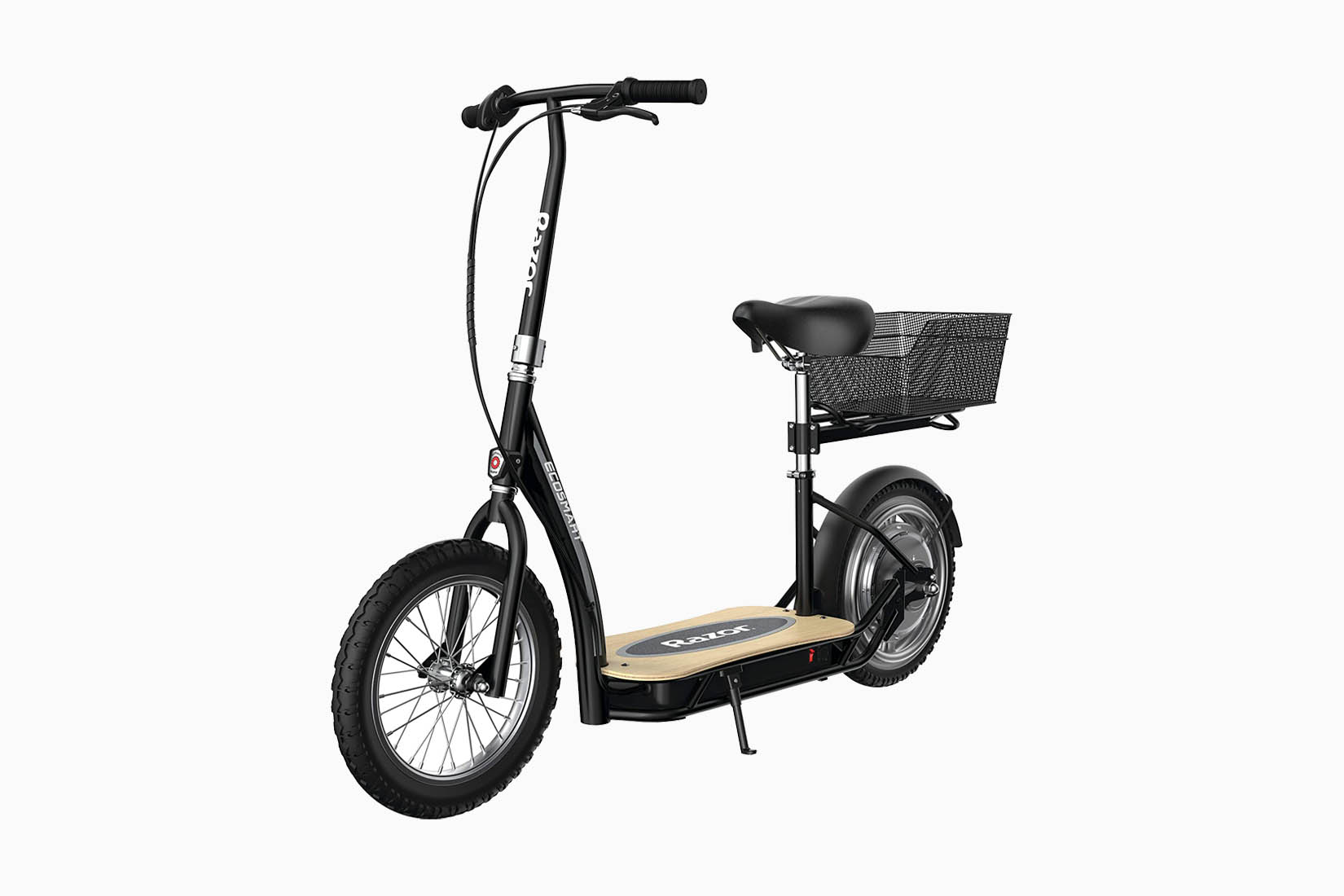 It's time to take electric scooting to the next level with a model that allows the option to sit down if you tire of standing for too long. The Razor EcoSmart Metro has an almost vintage style, with a comfortable seat and basket for easy transportation. Admittedly, there aren't many electric scooters with seats on the market, but this one easily jumps to the top of the list with its soft padded seat and wide bamboo deck.
Fast and powerful, it has an almost silent motor and promises smooth handling from the start of your journey until you reach your final destination. Effortlessly fusing the gap between an electric scooter and an electric bicycle, the Razor EcoSmart Metro Electric Scooter has a motor designed for longer distances, a design perfect for cosy journeys and an appeal that's a winner for all.
Best for: Taking the idea of "effortless journeys" to the entire next level.
Range: 12 miles / 19 km
Max speed: 15.6 mph /  25 km/h
Charge time: 12 hours
Weight: 72.89lbs / 33kg
Max rider weight: 220lbs / 100kg
Foldable: No
Removable battery: No
Colour: Black
Hiboy S2 Pro : Best electric scooter for tall adults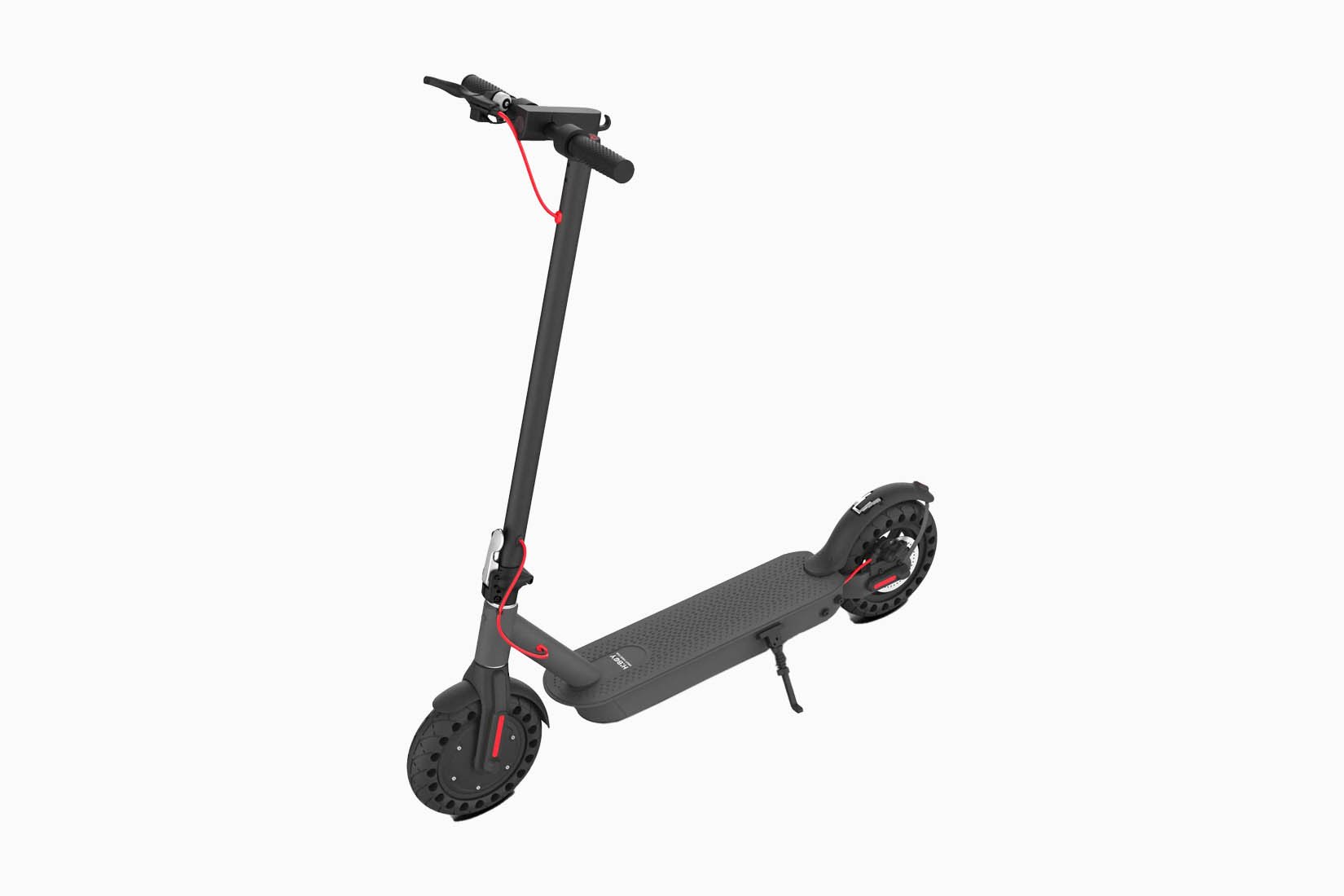 Sleek and smooth, the Hiboy S2 Pro is designed to do it all and then a little bit extra: in the sense that it's the perfect electric scooter for anyone, even if you're a little taller or a little heavier or just appreciate slightly faster speeds. While other electric scooters may falter past 15mph, the Hiboy S2 Pro Electric Scooter is able to coast along at a smooth 19mph without any kind of hesitation.
The power from this scooter comes partially from its impressive motor and partially from its high capacity battery. Together, they produce a seamless journey that'll effortlessly accompany you to the office, to the shops or simply for a quick journey around your neighbourhood. This is a scooter you'll ride for convenience but also simply for pleasure.
Best for: Never feeling like you're riding a child-sized scooter.
Range: 25.6 miles / 41.2 km
Max speed: 19.6 mph /  31.5 km/h
Charge time: 6 hours
Weight: 36.3lbs / 16.4kg
Max rider weight: 260lbs / 117kg
Foldable: Yes
Removable battery: No
Colour: Black
RION RE90: Fastest electric scooter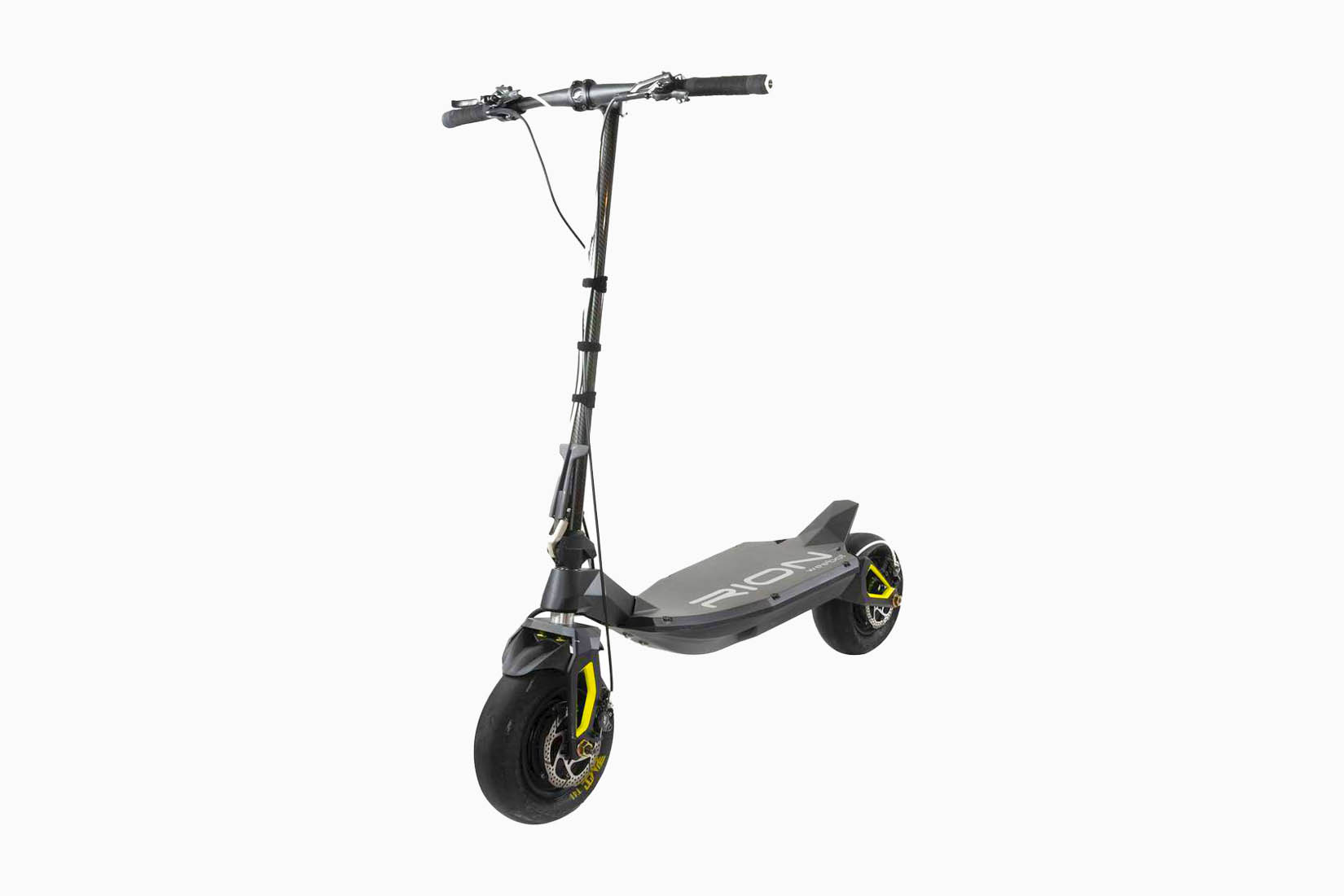 RION RE90 calls itself the world's "first and only hyper scooter" which, even if you wouldn't consider yourself an avid technology fan, comes with an assumption that this model moves pretty fast. And this electric scooter lives up to the hype, with a superpowered motor akin to something from Formula One…if there was an electric scooter equivalent.
The RION RE90 is slick and sporty: a jet black scooter that doesn't mess around when it comes to quality or quantity. And it offers both in hefty measures. This electric scooter's sharp edges, slick tires and ultra-present carbon make it undoubtedly the smoothest on the market if you're looking for an electric scooter set to impress. Designed to break records, it's made almost entirely from carbon, which allows it to quickly reach maximum speed without any hefty design flaws holding it back.
Best for: A need for speed, eco-friendly edition.
Range:  43.5 miles / 70 km
Max speed: 15.5 mph /  25 km/h
Charge time: 4.5 hours
Weight: 60lbs / 27.2kg 
Max rider weight: 220lbs / 110kg
Foldable: Yes
Removable battery: No
Colour: Black
Swagtron Swagger 5 Elite: Best budget electric scooter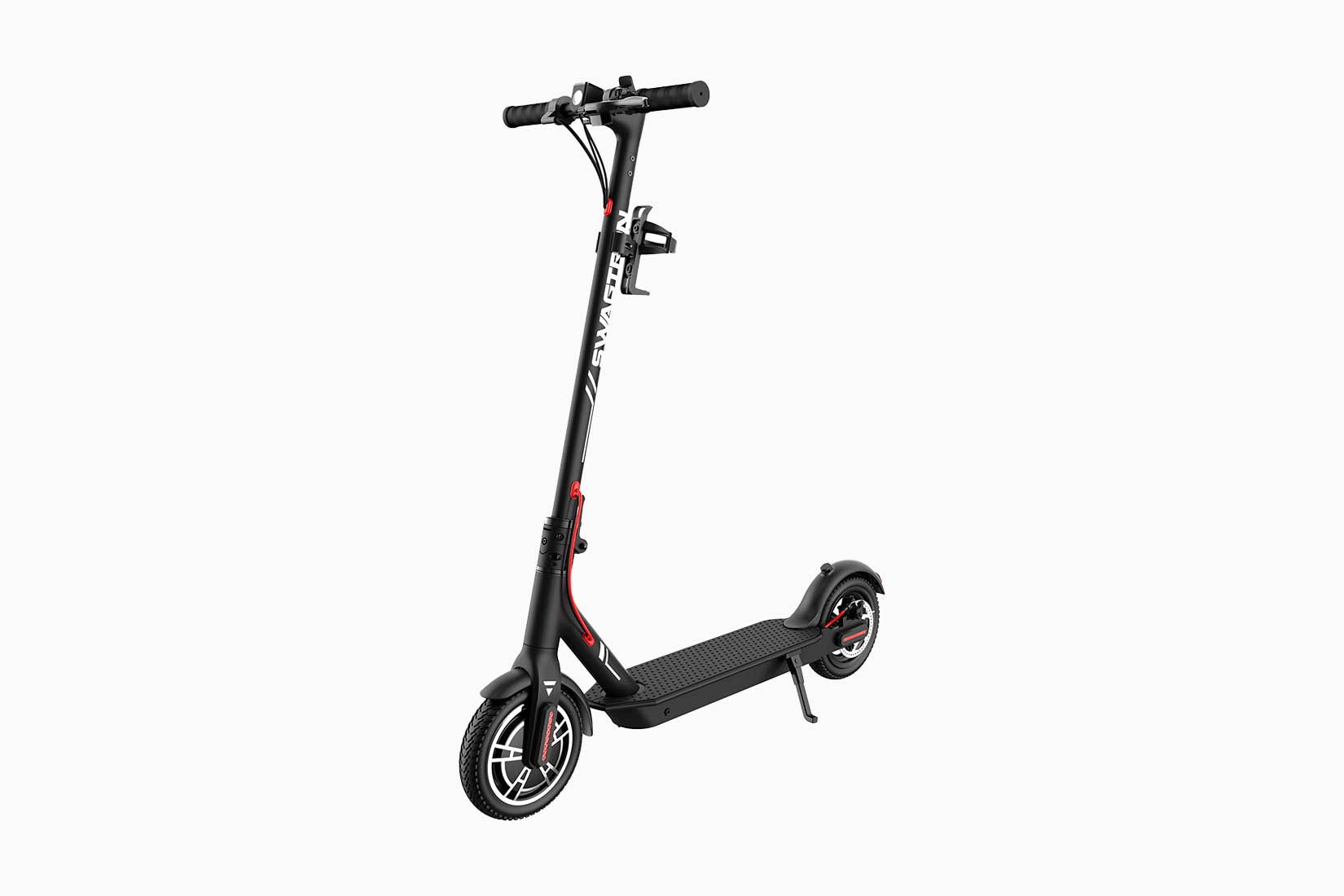 Electric scooters don't have to come at a high cost, as proven by the success of the Swagtron Swagger 5 Elite. A scooter that's just as comfortable to ride as it is for your bank balance, this electric scooter comes with an upgraded motor from previous models. The Swagtron Swagger 5 Elite is your perfect commuting companion on a budget: a scooter that easily transports you down the road without a bump in sight.
A single folding click means it's almost effortless to set this electric scooter up and three speed modes means you're always well equipped no matter how late you're running for that meeting. Better yet? This electric scooter will set you back less than $500. If you're looking to elevate your commute or get onboard with tech for a contrast to walking, the Swagtron Swagger 5 Elite is a brilliant companion.
Best for: A scooter that saves you money on new shoes as well as the model itself.
Range: 11 miles / 17.7 km
Max speed: 18 mph /  29 km/h
Charge time: 3.5 hours
Weight: 25lbs / 11.3kg
Max rider weight: 320lbs / 145kg
Foldable: Yes
Removable battery: No
Colours: Black, silver
Buyers guide to electric scooters
There really is an electric scooter for everyone: from the commuters looking for a more eco-friendly journey to work through to the teenagers and children looking for a new, fun mode of transport. Before you buy an electric scooter, take into consideration all of the following factors.
Design
Most modern electric scooters are relatively sleek and slim but some models are bulkier than others. The wide range of scooters available on the market means it's easy to find one that matches your personal style – whether that's a jet black, minimalistic design or a larger scooter with brightly coloured accents. If you're buying an electric scooter for a child, a brightly coloured model is more visible and may be a safer option for capturing attention easily.
Miles per charge
If you're a regular user, you'll want to look for an electric scooter with a higher mile per charge number. If you're only planning on using your scooter on one-off occasions, you can focus on other factors instead.
Maximum speed
Time is money, and a faster electric scooter has the potential to save both of the above, getting you from point A to point B in a smoother, faster manner than slower models. Keep in mind that many product description estimated figures are based on conservative use, which means real-time use may be slightly under what's advertised. Battery life, for example, is also usually calculated based on moderate speeds rather than maximum capacity.
Price
It's possible to find electric scooters at all price points nowadays, from just under $500 for a budget scooter and working up to thousands of dollars for a more premium model.
Portability
Many electric scooters are foldable, which comes in handy if you'll be completing some of your journey on your scooter and other parts in a car or on public transport. This is also a useful factor to keep in consideration if you're using your electric scooter for commuting purposes. Look for folded measurements rather than total height if this is the case.
Frequently asked questions about electric scooters
What is the best electric scooter for adults?
The best electric scooter for adults is the Unagi The Model One. This electric scooter is lightweight, versatile and suitable for all types of journeys. Read our full guide to discover the best electric scooter for you.
How do I choose an electric scooter?
When choosing your electric scooter, take into consideration factors like the distance you'll use it for, its battery life, maximum weight and whether or not it's portable and foldable.  
Is it worth buying an electric scooter?
An electric scooter is a brilliant option for shorter commutes and for travelling around in an eco-friendly way. If you're looking to cut commuting costs and get some fresh air, an electric scooter is a brilliant addition to your life. 
What is the best scooter for the money?
The best value electric scooter is the Xiaomi Mi Electric Scooter, a budget-friendly option that brings together ease of use and versatility in a scooter that's quick, efficient, versatile and cost-effective.