Red jasper is the gemstone of endurance, healing, and nurturing. It has been used since ancient times during intense battles as talismans for strength. In the modern context, red jasper is now used to fight personal battles by providing clarity and calm to all who seek it.
Whether you're drawn to the vibrant tones of rust-red or are passionate about the earthy terracotta hues, red jasper comes in many red tones to suit your every mood. Red jasper gemstones make excellent gifts as they can be used by anyone in need of energizing and healing both physically and emotionally. With its deep connections to mother earth, red jasper is an amazing stone to keep close by for its grounding nature.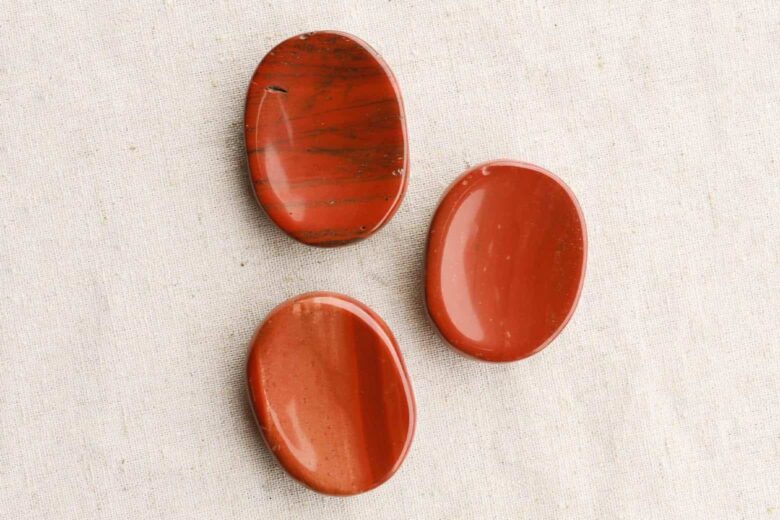 | | |
| --- | --- |
| Red Jasper Colors | Brick red to brownish red |
| Zodiac Sign | Aries |
| Hardness Scale | 6.5-7 on Mohs Scale |
| Mineral Class | Chalcedony |
| Symbolism | Stability |
What is Red Jasper
Red Jasper is an opaque stone of the mineral class chalcedony from the microcrystalline variety of quartz. The name jasper is derived from the old French word "jaspre" and the Latin word "iaspidem" which translates to spotted or speckled stone.
Red jasper gemstones are the most common of all the jasper varieties. Other jasper colors include green, blue, black, yellow, and orange.
Known as the stone of endurance or the stone of stability, red jasper encourages strength and endurance during stressful times. With a hardness rating of 6.5 to 7 on the Mohs scale, you can keep red jasper close to you in the form of jewelry or ornaments.
What does the Red Jasper look like
Red jasper is an opaque gemstone with bright red coloring due to the presence of iron oxide. Colors range from bright rusty red to a more faded brownish-red. Red jasper can come in either solid red coloring or with patterns and flecks of grey and brown. These colored inclusions are caused by other minerals and impurities which often create unusual patterns unique to each gemstone.
Red jasper is shaped and polished into a variety of shapes like ovals, pears, hearts, and any other unique design required. Raw or natural jasper is sold as it is found, without tumbling or polishing. The raw form of red jasper carries the same properties and benefits as the polished stone and is often used by crystal healers.
The value of the Red Jasper
In the past, red jasper was a highly sought-after gemstone and fetched higher prices. Today red jaspers are much more affordable due to their abundance. The price of the red jasper is usually determined by the artistry of the piece it comes in and the complexity of its design.
The saturation of the red color of the stone makes it more desirable. Depending on the materials it is combined with, like silver, gold, or other gemstones, prices will fluctuate accordingly.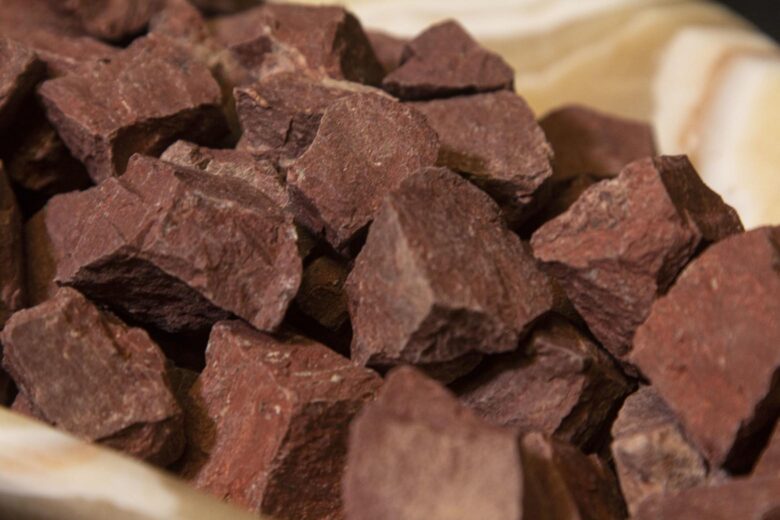 History and mythology of Red Jasper
Red jaspers have held high esteem in many ancient cultures. The Ancient Egyptians carved red jasper into amulets to be sent off with the dead as it was known as the stone of Isis. While American Indians used red jasper to protect against hidden dangers in the night.
In the Middle Ages, warriors kept red jasper close to their armor to give them courage in battle and increase their strength. Traditional healers used red jasper to overcome ailments of the stomach, and blood. For those who kept red jasper with them since childhood, it was said that they will forever be protected from drowning.
Red Jasper's meaning and symbolism
The red jasper gemstone has long been associated with stability, nurturing, and balance. It grounds the user and brings about feelings of security to explore one's spirituality. Red jasper nurtures joy and positivity, it also balances your yin and yang energy leaving you feeling revitalized.
Some believe red jasper provides energizing effects to the root chakra which in turn reinvigorates sluggish parts of the body. As an all-round inspiring gemstone, red jasper is said to bring out your true self and motivate you to reach your highest potential in all aspects of your life.
Where does Red Jasper come from
Red jasper is found in many parts of the world including Brazil, India, Russia, and the United States. Other areas where red jasper is mined are Australia, Madagascar, and Indonesia.
Red Jasper and Zodiac signs
Red jasper can be used as a birthstone for those born in March or under the zodiac sign Aries. Scorpio, Leo, and Virgo can also benefit from using red jasper to bring energy, courage, and love to their lives.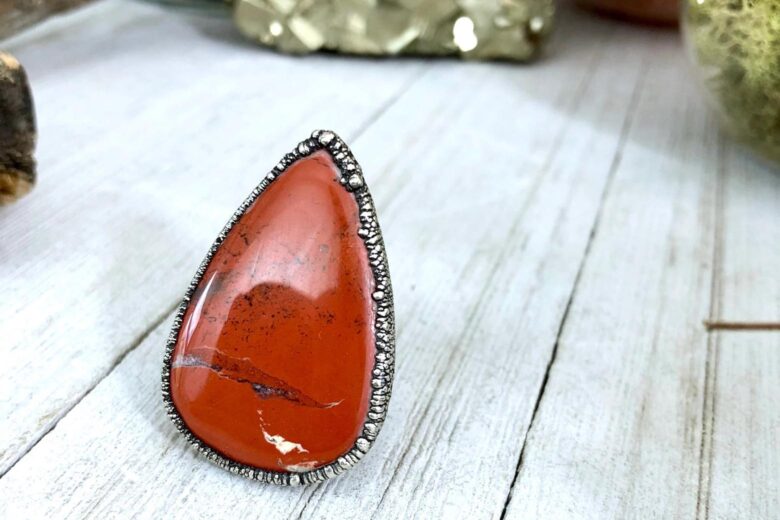 Red Jasper gemstone family
Red Jasper is an opaque microcrystalline variety of quartz known as chalcedony. Red jasper is just one of the many varieties of jasper available. Some of the different types of jasper include Mookaite, Biggs, Imperial, Madagascar, green, blue, and yellow jasper.
Relatives of red jasper include agate, carnelian, nephrite, chrysoprase, and other chalcedony crystals. These are all microcrystalline quartz minerals with different levels of impurities leading to their unique attributes. While agate is close to transparent and chalcedony translucent, jasper is always opaque.
Red jasper features prominently in other types of jasper like Brecciated jasper and Mookaite jasper.
Brecciated jasper
Brecciated jasper was named after the geological word "breccia" which means broken bits or fragments. The fragmented patterns that are formed on the Brecciated jasper gave rise to its name. These stones vary in color from red to brown with white streaks. This type of jasper stone contains hematite which gives them their beautiful red coloring.
Brecciated jasper was initially found in parts of Australia, the USA, and Indonesia but can now be found in other areas where red jasper is mined. They are also known as Poppy jasper because of the circle poppy-like patterns in white, yellow, black, or brown found on the stone.
Mookaite jasper
The Mookaite jasper derived its name from Mooka Creek in the Kennedy Range area of Western Australia where it is mined. This type of jasper includes an earthy red variety with streaks and bands forming patterns on the gem. Other colors of Mookaite include yellow and brown.
The colors and bands are caused by the presence of silica, iron, manganese, and other impurities. These minerals and substances give rise to incredibly gorgeous jasper stones that are considered to be highly restorative and balancing for the immune system.
Birthstones chart
Find your birthstone by month
---
Red Jasper uses
Red jasper has been used since ancient times in jewelry, weapons, and ornaments. Today red jasper is commonly used by crystal healers to balance the chakras and treat energy imbalances.
Jewelry pieces like bracelets, pendants, rings and earrings all stand out as each stone holds unique patterns. For creating positive energy at home or in your workspace you can place ornamental carvings or polished and shaped red jasper wherever needed.
Frequently asked questions about Red Jasper gemstone
What is the spiritual meaning of jasper?
Red jasper is known as the "stone of endurance" and is used to balance energies and encourage physical strength. The red jasper gemstone is believed to protect those who carry it on them.
What is jasper stone used for?
Jasper stones are used for ornamentation, crystal healing, and jewelry. It is used by anyone looking for a boost in energy levels and encouragement to achieve their goals.
Should I sleep with red jasper?
Red jasper has been known to aid sleep because of its grounding nature. Place a red jasper gemstone under your pillow or near your bedside when you are sleeping to keep your energy balanced. It is also used to aid dream recall and makes for a great sleep companion.
What chakra is red jasper good for?
Red jasper is good for the Root or Base chakra found at the base of your spine. The connection red jasper has to the earth may stabilize and energize the body when red jasper gemstones are placed at the base chakra.