The iridescent blue-green tones of amazonite are both mesmerizing and refreshing, recalling the flowing beauty and regenerative strength of the powerful River Amazon after which this gemstone is named. The deep aqua greens and swimming pool blues of amazonite have made it a favorite as a jewelry stone amongst various civilizations. The ruthless warrior queens, the Amazonians, used it to adorn their shields, while the Ancient Egyptians carved sacred texts into slabs of this dazzling rock.
More recently, amazonite has become known for the cooling, calming properties of water which its bluish-green colors personify. Its vitreous luster means the stone seems to ripple as the light falls upon it. Amazonite crystals or stones are often used in healing in order to harness the soothing and restorative powers of this water element. As luxury jewelry, Amazonite is exquisite, its startling turquoise blues provide a unique contrast when paired with yellow or rose gold, and its hypnotic aquamarine greens shine resplendent as the centerpiece of a pendant or ring.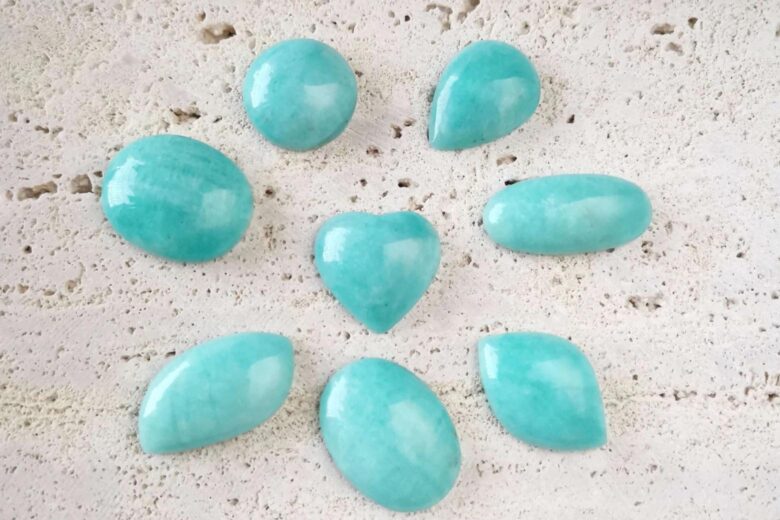 | | |
| --- | --- |
| Amazonite Color | Green – Blue-green |
| Hardness Scale | 6 – 6.5 on the Mohs Scale |
| Mineral Class | Feldspar |
| Symbolism | Hope, Courage, Calm |
What is Amazonite
Amazonite is a captivating turquoise-green gemstone, which is a variety of microcline, a feldspar mineral. Due to its stunning array of sea greens, it has been popular as a jewelry stone since 5,000 BC, and was treasured by the Ancient Egyptians who used it to decorate their headdresses. Some forms of Amazonite have a dazzling emerald hue, and it can range in color from vibrant turquoise to pale green, greenish blue and blue green. Named after Brazil's world famous river, the Amazon, this stone has a calming, soothing quality, which is often described as 'water-like', and it is otherwise known as the 'stone of hope'.
What does Amazonite look like
Amazonite is green to blue-green, but within this spectrum its color can vary from a delicate egg shell blue to brilliant turquoise, bright verdigris and pale to dark green. Many of the blue-green stones display a white marbling or streaking. Its glimmering aquamarine tones recall the soothing sounds of rivers and the sea, and as such the stone is said to be cool and calming. Amazonite has a vitreous luster, and when polished it shines to resemble finely cracked marble.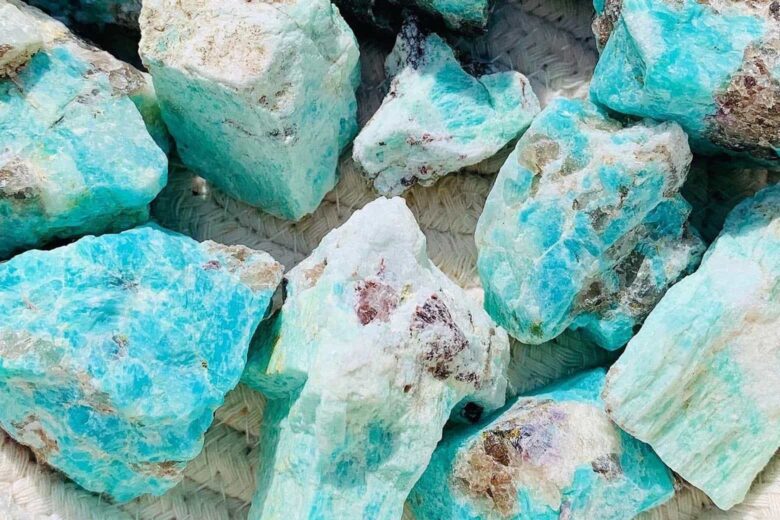 History of Amazonite stone
Amazonite enjoys some rather grandiose historical connections. It was a great favorite of the Ancient Egyptians, who used its unique color to make striking jewelry, such as the scarab ring discovered in the tomb of Tutankhamen. The fearsome and formidable Amazonians, renowned for their bravery, were a Brazilian tribe of all female warriors, who are said to have decorated their immense shields with this stunning cobalt blue stone. It is perhaps for this reason that amazonite is revered as the stone of courage.
Amazonite was also prized as a jewelry stone in India, Egypt, Sudan and Mesopotamia, where it was worn as an amulet to ward off evil spirits.
It is sometimes said that amazonite was first discovered on the banks of the river Amazon. In fact, although amazonite does indeed occur in Brazil, there seem to be no known deposits of this mineral in the Amazon rainforest itself or near the great river.
Meaning of Amazonite
Amazonite, also known as 'Amazon stone', takes its name from the majestic River Amazon. It was first cited in French in 1701 as "Pierre des Amazones", meaning stone of the Amazon. In 1847 its name was modified and the stone was officially christened "amazonite", by the noted mineralogist August Breithaupt, who is said to have named it after an unspecified location near the Amazon River. In fact, there are no known sources of Amazonite in the Amazon river basin, though it does occur naturally in many parts of Brazil.
The spiritual meaning of Amazonite is one of hope and courage. Its sea-greens and blues speak of its connection to water, and indeed the glassy, water-like qualities of this stone are said to be soothing and calming and to inspire restfulness and tranquility.
Where does Amazonite come from
Amazonite is found all over the world, though fine, gem quality amazonite is sourced in Brazil and Peru, the United States and Ethiopia. The best specimens in the world have been said to come from the Pike's Peak and Crystal Peak areas of Colorado, USA. These glorious crystals are sometimes referred to as 'Colorado Jade', because of their resemblance to the beautiful green stone.
Ethiopia has emerged relatively recently as a producer of top-quality amazonite, the color of which is aqua green or an intense turquoise which is now believed to equal or even surpass the quality of the crystals from Colorado.
Other notable sources of amazonite include Vietnam, Myanmar, Mozambique, Madagascar, China and Pakistan.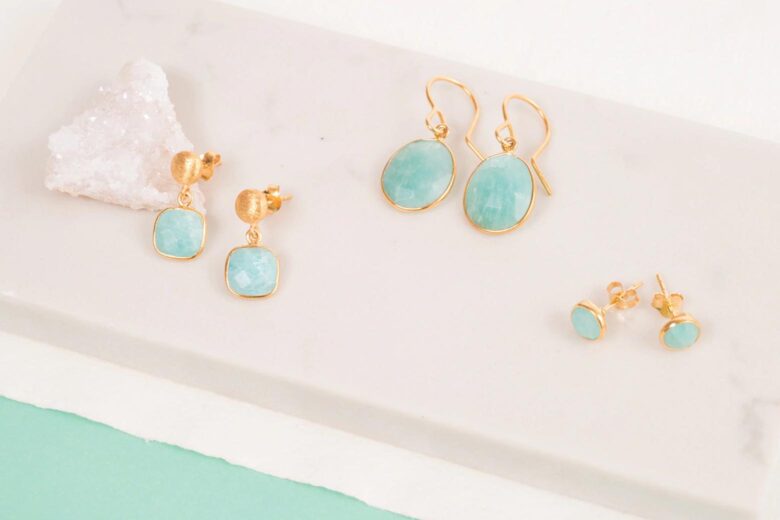 Amazonite and Zodiac signs
Although there is no zodiac sign assigned to Amazonite, it is often used by those born in the month of March, as well as those born under the sign of virgo, in August. The deep verdant greens of amazonite aptly personify the fertile bounty of nature in the spring, as the cooling aqua-like blues suggest the refreshing flow of cool water that soothes and calms in the height of summer.
Which family is Amazonite from
Amazonite is a gemstone variety of microcline, which hails from the feldspar mineral family. Feldspar makes up most of the earth's crust and is found in all types of rock formation. Feldspar is made up of silica and aluminum, and can form in various ways, for example, during crystallization of magma or lava. Of the seven crystal systems, Amazonite is part of the triclinic group and has a vitreous luster. When it is polished it shines brightly, giving it a glassy, water-like hue.
Birthstones chart
Find your birthstone by month
---
Frequently asked questions about Amazonite
What is amazonite good for?
The cerulean blues and glowing greens of amazonite make for beautiful jewelry, and silver rings featuring faceted, oval-cut amazonite surrounded by white topazes are an eye-catching and elegant combination. Amazonite is associated with the soothing elements of water, and placing amazonite stones or crystals in your home is said to bring clarity and calm.
How do I use amazonite for healing?
Amazonite has various healing properties. Like the Amazon river itself, it is a stone of flow, and it is used as a tool for dispersing negative energies, such as stress and anxiety. Amazonite is associated with the healing and regenerative properties of water that fosters growth and hope.
What happens when you wear amazonite?
Wearing this dazzling bluish-green water stone is said to promote inner harmony and peace. Amazonite is the stone of hope and truth, and enables us to take a more positive outlook on life, as well as to manifest our most personal dreams and desires.
Is Amazonite a rare stone?
Amazonite is a rare variety of the most common mineral in the earth's crust, feldspar. Although the mineral is abundant, gem quality examples of amazonite are much rarer, and are only found in certain well-known areas around the world, such as the USA, Ethiopia, Vietnam, Brazil, Peru and India.