Do you find yourself wincing every time you return to your desk? Your office should be a place that inspires great ideas and incredible productivity. If your chair (and any aches or pains it causes) distracts you from getting your work done, it may be time to rethink your current office strategy.
Putting in hours at your desk should make you feel powerful and successful. The best designer office chairs harness that potential and work with your body to help you allow an environment of creativity.
Whether you're looking for the best standing chair to keep in your home office or the best leather office chair to accentuate the traditional style of your workspace, there's a perfect office chair for you. Just remember: Being hard at work shouldn't be painful.
Indulging in a stylish and supportive office chair is a practical and important business decision. The best office chair allows you to relax, to take your mind off where you're sitting, and truly get your head in the game. That's why we've put together this ranking and a helpful guide below to help you find the perfect office chair. Your home office has never looked—or felt!—better, and soon your to-do list will be looking great as well.
The Best Office Chairs
1. Steelcase Gesture: Overall best office chair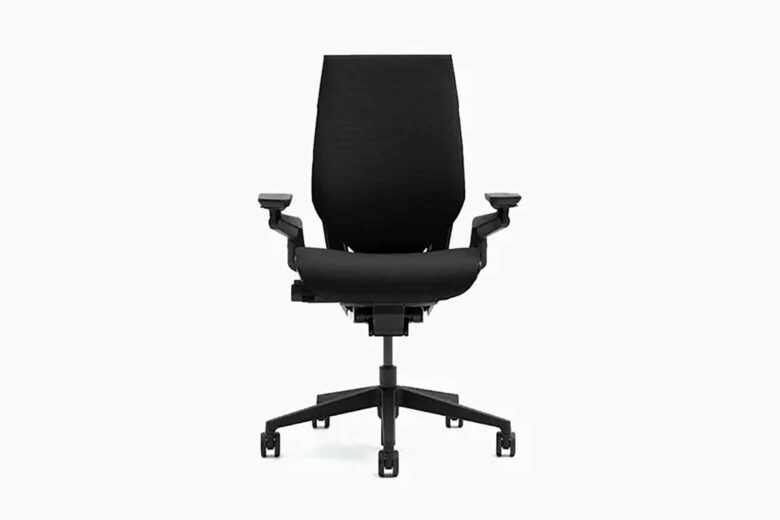 If you're dealing with back aches after a long day of work, then a new chair may be just what you need. The Steelcase Gesture Chair models itself after the physiology of the human back, so it provides natural and consistent support. By mimicking natural spine movement, it cradles your back at pressure points designed to comfort.
Whether you're sitting straight up at attention or leaning all the way back, this chair will make sure you're supported. It uses a core equalizer, equipped with a springing mechanism, to adapt lumbar support to your specific position. At the end of the day, the Steelcase Gesture feels good—and it looks good. Its sleek upper back style flows into the sturdy star base in a way that will add to the beauty of your office.
The Steelcase Gesture office chair brings form and function together with high-quality materials and biology-backed support. Because of this, we're pleased to rank the Steelcase Gesture as the best overall office chair on our list.
2. Herman Miller Embody: Best high-end office chair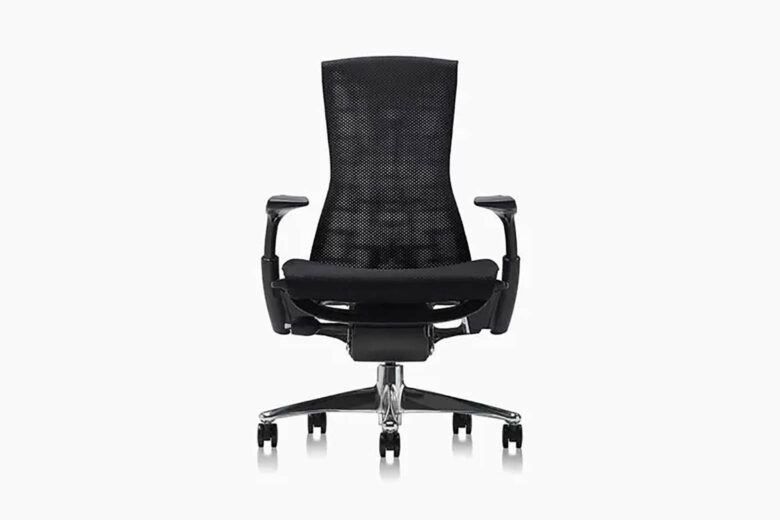 For a chair that works with your physiology to keep you primed and focused for excellent work, consider the Herman Miller Embody Chair. The Embody chair is meticulously designed to stimulate blood and oxygen flow—freeing you from the aches and pains that generally accompany long hours put in at your desk.
With multiple thoughtful ergonomic functions including a working recline, the Embody chair seeks to keep you healthy while you work. The recline allows you to reduce spine compression and stand tall after work, instead of feeling hunched and tired. After consistent use, this chair may even slow fluid loss from your spinal discs, keeping you young and flexible for years to come.
The innovative upholstery found on this chair is breathable—which means you'll be cool and dry, no matter how many hours you're sitting down. This company is one you can feel good supporting, as well. The facility from which this chair comes uses only renewable energy, and is 95% recyclable once you are finished enjoying it.
With all of the subtle yet powerful details included in this office chair, the Herman Miller Embody is undeniably a great choice for sitting long hours in your office! We're naming it the best high-end chair in our ranking.
3. OFM Essentials High Back: Best value office chair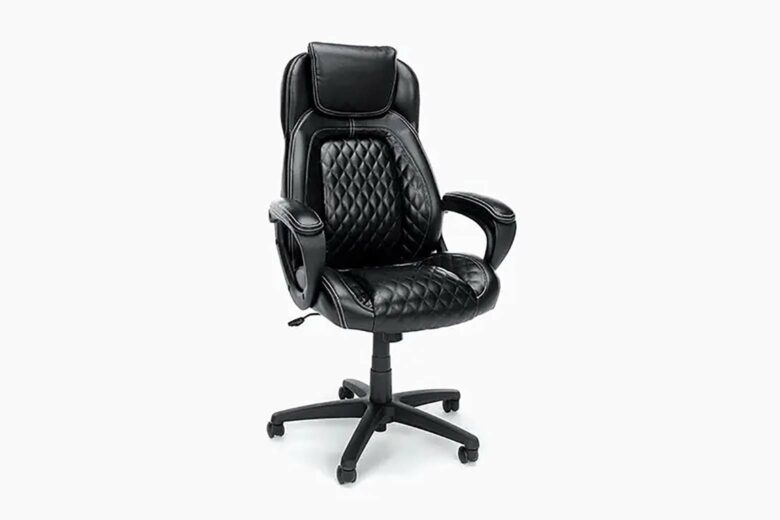 For a chair which does its job well yet doesn't require a significant investment, we're pleased to introduce the OFM Essentials Office Chair. With a quilted leather back and a subtle pop of color around the headrest, this chair looks as good as it feels.
An included lifetime guarantee grants you peace of mind; you can enjoy this chair without worrying at all about its safety or maintenance. Also included are fully-integrated arm- and headrests, so you can relax and lean back while feeling fully supported at all times. The molded 5-star base allows for 360 spin. It also supports a centre-tilt mechanism which allows you to lean and rotate at the same time. You'll certainly be able to find just the right angle for productive thought with this chair.
The lumbar cushion which is sewn into the back of the chair will set you up for zero back pain, no matter how many long hours you put in. The segmented upholstery is conducive for ventilation, as well; your seat will be breathable and comfortable all day long.
As this chair is accessibly-priced, it's a great choice for those wishing to spend under $200 on their office chair. We're delighted to name the OFM Essentials High Back as the best value office chair.
4. REFICCER High Back: Best luxury leather office chair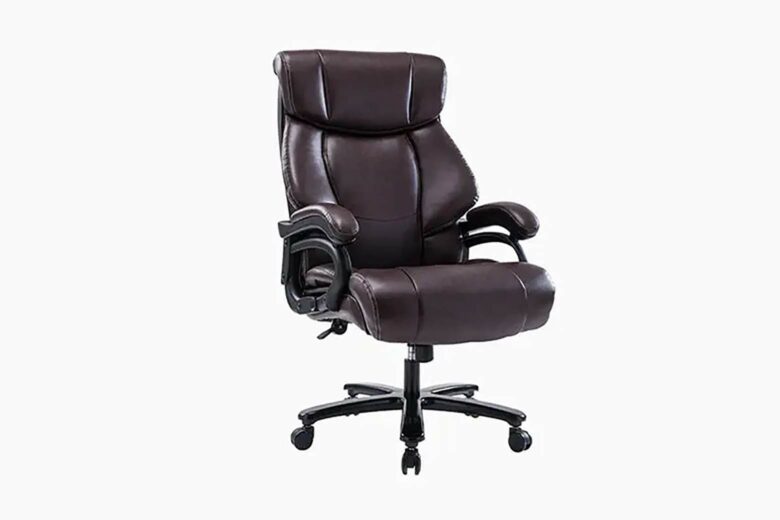 Sometimes, you're looking for a chair which makes a statement about who you are and what you do, in addition to providing comfort for your workday. In such a case, the large plush back of the REFICCER Office Chair may just do the trick! This tall executive chair was designed to be comfortable, so that you are not distracted as you go about your important work. It is covered with soft padding, and features a 'waterfall' front edge to reduce pressure on your knees.
This seat is wider and taller than most conventional seats, giving you the room you require to make sure that you're able to lean in your chair as you please. The metal base allows you to swivel around, and the included casters will protect your floor as you move to and fro. The S-shape of the back of the chair is molded for spine health.
With levers to help you attain the perfect height and angle for working, rocking, and leaning back, this chair is customizable for every purpose you might need. If you're searching for a good executive office chair, this is a good choice. We're pleased to name the REFICCER High Back as the best luxury leather office chair.
5. BestOffice Ergonomic: Best budget office chair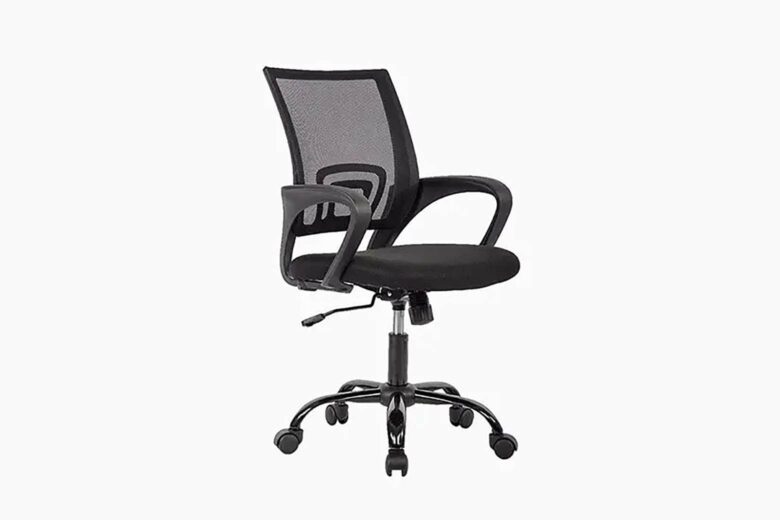 If all you require is a solid chair for an at-home office or other area you don't use as often, we're pleased to present the best under-$100 chair! The BestOffice Ergonomic is constructed of durable yet breathable mesh for your comfort. It's also designed for support yet full mobility. Even if you do sit in it all day, your back will be supported, and you'll be able to move around as needed.
With eight beautiful colorways and easy assembly, this chair can truly go wherever it's needed. A thickly padded seat and sturdy, ergonomic armrests offer superior comfort. The included casters have a 360-degree swivel, so you can easily roll wherever you need. Perhaps the most attractive feature of this chair is the mesh back. It offers a minimal, modern feel and maximum ventilation. This ensures that you will be cool and dry, no matter how long you spend at your desk.
Perhaps best of all, the BestOffice Ergonomic Mesh Chair is very accessibly-priced—making it a good option if you need multiples—and far and above the best mesh office chair. We're happy to rank the BestOffice Ergonomic chair as the best affordable office chair on our list.
Buyers guide: Choosing the right chair for you
Your office chair needs to support you through long hours of hard work and look good doing it. Because everyone's physiology and needs are different, however, there are many different types of chairs—for example, you'll see big and wide chairs for maximum office presence, mesh chairs for support and breathability, and luxury leather chairs that are plush and decadent. Choosing which is best for you will depend on what you need from a chair. If ergonomics is your end goal, a modern mesh selection may work for you. However, if your chair needs to match your traditional office style, leaning toward a leather option may be a better choice.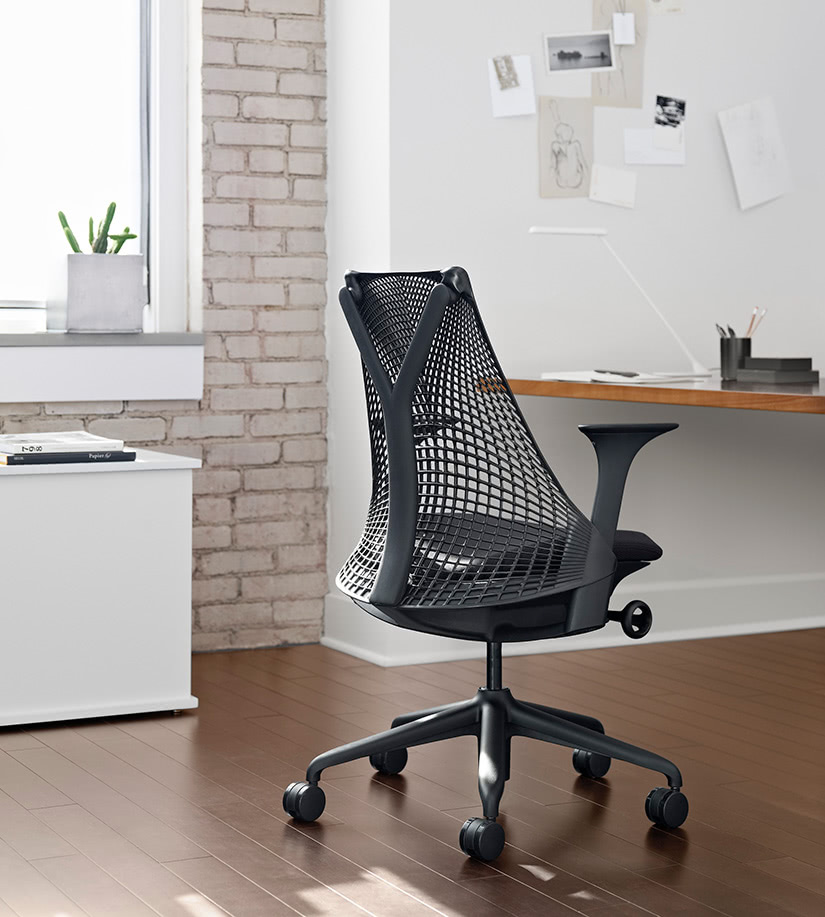 If you're looking for a marketplace that has reliable reviews, a vast variety of choices as well as differing price ranges to suit your personal budget—Amazon is likely your best bet. When you're examining your options, keep the different available features in mind. Modern office chairs can recline, have casters which protect your floors, easily customizable heights, and excellent support for your spine. It's important to keep an eye out for all of these characteristics when sourcing the best office chair.

Methodology: How we select, test, and rank the best office chairs on the market
When searching for the best office chairs, we first wanted to distill the criteria for our ranking. In other words: What are the ingredients of the best home office chair?
After looking into what experts say about the necessary support you need for long hours of sitting and working, we settled on the following characteristics: Ergonomics, Comfort, Style, and Price. For each of these categories, we came up with specific criteria for which we searched. Did a chair have enough lumbar support to be considered? Was it built to look good in your office—and last long enough to justify the expense? Did it, very simply, appear to be a chair that you'd want to sit in?
With an eye to these questions, we scoured the current offerings on the market. After reading many office chair reviews, we came up with a short list of premium office chairs. From there, we chose the best in each category, so that we could recommend the best ergonomic budget chair in the same article as top-tier luxury office chairs.

High-end office chairs: Frequently asked questions