Forget fancy blenders and sophisticated spiralisers. The most important instrument in any home cook and chef's culinary toolbox? A quality kitchen knife. This kitchen staple can make or break a meal. Just try to slice a tomato with a blunt knife and you'll see what we mean. There's no quicker way to ruin a Caprese salad.
And it's not just about the appearance of your food or the speed with which you serve it. A blunt kitchen knife can actually be dangerous. Cutting up butternut squash with a dull blade is a battle no amateur chef needs in their life.
But the best kitchen knives? Not only are they exceptionally sharp but they're also incredibly durable with blades that will take a long time to dull. They're also designed to be ergonomic, offering perfect balance, ease of use, and total comfort in your hand. Oh, and they're aesthetically pleasing too.
So if you're working up to that Michelin star or are simply looking for a way to make meal prep a little less tedious, treat yourself to one of the best kitchen knives. We've included a whole range for you to choose from, from robust and traditional German kitchen knives to sleek Japanese creations.
We've also picked out the best budget-friendly blades as well those premium knives that have received the seal of approval from culinary professionals including Jamie Oliver and Gordon Ramsey. With these kitchen knives, you can slice, dice, cut, and carve your way to culinary stardom—or at least get the appreciation you deserve at dinnertime.
The best kitchen knives of 2022
To learn more about the best knives on the market today, check our list of the top kitchen knife brands. We also explain the key differences between Japanese and German kitchen knives, compare the options you have in terms of steel quality, and briefly discuss how to sharpen your kitchen knives.
Senken Shogun Collection: Best overall knife set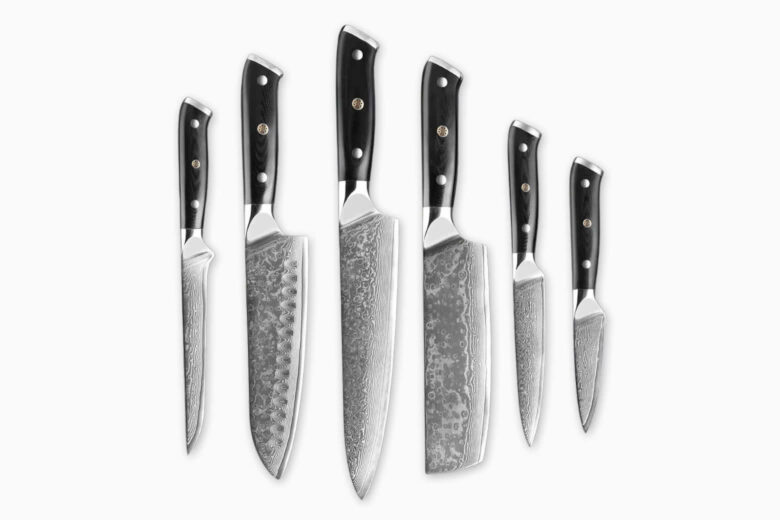 Carving out a reputation as the best knives on the block, we can't help but count ourselves amongst Senken's ever-growing fanbase. The Japanese brand's ruthlessly sharp blades speak to the country's heritage of mastery metalworking. Whilst their delicately engraved patterns pay homage to Japan's intrinsic eye for beauty.
Every Senken collection brings something new to the (kitchen) table, but the Shogun Collection is our top range for a number of reasons. Each knife in the six-piece set is forged from indestructible Damascus steel. And not only are they strong enough to slice through just about anything, but they are designed to retain their sharpness. That means that with the right care, they'll never have to be replaced—talk about an investment.
The Shogun Collection also features seamless welding from blade to handle. And the handle itself enables a firm yet comfortable grip. The 15-degree cutting angle is far superior to the standard 25-degree edge angle. And whilst food prep may feel like a chore, for now, once you get your hands on this Shogun Collection, your veggies and meats will practically chop and slice themselves. Trust us.
Best for: A slice of knife perfection.
| | |
| --- | --- |
| Weight: | 1587 grams (56 oz) |
| Blade length: | 20cm, 18cm, 18cm, 15cm, 13cm, 9cm (8", 7", 7", 6", 5", 3.5") |
Wüsthof Classic: Best high-end kitchen knife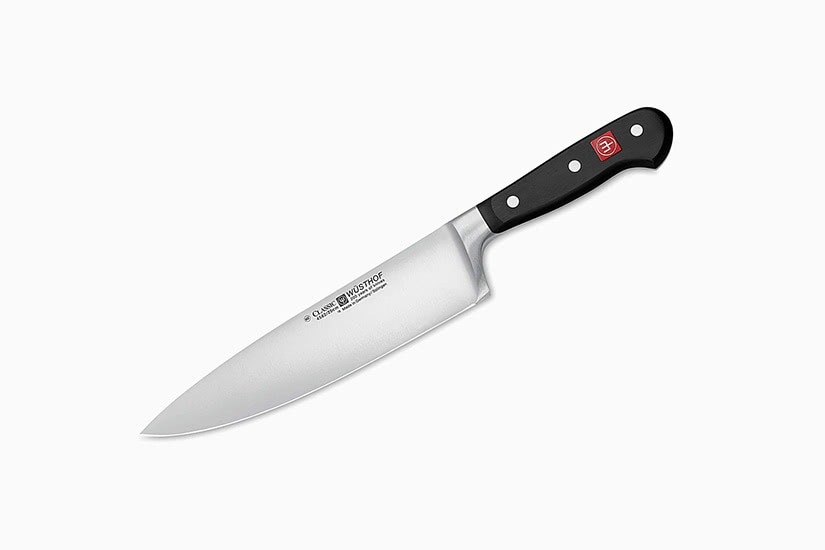 Wüsthof is everything you can expect from a traditional German kitchen knife, and then some. Robust, sturdy, and distinctly well-designed, their 20cm (8-inch) Cook's Knife will meet the highest requirements of any top chef.
Forged in Solingen, Germany, each knife is made from durable, razor-sharp chromium-vanadium steel and combines meticulous attention to detail with the hearty power of a Western blade. It's made with a full tang (meaning the blade continues through the handle) and bolsters, giving you excellent balance and control. It can withstand the wear and tear of a commercial kitchen but is also suitable for the more casual use in the home as it's so comfortable and easy to use. Plus, for that extra touch, each knife is expertly buffed and polished by hand. Wüsthof's 20cm (8-inch) Cook's Knife comes with a lifetime warranty.
| | |
| --- | --- |
| Weight: | 262.8 grams (9.27 oz) |
| Blade length: | 20.32 cm (8″) |
| Overall Length: | 33.19 cm (13.07″) |
Global G-2 Classic: Best value kitchen knife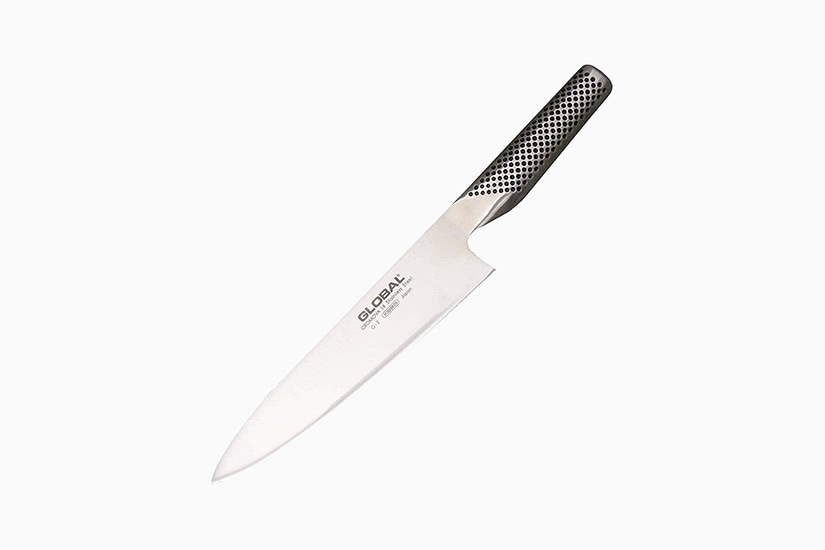 If you're looking for a great value kitchen knife, then look no further than the Global G-2 20cm (8-inch) Chef's Knife. This super lightweight, multi-purpose blade weighs in at just 170 grams (6 ounces). Although you may think there is a tang creating the one-piece look, the handle and the blade are actually made from two separate metals and then welded together. The round shape of the handle is familiar with a lot of Japanese knife making, however, the handle of the G-2 is hollowed and injected with just the right amount of sand to keep it perfectly balanced. There is also a small finger dimple instead of a bolster for additional grip and control.
The Global G-2 Classic knife has won dozens of awards since it was released and has been tested by numerous respected kitchen magazines. It also doesn't cost nearly as much as some of the other knives on this list, so it's, without doubt, the best value for money. Furthermore, the lifetime warranty adds to your peace of mind, and the snazzy silver design will look wonderful in your kitchen.
| | |
| --- | --- |
| Weight: | 159.89 grams (5.64 oz) |
| Blade length: | 19.98 cm (7.87″) |
| Overall Length: | 32.99 cm (12.99″) |
Oishya Sakai Kyuba Knife Set: Best Japanese kitchen knife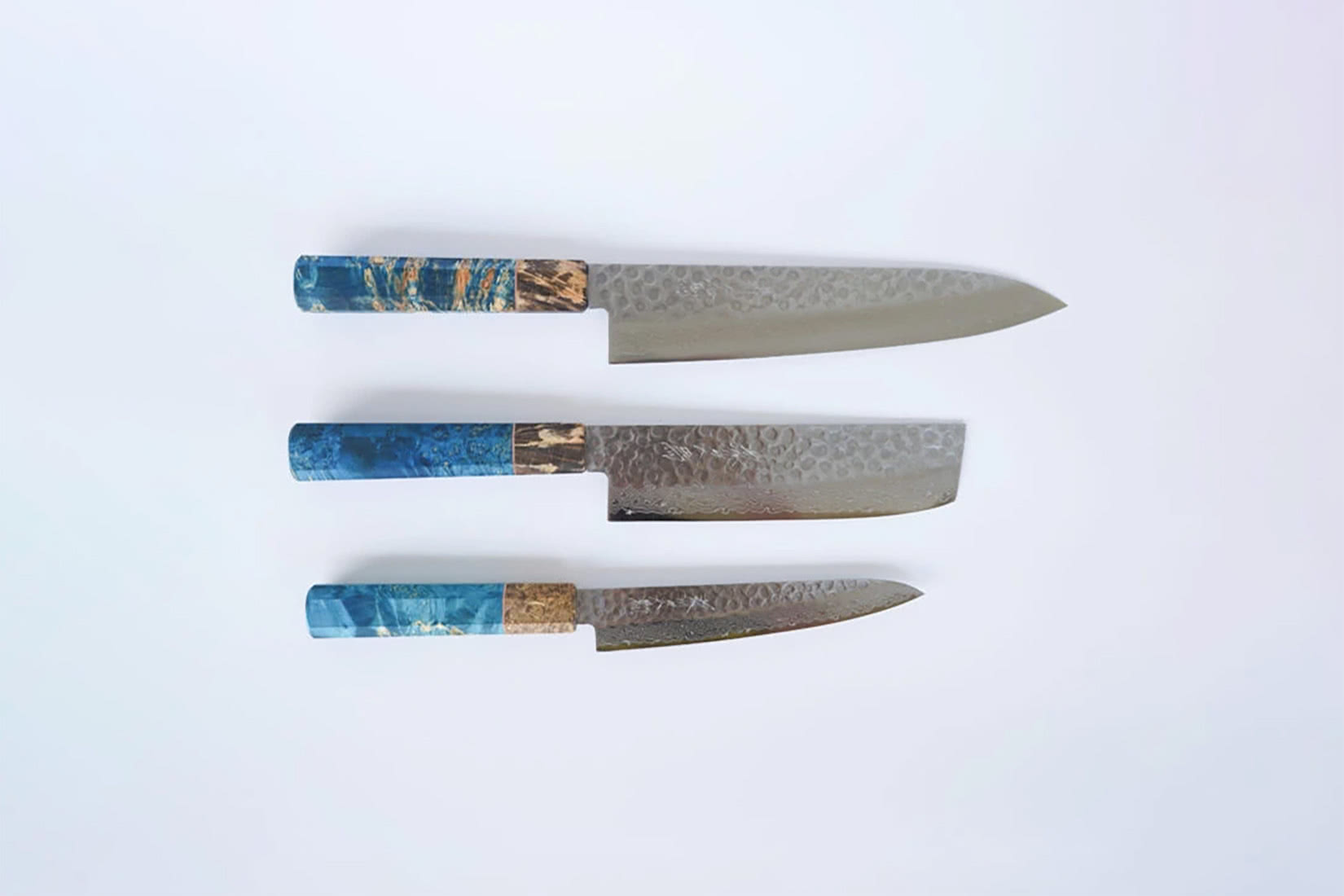 Admittedly, we were first attracted to this Sakai Kyuba Japanese knife set by the aesthetics. To say that these knives are minor works of art is an understatement. Their design, combined with their outstanding performance and traditional craftsmanship, gave them an edge over all the others on our list.
These Japanese knives are here to take the pleasure of cooking to a whole new height. The set includes a versatile chef's knife, a thin and ultra-sharp vegetable knife, and a nimble paring knife for more intricate tasks.
The blades are handcrafted by skilled Japanese blacksmiths from premium Japanese VG10, which combines the hardness of carbon steel with stainless steel's corrosion resistance. With a Rockwell Hardness rating of 62, they also provide the razor sharpness that all chefs require.
The handles are made of a premium-cut European Maple Burl, dyed either blue, brown, or olive green. They're totally waterproof to avoid bacteria growth and have an octagonal shape that offers a firm grip. Not too heavy nor too light, they allow for maximum precision and control.
The beautiful design of these knives by Oishya even extends to the packaging: a handcrafted minimalist wooden box with a traditional Japanese illustration depicting ancient Onna Bugeisha female warriors.
| | |
| --- | --- |
| Weight: | 411 grams (14.5 oz) |
| Blade length: | 15 cm, 16 cm, 21 cm (5.9″, 6.3″, 8.3″) |
Made In Cookware: Best multi-purpose kitchen knife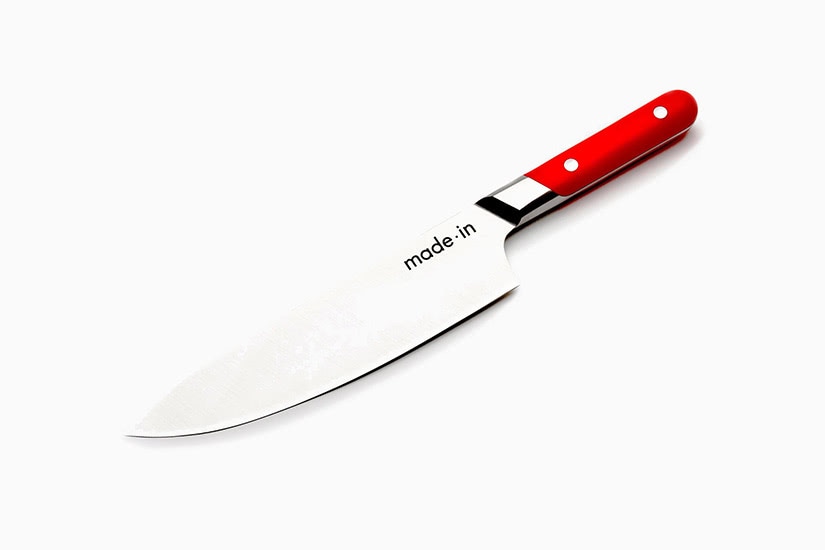 If you needed just one knife for your kitchen and you are looking for a top chef knife, then go for Made-In Cookware's 20cm (8-inch) blade. Crafted from exceptionally hard steel and treated with nitrogen, the knife is a delight to use. The nitrogen helps protect the edge and, paired with its lightweight, hardy, and well-designed exterior, it is perfect for a commercial or domestic kitchen.
On top of all of that, Made In's knife also boasts a full tang – the one piece of high-quality stainless steel runs from handle to needle-sharp tip – and it's also fully forged. This makes it remarkably versatile and up to any kitchen task – from delicate slicing to rigorous chopping, mincing, and even deboning. Easily the top choice when it comes to a well-rounded top kitchen knife.
| | |
| --- | --- |
| Weight: | 226.79 grams (8 oz) |
| Blade length: | 21.59 cm (8.5″) |
| Overall Length: | 33.02 cm (13″) |
Zwilling J.A. Henckels: Best premium kitchen knife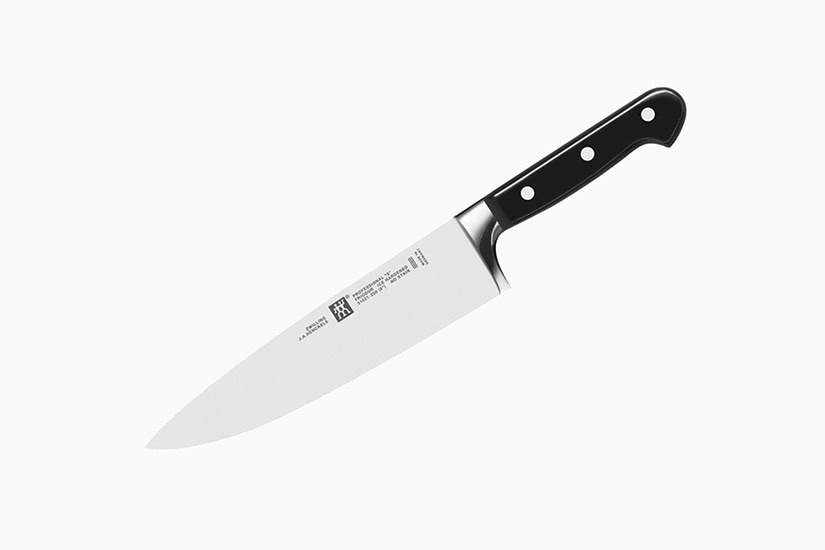 When it comes to the best of the best, Henckels quite literally tops the knife chart. Their 20cm (8-Inch) Chef's Knife has a wonderfully multi-purpose blade that can just as easily cube a pineapple as it can transform leaves of fresh basil into ribbons. The high carbon steel of the knife is perfectly suited for a professional chef (whether you're cooking at home or in a restaurant), however, because of the type of steel used to craft the edge, it requires more knowledge and care to maintain.
Nevertheless, in return, users will be granted the accuracy and sharpness that only high-carbon steel can deliver. The ice-hardened blade has been expertly sculpted into a remarkable high-end kitchen knife that is craved by chefs and favored by the likes of Gordon Ramsey and Jamie Oliver. Featuring a full tang for balance, a bolster for support, and a comfortable polymer three-rivet handle that mirrors the shape of your palm, you will be blown away by this knife's abilities. This Zwilling J.A. Henckels signature blade has, quite literally, provided chefs around the world with a razor-sharp secret weapon.
| | |
| --- | --- |
| Weight: | 369.11 grams (13.12 oz) |
| Blade length: | 19.98 cm (7.87″) |
| Overall Length: | 41.91 cm (16.5″) |
Mercer Culinary Wavy Edge: Best bread knife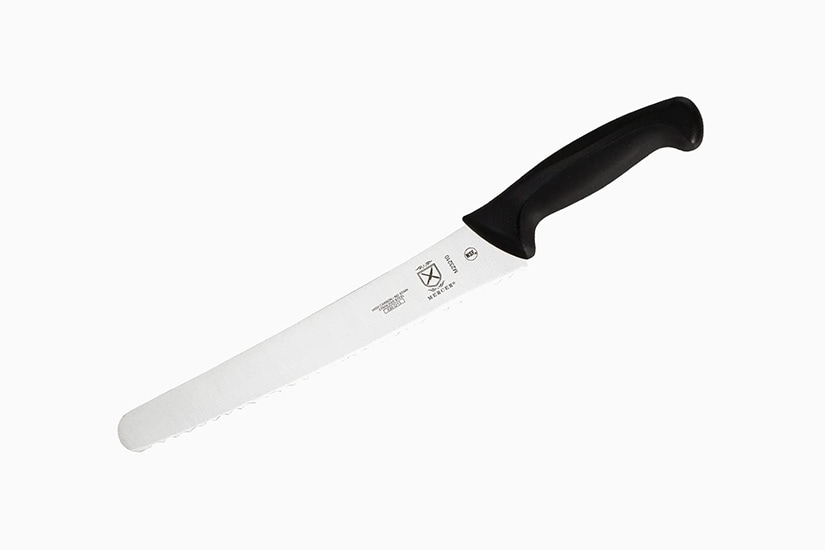 If you've ever tried to slice through a fresh loaf of crusty bread with a chef's knife, then you'll know why bread knives are crucial in every kitchen. Perfect for slicing a french baguette, a crusty tiger loaf, or soft dinner rolls, bread knives have a serrated blade that's ideal for foods with a hard outside and soft interior.
The Mercer Culinary Wavy Edge Bread Knife is lightweight, balanced, and brilliantly designed. The high-carbon Japanese steel blade is rust-resistant and stain-resistant. Plus, the handle is made from a slip-resistant combination of polypropylene and Santoprene, making it easy to grip and comfortable to hold. Overall, what more could you ask for in a bread knife?
| | |
| --- | --- |
| Weight: | 135.79 grams (4.79 oz) |
| Blade length: | 25.4 cm (10″) |
| Overall Length: | 38.1 cm (15″) |
Victorinox Spear Point: Best paring knife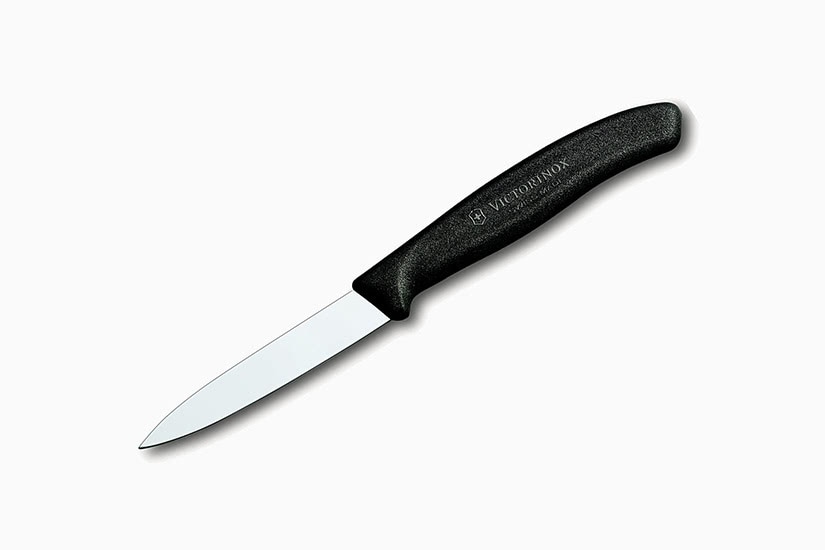 After the chef's knife, the next best blade in a chef's block might just be a paring knife. Perfect for those smaller and slightly more fiddly tasks, you'll find that this knife by Victorinox will glide through cherry tomatoes, feather strawberries, and slice shallots with effortless simplicity.
The Victorinox Spear Point paring knife is a nifty little tool that's marvelous for both the home and commercial kitchen. In fact, it's pretty commonly found in both because of its wide availability in regular home stores and, quite frankly, it's extremely good at what it does! Plus, it's not too expensive either! So, for the perfect little paring knife, we'd choose Victorinox all the way!
| | |
| --- | --- |
| Weight: | 19.84 grams (0.7 oz) |
| Blade length: | 7.62 cm (3″) |
| Overall Length: | 18.42 cm (7.25″) |
Shun Classic: Best serrated utility knife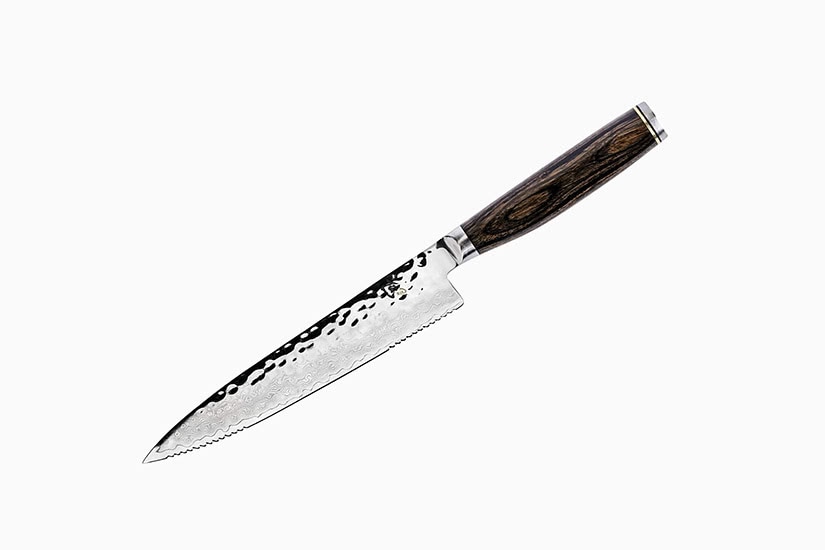 For foods with a tough outside and soft or juicy inside – think tomatoes, sausages, or avocadoes – the utility knife is just perfect for the task. The serrated edge on this Shun knife will glide through these foods with minimal pressure and won't damage their delicious, soft interiors. It's also great for some of those delicate tasks where a more precise slice is required to get the desired outcome. This makes it particularly useful in a working kitchen.
Made from an eye-catching woodgrain design on the 34 layers of its Damascus clad stainless steel blade, the Shun Classic also features a strong, ebony PakkaWood handle. The resultant knife is razor-sharp, corrosion-resistant, durable, and a delight to hold and use.
| | |
| --- | --- |
| Weight: | 141.74 grams (5 oz) |
| Blade length: | 16.51 cm (6.5″) |
| Overall Length: | 26.76 (10.5″) |
Mercer Culinary Granton: Best carving kitchen knife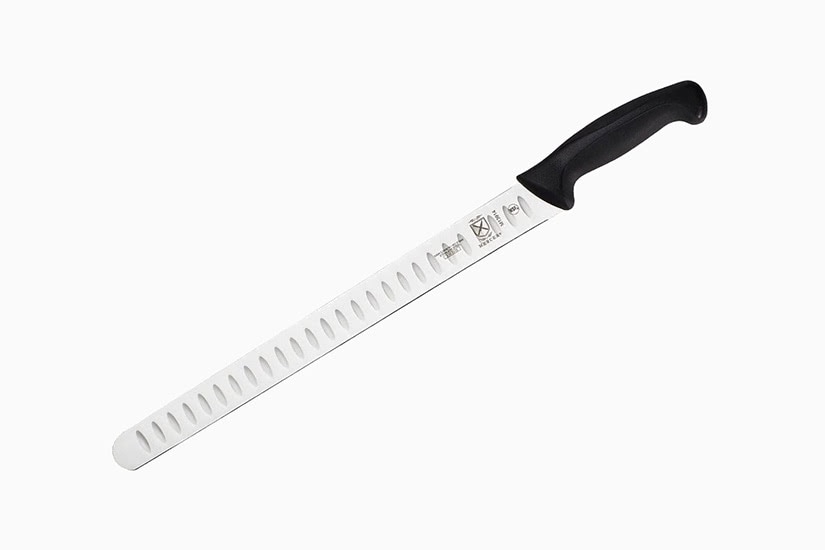 Although it's technically a non-essential knife, there's no denying the brilliance of a well-crafted carving knife. It's perfect for slicing and cutting up those delicious slivers of your favorite joint of meat. Technically, unless you constantly cook roasts, you can probably get away with using a chef's knife for these tasks; however, it's nonetheless a useful knife to have in your block.
Mercer Culinary's slicer is skillfully crafted in the USA, although it features a sharp, rust-resistant edge, wielded from high-quality Japanese steel. The blade is made to an incredibly high standard and lets you follow the contours of the meat. It's also dimpled so the slices won't stick to the blade after they're carved. The handle is of an equal professional standard – made from Santoprene and polypropylene, for perfect balance and boasting a textured finger guard. So, whether you're after wafer-thin slices of ham or thick chunks of beef, you can't go wrong with this carving knife.
| | |
| --- | --- |
| Weight: | 212.62 grams (7.05 oz) |
| Blade length: | 27.94 cm (11″) |
| Overall Length: | 50.8 cm (20″) |
Boska Holland: Best cheese knife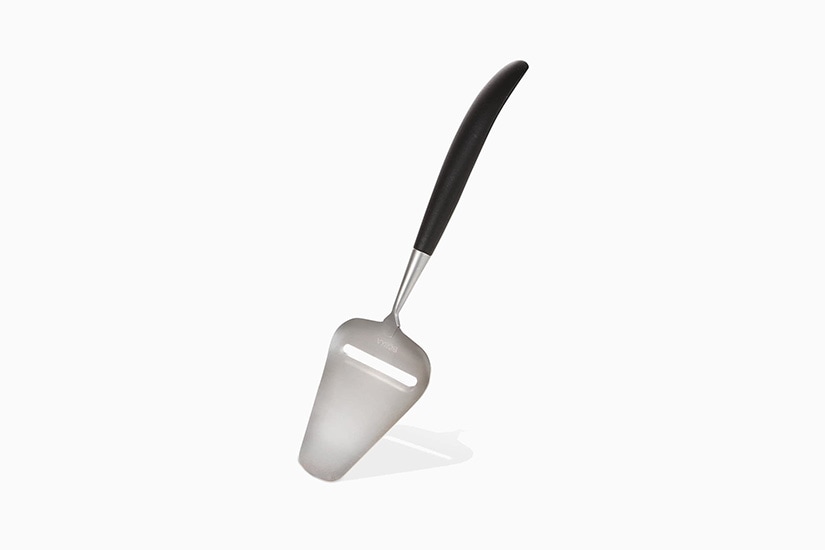 Similar to a carving knife, you can almost certainly get away with simply using a chef's knife to break down catering or regular size chunks of cheese into usable blocks. However, if you have a need for identical slices of cheddar with undeniable elegance and uniformity (perhaps you are serving afternoon tea in a top London tea room), then Boska Holland's Cheese Plane will help you achieve this! Ideal for easily carving off thin and equal slivers of your favorite cheeses.
| | |
| --- | --- |
| Weight: | 115.94 grams (4.09 oz) |
| Blade length: | 20.82 cm (8.2″) |
OXO Good Grips: Best oyster knife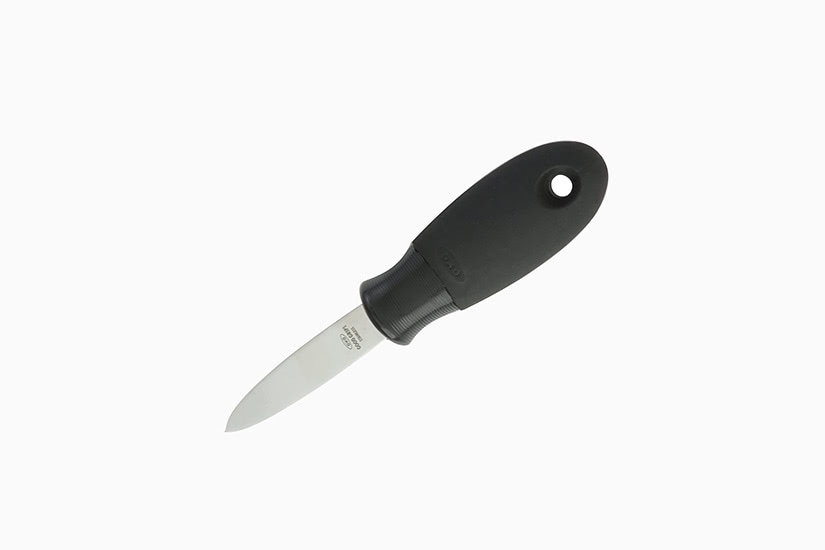 OXO cutlery undoubtedly has a high place in a lot of people's kitchens. Their petite oyster knife has a short, stubby, but undeniably sharp blade to make prying open those oyster shells a doddle. Plus, the chunky, silicone handle gives you some (as the name suggests) seriously good grip. As a result, even if you have wet hands, the knife won't slip! Furthermore, the OXO Good Grips is leagues above other oyster knives with its low price point, making it attractive for every budget.
| | |
| --- | --- |
| Weight: | 45.35 grams (1.6 oz) |
| Blade length: | 7.62 cm (3″) |
| Overall Length: | 17.78 cm (7″) |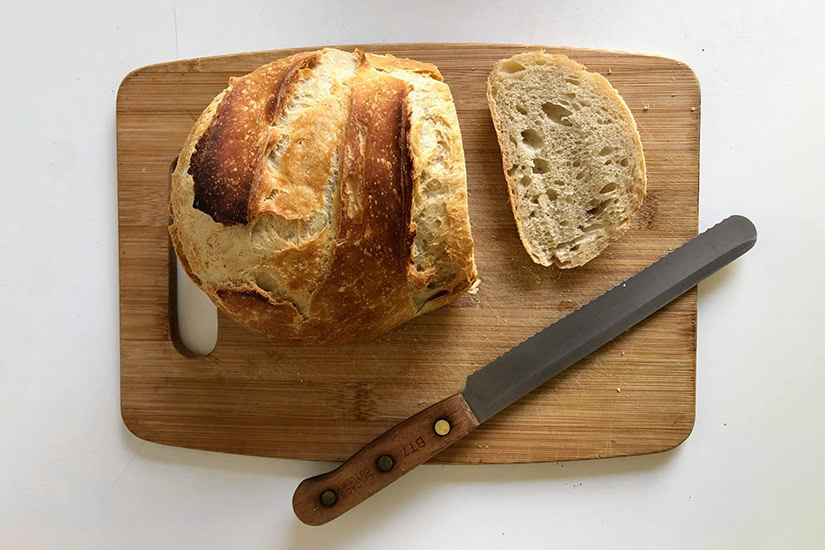 The top 10 kitchen knife brands
Korin
Drawing their inspiration for their blades from traditional Japanese craftsmanship, Korin pride itself on having the broadest range of Eastern cookware around the globe. Despite this, they're actually located in the heart of New York City! As well as creating some of the best Japanese kitchen knives in the world, Korin offers excellent kitchen tools, appliances, and designer crockery. Plus, to keep their blades razor-sharp, they also sell some incredibly unique sharpening stones. Japanese blades are traditionally thinner than your typical Western knife, so other sharpening tools can sometimes crack the blade. Nevertheless, when used and taken care of correctly, Korin knives can give you the most precise, wafer-thin slices of pretty much anything.
Wüsthof
What started as a family-owned company in Solingen, Germany in 1814, is now one of the best-selling knife brands in the world! Used by professional chefs and home cooks alike, Wüsthof knives are packed with power, precision, and high-quality craftsmanship. Their expertise has been passed down through over seven generations and the Wüsthof blades are now used in 80 countries around the world. With a goal of providing chefs all over the globe even more delight when they are preparing their favorite dish, all of Wüsthof's knives are built to provide a unique, cutting-edge experience, whilst remaining sharp, beautiful, and perfectly balanced.
Global Knives
Hand-crafted using the same unique method that created the Samurai sword, Global Knives are in a league of their own. First designed in 1985 by the creative visionary, Komin Yamada, Global knives are made from CROMOVA 18 Stainless Steel, which has been designed exclusively for these special blades. Unlike many other stainless-steel knives, the steel is unique as it is soft enough to be sharpened with a whetstone, yet hard enough to hold a perfectly angled cutting edge for a long time. Global craft knives for literally every purpose, from Santoku knives to vegetable choppers, and of course, the award-winning G-2 range. So, if you're searching for something lightweight, impeccably precise, and the best quality kitchen knives for the money, Global might just be the one for you.
Made In Cookware
The knife brand that's revolutionizing cookware today, Made In is one of the most talked-about high-end kitchen knives on the internet. They've partnered with artisan chefs, raw material providers and only use high-quality substances to create their stunning line of cookware. Following their family's century of experience in kitchen equipment and supply, Made In was officially formed in 2016 and has since grown to supply some of the top Michelin star restaurants in the world (like NYC's Le Bernardin).
MAC Knives
As a Japanese brand, the emphasis with Mac knives is on accuracy. Their thin blades are razor-sharp and perfectly balanced for effortless slicing and are often referred to as the 'world's sharpest knives'. Each knife is shaped, crafted, polished, and perfected by professional knife craftsmen. They are exclusively manufactured in Japan, and all knives come with a 25-year warranty for the ultimate peace of mind.
Shun
Since all of their top-rated kitchen knives are handmade in Japan, you can certainly expect a great deal of quality from Shun. Shun draws their inspiration from the Samurai sword, and each individual piece of handcrafted cutlery takes at least 100 steps to complete. The clarity and care that go into making these knives are second to none. Even further steeped in tradition, Shun knives originate in Seki City, which has been the knife-making capital of Japan since the 13th century! Even their name whispers of Japanese legend; in Japan, 'shun' (pronounced 'shoon') means the exact moment when food is at its prime– when the fruit is at its ripest or meat is the most tender and flavorsome. So, it almost goes without saying that you can expect the perfect meal if you're using these brilliant knives in your kitchen.
Victorinox
Victorinox knives are brilliantly versatile when it comes to the best knife brands. They make a lot more than just knives. In fact, they are originally the creator of the Swiss Army Knife but now, they also sell watches, fragrances, travel luggage, carry-on cases, and every type of top kitchen knife you can think of! First opened in 1884 by Karl Elsener, Victorinox's knives are not just popular in commercial kitchens, but suitable for practically any home as well. Plus, they're a lot more readily available than some of the other knives on this list – you can find them in a high street home store, as well as online, of course. This, as well as the ultra-affordability and hard-wearing excellence of these knives, is what gives Victorinox its edge.
Cook Potluck
If you're on more of a budget but still want a set of quality cookware, then we cannot recommend Cook Potluck enough. Their founders believe that cooking should be simple and the tools you use to perfect your dishes should be too! Plus, with their brilliant 'Essentials Bundle' coming in at under $300, it makes a very convincing case! So, even though their products are fairly simple, don't let that put you off because the quality is there.
Zwilling J.A Henckels
As one of the oldest and most renowned knife manufacturers in the world, it's safe to say that Zwilling J.A Henckels really know their stuff! Founded in Solingen, Germany in 1731, they have since pushed the boundaries on modern knife making and crafted some truly unstoppable blades. They have something for everyone, whether you're an amateur cook or Michelin starred chef – if you're looking for the best quality kitchen knives, cookware, kitchen scissors or knife sharpeners, then Zwilling will have something for you! Just make sure you read up about the correct way to care for these knives, however, as most of the blades are made from carbon steel which requires much more effort to maintain. Nevertheless, the knives are corrosion resistant, fairly simple to sharpen and their keenness will allow you to slice and dice with pinpoint accuracy and ease.
Mercer Culinary
Founded in 1968 in the heart of New York City, Mercer Culinary has risen to be one of the world's leading knife brands. Handed down through generations, Mercer has remained a family business and has some of the best quality knives for the money. Through their passion for German cutlery, Mercer began to flourish and all their knives feature a full tang, and fully forged German steel blades, crafted to an undeniably tall standard. Skillfully created with the top chefs in mind, Mercer knives focus on conquering the challenges that culinary experts face, and these days, it's the go-to cutlery brand for many. Mercer works tirelessly to provide chefs, cooks, and culinary students around the world with the expertly crafted German design and razor-sharp blade that are the signature of their knives.
Japanese vs German knives – What's the difference?
Each knife you come across will have been created for a specific purpose, whether that is for cutting through steak, filleting fish, or slicing a loaf of bread. But, besides their purpose, there may also be some key differences in the way the knives were made. The majority of the best kitchen knives on the market will fall into one of two categories – Japanese knives or German knives. Each is just as good as the other, but there are a few key points that separate the two.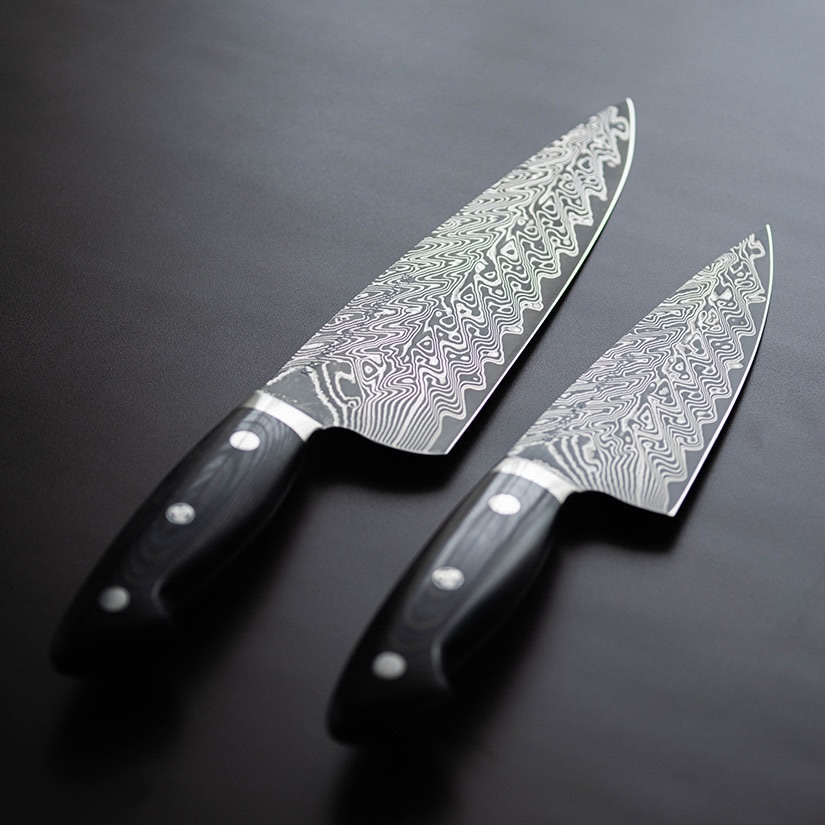 Firstly, German knives are usually chunkier. Japanese knives have a much more delicate frame and are also normally more lightweight. Don't let this cause you to underestimate their power, however, as they also have a sharper edge due to the slim steel used to make the blade.
When it comes to the actual steel itself, Japanese blades tend to be made with higher carbon steel which causes them to be harder, but more brittle. They often require more care, higher maintenance, and frequent sharpening. In comparison, German knives are made with softer steel – it won't need sharpening as much, but the blade won't be quite as sharp either.
The shape and build of the knives themselves are also different. A lot of German knives are made with a full tang, which means a single piece of steel runs from the tip to the very edge of the handle. This gives the user exceptional balance and support. They are also likely to have a bolster for comfort, whereas Japanese knives are designed with a straighter handle. They are also designed with a straighter blade to account for cleaner, more concise cuts, whereas the blade of German knives is often curved to allow for rocking cuts.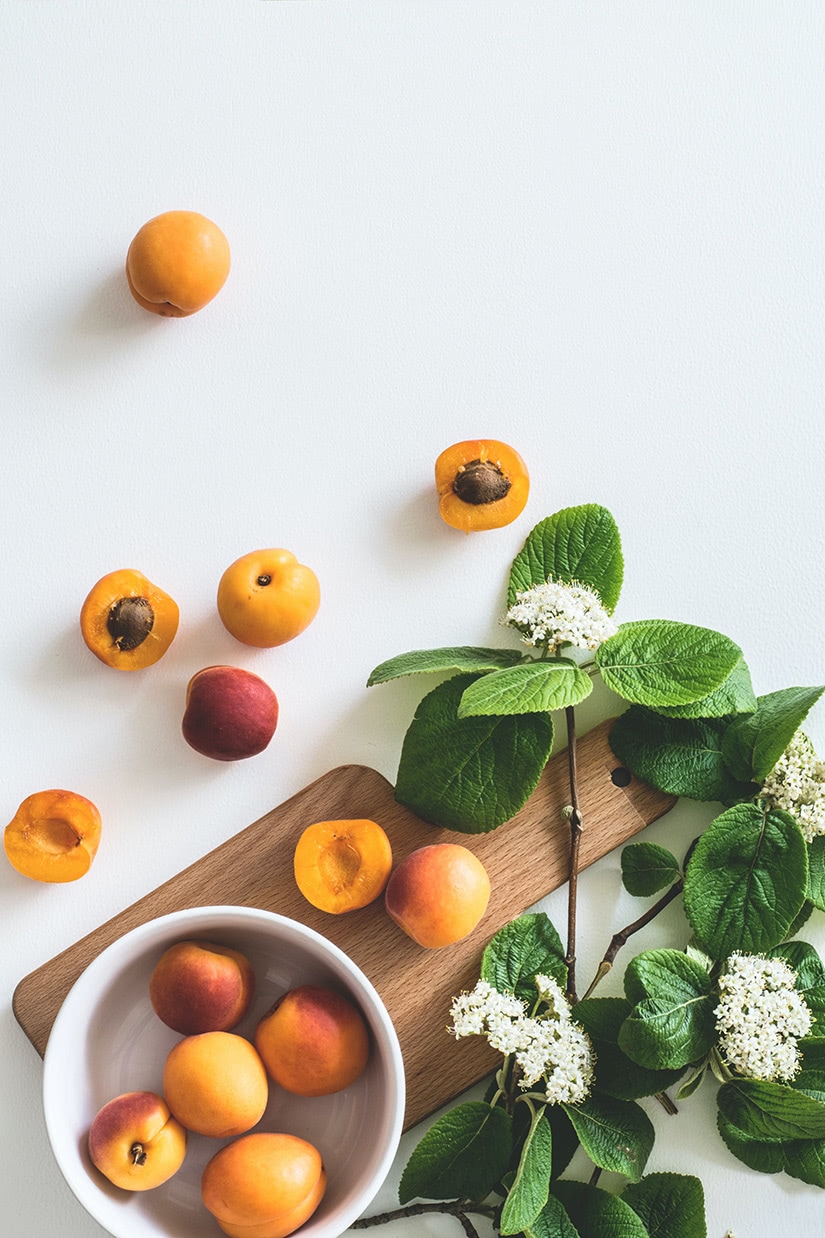 Finally, the primary purpose of a Japanese-designed knife is for slicing. They were made for exact, precision cooking and they perform these tasks with absolute ease. On the other hand, German knives are designed to be much more well-rounded and can be used for a range of different functions.
What is the best steel for a knife? Stainless Steel vs. High-Carbon Stainless Steel vs. Carbon Steel
If you're looking at buying a knife, it's important to look at the material the knife is made from as well as the design and ease of use. This is because the type of steel you buy will usually change the way the knife is used and maintained.
When deciding which steel is right for you, it's important to look at a few contributing factors: hardness, resistance (to water, bacteria, and corrosion), edge retention, and the ease of sharpening. The most basic and common material used to make a knife blade is stainless steel. This is just steel with added chromium to resist corrosion and other forms of deterioration through the elements. However, when you start adding carbon to the blade, the steel will get gradually tougher.
The main thing to bear in mind is that the more carbon in a knife's steel, the harder the blade. This means it can be made extremely sharp and is extremely strong. However, if you just add carbon without the additional chromium that makes the steel stainless, the resultant blade will be a lot less durable. Carbon Steel will retain its edge well and is much tougher, whereas regular Stainless Steel is softer, easily loses its sharpness, and can sometimes bend.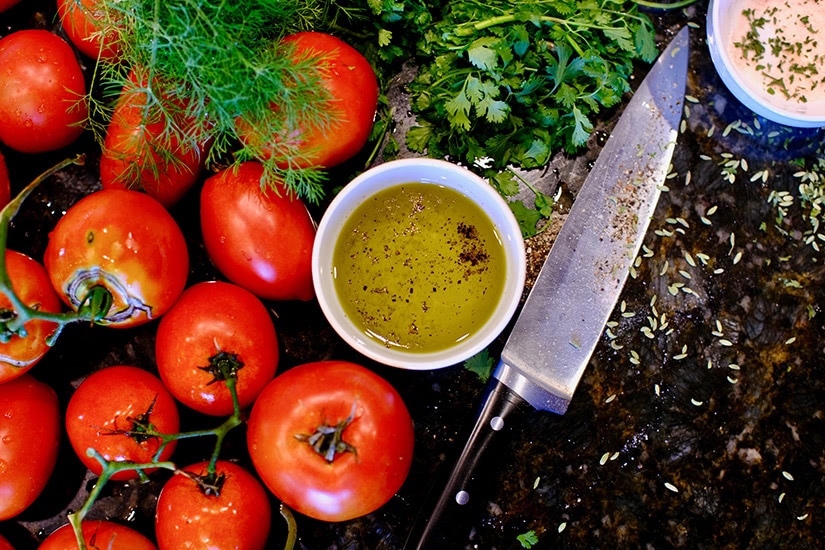 Overall, the higher the carbon content in the knife steel, the sharper the blade; the higher the maintenance, but the higher the edge retention. The higher the chromium content in the blade, the less likely the knife is to corrode and the more durable the knife will be. Japanese knives tend to be made with a much higher carbon content than German knives, so this is definitely something to think about when deciding on the best kitchen knife to buy.
How to sharpen a kitchen knife
There are many different ways to sharpen a kitchen knife depending on both the knife you are sharpening and the chosen sharpener. The first step would be choosing the correct sharpener for the knife you are using. For example, using an electric sharpener for sharpening some thinner, Japanese blades can actually chip or scratch the blade instead of actually sharpening it!
Once you've established what type of sharpener you need, repeatedly swipe the knife across the steel or stone, ensuring you maintain a 20-degree angle on the blade. Then, switch to the opposite side. For more information about sharpening knives, see this article about the best sharpeners you can buy.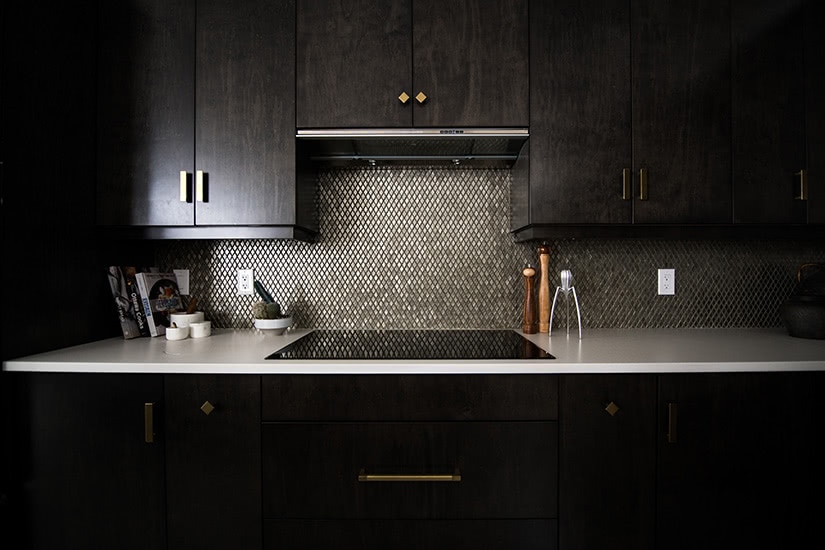 Frequently Asked Questions about kitchen knives
What is the best kitchen knife on the market?
The overall best kitchen knife on the market is the Senken Shogun Collection. Perfect for either home use or a professional kitchen, the knife can handle anything from tough jobs to much more delicate tasks. It will also likely last you a lifetime with proper maintenance and care.
Who makes the best kitchen knives?
There are some wonderful knife brands on the market and many are used by all different kinds of chefs. However, the top kitchen knives are made by MAC Knives. Wüsthof and Global Knives follow closely behind with their excellent ranges of blades. Check our round-up of the best kitchen knives to find the best brand for you.
What knives does Gordon Ramsay use?
Gordon Ramsey has favored a few different knife choices throughout his career. He's been seen using both Wusthof (in the past) and Henckels blades in his 2019 Masterclass. However, he has also released his own brand of chef knives, the Chef Gordon Ramsay Knife Set, but whether he actually uses them in his own kitchen is up for debate!
What are the top 10 knife brands?
The top 10 knife brands are MAC Knives, Wüsthof, Zwilling J.A Henckels, Global Knives, Made In Cookware, Mercer Culinary, Korin, Shun, Victorinox, and Cook Potluck. They all use excellent quality materials, produce a range of sharp, durable knives and there is something on this list to suit all cooking needs and budgets.