Margaritas. Hollandaise sauce. Pureed soups, organic nut butters, fresh salsas in a minute, and more: The top-rated blenders can be a constant source of convenience in your kitchen.
For Michelin-starred dishes and drinks worthy of boasting for any at-home culinary enthusiast, a top-tier blender can truly add power and finesse to your kitchen.
However, blenders can also be a source of clutter and confusion. Your kitchen is a place of crucial real estate….you don't want to waste a single inch.
You'll want a blender that's easy to clean, easy to use, and easy to enjoy – every day, if that's what your lifestyle needs.
Whether you're looking for help preparing for cocktail hour or you require hands-off cooking aids while you're getting dinner on the table, a good blender can be the tool your kitchen's been craving.
We've sifted through blender reviews, read up on specifications, and carefully considered which top blenders simply look the best (after all, even utilitarian accessories can add style!).
We've also put together a helpful guide below, so you can learn more about what makes a good blender a truly great product.
The 11 best blenders
Ninja Mega Kitchen System: Overall best blender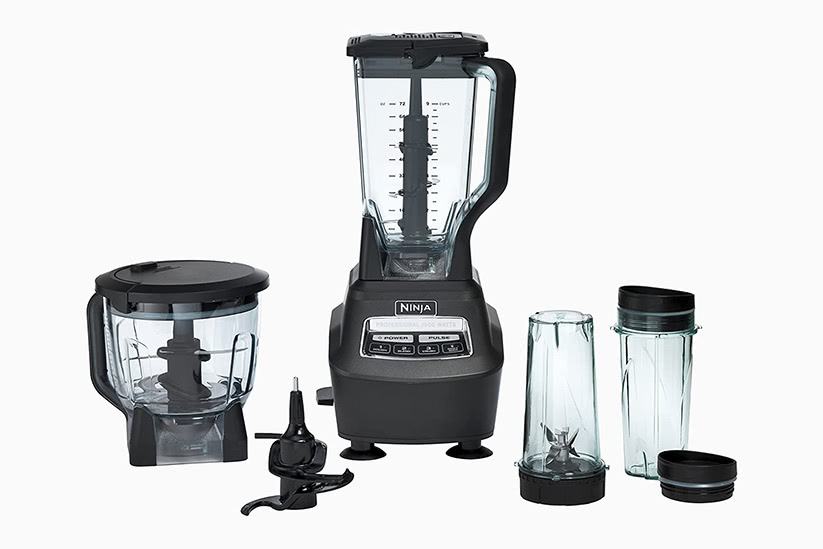 When you're blending, you want ease; you want power; you don't want to discover that you don't have the right kind of blender for what you want to make!
Fortunately, with this truly versatile and comprehensive kitchen system from Ninja, that simply won't happen.
With a food processor attachment, two single-serve cups, and a pitcher for serving frozen drinks, you can make whatever you want with one do-it-all appliance. It's capable, it's easy-to-use, and it can make any cooking feat easier. (It can even chop onions and make dough!)
The Ninja Mega Kitchen System's astonishing 1500W promises that you can expect completely smooth results…every time.
Best for: Culinary enthusiasts looking for power, convenience, and a comprehensive blending system.
| | |
| --- | --- |
| Power: | 1500W |
| Modes: | Food processor, drinks, and single-serve |
| Colours: | Black |
Vitamix 5200: Best high-end blender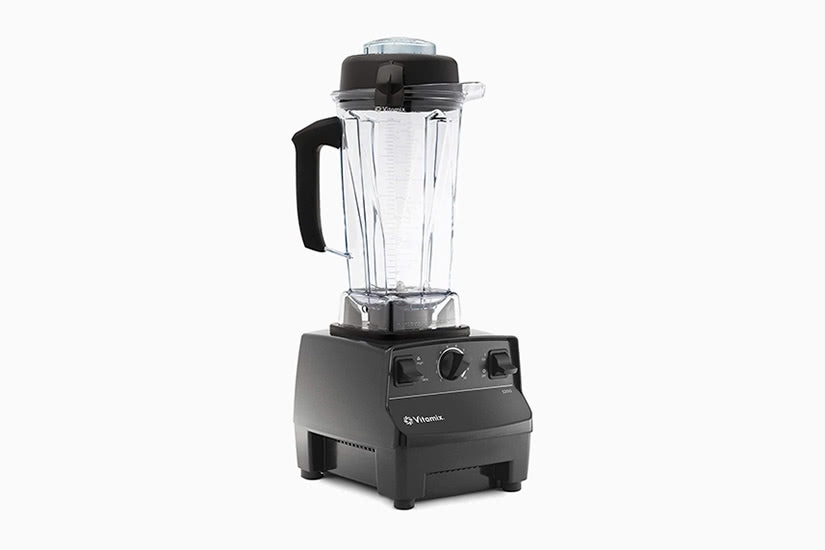 If you're interested in making more than smoothies and drinks (think nut butters, dips, grinding coffee, sorbet and more), the Vitamix 5200 can handle any request you have.
Its blades are made from aircraft-grade steel. Even better: They'll spin fast enough to create friction heat, should you want a hot dip or soup without turning on the stove. (And, not for nothing, it cleans itself…talk about a kitchen tool offering the entire package.)
Best for: Blending experts who need an upgraded tool for daily, professional-level use.
| | |
| --- | --- |
| Power: | 1400W |
| Modes: | Soup, Self-Cleaning, Smoothies |
| Colours: | Black, Red, White |
Oster Pro 1200: Best value blender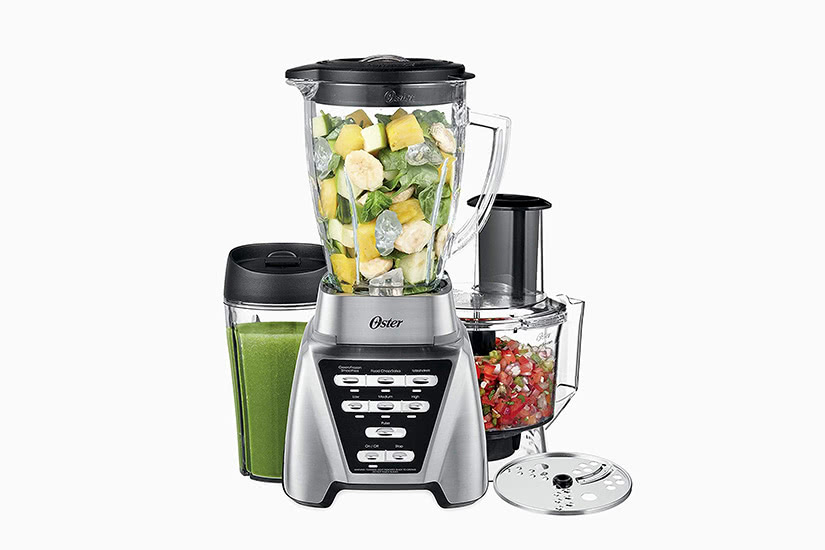 Many blenders come with plastic bowls. If you're more inclined to have a glass blender in your kitchen, the Oster is an excellent pick. What's more: for the price, Oster packs in several handy features.
The blades feature dual-direction technology, so you can pulse in forward and reverse. This means you'll see faster, simpler blending with smoother results. (Creamier smoothies and soups with less of a time investment? We're excited about that.)
The chic brushed-nickel finish will blend in well with your other kitchen appliances — and there are preprogrammed settings for 1-touch blending of your favourite appetizers!
All in all, the Oster Pro is the best blender for the money.
Best for: Budget-savvy beginners who need an efficient way to make staples in a snap.
| | |
| --- | --- |
| Power: | 1200W |
| Modes: | Salsas, Milkshakes, Smoothies |
| Colours: | Brushed Nickel |
NutriBullet: Best multipurpose blender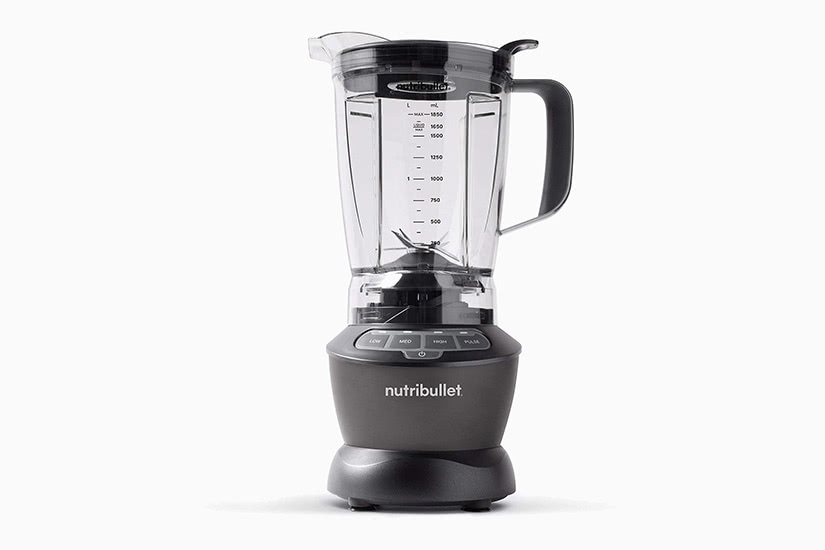 How does this sound: Using one versatile kitchen tool to make your sauces, soups, smoothies, nut butters, and more – and then simply being able to toss the pitcher in the dishwasher, making cleanup a snap?
If minimalistic convenience is your goal, you'll love this NutriBullet blender. It's powerful enough to blend anything you need (with cyclonic stainless-steel blender blades), but only has four easy-to-understand buttons: Low, Medium, High, and Pulse.
This hassle-free option can be your cooking companion, no matter what you need chopped or creamed.
Durability, versatility, and ease of use: Who could want for more in a blender?
Best for: Multitasking chefs who require an all-purpose tool to make kitchen tasks easy.
| | |
| --- | --- |
| Power: | 1200W |
| Modes: | 3 precision speeds |
| Colours: | Dark Grey |
Ninja Personal: Best personal blender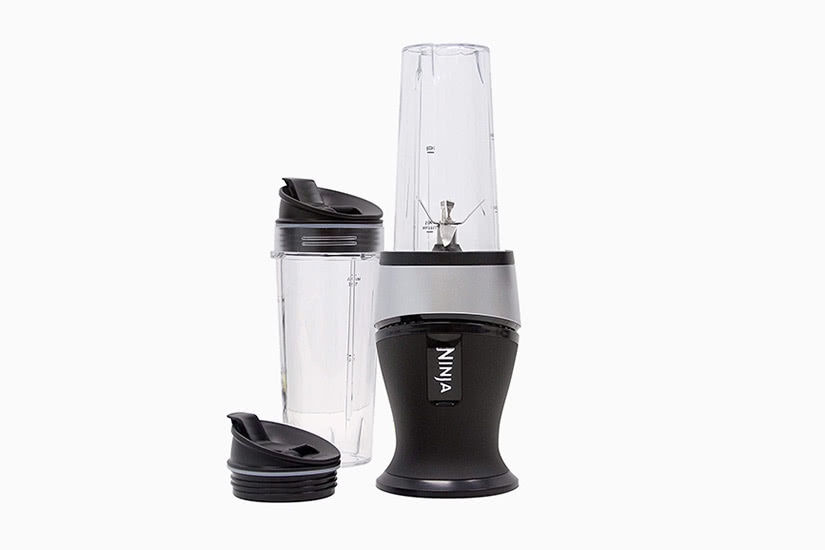 If you've ever sipped a smoothie and found one too many lumps of ice or frozen fruit in your beverage, you need a personal blender upgrade.
This petite blender is pint-sized – perfect for simple smoothies for one. However, it has the power to crush ice with ease to ensure a seamless drinking experience.
We love the blend-and-go utility this Ninja Personal Blender offers: It comes with two blend-in cups, which you can remove from the blender, top with a sip-and-seal Ninja lid, and enjoy on the go – with zero spills.
Best for: Efficient foodies looking for the quickest, easiest smoothie-and-sauce-making experience.
| | |
| --- | --- |
| Power: | 700W |
| Modes: | One-speed |
| Colours: | Black |
Mueller: Best immersion blender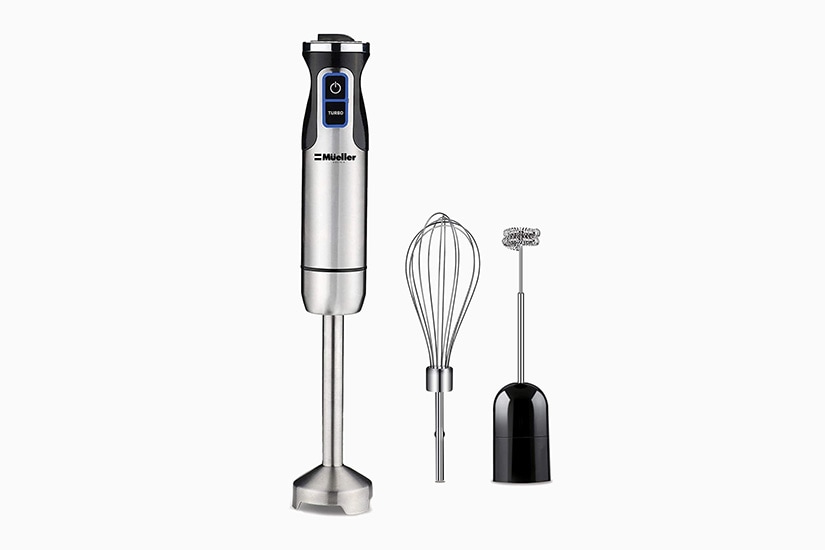 For cooking soups in large pots, or making sizable batches of milkshakes or purees, there's really no alternative to a good immersion blender. The convenience of being able to blend your food without having to transfer it to a dedicated blender, thus dirtying a second dish, is unparalleled.
This Mueller immersion blender capitalises upon this multipurpose, versatile ease. The sophistication of this ergonomic tool lends itself to frequent use and simple storage.
Looking to use your blender to make decadently foamy milk for cappuccinos or other luxurious espresso drinks? This multipurpose tool enables making the food and drinks you love a piece of cake. (Which reminds us, you can whip together dessert dough with this hand blender as well.)
Best for: Those who meal-prep, cook in large batches, or like making pitchers of drinks for friends and family.
| | |
| --- | --- |
| Power: | 500W |
| Modes: | One speed – comes with a whisk and frother attachment |
| Colours: | Silver |
Ninja Professional: Best blender for smoothies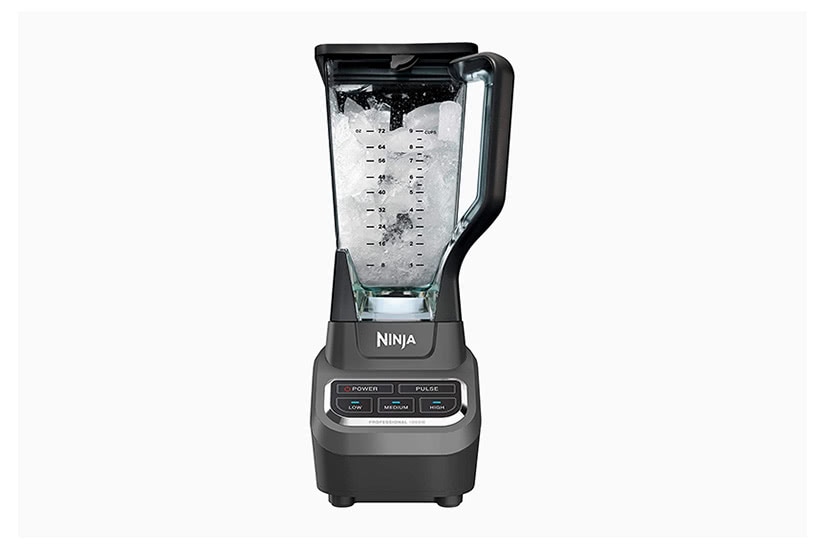 Find yourself often making smoothies for a crowd? With a 64 ounce capacity, this blender is perfect for large batches of your favourite frozen drinks. Whether you're in the mood for margaritas, daiquiris, healthy green juices or more, this blender is the one that can get the most done at once.
With blades and a motor so strong that it can create snow from ice in seconds, this Ninja Professional Countertop Blender is an essential tool if you frequently make blended drinks.
However, you can use it for more. Dips, salsas, sauces and more will also be easy with this countertop piece.
Best for: Smoothie lovers who prepare delicious creamy frozen drinks regularly (and, often, for more than one).
| | |
| --- | --- |
| Power: | 1000W |
| Modes: | Low, Medium, High, Pulse |
| Colours: | Black |
KitchenAid: Best high-performance blender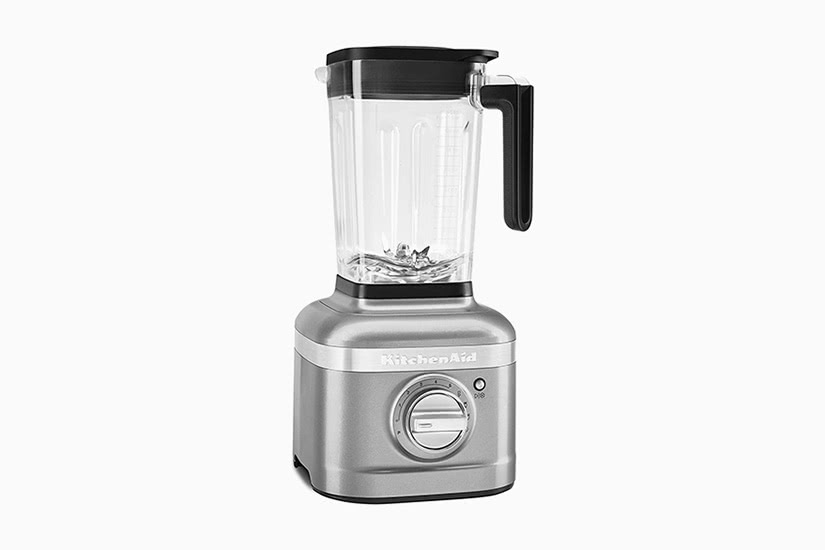 Smooth results, tough ingredients: Isn't that precisely what you want when you turn on your blender? This countertop model brings asymmetric blades to the table, which use their own blending power to ensure all materials get blended well – and blended fast.
With preset recipes so you don't have to think twice, a soft-start feature to avoid splatter, and an intelligent motor that can sense the power it needs to provide for the specific materials you're working with, the KitchenAid Countertop Blender ensures that you get the consistency you want, when you want it.
The different sophisticated shades this model comes in can complement your countertop, too.
Best for: Those who expect to use their blender, often, for thick smoothies, crushing ice, or pureeing hearty, comforting stews.
| | |
| --- | --- |
| Power: | 670W |
| Modes: | Ice crush, icy drinks, smoothie |
| Colours: | Black, white, and silver |
Instant Ace Plus: Best blender for soups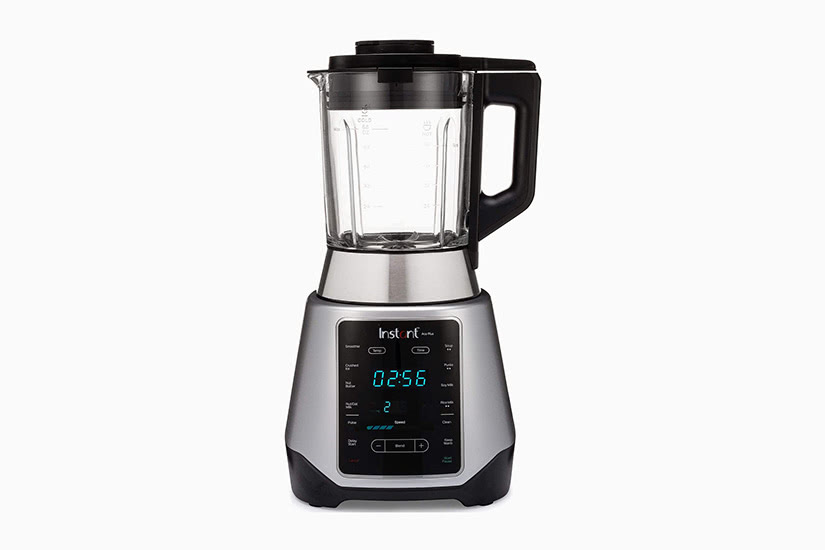 Blenders are often associated with delicious smoothies, cocktails, and other chilled specialities. This is all fine and good – but you need an option to use your blender year-round. The Instant Ace team has solved this problem with a heated blending option. Instead of heating ingredients on the stove and pureeing in a blender, you can take care of the entire operation in one handy device.
But the heating element isn't the only feature that sets this model apart.
The motor of the Instant Ace Plus Cooking Blender is strong enough to make your own healthy nut butters at home; the 10-in-1 touch functions mean that all you need to do is press one button, and this intelligent tool takes care of the rest – no matter what you need.
Best for: Year-round home cooks who appreciate a silky soup as much as they do a creamy blended dessert.
| | |
| --- | --- |
| Power: | 700W |
| Modes: | 10, including hot soups, crushed ice, smoothies, salsa, dips, and more |
| Colours: | Black |
Oster Counterforms: Best budget blender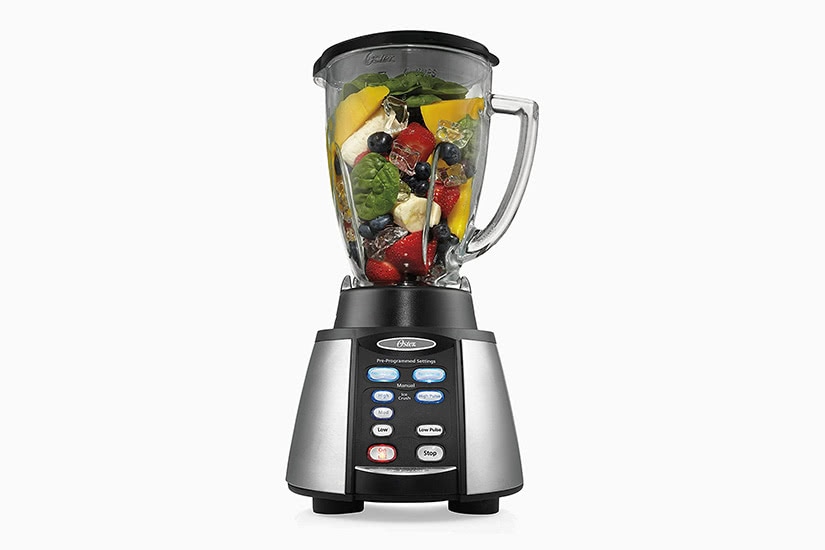 With pre-programmed settings to take the guesswork out of getting the results you want, this Oster Counterforms Blender offers a simple, easy-to-use alternative to complex models. As the best blender under $100, it won't break the bank, either.
Whether you're looking to pulverise, cream, or chop, the dual-direction blades in this best budget blender will do it well, and clean easily when you're done. The jar of this blender is completely dishwasher-safe.
(Our favourite feature? The filler cap has built-in markings to help measure ingredients. This is truly an all-in-one device.)
Best for: Those who seek the best cheap blender for occasional use — but need it to perform well when used.
| | |
| --- | --- |
| Power: | 1000W |
| Modes: | 7 speeds, including high, low, and pulse |
| Colours: | Red and black |
Vitamix 750 Series: Most expensive blender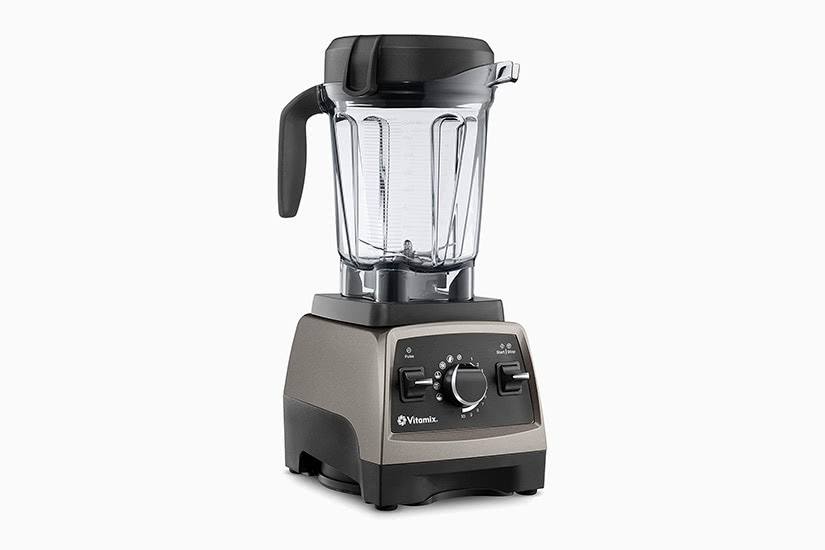 Vitamix blenders are well-known for their quality. Famously, they can crush through anything, they last for years, and are used in professional kitchens the world over.
It's not for nothing. Its aircraft-grade stainless steel blades will make quick work of any ingredients you choose.
The Vitamix 750 Series Blender will look fantastic in your kitchen (we love the subtle pearl gray color) and contribute flawless results to any dish you require.
It also features walk-away convenience: If you need to keep an eye on other components of your menu, you can, without worrying about this blender — it'll just be doing exactly what you need.
Best for: At-home chefs who seek a wide range of speeds and complete control over their blended dishes.
| | |
| --- | --- |
| Power: | 1380W |
| Modes: | Smoothie, puree, soup, self-clean |
| Colours: | Pearl gray and black |
Buyers guide: What to look for in the best blender for you
With all of the models on the market, it can be difficult to decide what's a priority for you and your specific lifestyle. Here, we'll give a few insider tips as to the type of tool you might need— and what features you might enjoy in the best blenders.
The best types of blenders
Cooking blenders: Some newer blenders either include heating elements or are able to create such high friction that they'll heat up pureed soups on their own. This is highly convenient — imagine not even having to turn on a stove to get the smooth, creamy, hearty soup of your dreams.
Food processing blenders: While some blenders in the past have been optimised strictly for smoothies and other chilled drinks, today's blenders can chop, dice, grind, and otherwise take care of any task a food processor could. If you don't have a standalone food processor, investing in a blender that's up to a variety of kitchen tasks is a good idea.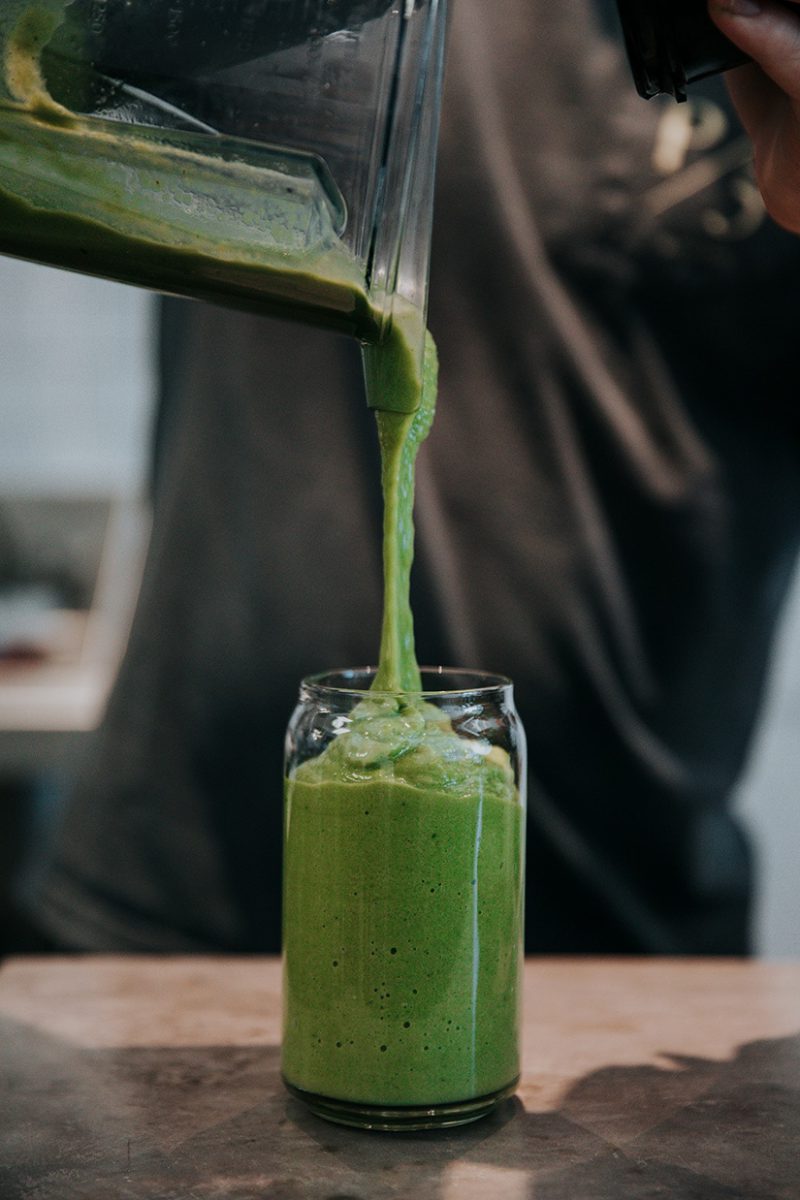 Personal blenders: To make daily smoothies and individual portions of soup easy and convenient, there's a whole designation of small, button-free blenders that you activate simply by snapping into place. Generally very small, just large enough for one serving, these blenders are easy to clean and use.
Features to look out for in your perfect blender
Blades: The blades of your blender are the heart of the operation. Curiously, you might want to know that you shouldn't be looking for the sharpest blades. All blades dull with time. Instead, you should go for the strongest blades available, ones that will be able to pulverise regardless of their edge. (This will also make your blender safer to wipe clean.)
Size: You don't want your blender to be overly bulky in your kitchen. Select one with a heft you can handle, or that's compact enough to fit in a cabinet if you don't want it on your countertop at all times.
Material: The main materials for the bowls of blenders are glass and plastic. Glass is heavier, but it won't stain; plastic might be safer, as it's more easily guaranteed to be shatterproof.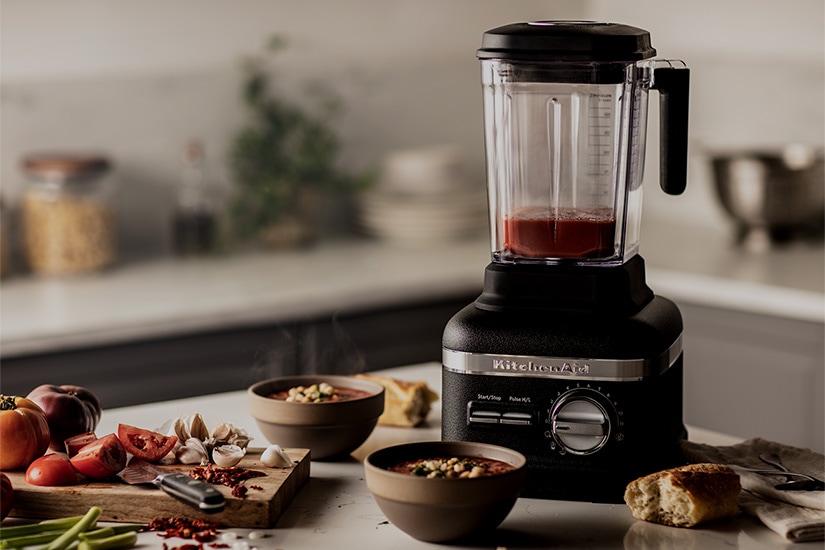 Power: You might think bigger is better — as in, the higher the wattage, the better the performance of the blender. This isn't necessarily the case. You're better off looking for a strong blender design (and incredibly durable blades) than you are prioritising the highest wattage you possibly can.
Speed control: You'll generally find two different types of blenders: One with preset functions, so all you have to do is press one button to get the blended food you desire, or one with manual controls so you can get the specific speed you'd like. Either way, you're going to need easy controls that you can handle without too much frustration.
Frequently asked questions about the best blenders
What is the best blender for hot liquids?
The best blender for hot liquids is the Instant Ace Plus Cooking Blender. It contains a safe heating element that will bring your liquids up to cooking temperature even as you're able to pulverise even the toughest ingredients into a smooth puree.
What is the most durable blender?
The most durable blender is the KitchenAid Countertop Blender. Its strong materials and high wattage make it a good countertop option that can withstand ice, nuts, long periods of use, and more.
What is the difference between a blender and food processor?
The difference between a blender and a food processor is the utility for which they are designed. For the most part, blenders are designed to incorporate wet and dry ingredients into smooth, seamless textures, while food processors can dice, chop, make dough, nut butters, and more.
Are expensive blenders worth it?
Expensive blenders such as those from Vitamix are worth it because they tend to have more durable components that pulverise better, withstand daily use better, and ultimately perform better for longer periods of time. However, high-end blenders are typically only worthwhile if you use them often! Make sure to get the right kind of blender for you.