Focusing on our breathing is meant to calm us down. But if you're worried about the air quality in your home, it can do the opposite. From dust mites and mold spores to odors from fires and cigarettes, there are plenty of concerning reasons why the air in our homes might be less than fresh. This is why we've been exploring the best air purifiers available today. 
For people who suffer from asthma or allergies, the need for an air purifier might be particularly pressing. But pet owners are equally likely to want to get their hands on one of these nifty devices.
The best air purifiers use advanced filtration systems and a fan to filter out fine particles (that might otherwise end up in your lungs) before circulating clean air back around the space. They can eliminate pet dander as well as tiny allergen-causing particles, bacteria, viruses, and other nasties.
Reluctant to add a bulky piece of unattractive machinery to your home? Many of the best air purifiers are designed with an eye for aesthetics and are sleek and unobtrusive. Some even feature smart sensors to tell you exactly what the air quality is like in your home at any given moment.
Inhale, exhale, and check out our rundown of the best air purifiers on the market today.
The 13 best air purifiers
PURO²XYGEN: Best overall air purifier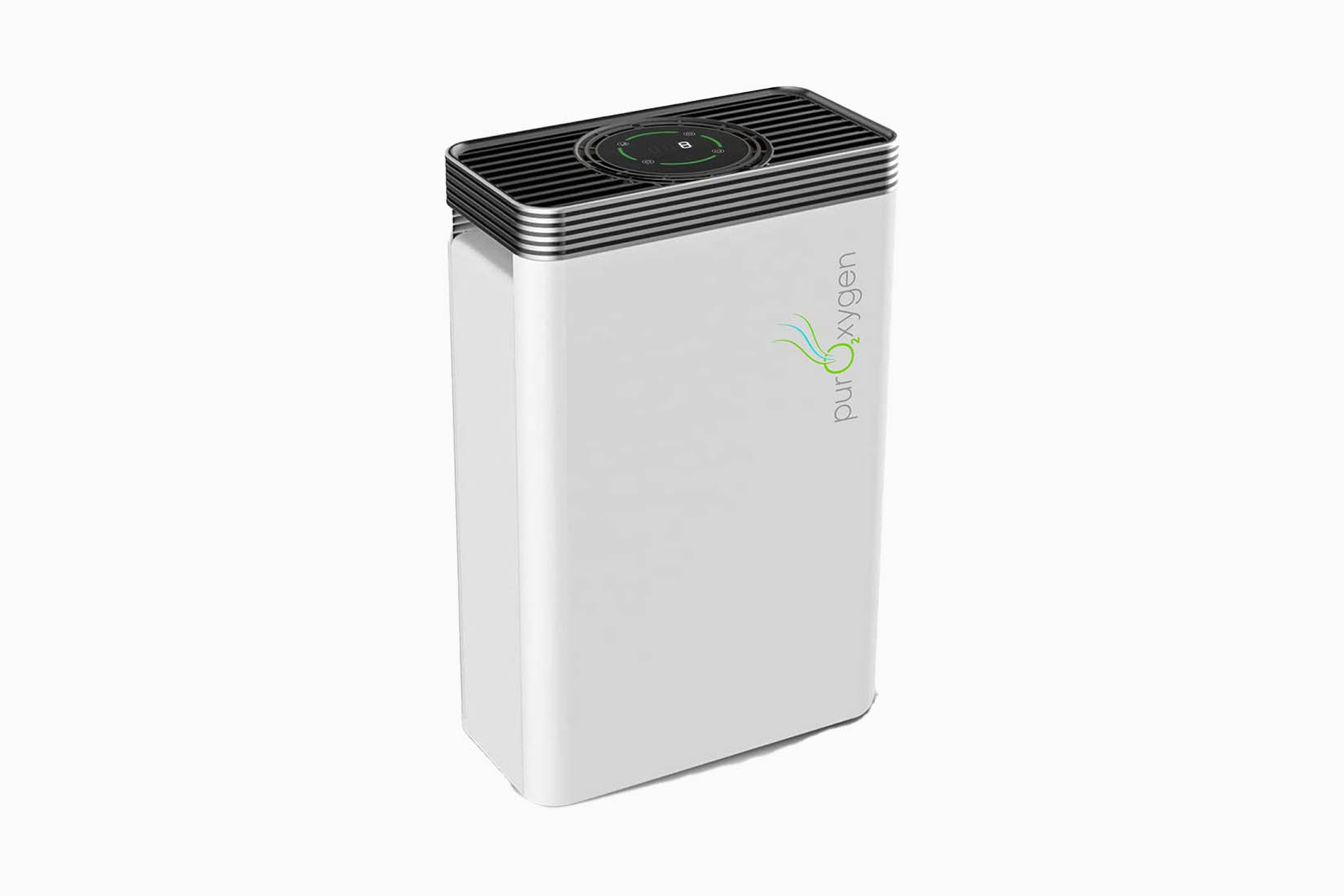 When it comes to performance, energy efficiency, noise levels, and price, one air purifier indisputably comes out trumps. This PURO²XYGEN purifier carries the day thanks to its flawless operation and good value for money.
This air purifier features a 6-stage purification system that makes for ultra-advanced filtration, and it can handle rooms up to 50 square meters. As well as a HEPA P500 filter that can remove 99.98% of airborne contaminants, including mold, dust, and pet dander, it also has an activated carbon filter to remove smoke and other unpleasant odors. 
Another great feature is the fact you can operate it remotely from the bed or sofa using the remote control, while an indicator tells you the status of both the air and the filter.
The best HEPA air purifier on our list, the PURO²XYGEN air purifier also features almost silent operation, making it superbly bedroom-friendly.
All that for under $200? Yes, please.
Best for: An all-around excellent air purifier that meets and exceeds expectations. 
Colour: White
Dyson: Best high-end home air purifier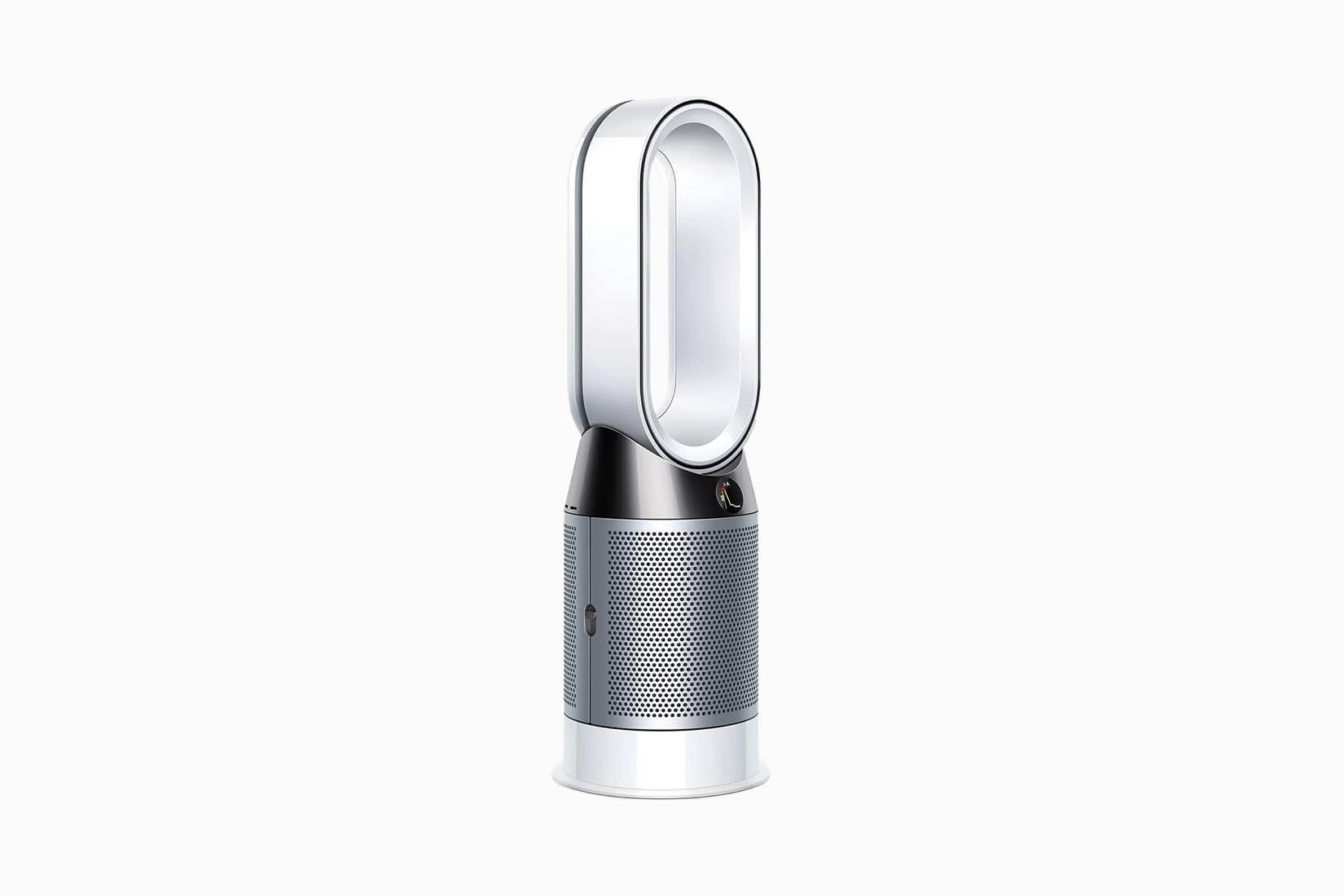 Fancy a room air purifier that does double-duty as statement contemporary art? Then ignore the price tag and treat yourself to Dyson's Pure Hot + Cool Air Purifier.
Sure, this air cleaner isn't cheap but we're willing to splash out for performance of this caliber. Not only can it filter out ultrafine particles, allergens, volatile organic compounds, and nitrogen dioxide, but this luxury air cleaner is also able to automatically sense air pollution and then initiate the air purification process. It also offers helpful reports on air quality levels on the LCD display. Genius. 
Pet, dust, smoke, pollen, and mold spores—this air purifier can capture it all, and then project the purified air throughout your whole room. Over 77 gallons per second, in fact, while 350-degree oscillation means no corner goes untouched. 
Take advantage of the Dyson app to schedule purification sessions. And during the winter months, use this Dyson air purifier to heat your room quickly and easily.
Best for: Pretty much the Porsche of air purifiers. 
Colour: Silver
Levoit: Best value air purifier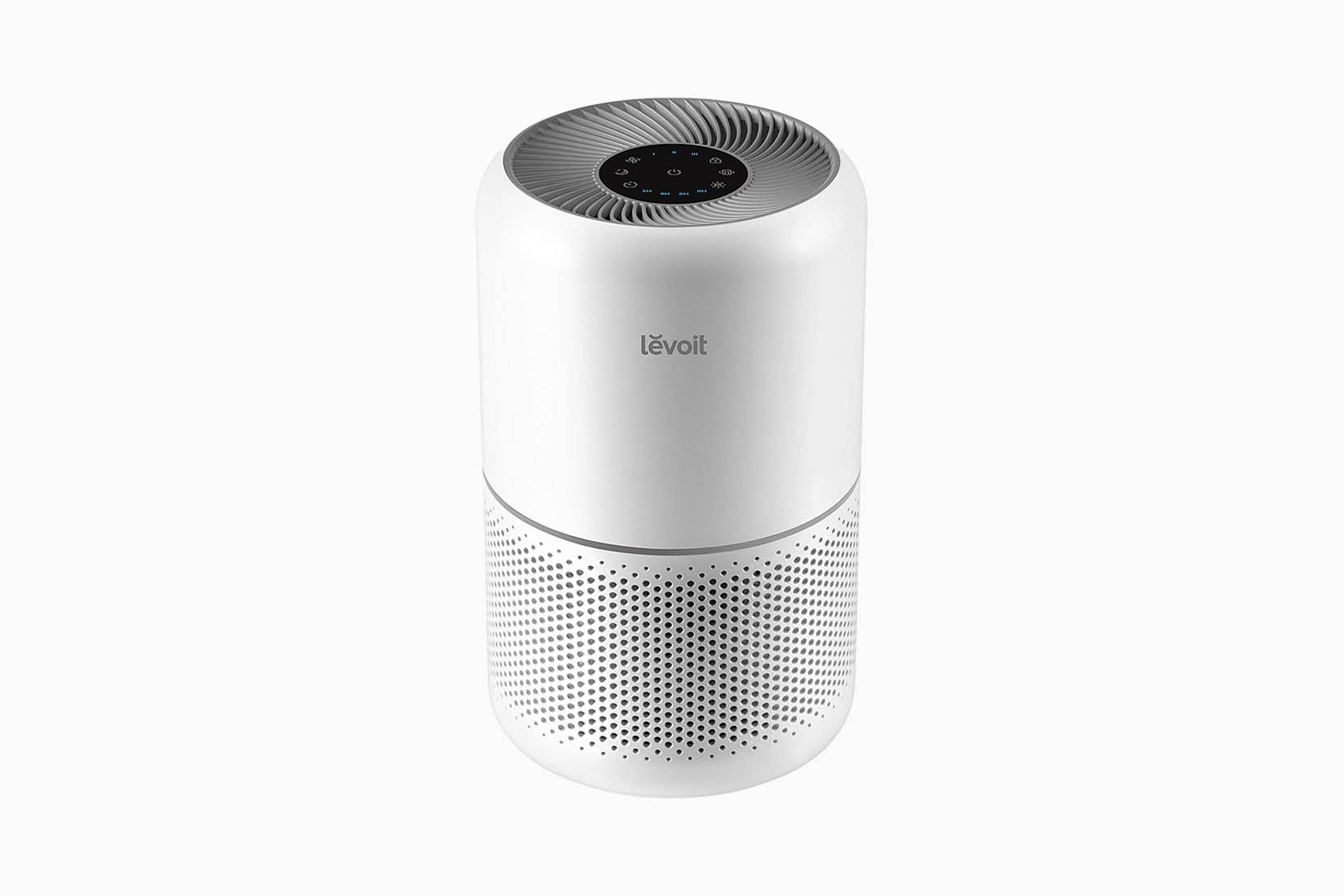 Up until now, you might be relying on your house plants to keep the air nice and fresh. Well, it's not as cheap as a Peace Lily but this Levoit air purifier is still very economically priced.
Despite the accessible price tag, this room air purifier still delivers a top-notch performance, using a HEPA air filter and VortexAir Technology that refreshes the air five times per hour in spaces up to 20 meters squared. 
Suffering from allergies that are making you sneeze and leaving you congested? The pre-filter, carbon filter, and HEPA filter work together to capture 99.97% of airborne particles as small as 0.3 microns. To put this in perspective, we can only see particles as small as 10 microns!
You can also choose the filter that's right for your needs, whether that's the Toxin Absorber Filter for wildfire smoke or Pet Allergy Filter for pet dander and odors. Simply enable the Levoit air purifier's sleep mode at night for silent air purification while you doze.
Best for: An affordable and efficient air purifier that will leave you with pennies to spare. 
Colours: White or black.
Honeywell: Best home air purifier for allergies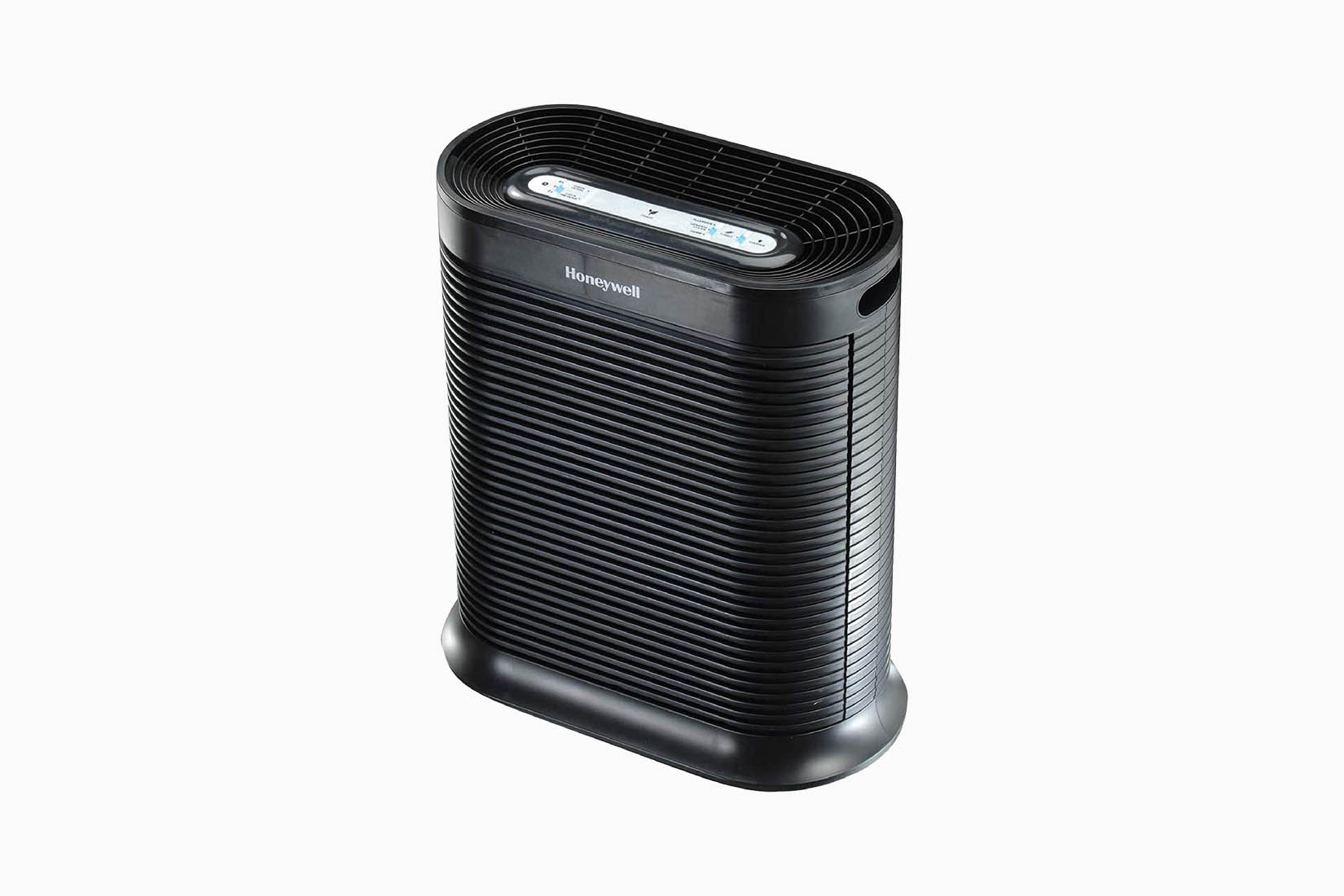 Cursed with allergies that leave you sneezy and blocked up? Not all heroes wear capes. In fact, some of them take the form of this Honeywell air purifier, with a HEPA filter that captures airborne particles as small as 0.3 microns.
Definitely the best air purifier for allergies that we've come across, it has three different cleaning levels, plus a Turbo Clean option, and can reduce a whopping 99.9% of airborne viruses, bacteria, and mold spores. 
This is a great choice for mid-size rooms as its capacity extends to 43 meters squared and it can clean the air up to five times an hour or 120 times a day. And while this Honeywell air purifier isn't the most attractive one on our list, it's available in either black or white, both of which blend unobtrusively into any space.
Best for: The ultimate allergy-busting air purification for easy, breezy, breathing. 
Colours: Black or white. 
Coway: Best air purifier for large rooms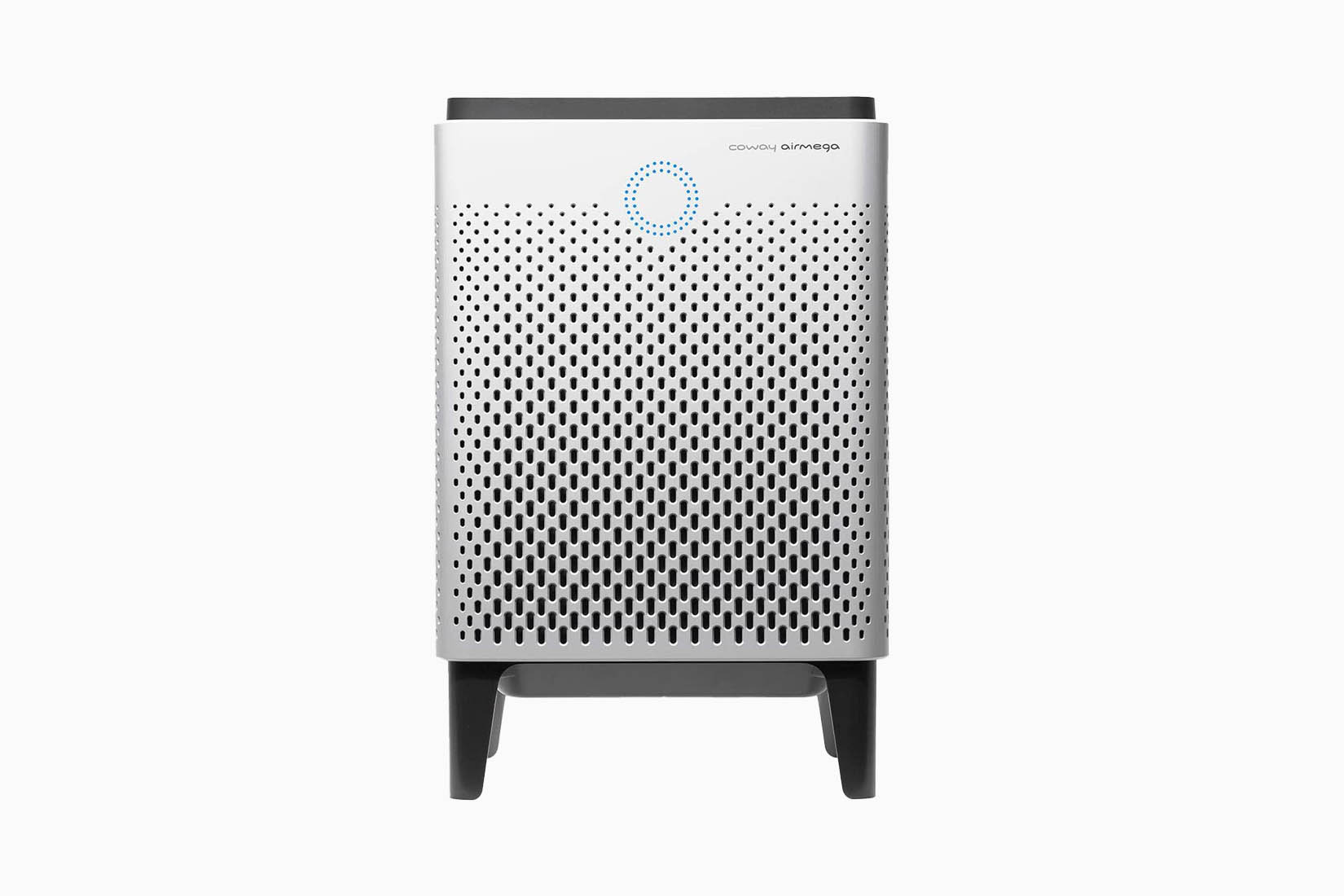 If your home is of a larger size, featuring high ceilings and large open-plan spaces, it can be hard to find an air cleaner that's up to the task. But the Coway Airmega 400 has the capacity to handle it.
This no-nonsense large room air purifier can accommodate rooms up to 145 meters squared. Not only that but it can clean the air at least two times per hour. Using a combined activated carbon and True HEPA filter it captures and reduces up to 99.7% of particles as small as 0.3 microns. As well as eliminating pollen, pollutants, and allergens, it also reduces volatile organic compounds by more than 99%. 
The colored LED ring tells you how clean or dirty the air is while five fan modes allow you to adjust the noise level for use during the night. Even at its highest setting, the noise level is only 43.2 dB—essentially like a really quiet fridge. 
The Coway air purifier features a timer so you can schedule cleaning sessions while indicators will let you know about the filter's lifetime too.
Best for: Serious effective filtering for rooms with super larger square footage. 
Colour: White
Noma: Best home air purifier for small rooms and bedrooms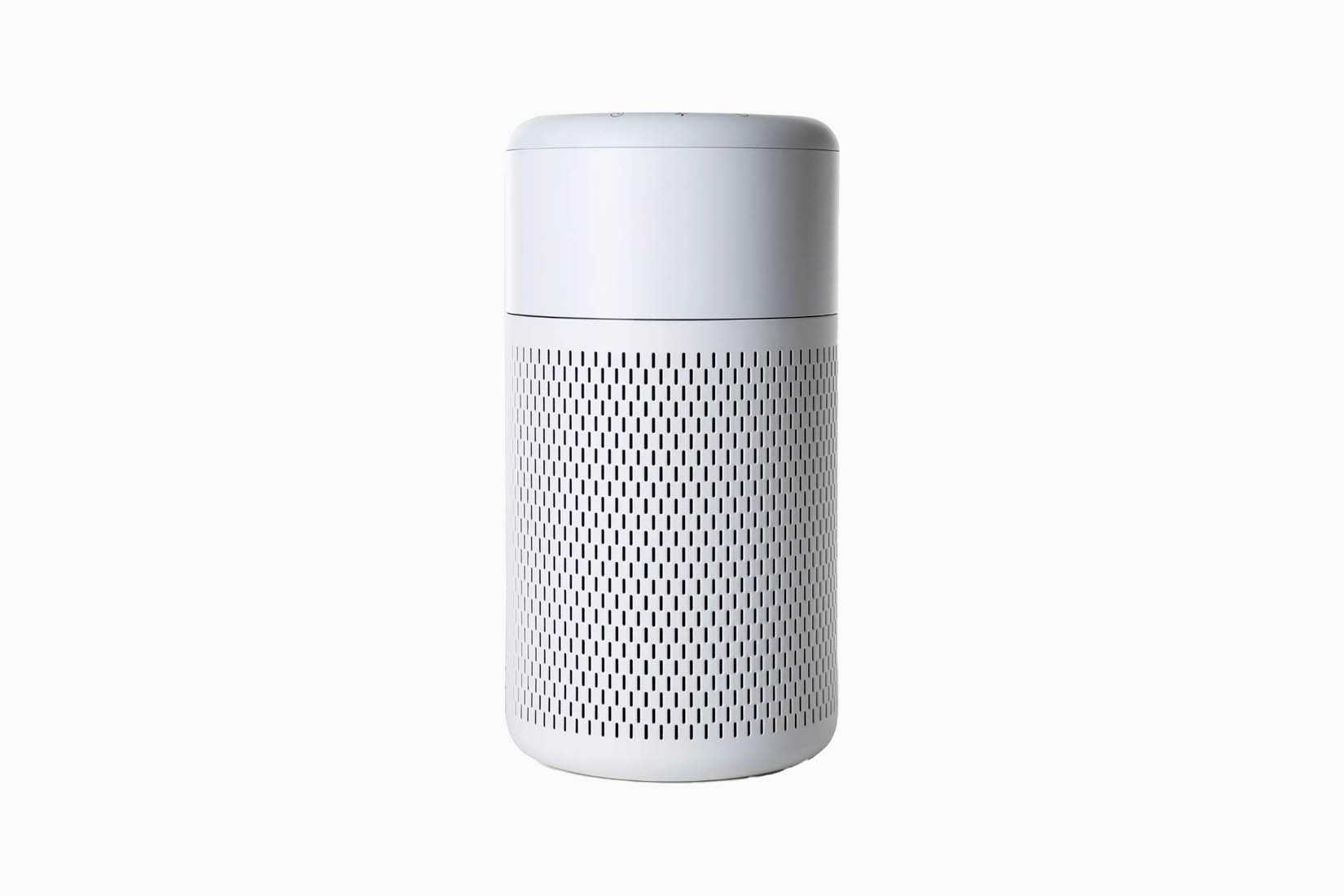 In smaller rooms, such as bedrooms or home offices, you need an air purifier that balances efficiency with size. This NOMA creation is just the ticket, at only 38 cm high and 20 cm wide.
This cute and compact room air purifier is built for spaces up to 9 meters squared in size yet still delivers when it comes to filtration. A True HEPA filter along with an additional washable pre-filter allows the device to capture particles as small as 0.3 microns. There's also an ionizer switch that releases negative ions which attach to positively charged particles, allowing the filter to trap them more easily.
In addition, this Noma air purifier features three speed settings, with the lowest one being ideal for bedtime. Just set the air cleaner to turn off within 2, 4, or 8 hours.
Best for: A nifty space-saving and air-purifying solution. 
Colour: White
Austin: Best home air purifier for odors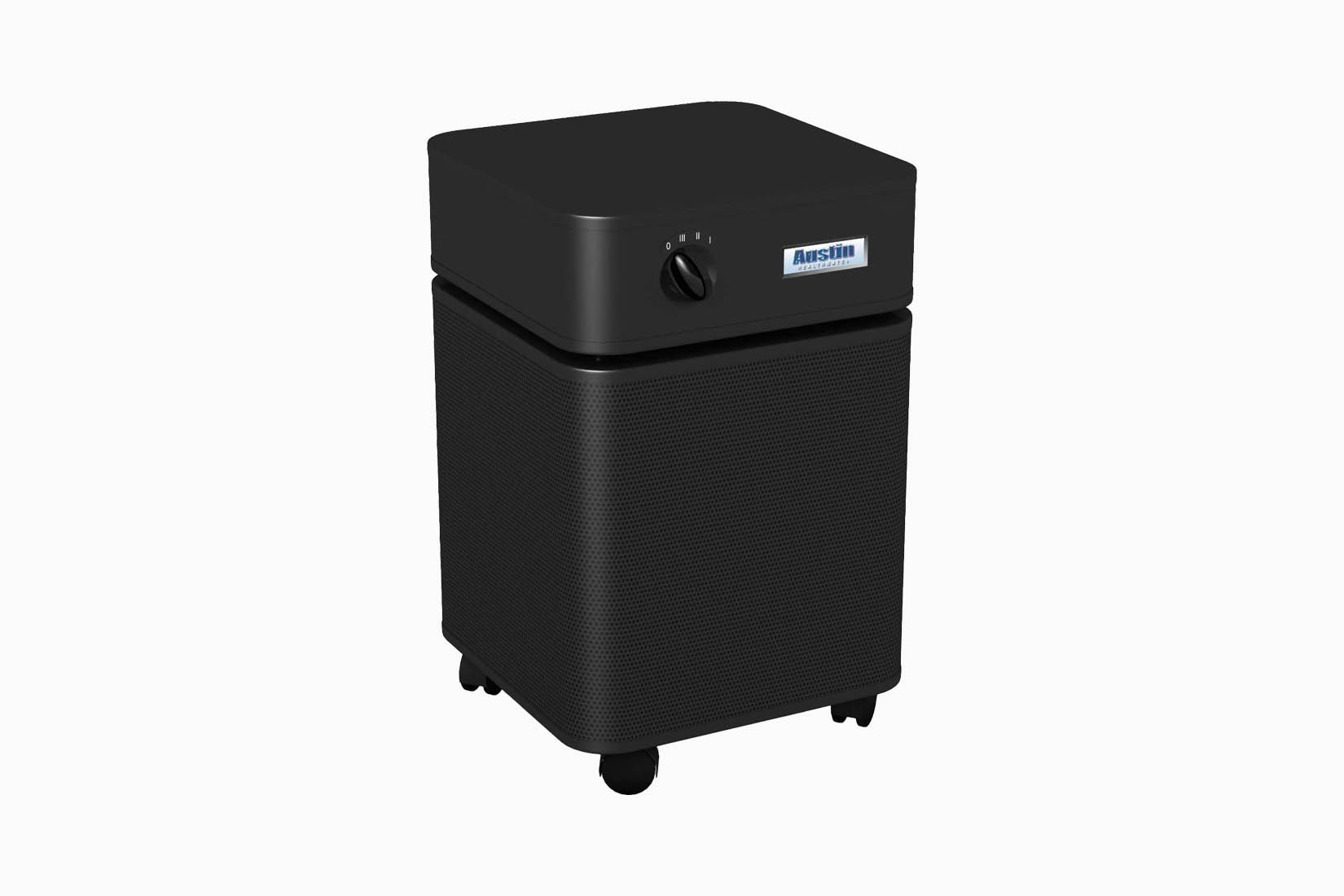 Who cares if the air is clean if you can still smell the lingering traces of what you cooked for dinner last night? Even the best scented candles can only do so much. We want an air purifier that eliminates odors as well as particulates. The best one for the job? The Austin Air. 
This air sanitizer uses a medical-grade HEPA filter to remove viruses, bacteria, dust, dander, and allergens. And it only needs to be replaced every 5 years, saving you time, effort, and money.
The filter can trap up to 99.97% of airborne particulates while nearly 6.8kg of solid activated carbon and zeolite get to work removing odors, dangerous chemicals, and gases, making this the best air purifier for smoke on our list too. 
The Austin Air purifier is perfect for those with extra sensitivity to air quality and will keep your home smelling lovely and fresh. It's able to accommodate rooms of up to 140 meters squared, is super-efficient, and has three different fan speeds, the lowest of which is very quiet.
Best for: Scent-free, unsullied, and totally sanitary air. 
Colour: Black
Winix: Best air purifier for dust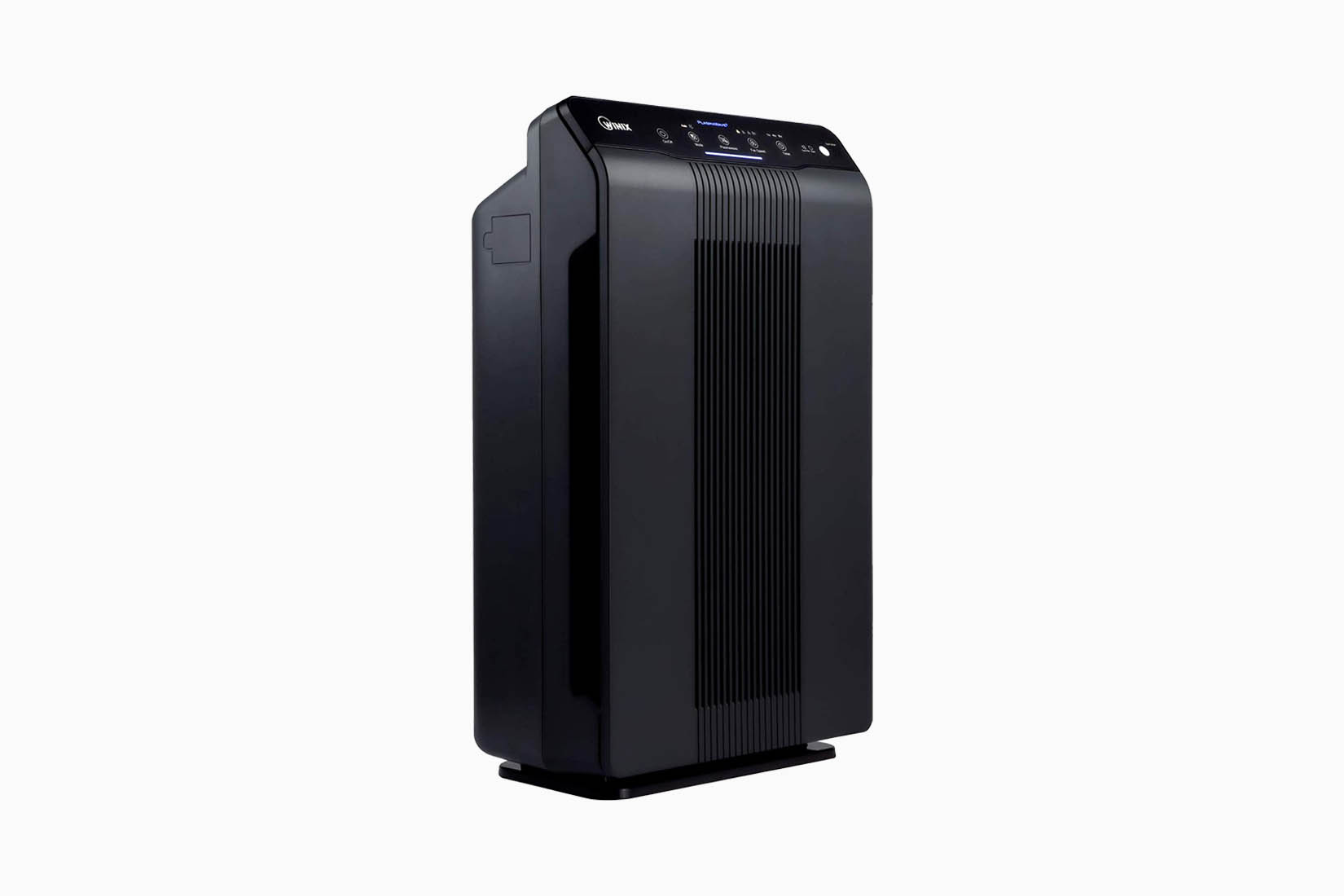 Dust particles and dust mites are the major culprits when it comes to allergies and asthma. But this Winix air purifier makes easy breathing its business with both a HEPA filter and carbon filter for double the purifying power.
One of the best features of this room air purifier is the PlasmaWave technology, a permanent filter that safely breaks down odors, allergens, chemical vapors, and other pollutants without emitting any potentially harmful ozone, unlike cheaper and less efficient air purifiers. 
What's more, smart sensors gauge air quality and adjust fan speed accordingly. There's also a sleep mode for silent operation during the night and the air purifier reviews confirm that it is indeed very quiet.
Perfect for medium and large rooms (specifically those up to 33 meters squared), this Winix Air Purifier also has a washable carbon filter to remove odors. 
Best for: A dust-abolishing and breath-optimising air purification boss. 
Colour: Grey
FridaBaby: Best air purifier for baby nurseries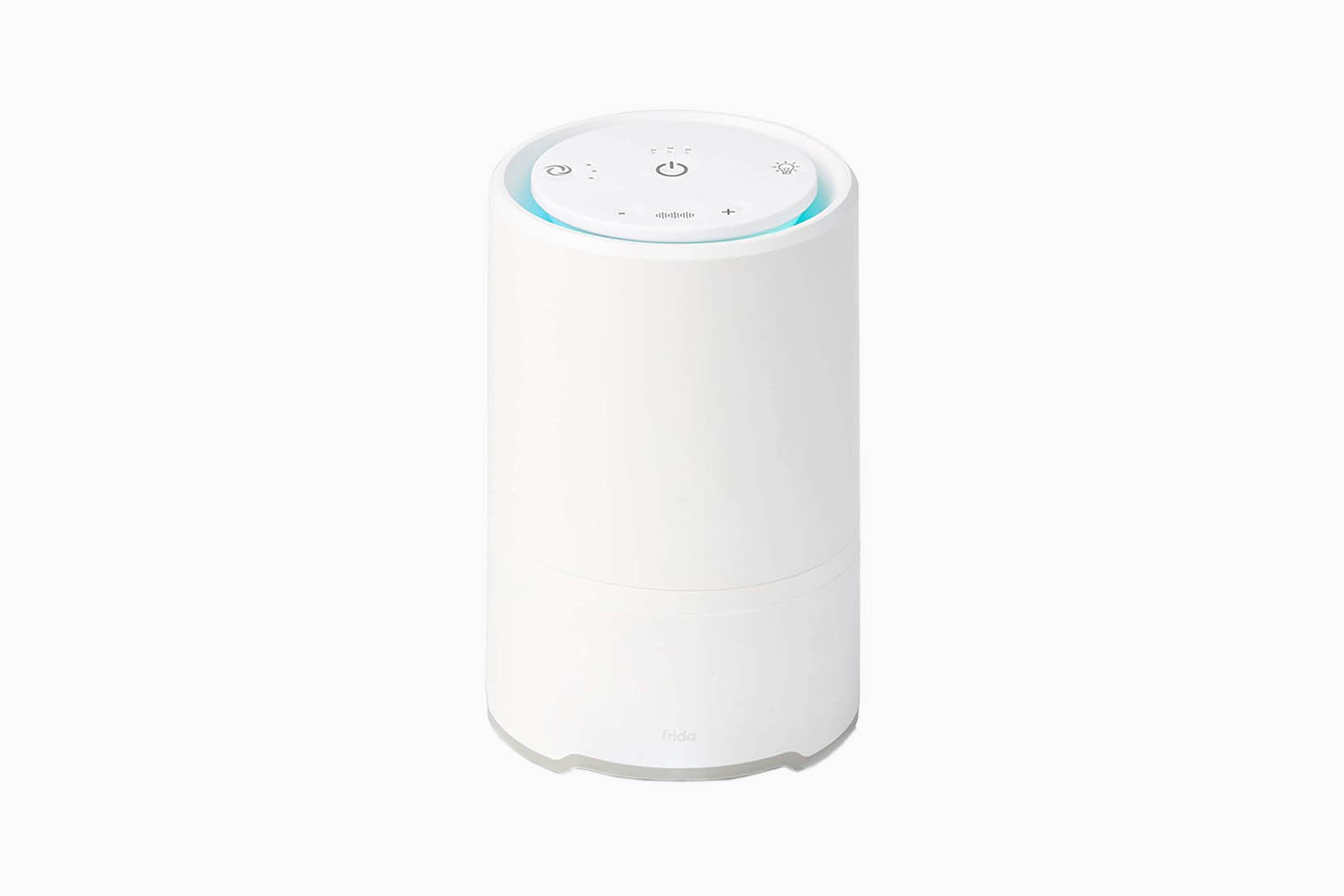 Microbes and allergen-causing particles can be harmful to babies and interrupt their sleep so any sleep-deprived parent will be keen to get their hands on this FridayBaby Air Purifier.
Getting babies to sleep is hard enough but add to the mix poor air quality and you've got a real problem. This device is here to save the day with its True HEPA purifier that removes smoke, odors, and pollution from the air, and only needs to be changed every 90 days. 
The Frida air purifier also has a white noise sound machine with two sound options, both proven to help little ones to doze off, as well as an adjustable fan with an auto-off function. A relaxing night light creates a soothing mood.
Best for: Ensuring clean and high-quality air for the littlest of lungs.  
Colour: White 
Blueair: Most stylish home air purifier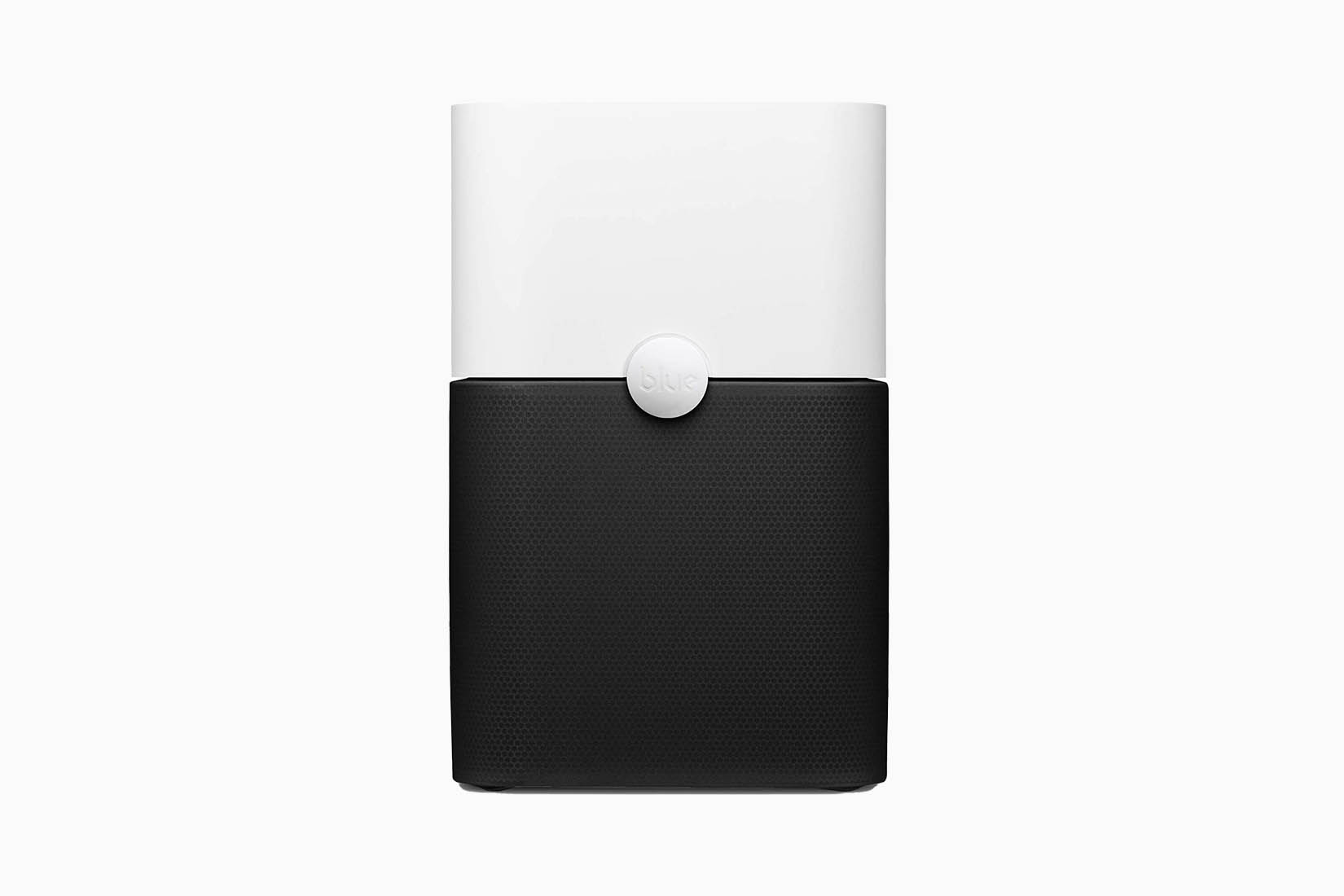 You shouldn't have to choose between high-quality air and a classy and sophisticated home, and thanks to this air cleaner by Blueair, you don't have to. This masterpiece of modern minimalism is actually an attractive addition to your interior design scheme.
This machine features advanced Swedish filter technology that can capture 99% of airborne pollutants, including viruses, pollen, dust, pet dander, mold, and bacteria. It also eliminates odors using an activated carbon filter, whether they be smells from cooking, smoking, or outdoor fires. 
This Blueair purifier is also wonderfully quiet—no louder than a whisper on the lowest speed setting. Even the highest setting is about as loud as rainfall so we definitely can't object. Team with a great mattress and high-quality sheets and you'll be asleep in no time.
Best for: Easy breathing meets effortless elegance. 
Colours: Black and white. 
Queenty: Best air purifier for desktop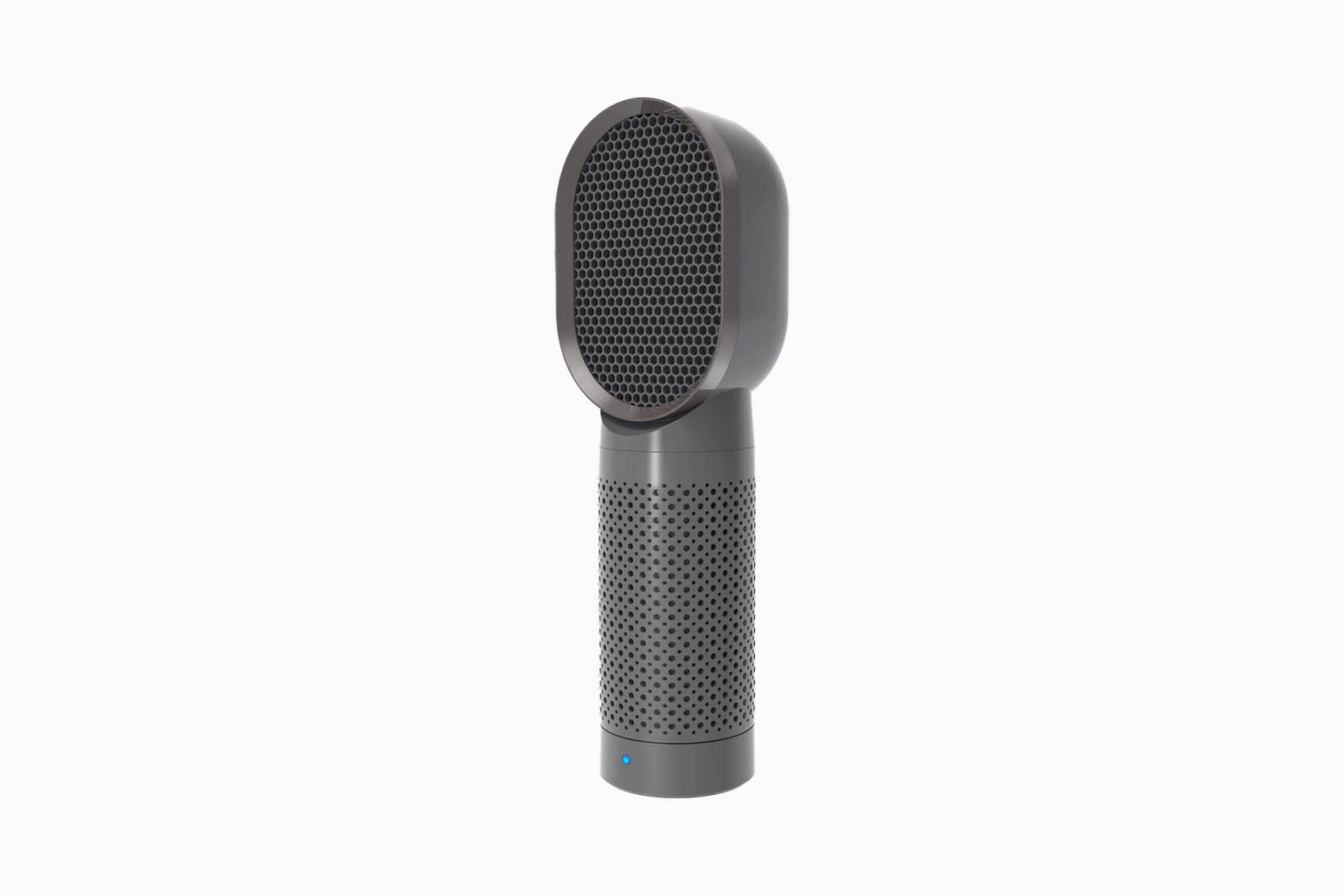 How are you meant to concentrate at work if you're suffering from allergies or worried about all the nasty airborne particulates you might be unwittingly inhaling? This desktop air purifier from Queenty provides peace of mind and may even boost your productivity—who knows?
This device features a 3-stage filtration system. You've got a pre-filter, a true HEPA filter, and an activated carbon filter, so you can rely on it to do as it promises. Its 'clean air delivery rate' is an impressive 80 meters squared an hour and the sound level is never higher than 35 dB, blending smoothly into background noise. 
This Queenty air purifier is also made from environmentally friendly materials while the wireless design means you don't have to worry about tripping over any cords.
Best for: Pint-sized portable air purification and the perfect desktop companion. 
Colour: Grey
Bissell: Best smart air purifier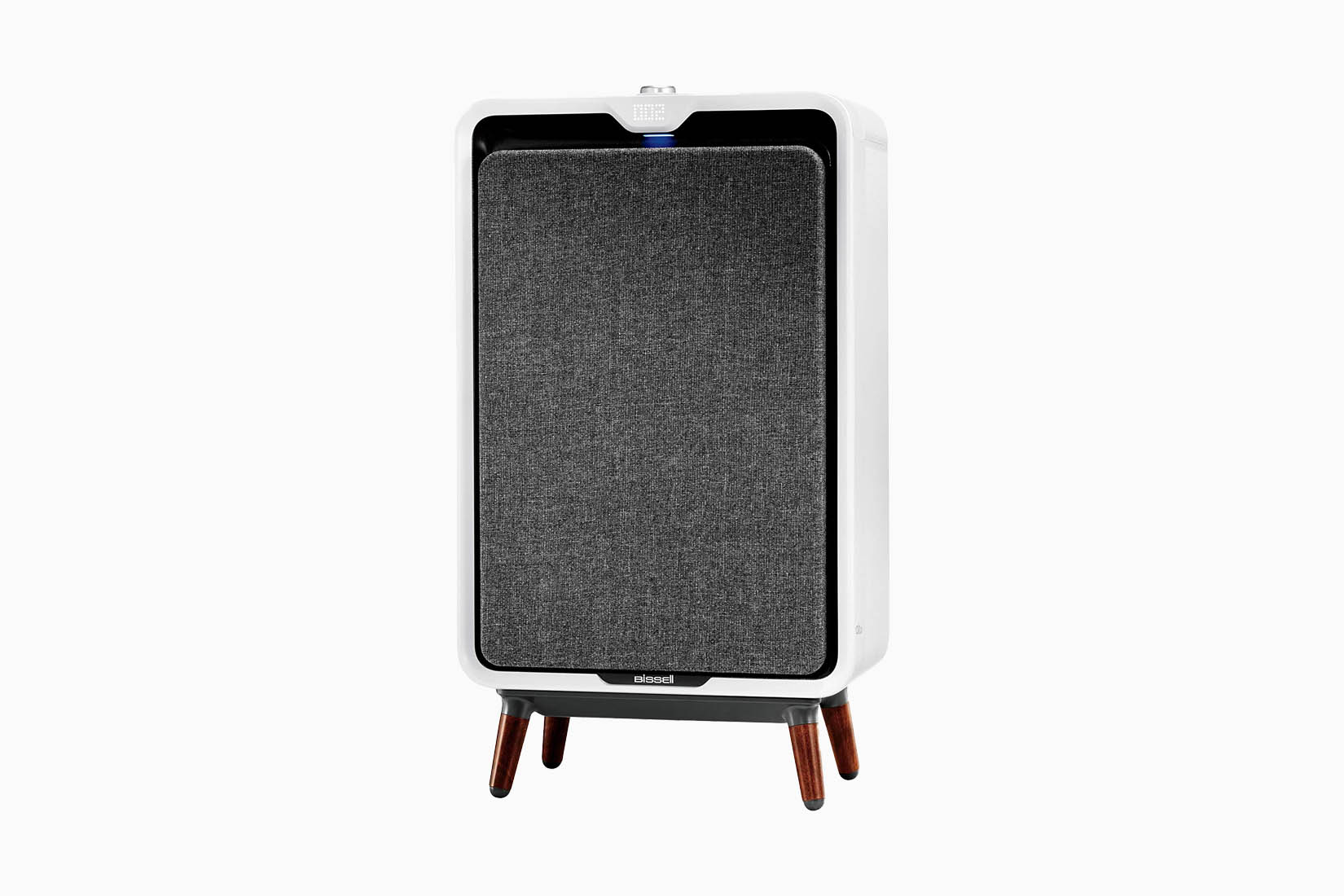 Not only does this Bissell air purifier have a cool retro vibe with its tapered legs and curved corners, but it's also the most intelligent device on our list.
The device's Automated CirQulate system monitors air quality and provides readings in real-time before adjusting the fan speed accordingly. Meanwhile, the air purifier reviews attest to the whisper-quiet night mode, which means you can have it on in your bedroom and not even notice.
The 3-stage filtration system filters out pretty much all nasties while an activated carbon filter captures gases and volatile organic compounds. Oh, and one final bonus to this Bissell air purifier? With every purchase, the company gives money to the Bissell Pet Foundation whose mission is to help homeless pets.
Best for: An ultra-stylish air-purifying solution with an IQ to rival yours. 
Colour: White and grey 
Hathaspace: Best air purifier for homes with pets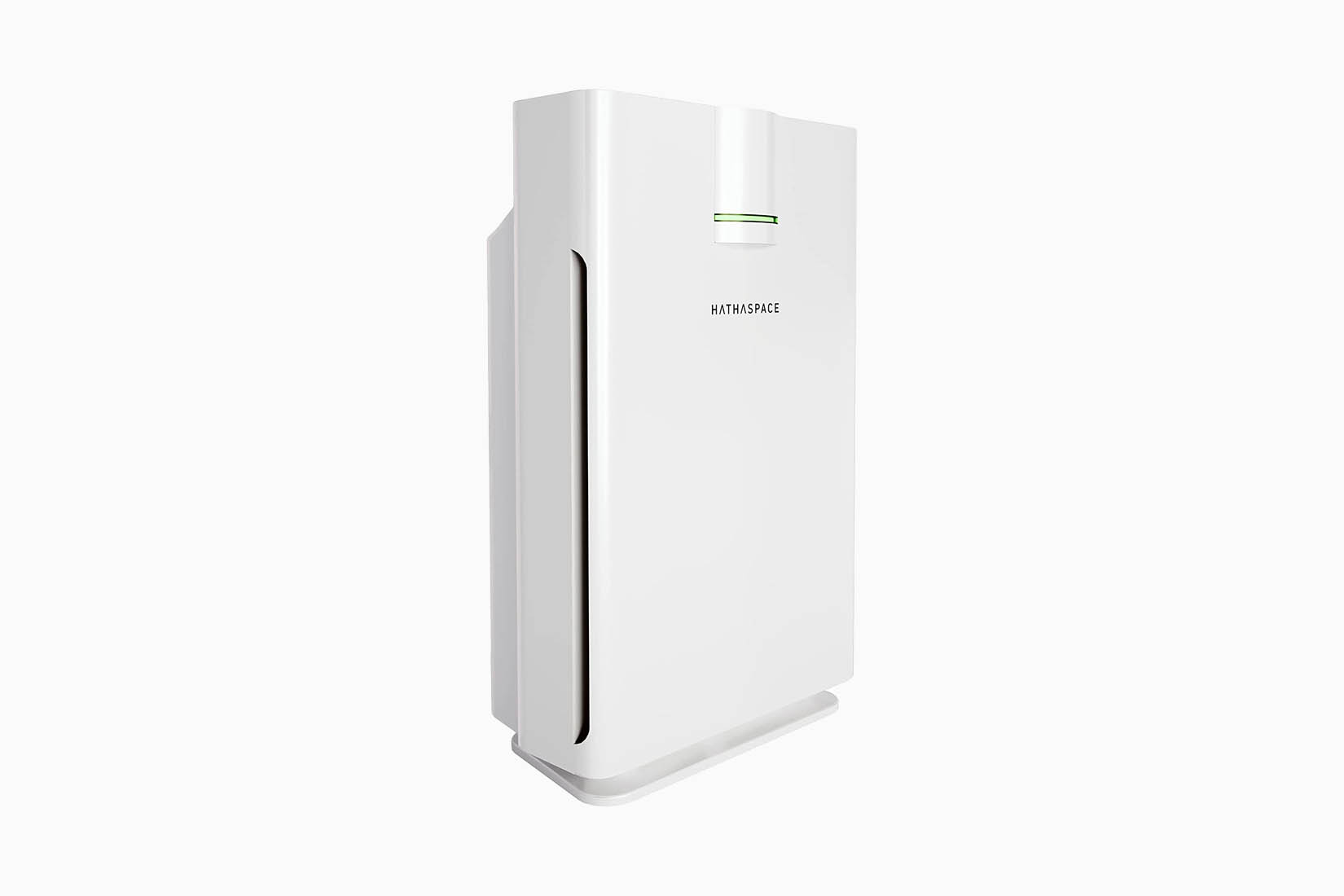 While we definitely love our pets, we're not so keen on the hair they leave about the place. Thank goodness, then, for this Hathaspace air purifier which is perfect for filtering out pet dander.
The H13 HEPA filter is medical-grade and can filter out particles between 0.3 and 0.1 microns in size, including any dust, dirt, or hair originating from your dog or cat. Designed to deliver superior air quality in rooms up to 140 meters squared, it replaces 100% of the air every hour. 
The Hathaspace's smart sensor monitors air quality and provides measurements and real-time feedback so you know what's going on. Simply check the touch-screen display to see your official EPA Air Quality Index score.
Best for: Filtering out all the airborne nasties that come with owning a four-legged friend. 
Colour: White 
Buyers guide: how to choose an air purifier
Choosing the right air purifier for your home will depend on your particular needs. How powerful do you need it to be? Which room do you plan to use it in? And how important are things like price or appearance? Here's what you need to consider.
Type of filter
Air purifiers typically feature a pre-filter and a main filter. The pre-filters are usually fairly similar, although some are washable rather than disposable. The main filter is where air purifiers tend to differ.
HEPA – this stands for High-Efficiency Particulate Air. A HEPA filter is incredibly efficient and can filter out fine particles that cause allergies and asthma and also smoke (from cigarettes or wildfires) as well as pollen, spores, dust mites, and other pollutants. However, the cheaper models can be quite noisy. 
Carbon – activated carbon filters are particularly good at capturing odors, gases, and volatile organic compounds (chemicals in the form of gases), making them a great choice for those who smoke or have pets. However, they do need to be replaced regularly or can end up releasing all those captured pollutants back into the air. 
Ionic – this technology releases negative ions that attach to positively charged particles, making it easier for the filter to capture them. Air purifiers that rely solely on ionizing technology are the least expensive but also the least effective, leaving many impurities still in the air so you really want an ionizer combined with a HEPA filter. The other issue with ionizers is that they may produce ozone, which can irritate your lungs.  
Ultraviolet – air purifiers with ultraviolet technology inactivate airborne pathogens like mold, bacteria, or viruses (similar to a LARQ water bottle). However, like ionizers, there's a danger that they may also release ozone. Plus, a UV-C air purifier isn't that effective at trapping particles unless it's paired with a carbon or HEPA filter. 
Capacity
Check the air purifier's Clean Air Delivery Rate (CADR) to see how much air it processes and purifies in a certain period of time. The higher the number, the more particles it can remove.
Capacity also refers to the size of the room that the air purifier can accommodate, which can vary from 9 to 140 meters squared. Obviously, an air sanitizer designed for a small space won't be able to turn over and purify as much air when placed in a larger room. 
Efficiency
The efficiency of an air sanitizer refers to how well it filters out airborne pollutants. Most claim to be able to filter between 99 and 99.8%, although it's worth remembering that these tests will have been carried out in highly controlled laboratory settings and the same results may not be possible in a domestic setting.
Nevertheless, you can expect most air purifiers to be able to filter out the vast majority of allergy and asthma-causing particles down to 0.3 microns in size.
Noise
Most air purifiers have different fan settings, with a quieter option or 'sleep mode', for use at bedtime. Some claim to be 'whisper-quiet', which means a noise rating of around 30dB.
Aesthetics
Some air purifiers have been designed to be aesthetically pleasing with a low-key and understated profile and in muted tones such as grey and white. Other models are more functional than fashionable and look similar to heaters.
Price
Air purifiers vary in price depending on performance and appearance. You'll usually pay more for medical-grade filters or smart sensors. It's possible to find air purifiers for under $100, while a high-end model could set you back around $600.
Smart technology
You may also want to look for a smart air purifier that uses sensors to monitor air quality and automatically adjust the fan speed accordingly. These air purifiers can also provide real-time feedback so you know what's going on.
Frequently asked questions about air purifiers
What is the best air purifier on the market?
The best air purifier on the market is the PURO²XYGEN air purifier. It's the best value for money when you consider efficiency, capacity, noise, and appearance. It has a 6-stage purification system and features both a HEPA and carbon filter. 
Do air purifiers really work?
Air purifiers really do work. For the best performance, look for purifiers with a HEPA filter that can trap up to 99.7% of airborne pollutants down to 0.3 microns in size. Air purifiers with carbon filters can also reduce odors and gases. 
Should I sleep with the air purifier on?
Sleeping with your air purifier on is totally safe. Many feature a quiet fan speed setting designed for bedtime. Some also have a function that allows you to schedule auto turn-off after a certain period of time. 
Are air purifiers worth the money?
If you suffer from allergies or asthma, then an air purifier is definitely worth the money. It's also a good choice if you live somewhere with wildfires, or if you smoke or have pets and want to remove odors and dander.