Choosing to forgo a permanent residence in favor of full-time travel no longer means sacrifice. You can open a world of invaluable life experiences and bring everything you desire with. Home can be wherever you park it, thanks to the best RVs for full-time luxury living.
Fill out a full-size closet and leave your Horizn Studios luggage behind. Chill out in your dual recliners and catch your favorite TV show from anywhere you want. With residential appliances, king-size beds, and full bathrooms, you might altogether forget that you're in an RV.
Today's technology has propelled the world of the best RVs to a new height. Solar panels get you away from the grid, putting the efficient water heaters and air conditioners to use in an ideal setting away from the crowds.
Choose your preference between the manageable drivability of Class B chassis or the ultimate in space and comfort on a full-size Class A rig. No matter your preference, we've collected the best RVs for sale, made by the best RV brands, to give you the best overall RV experience.
The 11 best RVs for full-time luxury living
Tiffin Allegro Bus: Best overall RV to live in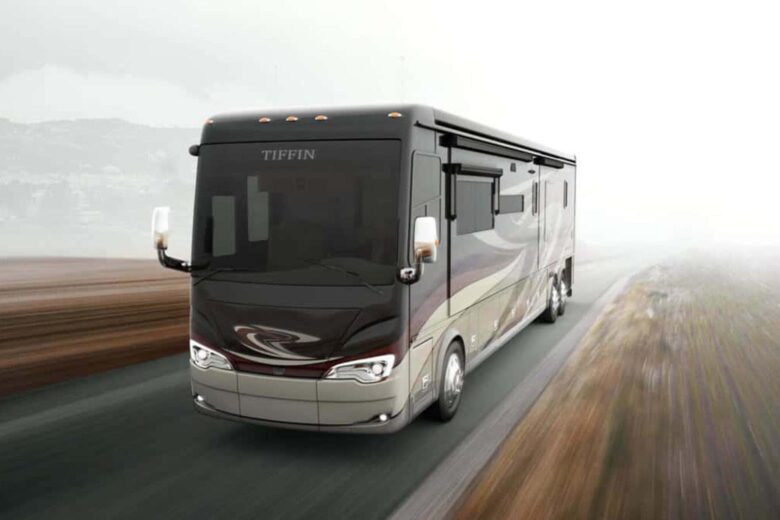 Every time you step into this incredible Class A RV, you'll be transported to an entire world of comfort and luxury. The PowerGlide Chassis feel like you're riding a cloud, and the 2022 MIRA app allows you complete control from your smartphone.
Inside, the comfortable bedroom, kitchen, and living room in the Tiffin Allegro Bus 37 AP are decked out with stainless-steel appliances, a full-size bedroom and bathroom, plus ample space to stretch out or host an evening with friends.
Best for: Adventure lovers looking for an uncompromising, spacious, and luxurious home
Colors: Frosted Granite, Waterfall, Cinderwood + More
Entegra Coach Cornerstone: Best high-end RV for sale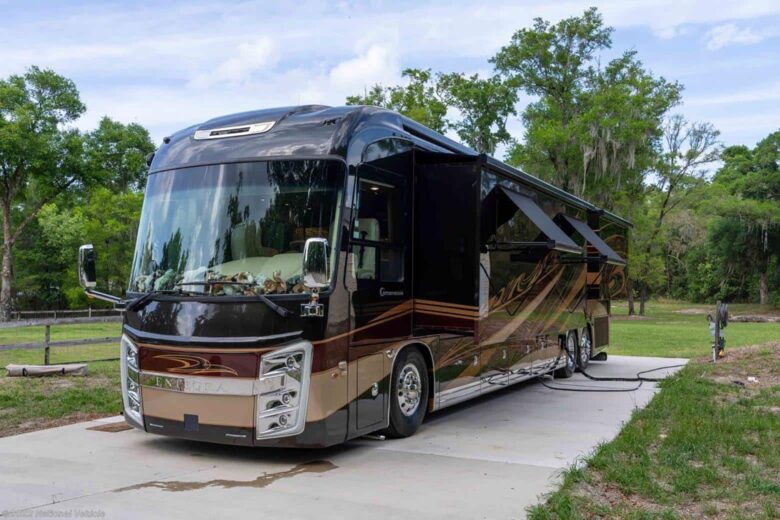 A life of luxury is no longer reserved for those with sticks and bricks homes. This awe-inspiring example starts with a 605HP Cummins engine and a host of advanced driver assistance features to relieve any anxiety behind the wheel.
The interior of the Entegra Coach Cornerstone 45 DLQ is where the palatial features shine—just like in the most expensive homes. Heated and ventilated massaging front seats are the tip of the iceberg, while a Bose stereo system, Samsung televisions, and hand-laid porcelain tiles are just a small taste of the hidden treasures.
Best for: When nothing but the best will do.
Colors: Black Pearl, Agate Grey, Sapphire Blue + More
Coachmen Freedom Express: Best value RV for the money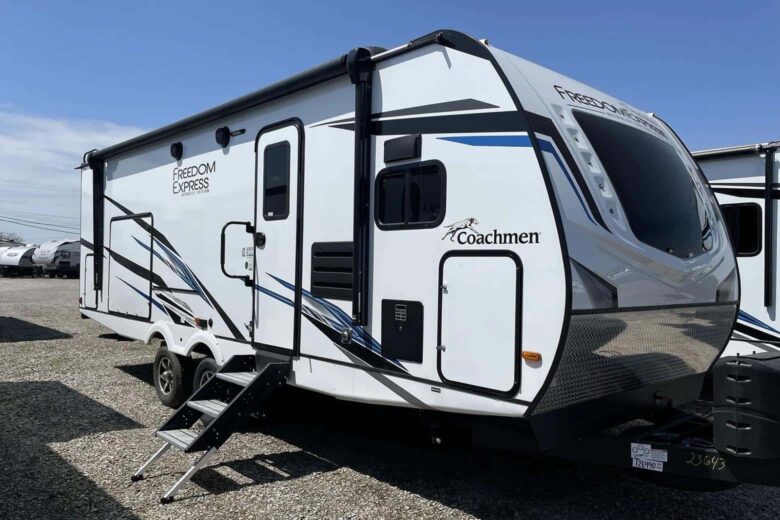 If you'd rather save your money for those memory-making adventures, then this lightweight camper is perfect. It combines an array of amenities including an 81-inch interior height and vaulted queen bed in a package designed to be towed by most midsize SUVs and half-ton vehicles.
Available in sizes ranging from 18 to 28 feet, this best RV for the money has an option for everyone. The enclosed underbelly of the Coachmen Freedom Express keeps the temperature constant and the available solar panels can help recharge away from hookups.
Best for: Towing with a smaller vehicle and saving money for other experiences.
Color: White with black and blue accents
Thor Palazzo: Best Class A luxury RV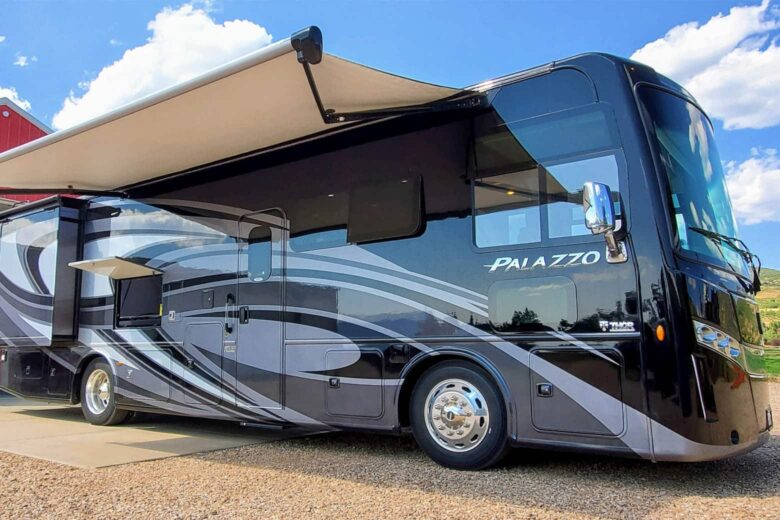 Getting to the top of the bunch in Class A RVs isn't easy. But this amazing luxury home on wheels is one of the best RVs to live in with a family, featuring an inclining queen bed, bunk beds, and sleeping for 7 people.
The Thor Palazzo 33.5 is built on a Freightliner Chassis, comes with a 6.7L Cummins engine, and achieves perfect leveling from automatic jacks with touchpad controls. A full-size fridge and a multitude of kitchen and living room features make life on the road comfortable.
Best for: A year-round home perfect for the whole family. 
Colors: Pacific Dunes, Riviera, Crystal Downs + More
Winnebago Solis: Best Class B RV for full-time living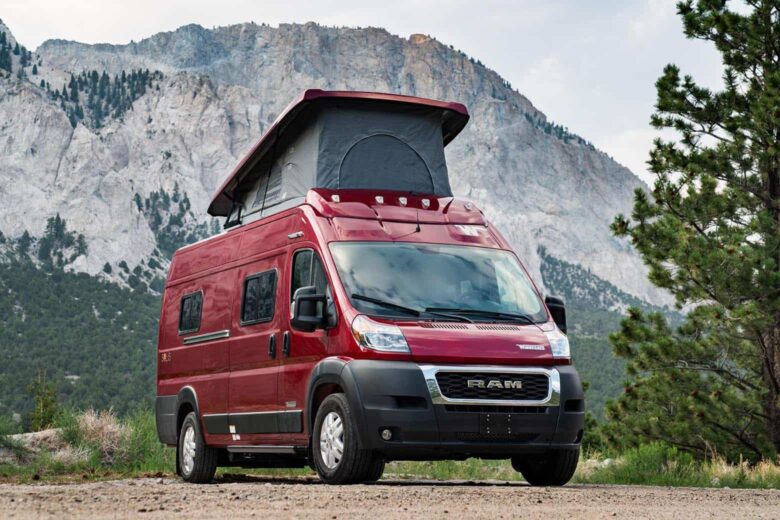 Vanlife is no longer reserved for outcasts living down by the river. When Winnebago steps up to the plate as one of the best camper van brands, you can be sure that it is going to deliver a high-quality product in the best small RVs.
The Winnebago Solis 59PX uses a pop-top design to increase living and sleeping space in this Ram ProMaster based minihome. An interior shower, loads of LED lights, and dinette seating bring a touch of a larger-than-life feel to this maneuverable RV.
Best for: Anyone looking for an easy-to-drive RV with a small footprint but a big heart.
Colors: Bright White, Deep Cherry Red, and Bright Silver
Forest River Sunseeker: Best Class C RV for sale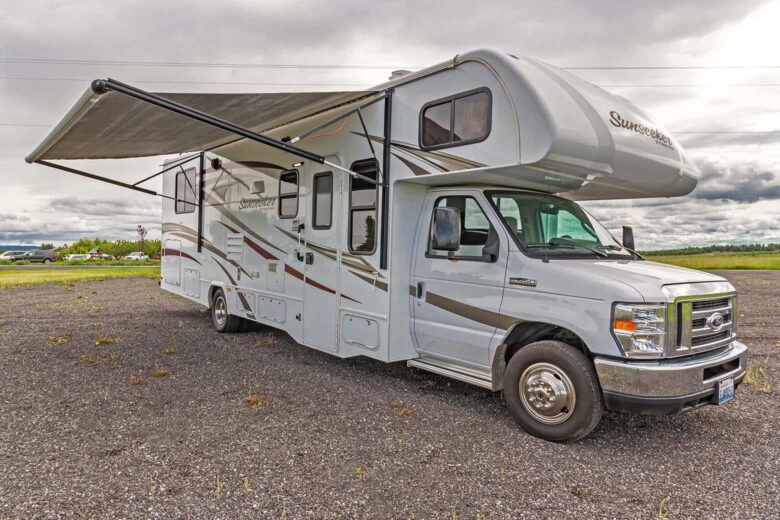 Built on a Mercedes-Benz 3500 Diesel Sprinter chassis, this Class C RV brings stiff competition to the best RVs to live in. All three fresh, grey, and black water tanks measure in at over 30 gallons, and a full-size slide-out plus oversized canopy increases the footprint tremendously.
The Forest River Sunseeker MBS 2400B has a convertible dinette, bedroom TV, and a 2-burner range with microwave. Throw in your best weekender bags or best carry-on luggage and tackle that next adventure with confidence.
Best for: Ideal balance between interior space and luxurious features.
Colors: Standard White, Indigo, and Almond
Thor Four Winds: Best RV for inexperienced drivers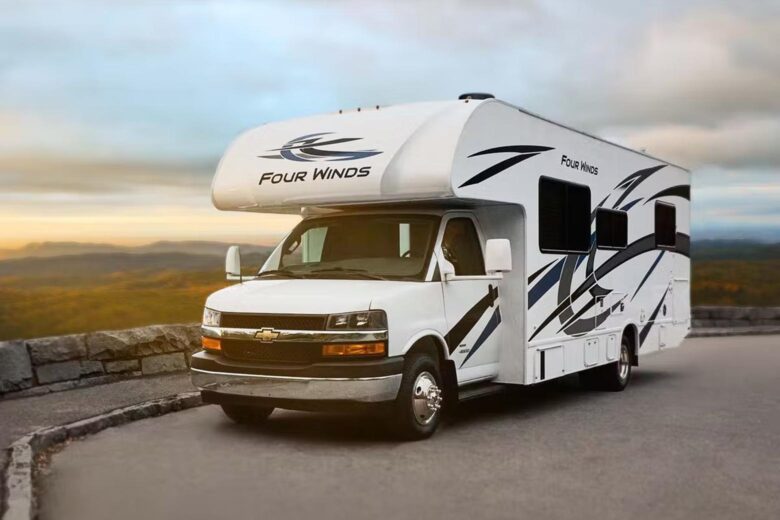 The Ford E-Series might be one of the most iconic platforms for RV construction. With the same suspension trusted by ambulance providers, you can be sure that driving on unknown roads will be handled with complete control.
The large dinette, dual recliners, and queen-size bed featured in the Thor Four Winds 23U provide a variety of comfortable places to relax. The 84-inch interior height is packed to the brim with a variety of high-end features to make your life easy.
Best for: Providing confidence to drive to any destination without breaking a sweat.
Colors: White / Autumn Red, White / Blue Horizon, Night Sky + More
Winnebago Forza: Best full-time RV for remote workers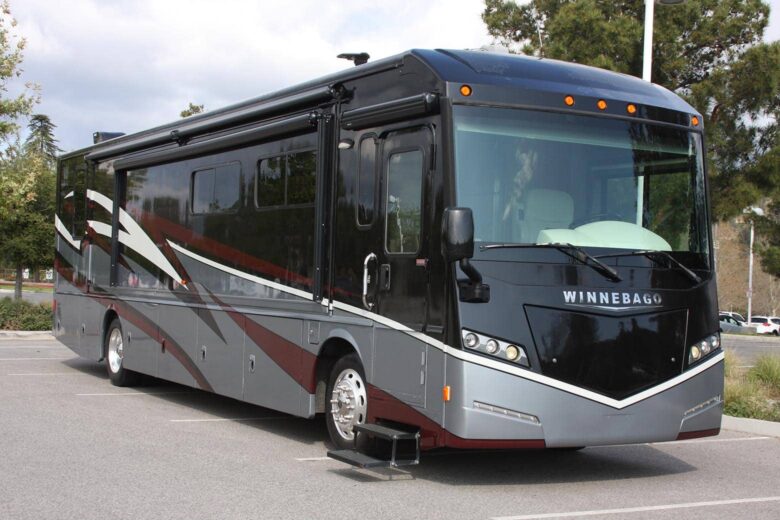 A corner office might have been dreamy before, but now you can work from anywhere you can park this luxurious RV. With up to three slide-out rooms, a sophisticated design, and countless USB and 110V outlets, you're ready to tackle your next project from wherever life takes you.
The Winnebago Forza 38D is made from one of the best RV brands and gives you up to 228 cu ft of storage space so you can bring all the toys or office essentials you need.
Best for: When you play as hard as you work, leaving no stone unturned.
Colors: Hot Anvil, Autumnfest, Sunflower + More
CrossRoads Cruiser: Best RV to live in with family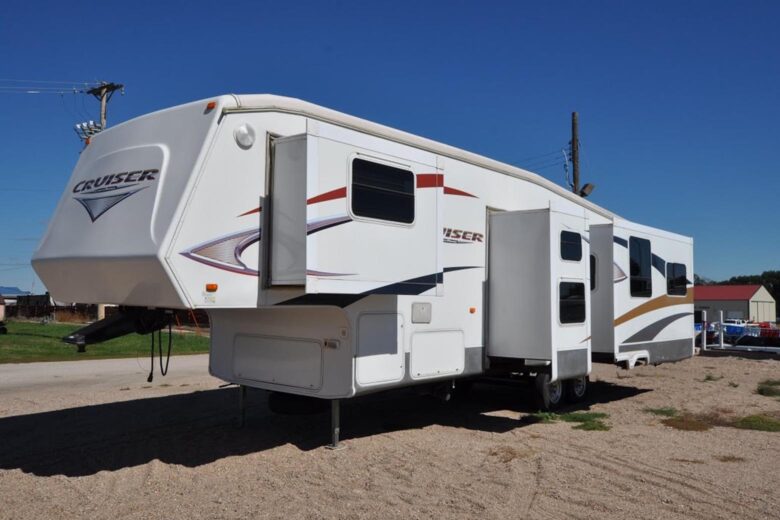 The best travel trailer allows you to leave your travel backpacks and packing cubes behind, giving you plenty of places to stretch out and enjoy the views. This Fifth Wheel from CrossRoads has sufficient space and premium styling for an exceptional nomadic experience.
Give your kids the memories of a lifetime while cruising to all of the best hot spots, bringing everything you need to keep everyone entertained along the way. The CrossRoads Cruiser Fifth Wheel comes complete with two TVs, power theater seating, and privacy roller shades.
Best for: Those with a full-size truck looking for a spacious and luxurious option for the road.
Color: White with black accents
Keystone Hideout: Best budget small RV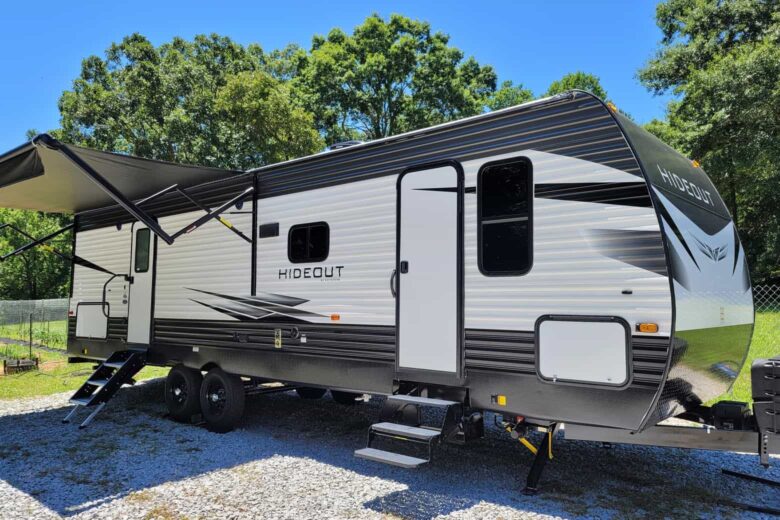 Some of the best travel trailers can throw a major wrinkle in any budget. This one makes that punch a bit lighter, with one of the most affordable and manageable RVs on the market.
Throw in your best travel coffee mugs and your favorite weekender bag and travel tote, and be on your way to freedom. Light and airy interiors include a central vacuum system, electric fireplace, and more premium amenities to make you wonder how the Keystone Hideout comes with such a low price tag.
Best for: Getting started in the RV community with a modern yet affordable option.
Color: White / Black
Marchi Mobile EleMMent Palazzo: Most expensive luxury RV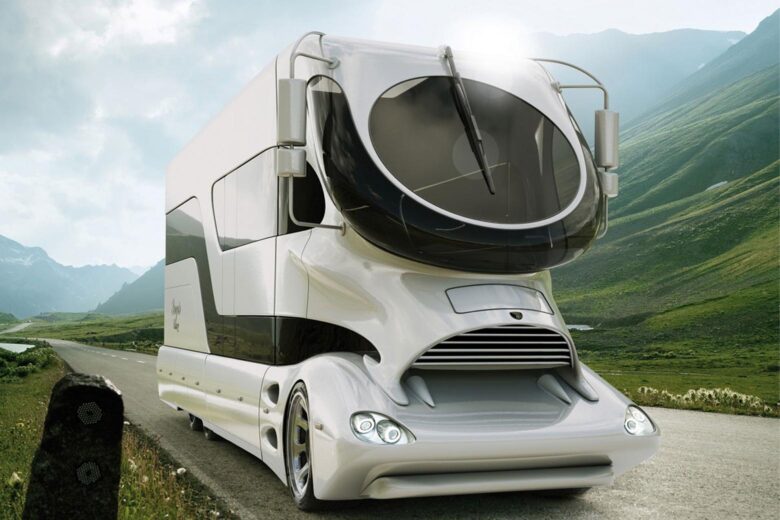 Some RVs fit the mold, others create an entirely new one. This opulent vehicle might not be perfect for your quad, but it would be right at home parked in the marina near your yacht.
The characteristic circular windshield of the Marchi Mobile EleMMent Palazzo immediately screams luxury, but the walled-in roof deck with double full-length wall slide-outs provides the most living space, jammed with the best features imaginable.
You probably won't need your best toiletry bag or dopp kit since you'll have a spacious and luxurious bathroom at your fingertips.
Best for: Ultimate opulence with a stunning level of craftsmanship.
Color: White with black accents
Frequently asked questions about the best RVs