Remember that first thrill of riding a bike? Whether it was motorised or not, you still felt it: The freedom of moving fast, balancing on your own, and going wherever you wanted. It's a heady, thrilling thing.
Fast mini bikes for kids are here, and they can help you pass that same excitement on to the next generation in a safe, fun-sized package. After delving into the hottest mini-bike brands of 2020 and their latest offering, we've found the most family-friendly mini-bikes for sale.
We know that kids of all ages, 9-99, will likely get a kick out of these — so we've included a few big mini bikes in our selection that will also work for adults.
Some of the electric-powered mini-bikes we've included will be a great alternative for an electric car for kids. They could even work to replace an adult electric bicycle if you want something more special.
In a rush? After combing through offerings from this year's hot mini-bike brands, we've decided that the Razor Dirt Rocket MX350 is the best mini-bike of the year.
Without further ado…
The 15 best mini bikes of 2020
To help you find the mini-bike that's best for you, check our buying guide to choosing the best bike after the list.
Razor Dirt Rocket MX350: Overall best mini bike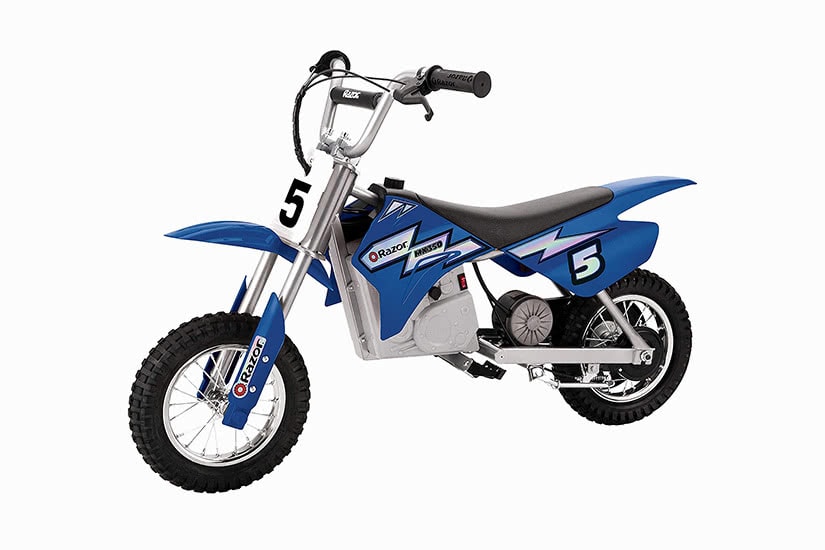 Are you and your child ready for some off-road fun? From its knobby pneumatic tires to its twist-grip throttle and hand-operated rear brake, this Razor bike is geared for safe, quick turns over rough terrain.
The Razor is simple to operate but yields powerful motion, making it an exciting ride for riders ages 13+. If you live near trails or have parks and fields calling your name, this bike may be just the thing to experience them to their fullest extent.
With high-quality finishes and a durable frame that mimics the look of professional adult bikes, the Razor Electric Motocross (with a 350W electric motor) is ideal for training a new generation of biking enthusiasts. We like that it's electric-powered, proving that sustainability and fun can coexist in the same dynamic package. 
We also like that it has a build that's very similar to a traditional non-powered bike. This means that your child won't have to master a steep learning curve in order to have fun on (and off) the beaten path.
XtremepowerUS 40cc Gas Pocket Bike: Best high-end mini bike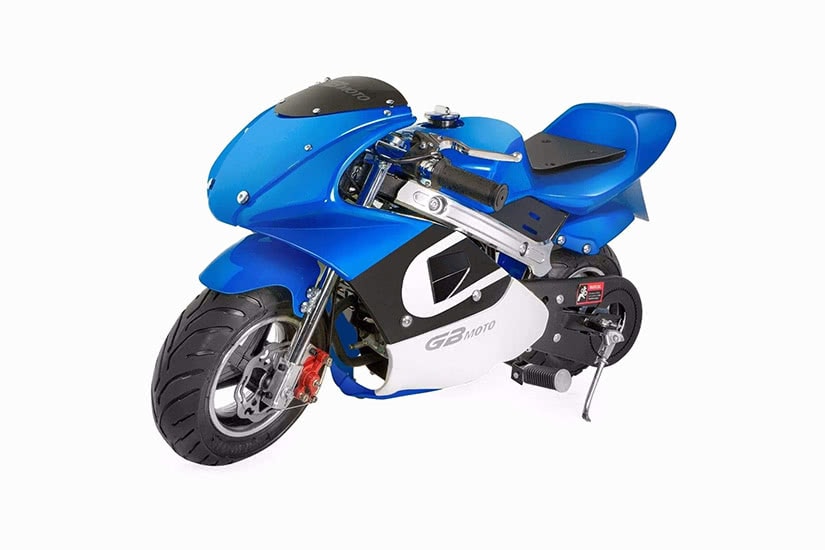 Futuristic lines. A hefty body. Wheels and casings that feel straight out of a movie. If you want your children to experience the heady thrill of riding a real motorbike in a safer way, this is the bike to choose.
The steel frame of this bike has very high tensile strength. For your family, this means you're in good hands: As long as you're using this bike properly, it won't get damaged.
Featuring a fuel-efficient, environmentally-friendly 40cc 4-stroke gas motor, the XtremepowerUS Pocket Bike is even registered with the US Environmental Protection Agency. This means that you can use it for screen-free fun time for years to come, without worrying about any adverse effects to your environment.
(The pocket bike cost of maintenance is low for this product. We're definitely a fan of that.)
The XtremepowerUS Pocket Bike comes in red, yellow, and blue finishes. For a realistic start and finish, your child can rev this bike up with a pull-motor and hand-operated brake. At about 50 pounds, this bike is heavy enough to feel sturdy but light enough for a child aged 13+ to manoeuvre and operate.
Razor SX350 McGrath Electric Motocross: Best value mini bike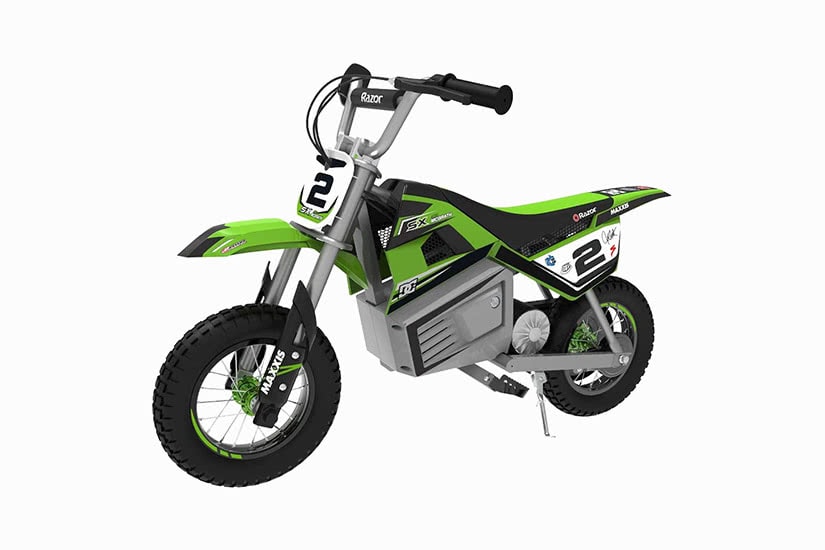 Want to ride the same bike as the King of Supercross? Jeremy McGrath revolutionised freestyle motocross. Does your child want to follow in his tread?
With this bike, you and your family members aged 13+ can ride as hard as this icon every day. Your child may recognise the same graphics and decals on this scaled-down bike as McGrath had on his. The riser-style handlebars are completely adjustable, but they naturally sit close to the rider – offering superior control.
Especially for the value, we love the knobby pneumatic tires. They look great, but also allow your child to handle any type of terrain. When you're riding, you need to be able to traverse soft dirt, unexpected mud, and tough trails safely. This rugged mini-bike can do just that with a 250W electric motor, with speeds up to 14mph (22kmh).
We especially love the very-sensitive hand-operated rear brake and retractable kickstand in the Razor SX350 McGrath Electric Motocross. The addition of these features mean that your child can emulate the most fabled rider in Motocross history in a completely controlled and safe way.
Lil' Rider Beginner Ride-On Bike: Best mini bike for toddlers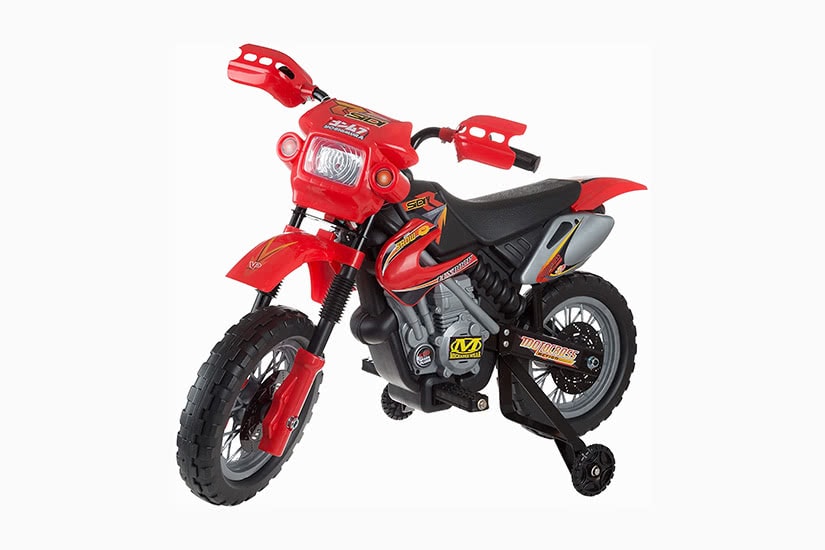 If you're looking to start your child early, stop reading – this bike is the way to go. With training wheels, a slow-yet-satisfying speed from a 6V battery-operated motor, and realistic details, this mini-bike is certainly a sweet spot for your young rider!
Everything you need to get your toddler zooming around your backyard is included in this beginner kit. While some assembly is required, you'll find that a battery and charger is included. This means that your family members aged 3-7 can enjoy this product right after you open the box.
The realistic effects included in this electric mini moto bike add a wonderfully exciting touch. We love that the on-handle controls, flashing lights, and recorded acceleration and beeping noises make this feel like a real dirt bike. Your little one will be ecstatic – and you'll love seeing them ride around with ease.
Razor MX500 High-Torque: Best mini bike for adults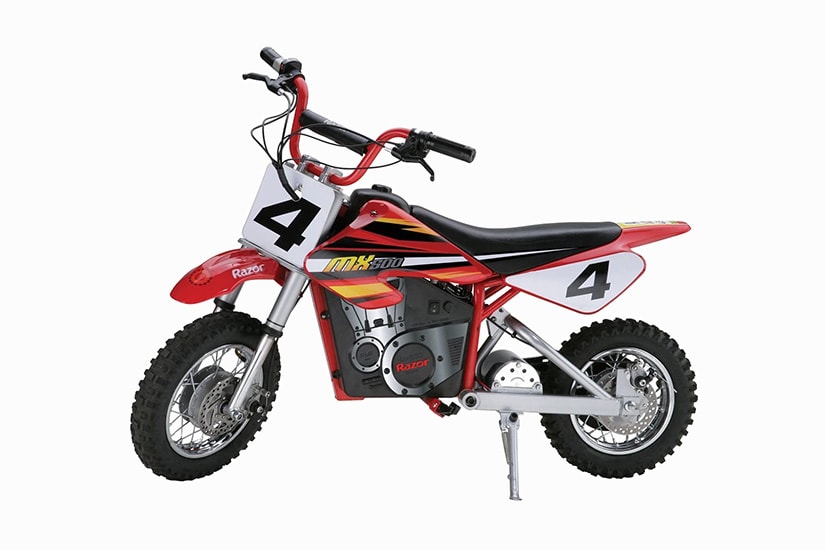 Among all the models in our selection, this is the biggest mini bike….so we certainly won't bat an eye if adults (or anyone aged 14+) take it out on a spin! This adult mini bike doesn't stop when the sidewalk ends: Its knobby tires let you go where you want for an authentic dirt bike experience.
However, its suspension helps even out any off-road rough terrain, so you'll still find the riding experience smooth and safe. The frame is shatter-resistant; the grips are made of soft rubber; the large tires can tackle any dirt hill you find before you.
We love the twist-grip acceleration for that authentic, intuitive motorcycle experience. The 500W variable-speed motor is quite powerful as well. This is a mini-bike, to be sure, but its high torque will provide all the thrills you could ever need in a completely safe manner.
Ultimately, if you're looking for a bite-size mini-bike that can literally leave others in the dust, the Razor MX500 High-Torque Dirt Rocket is a fantastic option.
Razor Off-Road Quad: Best electric mini bike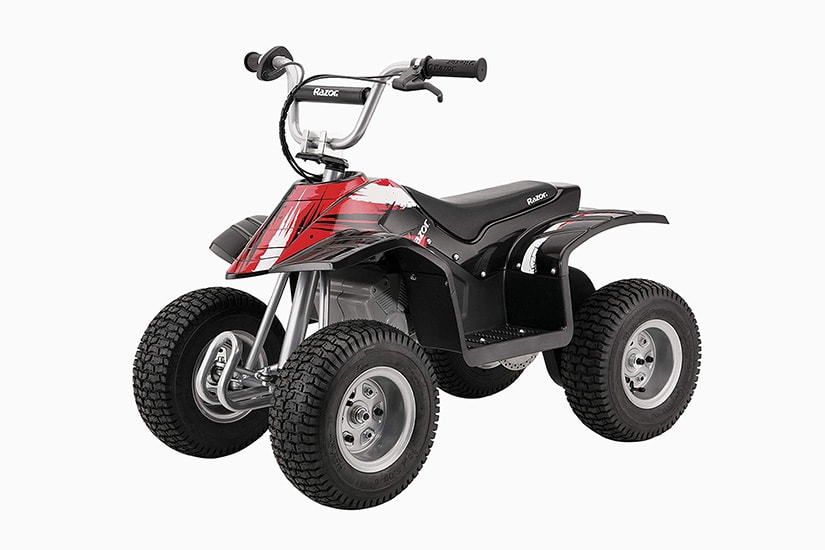 Motorcycles have somewhat of a reputation for being gas-guzzlers. That's why we were excited to find this superb electric mini bike. With its 350W motor, it sits right up there with gas-powered mini-bikes in terms of speed and performance. On a full charge, anyone aged 8+ can ride this bike for 40 fast-paced minutes.
The Razor Dirt Quad has shatter-resistant plastic features and a powder-coated frame, which means that it will be weather-resistant for years. It's also built to be quite strong: the knobby 13-inch tires can tackle tough trails, while its coil-shock suspension protects the rider at all times.
The fresh styling on this bike as well as its quad-tire design make it a visually compelling option.
(We also love that this mini-bike features space-saving vertical storage options. When your child isn't using it, this bike is out-of-sight and out-of-mind.)
Coleman Powersports CT100U-B: Best gas-powered mini bike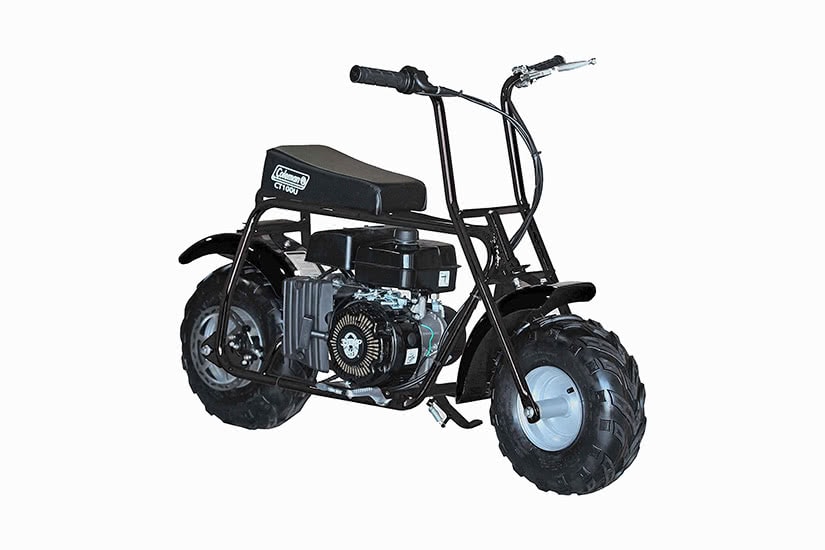 As much as sustainability is key, sometimes you just can't match the power of a gas motor. Revving this still-efficient mini bike with its pull-start will feel like starting a real motorcycle–in all the best ways.
With a rugged clutch and a solid metal frame, this mini-bike is geared to hit the trails without any hesitation. It's got low-pressure tires that allow for a comfortable ride no matter where you venture…and it has tested, reliable brakes that make quick stops as easy as can be.
This all-day mini-bike is built to withstand years of use. While it does rely on gas for its power, the Coleman engineers have optimised this 98cc engine for fuel-efficiency. This means that you can get all the muscle of a gas-powered bike while enjoying low impact on your environment.
Looking for a powerful, tough bike with nostalgic flair? This mini-bike has a classically-designed look which will take any adult riding enthusiast right back to their childhood. With the Powersports Trail Mini-bike, you can pass on your love of riding to the next generation (aged 13+) safely and efficiently.
Burromax: Best mini dirt bike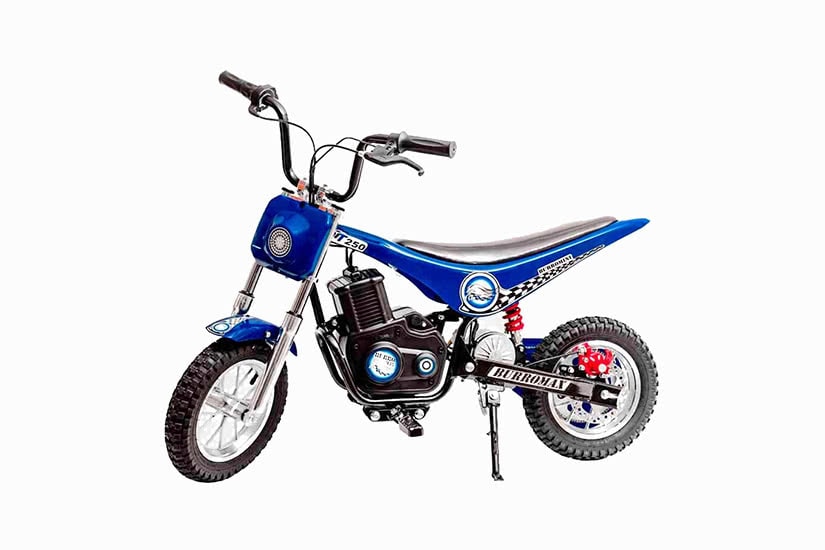 If you're looking for a taller, lighter mini bike that's designed to take tumbles well, then a dirt bike may be perfect for you and your family. With a stacked suspension, smooth and easily-variable 250W acceleration, and incredibly durable welded-steel frame, this dirt bike is the way to go.
We're particularly interested in the unique angular look of this dirt bike. With its large, durable frame, anyone can ride this safely (including parents, when children aged 10+ are done with their fun). The Burromax supports lengthy journeys of 14 miles at a time before the electric motor will require a recharge.
Just starting off with your motocross journey? Choose the 'regular' speed on the Burromax Dirt Bike. When you're ready to rev up your experience, the 'sport' speed will double your acceleration for twice the thrill factor.
Razor MX650 Rocket: Best offroad mini bike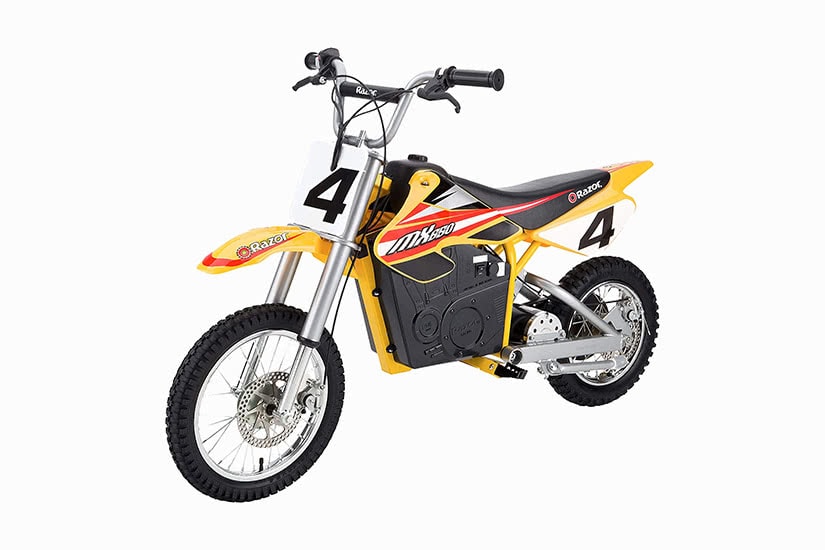 Sometimes, the open road beckons. Other times, you might be feeling a little bit more adventurous. Veer off the beaten path–safely–with our pick for the best off-road mini bike.
We were intrigued when we saw that this bike promises to go fast and green at the same time. Happily, this bike delivers: It looks like a dirt bike and certainly drives like one. It's got riser handlebars for that classic motocross appeal, but dual suspension so your ride is ultimately low-impact for safety.
The Razor MX650 Rocket Motocross is made to hit dirt with a lot of power (650W!). The pneumatic tires alleviate a lot of that pressure so riders aged 16+ can cruise in comfort. We also like the rear-disc brakes and twist-acceleration control. These types of details feel so real-to-life – and they ensure that you're always in command while off-roading on this mini-bike!
Mega Modo: Best mini bike for winter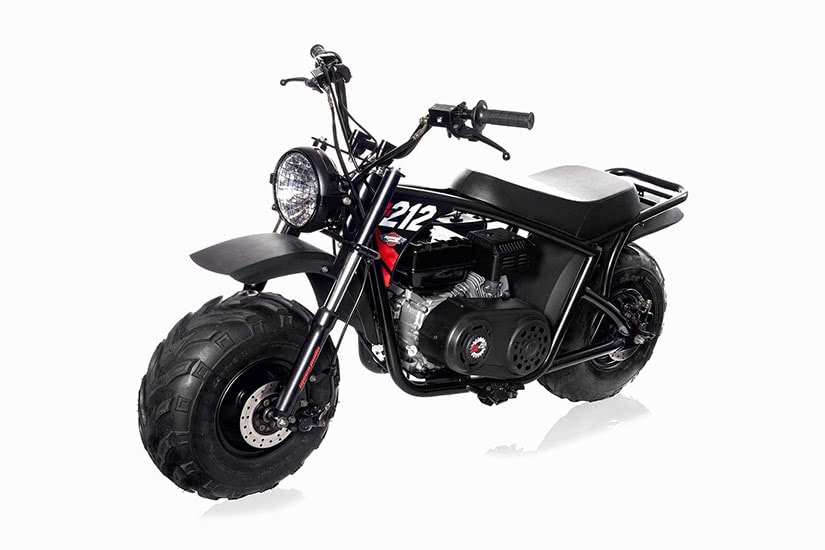 The need for speed doesn't take a winter vacation. (But with the hours of cold-weather fun this mini bike will give your children, you might be able to rest easy for a moment!)
This mini bike isn't so mini – which means that if you're looking for that bulky big-bike feel for your little one (aged 16+), this is a good option.
With a powerful 212CC mini-bike motor, this bike offers lots of torque and power. You'll have no trouble speeding over rough terrain, snowy trails, and even going uphill. Because of this, we like this bike for the wintry months, when you're battling heavy weather conditions.
If your children are begging to ride outside when it's cold out, you'll likely want to make sure that they can be safe while having fun. This Mega Modo bike can help your children bike without fear, no matter the weather. Plus, its all-black matte finish and powered light make this bike look ultra-realistic – definitely an added perk in our book.
Razor RSF350 Street Bike: Best mini bike for summer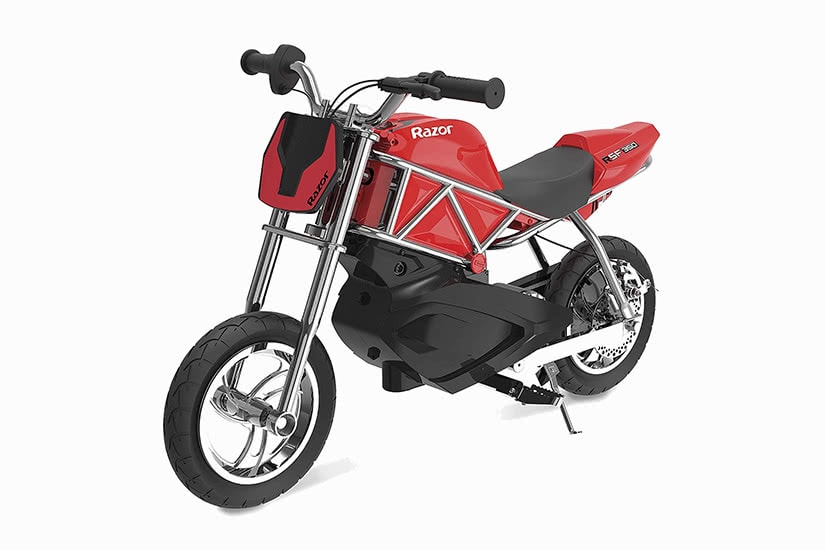 After the weather warms up a bit, it's time to transition to our pick for summertime speeding: the Razor Electric Street Bike. The steel trellis external frame on the sides of this bike looks dynamic, and we love the bright red pop of the chassis.
This street-inspired mini-bike aims to be the sweet spot between style and performance. It's also very easy to ride, making this a superior intro to motorbikes for little ones. The high-powered electric motor delivers just enough power (350W) to feel dynamic and exciting. However, with its suspension, sealed battery system, and custom mag wheels, you can feel confident that your child aged 13+ won't be speeding unsafely.
We like the Razor RSF350 Electric Street Bike for summer because of its lighter frame and street feel. (The sustainability of electric-powered motors is always an added plus.) When the sun's shining and the days stretch out into hazy, beautiful evenings, this bike can be a great way to help your kids take advantage of beautiful weather.
M Massimo Warrior200: Best street legal mini bike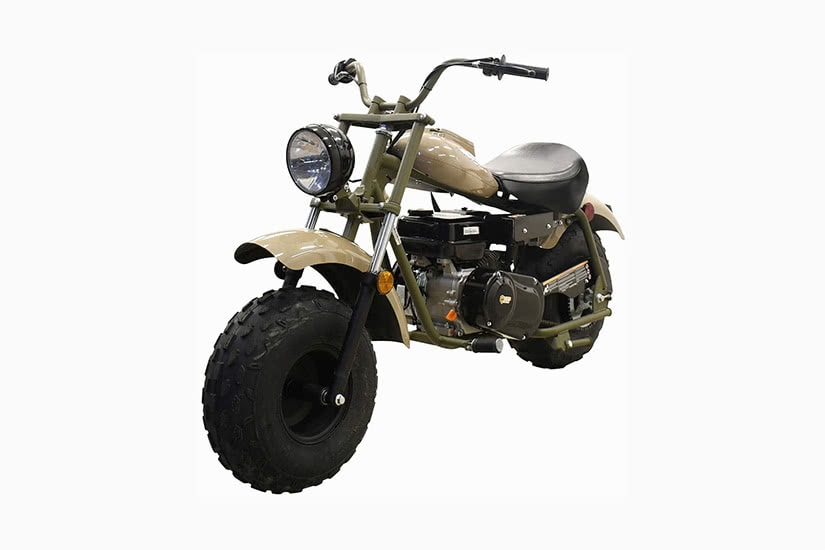 Want to take your mini bike out for a spin? Interested in taking it on your actual roads? If you live in an area where off-roading isn't safe – or if you want a mini bike that you can use for some actual transportation – well, we're excited to give you our best street-legal option.
(Just make extra sure you're wearing a helmet when you're zooming around on this one.)
Fortunately, both kids 16+ and drivers who rev this bike's motor will find it very easy to operate.
(Some Amazon reviewers even called it 'effortless', which we always like to see.) We also were happy to see the extra features that this mini-bike boasts, including a storage compartment, an exhaust heat shield, and working front headlight.
All in all, if you're looking for an extra-realistic mini-bike for your teen (and maybe, on occasion, for you), this is an excellent option. The easy use and classic looks make the M Massimo Motor Warrior200 200cc mini bike a win-win selection for us!
Hauck Hurricane Go Kart: Best mini kart for driving on the beach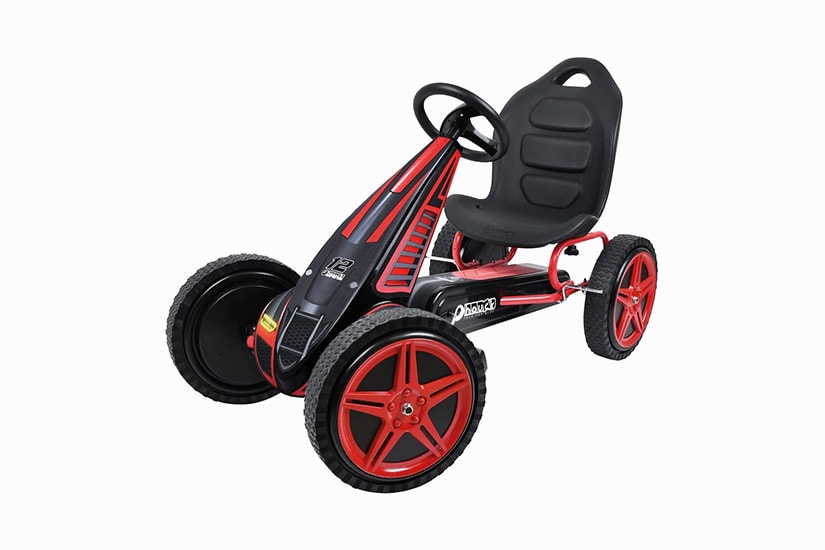 Whether you're enjoying the salty sea-spray of an ocean beach or have a sandy stretch near your favourite lake destination, it's good to have an option that can handle a bit of uneven terrain.
Going on vacation? Live near water? In any case, it's best to be prepared. This mini-bike has an ergonomic bucket seat, an ultra-responsive steering wheel for quick manoeuvrability, and a durable steel frame. Your driving experience will be comfortable and safe – and a workout. This is a pedalled bike, which encourages physical activity and even builds strength and coordination for your children aged 4-8.
The manufacturers of the Hauck Hurricane Go-Kart kept sandy terrain in mind when designing this bike. The handbrake is easy-to-use and very conveniently located so you can keep your speed controlled even while navigating sandy dunes. Your family is in for an authentic adventure (sounds like a great vacation to us!).
SYX MOTO: Best budget mini bike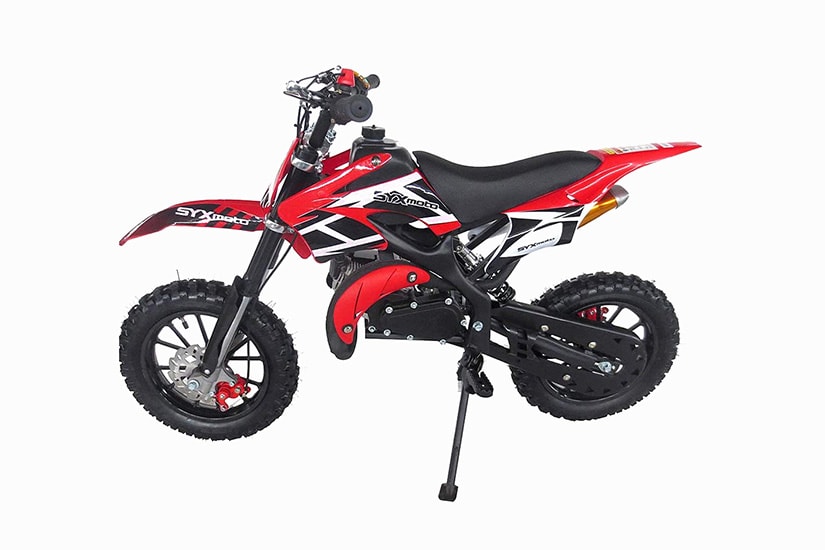 One of the considerations you'll need to have when you're looking for the best bike for your family is cost. After all, you need to find a value that works for your family's budget. After weighing all of the features we like to see in mini-bikes, we've selected the SYK MOTO Kids Dirt Bike for the best budget pick.
You're also going to want to find an engine that's powerful enough to provide safe fun – but quiet enough for peace. The team behind SYX MOTO has found that sweet spot: the real 2-stroke, 50cc engine in this bike works smoothly. It also speeds from 15-30mph (24-48kph).
The angular, flashy red appearance makes it easy to see this bike from far away (a great perk for safety!) while also looking appealing and fun to play with for children age 6+. Whenever you want to get off-road for less, consider this SYX MOTO Dirt Bike: The best budget bike of the year.
Go-Bowen: Most expensive mini bike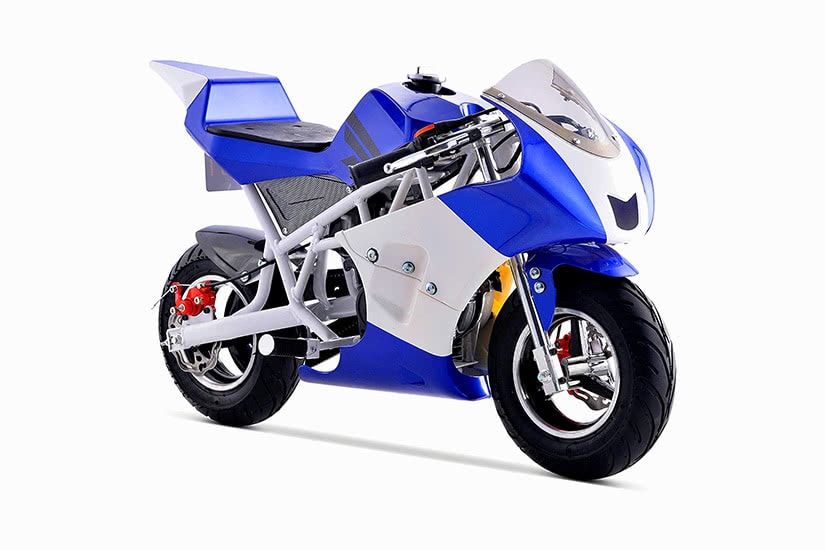 After all this, we wondered – what would it look like to go big on a mini-bike? This is an investment option, but it'll last for years – and sometimes, you're just feeling in the mood for a fun splurge.
This gas-powered pocket bike will yield hours of parking lot fun for your family. The included 40cc 4-stroke motor has enough power to carry up to 150lbs – which means that your child (aged 13+) should be able to use it for years to come.
We're excited about the convenience this mini-bike offers. Because it's a 4-stroke engine, you don't have to worry about mixing gas and oil; it'll take regular gas straight from the pump. With a max speed of 18mph (29km/h), you'll find your little ones can get a heady thrill without doing anything too dangerous. (We also love the way it looks. The bright blue powder finish on the Go-Bowen Mini Motorcycle is stylish and fun.)
Buying guide: Choosing the mini-bike that's right for your family
If you've thought about purchasing a mini motorcycle, you likely have a few priorities. You want your children to have fun, but you also want them to be safe. With this in mind, what should you be looking for?
We'll break it down for you so you can shop with confidence.
The benefits of mini-bikes
Young children have neither the physique nor experience necessary to operate an adult-sized cycle. Appropriately sizing down cool-looking, suitably-powerful bikes gives children an option that's safe and manageable.
They're also convenient. From a very practical standpoint, if you have or work on a large property, you can use an off-road mini-bike to get where you need to be in a flash.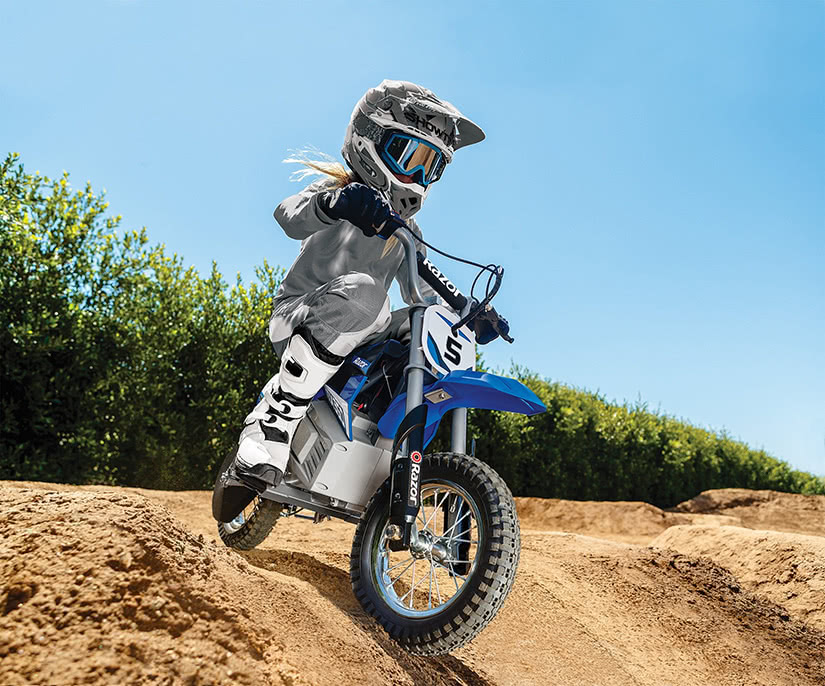 Finally, we like mini-bikes for their price. A full-size bike can easily break the bank, but a mini-bike generally has a much lower cost. If you're looking for ways to budget even further, be sure to consider electric options: They generally have even fewer associated costs for upkeep.
The different types of mini-bikes
There are two basic types of bikes you'll see. Which one works best for you will depend on how you plan to use it – and what kind of terrain you typically see.
Dirt bikes: These off-roading mini trail bikes are geared for wilderness and rough terrain. They tend to sit higher off the ground to help the rider avoid rocks and brambles. Generally, they'll have very durable, knobby tires and sturdy suspensions.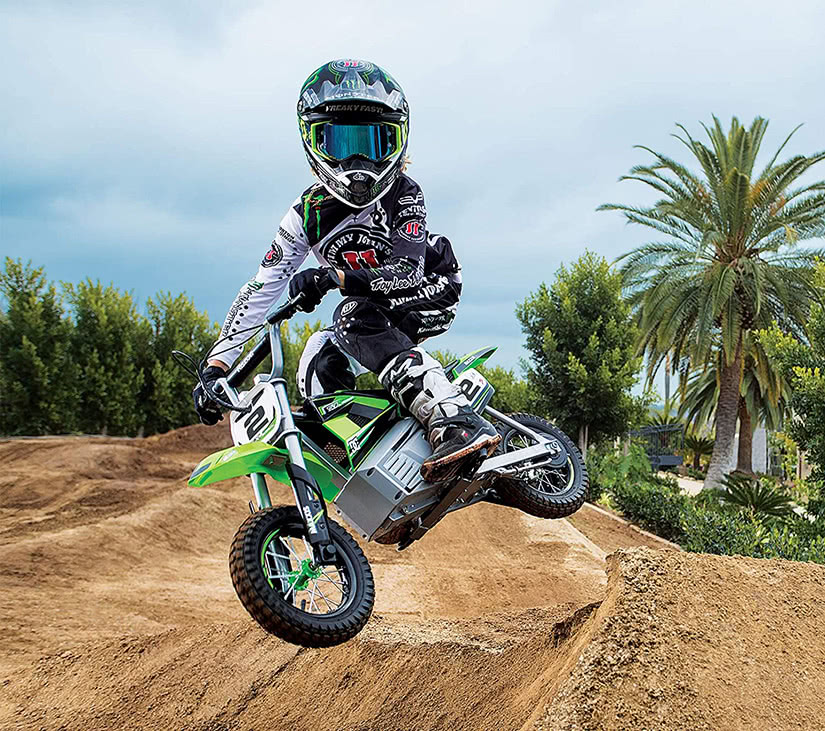 Street-legal or road mini-bikes: What makes a mini-bike street legal? Low handlebars, streamlined footrests, and mostly-covered chassis help ensure your mini-bike is good to go on normal roads. Check out the tires for a quick idea of where the bike is meant to go: Street bikes will have smooth wheels, optimised for pavement.
Features to look out for in your future mini-bike
When you're shopping, there are just a few things you'll want to keep in mind so you end up with the perfect bike for you:
Power source: Are you leaning towards electric, or do you want the true power of a gas bike? Gas bikes tend to be easier to refuel, and they're also more durable. However, electric bikes are more sustainable, more affordable, and easier to maintain.
Terrain performance: Think about the places you're going to be using your bike. If you're going to be going off-road or tackling the trails, you'll need a hardier bike. If your property is smoother and paved, on the other hand, you may be able to prioritise style a little more.
Engine power: Mini-bikes tend to run with approximately a 40-100cc motor (although we've included some very powerful options in our lineup). Depending on the load you'll be taxing your bike with, the type of terrain, and other considerations, you'll need to know just how powerful you'll need your mini-bike to be.
Frequently asked questions about mini-bikes for kids and adults
How fast will a 200cc mini-bike go?
A 200cc mini-bike will be able to go approximately 30 miles per hour, or 48kph. However, this will depend on the terrain and load! A great example of a 200cc bike is the Mega Modo Mini Bike or the M Massimo Motor Warrior200.
Are mini-bikes illegal to ride?
Mini-bikes are not illegal to ride as long as you ride them properly. When you purchase a mini-bike, make sure to read the manual and make sure you abide by all specifications. For example, if your bike isn't street-legal, do not take it out for a spin on the road.
Are Coleman mini-bikes any good?
Coleman mini-bikes are excellent if you're looking for a classic gas-powered option. We love the Coleman Powersports Trail Mini-Bike because it's able to go tough on trails while providing a comfortable ride.
How much does a mini-bike cost?
A mini-bike can cost anywhere from not much to a lot, depending upon its power source, performance, and durability. If you're in the market for a good budget-friendly buy, we recommend the Razor Dirt Rocket McGrath Electric Motocross for best value.