Influencer marketing has had its fair share of downs lately.
The unforgettable Fyre Festival debacle that was documented in a Netflix documentary put the spotlight on an important, well-needed, debate about the need for professional standards and stricter regulation for social media influencers. Both U.S. and U.K. regulators are pushing social media influencers to disclose more overtly their sponsored posts and brands endorsements. But the influencer marketing industry as a whole remains largely unregulated.
That said, influencer marketing isn't going anywhere but up.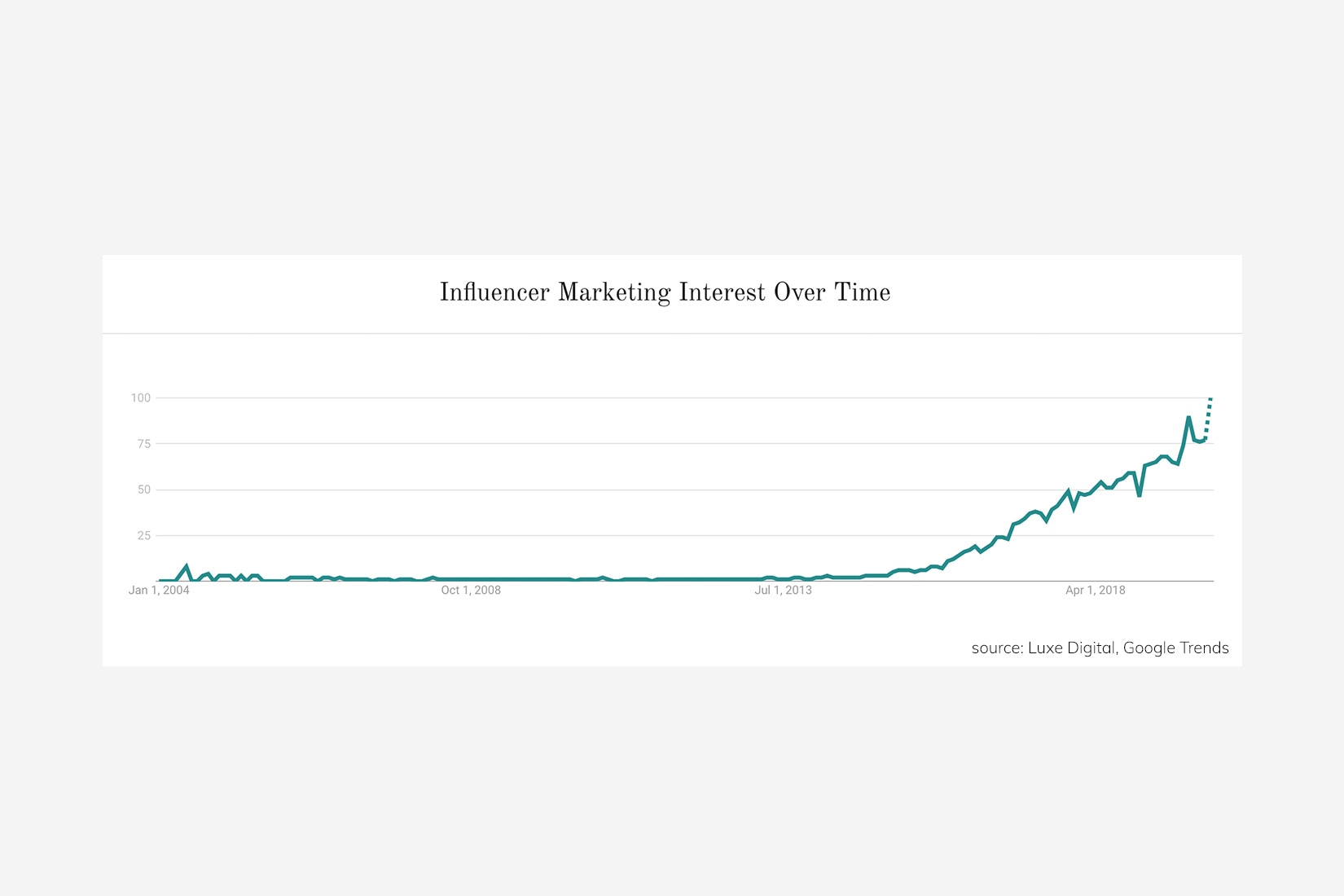 Social media influencers drive brand awareness and sales for new DTC luxury brands
Despite the debated popularity of influencer marketing, market analysts predict it will be worth north of $15 billion by 2022, up from $8 billion in 2019.
Partnering with social media influencers will continue to move further up the priority lists of luxury marketers. Especially considering that 63% of consumers trust influencers more than brands' own advertising.
It is thus no surprise that many digital native DTC brands turn to influencers to build emotional connections with their online community. With 93% of luxury shoppers active on social media, it is indeed the platform of choice to build brand awareness and rapidly establish a reputation.
From raising brand awareness to driving sales, influencer marketing provides a scalable way for direct-to-consumer brands to deliver authentic, aspirational content and build a cult following.
Influencers are one of the underpinnings of many DTC brands' sales to affluent young shoppers.
DTC travel brand Away, for example, invested early in Instagram and influential ambassadors to spread awareness and grow its customer base. By associating its brand with a well-travelled lifestyle, Away positioned itself as a trusted source for compelling and useful travel content as well as a purveyor of thoughtful travel gear.
And it works! Away is now one of the best most sought-after luxury travel DTC on our list of the best digital native brands. Social media is so embedded in Away's DNA that their branded #TravelAway hashtag appears inside Away product packaging.
63%

of consumers trust influencers more than brands' own advertising
An influencer marketing strategy focused on user-generated content sparked Away's initial growth. From its early stages, Away's Instagram account encouraged user-generated content by sharing and reposting photos taken by everyday travellers and customers around the world.
Interestingly, when Away realised that their first collection of suitcases wasn't going to be ready in time for the 2015 holiday season, they created a hardbound book called "The Places We Return To", a collection of travel stories that featured artists, writers, and photographers. The book sold out immediately. Each of them included a redeemable gift card for a piece of luggage.
Not only did this book idea established Away as a "travel lifestyle" brand, but it also turned the book collaborators into influential brand ambassadors.
But if influencer marketing has proven beneficial for many digital native DTC brands, it also comes with immense risks and a lack of control and predictability.
Social media influencers highlighted as risks to investors
The Mattress DTC brand, Casper, highlighted the growing power of social media influencers to make or break brands when filing for their IPO.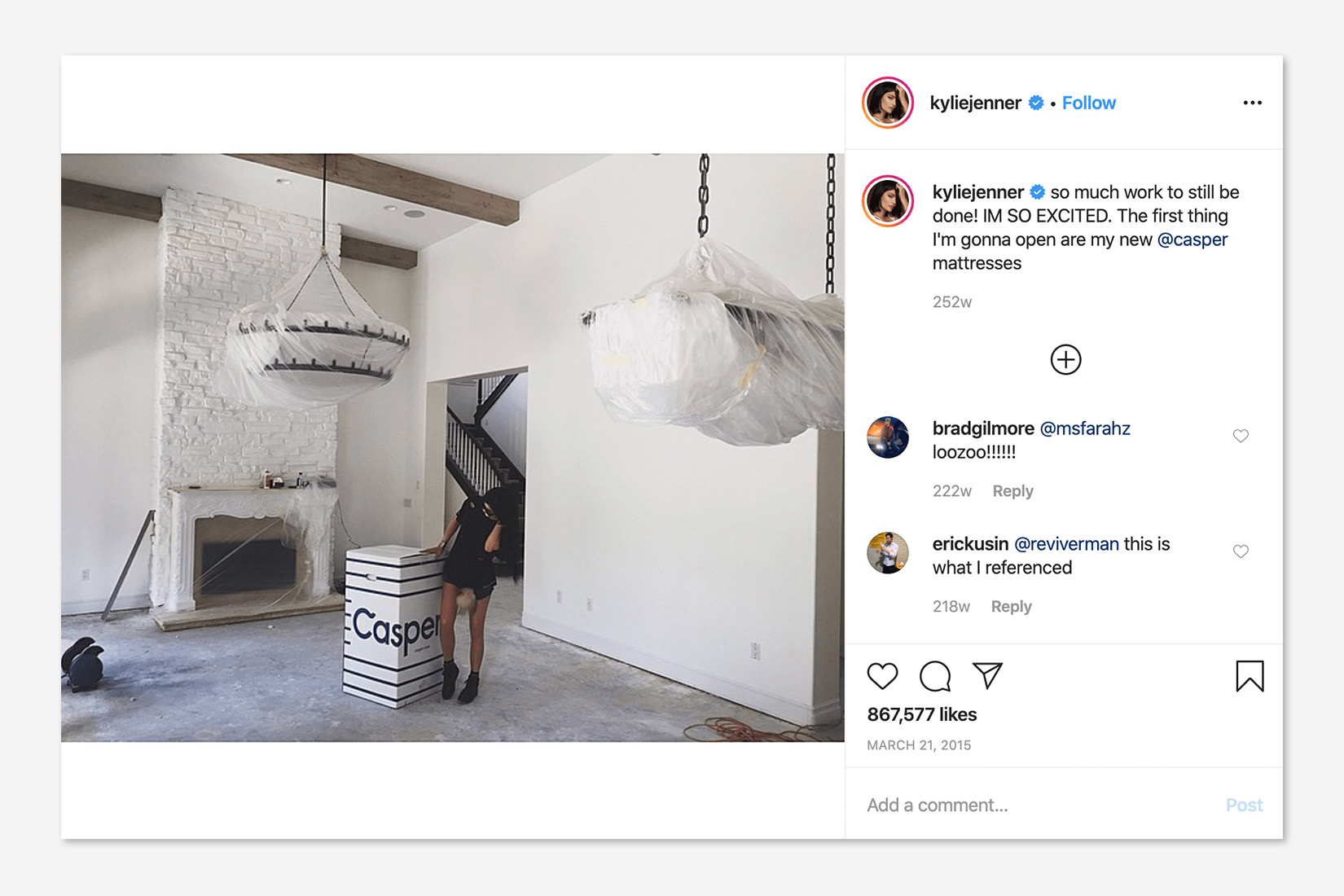 Casper invested heavily in influencer marketing since its launch in 2014. The brand's sales really took off when Kylie Jenner featured their mattress on her Instagram account. Yet, Casper listed social media influencers as one of the IPO risk factors when he filed to go public on the New York Stock Exchange.
Casper was not the first to caution investors on this. Online fashion brand Revolve also listed influencer marketing as a risk in its offering documents.
The danger for DTC brands is indeed real. With a single tweet, Kylie Jenner drove shares of Snapchat down by 7%, wiping out $1.3 billion of market value in a single day.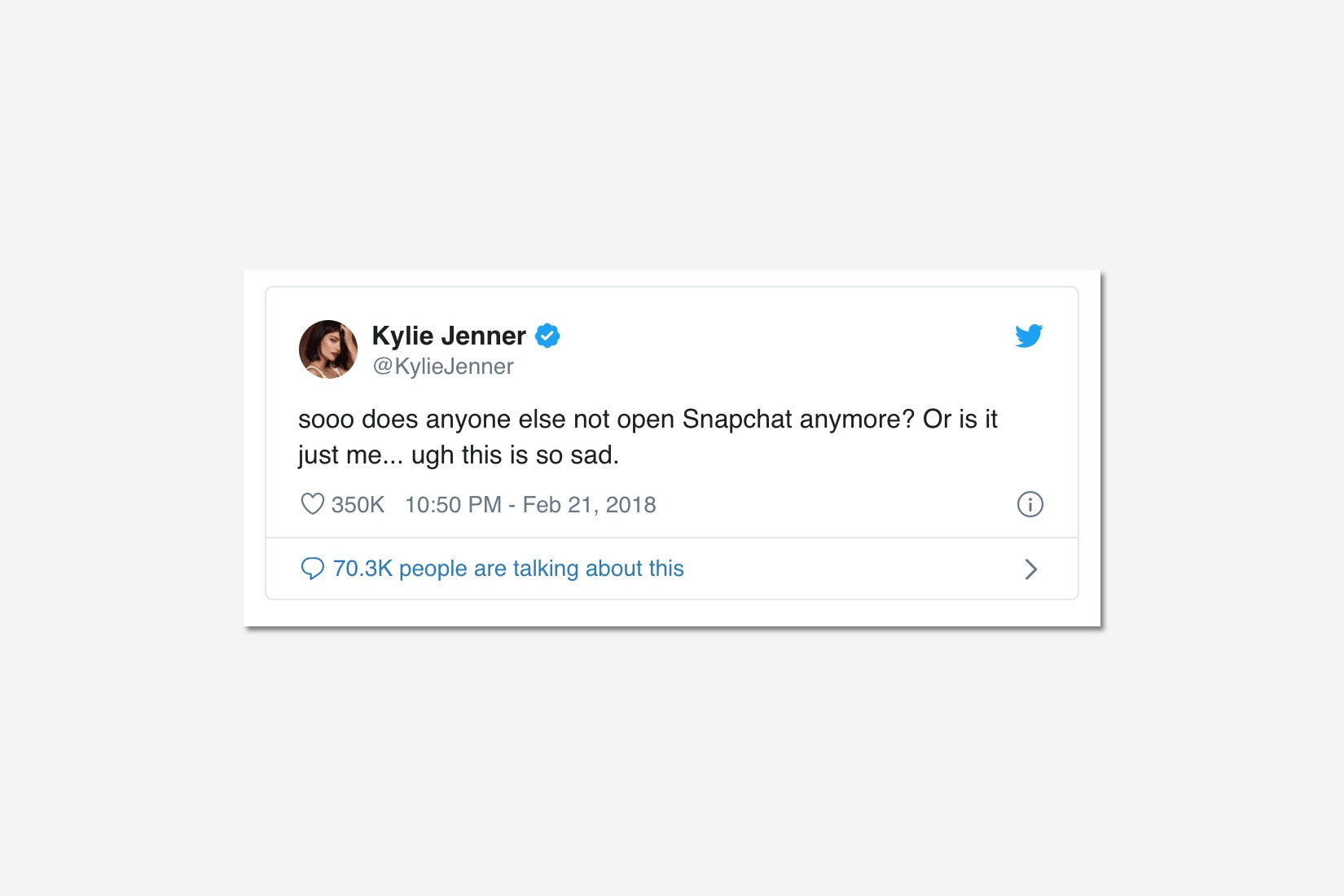 While extreme, this example is just an illustration of a broader thread for young digital native DTC brands whose sales growth can easily be swayed by online influencers.
Social media influencers can indeed as easily make a brand as they can destroy one. This is particularly problematic when the industry lacks transparency. While brands often pay influencers to promote their products without clearly stating the sponsorship. Other brands might as easily pay influencers to damage a competitor's reputation.
Diversifying the influencer strategy is key for DTC brands
Brands will need to embrace influencer marketing, strategically – from performing proper due diligence of their social influencers to ensuring brand value alignment and developing a more informed and accountable influencer marketing process.
While brands will never be able to avoid the risk of social scandal and backlash entirely, businesses should invest in carefully selecting suitable influencers for their brands and build long-term relationships. This will result in more authentic creatives and co-creations that can fuel other marketing campaigns.
Instagram is the platform of choice for influencer marketing, but new fast-growing apps are making waves
When it comes to influencer marketing, Instagram tends to be the platform of choice for digital native DTC brands. Instagram launched Instagram Shopping and Checkout on Instagram, hinting to the growing importance of social media in driving DTC sales.
But new apps, such as ByteDance's TikTok, generate more engagement and authentic content with younger demographics.
As Instagram enforces clearer and more transparent guidelines to regulate influencer sponsorships, brands and influencers will collaborate on other platforms in a more opaque manner.
Micro-influencers drive higher engagement rates
In addition to celebrities and macro-influencers, brands are increasingly connecting with lesser-known influencers. This is particularly the case with micro and nano influencers who show higher levels of engagement and authenticity. Broadening the range and scale of social media influencer campaigns helps drive both conversations and conversions.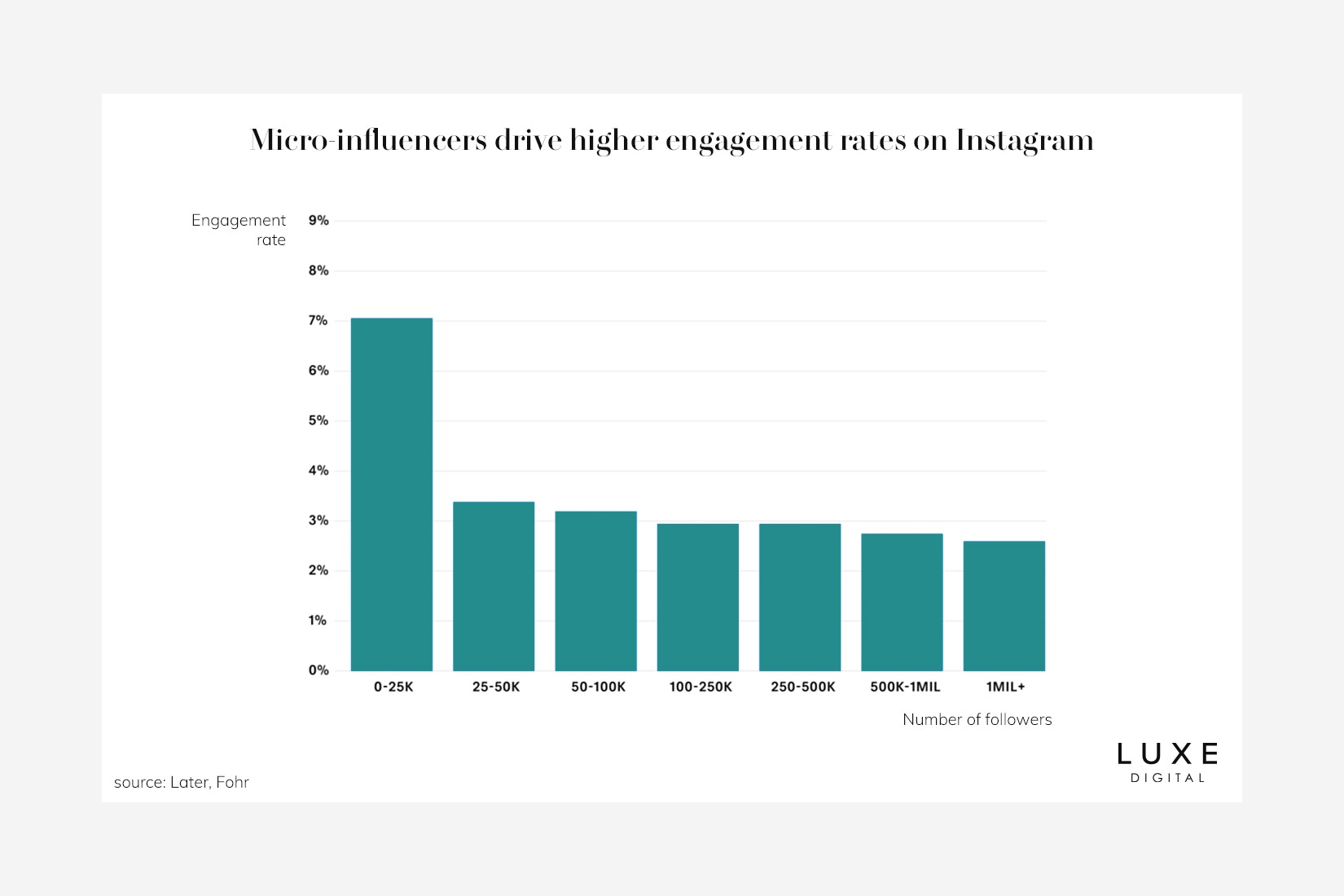 Performance metrics remain a work in progress
Measuring the impact of influencer marketing campaigns today remain vastly superficial. Brands can generate engagement and social media views, but tying this to actual sales is mostly based on guesswork at the moment.
Measurement will need to move beyond vanity metrics such as follower counts and likes as a benchmark of success.
---
Cover image by Chiara Barrasso