The Opportunity
There is a strong high-end foodie culture growing online, fueled by social media. High-net-worth individuals are looking for new and innovative dining experiences.
81% of luxury consumers search for fine dining restaurants through mobile apps and 75% make decisions from those search results.
There is immense potential for upscale restaurants to reach customers prior to launch. Restaurant owners can now showcase their culinary journey to an audience seeking experience-led dining.
The Problem
59% of newly opened high-end restaurants fail in their first 3 years. Most of them close down after just a year.
The launch roadmap for a fine dining restaurant is fraught with complications and complexity. Digital marketing is oftentimes left as one of the last business plan's components.
Although understandable, this reality leaves luxury restaurants at a significant disadvantage. It undercuts their opportunity to build restaurant awareness pre-launch and gather momentum ahead of their opening day.
The Solution
Establish a foundational digital marketing strategy as early as possible. Upscale restaurants need to highlight and communicate their unique value proposition online to their luxury clientele even before their official launch.
Instagram and Facebook are the social media levers to pull to generate appeal for fine dining restaurants.
Phased soft launch events involving targeted groups of digital influencers and food bloggers are effective at building online reviews and awareness before opening day.
When introducing a new culinary concept, a preview menu lowers the barrier to trial and improves review rankings.
The concept of hospitality in the fine dining industry is nowadays as much personal as it is digital. As online channels become a primary source for potential customers to learn about and engage with fine dining restaurants, knowing how to leverage digital marketing prior to launching a new venue is essential. Most new high-end restaurants are still failing at this game, however, with 59% of them closing down in their first three years, most of them in their very first year.[1]
In fact, in the often long and complicated pre-launch fine dining restaurant business plan, digital marketing is usually one of the last pieces to be addressed. This report aims to introduce the essential digital foundations that need to be in place prior to opening a new fine dining restaurant. With our phased soft-launch approach that works in tandem with traditional PR opportunities, luxury restaurant owners will be able to build and amplify awareness ahead of their opening day.
The digital high-end foodie culture: Marketing strategy to engage with customers prior to opening your fine dining restaurant
In this digital-first Instagram era, many people see food as an engaging, sensorial experience that is as much devoured in the digital sphere as it is in the physical space.
Millennials have been leading this foodie movement, making mealtime "Instagrammable" affairs that are visually appealing and experience-led. Patrons have a desire to share their dining experiences and actively seek out new culinary experiences on Instagram and Snapchat. The numbers support this trend — a quick look at the social media platform reveals almost 225 million posts with the hashtag #food. Millennials and Generation Z consumers currently spend more money eating out than any other generation, with 54% dining out at least three times a week.[2]

Whether it's due to the valuation of unique experiences as the highest form of social currency or the sense of "community" that comes from shared social media experiences, this robust movement has created an opportunity for high-end restaurants with the right marketing strategy to capture receptive culinary experience-seekers and generate appeal for an upscale restaurant, prior to opening. It all comes down to having the right fine dining restaurants marketing strategy as part of your broader business plan.
This burgeoning cohort of foodie restaurant-goers are not only willing to spend on food but also see dining out as a journey that extends beyond the final plated presentation. Understanding the origins of food — the entire farm-to-table, root-to-flower and cultivation-to-creation process is of interest to the potential customer and is a key factor in deciding where to dine. In fact, 80% of Millennial customers want to know more about process and origins — how the food is grown and where it's sourced.
For the luxury restaurant industry, never before has the "where" and "how" of food been in such high demand in the digital world. In many ways, understanding the culinary journey speaks to a sense of authenticity that Millennials crave. Even more so, customers expect to have access to this information, whether it be on a website or social channels, from the convenience of their mobile phones. Studies show that 81% of consumers search for restaurants through mobile apps and 75% make decisions from their search results.[3]
With a keen interest in documenting, sharing, searching and consuming culinary experiences online, this captive audience represents a prime opportunity for fine dining restaurant marketers to engage with prior to the opening of a new, high-end restaurant. With this in mind, let's examine the digital channels that restaurant marketers should leverage prior to launch and the areas for potential activation.
1. A mobile optimised website is central to a luxury restaurant's pre-launch marketing strategy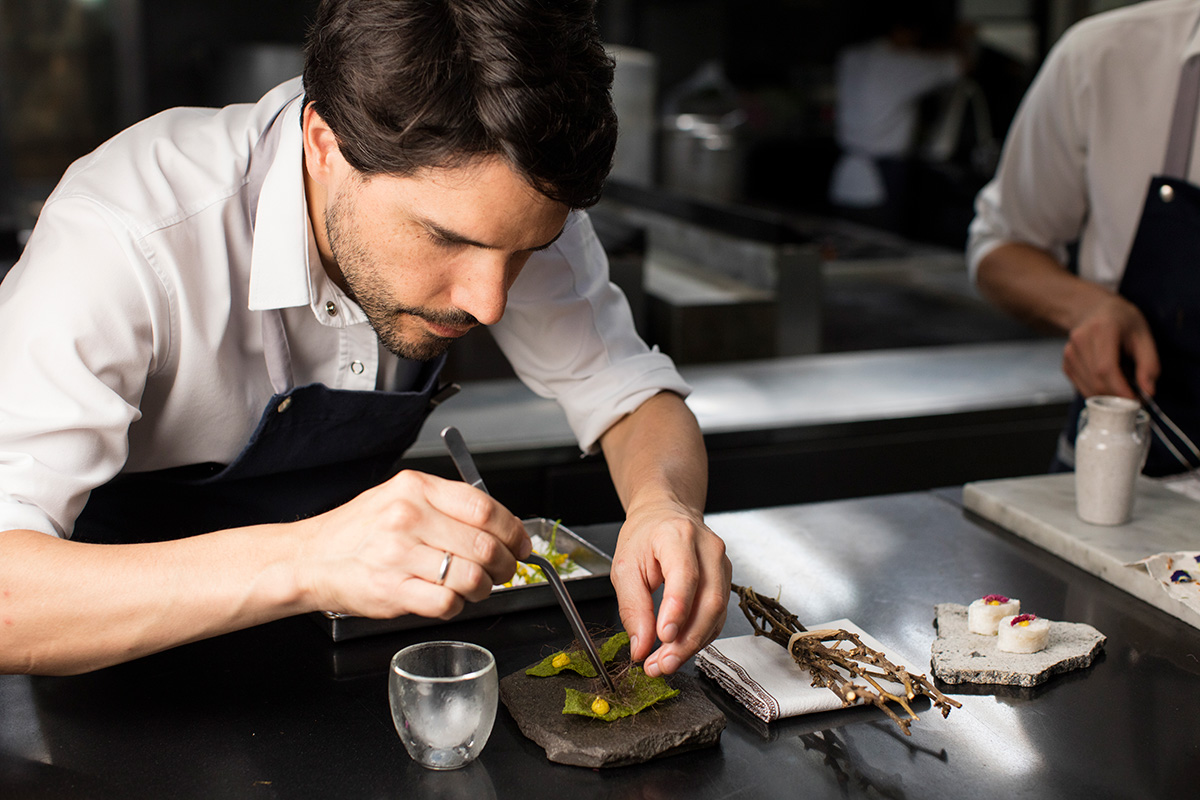 With the knowledge that potential customers are already online and actively researching for dining experiences, a mobile-optimised website is a foundation for establishing an online presence. Restaurant marketers can no longer remain competitive with just a desktop version of the website, especially when 70% of consumers think it is important to be able to access information from their mobile devices.
As we have previously discussed, the prevalent notion of dining as an experience means that restaurateurs should use the brand website to showcase its unique value proposition.
For example, if the fine dining establishment is a Chef-led restaurant, showcase the Chef and his or her culinary inspiration through marketing visuals and copy. If it's a concept-led restaurant, highlight the signature dishes and hero ingredients central to the experience. There is no need to wait until a finalized menu is ready before talking about the core culinary concept on the brand's website. Use the information that is already available to shape a compelling brand narrative in consumers' minds.
An important step that helps drive awareness and makes luxury restaurants websites searchable is claiming the business listing on Google Maps. Getting listed in other local directories is also important since it helps to increase search engine rankings: A recent study shows that 72% of travellers will perform localised searches for restaurants on their smartphones while on vacation.[4] So, depending on the location of your restaurant, make sure you have a presence on the likes of tripadvisor.com, yelp.com and even reservation platforms like opentable.com.
And, of course, don't forget the basics in your restaurant marketing strategy. Include essential information like address, contact number, an online booking widget, hours of operation, a general Q&A section and links to social media channels.
2. Instagram to offer behind-the-scenes glimpses and the "Fine Dining Making Of" story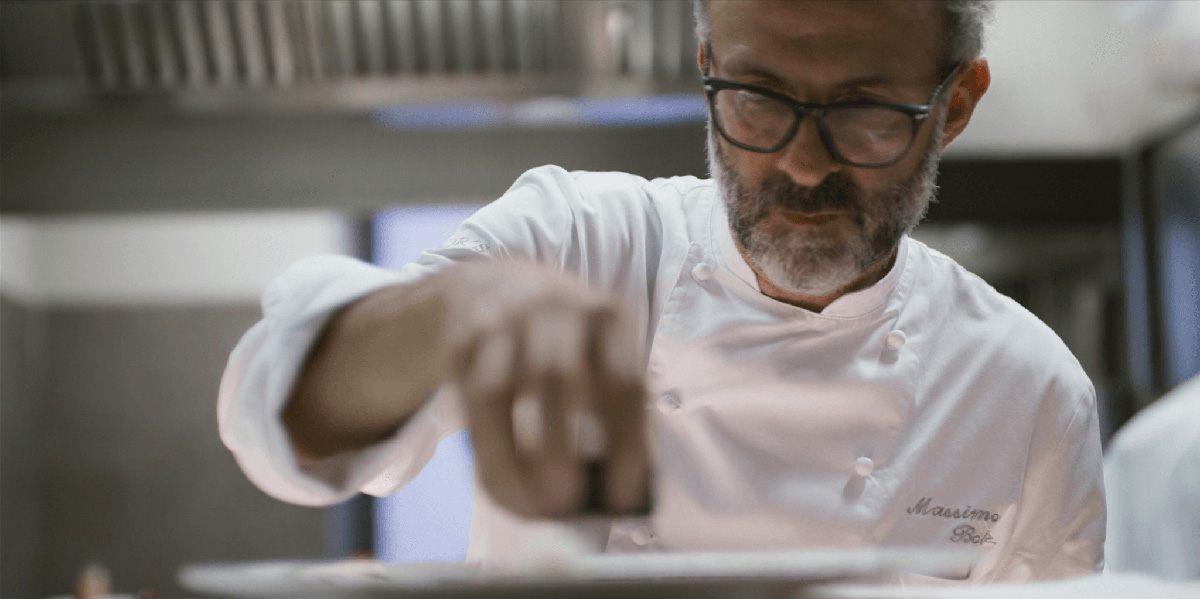 According to Instagram Advertiser statistics, 60% of Instagram users say that they learn about a product or service on the platform, and 75% take action, such as visiting a website, after seeing a post that interests them.[5] Keeping in mind that there are 700 million active users engaging with the platform, Instagram becomes indisputably one of the most powerful social media channels in which to showcase your brand.
In parallel to the brand narrative that is featured on your mobile-optimised website, a luxury restaurant marketing strategy should use Instagram to satisfy customers' curiosity for behind-the-scenes glimpses and the "making-of" story. Start with authentic snippets that highlight the collaborative launch effort — everything from architectural milestones, sourcing trips, kitchen taste-testings to the interior design.
Even more so, as the fine dining experience becomes increasingly about the journey and the atmosphere, restaurant marketers should also take advantage of short videos to directly relay the excitement, bustle and anticipation surrounding the upscale restaurant prior to launch. According to eMarketer, more than 62% of the world's internet users viewed digital videos in 2017, up from 60.8% in 2016.[6] Short-form video content is a multi-purpose tool. It can be showcased on Instagram, the brand website and also distributed as a part of the press kit for traditional PR activations.

3. Facebook is becoming the hub for luxury customer service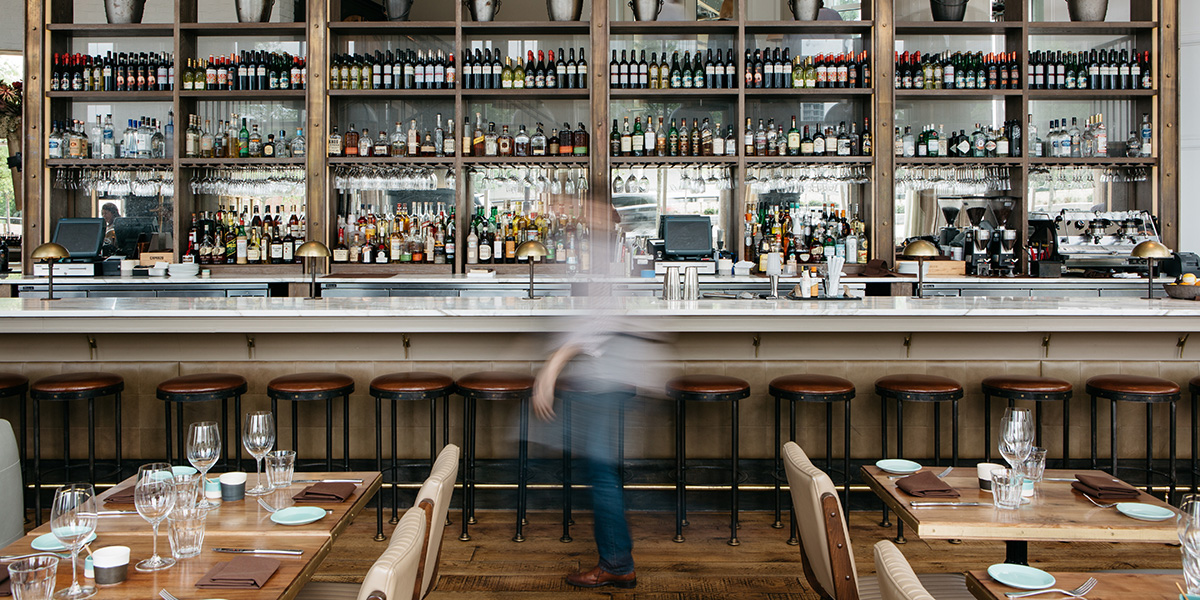 Customers are initiating conversations with brands via Facebook and engaging in a very different way than they do on Instagram. According to Facebook, the total number of private messages that people sent to 50 million+ Facebook business pages doubled in 2015, and over 2.5 billion public comments were left on business pages each month.[8] To cater to this existing digital behaviour, Facebook made drastic changes to transform pages into the mobile customer-service hub for companies. The platform now offers marketers new tools to respond to customers and manage questions, complaints and general communications.[9] From being able to set "away" messages to enabling businesses to add text-based notes about the customer for future communications, Facebook has, in essence, become a CRM tool of sorts that restaurateurs must be fluent with.
A high-end restaurant's Facebook page should contain all the essential information of the website (hours, location, menu, general Q&A), but also be held accountable for community building. Customers will most likely message restaurants directly with questions via Facebook messenger, look at upcoming special events, book a reservation, check out photos of the environment and menu, and comment publicly with complaints and compliments. Responsiveness is essential for an industry that revolves around customer service and hospitality. Restaurateurs need to instil accountability for what happens on the brand's Facebook page, as digital queries and complaints should be treated with the same attentiveness, timeliness and attitude as those that occur on-property.
Logistics like incorporating a Book Now button, providing access to the menu, and important service descriptors like "Good for Kids," "Good for Groups" are all musts.
4. Ensure the right high-end marketing resources are in place to grow digital channels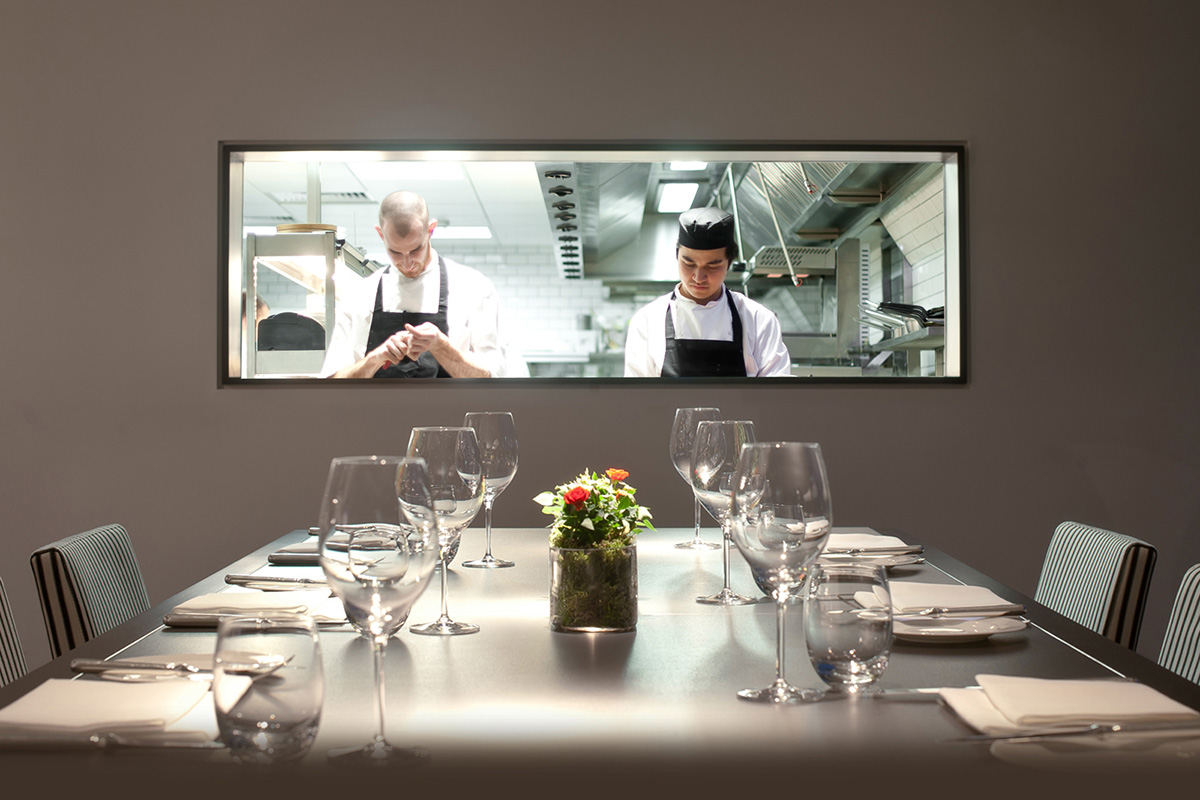 Aside from established chain restaurants or hotel restaurants, many boutiques, fine dining establishments do not have an existing in-house marketing team. In order to fully be present in relevant digital channels, fine dining restaurateurs need to ensure that the necessary marketing resources are in place for social media management.
Co-founder of creative agency mOOnshot digital and author of Shine: Digital Craftsmanship For Modern Luxury Brands, Florine Eppe Beauloye, believes it is essential for high-end businesses to ensure the right internal digital resources, knowledge, and operating model are in place before diving into digital execution. This is especially true in the case of social media for the luxury restaurant business — a situation where an online community manager is oftentimes charged with delivering the right "first impression" instead of a host at the door.
Restaurant marketers need to understand that ignoring an unhappy customer that has spoken up on Facebook is just as damaging as ignoring one that is on-site, perhaps even more so since future customers will be evaluating fine dining restaurants based on their reviews. A trained social media manager must be there to respond in a timely manner, especially for complaints. Customers see Facebook as an interactive platform, and they do expect a response. Research shows that customers expect real-time engagement with restaurants via social media platforms: 70% of customers expect a response, while 50% expect a response in less than 1 hour.[10]
Establishing these primary digital channels will enable a new upscale restaurant to engage in successful pre-launch digital marketing activations and engage with relevant communities.
In addition, many fine-dining restaurants are opting into a phased soft launch approach leading up to the opening day to take advantage of their already active digital ecosystem and allow for the gradual amplification of digital buzz. This strategic approach is a targeted way to fuel demand.
5. Phased soft-launch luxury marketing strategy with local food bloggers & influencers to generate online buzz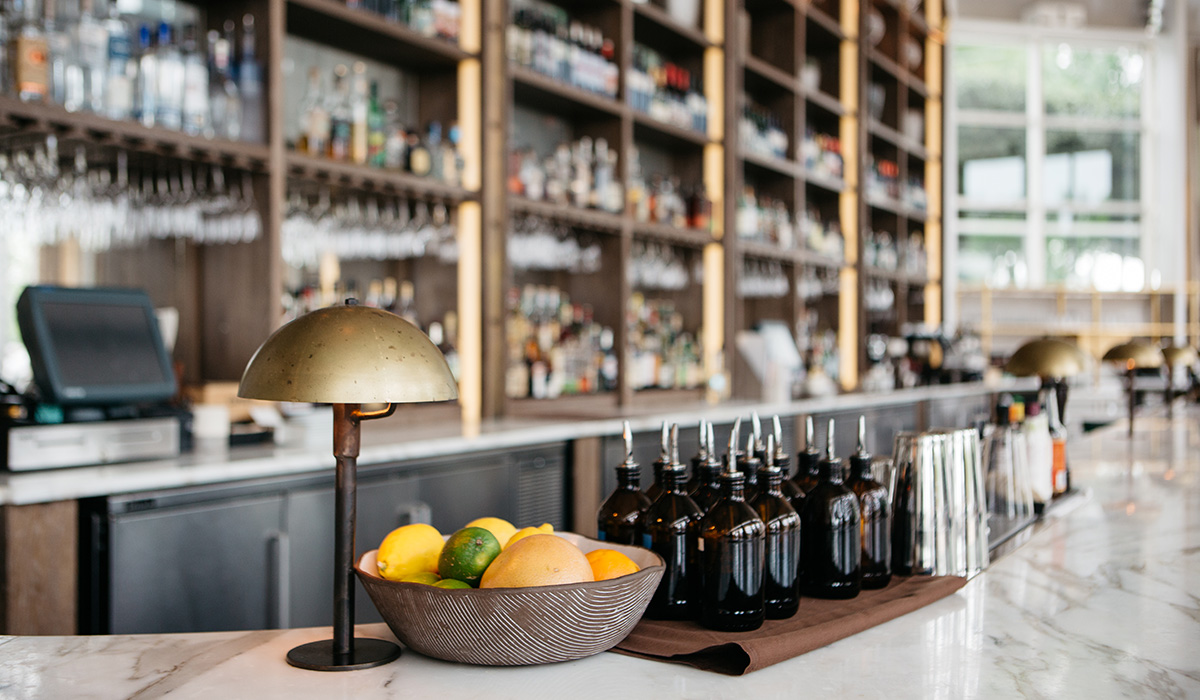 Besides traditional PR, upscale restaurants should engage in phased, pre-launch events that invite controlled groups of food bloggers and relevant influencers in the region for an exclusive dining experience.
The sway of digital influencers is at an all-time high. According to a recent study, 92% of consumers trust an influencer's opinion more than an advertisement.[11] Add to that, 33% of millennials rely mostly on blogs before they make a purchase, and the power of persuasion seems to rest heavily in the hands of the digitally-connected. Inviting targeted groups well-known food bloggers, industry experts and relevant Instagram influencers to pre-launch events is an effective way to generate customer interest and build digital buzz before the restaurant officially opens its doors.
For these phased events, restaurateurs should go the extra mile. Introduce the food, the cocktails, the Chef, the culinary story and create an unforgettable event around the fine dining experience. And, as a part of event preparations, make sure to have a photographer present to capture events so marketers can use them on the restaurant's own digital channels. Overall, getting a head start with phased, soft launch events as part of your high-end restaurant's marketing strategy is an opportunity to garner positive reviews on social media, features on popular food blogs and notable digital mentions by influencers whose opinions are trusted by their followers.
Another positive effect of phased, soft launch events is the opportunity to repost user-generated-content (UGC) on the restaurant's social media channels. UGC has proven to be incredibly effective at building engagement and credibility. When upscale brands use a mix of both brand content and UGC, overall brand engagement increases by 28%.[12] Undoubtedly, fostering an online following that is actively talking about the restaurant and eager to experience it before the actual opening day is invaluable to restaurateurs.
Digital buzz is the new word-of-mouth. Creating time in your marketing strategy for a month or two of positive online content, reviews and engagement will help cement your fine dining restaurant as the next must-try culinary experience. In addition, localized digital presence from high traffic blogs and news sites will increase your chances of appearing when customers engage in localized restaurant searches.
6. Introduce a new high-end culinary concept online via preview dining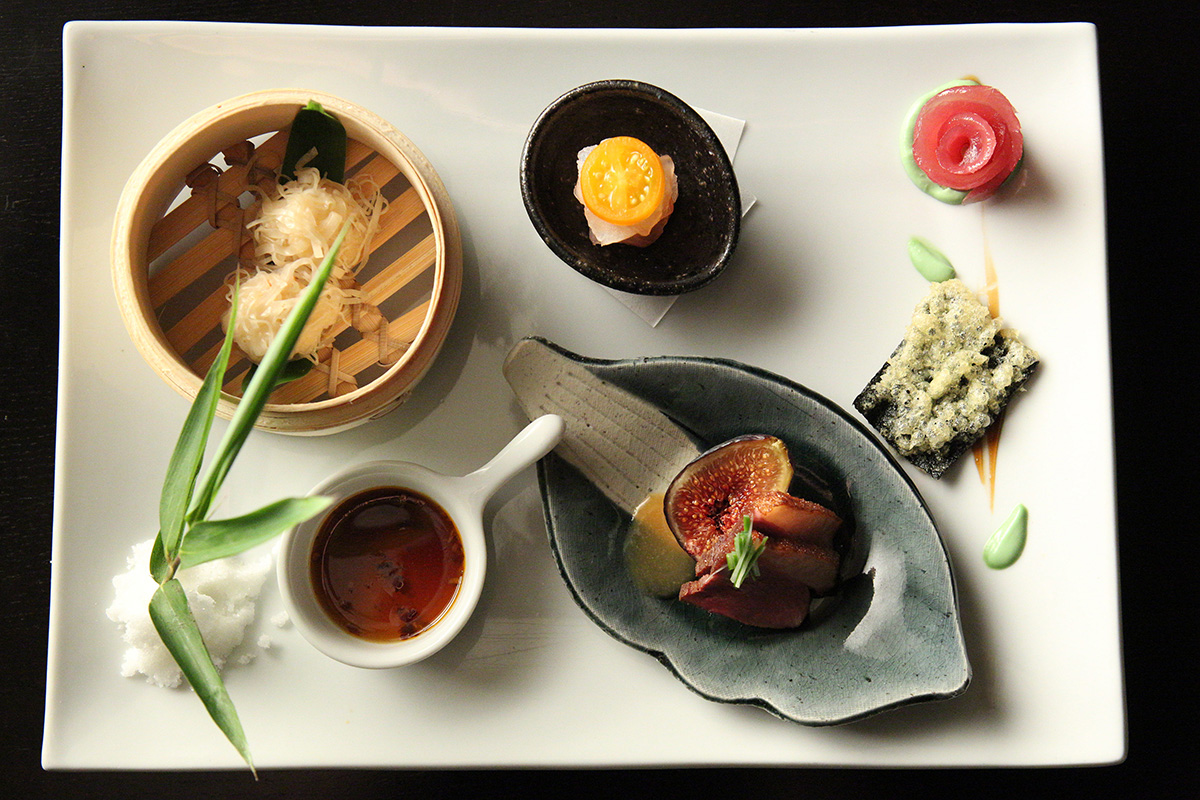 If the high-end restaurant is introducing a relatively new culinary concept, it is worth considering "preview dining" as an idea to educate your target market, while lowering the barrier to trial for audiences that are unfamiliar with the cuisine.
Preview dining usually involves a discounted select menu featuring signature flavours and dishes. On this note, remember to emphasise in your restaurant marketing plan the discovery experience, and not the discount itself. Avoid any paid advertising that explicitly calls out discount or promotion. Not only are today's customers adept at filtering out ads, but promotional language undervalues the integrity and authenticity of the actual fine dining experience.
As preview dining customers will be amongst the first to leave online reviews, the kitchen and front of house need to be prepared to deliver an exceptional experience. Studies show that 87% of customers look at online reviews to guide decision making when evaluating local businesses.[13] That said, a preview dining experience that can generate stellar restaurant reviews, especially for a foreign culinary concept, will be integral to generating appeal and trial within the broader community once the upscale restaurant opens.
Utilizing digital marketing effectively is the key that could make or break the launch of a fine dining restaurant. The same applies if you decide to begin offering online orders and food deliveries. What many upscale restaurant marketers don't realize is how important it is to establish a digital presence before the actual launch. Ensuring that the digital fundamentals are covered, the unique brand story is communicated and that the right influencers and food bloggers are talking about your experience online will enable high-end restaurants to hit the ground running, while providing the fuel needed to sustain momentum through the tentative first year.
---