UV Vodka likes to jump on each season's hottest trends. Which is a phrase that can be taken both literally and metaphorically, with the release of summer-ready favorites like Sangria vodka all the way through to singe-your-lips UV Sriracha. If ever there was a brand to break almost all of the rules in the world of the best vodkas, it would be UV Vodka.
Young, innovative and interesting, everything UV Vodka produces is done with its unique spirit in mind. This fifth-generation, family-owned distillery took the very notion of "base spirit" and whipped it up into an endless assortment of rainbow colored bottles. Got a craving for a very specific color, flavor or scent? You'll likely find it in a bottle of UV Vodka.
And, again, that's something that can be taken fairly literally. UV's smooth, approachable vodkas come in more than 20 different flavors — a budget-friendly alternative to the likes of Absolut or Smirnoff. Even if you wouldn't traditionally consider yourself a vodka fan, you'll reconsider when you've seen the potential here. 
Sure, this might not be a vodka you bring out with lengthy, expensive, multi-course dinners (we'd opt for something like Grey Goose or Ciroc for that). But it's the bottle you'll want to bring out after dinner is finished, ready for whatever the rest of the evening may bring. Especially if you're hoping for it to bring excitement.
You can think of UV Vodka as the Generation Z of the vodka world: ahead of the trends, endlessly colorful and picking up on characteristics that other brands will wish they thought of first.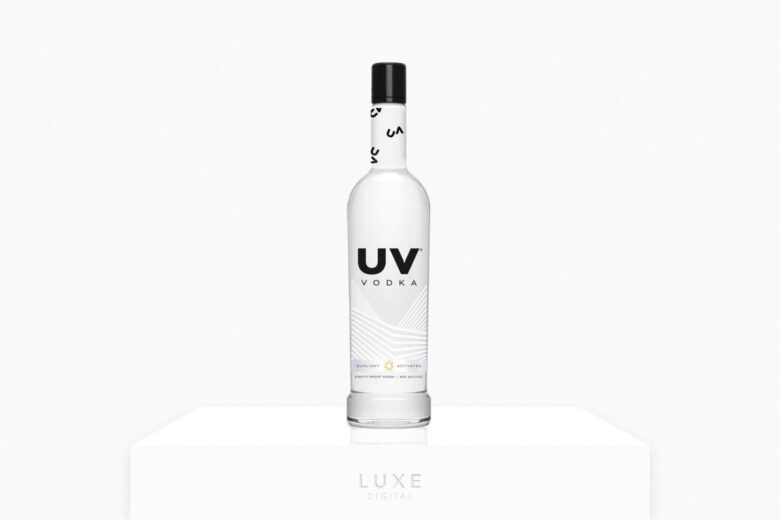 UV Vodka price and UV Vodka bottle sizes
| Bottle | Size | Price (USD) |
| --- | --- | --- |
| UV Silver Vodka | 750ml | $10.99 |
| UV Lemonade Vodka | 750ml | $10.99 |
| UV Vodka Sour Apple | 750ml | $11.49 |
| UV Sriracha Vodka | 750ml | $11.96 |
| UV Chocolate Cake Vodka | 750ml | $11.99 |
| UV Blue Raspberry Vodka | 750ml | $11.99 |
| UV Grape Vodka | 750ml | $11.99 |
| UV Sweet Green Tea Vodka | 750ml | $11.99 |
| UV Pink Lemonade Vodka | 750ml | $11.99 |
| UV Cake Vodka | 750ml | $11.99 |
| UV Cherry Vodka | 750ml | $11.99 |
| UV Espresso Vodka | 750ml | $12.09 |
| UV Sangria Vodka | 750ml | $12.49 |
| UV 103 Vodka | 750ml | $13.99 |
The vodka brand with the biggest personality
Chilled and approachable: the friend of a friend that comes up to you at a house party and cheerfully pours you a drink, starts a conversation and intermingles you with everyone else nearby. That's UV Vodka. Taking away the notion that spirits have to be aloof and inaccessible, UV Vodka is as colorful as it is affordable, encouraging you to sample its entire rainbow of shades, just because you can. 
This USA-born brand might focus its spirits on the affordable end of the scale but that doesn't mean it waves goodbye to quality. It uses natural flavorings (yes, even in bottles like the vibrant Blue Raspberry) and a lengthy distillation process to ensure that each bottle is a delight to drink and admire. 
Its quantity and quality hand in hand, far more likely to be enjoyed at a Friday night house party or friend's cocktail making evening than it is sat around the fire on a cold, quiet Tuesday evening.
Each bottle of UV Vodka is distilled four times and filtered with activated carbon (similar to the charcoal filtering done by Burnett's) for a clean, refined taste before it's flavored. While you wouldn't typically choose this vodka for sipping on drinking on the rocks, the multi-distillation process means you wouldn't be too dissatisfied if you did choose to do so. 
And, each bottle from this brand would arguably look a lot more interesting on ice than the same old amber-colored whiskies and brandies.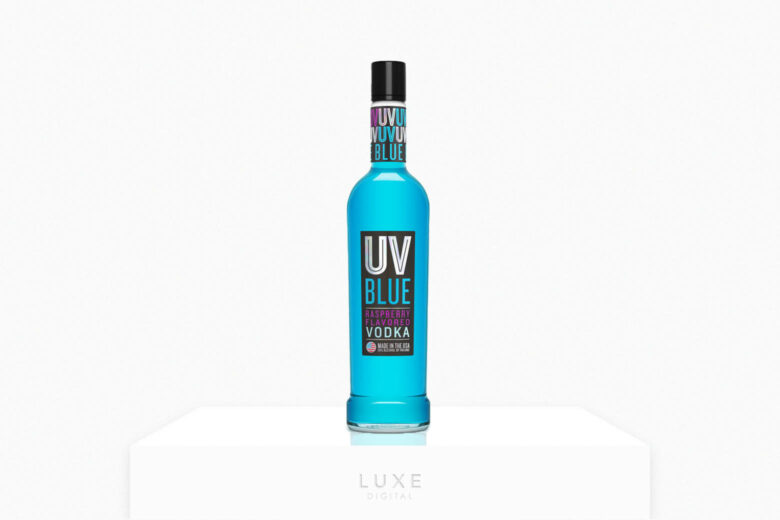 UV Vodka types
Known as being one of the most popular yet cheapest vodka brands available, UV Vodka is constantly thinking up ways to impress its ever-growing audience.
First came the standard, 80 proof (40% ABV) bottles of vodka, in fun, youthful flavors like cake, blue raspberry and pink lemonade. Next came the cocktail bottles: pre-mixed in order to waste minimal time between deciding on your next drink and sipping on it. 
These 25 proof (12.5% ABV) bottles came in similarly loud flavors, including blue raspberry bombsicle, very cherry lemonade and ultimate pink lemonade. And, finally? It was time to make UV Vodka portable, which meant the introduction of UVGO. Picnic-perfect and charmingly sized, these cans of UV Vodka cocktail were an instant hit, mixing vodka, bubbles and flavors in a 10 proof (5% ABV) can. 
If you're feeling particularly fancy, you can opt for UV Vodka's 103 proof (51.5% ABV) for a harder-hitting drink. Or, opt for the brand's newest release that fuses science with alcohol: sunlight activated bottles. That twinkle in the corner of your eye, egging you on to mix up another round of cocktails? That's not actually just your eye, it's also UV Vodka's bottles getting ready for the party to start.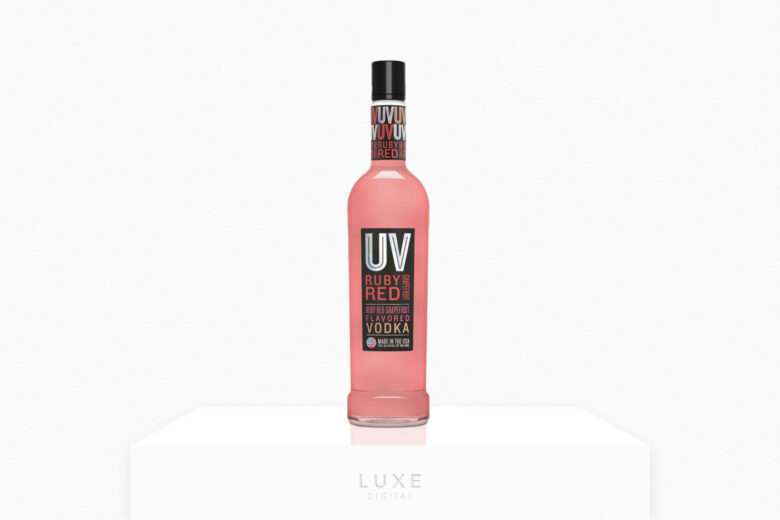 How to drink UV Vodka
Drinking UV Vodka is the sort of thing you should look at as a seriously fun challenge. There are no rules when it comes to vodka generally, thanks to this spirit's neutral taste, color and aroma. So the fun is up to you when it comes to drinking it. 
And UV Vodka stands well above the rest when it comes to experimentation — what other brands out there will encourage you to sip on Sriracha flavored vodka? In fact, some of the best UV Vodka drinks you can make come from throwing caution to the wind and making good use of what you have in the fridge and the cupboard. 
Eye up whichever bottles of UV you've got already (or buy a few online to start you off) and go wild with mixers, garnishes and glassware. The only rule is that there is no rule.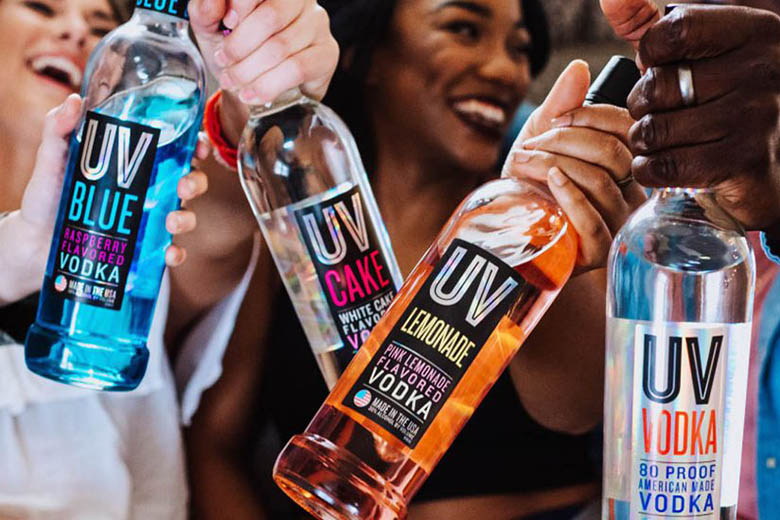 UV Vodka Recipes and Best Cocktails To Make
UV Vodka takes the stress out of preparing cocktails. While other brands may rely on you already having a fully-stocked bar cart with all sorts of flavors and ingredients, the beauty of UV Vodka is in its simplicity. The easiest cocktails are made by simply mixing your UV of choice with a mixer of choice. Or, take it to the next level with more intricate recipes, enhanced by UV's base of vibrancy.
Bloody Mary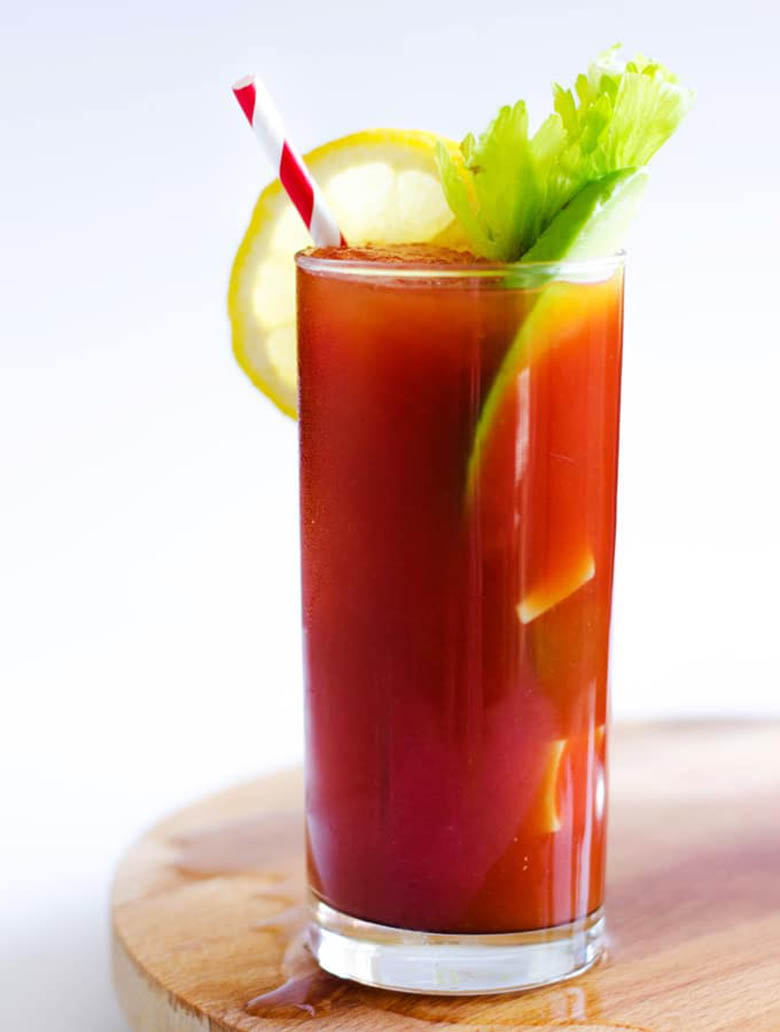 Ingredients:
30ml UV Sriracha
120ml Tomato Juice
Two teaspoons horseradish
Two dashes Tabasco sauce
Two dashes Worcestershire sauce
One Lemon Wedge
Celery Salt
One pinch Ground Black Pepper
One pinch Smoked Paprika
Parsley Sprig, Green Olives and Celery Stalk for garnishing
You could make a Bloody Mary using normal, unflavoured vodka… or you could step it up a notch with the addition of spicy vodka. Enter: UV Sriracha. Make your Bloody Mary by adding the vodka, tomato juice, horseradish, Tabasco, Worcestershire, black pepper, paprika and ice into a shaker, before shaking gently. Strain into your tall glass and garnish before serving.
Ultimate Lemonade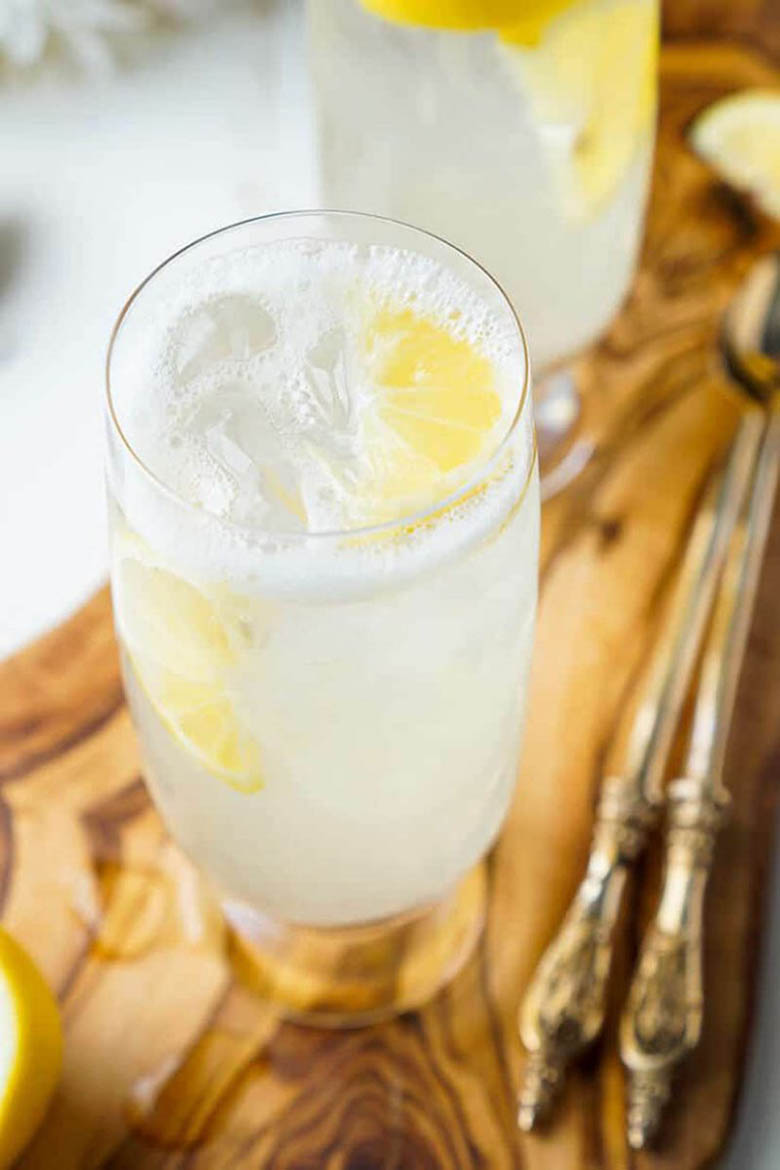 Ingredients:
30ml UV Lemonade
120ml Lemonade
Lemon Wheel for garnishing
Lemonade gets a grown-up twist with the addition of UV Lemonade. The perfect summery drink — and one that's alcoholic without really tasting so — it's concocted by simply pouring a measure of UV Lemonade into a tall glass and topping up with lemonade. Garnish with a lemon wheel and enjoy.
Cherry Pride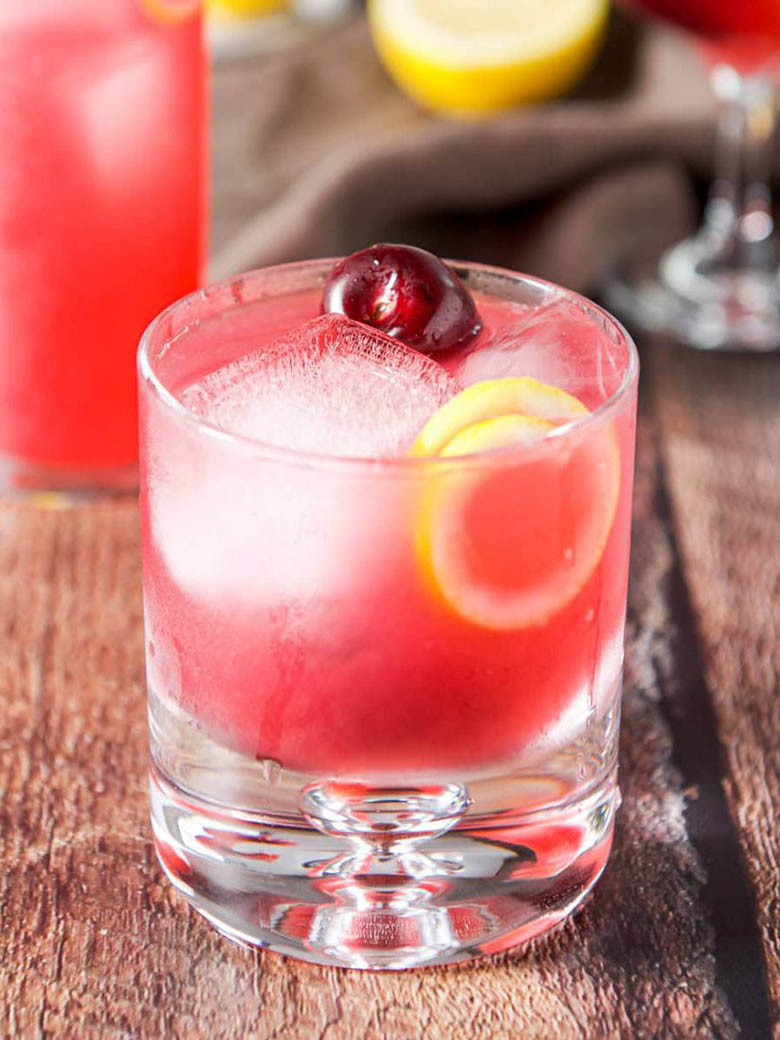 Ingredients:
30ml UV Cherry
90ml Lemon-Lime Soda
Cherry for garnishing
Another deliciously simple pick, a Cherry Pride is vibrant and uplifting and can be made even more very-berry by swapping out the lemon-lime soda for cherry flavored soda. Make one by pouring UV Cherry Pride into a lowball glass and adding your soda of choice. Garnish with a cherry on the side and a couple of ice cubes.
Frequently asked questions about UV Vodka
Is UV Vodka any good?
UV Vodka is a cheap yet delicious brand, on a par both flavor and quality-wise with the likes of Svedka, New Amsterdam and Tito's.
How much is UV cherry vodka?
UV's Cherry Vodka starts at $11.99 for a 750ml bottle.
How much is 750ml of vodka?
A 750ml bottle of UV Vodka starts at around $11.99. Of course, the price of vodka varies dramatically, with brands like Crystal Head and Belvedere charging upwards of $50 for a bottle.
How much alcohol is UV Vodka?
UV Vodka alcohol percentage varies in three strengths: its main offerings are 40% ABV, its cocktail-ready bottles are 12.5% ABV and its canned, on-the-go bottles sit at 5% ABV.