Those hypothetically great ideas, worth billions of dollars, that you and your closest friends come up with over dinner? That's almost exactly how George Clooney's tequila brand, Casamigos, was created.
Except money was never the goal for Clooney and co-founder Rande Gerber. As a pair of millionaires, their focus was more so on creating a delicious, accessibly priced tequila. And ideally one that didn't leave you questioning your choices from a hangover the next morning.
One brief discussion turned into a longer chat, which turned into multiple talks over lunch, golf and dinner, before Clooney and Gerber decided to step things up a notch. And then, in 2013, Casamigos was born.
The goal was to create a smooth, natural-tasting tequila that didn't burn going down. Living in Mexico, many mealtimes involved a tequila or two, and the pair launched Casamigos together, with the goal of producing the perfect tequila to complement their food.
Of course, the pair aren't the only celebrities to launch a tequila brand (think Michael Jordan's Cincoro or The Rock's Teremana) but this one is definitely up there with the best — any Casamigos review will agree.
"Casamigos" is a portmanteau of "casa" — house, and "amigos" — friends. Concocted over lengthy dinners with friends inside their respective houses, which also happened to be inside a Mexican compound called Casamigos, it couldn't really have been named anything more suitable.
This smooth, premium tequila brand quickly rose through the ranks. Now, it's a popular drink with the Hollywood crowd. And, having since been purchased by spirits giant Diageo, it's one that you'll likely find on your lips soon, if you haven't been treated to it already.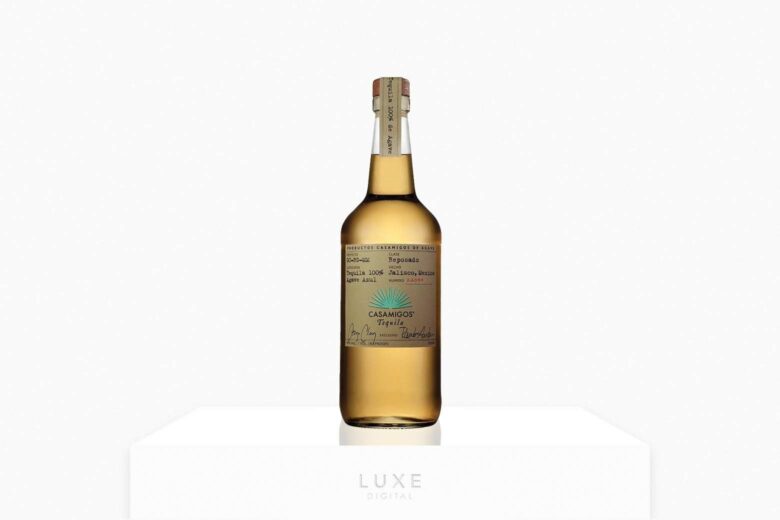 Casamigos bottle sizes and prices
| Bottle | Size | Price (USD) |
| --- | --- | --- |
| Casamigos Blanco | 750ml | $49.99 |
| Casamigos Reposado | 750ml | $54.99 |
| Casamigos Añejo | 750ml | $59.99 |
| Casamigos Joven Mezcal | 750ml | $64.99 |
Two years and hundreds of sips later…
It took around 700 tastings for Clooney and Gerber to decide on their perfect blend. A process that wasn't rushed — likely enjoyed over more lengthy dinners together — in order to prove that the best things come to those who wait.
They were determined to create a tequila that could be enjoyed straight or, at a push, on the rocks. If it burnt during the tasting process, it was immediately disregarded. It helped that both Clooney and Gerber were living in Mexico at the time; home to the world's best tequila and the location, deep in the Jalisco highlands, of its 100% Blue Weber Agaves.
Over the course of two years, Clooney and Gerber accidentally created something not just loved by them, but also loved on a much wider scale. Of course, bottles were gifted to and purchased by friends and family, but word quickly spread and bottles of Casamigos started selling by the hundreds.
And what happens when your brand accidentally takes off, and you're ordering more tequila than is technically — legally — allowed? You take it public with an alcohol license. With the help of third co-founder, property development friend Mike Meldman, the trio took Casamigos to the next level. Only four years later, the brand was sold to Diageo at a cool $1 billion dollars. Not bad for an accidental project.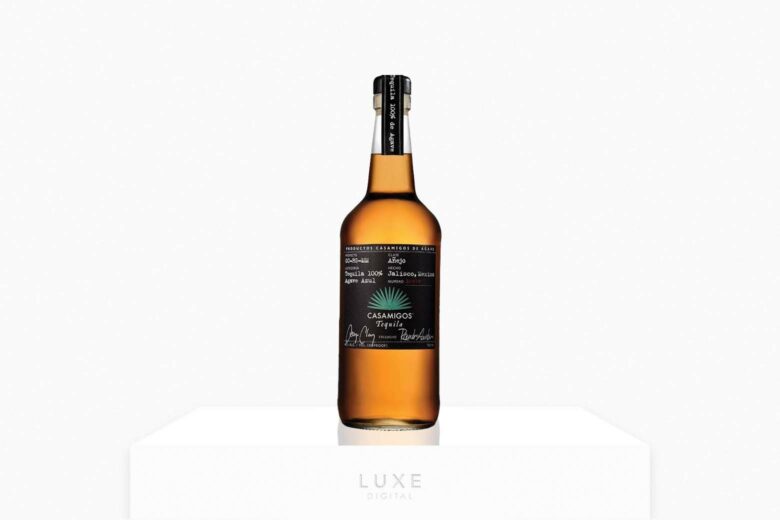 But it's easy to understand why Casamigos rose in popularity so quickly…
…when you take a quick look behind the scenes. The brand produces three different types of tequila — blanco, reposado and añejo. They're all made using only the purest Blue Agave and are aged between seven and nine years.
Each agave piña spends 72 hours in a brick oven and then a further 80 hours fermenting — more than double the industry average. All of this combined with the extensive tasting process ensured that Casamigos was destined for success.
And don't think that Casamigos just has a celebrity appeal. As well as being a firm favorite for friends of Clooney, it's also a winner of multiple awards around the world. Once you've taken a sip of Casamigos, it's definitely one that you'll request again. 
You're also safe in the knowledge that Clooney and Gerber (and their unidentified master distiller) approve of your bottle, as they personally sample each batch before it's sold, to guarantee quality control.
If it ain't broke, don't fix it…
…but you can still add to it. So, in 2018, Casamigos released its first mezcal. While unmistakably a Casamigos offering, this joven mezcal comes in a matte-black bottle rather than a glass one, and undergoes a special rubbing process to ensure you never get it mixed up with any other bottle. As you might imagine, it's also another popular choice.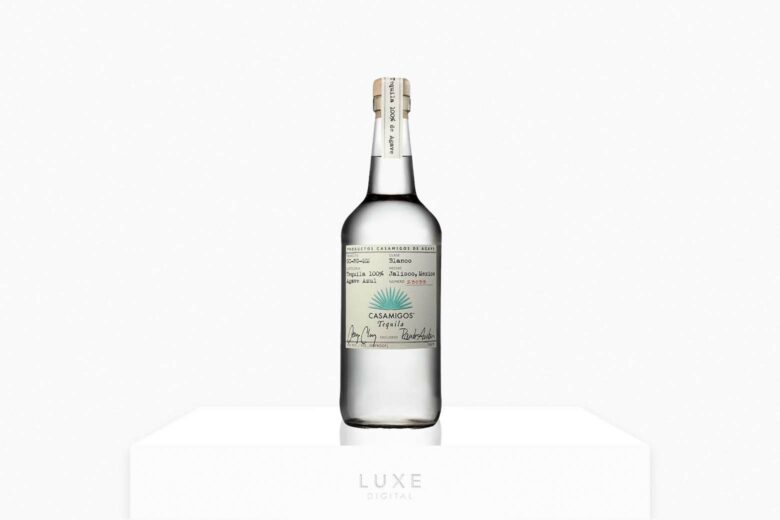 How to drink Casamigos Tequila
A premium tequila deserves to be enjoyed sip by sip, so wave goodbye to throwing it back with a squeeze of lime and a pinch of salt if you're drinking from a bottle of Casamigos. You'll also want to enjoy it properly if you don't want to lose respect from the nearest Mexican. You'll want a copita (tulip) shaped glass to enjoy your tequila.
The benefit of this shape comes from its expansive middle, which allows the aromatic compounds of the spirit to gently waft towards your nose. Failing that, you can also drink your tequila from a wine glass. If you are determined to shoot it, look for an authentically Mexican shot glass: taller, thinner and known as a "caballito" shot glass — which translates to "a little horse".
In Mexico, tequila tends to be served chilled and immediately. Elsewhere in the world, it's often served a little closer to room temperature for optimum aroma and taste benefits. If you're new to the world of tequila, you'll probably prefer it chilled for a more mild effect.
And, if you've already got limes and salt at the ready, you'll want to use them sparingly. Opt for the smaller limes, which have more intense flavors, and add salt even more sparingly. You want it to complement the tequila flavors, rather than overshadow them.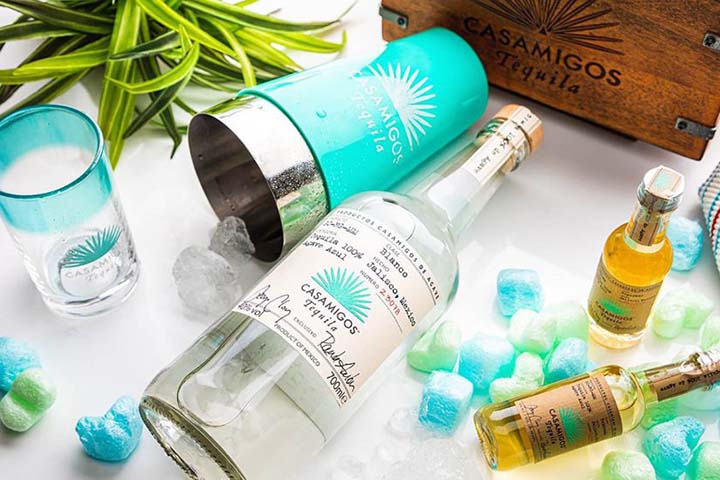 The best cocktails to make with Casamigos Tequila
Casamigos' price and delicious taste makes it a great option for shaking up a range of incredible cocktails. And Casamigos' alcohol percentage also means you won't need many of these drinks to truly understand just how delectable this spirit really is. There are various Casamigos types of tequila, and we've included some of our favorite Casamigos recipes for each below. 
Mi Casa
Ingredients:
45ml Casamigos Blanco Tequila
30ml Fresh Lime Juice
10ml Fresh Orange Juice
15ml Agave Nectar
Orange Wedge (for garnishing)
One of George Clooney's favorite cocktails — and named accordingly — you can craft a Mi Casa by shaking all ingredients together with ice, before straining and serving on the rocks in an Old Fashioned glass. Garnish with an orange wedge before serving.
Paloma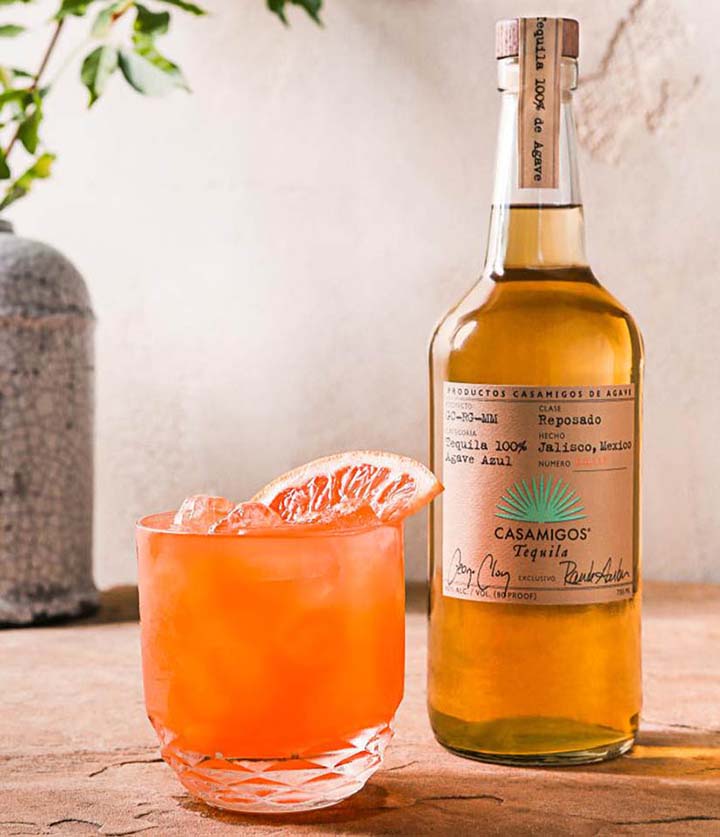 Ingredients:
45ml Casamigos Reposado Tequila
30ml Fresh Grapefruit Juice
25ml Fresh Lime Juice
15ml Agave Nectar
250ml Grapefruit Soda
Half-moon Grapefruit Slice (for garnishing)
Little is known about the historical origin of the Paloma but what we can confirm is that it's delicious, especially when served using Casamigos Tequila. Make one by combining all ingredients, except for the grapefruit soda, into a shaker before adding ice and shaking vigorously. Strain into Collins glass, add more ice, top with the grapefruit soda and garnish.
Añejo Old Fashioned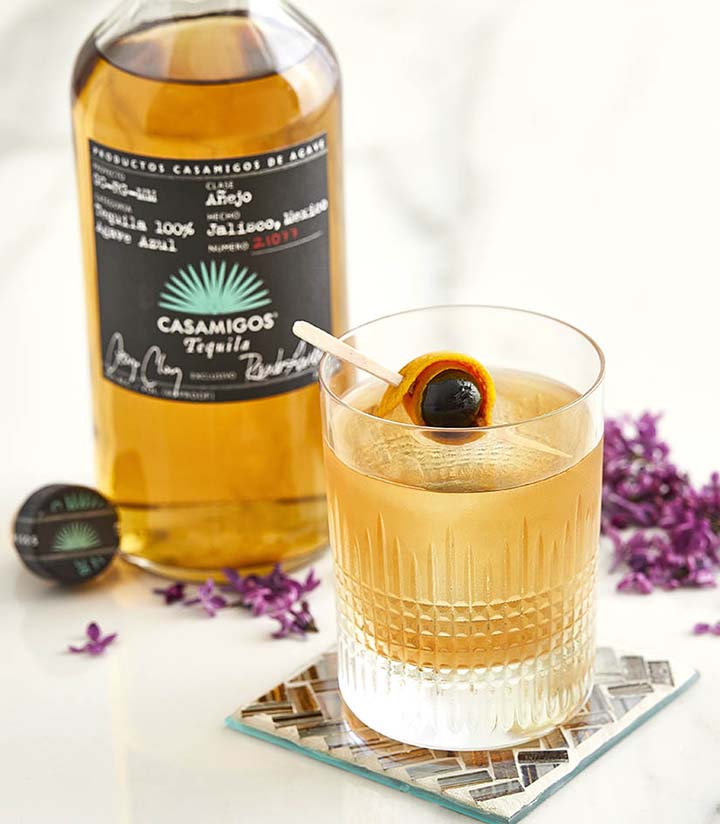 Ingredients:
90ml Casamigos Añejo Tequila
10ml Agave Nectar
One Dash Angostura Bitters
Orange Peel
One Brandied Cherry (for garnishing)
The only time you should ever really use Añejo tequila in a cocktail is in an Old Fashioned, so you can properly enjoy this rich tequila's qualities. Luckily, this variation lets them shine through with a few subtle additions. Make it by lightly muddling the agave nectar, bitters and orange peel in a mixing glass, before filling with ice and stirring until chilled. Strain into an Old Fashioned glass over more fresh ice and garnish with the cherry.
Frequently asked questions about Casamigos Tequila
Is Casamigos tequila expensive?
Casamigos tequila was designed to be delicious yet accessibly priced. A bottle of Blanco Casamigos starts from $49.99, while a bottle of Añejo starts from $59.99.
How much is Casamigos on the rocks?
A Casamigos on the rocks generally costs between $12 – $20, depending on where you're drinking it. As a budget-friendly tequila, it's a great option for drinking at a bar.
What alcohol is Casamigos?
Casamigos is a tequila brand, sold under the Diageo parent company, which also produces Don Julio.