Blancpain is a luxury watch brand that does nothing by half measures. It's the oldest Swiss watch company in the world. It makes some of the most complicated and innovative men's timepieces on the market. It's the name behind the first modern dive watch.
And it has never ever made a quartz watch.
At a glance
| | |
| --- | --- |
| | |
| Industry: Watches | Founded: 1735 |
| Headquarters: Switzerland | Founder: Jehan-Jacques Blancpain |
| Watch Collections: dive watches, pilot watches, dress watches, women's watches, and bespoke timepieces | Parent organization: The Swatch Group |
| Annual Revenue: $238 million USD | Website: blancpain.com |
Blancpain watches price
How much does a Blancpain watch cost?
Blancpain watches' price varies depending on the model, but a Blancpain Villeret dress watch costs around $9,000. You can also get a Blancpain Fifty Fathoms dive watch for between $8,000 and $30,000 or a Blancpain Air Command for between $17,000 and $30,000. The average price for a Blancpain watch is $12,000.
What is the most expensive Blancpain watch?
The most expensive Blancpain watch ever made is the Blancpain Specialities Tourbillon Diamonds Watch. This timepiece retails for a staggering $1,342,700 and features 20 carats worth of diamonds, a flying tourbillon, and a case made of white gold. The watch's power reserve also lasts an extremely impressive 168 hours.
What is the cheapest Blancpain watch?
The cheapest Blancpain watch is a Villeret. This elegant dress watch retails for around $10,000, but you could pick up a vintage model for less than that. Despite the lower price point, it's a very stylish and highly functional watch that will win you major fashion credentials.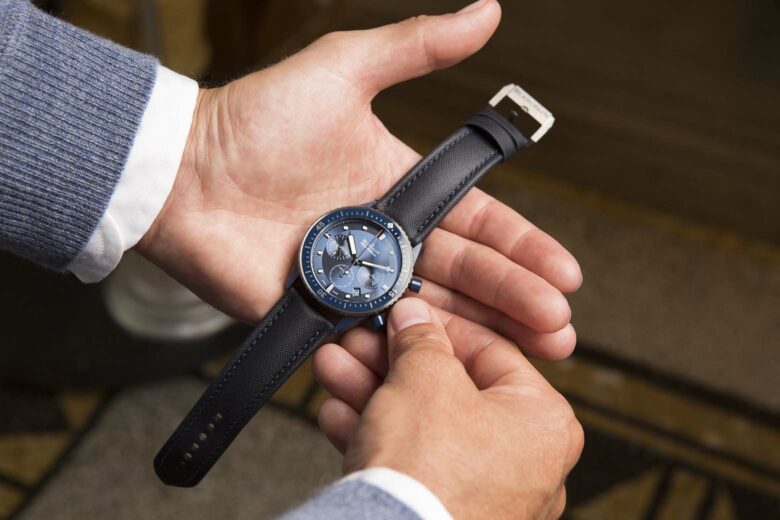 About the brand
History of the brand
Blancpain was founded in 1735 by Jehan-Jacques Blancpain in his home of Villeret, Switzerland. This makes Blancpain one of the world's oldest watch manufacturers.
After the French invasion of Switzerland and the Napoleonic wars from 1803 to 1815, the company's productivity fell with many of the young men in the area leaving to join the army.
But following the war, and under the helm of Frédéric-Louis Blancpain, the company began to grow again thanks to the introduction of industrial machinery. It was also Frédéric-Louis who developed the ultra-slim movements that are considered part of the brand's quintessential style today.
The business continued to grow, modernize, and innovate in the years that followed and the company remained in family hands. However, in 1932, ownership passed to Betty Fiechter and André Léal, both whom worked at the company.
There followed a downturn in company fortunes during the 1970s due to the boom in quartz watches. But in 1983, after being sold to Jacques Piguet and Jean-Claude Biver, Blancpain entered a new period of innovation, gaining attention for its ultra-thin and highly complex watches.
In 1992, SMH, aka Swatch, bought Blancpain, which continues to be one of the most exclusive and prestigious watch brands in the world today.
Interesting facts about Blancpain
Founder Jehan-Jacques Blancpain had many strings to his bow. As well as working as a watchmaker, he also had stints as a horse and cattle breeder, schoolteacher, and as the mayor of Villeret.
In 1932, when Betty Fiechter took over ownership, she became the first-ever woman to be CEO of a top watchmaking company.
For a while, Blancpain went under the brand name Rayville as the law at the time dictated that the absence of family involvement meant it could no longer be called Blancpain.
Blancpain Ocean Commitment is a sustainability initiative dedicated to preserving our oceans, as well as raising awareness about the forces endangering these precious ecosystems.
The correct Blancpain pronunciation? The French pronunciation is Blah(n) peuh(n) [blãpɛ̃].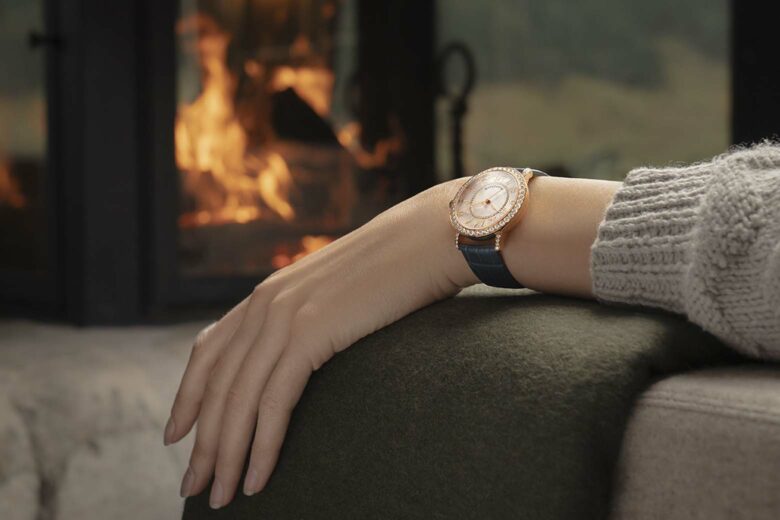 Product range
Blancpain has a number of different watch collections, each pushing the boundary when it comes to technology and design.
There's the Fifty Fathoms dive watch, the first ever modern dive watch; the Air Command aviation watch; the Villeret dress watch; and the Ladybird, a women's watch that combines the brand's signature complexity with classic feminine elegance.
Blancpain's most famous and most complicated watch is also considered one of the most complex mechanical watches ever. The Blancpain Grande Complication 1735, the brand's chef d'oeuvre, is the result of 6 years of research and features 740 hand-finished parts, a perpetual calendar, split seconds chronograph, minute repeater, and a tourbillon.
Signature materials and craftsmanship
Blancpain is known for its commitment to the traditions of haute horlogerie and invests an incredible amount of time and resources into creating watches of the highest standard.
A Blancpain watch is hand-made, hand-decorated, and hand-checked by highly skilled craftsmen. This means each one is unique. These master watchmakers have custom-designed tools created to suit their specific needs, such as a machine especially made to do the Geneva stripes.
The company's guiding principle is "Innovation is our tradition" and this is evident in every aspect of the manufacturing process. These days, for example, balance springs are made from silicon, titanium is used for the balance wheels, ceramic for cases, and their trademarked Liquidmetal™ is used for certain markings and depth gauges on divers watches.
Blancpain is constantly pushing the limits of what's possible in watchmaking. Between 2006 and 2018, in just 12 years, they launched more than 43 different calibers and movements, including a Calendrier Chinois Traditionnel, the first ever wristwatch to feature a traditional Chinese calendar, and a Tourbillon Volant Une Minute Automatique with a power reserve of no less than 12 days.
The brand's horlogerie prowess isn't just used to create highly technical watches either. Ornamentation of these exceptional timepieces is just as important, from intricate engravings on dials to miniature enamel portraits. Blancpain craftsmen are always learning new techniques, such as Japanese shakudō (a unique metal) and binchōtan (high-quality white charcoal).
Where is Blancpain made?
Blancpain watches are currently made in the famous horlogerie heartland of the Vallée de Joux in Switzerland. The company has workshops in both Le Brassus and Le Sentier, only a couple of hours from Villeret where the company was originally founded.
Brand values
| | |
| --- | --- |
| Vegan options: | No |
| Carbon-neutral: | No |
| Gives back: | Yes |
Blancpain Fifty Fathoms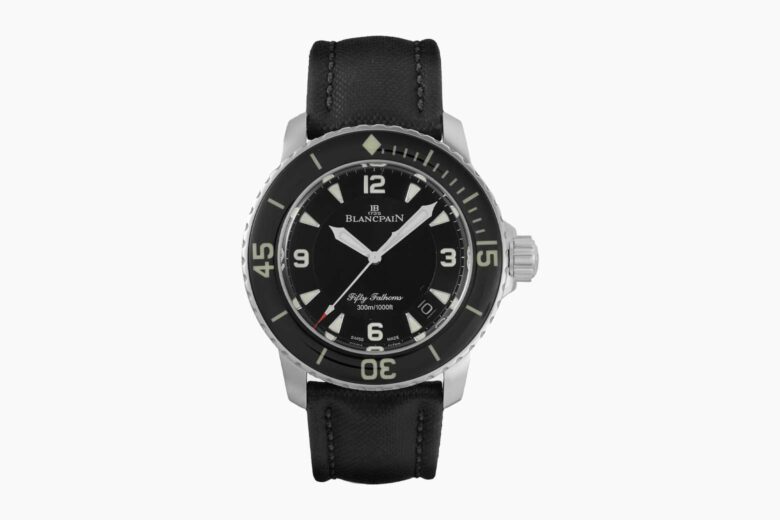 One of the watches that earned Blancpain its reputation as an industry leader, the Blancpain Fifty Fathoms was released in 1953. With a water resistance rating of 300 meters, it's a legendary dive watch that is now available in several variations, including the Blancpain Bathyscaphe, a sleek contemporary update on the original.
| | |
| --- | --- |
| Price: | $8,400 – $30,000 |
| First release year: | 1953 |
| Current case size: | 43 – 45 mm |
| Movement: | Automatic |
| Water resistance: | 300 meters |
| Crystal: | Sapphire |
| Type of watch | Dive watch |
Blancpain Villeret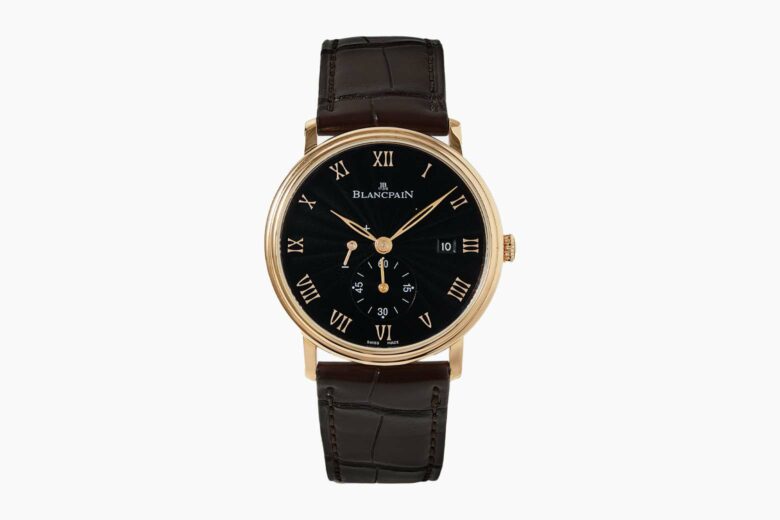 Named after the village where the company was founded, the Blancpain Villeret is a traditional dress watch that offers unpretentious elegance for the discerning watch wearer. Its distinguishing features include a large dial, slim case, and sleek lines—a vision of timeless style. It's available with a large range of complications and in different sizes and materials.
| | |
| --- | --- |
| Price: | $9,600 – $57,000 |
| First release year: | 1983 |
| Current case size: | 29.2 – 42 mm |
| Movement: | Automatic |
| Water resistance: | 30 meters |
| Crystal: | Sapphire |
| Type of watch | Dress watch |
Blancpain Air Command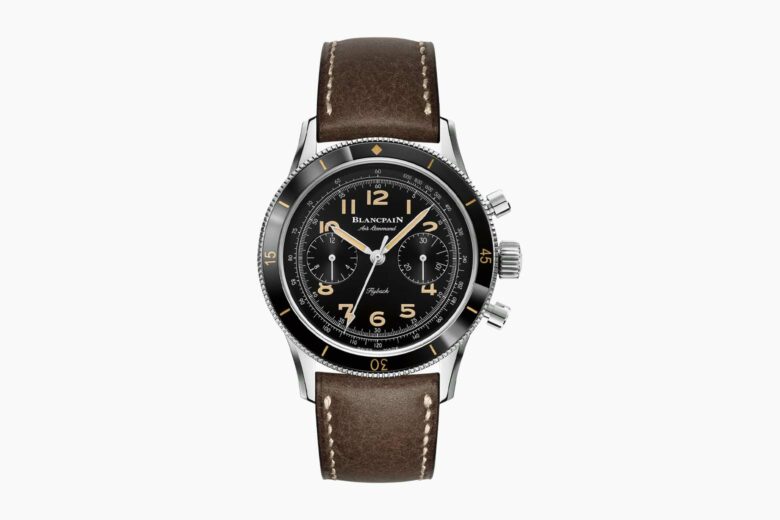 The Blancpain Air Command Chronograph first appeared on the scene in the late 1950s but was re-released in 2019 to the joy of watch aficionados around the world. The new Air Command is fairly faithful to the original but with a new modernized movement and a propellor rotor that can be enjoyed through the exhibition case back.
| | |
| --- | --- |
| Price: | $17,400 – $30,000 |
| First release year: | 1950s |
| Current case size: | 36.2 – 42.5 mm |
| Movement: | Automatic |
| Water resistance: | 30 meters |
| Crystal: | Sapphire |
| Type of watch | Pilot watch |
Where to buy Blancpain watches
The Blancpain website features a list of points of sale where you can buy a Blancpain timepiece in person to be sure of its authenticity. If you want to buy online, then reliable websites to buy Blancpain watches include FARFETCH and Mr Porter, where the authenticity of designer items are guaranteed; Fashionphile, a trusted source for vintage designer accessories; or Jomashop, a leading online marketplace for pre-owned designer watches. 
Blancpain shipping
Blancpain has stores across the world. But if you want to buy online, the best place to do so is via a trusted online marketplace such as Jomashop, FARFETCH, or Mr Porter. Jomashop has a set international delivery fee of $150, not including custom duties, taxes, and other charges, while FARFETCH charges different rates depending on the country. Mr Porter offers various delivery options, ranked by sustainability. 
Blancpain return policy
Returns to online marketplaces such as FARFETCH or Jomashop are simple and stress-free. For timepieces bought via Jomashop, there is a 'no questions asked' 3-day refund policy as long as it's returned in the same condition it was bought. FARFETCH accepts returns within 14 days for a full refund and Mr Porter allows returns within 28 days.
Blancpain customer service number
New York: +1 212-396-1735
For other customer service contact details, see here.
Blancpain social media profiles
Frequently asked questions about Blancpain watches
Is Blancpain a good brand?
Blancpain is definitely considered a good brand. In fact, it's one of the most celebrated luxury watch manufacturers in the world, having created some of the most complex timepieces ever. Learn more about Blancpain with our in-depth guide.
What is Blancpain famous for?
Blancpain is famous for creating incredibly complicated watches like the Blancpain Grande Complication 1735, which features complications such as a perpetual calendar, split seconds chronograph, minute repeater, and tourbillon.
Why is it called Blancpain?
It is called Blancpain after its founder Jehan-Jacques Blancpain who started the company in 1735. It was briefly also known as Rayville due to a change of ownership. Read our story about Blancpain to discover more about the history of this Swiss watch manufacturer.
Are Blancpain watches any good?
Blancpain watches are incredibly good watches. Not only are they highly technical, featuring a number of intricate complications, but they are also very elegant, especially the dress watches with their ultra-slim cases and sleek lines.