Beyond the flawless design and impressive performance, Alfa Romeo cars offer an experience that can only come from a rich legacy of automotive excellence. One where Italian craftsmanship fuses with driving passion.
Getting behind the wheel of Alfa Romeo cars lets the race-infused DNA flow through your blood. It burns into your memory and brings you into an exclusive group of high-performance driving.
At a glance
| | |
| --- | --- |
| | |
| Name: Alfa Romeo | Industry: Automotive |
| Founded: 1910 | Founders: Ugo Stella and Nicola Romeo |
| Headquarters: Italy | Parent organization: Stellantis N.V. |
| Revenue: ~$2.7 billion USD (est.) | Website: alfaromeo.com |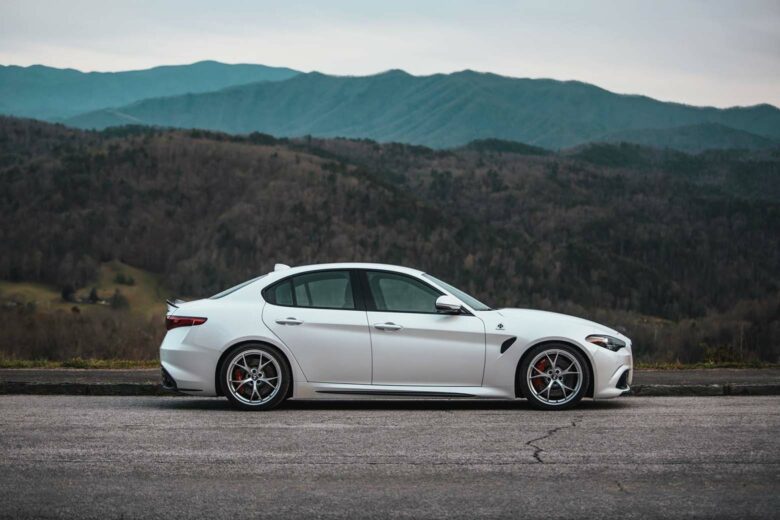 Alfa Romeo price
How much does an Alfa Romeo cost?
Considering their style and driver-focused performance, Alfa Romeo car prices are more reasonable than you might think. The starting Alfa Romeo price is $42,995, which gets you into the Alfa Tonale compact SUV with a hybrid drivetrain.
The Alfa Romeo Giulia price starts at $44,280, worth every penny for the exquisite sedan that combines an amazing driving experience on a stylish platform. If you prefer an Alfa Romeo SUV, the Alfa Romeo Stelvio price starts at $46,575.
What is the most expensive Alfa Romeo?
If you want the best, step up to the Quadrifoglio variants of Alfa Romeo cars. These feature exclusive design elements and the highest-performance drivetrains out of the lineup.
The most expensive new Alfa Romeo for sale is the Alfa Romeo Stelvio Quadrifoglio, priced at $88,170. It is reportedly the fastest Nurburgring lap time out of any SUV available in the US. 
The Alfa Romeo Giulia Quadrifoglio price starts at $81,960. It offers a powerful V-6 engine and 0 to 60 mph acceleration in well under four seconds.
But a past model takes the cake as the most expensive Alfa Romeo car. The Alfa Romeo 8C price was a sky-high $301,600, getting you into a two-seat supercar with a V-8 engine
How much is the cheapest Alfa Romeo?
The most affordable Alfa Romeo is the Alfa Tonale compact SUV. It still brings out the best in Italian style on a hybrid platform that fuses fuel efficiency with superb handling.
The Alfa Giulia is the next cheapest Alfa Romeo car price, starting at a very reasonable $44,280 for the stylish compact executive sedan. And the Alfa SUV Stelvio is in the same ballpark, starting at just $46,575.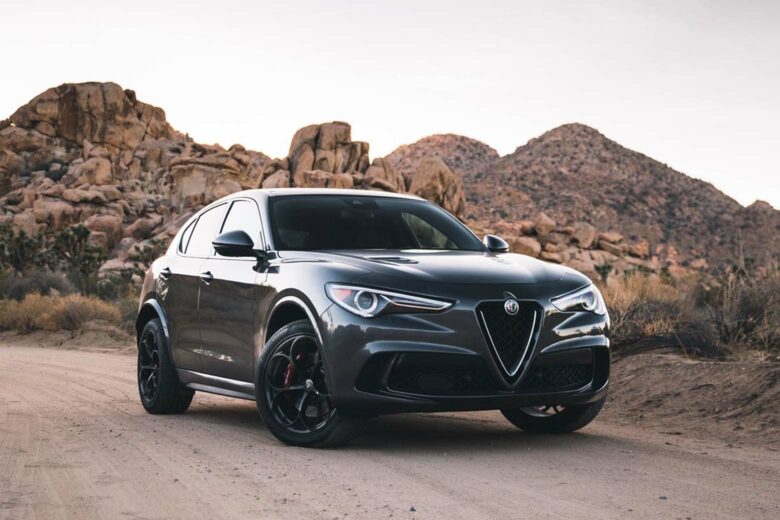 About Alfa Romeo
History of Alfa Romeo
In 1910, Ugo Stella purchased the distressed automaker Società Anonima Italiana Darracq (SAID) and opened the doors to a new company called Anonima Lombarda Fabbrica Automobili, or ALFA.
The first ALFA car was the 1910 24 HP with a four-cylinder engine and a stylish design. Then, in 1914, the ALFA GP1914 was created to compete in Grand Prix racing.
As World War I came to be, entrepreneur Nicola Romeo stepped in and converted the ALFA production toward military hardware. Then, by 1920, it switched back to car production under the new name Alfa Romeo, and the first car to hold the Alfa Romeo logo was the Torpedo 20/30HP. 
Alfa Romeo cars quickly gained a reputation for motorsports excellence, winning the Grand Prix World Championship in 1925. After World War II, Alfa continued its racing dominance, with Alfa Romeo F1 drivers taking the championship in 1950 and 1951.
The luxury brand continued delivering incredible production models alongside the motorsports endeavors, including the 1958 Alfa Romeo 2000. In the 1980s, Alfa Romeo was purchased by Fiat. Alfa has stayed with the ownership group, now transformed into the multinational conglomerate Stellantis.
Although Alfa sales decreased since the beginning of the 21st century, the brand is staged to make a comeback and is seeing some resurgence in sales figures. It continues to bring well-designed vehicles with exceptional driving experience to the table. Alfa Romeo is even capable of appearing in our yearly ranking of the most popular luxury car brands online from time to time.
Understanding Alfa Romeo's car range
The lineup of Alfa Romeo cars features one compact executive sedan, the Giulia, and two SUVs. The larger SUV is the Alfa Romeo Stelvio, while the Tonale is the brand's compact SUV offering.
The Giulia and Stelvio have a Quadrifoglio trim level, which is the brand's premium offering. These feature more powerful drivetrains as well as exclusive design elements.
The model names have differing origins, with the Giulia being an Alfa model name used throughout its history and translates to youthful. The Alfa SUV names for the Stelvio and Tonale take their names after high mountain passes in Italy, both offering some of the most dramatic landscapes and driving experiences in the world.
Interesting facts about Alfa Romeo
Enzo Ferrari, founder of Ferrari cars, started as part of Alfa Romeo's racing team. He started as an Alfa racing driver, then transitioned to help manage and develop the Alfa Romeo race cars before going off independently.
Another interesting fact about Alfa Romeo is that even though it is an Italian brand, its roots can be traced back to France. The distressed SAID automotive group that served as the Alfa foundations was originally under French ownership.
Where are Alfa Romeo cars made?
Alfa Romeo is an Italian brand headquartered in Turin, Piedmont, Italy. The luxury automaker has multiple production facilities in Italy, including Milan and Frosinone. Although there once was an Alfa Romeo production facility in Brazil, it closed in 1986.
Alfa Romeo electric cars
The only part-electric Alfa Romeo for sale currently is the compact SUV Tonale. It features a hybrid drivetrain that's fuel-efficient yet powerful.
But the Italian brand has released plans for electrification of its fleet, intending to produce exclusively electric Alfa Romeo cars by 2027. The first Alfa Romeo electric car will likely be released in 2025, with a larger Alfa electric SUV coming in 2027 to compete with Tesla and Rivian.
Alfa Romeo models
Let's dive into the details of today's and past Alfa Romeo cars. 
Alfa Romeo Giulia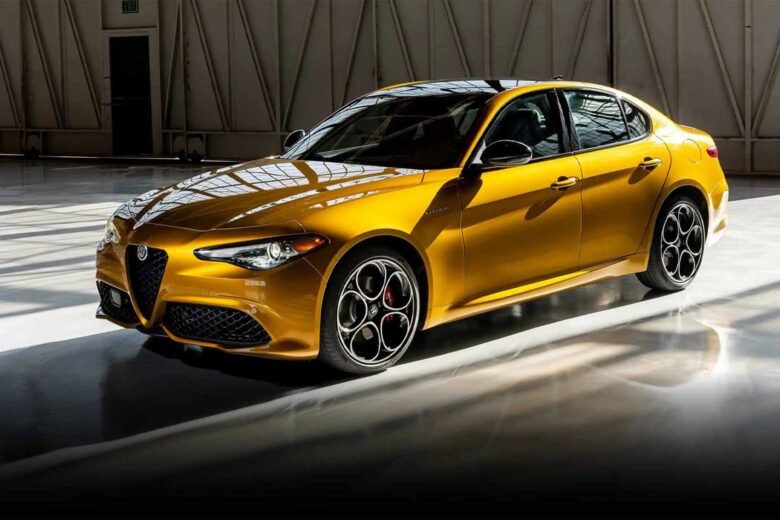 Fluid lines and graceful proportions grab your eye, but the driver-focused experience puts Alfa Romeo's expertise at the forefront. The Alfa Romeo Giulia has no trouble standing out in a class full of competitors like the Volvo S60, Mercedes-Benz C-Class, and Genesis G70.
The unique Q4 all-wheel drive system allows you to select between AWD capability and rear-wheel drive fun at the flick of a switch. The Alfa Giulia's advanced driver assistance features include lane keep assist and emergency braking assistance.
For a more aggressive look and increased performance, the Alfa Romeo Giulia Quadrifglio incorporates carbon-fiber accents with a 505-horsepower V-6. It's prepared to take on the BMW M3 and Audi S4.
The similarly-named Alfa Romeo Giulietta is a separate 5-door hatchback model not offered in North America.
| | |
| --- | --- |
| Price: | Starting at $44,280 |
| Release year: | 2016 |
| Engine: | 2.9L twin-turbo V-6, 2.0L turbo inline-4 |
| Top speed: | 191 mph – 307 km/h |
| 0-60 mph: | 3.8 to 5.1 sec |
| Power: | 505 to 280 hp |
| Torque: | 443 to 306 lb-ft |
Alfa Romeo Stelvio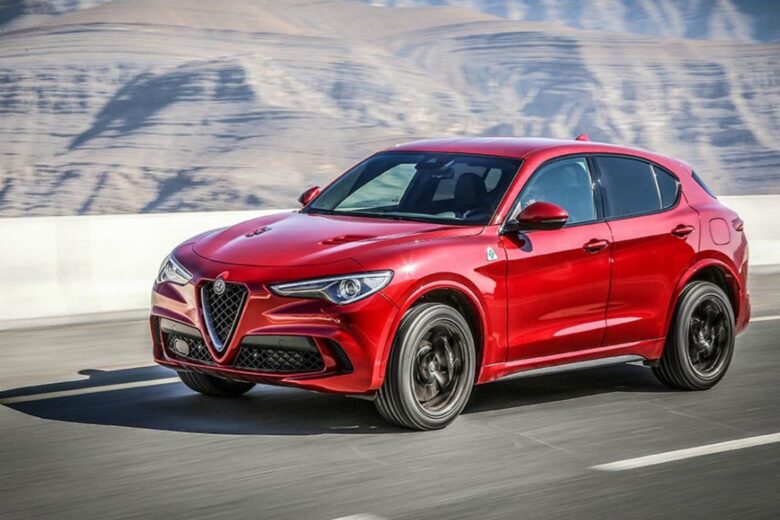 Whenever the Alfa Romeo logo is present, you can be certain that stylish lines and exceptional performance follow. The spirited Alfa Romeo Stelvio is no different, giving it a lot of promise against our premium lineup of the best luxury SUVs from top brands like Lamborghini, Rivian, and Land Rover.
Featuring bold lines, this Alfa Romeo SUV brings out the best in Italian styling while keeping the adrenaline-focused experience front and center. Adaptive damping and independent suspension provide a smooth ride, while the tech-infused interior leaves nothing to want.
Other carmakers talk about performance, but the Alfa Stelvio backs it up. While the top speed is no match for the fastest cars in the world, the Alfa Romeo Stelvio Quadrifoglio does take the title for the fastest SUV in the US based on its incredible Nurburgring lap time.
| | |
| --- | --- |
| Price: | Starting at $46,575 |
| Release year: | 2017 |
| Engine: | 2.9L twin-turbo V-6, 2.0L turbo inline-4 |
| Top speed: | 176 mph – 283 km/h |
| 0-60 mph: | 3.6 to 5.4 sec |
| Power: | 505 to 280 hp |
| Torque: | 443 to 306 lb-ft |
Alfa Romeo Tonale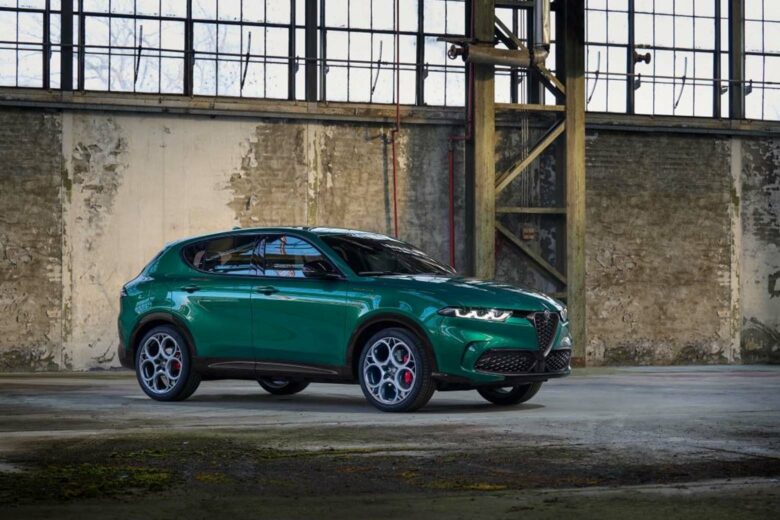 Compact SUVs are taking the helm as one of the most popular segments in the automotive industry. And the Alfa Romeo Tonale provides a stellar example of what makes it so attractive.
This fuel-efficient hybrid model retains the incredible Alfa driving experience and stylish exterior but in a more affordable platform that's still packed to the brim with luxurious amenities.
Stacked up against competitors like the Lexus UX and Tesla Model Y, the Tonal stands tall, just like its namesake Italian mountain pass.
| | |
| --- | --- |
| Price: | Starting at $42,995 |
| Release year: | 2023 |
| Engine: | 2.0L turbo inline-4, 1.3L turbo inline-4 plug-in hybrid |
| Top speed: | 130 mph – 209 km/h |
| 0-60 mph: | 6.0 sec |
| Power: | 285 hp |
| Torque: | 350 lb-ft |
| Range: | 30 miles – 48 km (electric only) |
Alfa Romeo 8C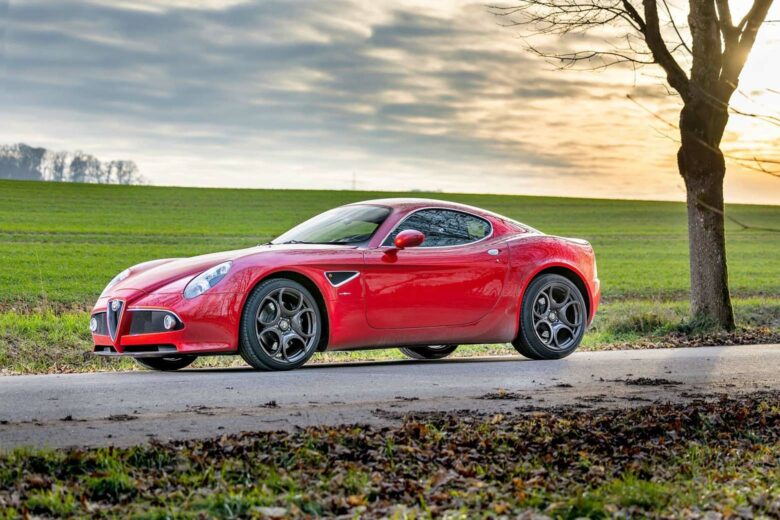 After stepping away from the US market in the mid-1990s, the Alfa Romeo 8C triumphantly returned in 2007.
Although it doesn't reach the level of the most expensive cars in the world, it's still a deep-pockets-only model that jumps to Rolls-Royce, Bentley, and McLaren prices.
A Ferrari-based 4.7L V-8 is the heart of this two-seater Alfa Romeo sports car, singing out loudly as it steals the center stage with its gorgeous good looks. The automated manual transmission gives the driver exceptional control and lightning-fast shifts.
| | |
| --- | --- |
| Price: | Starting at $301,600 |
| Release year: | 2007 |
| Engine: | 4.7L V-8 |
| Top speed: | 181 mph – 291 km/h |
| 0-60 mph: | 4.2 sec |
| Power: | 444 hp |
| Torque: | 354 lb-ft |
Alfa Romeo 4C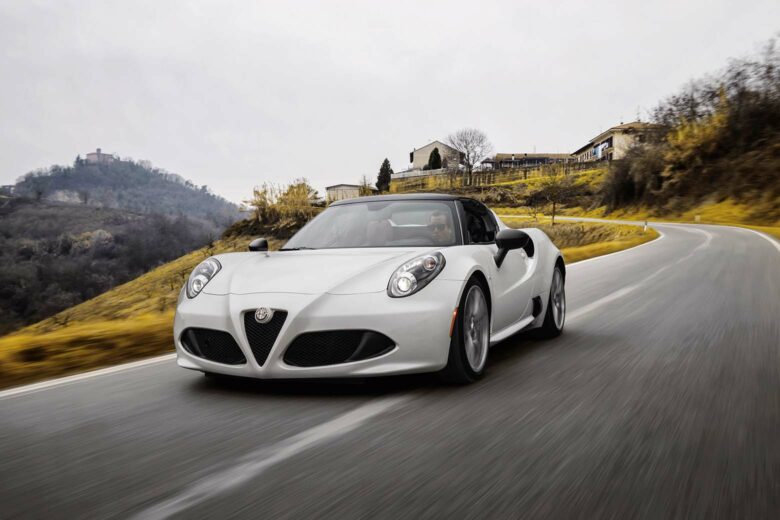 While the 8C returned to the US, the Alfa Romeo 4C was the first mass-produced model since 1995. It offers a vintage feel like the best classic cars on a nimble, aggressive platform similar to that of Porsche and Lotus Cars.
Although electric cars and electric motorcycles are pushing performance above and beyond, the Alfa Romeo 4C lets you enjoy gasoline-based performance. You can get the Alfa Romeo Spider roofless variant to let the wind rush through your hair.
The interior is kept to a minimum, and if you're looking for cargo space, you're better off going for a Cadillac or Jaguar instead. But if you want a sporty drive with the looks to go with it, the Alfa 4C is a great choice.
| | |
| --- | --- |
| Price: | Starting at $68,745 |
| Release year: | 2014 |
| Engine: | 1.75L turbo inline-4 |
| Top speed: | 160 mph – 258 km/h |
| 0-60 mph: | 4.2 sec |
| Power: | 237 hp |
| Torque: | 258 lb-ft |
Alfa Romeo customer service number
To speak with a knowledgeable staff member, call the Alfa Romeo customer service number at 1-844-253-2872 or visit the Alfa Romeo Contact Us page for other options.
Alfa Romeo social media profiles
Stay up to date with the latest news and events by following the official Alfa Romeo social media profiles:
Frequently asked questions about Alfa Romeo
Is Alfa Romeo considered a luxury car?
Alfa Romeo is considered a luxury car because it infuses luxurious amenities on a high-performance platform. Every model has a stylish exterior, a technology-packed interior, and a driving experience to compete with the best.
What does an Alfa Romeo cost?
A new Alfa Romeo costs around $45,000. The compact SUV Alfa Romeo Tonale is the most affordable price, starting at $42,995. The sports sedan Alfa Romeo Giulia price starts at $44,280, while the crossover SUV Alfa Romeo Stelvio price starts at $46,575. See our Alfa Romeo models and prices guide to learn more.
Who makes the Alfa Romeo?
Alfa Romeo is made by Stallantis, a multinational corporation formed by merging Fiat Chrysler and PSA Group. Alfa is a wholly-owned subsidiary with headquarters in Italy, and the brand sticks close to its roots by producing its models in Italy.
Are Alfa Romeo reliable cars?
Customer feedback shows Alfa Romeo are reliable cars, but some reports aren't so positive. The luxury brand offers an incredible warranty and outranks many in dependability surveys. Yet Alfa's reputation, especially from older cars, struggles to provide confidence.