Many of us have been daydreaming of simple things like wide-open skies and the great outdoors, seeking to reconnect with nature after extended periods indoors.
These days, there is perhaps no greater luxury than being wrapped in soul-stirring natural beauty, waking up to the soothing sounds of birds, smelling the intoxicating scent of pine, witnessing the morning sunlight beaming through the towering trees and soaking in the fresh mountain air.
As travelling slowly resumes after an unprecedented parenthesis, travellers are looking for more secluded nature getaways and isolated slices of heaven for maximum privacy and safety.
The nature (pun intended) of luxury travel is changing.
And people will be branching out — literally.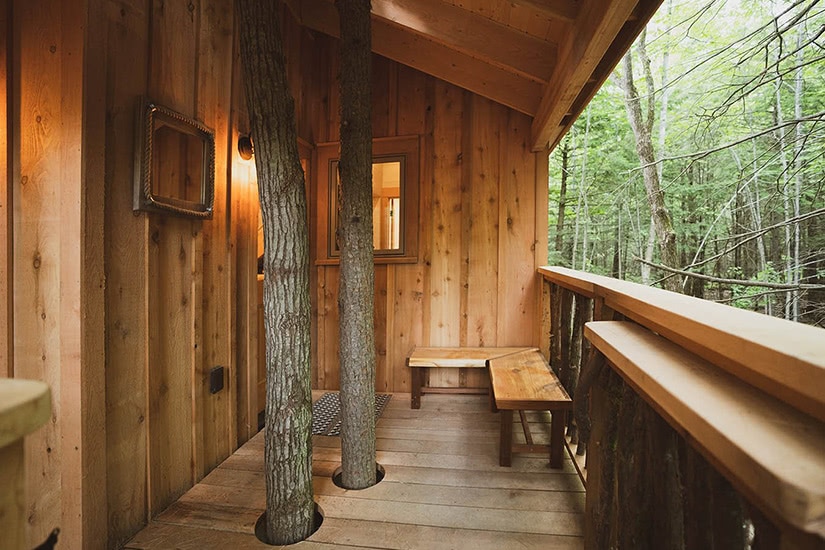 If you have ever dreamed about reaching the Faraway Tree and wished you could secretly escape into your childhood fantasy world, this is for you.
There are idyllic, tree-perched abodes out there available to rent for bucolic vacations. They offer a grown-up, modern (and slightly nostalgic) take on childhood dreams. Think elevated views over the canopy of majestic trees and a marvellous backdrop of untouched nature, all while enjoying premium interiors and modern facilities.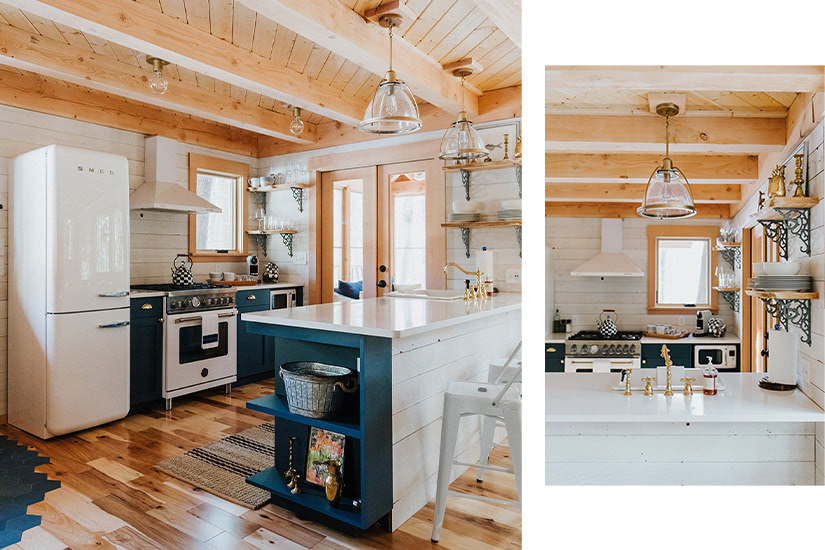 Private, secluded, and effortlessly livable. If there is a place that ticks all the right boxes, It's The Woods Maine.
Ideally located in Norway, Maine, The Woods Maine offers an authentic treehouse experience, with the comforts and warmth of a British countryside home and the luxuries of a chic guesthouse.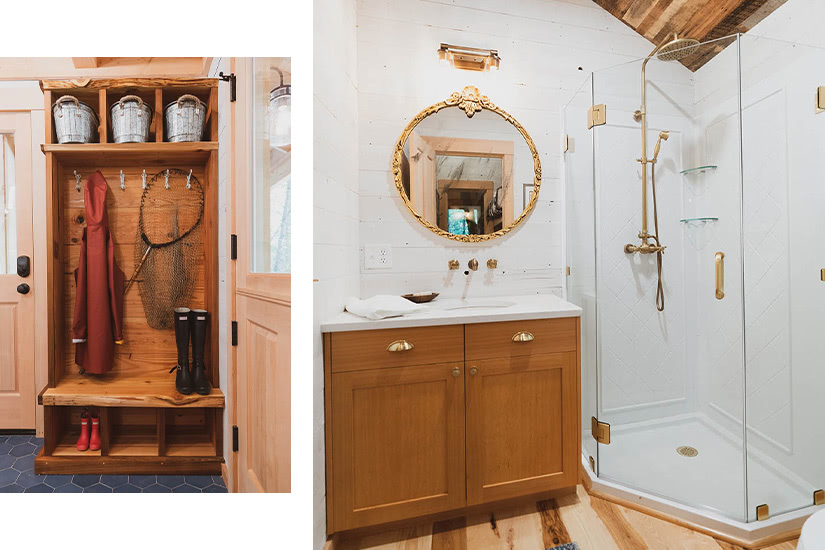 Nature getaway, elevated
Sitting 15 feet above the forest floor, The Woods Maine is elevating treetop living to new heights. Proving once and for all that, sleeping in the woods can be both an exciting adventure and luxurious experience.
The picture-perfect rental home and its surroundings will make you feel like you've stepped into your favourite Instagram wanderlust feed.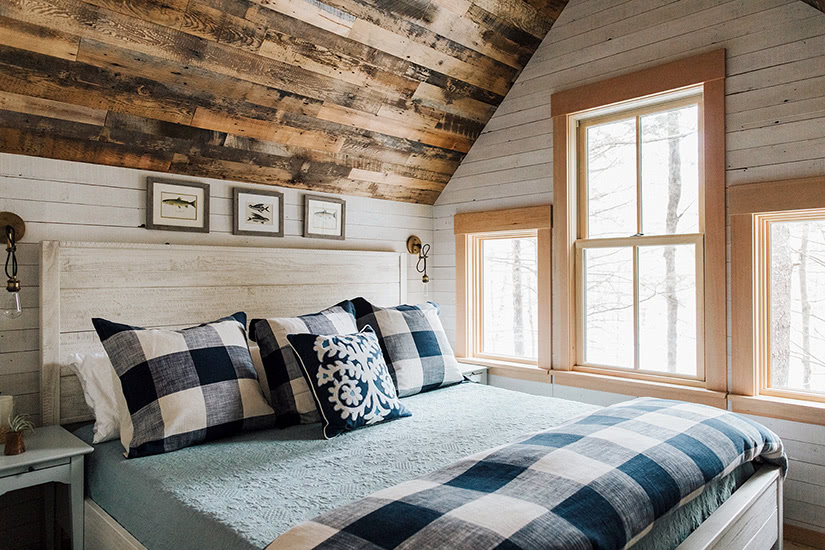 The Woods Maine was designed by world-renowned treehouse builder Pete Nelson, built by Nelson Treehouse & Supply, and stylishly furnished and decorated by interior designer Christina Salway. They worked together on the Treehouse Masters television show on Animal Planet.
The two-bedroom two-bathroom refuge blends quintessentially New England style with a homey atmosphere.
Whether cosying up by the gas fireplace with your favourite bourbon and book or lounging in the illuminated screened-in porch with a cup of drip coffee, prepare to get very comfortable and enveloped by the magic of this place.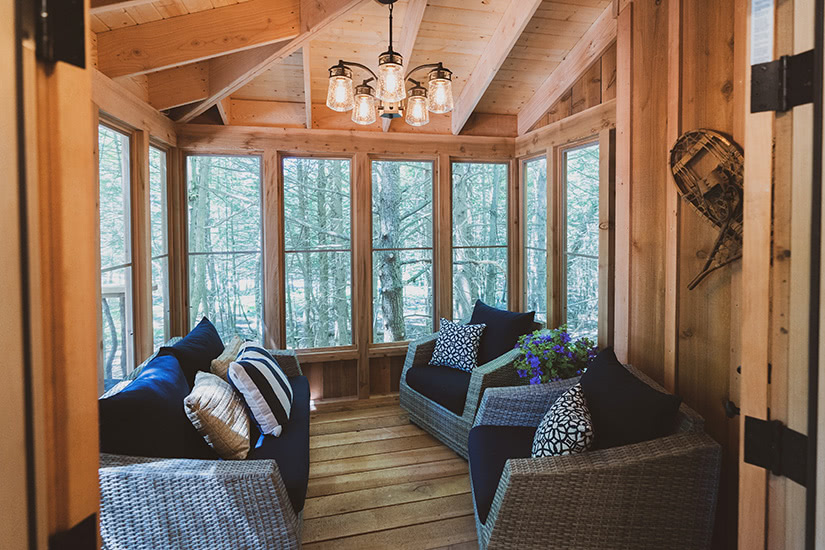 The whitewashed wood-panelled walls give rooms a bright, airy feel, while the wooden detailing and gold accents breathe rustic-refined.
The two-story treehouse invites the outside in — from the expansive window views to the fresh moss touches and the strategic cutouts that let trees grow right up through the deck.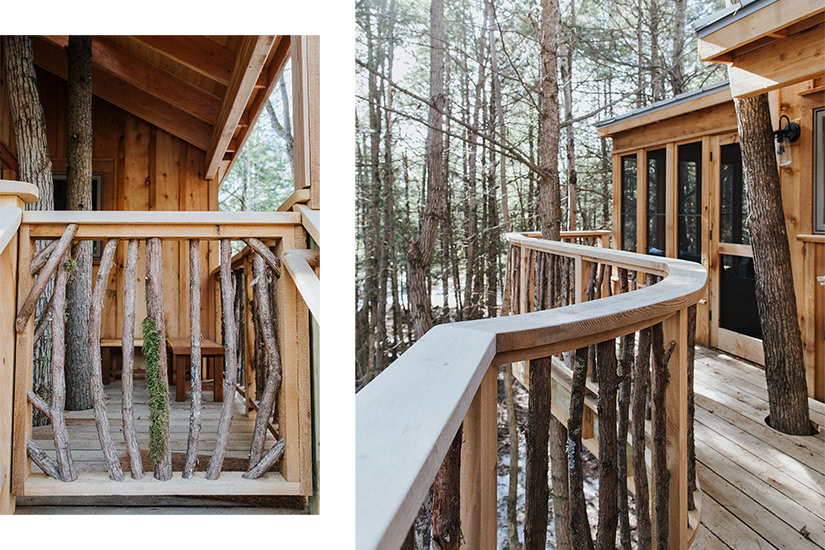 It is outfitted with cosy furnishings and modern luxuries —from plush hotel-style towels and bathrobes to snuggle-inviting plaid linens.
The full chef's kitchen is a cook's dream with retro-inspired luxury appliances and open shelving.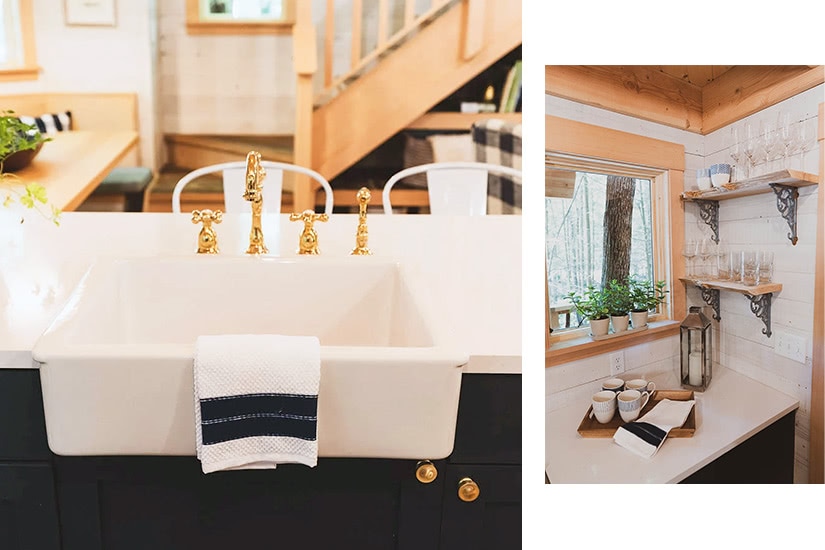 Self-catered hideaway or catered getaway, it's entirely up to you and your preferences.
The Woods Maine partners with hospitality expert Your Maine Concierge by Vanessa Santarelli to provide curated and exclusive experiences. These include Chef-cooked dining, personalised day-trip itineraries, private massages at the treehouse, or anything else you might want to experience while staying at The Woods Maine.
Crucial considering the current situation, The Woods Maine also offers a touch-less guest experience from check-in to check-out. For added safety measures, the treehouse is kept for at least 48 hours unoccupied between guests.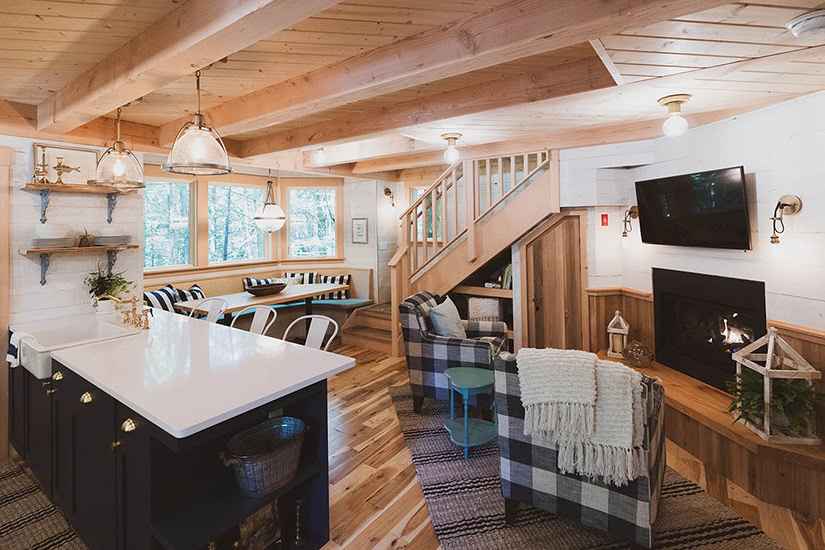 Up, up… and away
For the nature lovers among us, The Woods Maine makes a great base to explore the pristine local wilderness—Your exclusive invitation to 10 acres of fairytale-like forest and private land with 150-feet of direct access to Lake Pennesseewassee.
The Woods Maine is less than 5 minutes away from Downtown Norway with its fresh bakery, coffee shops, and convenience stores. Despite its close proximity to the town, the property feels utterly removed from it all: quiet, secluded and relaxing. When you are cocooned in your home in the trees, the natural surroundings get an otherworldly feel.
Here, time moves differently. Guests do as much or as little as they want.
With an all-year-round appeal, the treehouse is your private oasis in any season. Summer spells out lake swimming, hiking, fat biking. Winter calls for skiing (there are five different ski mountains nearby), snowshoeing, snowmobiling and more.
Hygge hideaway: Loungewear for cosy lifestyle
To complete the experience, The Woods Maine also recently launched a line of premium loungewear with a purpose. A share of all sales is given back to local businesses in their community.
An ode to the beauty of the local area, The Woods Maine apparel collection is what home-meets-escape dreams are made of. Naturally effortless. Indoors and outdoors.
You can shop the collection online.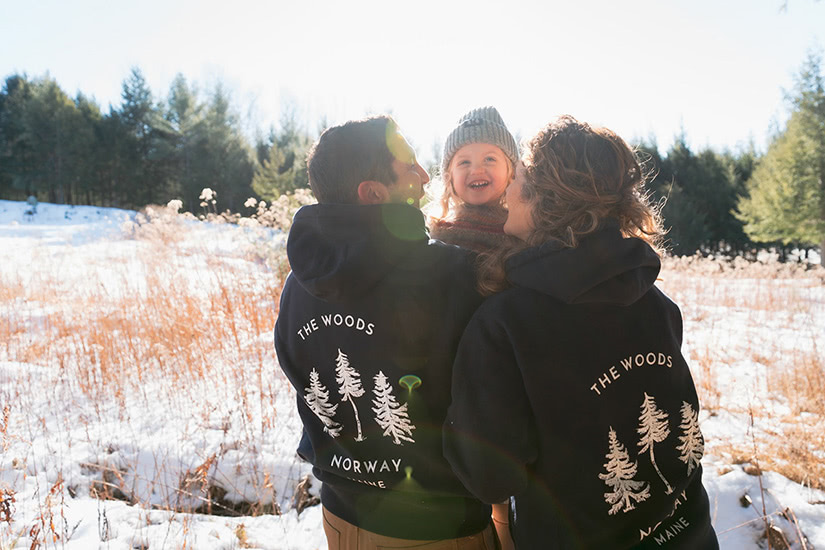 Mountains and pristine lakes on your doorstep, lush trees at your fingertips. The finest comforts at your feet. The perfect kind of place for social distancing in style if you ask us.
The Woods Maine
Website: www.thewoodsmaine.com
Reservations: (207)370-4149
Email: info@thewoodsmaine.com

Two night minimum. Up to 4 guests. The rates include access to the Gold level services of Vanessa Santarelli with Your Maine Concierge and a local welcome gift. 
Welcome gift includes a bottle of wine, local pancake mix and fixings, local Maine coffee, Nespresso.
In addition, guests will have private access to Lake Pennesseewassee and a dock in the summer (note, during the winter lake access can be affected due to snow conditions). 
 
A 9% Maine State 
Current rates for 2020:
Sunday-Wednesday Night..............$575/night
Thursday-Saturday Night................$675/night
Weekly Rate....................................$3200/week (6 nights)
 
Holiday rates vary by season. Contact The Woods Maine for holiday rates.