Do you know what makes nearly any outdoor adventure better? Bringing frosty beverages and cold food along for the ride. There's nothing quite like cracking open a chilly drink on a sweltering summer day, even when far from home.
Finding the perfect cooler can be a challenge. With what feels like unlimited options from many different cooler brands, how are you supposed to figure out which one to buy?
There are small, soft-sided coolers that are excellent lightweight options. Other large coolers can fit enough supplies to cater an entire Fourth of July celebration. And then there are most coolers, which fall somewhere in the middle.
If you want to find the best cooler for the money, you've come to the right place. We have packed this list with the best of the best, everything from spine-saving hard coolers with wheels, to backpack coolers that can be part of your next trek.
So chill out, get your food and ice ready, and uncover the cooler that best fits your needs.
The 15 best coolers and ice chests
Otterbox Backpack Cooler: Best personal cooler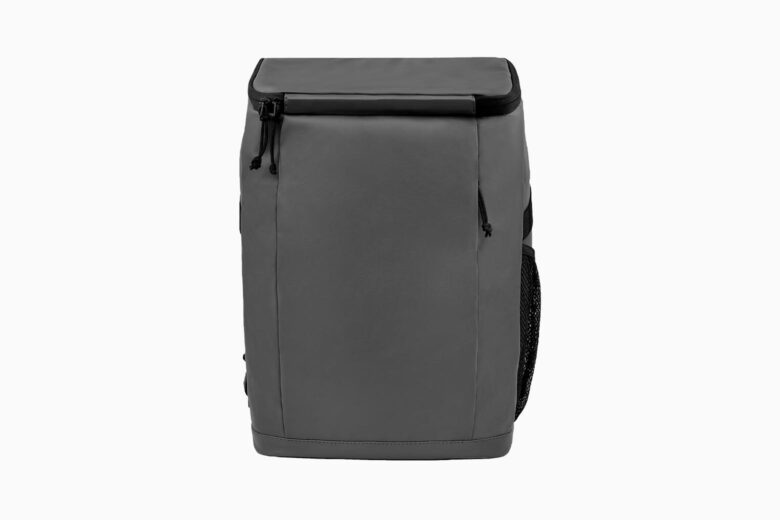 Do you know what's cooler than your backpack this summer? This cooler backpack by Otterbox. Many people trust Otterbox products to keep their electronics safe from harm, and now you can trust the same brand to deliver ice-cold drinks in nearly any location.
This 30-liter insulated Otterbox Backpack Cooler fits up to 24 cans, features a liner made from BPA-free, FDA food-grade materials, and has cushioned shoulder straps for total comfort.
Best for: Long hikes with your favorite case of drinks on your back.
Capacity: 30 L
Weight: 2.75 lbs. (1.25 kg)
Yeti Tundra: Best hard cooler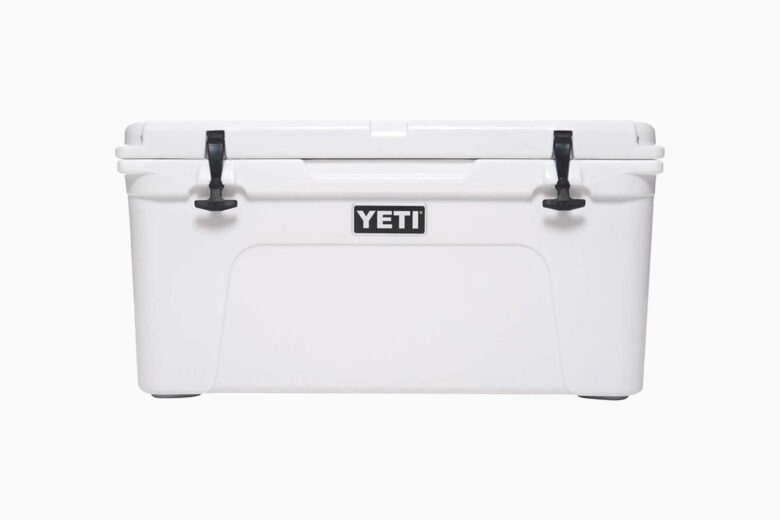 As the company that made rotomolded insulated cooler construction popular, Yeti holds a solid hold on our list of the best cooler brands.
Not only does the design provide some of the best coolers for ice retention, but the Yeti Tundra 65 is also nearly indestructible, earning a bear-resistant certification.
Best for: Buying one cooler and never looking back.
Capacity: 61.5 L
Weight: 29 lbs. (13.1 kg)
Arctic Zone Titan: Best cooler for the money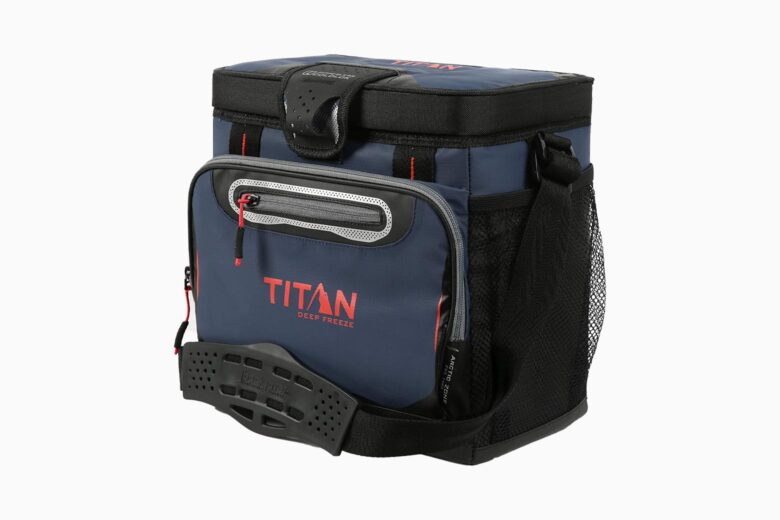 If you want to save money for adventures, this small cooler is the perfect match. Its unique hardbody design makes it easy to bring anywhere.
Throw on your best sun hat, fill your Arctic Zone Titan Cooler to the brim, and get out there.
Best for: Keeping food and drinks chilly while pinching pennies.
Capacity: 7.8 L
Weight: 2.3 lbs. (1.1 kg)
Sealand Gear: Best soft cooler for picnics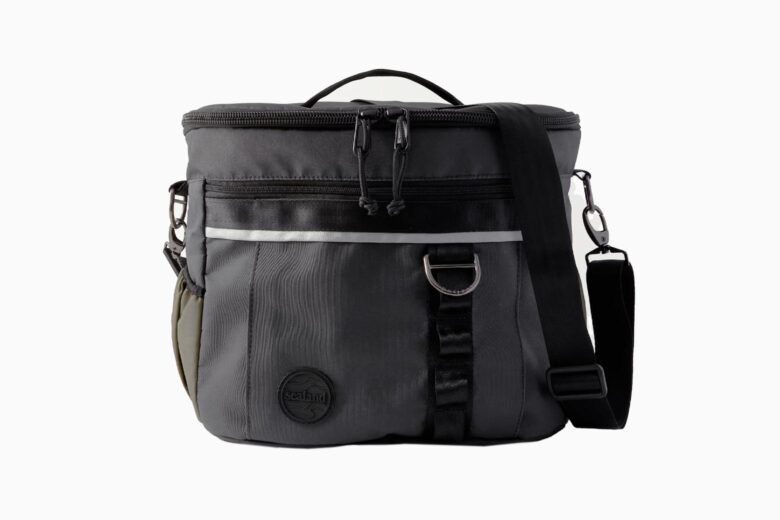 Preparing for an afternoon picnic has never been easier. Whether exploring full-time in a travel trailer or just going out for the day, this small cooler has everything you need.
Seam-sealed to prevent leaks and made from upcycled materials, the Sealand Gear Ripstop Cooler is an eco-conscious way to get outside.
Best for: Stress-free fun in the sun.
Capacity: 25.5 L
Weight: Unspecified
Coleman Xtreme Wheeled: Best beach cooler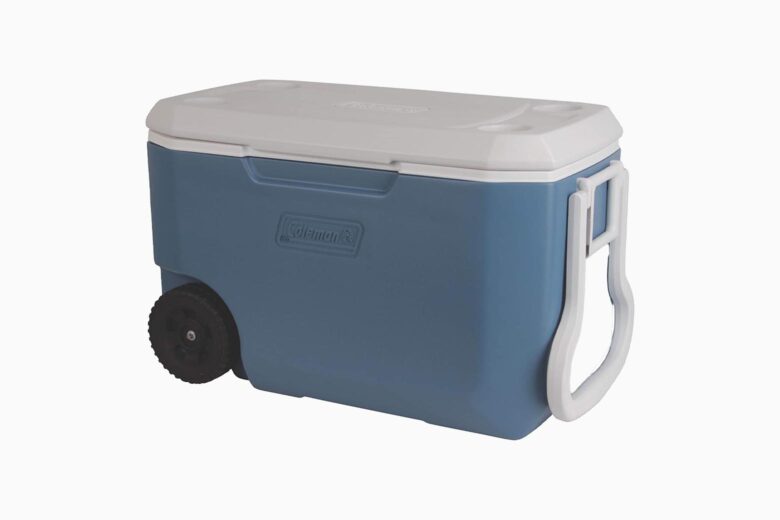 The best coolers with wheels can save the day, especially when heading to a busy beach. Take the load off your hands and back, throw on a pair of the best slides, and roll out to the water in comfort.
The Coleman Xtreme Wheeled hard cooler comes from one of the most well-known cooler brands.
Best for: Wheeling out your cold things to your favorite sandy spot.
Capacity: 59 L
Weight: 15.6 lbs. (7.1 kg)
Igloo Trailmate: Best cooler with wheels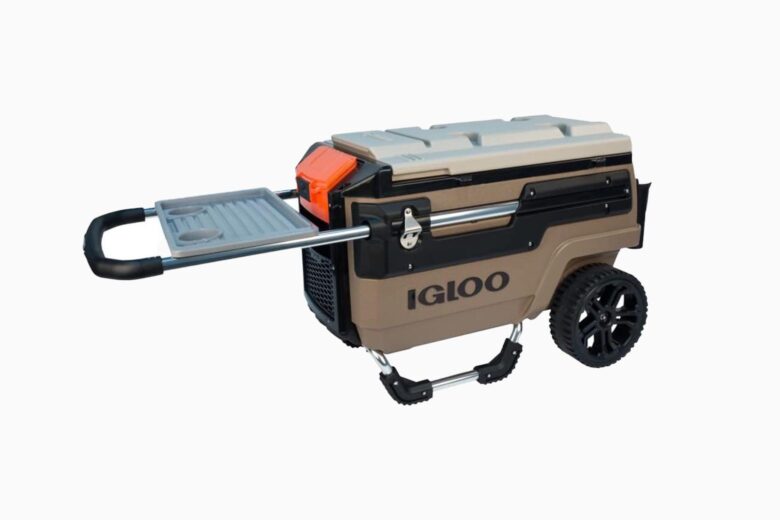 If you want to take your off-road rolling cooler game up another level, this is the right choice.
Featuring 10-inch never-flat wheels, a handy butler tray, and two bottle openers, the Igloo Trailmate brings out all the punches. Toss in the fruits from your latest Total Wine order and carpe diem.
Best for: The ultimate wheeled cooler to tackle rough terrain.
Capacity: 66.2 L
Weight: 34.7 lbs. (15.7 kg)
S'well Pint Cooler: The best cooler for ice cream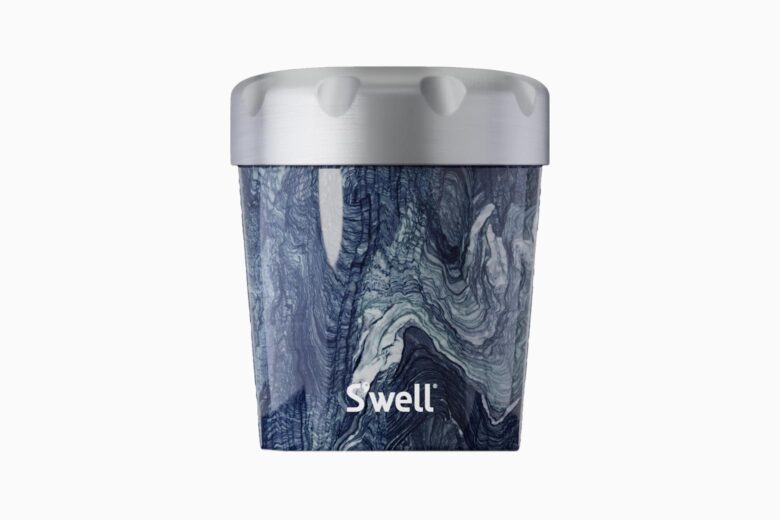 The days of being limited to cold drinks and refrigerated foods are over. With this specially-designed hard cooler, you can now pack your favorite ice cream for the ride too.
The S'well Ice Cream Pint Cooler comes in a variety of stylish designs, just like the other S'well insulated products we adore.
Best for: Skipping the summertime crowds at the ice cream shop.
Capacity: 0.5 L
Weight: Unspecified
Snowe Cooler Bag: Best lunch cooler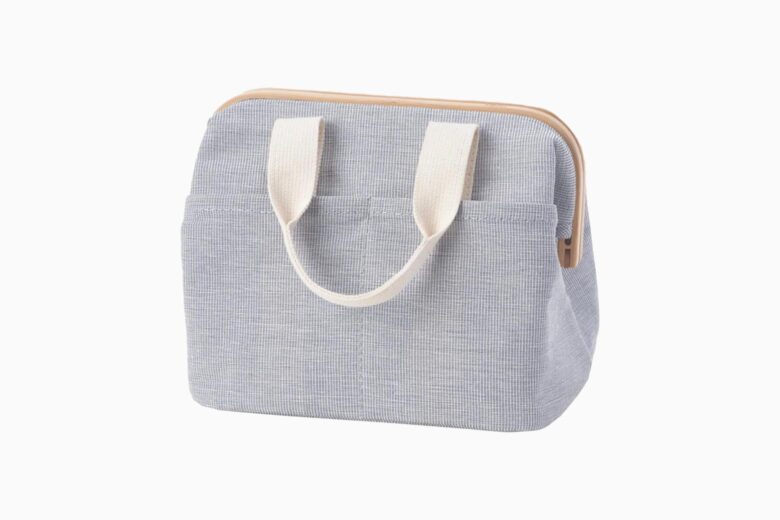 Forget looking like a back-to-school special. This insulated bag is a fashion-forward way to bring your lunch in one of the best soft coolers available.
The magnetic bamboo opening in the Snowe Cooler Bag provides easy access to your lunch and favorite travel coffee mugs.
Best for: Packing your lunch without looking like a dud.
Capacity: 9.8 L
Weight: Unspecified
Tom Dixon Wine Cooler: Best hard cooler for wine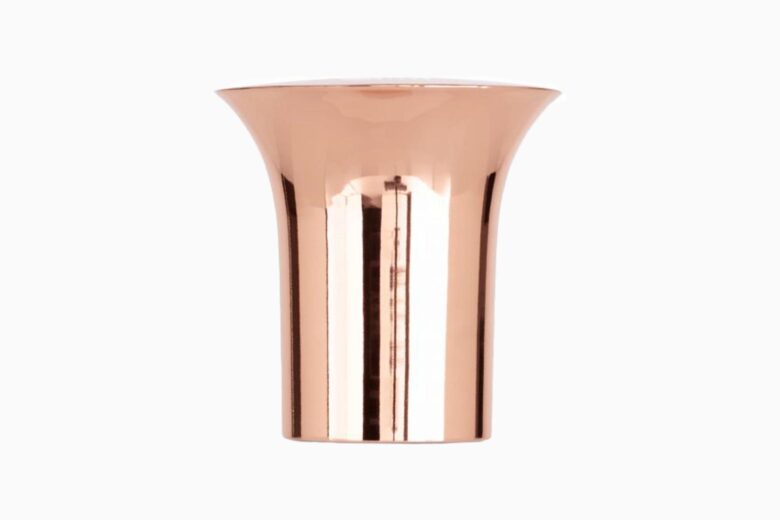 You don't always need a large cooler. When you just want to chill some champagne or the best wine in the world, this little wonder can do the trick.
The Tom Dixon Wine Cooler is crafted from stunning copper and perfectly complements those pool days with stylish one-piece swimsuits.
Best for: Keeping your favorite bottle of bubbles chilly no matter where you are.
Capacity: Perfect fit for a bottle of wine and some ice
Weight: 5.7 lbs. (2.6 kg)
Otterbox Venture: Best hard cooler for camping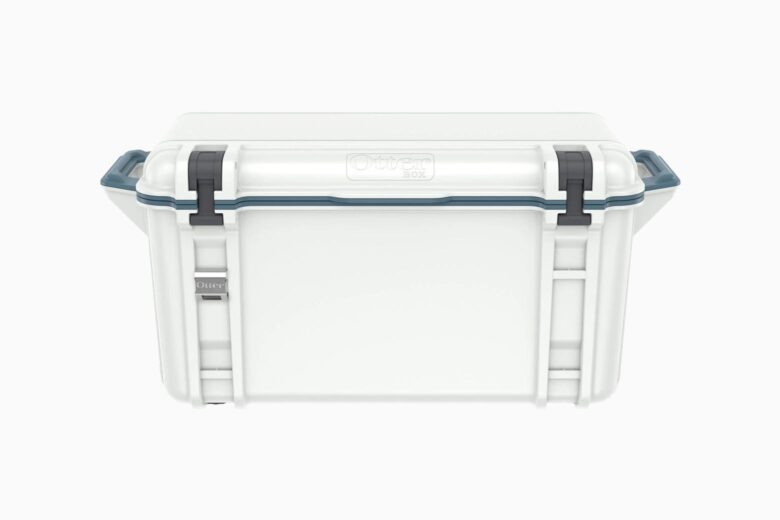 If you're searching for one of the best coolers for ice retention, then say hello to this USA-designed and built hard cooler.
The Otterbox Venture 65 is constructed to add many accessories, including all-terrain wheels and a reusable ice pack.
Best for: A cooler as rugged as your adventures.
Capacity: 61.5 L
Weight: 33 lbs. (15 kg)
Yeti Roadie: Best cooler for road trips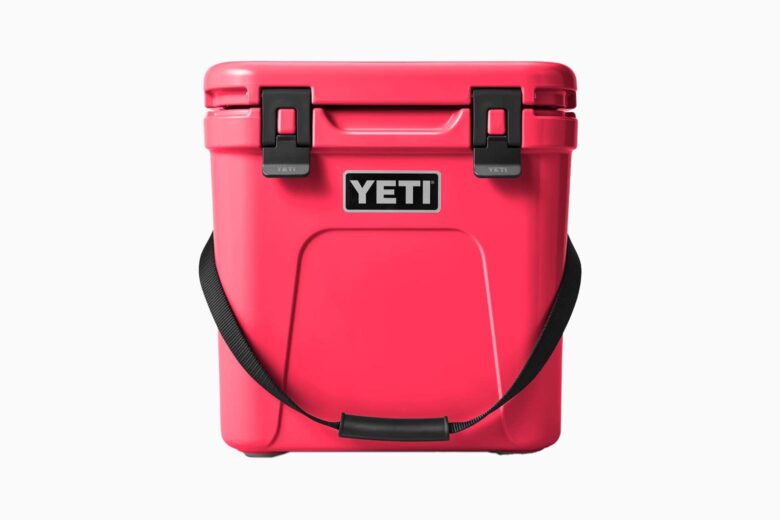 There's nothing like putting on your favorite playlist and hitting the open road. But you can now avoid the fast-food pit stops and opt to bring your food and drinks.
Perhaps you're packing up an incredible camper van or just taking out the daily driver. In any case, the Yeti Roadie 24 Cooler will have you covered.
Best for: Staying cool while zipping to your favorite destination.
Capacity: 22.7 L
Weight: 12.8 lbs. (5.8 kg)
RTIC Soft Cooler: Best soft cooler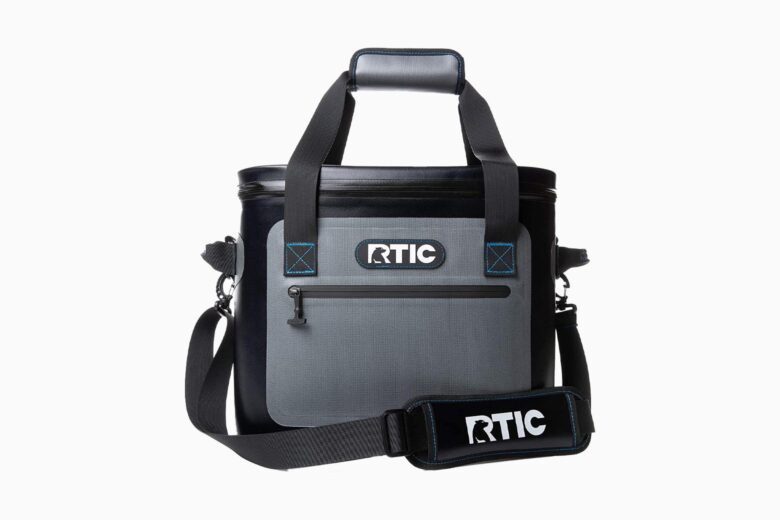 This lightweight yet durable soft cooler isn't like the others. Its leak-proof design features true closed-cell insulation.
The RTIC Soft Cooler 30 is available in a variety of color choices so it can match your look and never get lost in the crowd. It can even keep your favorite sunglasses handy.
Best for: Proof that being soft can be a strength.
Capacity: 20.8 L
Weight: 4 lbs. (1.8 kg)
Hydro Flask Tote: Best tote soft-sided cooler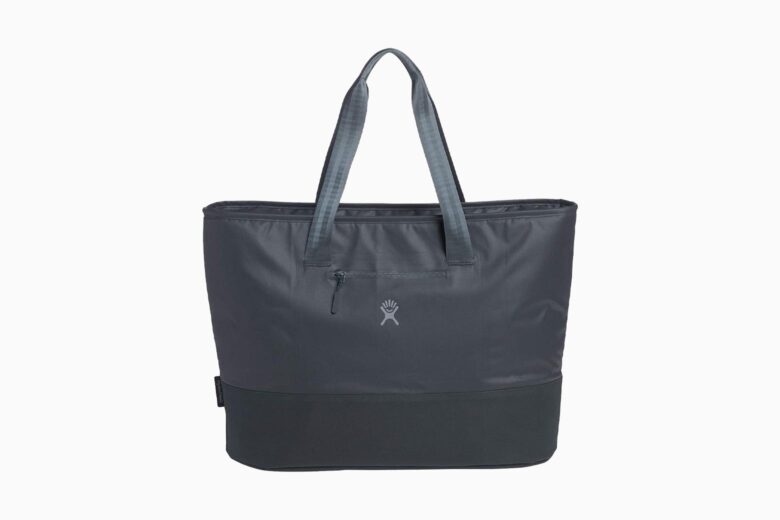 You might already know of Hydro Flask from our list of the best water bottles, but now you can stuff your favorite picnic lunch in one of their incredible tote coolers for a day filled with fun.
The Hydro Flask Tote Cooler can collapse down to keep handy in your car and it opens wide for easy access.
Best for: Keeping a cooler around anywhere for unplanned picnics.
Capacity: 20 L
Weight: 1.3 lbs. (0.6 kg)
BUILT Welded Backpack: Best backpack cooler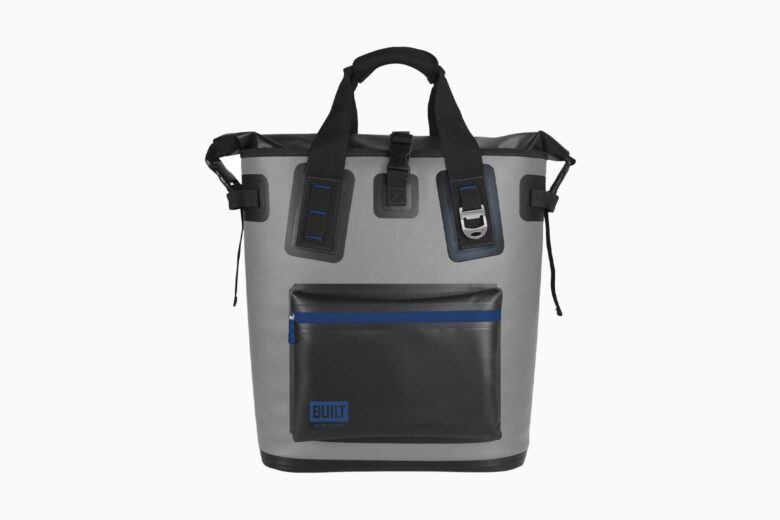 Backpack coolers keep your hands free and your food cold. This one might bring back white-water rafting memories with its sturdy TPU-coated polyester exterior and roll-top design.
Insulation up to 1.5-inches thick provides incredible insulation in the BUILT Welded Backpack Cooler.
Best for: A cooler that's got your back.
Capacity: 13.6L
Weight: 3.5 lbs. (1.6 kg)
Grizzly 165: Best large cooler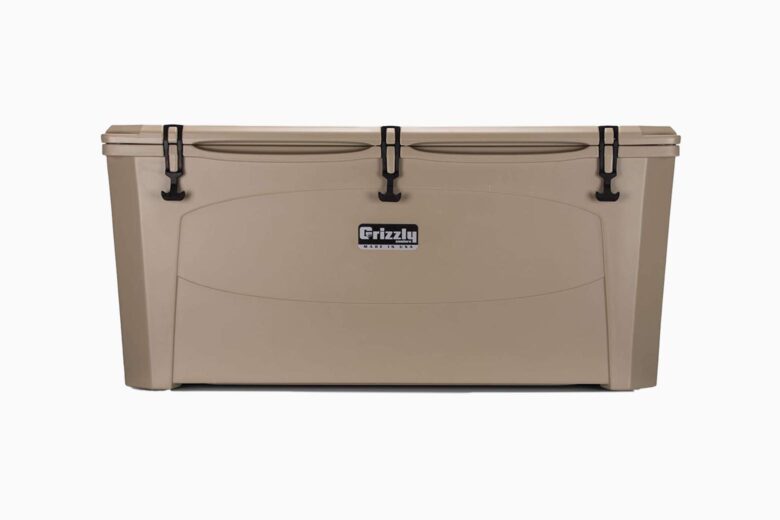 It might not be every day that you need to bring 152 cans along for the ride, but if the need arises, this is the perfect large cooler.
The Grizzly 165 Ice Chest Cooler is made with a rotomolded design to keep a small town's worth of food and drink at your fingertips. Just make sure you have some solid shoes when carrying this beast.
Best for: Bringing the maximum amount of food and drinks anywhere your truck can go.
Capacity: 156 L
Weight: 62 lbs. (28.1 kg)
Buyers guide for the best coolers
Knowing what you need is a crucial first step before buying any cooler. Let's go through the various features to ensure you pick the best option.
Think of coolers into two categories, hard coolers and soft-sided coolers. Hard coolers generally have better ice retention and more space, but they're also significantly heavier and bigger.
On the other hand, soft coolers are smaller and lighter but usually don't provide quite as good of insulation. Some come in a backpack cooler design, others are similar to the best tote bags.
Which should you get? It depends on three things:
How long you need ice to last;
What size of cooler you need; and
How portable you need the cooler to be.
If you only need ice to last a day or two, soft-sided coolers are adequate. But if you want your ice to last days or more, then a rotomolded hard cooler is going to outperform.
Another factor is the capacity or size of the cooler. A quick picnic for two can fit into a 20-liter or smaller cooler, but food for a family camping is going to take up more space. Don't forget to leave at least 30% of the capacity for ice, maybe more for longer trips.
Finally, portability is another key aspect. The Grizzly 165 works for people who can pull the truck up to the picnic area, but if you want to hike a couple of miles from the trailhead, a backpack cooler will be a better option.
Sunglasses and hoodies aren't the only accessories you need. For coolers, some of the best cooler brands design theirs with many accessories and add-ons, like reusable ice packs, removable wheels, and interior separators to keep things organized. Don't forget to check out the accessories before selecting your cooler.
Frequently asked questions about the best coolers
What's the difference between ice chest and cooler?
Ice chests and coolers are essentially the same things, a container that keeps things cold. Some use ice chests to refer to larger, better-insulated designs, while the term cooler can be used for a wide variety of small and large options with varying degrees of insulation.
Are hard or soft coolers better?
Hard coolers are usually better at retaining ice for long periods, but soft coolers are better for being lightweight and more portable. They both can be useful depending on the needs of the user.
What cooler is as good as a Yeti?
Yeti coolers are known for being nearly indestructible with a rotomolded design to provide superior insulation. Other brands including Grizzly and RTIC have similar designs which can perform to a nearly identical level.
Is Yeti better than RTIC?
Yeti and RTIC coolers are very similar, and you can find consumer reports for coolers saying both are superior compared to the other. Some ice retention tests go in favor of Yeti, others in favor of RTIC. Many say that Yeti's handle designs are more comfortable and its 5-year warranty beats RTIC's 1-year warranty. Check our list of the best coolers for our favorites.