For most, there are simply not enough hours in the day for everything on our never-ending to-do lists. Sound familiar? You're not alone. It's fair to say the most prevalent of necessary evils is (drum roll please) cleaning. No one likes it (bar the exceptional few), but it needs to be done.
House cleaning isn't rocket science—but it might just be robotics. Recognising the strife of busy humans struggling to balance work, meetings, side-hustles, family commitments, and—well, the list is endless—cleaning robots work tirelessly, so you don't have to.
Silent, autonomous, and barely seen, robot vacuums are the cleaning technology that's sure to become a mainstay in your domestic life. The math is simple: less time cleaning = more time doing the things you love.
The smartest ways to clean up your life (and home)
Take control of your clock and calendar
Take ownership of your precious 24 hours a day. When we said the smartest robot cleaners fit around your routine, we meant it: with the accompanying smartphone app, you can control your cleaning robot's whereabouts and actions with your fingertips. Spend a moment setting it up, and let the robot vacuum do the rest. Yep, the only remaining job will be to scratch 'clean house' off your to-do list—we advise replacing it with 'cocktail brunch', but hey, that's just us.
Schedule and automate
Ever got yourself stuck in a cycle of procrastination? Tackled your obligations haphazardly, over and over? Sure you have; we've all been there. Not anymore. Automating repetitive tasks is the set-and-forget way you can reclaim your valuable time.
No more calling your housekeeper to see if they're free to do a post-dinner party cleaning blitz; robot vacuums can be scheduled to fit into your plans. From the app, you can set timers, rooms to be cleaned, and the cleaning intensity. All that, at the touch of a button—yep, whatever the controversies of automation, we're all-aboard with this one.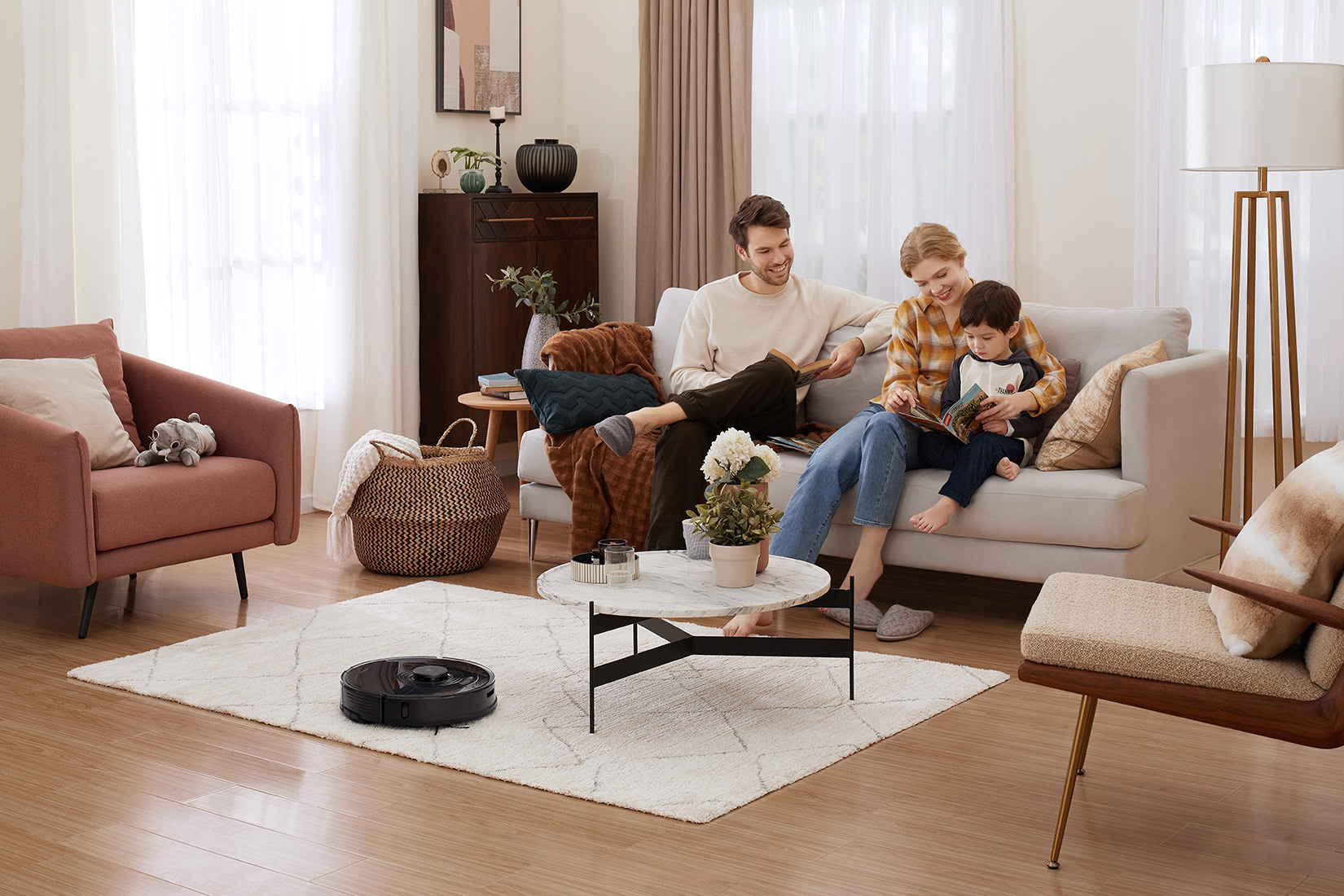 Get in the zone
You can't organise what you don't see ("out of sight, out of mind", right?), which is precisely the reason why visually mapping out the significant areas of your life that need cleaning is critical.
In the same way, robot vacuums offer precise navigation and mapping, getting deep into corners, cracks, and the nooks-and-crannies of your home. With your home layout registered on the app, your robot will know exactly where to go and what level of cleaning is required in each room. So, offering a more thorough clean than you could ever do post-9-to-5 (or whatever ungodly hour you get down with the vacuum), these clever cleaners simply get on with it.
Be smart with your multitasking
Stop juggling all of life's demands. The secret to successful multitasking lies in your ability to seamlessly switch your focus between the tasks at hand.
Some cleaning vacuum robots—like our favourites from Roborock—offer multipurpose cleaning, automatically switching to mopping mode when they reach hard floors. Out comes the Intelligent Floor Mopping feature, and you'll have a kitchen floor you could literally eat off (just because you can, doesn't mean you should). Nifty, right? Well, we're only getting started, but it's plain to see that robot vacuums are the future. And unlike space travel, you can get involved now.
Power through the obstacles
Life, like our houses, can get messy. But fortunately, overcoming obstacles is not only manageable, it can be done with grip.
Working similarly to a manual vacuum—except with 100% less effort—robot vacuums use powerful suction to draw up dust, dirt, and allergens from your precious carpets. Allergy-sufferers, rejoice: by removing up to 99.9% of allergens from your home, you might even find you breathe easier when this new houseguest comes to town.
Handy housemates: Roborock's intelligent robot vacuums
What if we told you there's an innovative brand creating some of the most clever cleaning robots that can do all the above while being barely seen and never heard? A marvel of automation, Roborock is not the first of its kind, but it's quite possibly the best.
Serving up a range of robot vacuum cleaners that take the boredom out of chores, fit around your routine, and leave you with more time for what matters, Roborock is the domestic deity you need to meet.
Founded in July 2014, the brainiacs behind Roborock pooled their expertise to devise the ultimate house cleaner robots. By September 2017, their debut product—the Mi Home Robotic Vacuum Cleaner—had not only launched but quickly became the best-selling robot vacuum in all of China. So, if you're looking for social proof, they've got it by the (mop)bucketload.
Converted? We thought so. So, let's take a look at which of our favourite vacuum cleaners are best for your home. You can also take a look at our round-up of the best robot vacuum cleaners to see the full list.
Roborock S7: The Cutting-edge Companion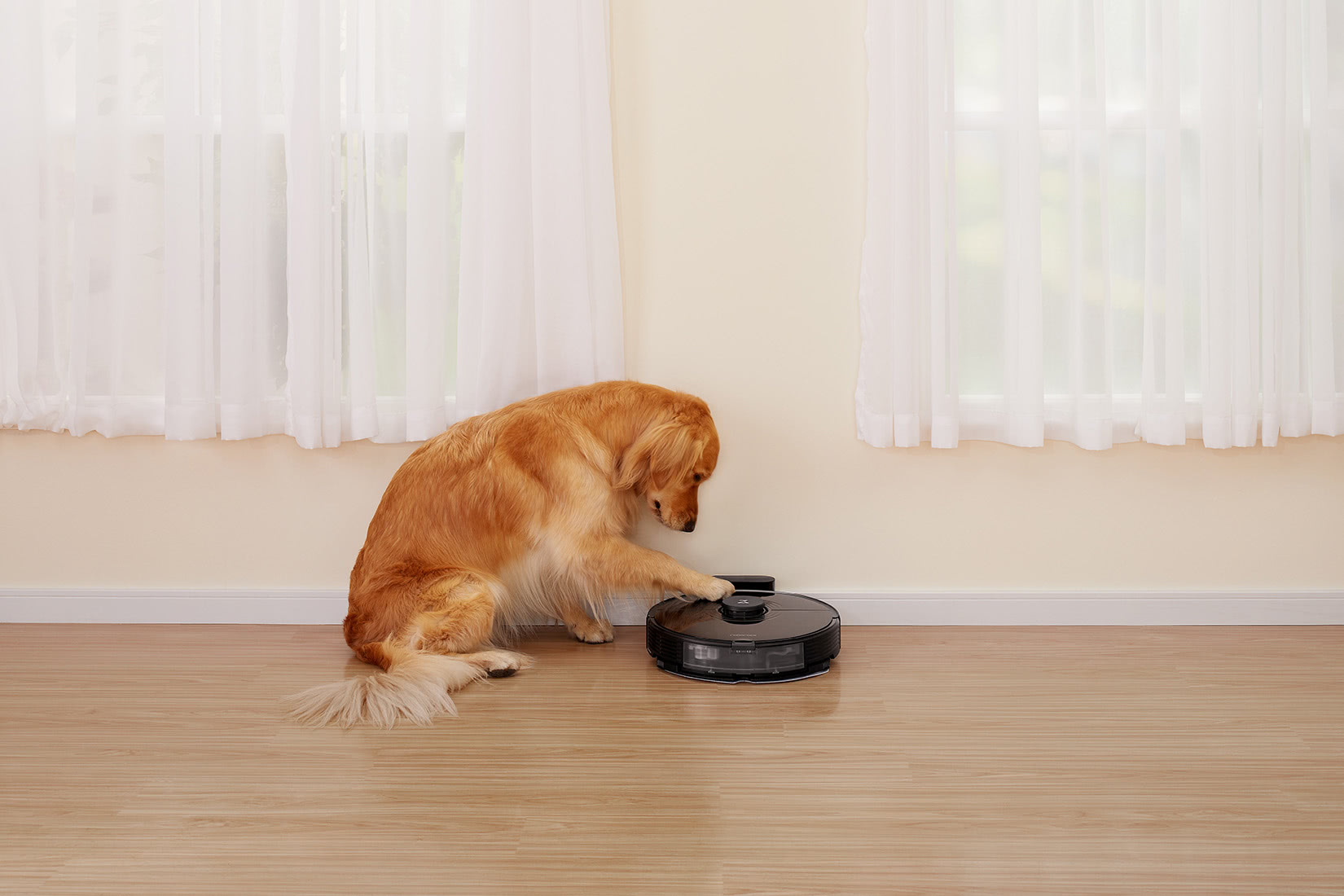 We love our pets. But we're less enamoured with the pet hair they leave in their wake. Thankfully, the Roborock S7 is designed with a super-strong 2500Pa suction power (read: enough to lift AA batteries), effortlessly sucking up the trail of fur your dog so generously gifts you.
Let the robot vacuum run free around the house; it's smart enough to automatically raise its mop when it detects carpet, so you can vacuum carpets and mop muddy paw prints in a single clean. Boasting an advanced sonic mopping technology, this robot floor cleaner will scrub away at your hard floors 3,000 times per minute, leaving them the squeakiest clean they've ever been.
You can even programme No-Mop and No-Go zones via the app if there are areas you'd like to avoid. Customise the suction strength to suit your needs, and tailor the water flow to tackle that mopping with finesse.
Even after the 180-minute runtime has had its day, it'll simply return to its base for an auto-top-up, without you having to lift a finger.
The finned all-rubber brush on the S7 sticks closer to the ground, picking up more dirt, dust, and hair off of the floor while avoiding hair tangles.
​​Pet owners with allergies will appreciate the auto-empty feature and the S7's ability to trap 99.99% of dust and allergens.
Trust us: any home with pets will be lucky to have the Roborock S7 as a housemate.
Roborock S7+: The Mopping Maestro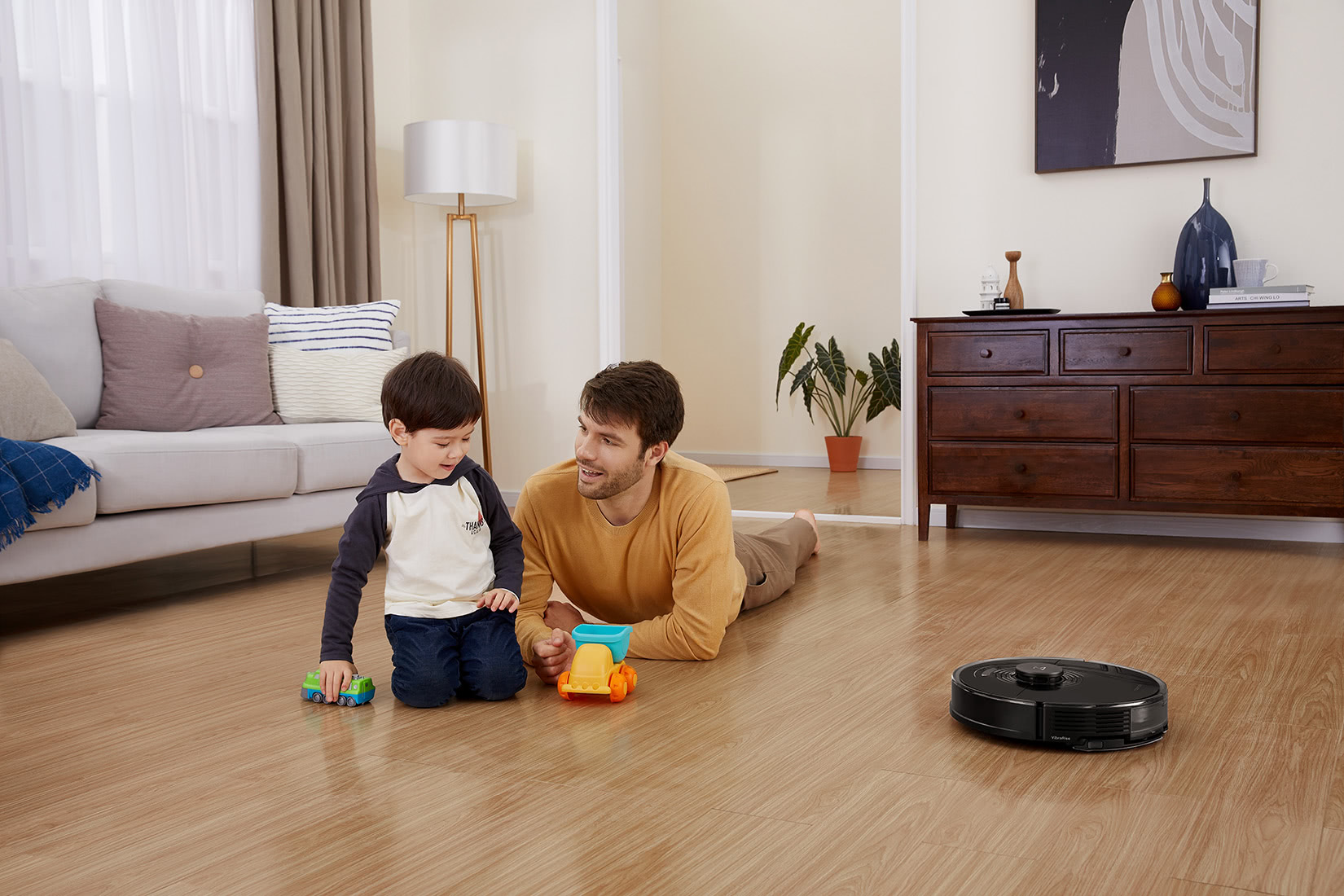 Say hello to VibraRise—an advanced sonic vibration technology that'll scrub away 3,000 times per minute. Yep, the Roborock S7+ mops your floors better than you ever could—even after 7 espressos.
Boasting a 300ml water tank, the Roborock S7 makes quick work of mopping (and vacuuming!) a whole 700-square-foot apartment not once, not twice, but 3 times. Got a bigger house? It can whizz around your 2150-square-foot home (lucky you) in one swoop. All that's required of you is to fill the water tank, set your schedule, and kick back with a latte; your hi-tech housecleaner will do the dirty work.
Don't worry, your carpets won't get left behind: using HyperForce suction, this bot makes light work of hard-stuck dust, dirt, and debris from your plush carpets, leaving them sparkling-clean and ready for unexpected guests.
Legitimately, you may be wondering how often you'll be emptying out your new mini-helper. The answer? Every 8 weeks. Yes, this Narnia-like robot vacuum may be compact, but it'll store 8 weeks' worth of dust before you'll need to head to the dustbin. And even that little job's a breeze: simply pull the dustbag out, and it will automatically seal shut. No joke—and no dust cloud to speak of. In fact, after the initial set-up, that's basically the only input required from you.
For an all-around supreme clean that'll save you from the whirlwind session between work, play, and rest, the Roborock S7+ is your guy.
While robots might be behind on the whole consciousness front, we'll be damned if they don't make great housekeepers.
"Cleaning cycle complete".
Roborock H7: The Hand-holding Sidekick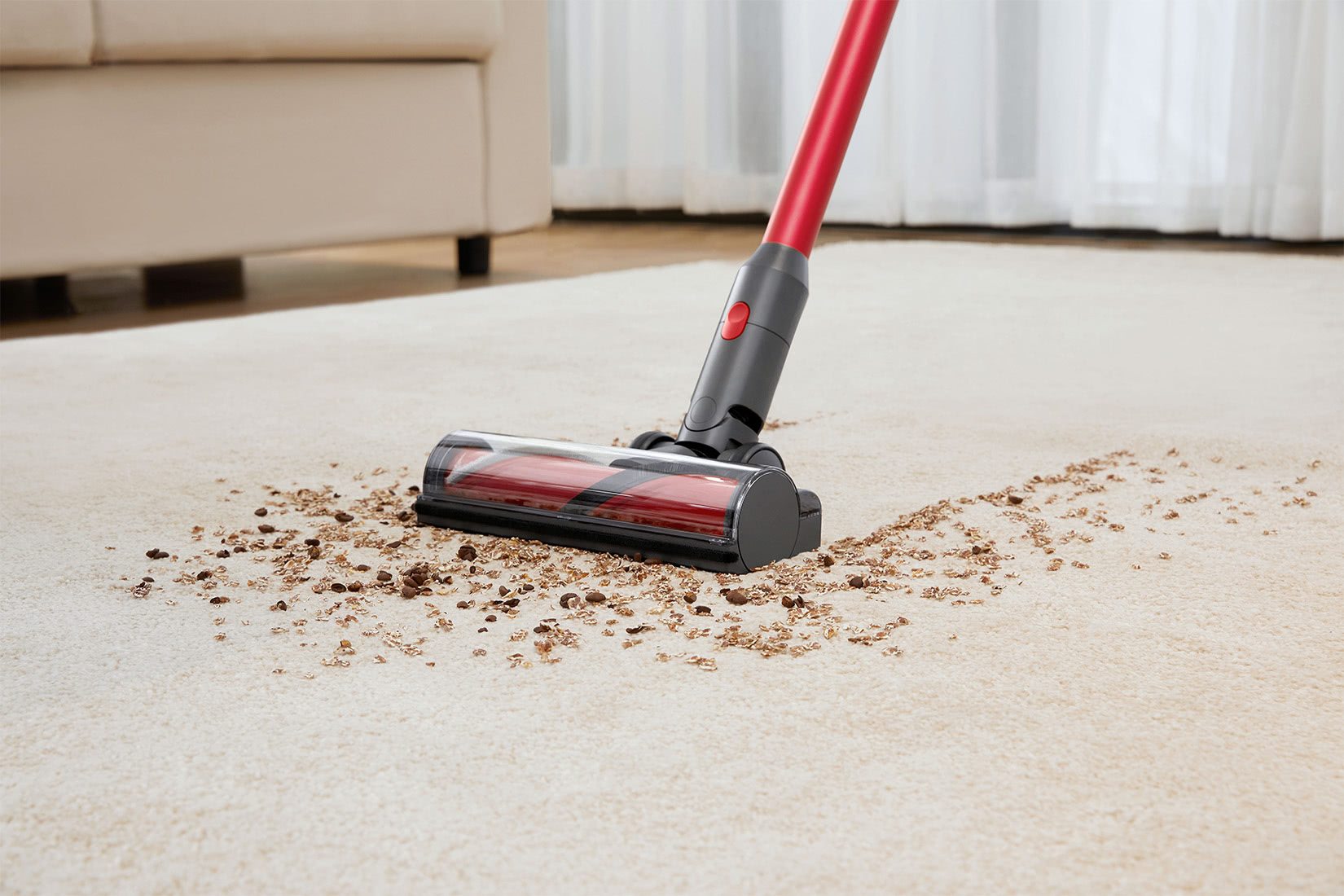 It's true what they say—real friends stick around for it all. And this cordless stick vacuum by Roborock promises to be a champion friend.
Weighing only 1.46kg (3.2lbs), the Roborock H7 is lightweight and efficient. It has the energy to clean on and on and on, offering 90 minutes of runtime and fully charging in just 2.5 hours. A lightweight (vacuum) that packs a punch, round after round? We're definitely sticking around.
With a multi-surface brush (hello, spotless hard floors and perfectly groomed rugs), plenty of accessory options, a wall-mounting charging dock with magnetic surfaces for easy and efficient storage, this Swiss army knife of a vacuum makes light work of cleaning.
It converts into a handheld vacuum in seconds. It effortlessly reaches into tricky areas like upholstery, stairs and even the car. Plus, it is easy to maintain with its washable filters, cyclone, and dustbin.
Allergy sufferers will appreciate the Roborock H7's five-layer air filtration complete with a HEPA filter (capturing 99.99% of small particles) and the optional dust bags made for clean and easy emptying.
Today's cleaning status: It's a knockout!