We rely on our smartphones for everything so you'd think we'd take better care of them. Yet our phones still take a battering, from being dropped to getting thrown into bags. Which is why everyone needs one of these damage-withstanding and accident-enduring phone cases.
We've already covered the best iPhone cases but what about the best Samsung phone cases for Android phones?
So here's our rundown of the best cases for Samsung Galaxy phones, particularly for the Galaxy S21 and Galaxy S21+. These new models range from $799 to $999 in price, and when you're spending that kind of money, you want a case that can guarantee your phone the longest life possible.
The best Samsung phone cases combine utility with design appeal. They're no-nonsense protection solutions—but they look good at the same time. They're a reliable safeguard for our most valuable possessions and are also sleek and sophisticated.
From leather folio-style covers to intensely rugged cases, from eco-friendly designs to the most slimline models, we've picked out the best phone cases for Samsung. These phone cases for Samsung play it safe so we don't have to.
The 19 best Samsung cases
Check our special Samsung cases buyers' guide after the list to see exactly what you should pay attention to before purchasing your cover.
Samsung: Best official Samsung case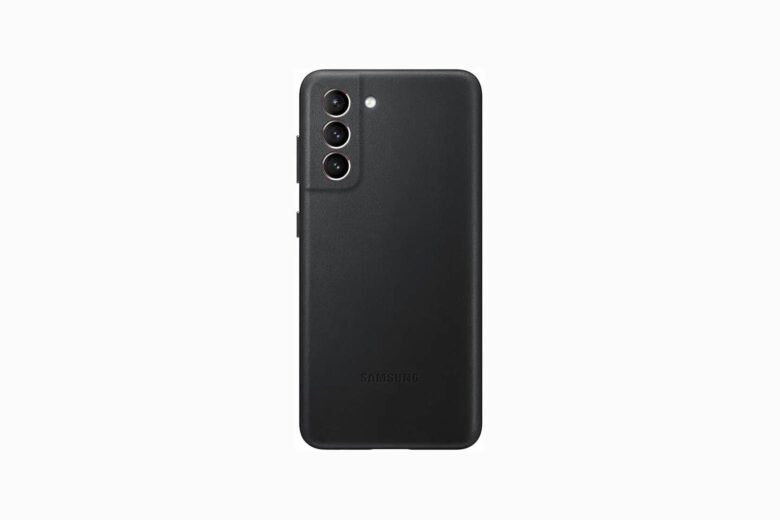 This is an all-around excellent phone case that does everything you need it to do, no questions asked.
It's engineered by the masterminds between the Galaxy S21 specifically for the Galaxy S21.
But unlike many Samsung phone cases, it's made of soft leather to minimize bulk and accentuate the satisfyingly sleek profile of the Galaxy S21 5G.
This case is also ergonomically designed for a super comfortable and secure grip. Accents including aluminum buttons and a soft microfibre lining further add to its luxury character. Opt for black for something classic and minimalist or brown to channel some old-school cool.
Add this Samsung Galaxy S21 case to your cart now. No one ever regretted being too prepared.
| | |
| --- | --- |
| Best for: | A case with superstar appeal straight from the industry leaders. |
| Colors: | Black or brown. |
Spigen Thin Fit: Best value Samsung case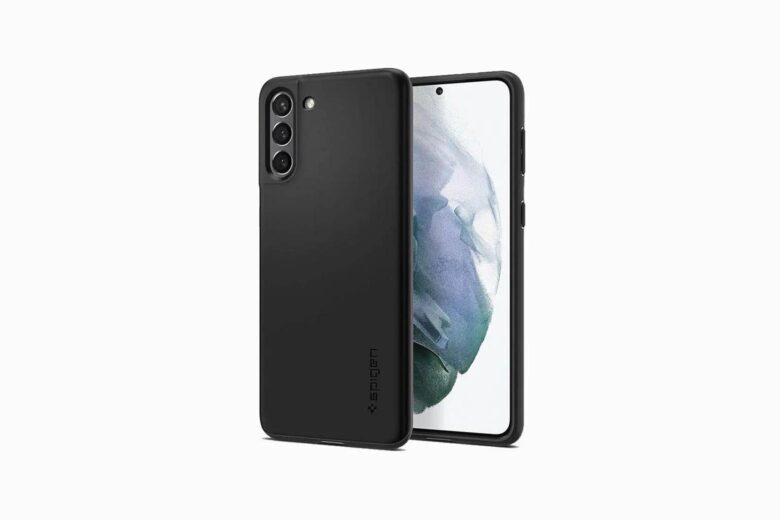 If you've already shelled out a lot of hard-earned cash on your Galaxy S21, then you really don't want to have to spend a small fortune on a case to protect it. Hence the appeal of the Spigen Thin Fit Case.
This hybrid design is made of both polycarbonate and thermoplastic polyurethane, combining the properties of both to create a case of intense durability and shock-absorbing skill. There's also air cushion technology to further absorb the impact of falls, while the design is slim enough to glide easily into a back pocket and lightweight enough to make for comfortable carrying.
The premium matte finish coating is understated and functional while the buttons remain easy to press. The simple design with almost no visible branding makes it a definite people-pleaser.
Proof that premium protection needn't come with a premium price tag, we take our hats off to the Spigen Thin Fit Case.
| | |
| --- | --- |
| Best for: | Saving money on a case so you can spend more on your next upgrade. |
| Colors: | Black |
Otterbox Symmetry Series: Best clear Galaxy case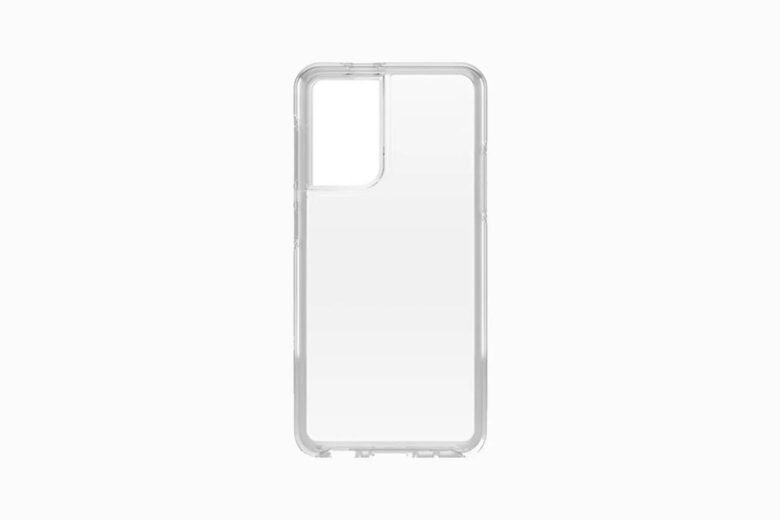 When you invest in a seriously sleek and stylish mobile phone, you want people to be able to see it. Which is why we love Otterbox's Symmetry Series Clear Case. It allows us to parade our favorite new possession for all to see.
To look at, the Symmetry Series is like having no case at all. But the power of this Samsung Galaxy S21 case is revealed once your phone emerges from falling totally unscathed thanks to drop-protection technology.
Another major bonus is that a silver-based antimicrobial additive has been integrated into the case to inhibit microbial growth and defend against common bacteria—so you don't have to worry about what's lurking on your phone.
Specifically designed for showing off, this Otterbox phone case gets a major thumbs up from us.
| | |
| --- | --- |
| Best for: | Evidence that invisible protection is the best kind of protection. |
| Colors: | Transparent. |
Supcase: Best rugged Samsung phone case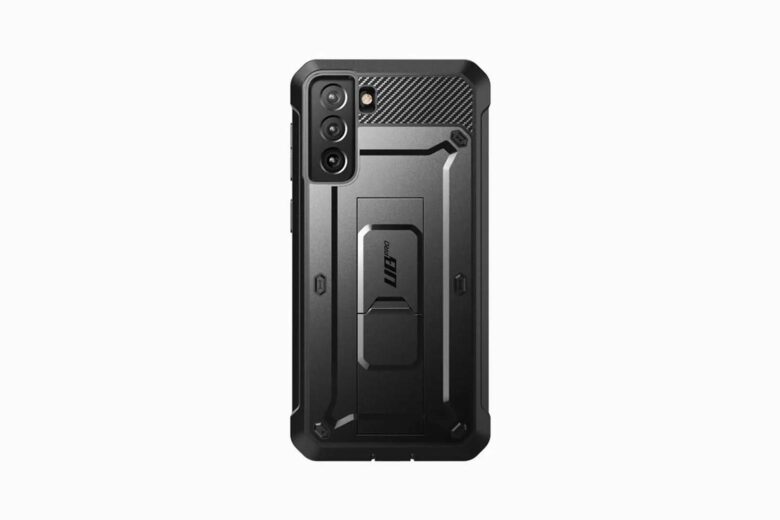 If you're particularly accident-prone, then better to have all bases covered with a heavy-duty case like this Unicorn Beetle Pro Rugged Case by Supcase.
This rugged cover is named after Unicorn Beetles and channels some of their tough and spirit with a bulky profile that doesn't pull its punches when it comes to protective features.
Made of unbending polycarbonate and shock-absorbing TPU, it's the winner of CNET's Annual Drop test so it can definitely withstand everyday bumps and knocks. Raised bezels also protect the screen and lenses from damage.
Plus, you can clip it onto your belt with the free rotating holster, and there's a kickstand with three different viewing angles for when you want to stream movies or make video calls.
We can't hire a bodyguard to carry our phones around for us but this rugged case by Supcase is the next best thing.
| | |
| --- | --- |
| Best for: | A phone case inspired by the most hardcore creatures of the insect world. |
| Colors: | Black, blue, and red. |
i-Blason: Best shockproof Samsung Galaxy case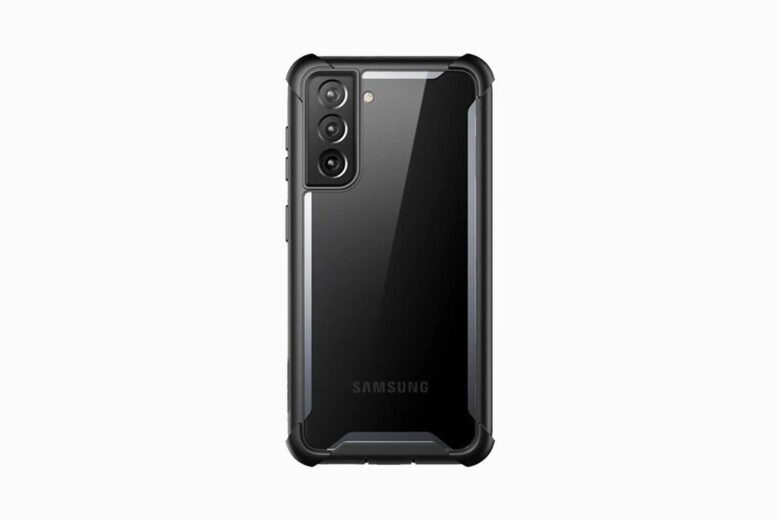 If your phone has a tendency to go for a tumble, then you need a case that can absorb the shock of impact. You need i-Blason's Ares Clear Rugged Case.
This one has been drop-tested from 6 meters, so you can definitely trust it to survive the less extreme falls of daily use, especially with its impact-resistant bumpers. The full-body design also protects from dust and dirt and the port covers further reduce risk of damage.
Like many other phone cases for Samsung Galaxy, this one is also wireless charging compatible. And it comes in three different colors, each with a very different mood and vibe, from understated black to ultra-feminine pink.
Consider this i-Blason case like the equivalent of an airbag for your phone, ready to absorb impacts so your phone doesn't have to.
| | |
| --- | --- |
| Best for: | Cushioning all the blows that life deals to your phone. |
| Colors: | Black, purple, pink |
Kate Spade: Best designer Samsung case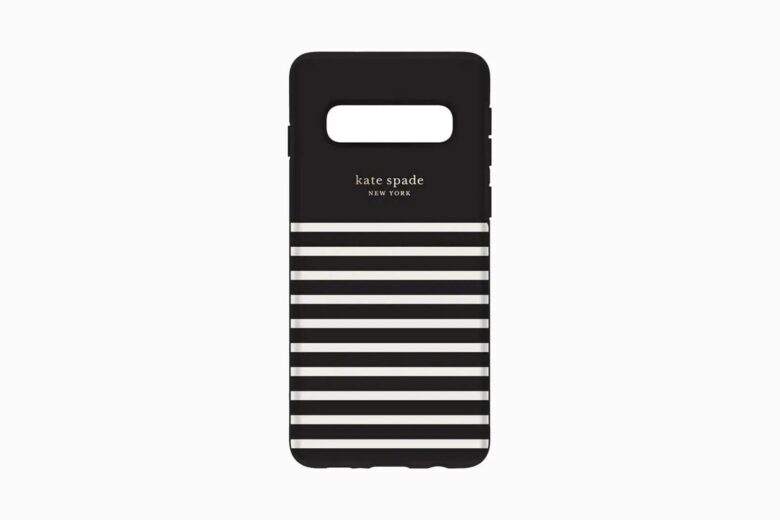 We love Kate Spade bags and purses so it's no surprise that we also love this Kate Spade phone case, designed for Samsung Galaxy S10.
With a choice of signature Kate Spade graphics to choose between, from chic stripes to cheerful florals, this phone case is ideal for fashion-conscious phone owners.
Made of flexible and impact-resistant polyurethane, it's functional and hardly adds any perceivable weight to your phone. With easy-grip engineering, it's also great for taking selfies, and has a silky soft-touch coating that makes it even harder to stop checking your phone.
Ensure your fashion credentials are on full display with this sleek Kate Spade phone case.
| | |
| --- | --- |
| Best for: | Letting your fashion flag fly high. |
| Colors: | A range of patterns. |
Spigen Slim Armor CS: Best Samsung wallet case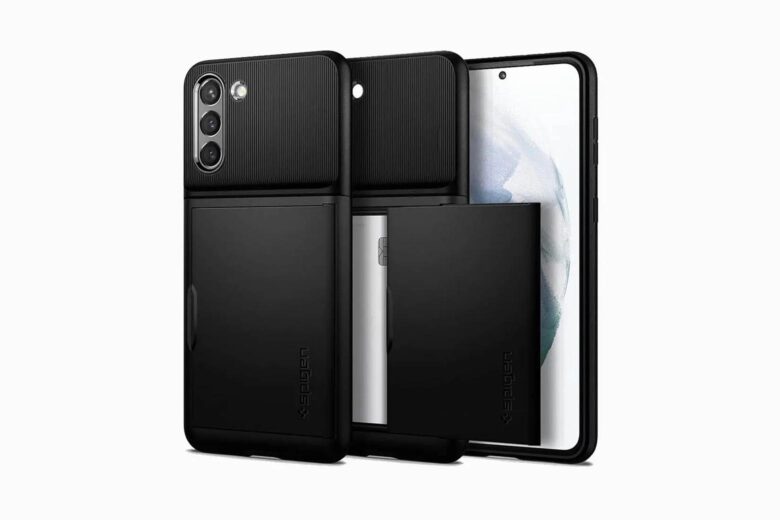 The problem with most wallet cases is that they look like wallets, which makes them a bit conspicuous. This is why we like the stealthy design of this Spigen Slim Armor CS phone case, designed for the Galaxy S21 Plus.
This wallet case has an exterior card slot that can hold up to two cards, which is basically all you'll ever need. And it's thin enough that you can use contactless without removing the case.
This case is also pretty much guaranteed to keep your phone safe and sound with its dual-layer design and air cushion technology with tiny air pockets to absorb all impact. Raised bezels protect your phone when placed face-down on a surface. Yet, despite this durability, it's very slim and sleek to look at.
There are cool phone cases and then there are really cool phone cases—like this Spigen Slim Armor CS.
| | |
| --- | --- |
| Best for: | Combining two of your most precious possessions into one. |
| Colors: | Black |
Totallee: Best slim Samsung Galaxy case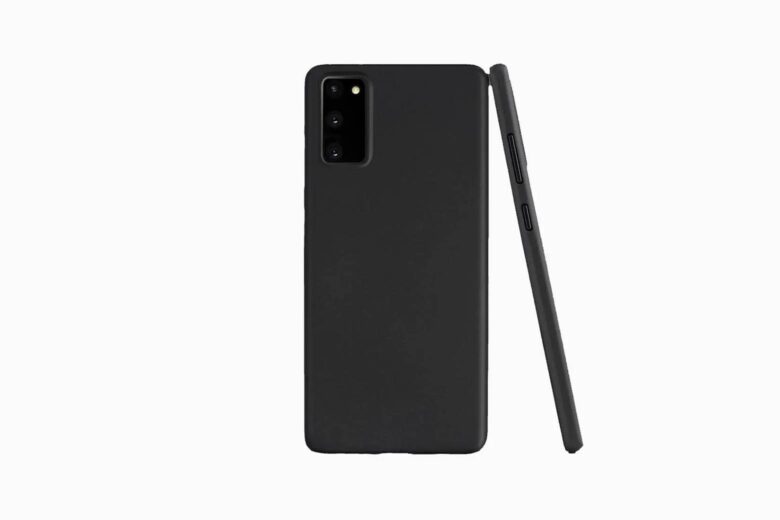 If you find bulky phone cases overkill and want something slim that slides easily into a back pocket or small purse, then consider getting your hands on this Thin Galaxy S20 Case by Totallee.
This phone case is ideal for slipping into the pocket of a pair of skinny jeans thanks to its ultra-thin design. It's only 0.5 mm thick, making it one of the thinnest Galaxy S20 cases available to buy, providing protection without bulk.
The raised camera ring protects your lens and the fit is tight and secure. Visually, this case is minimalist, free of branding, and very elegant and versatile. It's also wireless charging compatible.
For the understated minimalists out there, only one phone case is lowkey enough to cut it: Totallee's Thin Galaxy S20 Case.
| | |
| --- | --- |
| Best for: | A slimline design that's brilliantly back-to-basics. |
| Colors: | Black or transparent. |
Tech21 Studio Colour: Best eco-friendly Samsung phone case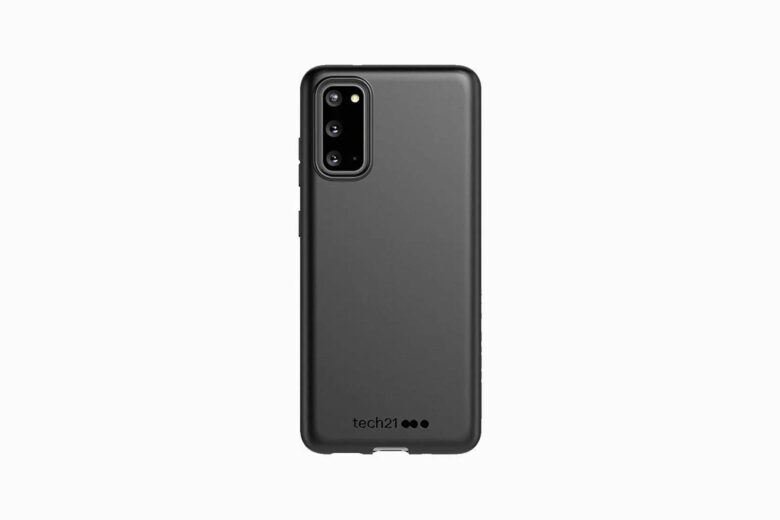 Environmentally friendly products are the hottest ones around at the moment, which is why we've got our eye on this Tech21 Samsung Galaxy S20 Phone Case.
It's made of 32% plant-based materials, making it a great sustainable alternative to standard phone cases. But while you might not associate plants with being strong and sturdy, this case has been scientifically proven to protect your phone from up to 2.4 meters, offering high-performance shatter-and-smash protection.
The BioShield technology means antimicrobial ingredients are built into the case, working to reduce microbes on your phone by up to 99.99% and offering long-lasting hygiene that gets to work within 15 minutes of encountering microbes.
Brands that prioritize plant-based products are brands that we want to support, which is why we love this Tech21 phone case.
| | |
| --- | --- |
| Best for: | Showing that sustainability can be seriously cool. |
| Colors: | A range including black, blue, and pink. |
FYY: Best leather Samsung phone case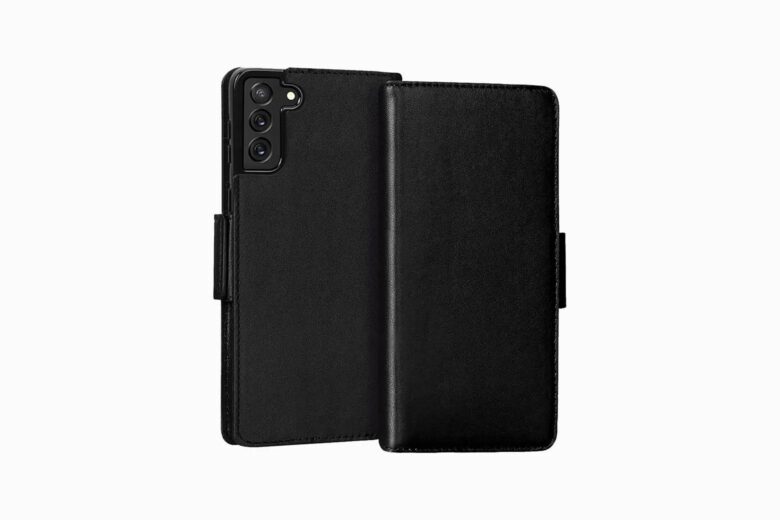 Anything made of genuine leather immediately makes us sit up straighter. So we're finding it hard to resist this FYY leather Samsung Galaxy S21 case.
This phone is like the stylish superhero of phone cases—reliable, robust, but also effortlessly refined. This wallet case is made of premium cowhide that will keep your phone snug and secure.
It also has a notes pocket and three card slots for ID or business cards. The strong magnetic closure will safeguard your phone while RFID-blocking technology will keep your card information secure.
When it comes to fashion appeal, only this FYY phone case will do.
| | |
| --- | --- |
| Best for: | Timeless style meets state-of-the-art design. |
| Colors: | Black or dark red. |
Otterbox Strada Series Via Case: Best Samsung folio case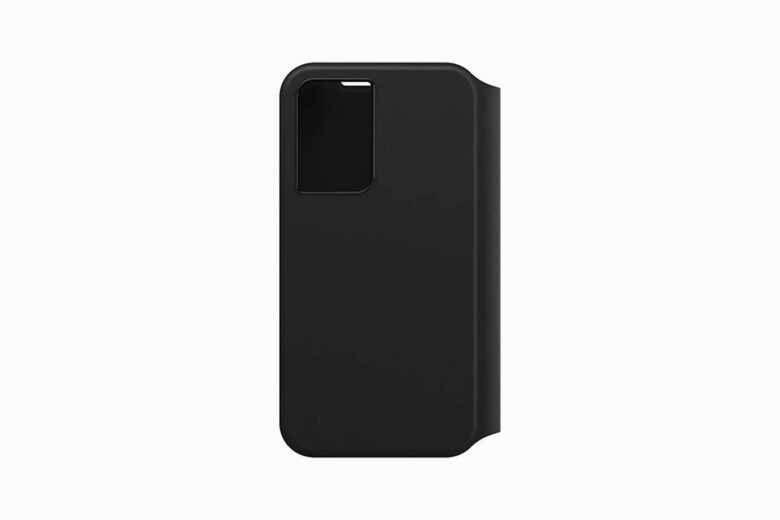 We can't get enough of Otterbox phone cases and one of our favorites is the Strada Series Via Case, here to simplify your life. A multipurpose folio phone case that holds all your valuables in one neat little package.
This booklet-style folio case will protect your touchscreen as well as offering some privacy as no one will be able to see when notifications pop up.
It also has a holder where you can put your day-to-day essentials such as your ID, bank card, or even cash. Like other cool phone cases, it's got a sleek profile that makes it more pocket-friendly than your standard wallet or purse. And the magnetic closure keeps everything shielded and secure while the synthetic material is scratch, scuff, and fingerprint-resistant. Oh, and also soft to touch.
Cut down on clutter with this multifunctional Strada Series Via Case from Otterbox.
| | |
| --- | --- |
| Best for: | Streamlining your stuff with an all-in-one transportation solution. |
| Colors: | Black. |
Otterbox Pop Symmetry: Best Samsung case with built-in PopSocket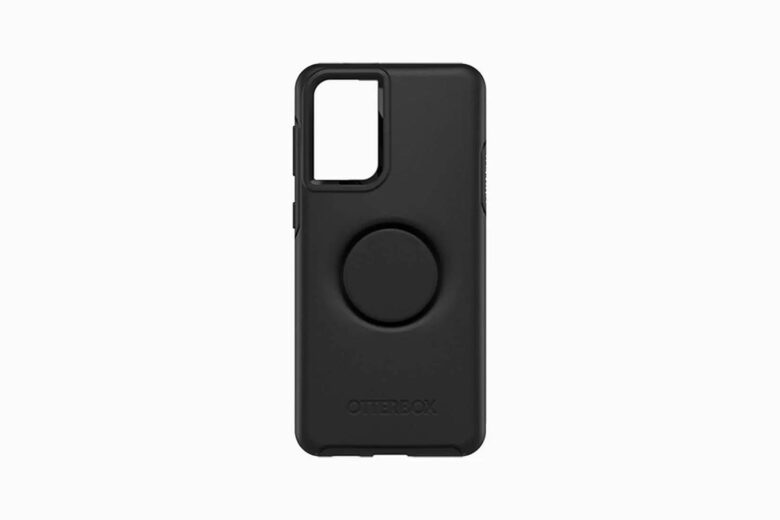 Experienced one too many screen smashes? You need a phone case with a permanent PopSocket built-in. Our favorite is this Otterbox Pop Symmetry Series case for Galaxy S21+.
PopSockets PopGrip has been integrated into this case, which means you can easily text one-handed or snap selfies without putting your phone at risk.
The case has also been made with an antimicrobial additive to inhibit microbial growth and combat common bacteria. Definitely reassuring when you hold your phone up against your ear.
Plus, you've got raised edges to protect the camera and screen and a shield to provide defense in the event of a fall.
This case can even be snapped onto a car vent mount for hands-free GPS when driving or added on this PopSocket Wallet to store cards.
Protecting your phone from drops is one thing, but ensuring you don't even drop it in the first place is even better, which is why we recommend this Otterbox Pop Symmetry Series Phone Case.
| | |
| --- | --- |
| Best for: | Elevated grip to ensure your phone never leaves your hand. |
| Colors: | Black or teal. |
Moment: Best Samsung case for mobile photography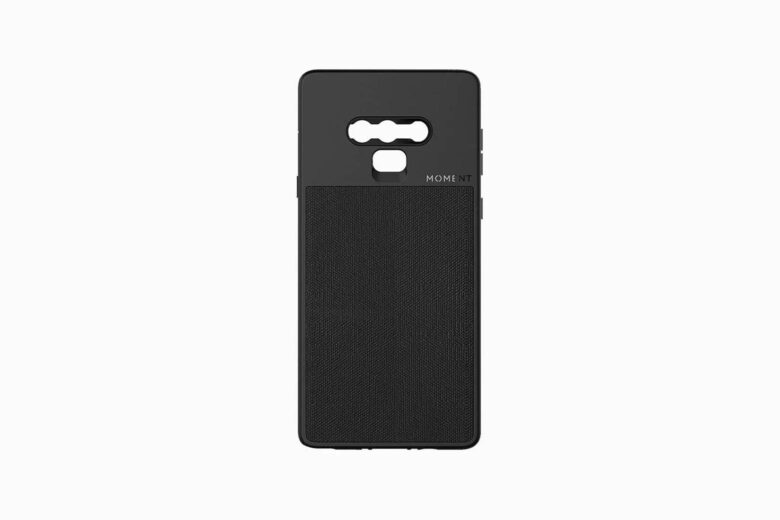 Phone cases can cramp our style when it comes to on-the-go photography, getting in the way of the lens. That's why this phone case by Moment is such a winner. It can be attached to a Moment M-series lens to turn your phone into a proper camera.
Moment's M-series lenses are designed to give your photos a mega boost, such as the Tele 58mm lens for super detailed close-ups or the Anamorphic lens with Blue Flare for a 1960s movie vibe.
There's also the fact that you can buy this phone case made from either Black Canvas or American Wood which both provide a subtle texture on the back so you can get a better grip for selfies—if that's the kind of photography you're into. The case is also slim, durable, and rubberized for shock absorption.
Secure superior snaps with this photo-optimized phone case by Moment.
| | |
| --- | --- |
| Best for: | A design-savvy phone case that doubles as photography equipment. |
| Colors: | Black |
Samsung: Best Galaxy S21 case with S Pen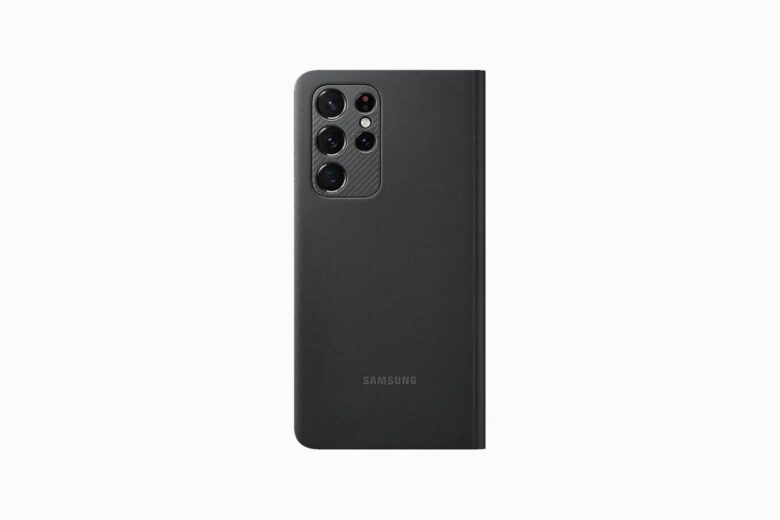 The Samsung S pen has revolutionized note-taking so a phone case with space to keep the stylus pretty much gets an immediate 'yes' from us.
This case comes with a Samsung S Pen and inside the cover you've got an S Pen insert for easy transportation of this nifty phone accessory. The case also protects from all sides and the attached front flap prevents screen scratches.
It's also got antimicrobial properties to banish all bacteria. Plus, without opening the phone cover, you can answer calls, control music, and do any other kind of tapping and swiping. You can even check the battery level or time through the clear interface.
Never be without your trusty S pen again with this Samsung Galaxy S21 case.
| | |
| --- | --- |
| Best for: | Making sure your magic wand travels with you everywhere. |
| Colors: | Black. |
Speck: Best Samsung phone case with grip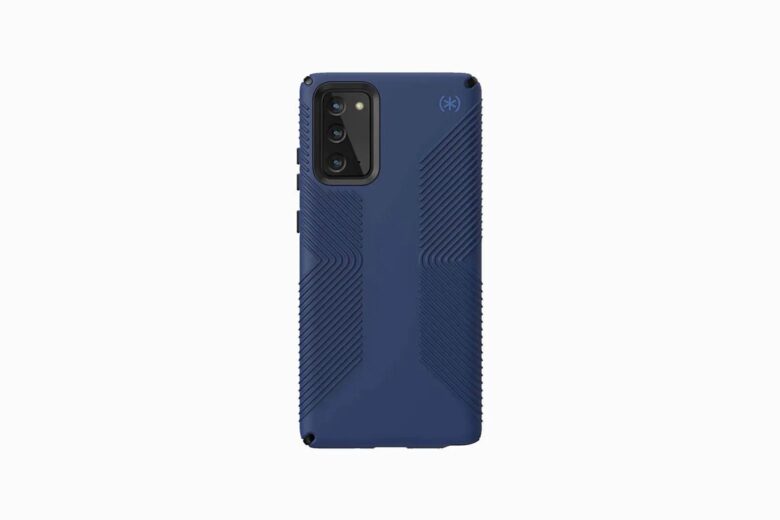 The best phone cases don't just protect our devices when they fly out of our hand. They stop our phones from sliding out of our grasp in the first place. Like this Speck case, with its textured surface for next-level grip.
This newly innovated no-slip grip lasts longer and provides us with an even firmer grasp on your phone. And, if for some reason you do still drop it, high-level durability provides up to 13 feet (3.9 meters) of drop protection. Presidio2 Armor Cloud technology cushions your phone like an airbag.
Aesthetically, it's pretty no-frills. It's also a reasonable price and has a soft-touch finish for both scratch resistance and a nicer holding experience.
Grab your phone and go with the Speck Presidio2 Grip Samsung case. We don't use the phrase 'no-slip' lightly.
| | |
| --- | --- |
| Best for: | Superior palm-to-phone contact. |
| Colors: | Black or blue. |
Youmaker: Best solid Samsung phone case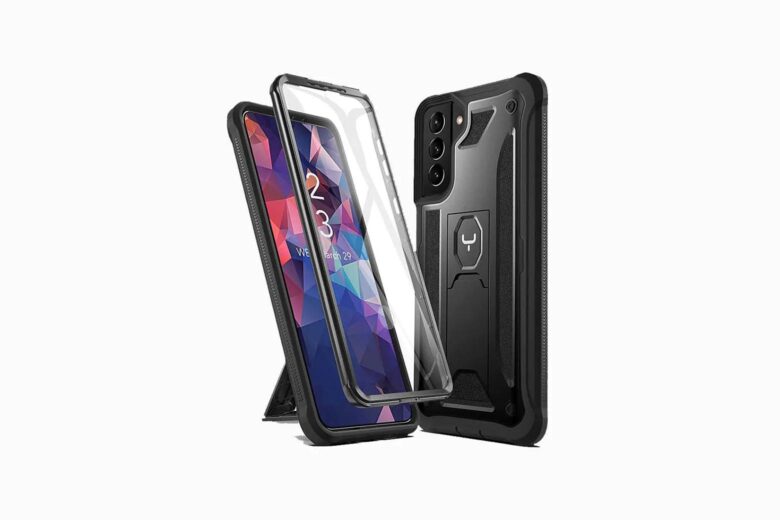 Full body, rugged, shockproof, drop-tested—these are all the words we want to hear when it comes to a phone case and so Youmaker's Galaxy S21 Plus Case definitely gets our vote.
A super sturdy case for self-certified clumsy phone owners out there, this S21 Plus Case comes with a built-in screen protector which still allows for Fingerprint ID. Plus, it survived a 48-foot (14.6 meters) drop test with cushioned corners to absorb shock. We like to imagine being inside this phone case is like being inside the rock-solid body of the best luxury SUVs.
There's also a built-in kickstand for hands-free viewing in both portrait and landscape. And it can charge wirelessly without you removing the case.
Redefining durable and dependable, it's this Youmaker case for the Galaxy S21 Plus.
| | |
| --- | --- |
| Best for: | A solid-as-a-rock phone case that will always have your phone's back. |
| Colors: | Black, blue, and purple. |
Poetic Revolution Series: Best Samsung case with kickstand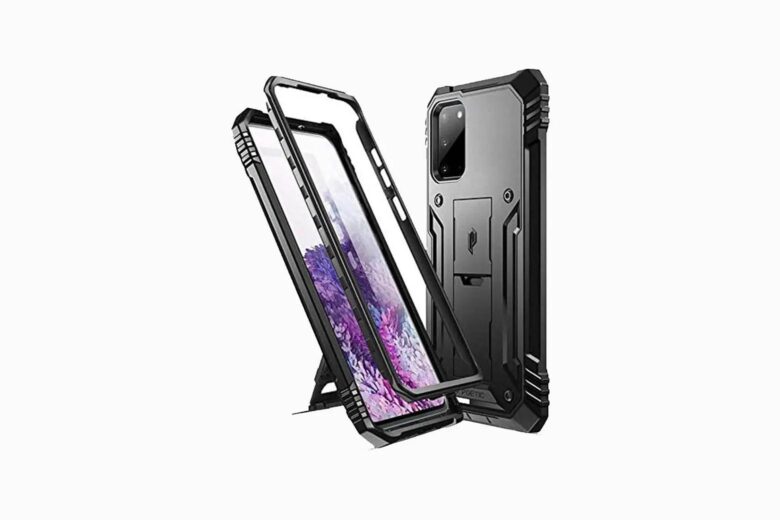 Movie streaming and video calls are now part and parcel of everyday life so take your viewing experience to the next level with a kickstand phone case like the Poetic Revolution Series, designed for Samsung Galaxy S20.
We've already seen a few Samsung phone cases with built-in kickstands but this one's our favorite thanks to the design of the kickstand which pulls out neatly and can then be popped back in.
This case has experienced a military-grade drop test. If it's good enough for the military, it's good enough for us. Extra raised lips and corners provide extreme screen protection. And it's wireless charging compatible.
No more balancing your phone against books or bottles, trying to get it to stay upright. To say that this Poetic Revolution Series phone case is life-changing is only a slight overstatement.
| | |
| --- | --- |
| Best for: | Bringing newfound ease and enjoyment to video viewing. |
| Colors: | Black. |
JETech: Best budget Samsung case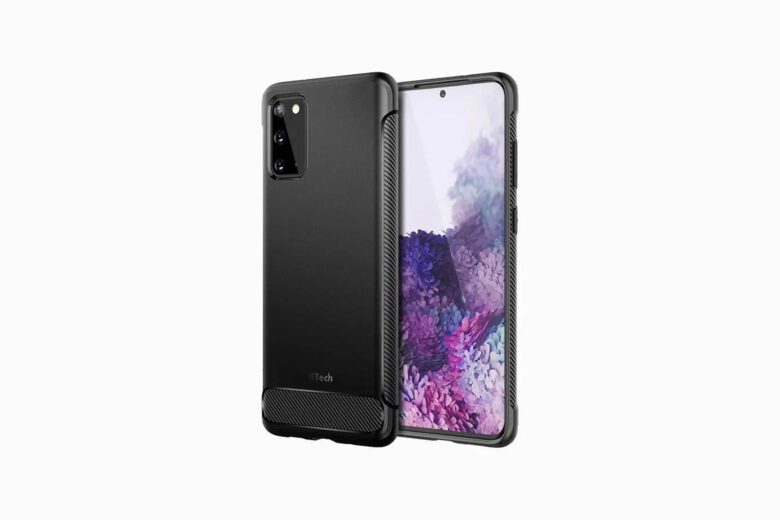 It's easy to get seduced by all the boasts and claims of luxury phone cases but, when all's said and done, some budget Samsung cases do a pretty good job of protecting our phones. Like this one by JETech.
Designed for the Galaxy S20, this is the ideal case to keep your phone looking perfect. No more busted hardware thanks to the flexible TPU case with four corners built to effectively absorb shocks and a 1.2mm raised lip to protect the screen.
Tactile buttons are easy to press and offer solid feedback so the case won't hamper your mobile experience. Aesthetically, it's simple and streamlined. You'll pretty much forget that it's there.
Why spend hundreds of dollars on a phone case when you can spend less than $10 on a JETech's Galaxy S20 phone case, one of the best cheap cell phone cases.
| | |
| --- | --- |
| Best for: | Giving fancier phone cases a run for their money. |
| Colors: | Black. |
ESR: Best screen protector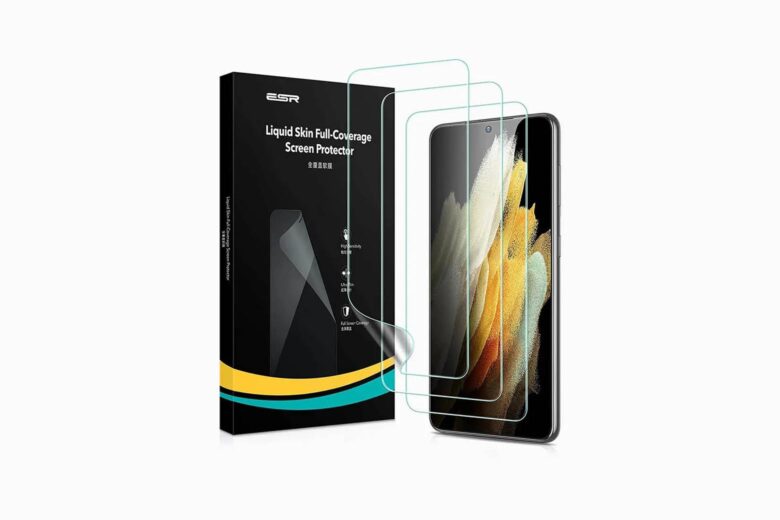 This one isn't a phone case but we would be remiss to not include the best screen protector in our list. If you really want to protect your phone from accidents, you need to team your case with a quality screen protector like this one by ESR.
Compatible with the Samsung Galaxy S21 6.2 inch, this screen protector will guard your phone against everyday dirt, grime, and lint, and keep it pristine and scratch-free. It's engineered to support Samsung's ultrasonic in-display fingerprint sensor with an ultra-thin design that's so crystal-clear you will forget you ever put it on there.
The most impressive feature about this ESR Screen Protector is the liquid skin that's self-healing, making light scratches and small bubbles disappear gradually in a feat that's nothing short of magic.
| | |
| --- | --- |
| Best for: | Banishing smashed screens from your life for good. |
| Colors: | Transparent. |
Buyers guide: how to choose a Samsung case
When choosing a Samsung case, it's not just a question of finding one that fits your phone. There are a few other things to consider:
Case types
Thin cases – if you're feeling confident that you're not going to drop your phone from any great height and would rather have something lightweight that can slip easily into a pocket, then look for a slim case.
Hybrid cases – these use a combination of materials such as polycarbonate and TPU to deliver durability with minimal additional weight. Hybrid cases are a good halfway house between rugged and slimline phone cases.
Rugged cases – these cases ensure ultimate protection against impact and are thick and bulky with air pockets and reinforced corners. They also cover buttons which can make it tricky to use your phone.
Wallet cases – folio or wallet cases have space for you to put ID or bank cards as well as a cash slot. These usually have magnetic, elastic, or stud closures.
Materials
The most important design feature to look out for is a shock-absorbent material such as silicone or rubber. Polycarbonate is very durable while TPU is lightweight, strong, and also slightly malleable.
The more heavy-duty the case, the heavier it will be. Some phones are also waterproof so they can withstand accidental submersion.
Color and texture
You can buy phone cases in all kinds of colors as well as transparent cases if you want to show off your phone's design. You can also choose cases with textured designs for both aesthetic interest and superior grip. There's also the choice of matte or shiny finishes.
Other Samsung phone case features:
Belt holster – a case with a clip means you can sling it onto your belt for easy transportation.
Lanyard hole – this is useful if you need to go hands-free but still want easy access to your phone.
Kickstand – this means you can stand your phone up for watching movies or videos. Some can be used both landscape and portrait. You'll want to check the stand fastens securely and doesn't pop out at inopportune moments.
Raised edges – look for cases with a raised lip that will protect the screen when dropped.
Button covers – these should allow for easy use without you having to exert too much force.
Screen protectors
If the phone case doesn't come with a built-in one, you may want to invest in a screen protector for extra safety. Tempered glass protects are the best at deflecting scratches rather than plastic. Look for a protector that's thick enough to safeguard your screen while still allowing enough clarity for you to be able to see properly. Some screen protectors adjust viewing angles to give you privacy when using your phone in public or reduce glare from the sun.
Frequently asked questions about phone cases for Samsung
What are the most protective cases?
The most protective phone cases include Supcase's Unicorn Beetle Pro, a rugged case that's made of polycarbonate and TPU for ultimate durability and shock absorption. i-Blason's Ares Clear Rugged Case is another highly protective phone case. 
What is the best case for Samsung Galaxy S21?
The best case for the Samsung Galaxy S21 is the official Samsung Galaxy S21 case, made of soft leather and designed with minimal bulk for an ergonomic hold. For something more budget-friendly, try Spigen's Thin Fit Case, also Galaxy S21 compatible. 
Does S21 need a case?
The Samsung Galaxy S21 is a premium phone so it would definitely benefit from a phone case to protect it from accidental drops or general wear and tear. And the Galaxy S21+ needs a case as it has a glass back. 
What is the best protective case for Samsung S21?
The best protective case for the Samsung S21 is the Spigen Slim Armor CS. In fact, all Spigen phone cases can be relied on for intense durability, including Spigen's Thin Fit Case, which features air cushioning technology.