Swiss watchmaker Jaeger-LeCoultre's list of horological achievements reads like a multi-volume book of superlative watchmaking. Over 1,200 individual calibres. 400 unique patented inventions. Countless breakthroughs and emblematic world records—including the world's smallest mechanical movement.
Founded in 1833, the Grande Maison of the Vallée de Joux is behind the Millionomètre, the world's most precise measuring instrument at the time it was invented in 1844, and the creation of the keyless winding mechanism in 1847.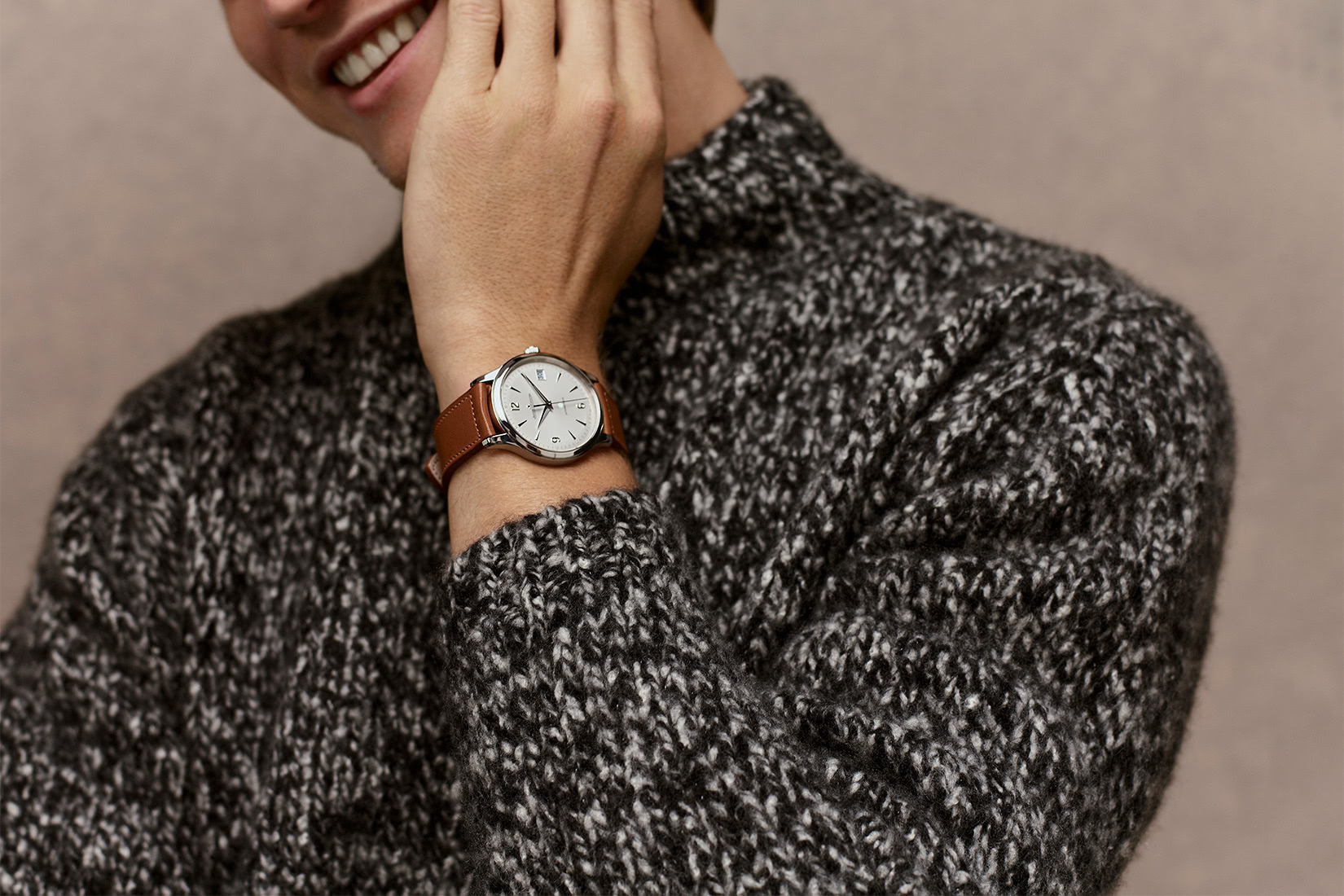 Since then, JLC has continued to push what's possible in the watchmaking world, pioneering some of the most iconic timepieces and complex watchmaking techniques known to mankind. Their 1931's Art Deco-inspired 'Reverso' and "Master Ultra Thin' have become timeless classics.
With its commitment to perfection and illustrious horological history, Jaeger-LeCoultre has become one of the world's most successful watch brands — the watchmaker of watchmakers. 
From calibre to case, every Jaeger-LeCoultre timepiece is still designed, produced, assembled and tested at the Grande Maison in the Swiss Jura Mountains— that's 180 different expert skills housed under a single roof.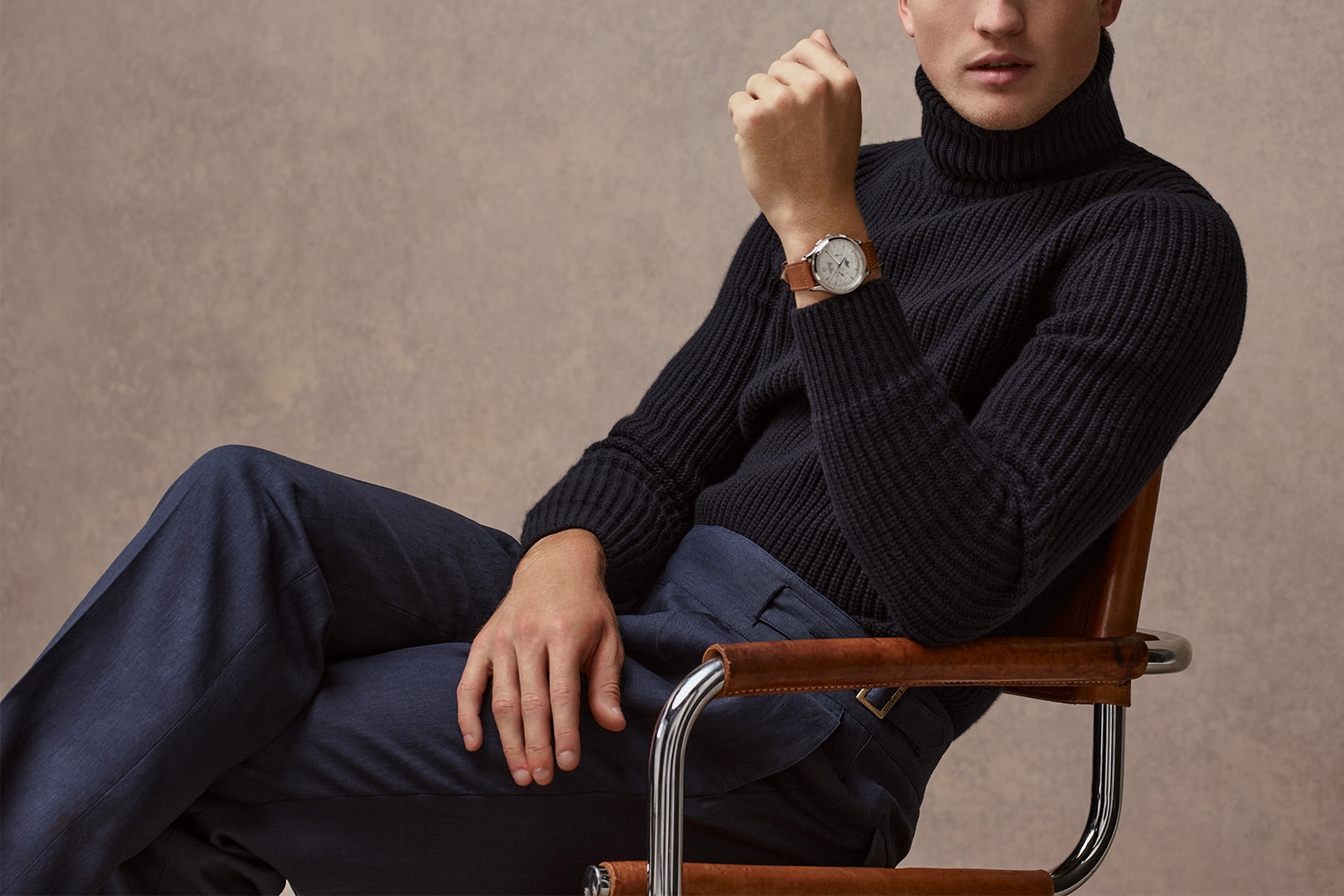 Adding finesse to all your sartorial styles, however casual or formal it may be, a JLC luxury watch is that rare thing: a time-teller rooted firmly in the brand's heritage that marries flawless functionality and a celebratory sense of Swiss prowess with infinite elegance and understated sophistication.
With their enduring style and unwavering quality, JLC watches are the loyal timekeeping companions every man needs—here to accompany through your day. Every day. Whatever kind of day it is.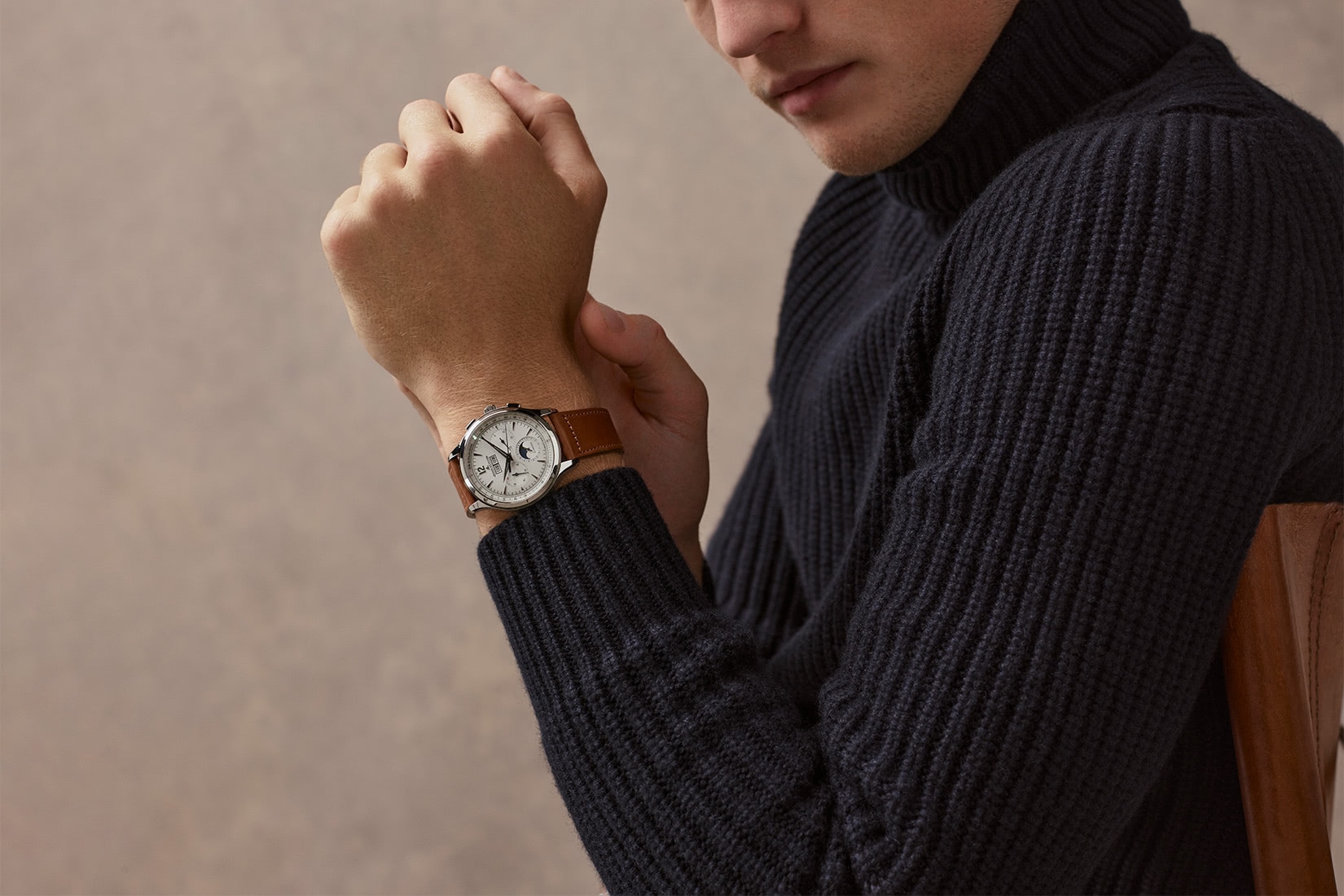 Always on-trend and on time. At once timely and timeless, subtle yet striking— meant to be enjoyed for generations to come.
Talk about a match watch made in heaven. JLC's mechanical watches look spectacular at any occasion, taking on the world and living life's special moments together with you, by the second, minute, and hour.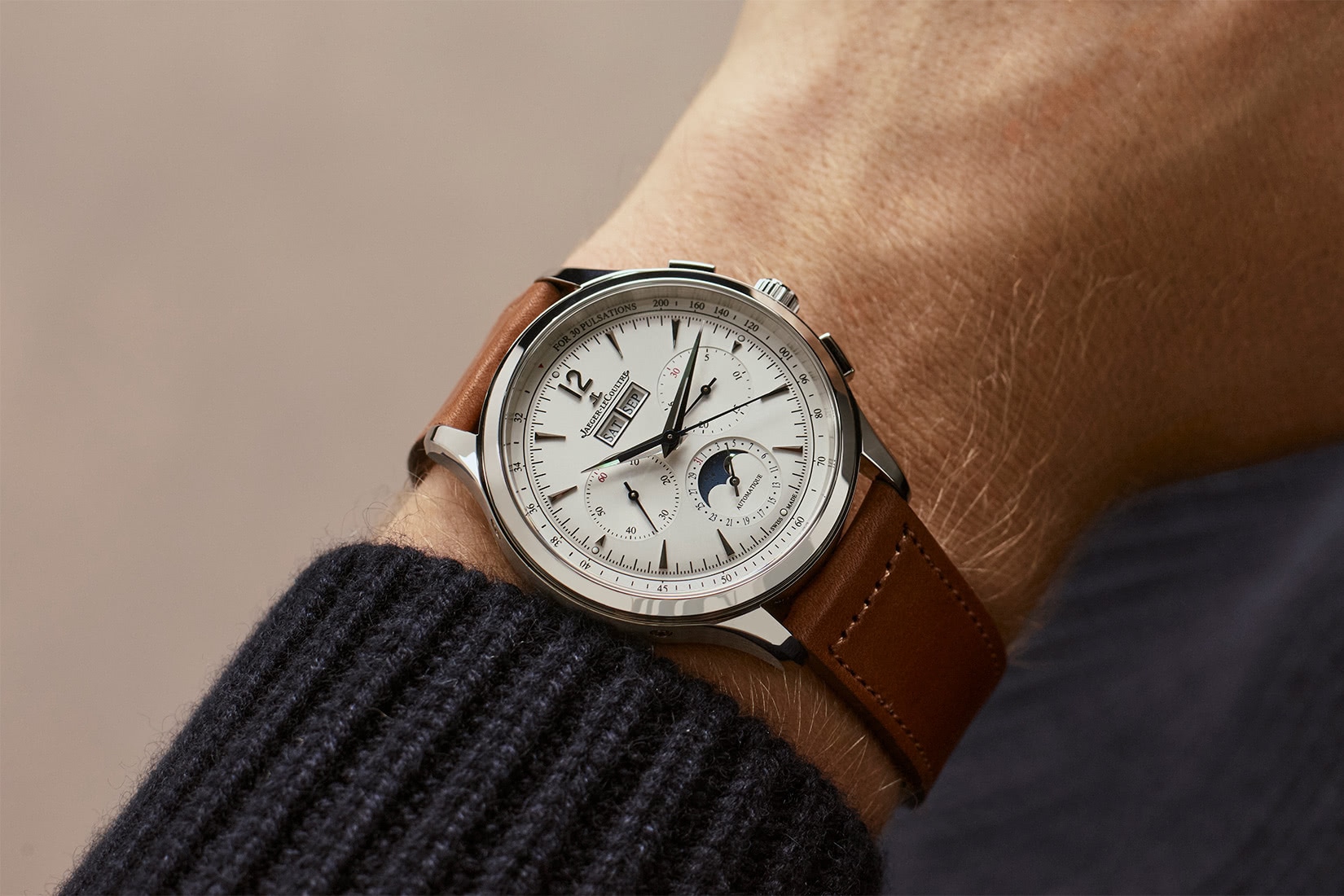 Whether you're about to invest in your first timepiece or are looking at haute horlogerie to add to an already impressive collection, the right JLC luxury timepiece could revolutionise your every day and act as a precise marker of time well spent.
Discover below our curated selection of seven of the best watches from Jaeger-LeCoultre's current collection available on MR PORTER to elevate your style for every occasion.
For your 9-to-5: Superbly smart with the Master Control Memovox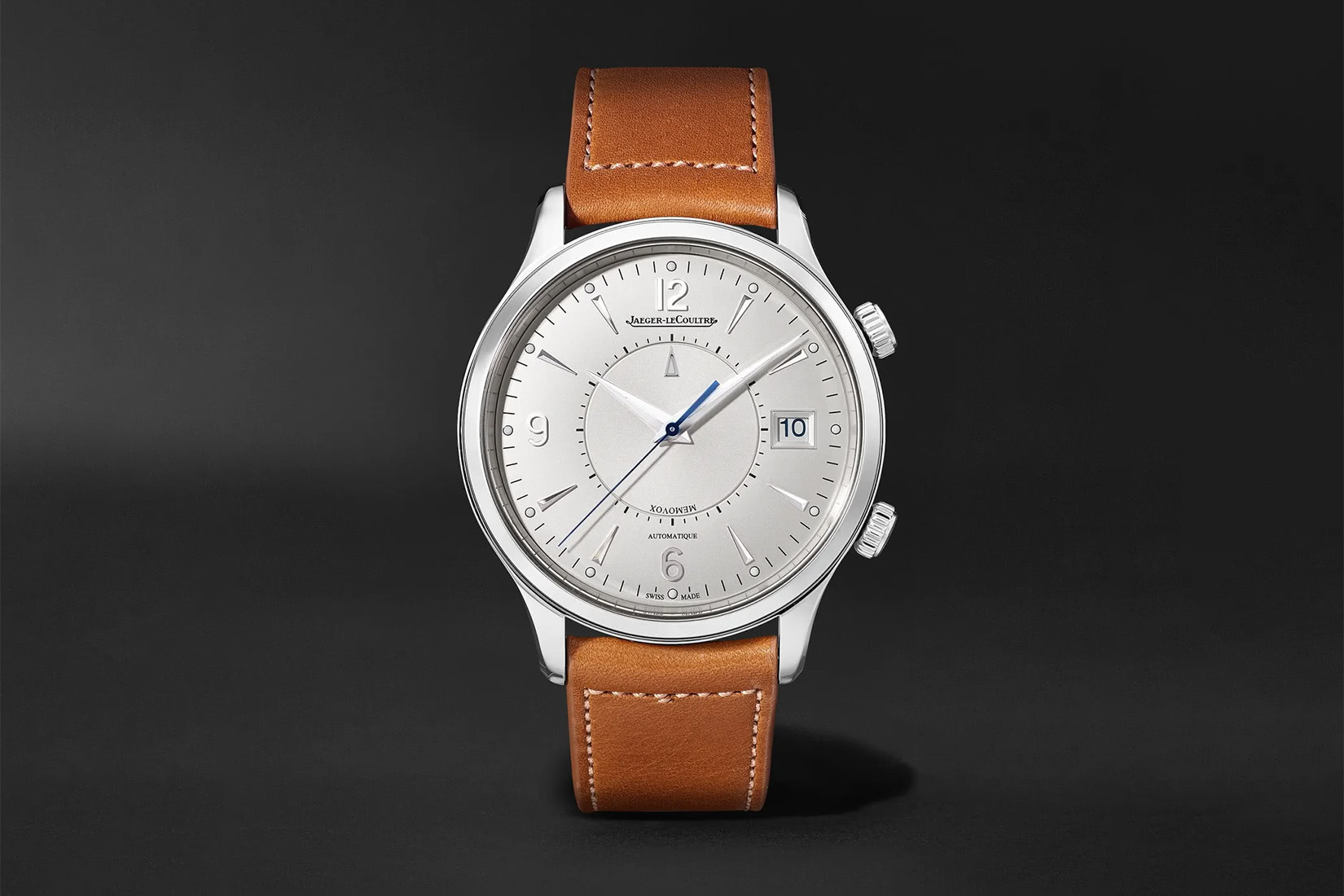 Looking for a watch that conveys a hard-headed business-ready attitude but still keeps it relaxed and effortless? JLC's Master Control Memovox is the watch for the job.
One of the first wristwatches to feature a built-in alarm, the Memovox immediately became a hit with collectors. This also makes it an obvious choice for hard-working professionals who need to keep a close eye on the time. Simply twist the crown at two o'clock to set the alarm which will alert you with a nostalgic school bell sound.
Expertly crafted in Switzerland, the watch features an exhibition case back where you can see the beautiful workings of the calibre 956AA. The ageless style of a brown-leather strap completes the aesthetic.
Nailing the business casual vibe is all about looking sophisticated without it seeming like you tried. We reckon the Memovox masters the mood perfectly—and is the ideal choice for ever-busy professionals for whom every day is a race against time.
Case size: 40mm
Materials: stainless steel and leather
Complications: hour, minute, and second hands, plus a date window
Movement: automatic
For big-deal business meetings: Serious yet stylish with the Master Control Calendar Automatic Chronograph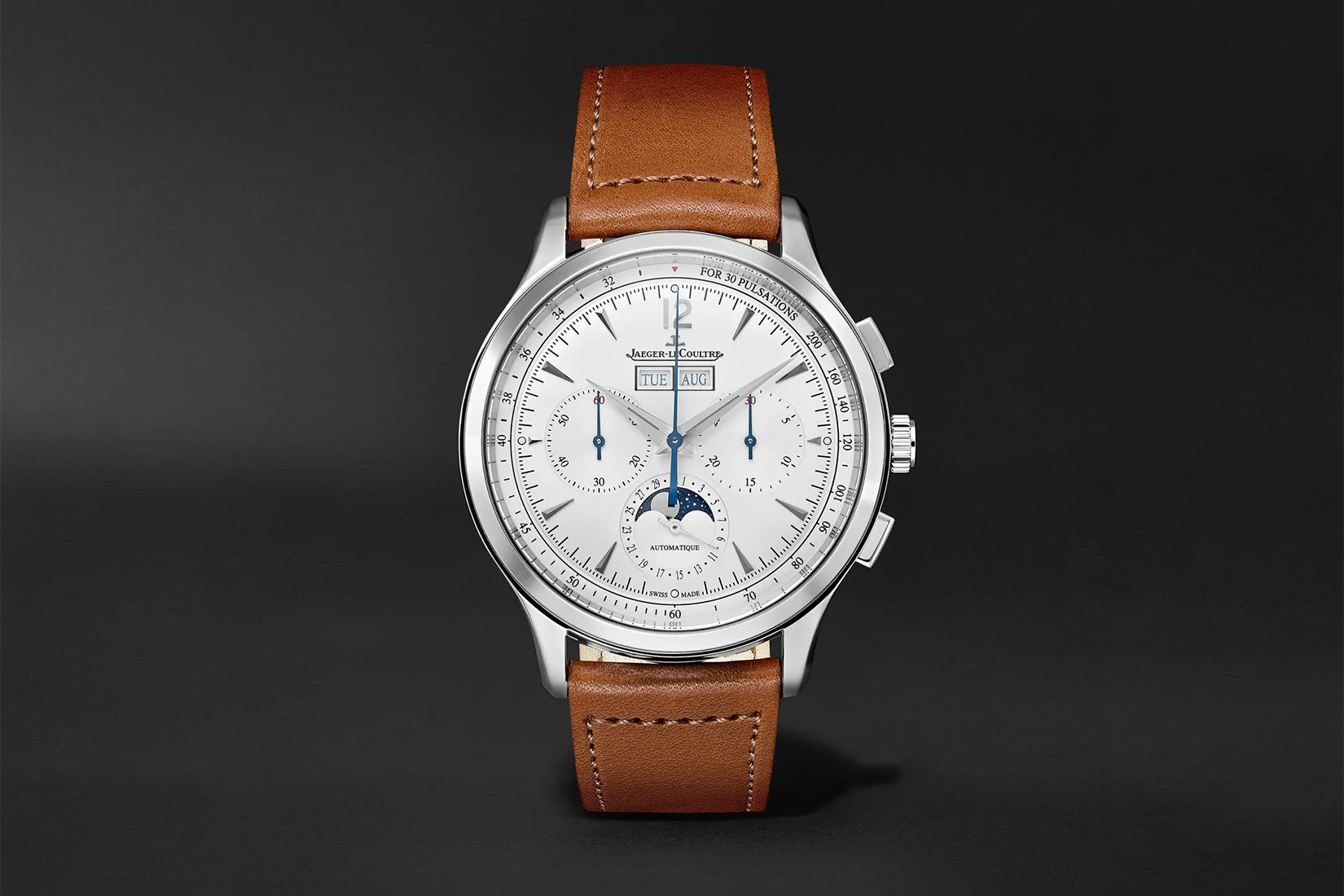 For important meetings where you want to exude the appropriate formality, expertise, and authority, there's only one watch for the task. JLC's Master Control Calendar.
There's a lot going on with the face of this watch with multiple intricate complications at work, adding to the mood of assurance and erudition. The overall aesthetic is refined and noble, with a sleek and contrasting polished and satin stainless steel finish.
The watch combines a chronograph and a complete calendar, collaborating to convey the infinitely important message: time is of the essence. At 9 o'clock you have a small seconds counter, and at 3 o'clock, a 30-minute chronograph. As a bonus, you've got a pulsometric scale—in case you want to monitor your heartbeat in a particularly stressful meeting.
Sapphire crystal glass is ultra-durable and long-lasting. And check out the master craftsmanship through the exhibition case back.
Bring a new kind of confidence to the boardroom with the Master Control Calendar Automatic Chronograph—a timepiece designed to get things done. Grandly.
Case size: 40mm
Materials: stainless steel and leather
Complications: hour and minute hands, date and day windows, moon-phase window, 60-second and 30-minute counters, and a pulsometric scale
Movement: automatic
On the weekend: Casual and cool with the Polaris Mariner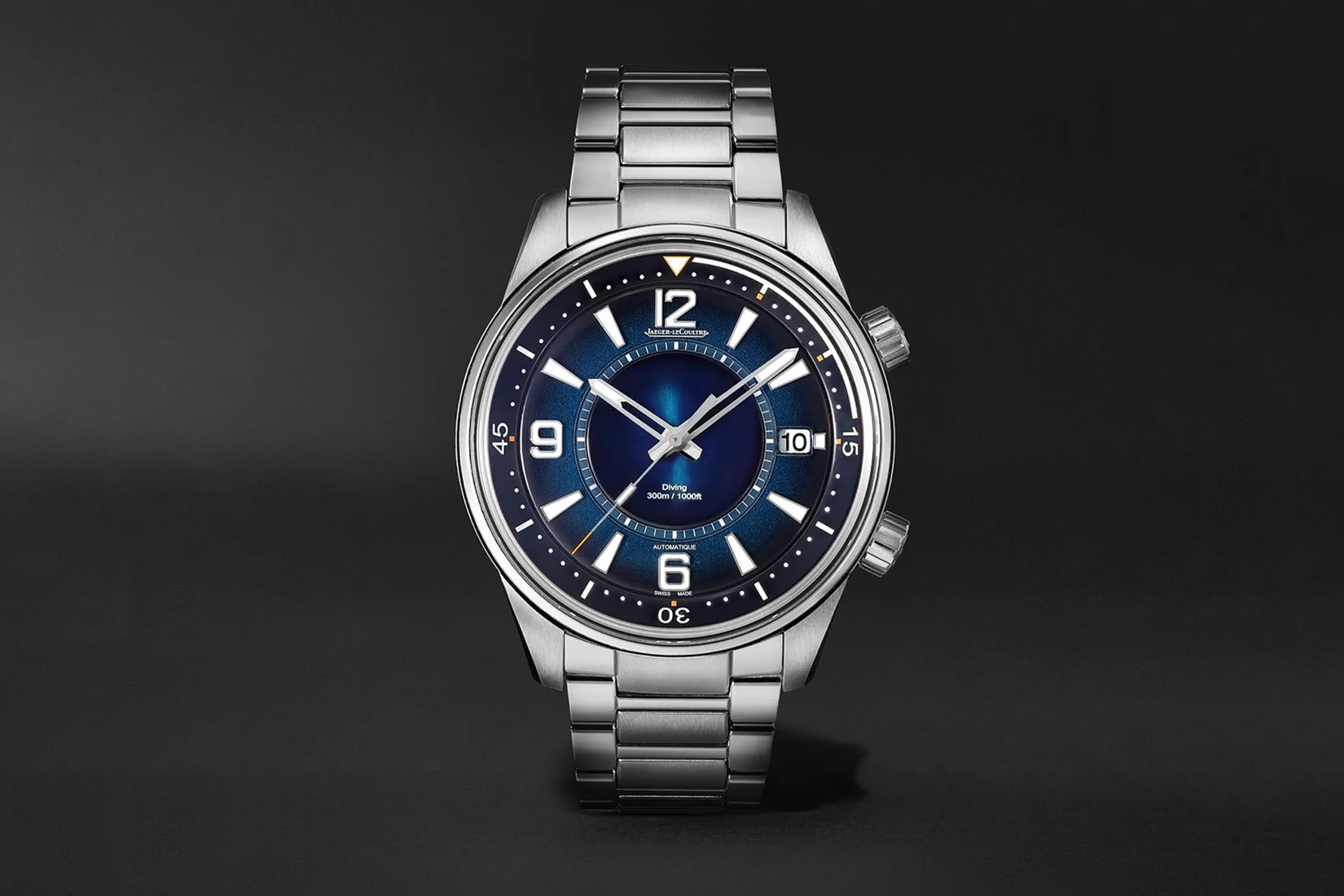 Time flies at the weekend. Gain back some control over your precious Saturday and Sundays with JLC's Polaris Mariner. It's the perfect timekeeping companion to make sure you enjoy every second of your day off.
The Polaris Mariner is actually a dive watch but you don't need to be going on a scuba adventure to wear this timepiece. It also happens to look super cool with casual weekend wear, with its smart stainless steel bracelet and lacquered blue dial, not to mention the Super-LumiNova hands and indices. Ideal for adding a bit of edge to your weekend get-up.
And given that it's water-resistant up to 300 metres, if you fancy going on a weekend jolly to a beach resort, you could take it in the water with you.
Whether you spend weekends hanging out with the kids or jet-off somewhere exciting for a last-minute holiday, the Polaris Mariner should be the watch to come with you.
Case size: 42mm
Materials: stainless steel
Complications: hour, minute, and second hands, plus a date window
Movement: automatic 
For adventurous escapades: High-energy and high-performance with the Polaris Date
It's game time with the Polaris Date, a very sporty-looking timekeeper. Created in Switzerland, it's made of hand brushed and polished stainless steel with a durable and no-nonsense black rubber strap. On the back is an engraving of an old-school diving helmet—just like the very first Polaris back in 1968. The spirit is bold, daring, and adventurous.
This is a simple but sophisticated watch that feels rugged and tough, ready to take on the field. Whether you wear it to lift weights at the gym, for a casual 5k, or a motocross session, it's the perfect sports or field watch and an equally good travel watch too.
Get ready to dial up activities and adventures with the Polaris Date—the perfect timepiece for any high-octane endeavours.
Case size: 42 mm
Materials: stainless steel
Complications: hour, minute, and second hands, plus a date window
Movement: automatic 
On a date: Romantic yet refined with the Master Control Calendar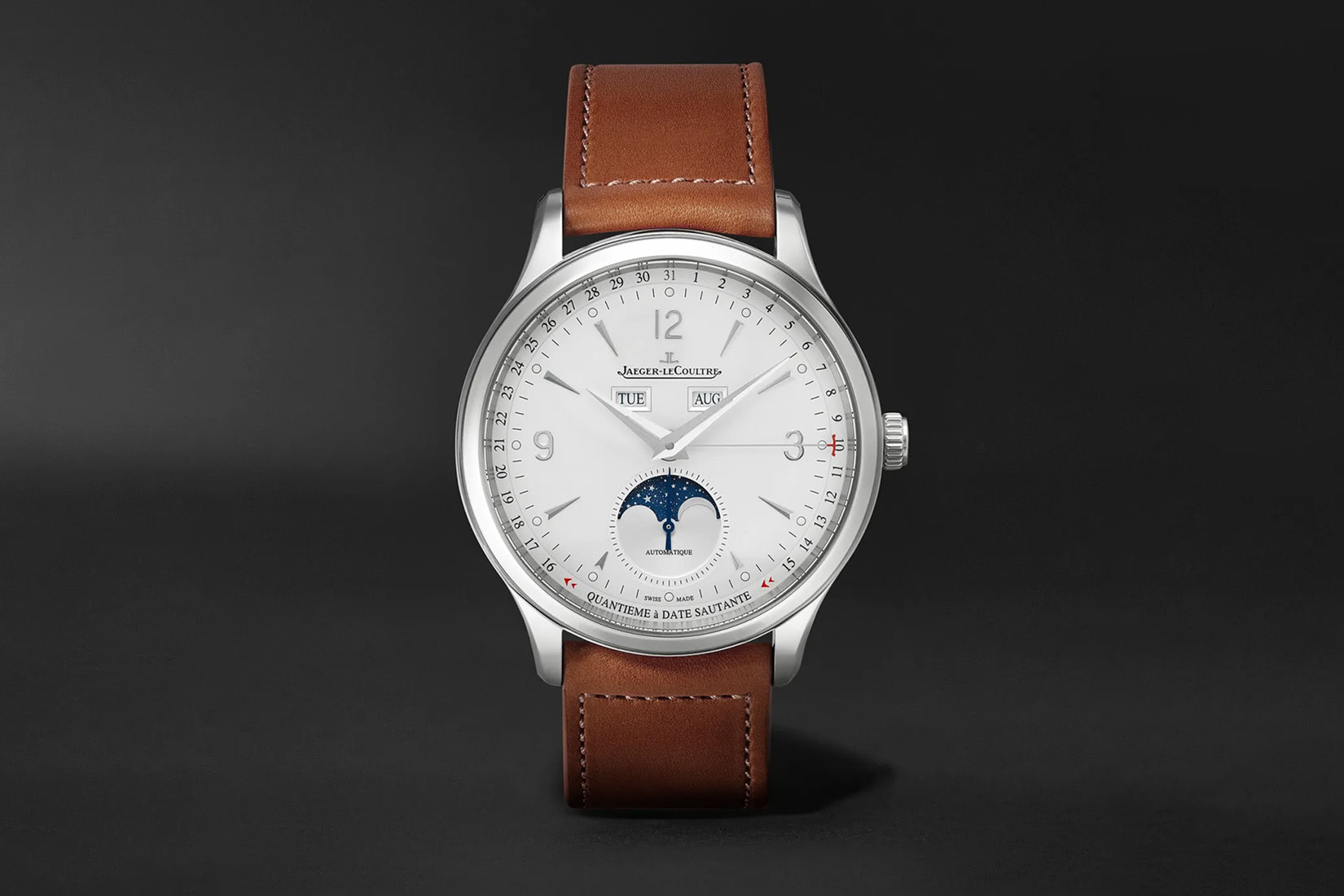 What you wear plays a significant part in wooing dates and that includes your watch. Ensure you set the right tone with the master of seduction: the Master Control Calendar by JLC. First, it will steal your heart. Then it will steal theirs.
We've already talked about how perfect the Master Control Calendar collection is for business negotiating and straight-talking. But while it's incredibly practical with its sapphire glass crystal and 70-hour power reserve, this particular model could also work its cool confidence and charm in a romantic setting.
The watch is ultra-sleek with its stainless steel case and silver sunray dial while the brown leather strap is classic and traditional. But mostly we can imagine you winning over a date by talking them through the moon phase complication.
Love is guaranteed to be in the air when you rock up wearing JLC's Master Control Calendar. We had no idea a watch could be this charismatic.
Case size: 40mm
Materials: stainless steel
Complications: hour, minute, and date hands, day and month windows, moon phase and seconds sub-dial
Movement: automatic
For after hours: Distinguished and dashing with the Reverso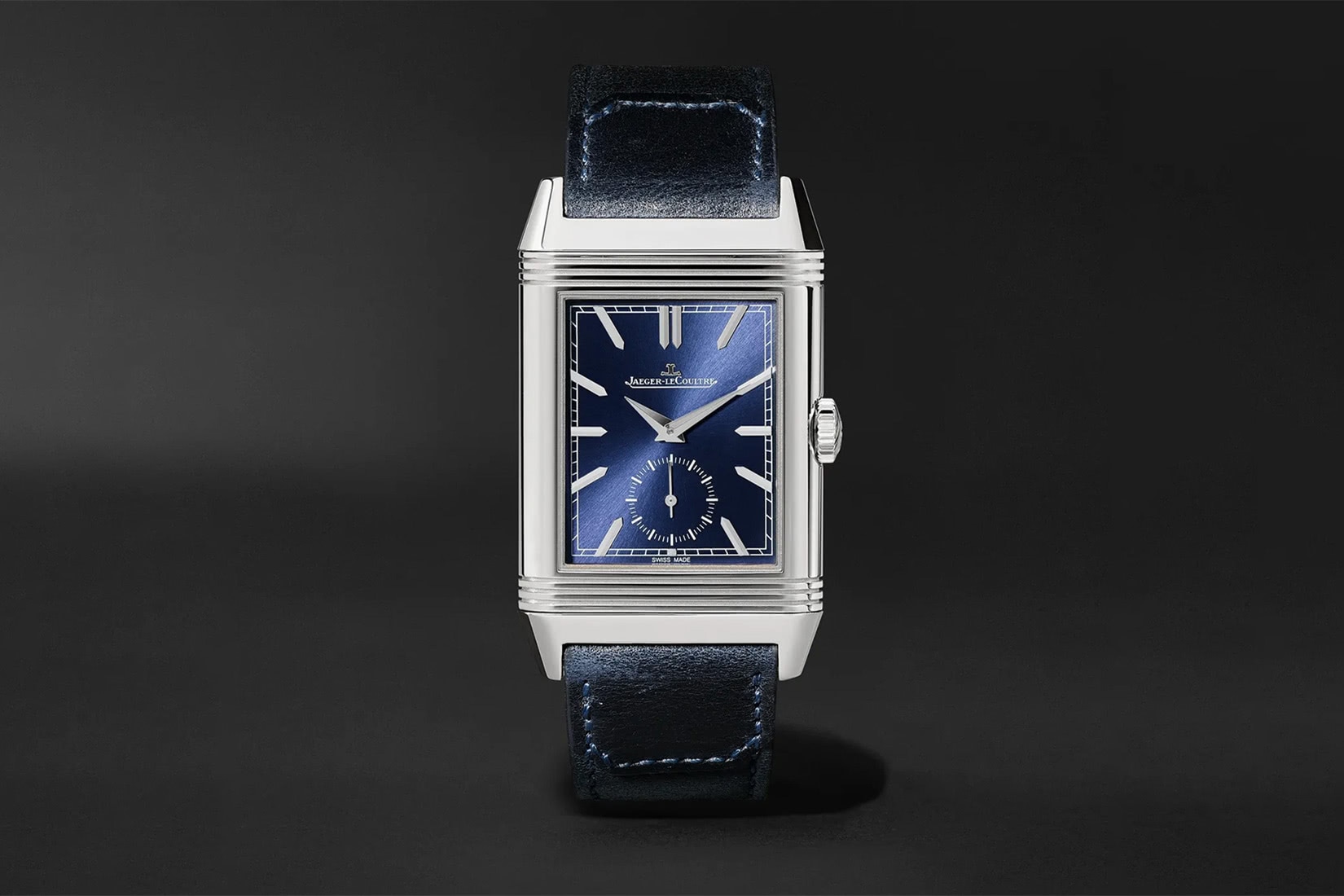 The two-faced design of the Reverso has made it one of the most legendary watches of all time. The multifaceted timepiece was first launched in the 1930s and retains some of that vintage appeal. This one is particularly stylish—and particularly suited to after-dark fun—with its blue dial and leather strap, as well as the Art Deco-style case.
On the one side of the watch you have a silvered guilloché dial featuring an hour and minute hand and a second-counting sub-dial, while on the Clous de Paris dial on the back, you can track different time zones. Ideal for all city breaks.
There's no watch quite as recognisable or quite as eternally stylish as this one. When work is finished and it's happy hour, make sure everyone knows that you've clocked off for the day with JLC's Reverso. Here to redefine the meaning of having a good time.
Case size: 28.3mm
Materials: stainless steel
Complications: hour and minute hands, second-counting sundial, second-time zone, and 24-hour displays
Movement: manual
At a black-tie event: Dignified and debonair with the Master Ultra Thin Moon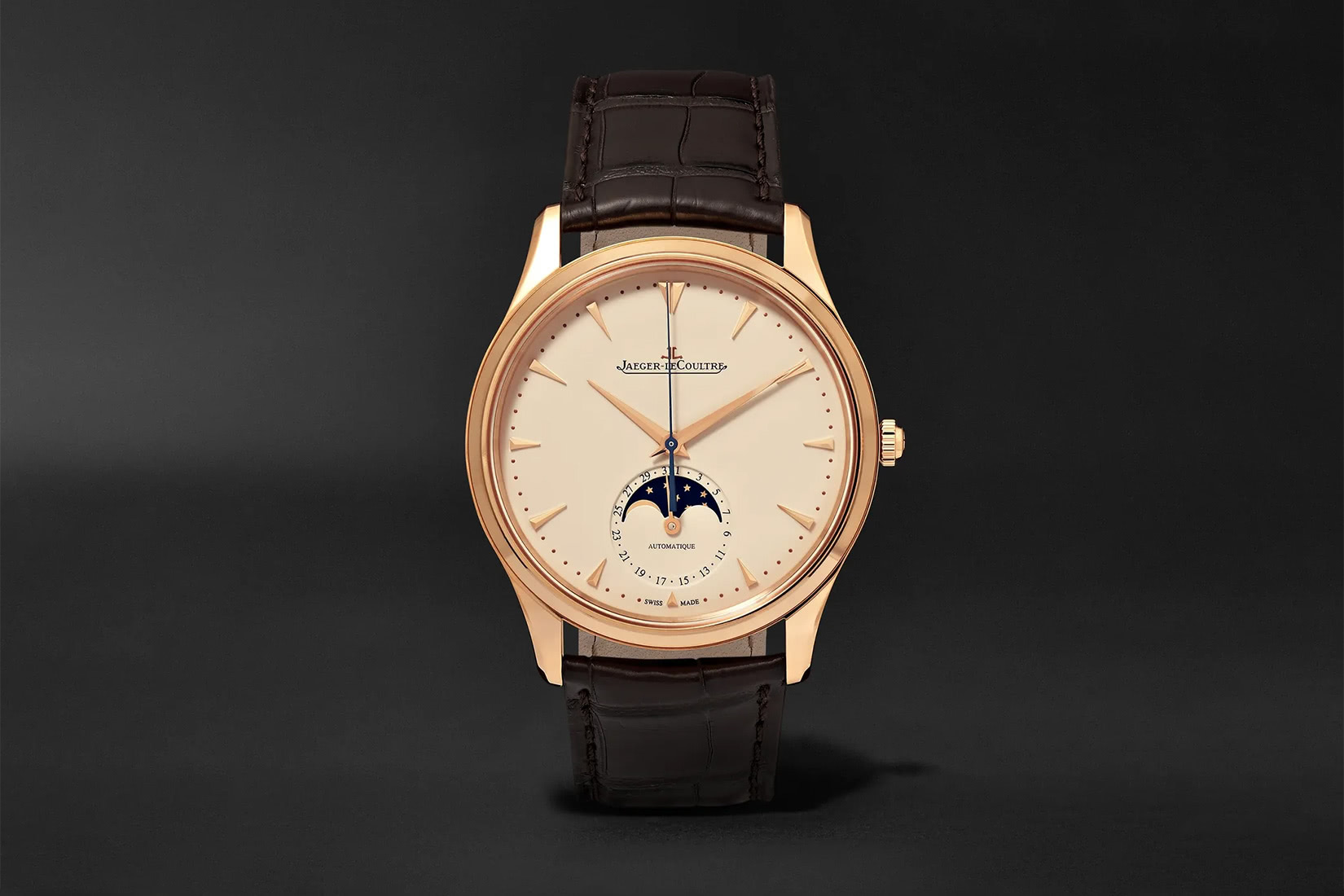 Black tie events are, by definition, special. Make sure you do justice to the sense of occasion with JLC's Master Ultra Thin Moon. There's no other dress watch that looks as good when paired with a tuxedo.
The oh-so-suave and exceptionally smooth Master Ultra Thin Moon showcases the incredible craftsmanship for which JLC has become known. Its 18-karat rose gold case contains an impeccably precise Swiss-made 925/1 calibre mechanism—which you can glimpse at work around the back.
Meanwhile, the sunray dial, with its moon phase complication, is a perfect example of subtle and simple sophistication. Pared-back to just the essentials yet undeniably opulent, this kind of watch is synonymous with success.
We can imagine the Master Ultra Thin Moon in its element being paraded down a red-carpet or sitting in the front row of the most exclusive of gala events.
Case size: 39mm
Materials: rose gold and alligator leather
Complications: hour, minute, and second, moon phase, plus a date dial.
Movement: automatic