Gift shopping for the man who has everything is hard. We've all been there.
If you need a little help and a good dose of inspiration, our editorial team made this handy little list with you in mind. This curated list of the best luxury gifts for men is exactly what you need to surprise your friend or the man in your life with a thoughtful and memorable gift.
From playful tech accessories to stylish wardrobe essentials, read on to discover our no-fail luxury gifts for your favourite guy.
If your wallet is just starting to recover post-holiday season, don't fret. From budget-friendly treats to high-end premium gifts, it's all here. And to make sure that you stay within a (reasonable?) budget, we're breaking down our list by price range:
P.S. we also curated a list of the best gifts for her.
To make sure that you stay within a (reasonable?) budget, we're breaking down our gift list by price range:
Ready? Behold, 65 gift ideas for men.
The best gifts for men under $100
We start our list with men gifts under $100. You'll find here small gifts that are funny or symbolic, but also a few creative ideas to show that you care. These gifts are perfect for a friend, a boyfriend, or if you don't want to spend a fortune on your Christmas shopping.
Braun essential grooming kit
Bring that luxurious barbershop shaving experience into his bathroom with this multi grooming kit from Braun. It includes Gillette's new Heated Razor, together with beard trimming and hair clipping essentials. The state-of-the-art razor heats up in less than a second to provide continuous soothing heat and a warm feeling to the skin for a silky-smooth, close shave.
Passport holder with RFID blocking technology
An inexpensive yet very practical travel gift for men, this passport wallet by Vaultskin can hold travel documents and credit cards too. For extra safety, this passport holder also comes with an RFID blocking shield material to prevent personal information theft.
The Kensington Passport Wallet is available in a range of colours, all made with premium Italian leather for a premium look and feel.
For more options, check our selection of the absolute best wallets for men available online today.
Minimalist desk knife
This gorgeous multipurpose cutting tool will live on his desk forever, always within reach and a constant reminder of how helpful you are when he needs a little edge through the day.
Inspired by the Japanese kiridashi knife, but recontextualized for the contemporary deskscape, this desk knife by Craighill is as elemental as it is satisfying to use. It's made of brass, milled in Texas, and finished by expert craftsmen in Craighill's New York workshop.
Fresh and delicious coffee subscription
For the man who needs his morning coffee to have a great day, help him discover the best coffee beans in the world with this subscription box set by Atlas Coffee Club. Each month, he'll receive a curated selection of single-origin coffee with brewing recommendations and information about each coffee. The beans are fresh and artfully roasted to accentuate their flavours.
And who do you think he'll be thanking every morning again and again for the best gift of the year? You, of course!
Kindle Fire HD 8 tablet
The new Kindle Fire 8 tablet comes with a high-resolution display and plenty of storage to keep more books that he could read in an entire year. It's solid and thoughtfully designed to let him also enjoy movies and music on the go. This is a gift that will be put to good use as soon as it's unpacked.
A personalised bottle of his favorite drink
For a gift that will leave a memorable impression and be the highlight of many evenings to come, take a look at ReserveBar's custom engraving services. You can select from a large range of premium spirits, and have a personalised message engraved on the bottle.
Need help selecting the best bourbon or whisky? Check our ranking of the best alcohol brands of the year.
Nike training backpack
This gym backpack from Nike is lightweight and robust. It comes with mesh side pockets to hold two water bottles and is the perfect size to pack his sports gear and hit the gym.
Premium iPhone case
This simple and elegant iPhone case is made from military-grade anti-drop material to resist even the most clumsy hands. It manages to remain very slim though and its matt finish elevates the look of the iPhone.
Check our editor's selection of the best iPhone cases on the market today for more options.
Polo Ralph Lauren virgin wool scarf
Polo Ralph Lauren's classic grey scarf has been made in Italy from sumptuous wool that's naturally insulating and finished with fringed ends. The house's iconic pony emblem is neatly embroidered at the edge – it takes 982 stitches to get it just right.
Nuvantee cocktail shaker kit
This premium quality cocktail shaker kit is made from stainless steel to last. It comes with a free jigger and a cocktail recipe book in case he needs a little inspiration.
Kenneth Cole grooming gift set
The box set includes shampoo, aftershave, and fragrance. With notes of fresh mountain air accord and rich woods infused with black vanilla, this new gift set by Kenneth Cole is the perfect balance of strength and warmth.
Premium matt black multitool
Quite literally a toolkit that fits in the pocket, this premium build quality multitool has just about every tool a man might need for handy tasks around the house.
Leather men Dopp kit
With a trusty vintage design, this quality leather Dopp kit is the perfect size to pack all his grooming essentials when travelling. Premium leather on the outside and quality nylon on the inside, the toiletry bag also has a water-resistant inner bottom.
Oud wood scented candle
This oud wood scented candle comes in a beautiful glass jar packaging. It creates a warm and natural woody mood in the room.
Hugo Boss wool-blend socks
Ok, this might not be the most originals of men gifts, but it's certainly a very useful one. This sublime pair of wool-blend Hugo Boss socks are a luxury for the feet. And they are very budget-friendly too.
Stainless steel water bottle
We all need to drink more water. The easiest way to do that is to always keep a water bottle with you. This premium stainless steel water bottle from best-selling brand MIRA comes in a range of colours so you can personalise your gift for him.
Silk sleeping mask
Help him get the best night of his life with this every so comfortable silk sleeping mask in a masculine navy blue. The premium fabric won't irritate the delicate skin around the eyes and he'll look better than ever in the morning.
Ascender softshell jacket
Keep him warm and stylish through the winter with this water and wind-resistant softshell jacket by Columbia. He might even let you borrow it from time to time if you ask nicely.
Horn and stainless steel bottle opener
If he enjoys a fresh bottle of beer from time to time, this luxurious stainless steel bottle opener will make an impact. Designed and manufactured by James Purdey & Sons, it's handmade in England from a weighty black-toned horn that's engraved with the historic brand's lettering and polished for a subtle gleam. It will look handsome resting on a drinks cabinet until called to task.
Touchscreen leather gloves
Gloves are essentials for the winter. Gloves that let him use his phone and stay warm at the same time are even better. This pair of leather gloves by Dents Buxton are specially designed to work with touchscreen phones. A very practical gift for him indeed.
Toolbox set
This toolbox set by DEKOPRO includes 128 essential tools forged from high-quality steel and finished in high-polish chrome. This treatment guarantees both long-lasting strength and anti-corrosion protection.
Canvas iPhone case
This high-end iPhone case was designed by Native Union to be drop-proof, so it's particularly handy if he's known to crack a screen or two. It's made from durable black rubber that's raised at the edges to protect against knocks and has a tonal canvas panel so it's easy to grip.
Cable-knit wool-blend slippers
This pair of luxurious wool-blend slippers is the best gift to keep him warm and stylish at home through the winter. Soho Home's cosy slippers are made from a thick grey wool-blend knitted in a traditional cable and offer generous padding for an extra comfy feeling.
Wilson NFL super grip football
This classic ball manufactured by Wilson respects the official NFL guidelines. It will make for great summer games in the garden.
Water-proof and fog-proof binoculars
Empower him to explore the outdoors (or just his back garden) with these classic binoculars from Bushnell. They are manufactured with quality optics and built to last.
Android smartwatch
This smartwatch by Anbes comes with IP68 waterproof, a fitness tracker and heart rate monitor, a step counter, sleep tracker and is compatible with both iPhone and Android. What more could you ask for? If he likes tech gadget but doesn't want to invest in an Apple watch, this is a great affordable alternative.
Polo Ralph Lauren pyjama trousers
Offer him the luxury to relax in style. Constructed with a flexible elasticated waistband, this grey mélange pair is made from ultra-soft cotton-jersey.
Acqua Di Gio by Giorgio Armani
Choosing a perfume as a gift for a man isn't an easy affair. Opt for this fragrance by Giorgio Armani if you don't know what he usually wears. A classic in men's perfume, Acqua Di Gio was introduced by Giorgio Armani in 1997 and has been an instant hit. With a sharp aquatic fragrance, it's a subtle blend of citrus, rosemary, spice, jasmine, woods and ocean breezes. Works for both daytime or evening casual.
Tom Dixon beer glasses
Ensure his favourite brew is served in the proper glassware with this stunning pair of mouth-blown glasses from Tom Dixon. An instant upgrade to any home bar and the perfect way to toast his life milestones.
Take a look at our review of Tom Dixon's entire glassware collection for other premium home bar essentials.
Wooden chessboard
This Amazon best-seller is the best choice. It's made from premium wooden with walnut inlaid and comes with a high-quality box to store it.
Patagonia ribbed-knit beanie
This beanie is rib-knitted from fabric that's soft and insulating. Patagonia aims to minimise its environmental impact by using recycled materials. Ribbed construction keeps it snug.
Hugo Boss pin-dot silk tie
Revisit a classic of men's gift with this luxurious silk tie from Hugo Boss. Investing in fine accessories for him is an easy and affordable way to refresh his suiting. Hugo Boss' tie has been woven in Italy from lustrous silk-jacquard in shades of lilac and purple that work nicely with blue or grey tailoring.
Fun coffee cups set
Help him say out loud what everybody thinks in the office. This set of two coffee mugs is great for a men colleague.
Inspirations leather notebook
Men should always keep a lightweight yet durable notebook with them to write down their ideas and to-do lists. This classy cross-grain leather notebook from Smythson is one he'll be sure never to lose nor be ashamed to pull out of his bag in public.
Cards against humanity
Cards Against Humanity is a party game for horrible people. Does that fit the description of the lucky man you want to gift this to? In its latest version, the game has been updated with over 150 new cards. It includes a booklet of sensible game rules and preposterous alternate rules.
Carhartt rain defender thermal hoodie
With a timeless design and great attention to details, this thermal lined hoodie from Carhartt is an essential for any man's wardrobe. It's made from a blend of durable water-repellent fabric for added protection.
Bosch power tools combo kit
This Bosch drill kit includes a combination of two powerful drill drivers to work through every surface. It's lightweight but durable and sturdy.
Herschel Supply mid-volume backpack
This simple and elegant backpack is thoughtfully designed by Canadian brand Herschel Supply Co. The company manufactures fine quality backpacks, bags, travel goods and accessories with timeless designs. Its size and laptop compartment make it the perfect gift for young men and students.
Polo Ralph Lauren Fragrance gift set
This fragrance box set from Ralph Lauren will help him find the perfume that's right for him. It comes with four different scents, each unique and carefully created by the classic American luxury brand.
Polar fleece jacket
An autumn and winter wardrobe essential for men, this polar check jacket comes in a range of colours and is a great value if you want something of quality that isn't expensive.
Kenneth Cole black fragrance set
This grooming starter kit is another great gift for a teenage boy or a young man. It includes an aftershave, fragrance, and deodorant of matching scents. No wonder it's a best-seller on Amazon.
23andMe personal DNA test
If you're looking for a gift for a man who likes science or is curious about his ancestry, this starter kit from DNA company 23andMe is a great option. He'll receive a detailed ancestry analysis to understand his genes.
The best gifts for him under $200
Next, let's look at the best gift for men under $200. These are already a step up from the previous ideas. They won't break the bank, but if you're ready to spend more than a $100 on a gift for him, you'll want your gift to be memorable and practical in his day-to-day life.
These gifts are best reserved for milestone celebrations like birthdays or special anniversaries. They are also perfect as a Christmas gift or a Valentine's Day present for the special man in your life.
Browse below for more inspiration.
Montblanc passport holder
Time to seriously upgrade his travel gear, take a look at this premium leather passport holder from luxury house Montblanc. Crafted from leather that has a woven carbon effect on the surface, this Montblanc passport cover is a stylish essential for jet-setting gentlemen. It'll keep his most important documents safe, secure and pristine whilst travelling.
Citizen Military watch
For a rugged look with a comfortable fit, this military-inspired timepiece fits the bill. with a day-date indicator and luminous hands. The black dial provides a backdrop for simple Arabic numerals, housed in a stainless steel case along with a woven green strap with patterned stitching and a buckle clasp.
Take a look at our selection of the best field watches, aviator watches, and tactical watches for more military-inspired options.
Samsung Galaxy buds
If he's using an Android phone and enjoys listening to music or podcast, this is the best gift for him.
These brand new earbuds from Samsung pack a punch. They offer up to six hours of battery life, a premium quality sound tuned by AKG, and will let him control how much surrounding noise he wants to hear with Ambient Aware. Included in the box are three adjustable ear tip and wingtip sizes to make sure they fit him just right.
We constantly review the latest earbuds coming out, check our premium selection of the absolute best wireless earbuds for more ideas.
Philips Sonicare ExpertClean electric toothbrush
This super stylish electric toothbrush is the absolute best to take care of his teeth. The Philips electric toothbrush comes with an innovative sonic technology. The Sonicare ExpertClean moves the electric toothbrush head with 62,000 gentle movements per minute. That's more movement a minute than a manual toothbrush achieves in 1 whole month.
Hugo Boss full-grain leather wallet
Like most men, he probably hasn't found the perfect wallet yet. Something big enough to securely store all their cards and notes, but also small enough to fit in their pocket. Luckily for him, you found exactly what he needs. This premium wallet from German designer Hugo Boss is simple and practical. It's also very stylish and he'll be proud to take it out in public when he invites you to a nice thank you dinner.
Heavy-duty outdoors cooler
If you want a gift for a man who likes the outdoors, look no further. This high-end steel-belted cooler is both sturdy and handsome. Its classic design is timeless and it's built to last. It comes in different sizes and colours and delivers heavy-duty cooler features, its insulation offers 4-day ice retention in temperatures as high as 90 degrees Fahrenheit! Plenty enough to keep his beer fresh till the end of the day.
Jabra Elite Active Wireless Earbuds
This gift is pure motivation to help him push his limits when training. The best present for a man who likes to run or hit the gym, these elite earbuds by Jabra are specifically designed for an active lifestyle. They fit the ear comfortably and securely to stay there whatever he does. They also have a long battery life. Different colours are available to choose from.
Canada fringed wool scarf
This premium scarf from Acne Studios is so soft and comfortable he'll never want to take it off. It has been knitted in Italy from pure wool and is finished with fringed ends. A variety of colours are available to choose from, but if we like the timeless low-key look of this navy style that will work with just about all of his outerwear clothes.
Braun Series 7 premium electric razor
This intelligent electronic razor from german manufacturer Braun is a great gift for men who want to rapidly shave in the morning without using blades. The sonic technology automatically increases power while shaving in difficult areas and on denser hair. It comes with a base station to automatically clean, sanitize and oil the razor to ensure long-lasting performance.
High-end Nespresso machine by Breville
There is coffee and then there is Nespresso coffee. If you want a gift for a man who enjoys a warm cup of coffee every morning, this high-end Nespresso machine built by Breville is perfect. It comes in different colours but we particularly like this chrome finishing.
With this machine, he'll be able to create barista grade brewed for a single-serve at the touch of a single button. It will remind him of you every time he's off to a great start in the morning.
Megaboom Portable waterproof Bluetooth speaker
Possibly the best gift for a young man who likes to host parties at home, this Bluetooth speaker delivers impressive sound in a light and portable format. It's also fully waterproof, so we can take it to a pool party without having to worry. Available in different colours.
Sonos One smart speaker
The latest generation of the best-selling Sonos One smart speaker is a powerful smart speaker with voice control built-in. It's also very stylish and looks handsome in any home. This is a great gift for a man who likes to host dinner parties or just enjoys listening to quality music at home. Best of all, he'll be able to pair it with other Sonos speakers if he wants to expand his sound system in the future.
The best luxury gifts for men when money is no object
Now we're talking! The gifts below are more meaningful investments. They are to be reserved for the most important men in your life: your dad, your husband, your brother, or any man who really deserves to be splurged with an expensive present.
These are the gifts for the impossible man. The luxury gifts for the men who have everything. If the recipient is the kind of man who buys stuff as soon as he wants them, you need to put extra thinking behind your present to offer a thoughtful gift.
Browse below for our favourite luxury gifts for men.
Apple Watch Series 5
The Apple Watch is the most popular watch in the world. Period. If he has an iPhone but doesn't have this watch yet, this is a great gift for a special occasion. With a new always-on retina display, the Apple Watch Series 5 is easier than ever to use. It will help him monitor his health, stay fit, and keep him always connected (with you?).
Bose noise-cancelling wireless headphones
These high-end noise-cancelling wireless headphones aren't for everyone. If he likes to listen to music and is often on the plane, they will be the perfect gift. With a streamlined design and built with a lightweight stainless-steel headband, this pair of headphones is so comfortable he might forget he has them on. That's until he turns up the volume and is immediately transposed with the premium sound performance. With 11 levels of noise cancelling, he'll also be able to finely tune-off distractions or let ambient sound in if he prefers.
Take a look at the other best wireless headphones on the market today to find the pair that's perfect for him.
Waffle-knit cotton hooded robe
This luxurious robe is an invitation to relax and relax a little more. Hamilton and Hare chose comfortable, durable fabrics for its designs, keeping in mind they'll be frequently washed and worn. Made to last, this robe is knitted from soft cotton with a waffled texture and lined with absorbent terry. It has a comfy hood and internal belt that doesn't need loops to stay put. You might want to pick one up for you too while you're there.
Segway folding electric scooter
This electric scooter is manufactured by Segway, one of the most reliable and famous brands in the industry. It's not cheap, but it's solid and very useful. The best gift for a man who has a long walk to work every morning. With an extra Lithium-Ion battery and an upgraded motor, this folding scooter boasts up to 800W of power, with a top speed of approximately 19 mph and a range up to 28 miles. It's safe and comfortable with front and rear wheel shock absorbers. A pair of solid tires provide maximum rider comfort even when travelling at high speed.
Hover-1 Electric Hoverboard
An even more portable option than the foldable scooter, this electric hoverboard is great for short commute. Manufactured by Hover-1, the brand who first brought the product to market, the electric hoverboard can reach speeds of up to 7. 45 mph for a fun stable and ride.
Powerbeats Pro wireless earphones
The Powerbeats Pro wireless earphones are the latest generation of active earphones from the Apple brand. They are simply the most comfortable sports earphones on the market today and offer unparalleled sound quality. It's the best gift for a man who takes his training seriously and wants a premium sound quality from his music. The Powerbeats Pro are available in a range of colours and come with different earbuds sizes to ensure the best fit possible.
Sony α7R IV full-frame camera
The Sony α7R IV Full-frame camera is a great gift for a man who enjoys photography outdoors or at home. Its lightweight and portable body makes it an ideal companion for a long day of walking. Its picture quality makes it one of the best cameras available on the market today. No wonder it has become the must-have camera for YouTubers and adventurers alike.
Sonos Play ultimate wireless speaker
If he enjoys listening to high-resolution music at home, the Sonos Play is the best gift for him. This is the biggest and best-sounding speaker from the brand, featuring six amplifiers with six dedicated speaker drivers. It's so powerful that it will fill even the largest rooms with pure, brilliant sound. He'll be able to pair this speaker with additional speakers to extend his sound system throughout his home.
Bayley gold-tone sage patina cufflinks
Men who like to dress up never have enough cufflinks. This pair designed by Alice Made is absolutely beautiful. The gold-tone material is combined with a subtle sage patina to create a captivating look. This is the best gift for a stylish man.
Montblanc Meisterstück LeGrand platinum-plated ballpoint pen
The perfect mix of tradition and modernity, this handsome platinum-plated ballpoint pen designed by luxury brand Montblanc is an absolute pleasure to use. If he enjoys writing and appreciates thoughtfully designed objects, a Montblanc pen should be at the top of your gift list.
Tom Ford leather laptop pouch
This luxurious men pouch designed by Tom Ford is made from full-grain premium leather. It's large enough to store a laptop and his essential documents in style ahead of important meetings and presentations. A great gift for a businessman who's always going from one meeting to the next.
Jaeger-LeCoultre Reverso Tribute watch
The Reverso hand-wound watch from Jaeger-LeCoultre is a superb tribute to their classic and timeless design. If you want a gift to celebrate a special anniversary with your husband or a milestone for your dad, this is a beautiful option. Crafted with the signature Art Deco-inspired geometric case, the watch has a navy sunray dial and slim rhodium-plated markers that are purposely minimal so the second-counting subdial appears to be floating. It's fitted with a tonal alligator strap that slowly moulds to his wrist over time for the utmost comfort.
Cartier Santos 18-karat gold watch
If you're looking for a luxury watch with a strong presence for a bold look, this handsome 18-karat gold watch by Cartier is a great gift. The timepiece is named after Mr Alberto Santos Dumont, the Brazilian pilot who asked his friend Monsieur Louis Cartier to design him a personalised watch that would allow him to easily check the time while flying. Engineered in 1904, the Swiss-made 'Santos' has become one of the brand's most iconic designs.
Luxury gift guide for men: How to find the perfect gift for him?
Over the years, we've received many questions from our readers on how to find the best gift for men. Our first answer is always to ask who exactly the gift is for and what's your relationship with him. Is it a gift for your dad? Your husband or a boyfriend? Or just for your best friend?
Next, you need to think carefully about your relationship with the man you want to offer a present to. What does he like? Is there something that would be useful in his day to day life or bring joy to his routine but that he wouldn't buy for himself?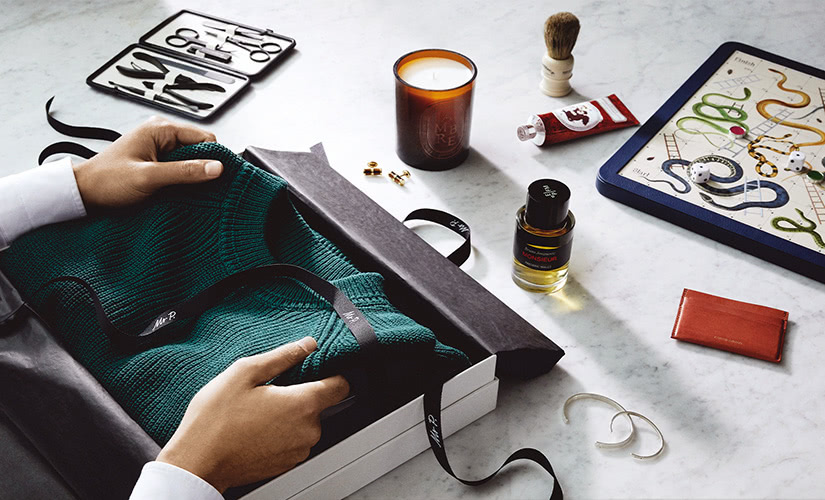 To help you along the way, here are our answers to the questions most often asked to our team: