Some people want their home to serve as a place for collecting treasured items. Others desire the ultimate space to host parties and enjoy life to the fullest. But for the biggest houses in the world, limits do not exist. They can easily do both, along with so much more.
Whether it's a 27-story skyscraper with 600 people on staff or a centuries-old palace ready to host the most prestigious dignitaries, the largest houses in the world have everything it takes to impress.
Master bedrooms stretch to nearly 10,000 sq ft, while bowling alleys, 100-car garages, and multiple pools are just the tip of the iceberg. And really, what is a big home if you can't invite over 5,000 people to enjoy your banquet hall?
Covering nearly every corner of the globe, the world's biggest houses are ready for anything you can throw at them. With plenty of room left over.
The 11 biggest houses in the world
| | | |
| --- | --- | --- |
| # | House Name | Size |
| 11 | Taohuayuan | 72,400 sq ft |
| 10 | The One | 74,000 sq ft |
| 9 | Villa Leopolda | 80,000 sq ft |
| 8 | La Reverie | 84,600 sq ft |
| 7 | Modern Versailles | 85,000 sq ft |
| 6 | Witanhurst | 90,000 sq ft |
| 5 | Safra Mansion | 117,000 sq ft |
| 4 | Biltmore Estate | 175,000 sq ft |
| 3 | Antilia | 400,000 sq ft |
| 2 | Buckingham Palace | 828,800 sq ft |
| 1 | Istana Nurul Iman | 2.15 million sq ft |
Taohuayuan, China — 72,400 sq ft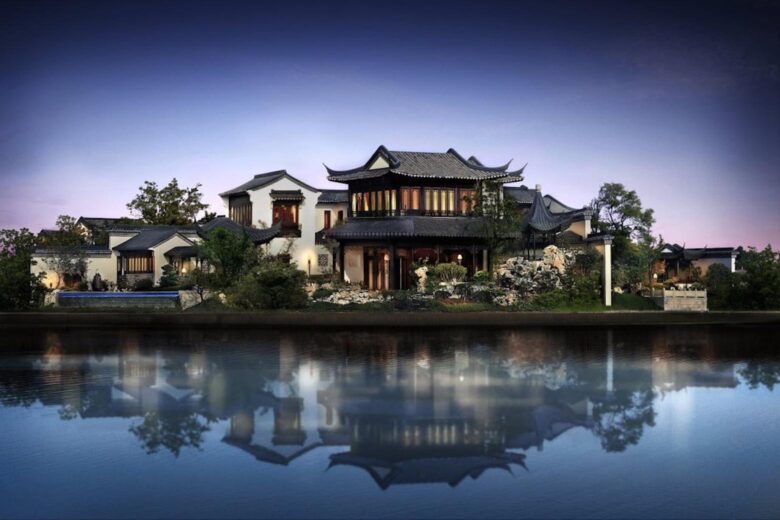 Some of the world's biggest houses are perfectly situated for large parties and energetic fun. This one, on the other hand, is built on a lake island with stunning views and peaceful surroundings.
This huge mansion rivals some of the biggest houses in America, but features distinctly Chinese architecture, even going as far as using the Classical Gardens of Suzhou, a UNESCO heritage site, as inspiration. It's no wonder they chose a name that translates to utopia.
Taohuayuan features 32 bedrooms and bathrooms, an enormous wine cellar, and a lakeside pool.
Size: 72,400 sq ft / 6,700 m2
Location: Suzhou, China
Estimated value: $154 million
Owner: Hongtian Chen
Built in: 2016
The One, United States — 74,000 sq ft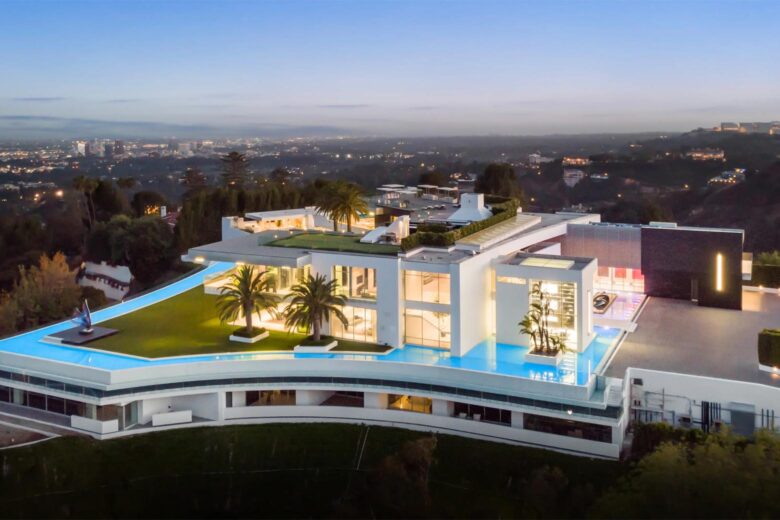 When Nile Niami set out to create one of the biggest mansions in the world, his goal was to create something that only a select few people can afford. The type of people who want something no one else has.
And after many legal challenges, the feat has been accomplished. But due to Bel Air's latest zoning regulations, it's unlikely to be repeated in the area ever again.
Featuring a four-lane bowling alley, a 45-seat movie theater, and a full indoor/outdoor nightclub with a VIP section, The One is ready to host extravagant parties, all without leaving the comfort of your home.
This beautiful, big house also has a 5,000 sq ft master bedroom to stretch out in, and a garage with enough space to hold a museum's worth of expensive cars.
Size: 74,000 sq ft / 6,900 m2
Location: Bel Air, California, USA
Estimated value: $500 million
Owner: Nile Niami
Built in: 2013
Villa Leopolda, France — 80,000 sq ft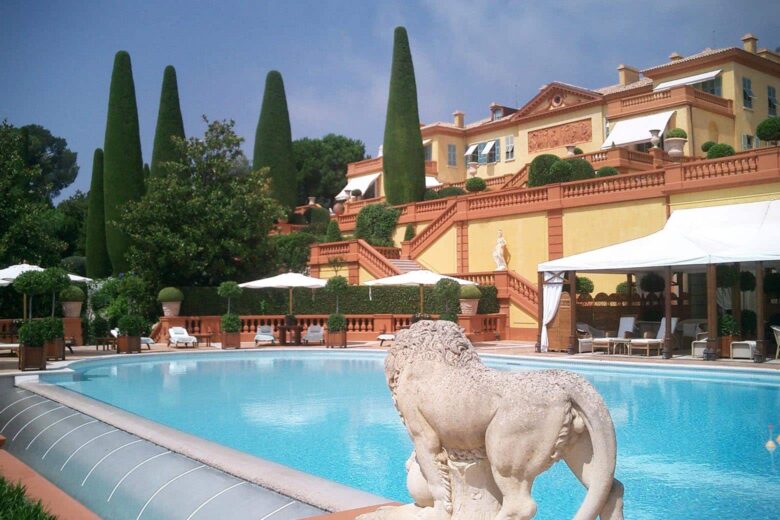 The French Riviera is known as a stunningly beautiful location with jaw-dropping views and gorgeous water. It's also known as a playground for the wealthy, and Villa Leopolda might be the perfect manifestation of that thought.
With 19 bedrooms and 14 bathrooms spread across the main building and two guest houses, there is more than enough space for all of the fun you can imagine.
If the interior doesn't do it for you, step outside and dip in one of the 12 pools, walk through the extensive gardens, or check out the commercial greenhouse.
Size: 80,000 sq ft / 7,400 m2
Location: Villefranche-sur-Mer, France
Estimated value: $750 million
Owner: Mikhail Prokhorov
Built in: 1931
La Reverie, United States — 84,600 sq ft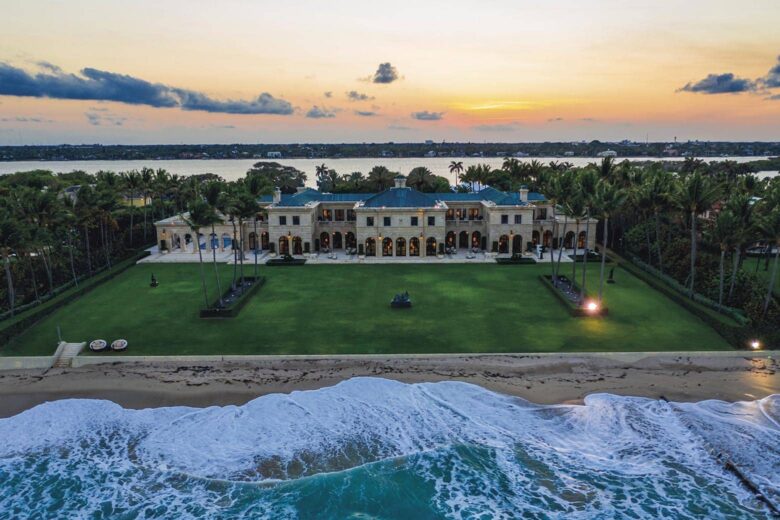 What happens when you start one of the most popular hair product companies? You build huge mansions with everything you want.
Sydell Miller hired architect Jeffery Smith to design one of the biggest houses in the US in an ideal Palm Beach location, with almost 350 feet of oceanfront coastline. It exchanged hands in 2019, purchased by hedge-fund manager Steven Schonfeld.
As one of the biggest houses in America, it has ten rooms, an opulent library, and a basement with a bowling alley and game room. The exterior is covered in stone and features large Roman arches over the window and loggia openings.
Size: 84,600 sq ft / 7,900 m2
Location: Palm Beach, Florida, USA
Estimated value: $111 million
Owner: Steven Schonfeld
Built in: 2001
Modern Versailles, United States — 85,000 sq ft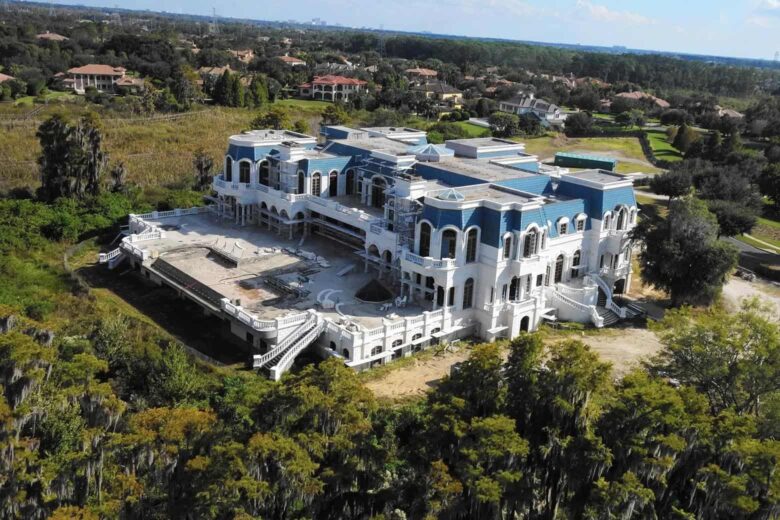 As you can imagine, constructing the largest house in the US is a monumental task. Situated in Florida's exclusive Orange County, this monstrous home began construction in 2004 and is expected to complete in 2022.
What is the payoff for such a long wait? How about an 8,000 sq ft master bedroom, 11 kitchens, and a 30-car garage? Two elevators are on the property, one of which is reported to feature extensive use of gold.
In the documentary Queen of Versailles, the Siegels famously said, "We're sorry we ever started. But we're $50 million into it, so it really needs to get done."
Size: 85,000 sq ft / 7,900 m2
Location: Windermere, Florida, USA
Estimated value: $100 million
Owner: Jacqueline and David Siegel
Built in: 2022
Witanhurst, United Kingdom — 90,000 sq ft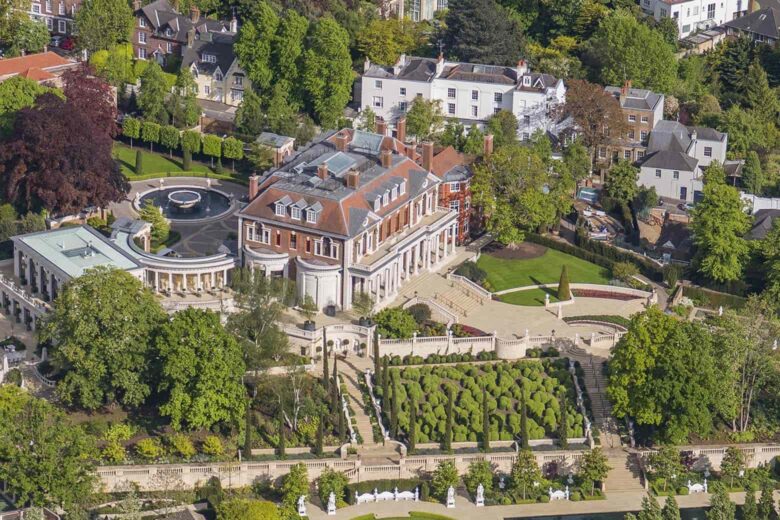 The second-largest home in the United Kingdom was designed by architect George Hubbard and built over a century ago.
Before the 2008 sale to Russian businessman Andrey Guryev, it was reported to be in a state of disrepair, showing how the world's biggest houses are subject to the same laws of time as other homes.
Now, it is ready again to host guests in its 25 bedrooms, gym, sauna, movie theater, and billiards room. Hopefully, its relatively new owner will keep up with the maintenance better than the previous ones.
Size: 90,000 sq ft / 8,400 m2
Location: London, UK
Estimated value: $450 million
Owner: Safran Holdings, Andrey Guryev
Built in: 1913
Safra Mansion, Brazil — 117,000 sq ft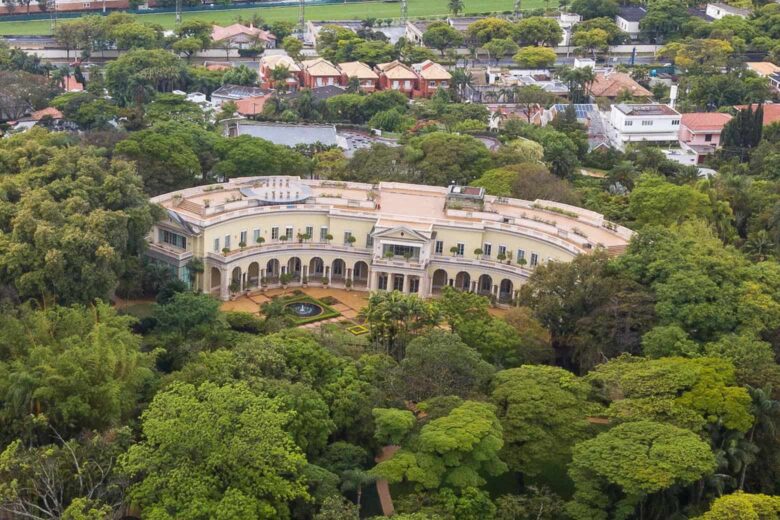 Located in the prestigious Morumbi suburb of Sao Paulo, the Safra Manion is tucked behind a large set of security gates. Unfortunately for those curious about the details of this huge mansion, not much is publicly available.
We do know it boasts a massive 117,000 sq ft of space with at least 130 rooms and multiple pools.
Perhaps one day, the reclusive Safra family, who also owns one of the world's most expensive houses, will open the doors to unveil what's hidden inside one of the largest houses in the world. But until then, you'll have to let your imagination run wild.
Size: 117,000 sq ft / 10,900 m2
Location: São Paulo, Brazil
Estimated value: Unknown
Owner: Vicky Safra
Built in: 1895
Biltmore Estate, United States — 175,000 sq ft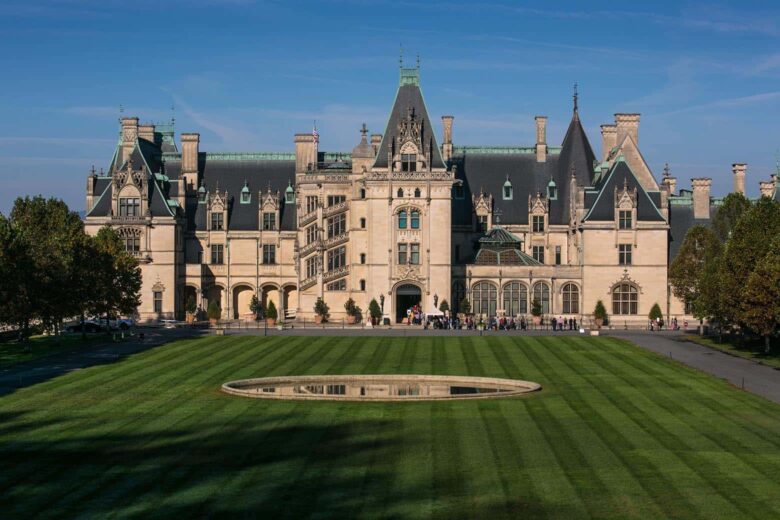 Built by the well-known Vanderbilt family, the Biltmore Estate has it all. There are an incredible 250 rooms and 43 bathrooms. And if you're a big reader, then the library with 23,000 books might make you drool even more than the three kitchens.
The design of the largest home in America takes inspiration from French châteaux, complete with a sprawling lawn and multiple gardens. With that much greenery, the two dedicated water sources are a vital piece of the puzzle.
Want to see what the inside looks like? Good news. Public tours of the massive estate are available, along with lodging for guests on the same property.
Size: 175,000 sq ft / 16,300 m2
Location: Asheville, North Carolina, USA
Estimated value: $157 million
Owner: The Biltmore Company
Built in: 1889
Antilia, India — 400,000 sq ft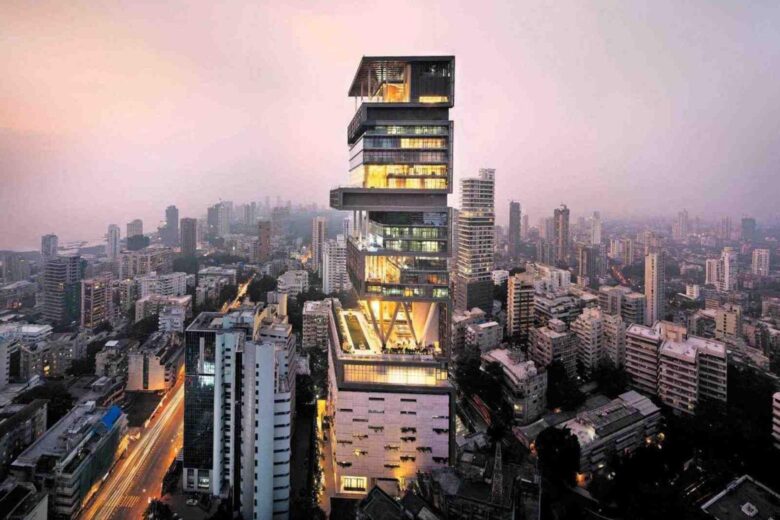 Some people with deep pockets choose to go far away from crowds and hit the open countryside with sprawling estates. But Mukesh Ambani is not one of those people.
His 27-story skyscraper towers over the neighboring buildings and is filled with the epitome of luxurious touches. It includes a rooftop helipad with space for three helicopters, enough parking for 168 of his favorite rides, and several guest apartments.
But what billionaire's home would be complete without an indoor swimming pool, a theater, and multiple spas and gyms? Not this one. Oh yeah, it also has a staff of 600 people to handle operations.
Size: 400,000 sq ft / 37,000 m2
Location: Mumbai, India
Estimated value: $2 billion
Owner: Mukesh Ambani
Built in: 2006
Buckingham Palace, United Kingdom — 828,800 sq ft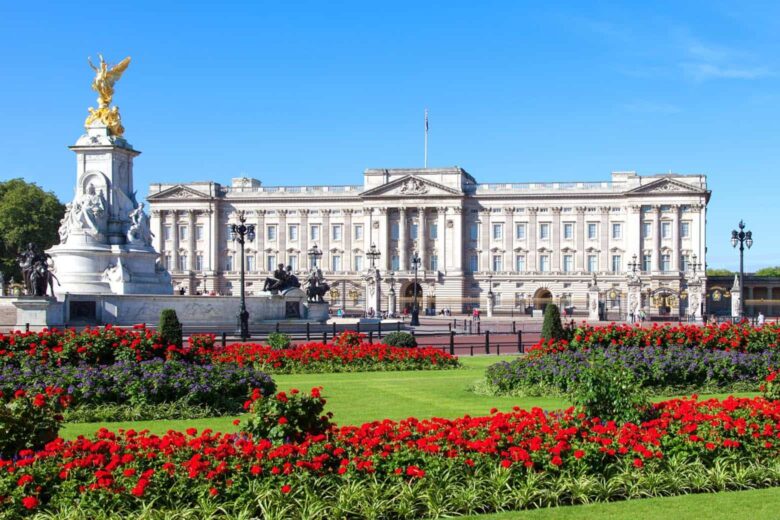 As home to the reigning monarch of the United Kingdom, Buckingham Palace has been a staple of global culture and politics for over three centuries. It also has a literal connection to the Houses of Parliament through an underground tunnel.
Its 19 staterooms are available to host any dignitary, while the 775 rooms and 78 bathrooms ensure that no one feels cramped.
Unlike most on this list of the biggest houses in the world, public tours of the 48-acre Buckingham Palace Gardens and parts of the interior are available. Just make sure to book your tickets well in advance.
Size: 828,800 sq ft / 77,000 m2
Location: London, UK
Estimated value: $6.7 billio
nOwner: Crown Estates
Built in: 1703
Istana Nurul Iman, Brunei — 2.15 million sq ft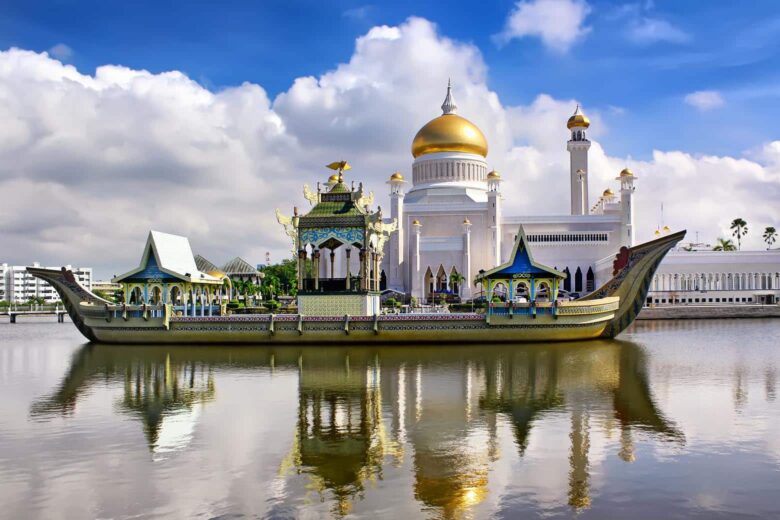 When you're expecting 5,000 of your closest friends to come over for a party, finding the space might be challenging. Unless you're the Sultan of Brunei.
The Light of Faith Palace has 1,788 rooms, 257 bathrooms, a mosque with a 1,500-person capacity, and of course, a banquet hall equipped for 5,000 people. The garage is downright massive with 110 spaces, while the air-conditioned stable can hold over 200 horses.
What is the biggest house in the world? Sitting at over 2 million square feet, it's this jaw-dropping feat of architecture designed by Leandro V. Locsin.
Size: 2.15 million sq ft / 200,000 m2
Location: Bandar Seri Begawan, Brunei
Estimated value: $1.4 billion
Owner: Sultan of Brunei, Hassanal Bolkiah
Built in: 1984
11 biggest houses in the world: conclusion
The 11 biggest houses in the world are:
Totaling more than 4 million square feet, the 11 largest houses in the world can make your wildest dreams come true. Whether it's the biggest houses in America or the huge mansions where prominent political figures reside, there's certainly no shortage of space.
The only thing in short supply is the ability to get from one side of the house to the other without getting lost or breaking a sweat. But thankfully, a member of the staff is likely nearby to help out.
Frequently asked questions about the biggest houses in the world