Blunt knives are every cook's worst nightmare. Since all knives dull with frequent use, it's important to maintain your cutlery investment with the best kitchen knife sharpener for your favorite blade. After all, the durability and long-term performance of a knife entirely depends on how well it is re-sharpened. 
But with so many unique kitchen knives on the market that are made with different qualities and materials, your knife sharpener will have to match whichever blade you choose. Use the wrong sharpener on your knife and you could end up scratching or even chipping the blade instead of actually sharpening it.
If you're looking for some hard and fast advice on how to keep your knives a cut above the rest, then here are the best kitchen knife sharpeners you can buy.
The 9 best knife sharpeners
Check our special knife sharpener buyers' guide after the list to see exactly what you should pay attention to before purchasing a knife sharpener. We also share our cooking editors' tips on how and when to sharpen a knife, to help you keep your knives in top condition.
Chef'sChoice ProntoPro: Best overall knife sharpener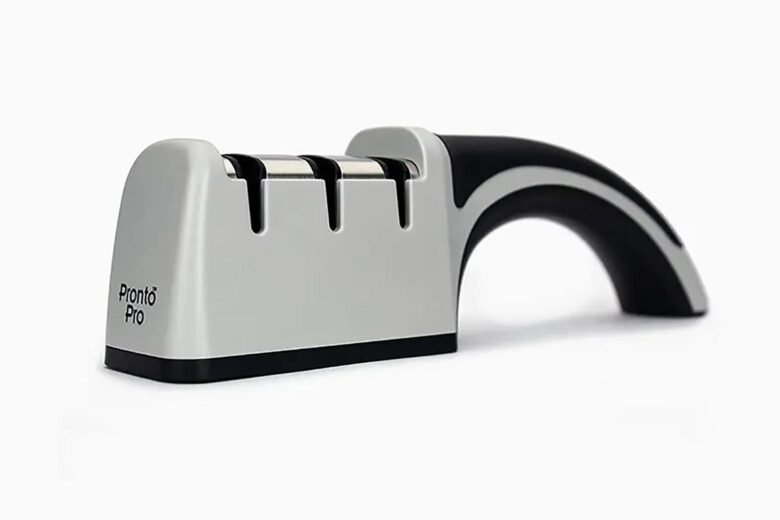 This good quality knife sharpener will sharpen virtually any type of knife and comes at a very reasonable price.
The diamond abrasive wheels and criss-cross sharpening technology combine to create a razor-sharp edge that's durable and will sharpen at both fifteen and twenty-degree knife edges. It will leave your knives polished, honed, perfectly smooth, and of course, extraordinarily sharp!
So, whether you're using a Japanese kitchen knife, a German blade, or even a pocket knife, the ProntoPro will leave you with a smooth edge and an incredibly keen cut.
Chef'sChoice 15 XV: Best high-end knife sharpener
This easy-to-use, three-stage sharpening system can transform regular household knives into keen-edged, high-performance blades and can even sharpen to a professional fifteen-degree angle.
This unique, world-renowned sharpening system features diamond abrasives suitable for sharpening both straight and serrated blades. Working wonders on dull knives, it will return a knife to its sharp, out-of-the-box self in around a minute for a first sharpen. A re-sharpen can be achieved in about ten seconds!
Overall, if you're looking for one of the best knife sharpeners money can buy, you can't go wrong with Chef'sChoice 15 XV!
KitchenIQ Edge Grip 2: Best value knife sharpener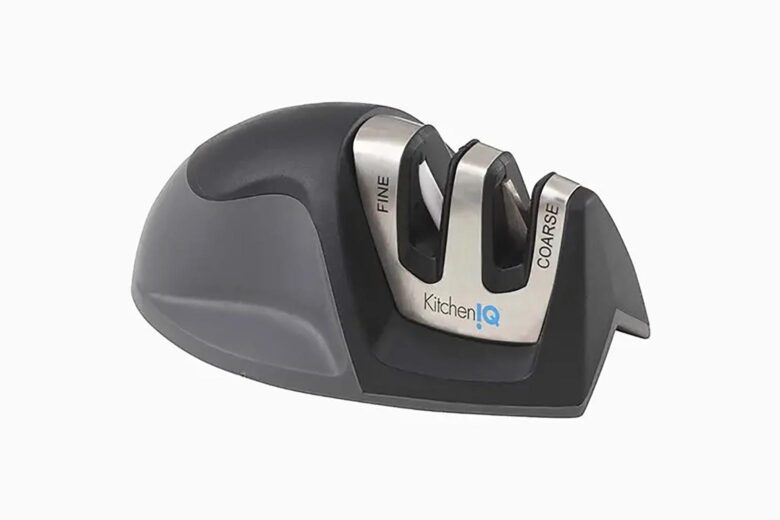 Marvellous for straight-edged, double-beveled knives, this sharpener is easily the best affordable knife sharpener on this list. But, don't let its affordability put you in any doubt about its capabilities! The sharpener comes with two handy slots. The first is for correcting damaged, dull surfaces, and the other for carefully honing the blade of your knife. The 'edge grip' feature provides much more flexibility, comfort, and ease. This is primarily because the base has been designed to lay flat on any countertop or table, to prevent the dragging of the blade whilst it's being sharpened (which can damage both the knife and the surface you're sharpening it on). Not to mention that the appealing, compact size of the KitchenIQ Edge Grip 2 also allows it to be easily tucked away in a corner of your kitchen cupboard, or presented proudly next to your knife block. 
Ehoyal Sharpener: Best knife sharpening system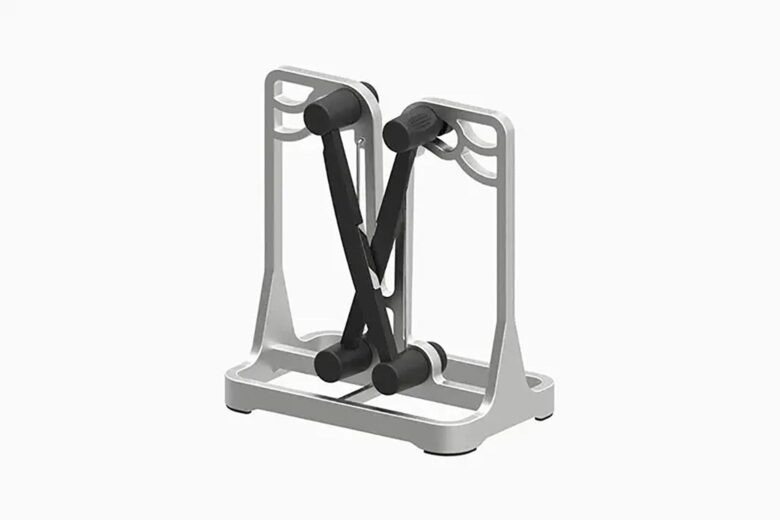 The sculptural shape of the Ehoyal Knife Sharpener makes it look more like a piece of modern art on your worktop than a kitchen tool!
The professional and portable design works on all different types of kitchen knife (from thin Japanese knives, to chunky cleavers and even serrated blades!) and will restore them to their full sharpness in seconds. The adjustable arms give the sharpener incredible flexibility and will allow it to contour to any blade and desired angle. Plus, you can sharpen the blade first and then hone it to a fine finish in the very same slot!
The Ehoyal Sharpener adjusts itself and will sharpen the knife to its original angle – you don't even have to know the angle of your knife before you start to sharpen it!
Kota Japan Diamond Carbon Steel: Best manual knife sharpener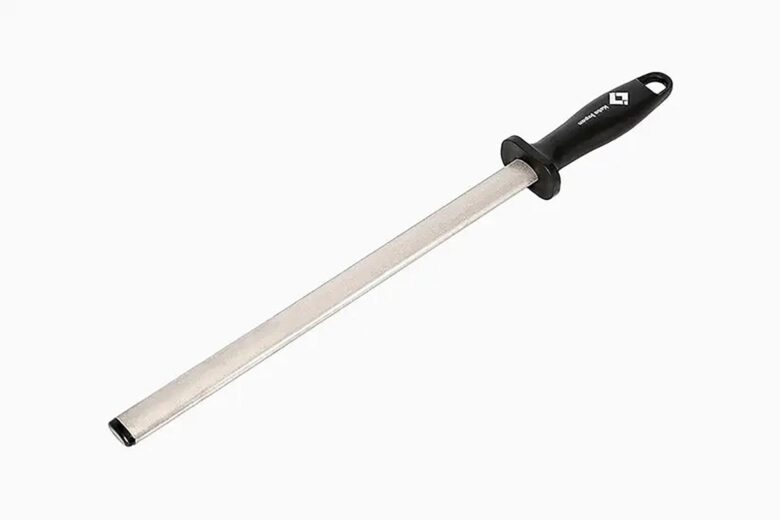 Easily improve your cooking experience with this diamond, carbon-steel knife sharpener by Kota Japan. A bestseller of premium sharpening tools, Kota uses a unique blend of industrial diamond. This, combined with their modern, patented bonding process, has created one of the most durable and best-honing rods on the market.
Bear in mind that technically, a honing rod (unhelpfully sometimes called a sharpening steel) doesn't actually sharpen a kitchen knife. Instead, it merely hones it which corrects all the minute bends that occur on the edge through frequent use. The invisible bends aren't perceptible to the naked eye, but they will still make the knife seem dull and affect the way it cuts.
The Kota Japan Diamond Carbon Steel honing rod easily corrects that, whilst the oval shape of this rod allows for higher effectiveness and the ergonomic handle is comfortable and easy to hold.
Presto EverSharp: Best electric knife sharpener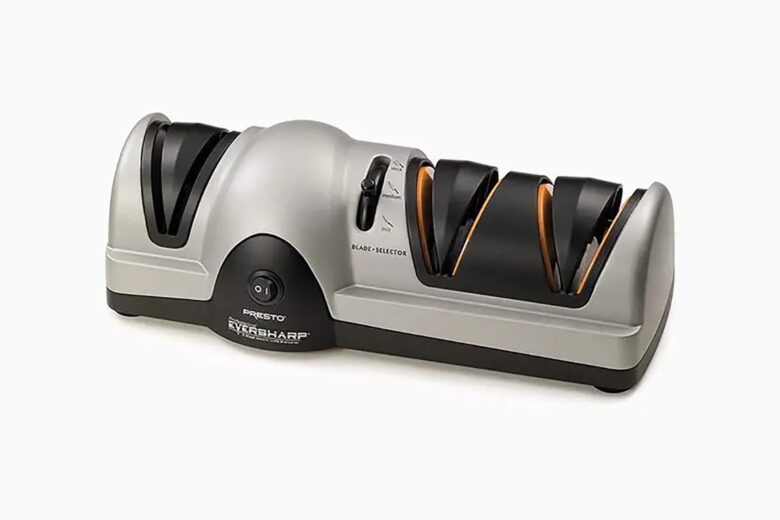 Presto has a history of creating industry-leading knife sharpeners and are known for both the durability and the high quality of their products. Their EverSharp electric sharpener features a three-stage system that provides effortless sharpening for any type of knife – including thick hunting knives!
The swappable blade guides of the Presto EverSharp will let you find the optimum angle for sharpening. Each of the three sections has a different grinding wheel: the first is a Sapphirite coarse-grinding wheel which helps create the correct angle. The second section features a Sapphirite medium-grinding wheel – this helps to create the blade's precision edge and promises smooth results without any uneven edges after sharpening. The final section has a fine-grit ceramic wheel to give a perfectly polished finish.
One thing to bear in mind is that it cannot be used to sharpen ceramic knives.
Smith's Pocket Pal: Best knife sharpener for pocket knives
A fine example of their ability to create affordable and dependable products that get the job done without a massive fanfare, Smith's Pocket Pal knife sharpener uses reversible and replaceable carbide sharpening stones. This makes it super simple to use and also extends its life.
It features a diamond rod for both sharpening serrated knives and honing straight-edged blades. Its compact size makes it perfect for the toolbox or to bring with you on a family camping trip, and it also has a handy lanyard hole for easy carrying.
As it's built for sharpening small blades, we don't recommend using it for all of your kitchen cutlery (and it's definitely not suitable for large knives), however for a penknife, pocket knife or perhaps even a paring knife, it's absolutely ideal.
PriorityChef Sharpener for Straight and Serrated Knives: Best knife sharpener for beginners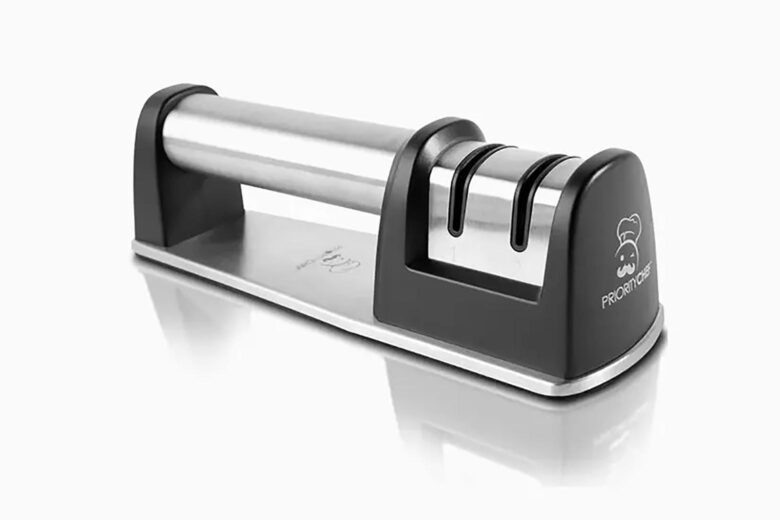 This Amazon bestseller is both stylish and durable, with its swanky silver design, two-stage sharpening system, and base cushion that makes it slip-free on any surface. Simple, safe, and straightforward, not only does the PriorityChef Knife Sharpener bring dull blades back to life, but it also does so in a way that they stay sharp for a great deal longer than many other sharpeners.
The two-slot system both files and polishes knives of all shapes and sizes for a first-class finish. The first slot is a diamond-coated wheel, and the second is a ceramic honing wheel for a smooth, clean blade from base to tip. Its ease of use makes it perfect for beginners, but it's also great for the professional kitchen too, as the high quality will leave every knife both feeling and performing like new.
Sharp Pebble Premium Whetstone: Best knife sharpener for professionals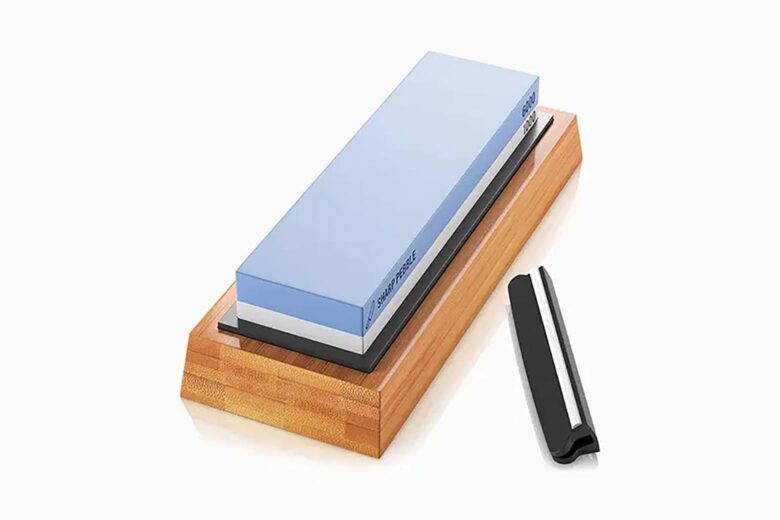 If you're looking for a high-quality, reliable sharpening tool, Sharp Pebble's non-slip whetstone (also known as a Waterstone) is an excellent choice.
The Superior Bundle comes with a premium quality, double-sided whetstone, and a bamboo base for securing the stone in place. There is also a silicone base for holding the stone inside the bamboo one. You'll also get an easy-to-read instruction manual, a super handy knife-sharpening angle guide, and a comprehensive eBook with plenty of tips and tricks that users of any skill level will find appealing.
Once you've mastered how to use a stone, you can sharpen literally any knife to any angle you want. It is without a doubt the best option for some Japanese blades, and it is definitely the best knife sharpener for Global Knives.
Overall, Sharp Pebble offers premium quality materials and a user-friendly experience.
A buyer's guide to kitchen sharpeners
A dull knife could actually be more dangerous than an extremely sharp blade. Offering a lot less grip on whatever you're trying to cut, the knife could easily slip off and slice your fingers instead! Therefore, finding the perfect knife sharpener is essential to making your knives kitchen-friendly.
There are many different types of knife sharpener available on the market today. With everything from pull-through sharpeners, honing irons, or sharpening stones, plus manual and electric versions, there is a particular knife sharpener to suit your knife. 
As a general rule, whetstones or any type of professional sharpening stone, are the best option for Japanese or Eastern made or inspired blades. This is primarily due to the steel that's used to make the knives. It tends to be a lot harder because of the increased carbon content, but also much thinner to give a considerably sharper edge. Consequently, using any other type of kitchen knife sharpener can actually end up damaging the blade instead of sharpening it.
The same goes for serrated blades. If you're looking to sharpen a serrated knife, make sure the sharpener you buy is suited to the jagged edge. Truthfully, they should only really be sharpened on their flat edge, as they're much less likely to lose their serration this way, and a traditional chef's steel is your best option.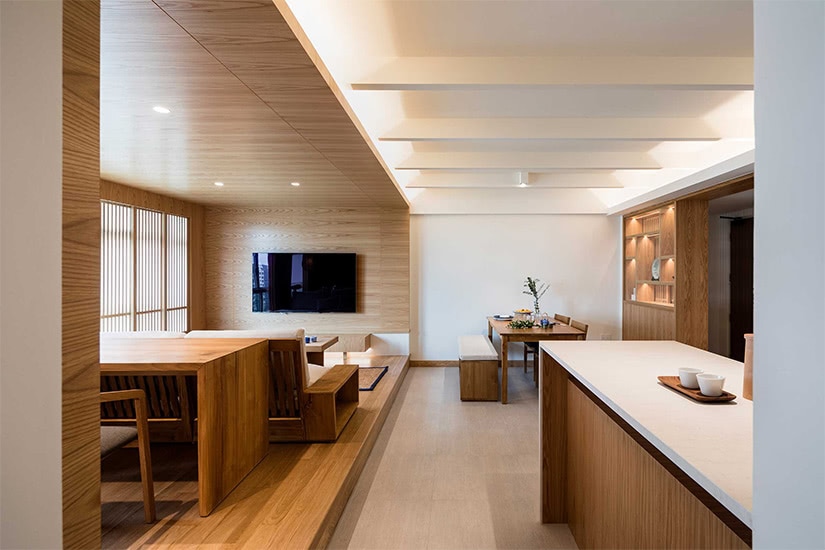 Overall, standard sharpeners are usually quick and easy enough to use by chefs of all skill levels and are suitable for both the professional kitchen and at home. Electric sharpeners are the same, and have the added benefit of taking a lot of the guesswork out for you! A whetstone can be used on any knife, will give a perfect angle and extremely sharp edge to the blade, but it can take a little while to master the technique. They are best suited to Japanese blades such as Global Knives. Lastly, sharpening steels don't technically sharpen the blade at all. They simply eradicate any small bends across the surface. This is called honing and can also lead to a sharper edge.
The main things to look for when choosing a knife sharpener is to make sure that it is suitable for the knife that you are trying to sharpen. Also ensure the sharpener is comfortable, easy to use, has a good safety rating, and, most importantly, will give you the razor-sharpness that you desire from your kitchen knives.
5 Pro tips for sharpening your knives like a chef
Who doesn't want to work smarter in the kitchen? If you are looking to achieve a professional finish, here are a few tips that will help you sharpen your knives like a pro!
1. Get the right angle. No matter which knife sharpener you're using, it's beneficial to try and maintain the knife's angle. The angle that you sharpen the blade to should be roughly the same as the angle that the blade was originally created. It's also super important to keep the angle constant while sharpening. The usual angle to aim for when sharpening a knife is twenty degrees, however, some sharper blades are between twelve and fifteen degrees. These tend to be the Japanese types and are much easier to sharpen with a whetstone, which incidentally, you can use to sharpen a knife to any angle you choose.
2. How to test the sharpness of the blade. There are a few ways to do this. The first is to slice a tomato or an onion into slivers. Both have tough, slippery outer skins and, if your knife can pierce them both without a problem, you know that it's reasonably sharp. The next is to slice through paper, or a magazine cover. If your knife can slice through a sheet of paper without ripping or tearing it, then it's sharp and ready to work. The glossy front of a magazine cover can be harder for the knife to grip, but if it slices through both, then you know it definitely has a keen edge.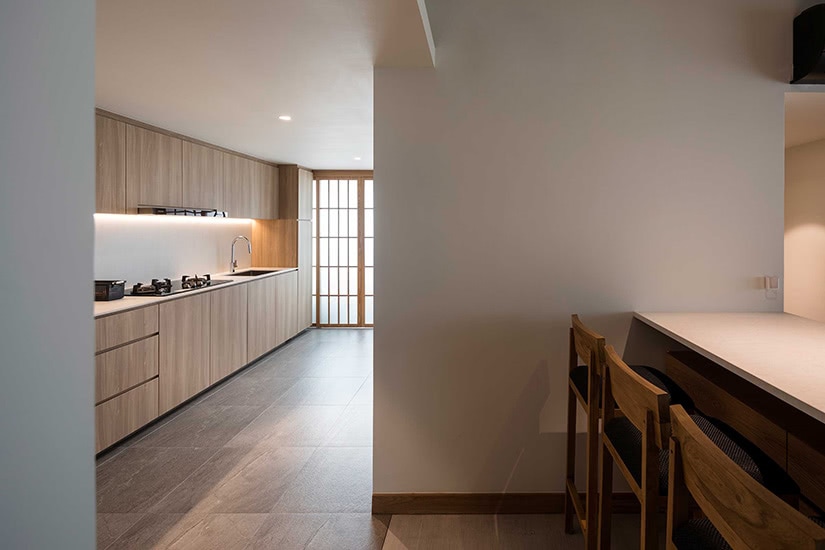 3. How to use a sharpening stone. A whetstone can sharpen all types of knife which cannot be said for pull-through or electric sharpeners. However, the sharpening method is also the most challenging to perfect. Before you start using your sharpening stone, it's best practice to prepare it by soaking the stone in a bucket of water for between 10 and 15 minutes or until a liquid film appears on the surface. Afterward, position it on its base or on a damp tea towel so that it doesn't slide about whilst you're sharpening. While using the stone, continue to splash it with water to ensure that it doesn't get too dry. Next (and this is also the hardest part), is getting the correct angle. The simplest way to do this is to place the blade of the knife flat on the stone and then gently raise it until the tip of the sharp edge is also touching it – for Japanese knives, this is between twelve and fifteen degrees; for Western blades, it is traditionally twenty. Another good test is to position the knife so there's about half an index finger's gap between the heel of the knife and the stone. Next, apply light pressure and begin stroking the blade up and down the stone. Start at the tip, then move to the middle, and finally, the heel – about 5 strokes in each section of the knife should be enough. Make sure to maintain the angle and avoid tilting up towards the end, which is another common error when using a sharpening stone. Once you've done one side, repeat the process with the other but lead with the heel this time and make your way up to the tip positioning your hands in the same place – a little like going backhand when you're playing tennis. The goal when using a sharpening stone is to create a burr. This is effectively a slight wisp of metal left on the blade which can be easily removed with a leather strop which is designed to catch metal fibers from the knife. To add a finishing polish to the blade, use a similar motion with the other side of the sharpening stone (the finer grit) and limit it to around 30 strokes on either side.
4. Do pull-through sharpeners actually work? Pull-through sharpeners do work, and they are much easier to use than stones. However, they are not best suited for every type of knife and can scratch or even chip the thinner, more brittle Japanese-style blades. Furthermore, pull-through sharpeners are incredibly easy to use. There are usually two rotating steels and you simply (as the name suggests) pull the knife from heel to tip through the slots toward yourself. Depending on how blunt your blade is, between five and ten strokes should be plenty to achieve a new edge.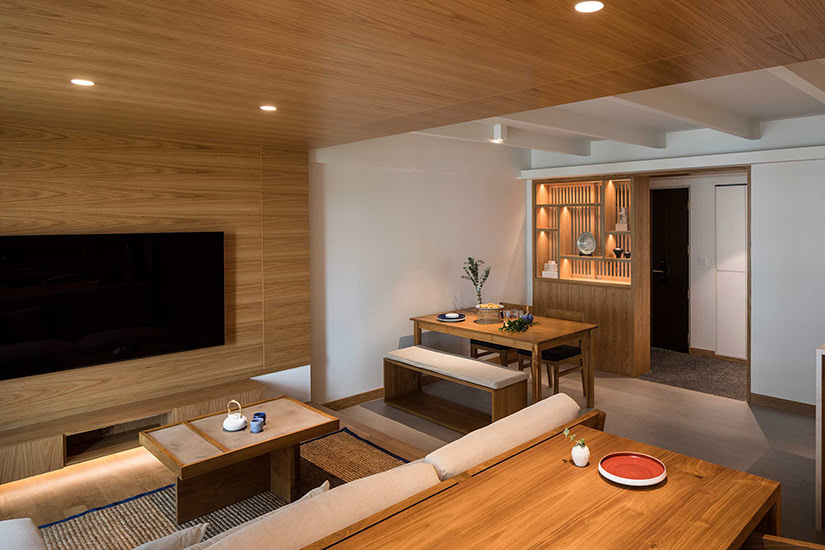 5. What is the best way to sharpen knives? This entirely depends on which blade you are wanting to sharpen. Japanese blades are best sharpened with a whetstone – in fact, all blades can be effectively sharpened this way. Chunkier blades can be sharpened with a pull-through sharpener or an electric sharpener, and it's more down to personal preference. When sharpening, make sure you have the correct angle and draw the blade from heel to tip between five and fifteen times (depending on how blunt the knife is). Also, a common mistake people often make when sharpening a knife is to apply too much pressure. Similar to playing a game of pool or swinging a golf cue, applying more pressure doesn't necessarily mean the ball goes straighter, or it achieves the desired result. The same can be said for knife sharpening. It's a light grip, a low pressure (similar to if you were pressing water from a sponge), and a constant angle, that will get you the razor-sharp blade that you want.
Methodology: How we select, test, and rank the best knife sharpeners
There are a few major factors that we considered when deciding what were the best kitchen knife sharpeners on the market. First, we looked at the suitability of the sharpeners. Each knife is more suitable for one particular type of knife sharpener than another. Furthermore, as a general rule, the harder the steel used to make the knife (and the more carbon in the metal), then the more abrasive material will be needed in the sharpener. We made sure that there was a knife sharpener on this list to suit all of the best kitchen knives on the market.
Next, we looked at the ease of use and comfort. All the best kitchen knife sharpeners on this list are suitable for a range of skill levels. They also feel robust and sturdy to use and grip well on a wide range of surfaces. Safety was another top priority when deciding on the best knife sharpeners to buy. We only looked for sharpeners with well-thought-out safety features. 
The final thing we looked for was their overall effectiveness. Each of the selected sharpeners is quick to achieve the optimum sharpness of a blade. We discounted sharpeners which were likely to cause damage to the blade or left them with any rough or scratched edges.
Frequently asked questions about knife sharpeners
What is the best knife sharpener on the market?
The best knife sharpener on the market is the Chef'sChoice ProntoPro. It's reasonably priced, works on any knife, and will give you a degree of control on which angle you would like your blade sharpened to. Perfect for both the professional and home kitchen, this sharpener excels in every way.
Are knife sharpeners bad for knives?
If you make sure the knife sharpener that you are using is entirely suitable for the blade you wish to sharpen, then no, knife sharpeners are not bad and will not damage your knife. Overall, knife sharpeners can actually greatly reduce damage to knives and dramatically extend their life if used correctly.
How do you sharpen knives with a knife sharpener?
To use a hand-held knife sharpener, simply place the heel of the knife in the groove and pull gently from heel to tip. It's best to use a firm, steady stroke and make sure you don't press too hard, or you could end up damaging the blade. Repeat this between five and fifteen times until the knife is sharp.You may also need to use multiple grooves in the sharpener as some have more than one for honing and polishing the blade.
Which is better: diamond or ceramic knife sharpener?
Diamond is generally considered to be the best material to be used to make knife sharpeners because it can cut even the hardest of metals. Diamond-coated sharpening steels work fast, and you'll get a sharper blade in less time than a ceramic steel. However, they also remove a lot of the steel from the blade. For this reason, it is best to opt for a ceramic knife sharpener if you use, and sharpen, your knives on a daily basis.
Do knife sharpeners really work?
The simple answer to this is yes. A good quality knife sharpener will dramatically improve both the quality and life of your kitchen knife.