A good hand soap has become one of the most coveted beauty buys in the last 12 months, and it's likely one of the products in your bathroom you've stocked up on the most, too.
Although maybe not the most glamorous of beauty products; there's no reason not to make hand washing a curated experience, starting with a beautiful fragrance and ending with soft, nourished, and squeaky clean hands.
And it's never been more important than now to find the best hand soaps for frequent handwashing. The best hand soap will not only ensure your palms are smooth but will also keep you germ-free and will add a quick dose of luxury to your everyday life.
But in the world of hand wash, it's tough to know where to start. Even with the amount of time you're probably spent with your hands under the tap recently, you'll still likely never sample each and every liquid hand soap available.
So, we've done the hard work for you. Whether you're looking for one of the best antibacterial soaps or an organic hand soap; one that's foaming or natural; heavily scented or perfect for sensitive skin, read on to elevate your hand-washing experience once and for all.
The 17 best hand soaps
Check our special hand soaps buyers' guide after the list to see exactly what you should pay attention to before purchasing a soap online.
Aesop Reverence: Best overall hand soap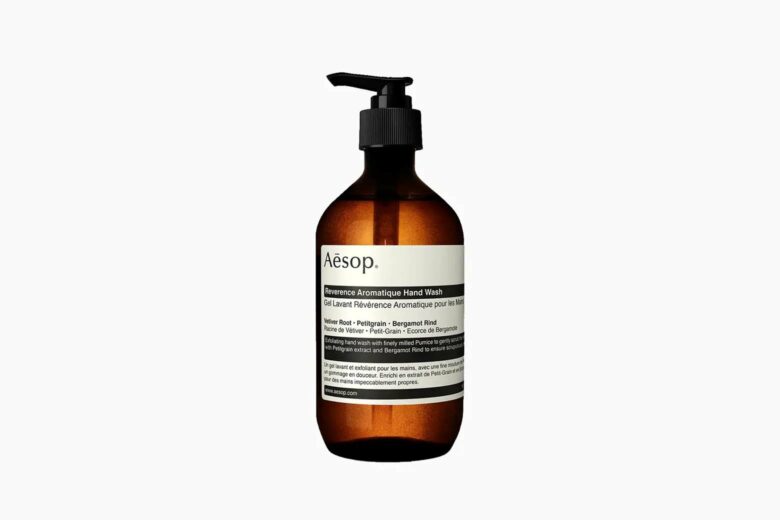 Reverence really is the best word to use here, because once you've sampled this soap — in a hotel bathroom, fancy restaurant or home of a fashionable friend — you'll immediately find yourself buying the exact same hand wash online. Good enough so you'll wish there was a perfume equivalent, Aesop's Reverence Aromatique Hand Wash will elevate your bathroom to Pinterest-worthy levels of style with an unbeatable scent to match. It's a brand you've no doubt seen on many an influencer or celebrity's Instagram feed, with that unmistakable bottle and laidback branding.
Sure, you might have been tempted to buy this soap on the basis of its exterior, but here's the proof that it's what's on the inside that really counts. Aesop's hand soap smells woody, earthy, and smoky all at once: a cool-girl upgrade from the standard floral scent. That's thanks to its vetiver root, petitgrain, and bergamot rind, which combine to cleanse, smooth, and overall please your skin.
Best for: Elevating hand washing to a sacred experience.
Byredo: Best luxury hand soap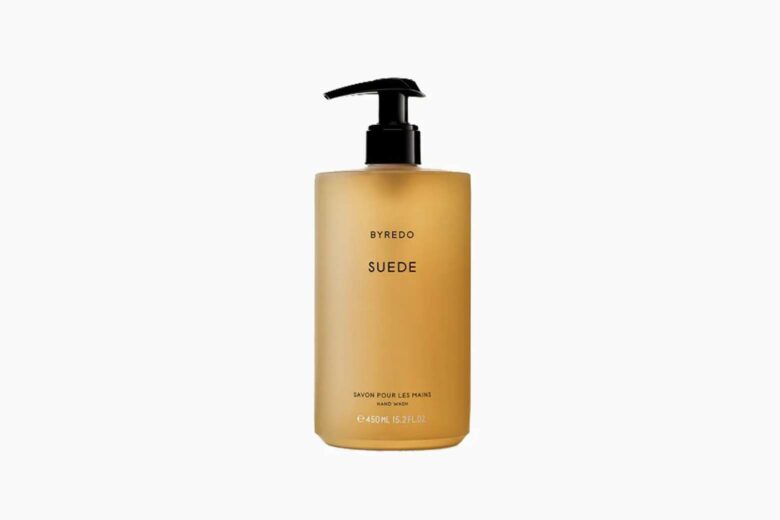 Once you've taken the time to sample each of Byredo's delicious-smelling, luxuriously soft, perfectly nourishing hand soaps, you'll appreciate how undeniably impossible it is to pick a favorite. You'll want to treat yourself to all three of Byredo's incredible hand soaps – the floral and fruity Suede, the fresh and delicate Tulipmania, and the sweet and refreshing Vetyver. 
Each comes in a minimalistic bottle that'll fit right in with your interior design and it's one you'll display proudly as soon as you've decided which bottle fits best in each room. Much like Byredo's perfumes, these soaps are premium quality both in scent and style, and are known for being (metaphorically) difficult to get your hands on.
Best for: Setting an alarm for when the online restock is due.
Rituals: Best value hand soap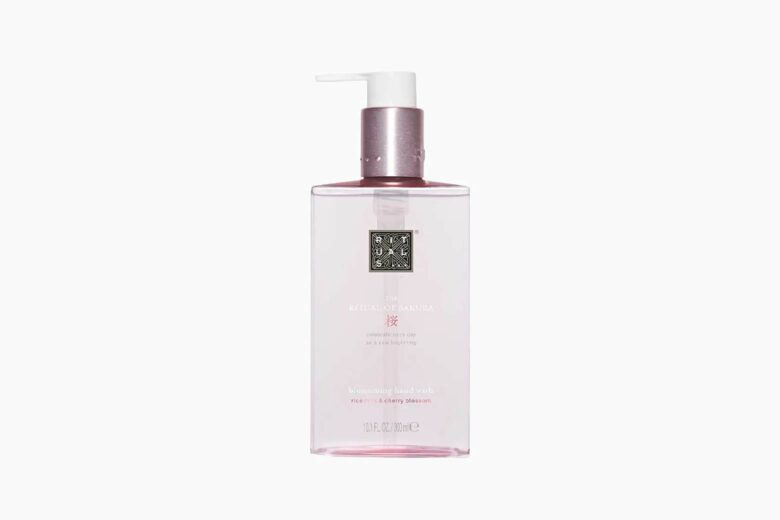 One of the best things about this hand soap is how relaxed you'll feel using it liberally and often. It's hard to go wrong with a Rituals soap, which is why you'll see them in households, restaurants, and hotels galore across the world. Their budget price tag only serves to invite you to sample all of them. You'll almost want to peel oranges, chop up garlic or do anything that requires a quick hand washing afterward. 
A low-price hand soap means the only limit you'll have is finding more occasions to get your hands dirty. Like all Rituals soaps, the Sakura Hand Wash takes its inspiration from Asian culture and traditions. Encapsulating the beauty of Japan, you'll find yourself instantly immersed in its delicate, floral scent each time you use it. Better yet, once the bottle is empty, you can buy more using Rituals' eco-chic refill option.
Best for: Closing your eyes and taking a quick trip to Asia via the sink.
Everyone Hand Soap: Most versatile hand soap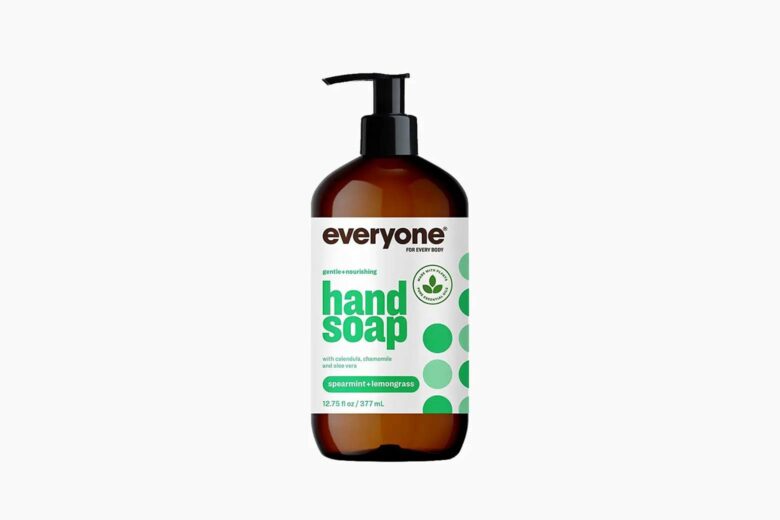 The clue is in the name with this hand wash: Everyone Hand Soap is a brand that's suitable for your sensitive-skinned friend, your relative with military-grade levels of hygiene, and anyone in between. Crisp and uplifting, it'll add a refreshing touch to your day with its gentle foam and color-coordinated packaging.
Free from parabens, synthetic fragrances, and triclosans as well as being cruelty-free, this is a hand soap so positive that you'll feel like you've done your bit for the world simply by washing your hands. Not convinced? It also diverts 90% of its waste from landfills, ensures its packaging is made from recycled material and even goes as far as to use 100% recyclable packaging for order shipping. And, its blend of aloe vera, calendula, chamomile, and white tea extracts means it smells absolutely delicious.
Best for: Being versatile enough to please every one of your guests.
Nuori: Best natural hand soap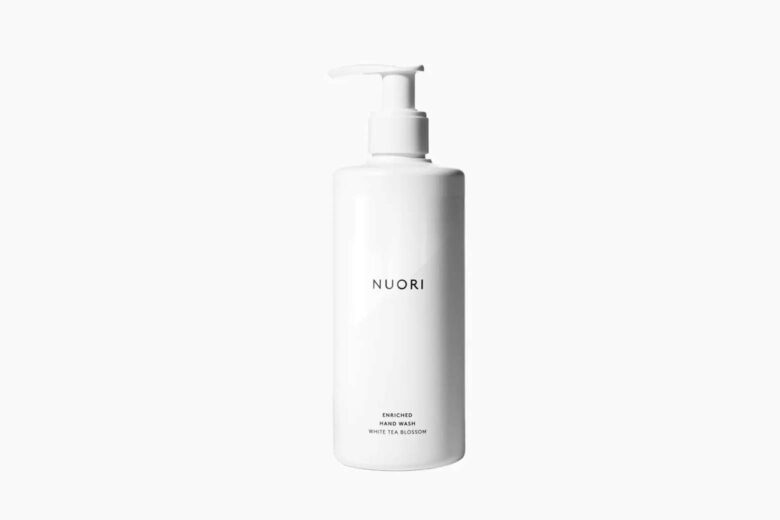 Minimalistic in every sense from its packaging right through to its minuscule ingredients list, Nuori was the, well, natural choice when it came to our favorite natural hand soap. It's hard to beat this skincare brand when it comes to natural beauty products, thanks to its careful formulas of all-good bases that promise top-quality results. And the Enriched Hand Wash is no exception. 
Formulated with gentle, plant-based cleansing agents, potent antioxidants, and nourishing ingredients, it promises to softly clean your hands, leaving them supple and reinvigorated without any artificial ingredients. The focus on gentle ingredients in this natural hand soap means this hand wash is naturally moisturizing, which makes it perfect for those with dry hands. Its key ingredients of white tea extract with natural glycerin and grape seed oil combine to create a hydrating, nourishing soap that's suitable for all.
Best for: Offering the best definition of a clean slate whenever you wash your hands.
Grown Alchemist: Best moisturizing hand soap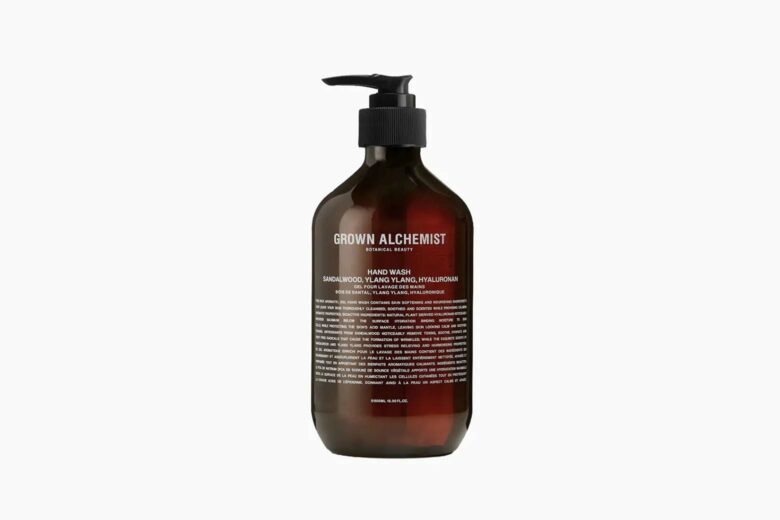 Forgot to stock up on hand cream? No problem. Instead, find yourself one of the most hydrating and moisturizing hand soaps available. But finding a moisturizing hand soap that actually does the job can be tricky, thanks to the very nature of hand wash. The trick is to find a soap that focuses on binding the moisture into your hands while still keeping them squeaky clean.
 
Our favorite comes from Grown Alchemist. This hydrating hand wash features ingredients like Hyaluronic Acid and plant-derived Natrium PCA, both of which bind moisture on a cellular level. Which means each time you use this soap, you're actively promoting more moisture into your hands. It also smells incredible, thanks to the Sandalwood and Ylang Ylang extracts. If you're still on the lookout for a hand cream as an added bonus, pair with one of Grown Alchemist's for an instant boost of goodness.
Best for: Firmly removing the words "dry hands" from your brain forevermore.
Diptyque: Best exfoliating hand soap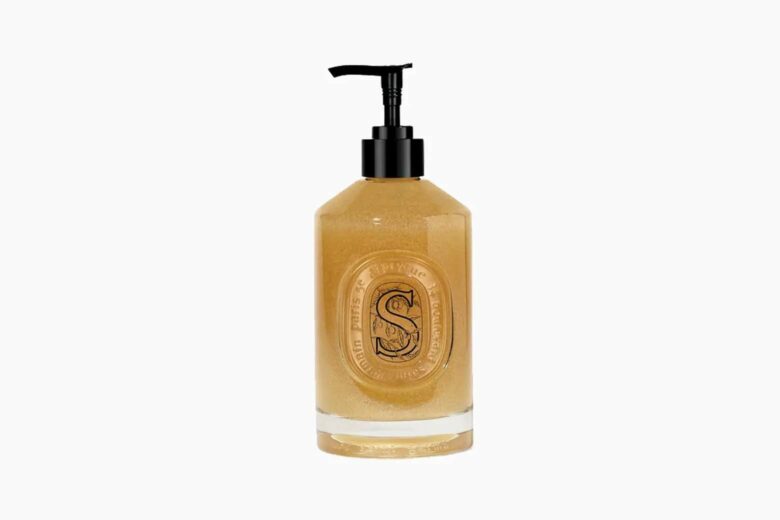 Diptyque might be better known for its luxury candles but if you're spending money on those and skipping the brand's hand wash, you're missing out. In true Diptyque form, the Exfoliating Hand Wash is something to marvel at and is regularly sold out. You might not have considered hand wash to be a product that you'd add to your beauty wish list, but you'll need to act fast if you want to sample Diptyque's offering.

And what makes this hand wash so special? The Exfoliating Hand Wash is impressive from head to toe. Or, top to bottom. From its elegant glass bottle to its magical ability to both exfoliate and moisturize simultaneously, this is a hand soap you'll quickly hide away when any unexpected guests turn up. In fact, it's one that you might hide away generally, using briefly every so often when you really fancy a beauty treat. 
Best for: Predicting the soap will soon be even more popular than the candles.
L'Occitane: Best soothing hand soap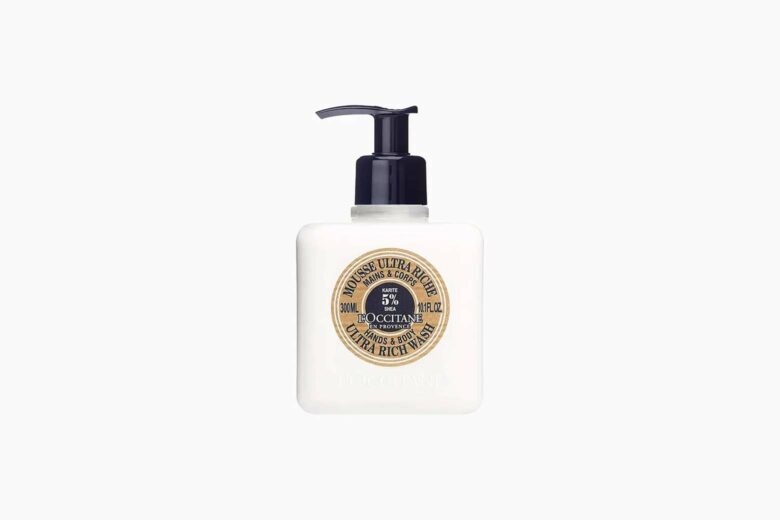 Even the very idea of L'Occitane is soothing before we even get started on the creamy, moisturizing, super smooth hand wash. A brand you're probably familiar with around the gifting season, L'Occitane fuses together high-quality products with that unbeatable delicious smell that you'll stock up on whenever you pass the shop. So, in the world of soothing hand soaps, it's no wonder that L'Occitane comes out on top. 

The Ultra-Rich Hand & Body Wash fulfills everything it says on the equally as soothing tin, thanks to its skin-regenerating shea butter and soft oat milk. You'll find yourself taking a little extra time washing your hands when you spot this hand soap, gently lathering it in to fully maximize the fragrance that wafts behind. The consistency of a creamy lotion, you'll feel luxurious each and every time you use this hand soap.
Best for: Having the consistency and scent of a reassuring hug.
OUAI: Best hand soap for dry skin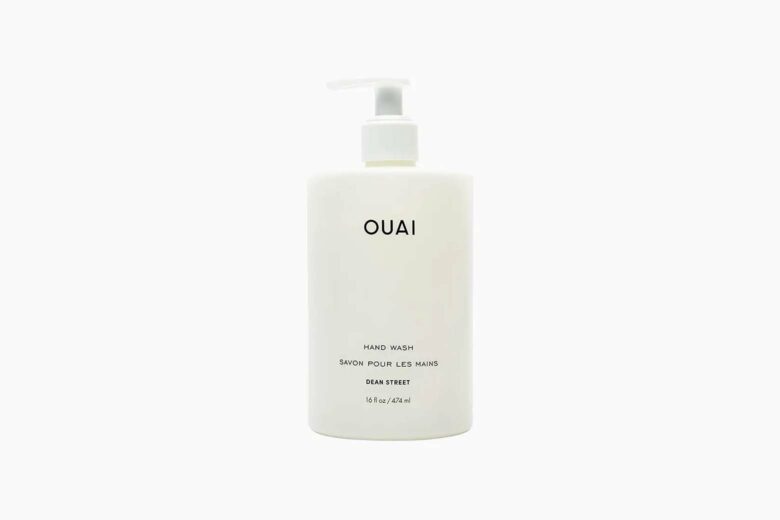 The struggle you might have pronouncing the name of this brand when you're hunting around for it in the store will be well worth it once you've got home, washed your hands, and witnessed just how thick and creamy its formula is. Absolutely bursting with beneficial oils for dry skin, it'll become your go-to product as soon as the colder season hits. OUAI's Hand Wash features jojoba, caster, avocado, and rosehip oils, which are all known for helping dry skin. It'll soothe and replenish each time you wash your hands, adding a burst of nourishment to even the most chapped and sore palms. 
Somehow, despite being super hydrating, this hand soap also manages to gently exfoliate. Cleansing away dirt while keeping hands in prime condition — all the while being a cruelty-free brand — is no mean feat, but OUAI pulls it off.
Best for: There's no OUAI your hands will ever go back to a different brand.
Jo Loves: Best foaming hand soap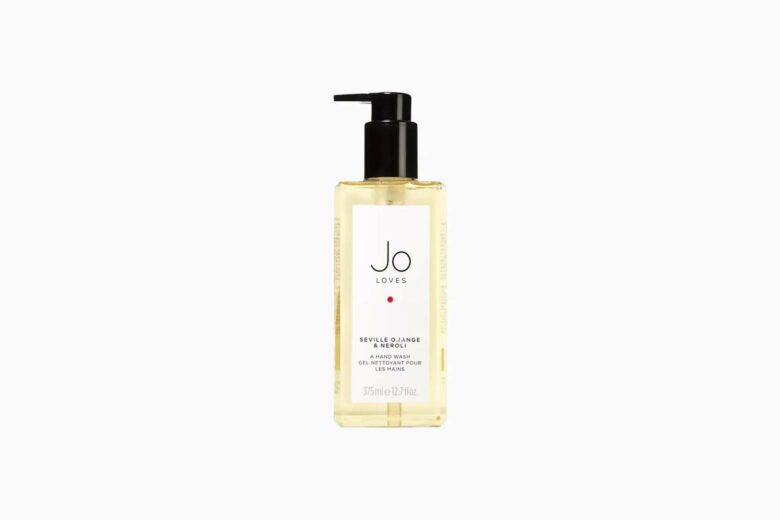 A quick burst of Jo Loves' Seville Orange & Neroli Hand Wash will transport you away from the kitchen or bathroom sink and straight into the glorious sunshine of Spain. This foaming hand wash encapsulates the highlights of Seville perfectly, with an amazing scent that almost smells good enough to eat. The strong scent might even have others wondering if it's a perfume rather than a hand wash, and you'll find yourself subconsciously raising your hands to your nose each time you've washed them with this soap.

The benefit of its foaming gel means your hands will never feel anything less than 100 percent clean when you use the Seville Orange & Neroli Hand Wash, as well as remaining nourished and moisturized. Bitter Orange and Mandarin are the two most prominent notes here, followed by warming notes of Neroli and herbaceous Spearmint. The overall combination will leave you as refreshed as after a fortnight in the sunshine.
Best for: Inspiring a dinner of tapas and sangria.
Bamford: Best spa hand soap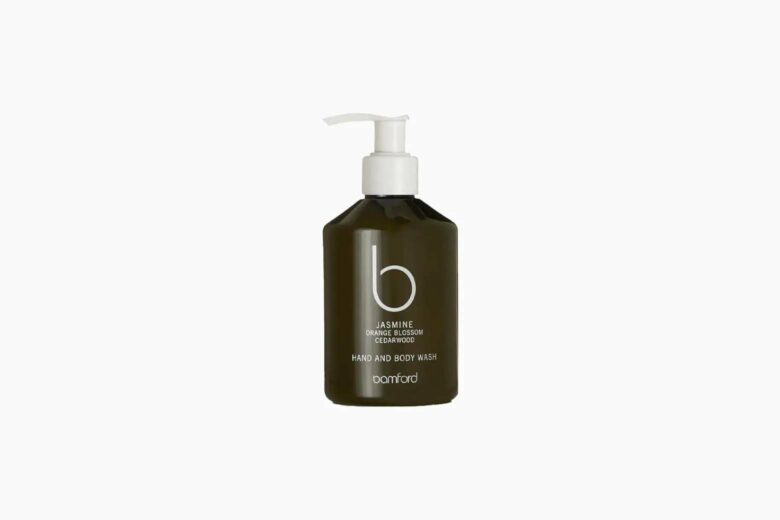 Bring the luxury of the spa home with you with a hand soap that transports you back to an afternoon of massages, facials, and time in the steam room. Cucumber on the eyes and gentle music in the background are the perfect accompaniments to a hand soap that makes you feel relaxed just by looking at it. Best suited for those days when you really need a little more TLC but don't have the time to pop to your favorite spa, the Bamford Jasmine Hand & Body Wash will do the job for you without even needing to leave your bathroom. 

As well as smelling delicious, the Jasmine Hand & Body Wash contains refreshing Aloe Vera to condition your skin and antioxidants to keep you feeling great from the inside out. It's free from sulfates, parabens, and artificial colors, which makes it the perfect home spa addition for anyone who has sensitive skin or wants a truly natural spa day.
Best for: Feeling instantly relaxed as soon as you've smelt it.
Free & Clear: Best sensitive hand soap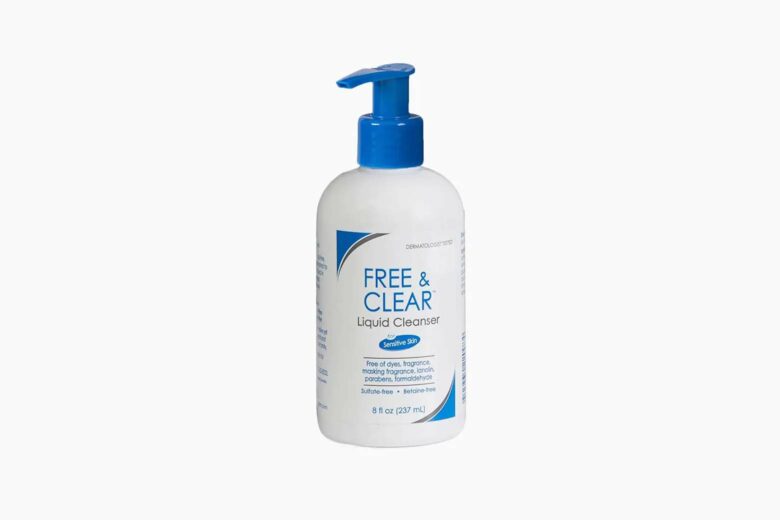 Free & Clear does exactly what it says on the tin. This hugely popular brand is suitable for all and any kind of sensitive skin woes: from eczema to contact dermatitis, its complete lack of unnatural ingredients means you can safely wash away without fears of irritation. Soap-free and oil-free, it keeps your skin fresh, moisturized, hydrated, and clean without having any kind of detrimental effect. 
The best hand soap for sensitive skin, its primary ingredient is purified water, followed only by ingredients specially selected in order to avoid all common chemical irritants that you'd find in most other hand soaps. As well as being a hand wash, the Free & Clear Liquid Cleanser can also be used as body wash. Which means if you know you're traveling and don't want to fuss around with lots of miniature bottles, this one-stop shop is a great alternative to keep you clean and comfortable. 
Best for: Finally answering your skincare prayers.
CLn: Best deep cleansing hand soap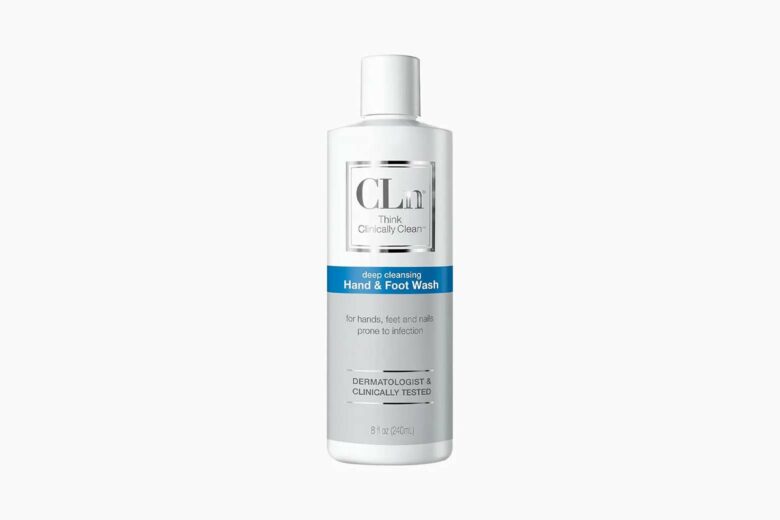 You'll probably never feel cleaner than when you've just washed your hands using CLn's Hand and Foot Wash. Ensuring you leave the bathroom with hands that are considered clinically clean, this is the hand soap that's perfect for anyone who often comes into contact with germs. It's also an ideal soap for those who are more susceptible to hand, foot, and nail conditions like fungus, athlete's foot, or other infections, or anyone who struggles with bad odors. 
Promising a fast, effective deep clean, you'll start to rely on this hand soap whenever you've been somewhere particularly dirty for the guarantee it brings of restoring that perfect balance. And, unlike some other deep cleaning hand soaps, CLn's wash promises to keep your hands suitably hydrated while stripping them of microbes.
Best for: Being the carwash of the hand soap world.
Le Labo: Best scented hand soap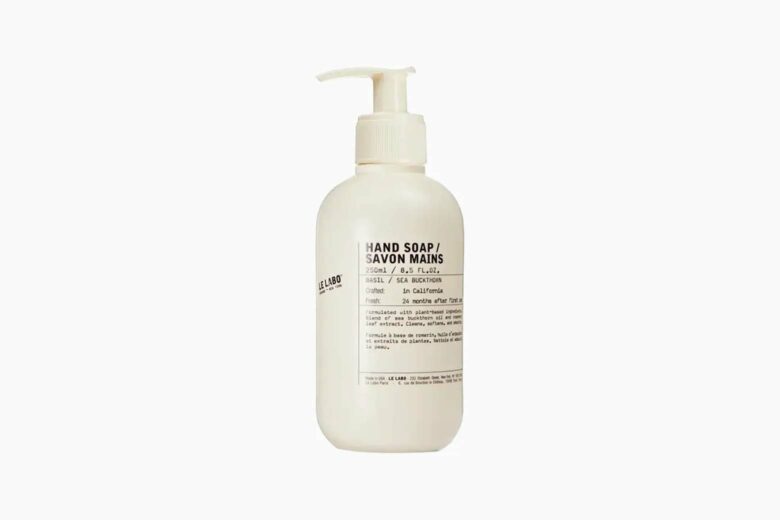 The best hand soaps will come with a scent that you'll find yourself craving again and again. The kind of scent where you'll wash your hands, breathe in the aroma for as long as possible, and then genuinely consider sourcing some coffee beans to bring your nose back to neutral so you can do the whole thing all over again. The sort of scent that you'll treat everyone to as the best kind of present or stock up on for fear it's ever discontinued. 

The scent we're imagining in this scenario comes from Le Labo. You'll discover Le Labo's Basil hand soap and appreciate that it's one of the best things you've ever set eyes (and nose) on. And then you'll breathe in Le Labo's Hinoki hand soap and you'll find yourself stuck in the world's most indecisive moment. Both cleansing and softening, these soaps will easily make the list of things you'd take to a desert island.
Best for: Wishing you had two noses to smell them simultaneously.
Jo Malone London: Best multi-tasking hand soap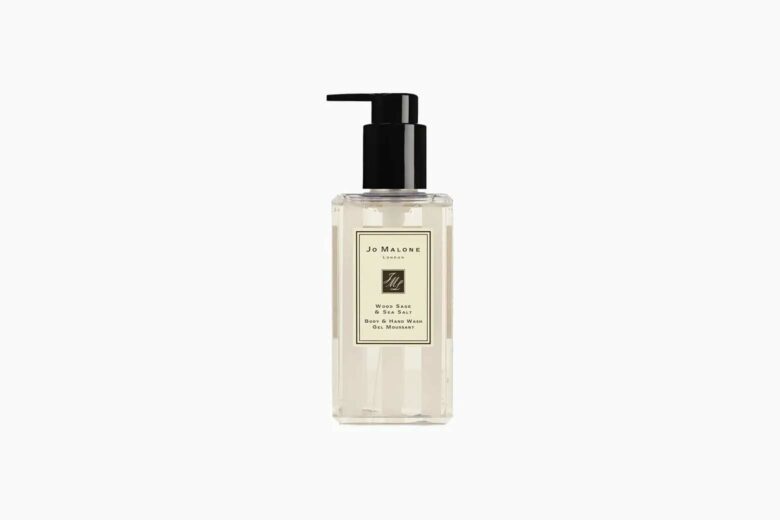 Looking for a soap that gently cleans and nourishes your hands? Go for Jo Malone. On the hunt for a hand soap that leaves your hands deliciously soft? Jo Malone is the answer. What about if you're someone who suffers from sensitive skin that's easily irritated? You guessed it: Jo Malone. Our favorite bottle for a brilliant allrounder to suit and exceed every need is the Jo Malone Wood Sage & Sea Salt Body & Hand Wash.
In the brand's unmissable classic bottle, this hand soap adds a pretty touch to your bathroom cabinet while leaving a lasting finish on your newly soft palms. As is the usual for Jo Malone, this is a hand soap that smells utterly delicious, with a refreshing scent that's broad enough to be pleasing for everyone.
Best for: Pleasing both your stylish and most germ-conscious friends.
Aesop Resurrection: Best no-rinse hand soap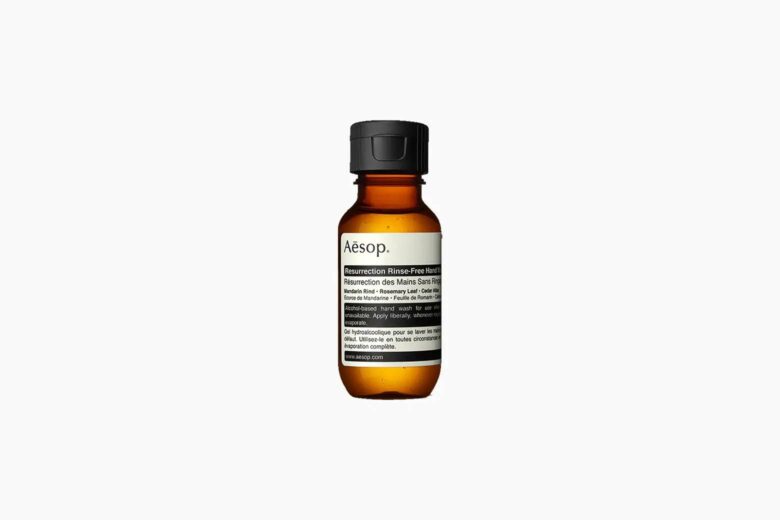 A rinse-free hand wash is probably something that's become one of your best friends in recent times so it's important to make it one that you look forward to using. Aesop is a recipe for success in every area of the beauty world and the brand's Resurrection Rinse-Free Hand Wash is one of its finest. As a rinse-free soap, it's perfect for carrying around with you on the move. Stash it in your handbag and have clean, smooth, and gorgeously smelling hands in mere seconds. 
Aesop's hand soap has an almost unbeatable smell, which is somewhat of a rarity in a product that doesn't rely on water to wash away the suds. With its citrus, woody, herbaceous scent, it could almost be passed off as a last-minute perfume, should you accidentally rush out without applying. It'll leave your hands not only clean, but also hydrated and dry.
Best for: Always being ready to go in (deliciously smelling) emergencies.
Mrs. Meyer's Clean Day: Best budget hand soap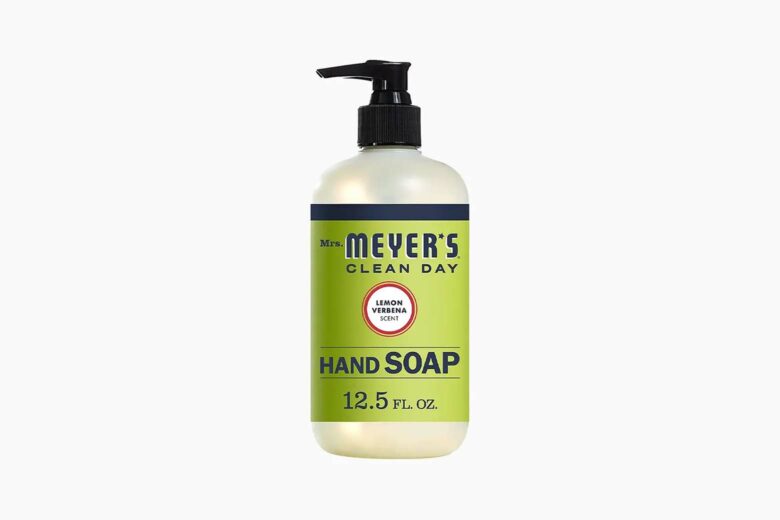 You'll be hard-pressed to find a round-up of the best hand soaps without seeing a mention of Mrs. Meyer's Clean Day Liquid Hand Soap somewhere on the list. And that's because it ticks basically all of your hand wash requirements, while remaining budget friendly and suitable for all. Its Lemon Verbena scent is a firm favorite and lets your hands feel clean without any overpowering smells. It's also made using essential oils, aloe vera, and olive oil among other natural ingredients, which makes it a great choice if you're someone who struggles with sensitive skin. 
This make up of natural ingredients adds a final cherry on top of the super-clean cake: Mrs. Meyer's is a cruelty-free brand and their products aren't tested on animals. If you're not a fan of lemon or would prefer to branch out with other garden-inspired scents, the brand also makes use of ingredients like basil, lavender, and honeysuckle.
Best for: Joining the hand wash cult and being over the moon about it.
Buyers guide to hand soaps
There are more hand soaps than you could ever possibly sample in the world, so you'll want to cut to the chase and choose the specific one that's right for you. Whether that's a hand wash that smells delicious, adds a burst of hydration to your palms, instantly kills each and every germ, or keeps your hands fresh without needing water, you'll find a new favorite brand in our guide.
Most hand soaps fit into one of two categories: those that offer a stylish, fragrant hand-washing experience, and those that focus more so on the hygiene element. If you're on the hunt for the former, look for hand soaps that use oils, botanicals, and natural ingredients. These hand soaps will probably be thicker, with a creamier base that's soft and smooth in your hand.
Or, if you're looking for a hand soap that does the work when it comes to removing dirt and grime, and odor, look for soaps that are water-based with a citrus scent. These can counteract the dirt and bacteria on your hands without drying them out too much. Foaming soaps will do a similar job here, too.
If you're searching for no-rinse hand soap, choose a bottle that has at least a 70% alcohol content to quickly blitz germs. Don't use these too often without a moisturizer as they can easily dry out your hands.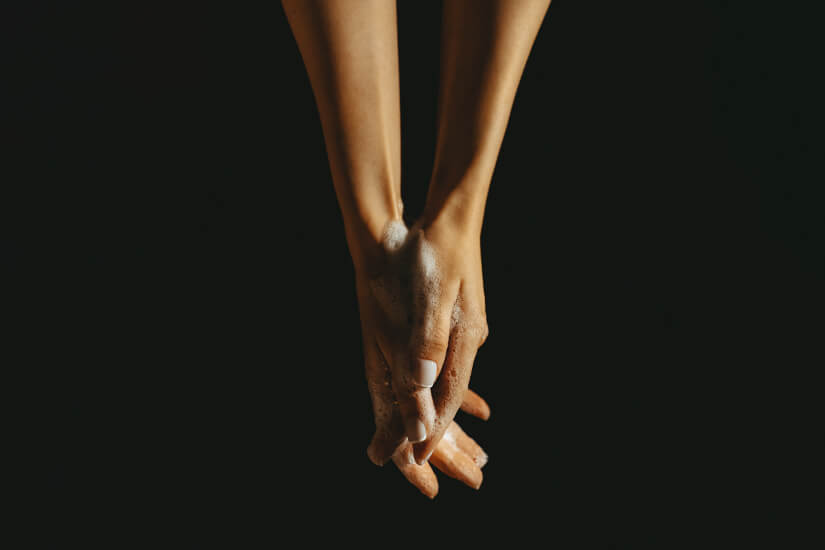 Frequently asked questions about hand soaps
What hand soap kills germs the best?
Our favorite hand soaps for killing germs are CLn's Hand and Foot Wash and the Everyone Hand Soap. Both of these are specially formulated for killing all kinds of germs after a simple hand wash. Check out our guide to discover the best hand soap for you.
What is the safest hand soap to use?
The safest hand soap is Free & Clear Liquid Cleanser. Designed specifically for those with skincare woes in mind, it's free of all common chemical irritants that you'd find in most other hand soaps. Read our full guide to discover our round-up of all the best hand soaps.
What makes a good hand soap?
A good hand soap is moisturizing and hydrating while ridding your hands of all germs after a quick wash. The best hand soaps will also smell delicious while doing all of the above. Check out our full guide to discover all of the best hand soaps for any kind of skin.
Which soap brand kills the most bacteria?
The best soap for killing bacteria is CLn's Hand and Foot Wash. Specially formulated to kill everything from odors and grime to unwanted hand, foot, and nail conditions, fungus, athlete's foot, and other infections, it promises squeaky clean hands after a quick wash.