From color treatment to straightening and curling irons, we really put our hair through its paces. Now it's time to show our locks some love and affection with the best women's hair masks.
Hair masks are like face masks—but for our hair. Just like the best skincare, they moisturize and hydrate, revive and restore, and leave you with a mane so glossy that even your hairdresser will be asking your secret.
The best women's hair masks are the ultimate hair health-care—a fast-acting and easy-to-use tonic for our tresses. Just as you can now get a stylist-worthy blow-dry from the comfort of your own home, you can also give your hair the same professional-grade pick-me-ups that you find at the salon—without having to get out of your pajamas.
Here are the best hair masks for women, ready to work their medicinal magic, whether you're after a hydrating hair mask, protein hair mask, a deep conditioning hair treatment, or any other hair care remedy.
The 15 best hair masks for women
Olaplex: Overall best hair mask for women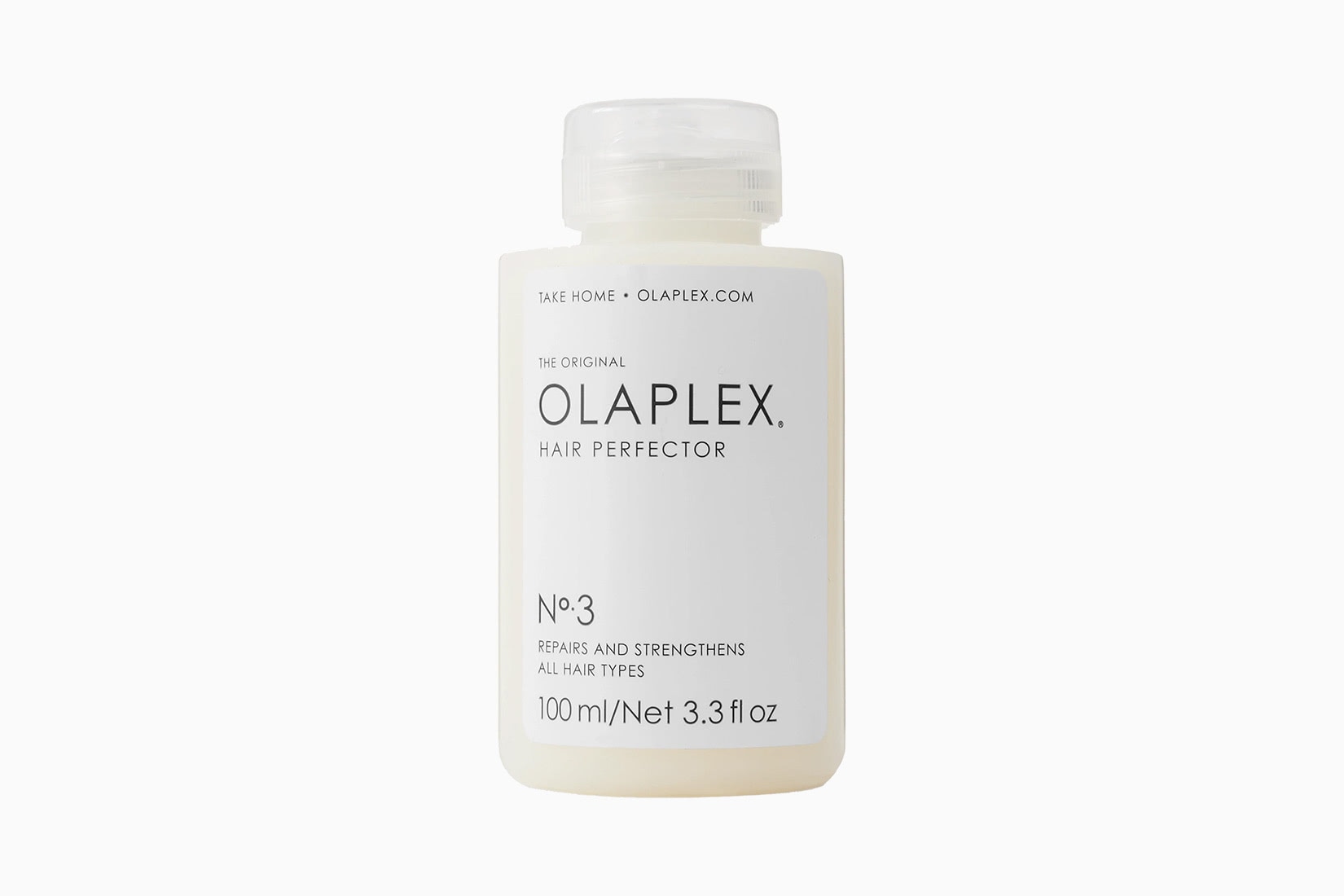 In the battle of the best hair masks, this Olaplex No.3 Hair Perfector stands out thanks to its quality, affordability, and versatility. Olaplex is every expert hairdresser's go-to brand for innovative hair care products and this transformative hair mask is like a doctor in a bottle for damaged hair.
Repair your worn-out strands with this bond-building treatment. The patented technology works on a molecular level to relink the broken bonds in your hair, regenerating it from within.
For strong hair that feels as good as it looks, and whose effects are visible enough to elicit compliments (because, let's be honest, otherwise why bother?), this Olaplex hair mask is one of the best hair treatments out there. Not only does it work on all hair types, but the price is also incredibly reasonable.
For a potent hair treatment with the power to restore to your locks their innate levels of lustre, this Olaplex Hair Perfector should be your first port of call.
Best for: Haircare's prince in shining armor, here to rescue distressed locks.
Leonor Greyl Quintessence: Best luxury women's hair mask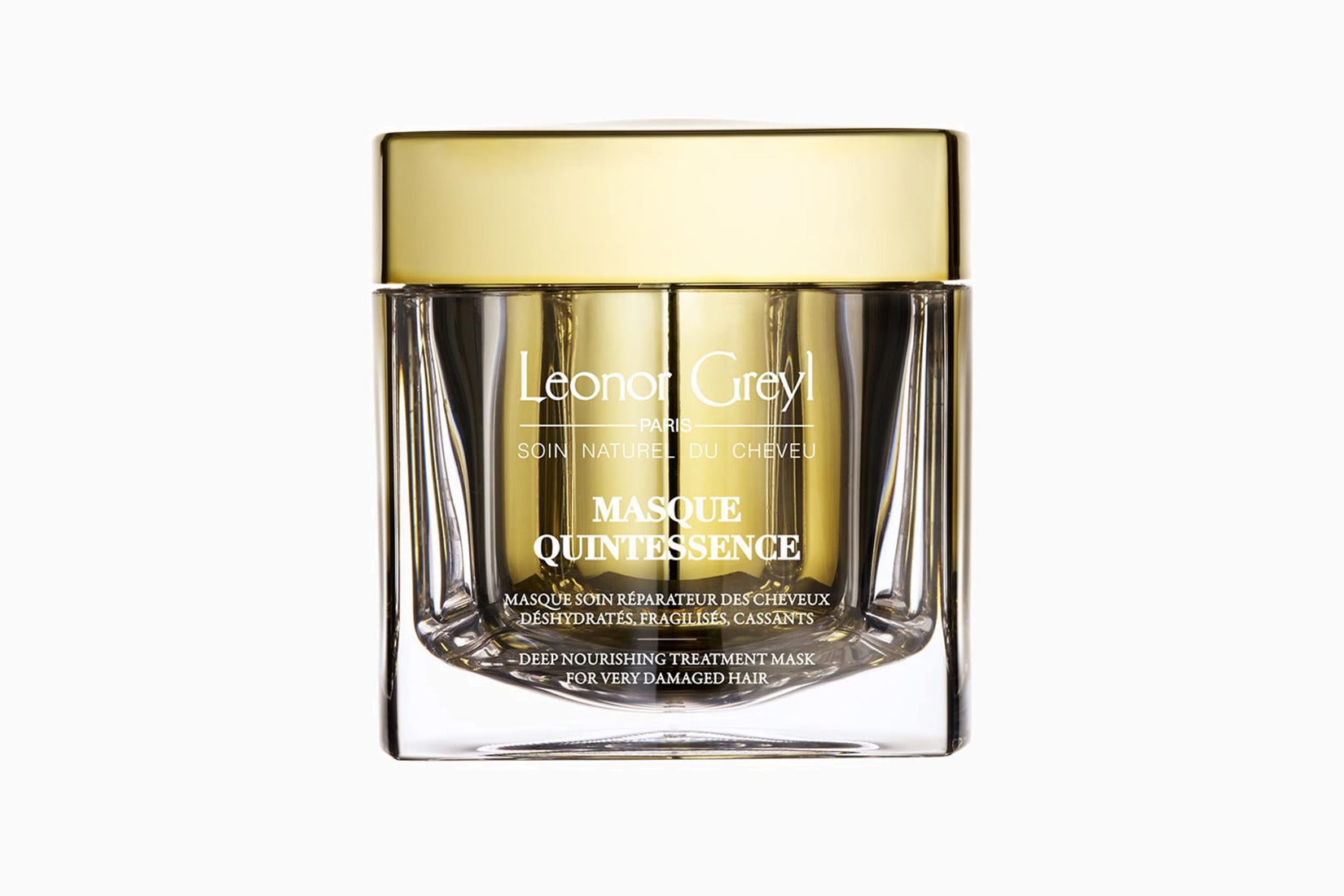 When it comes to high-end hair care products, Leonor Greyl holds the standard of excellence. The brand has been pioneering natural hair care products for over 50 years and this Masque Quintessence is the luxury hair mask that your hair is dying to try.
Its transformative capabilities are the result of an ingenious recipe that includes cupuaçu oil for hydration and manketti oil for moisture—both rich in antioxidants and which counteract the damage done by perms, bleach, highlight treatments, and straightening.
The hair mask is absorbed very slowly into the hair, delivering time-release conditioning and nourishment. No matter how dried out or brittle your hair, this mask will leave it exceptionally soft and supple—all in under 20 minutes.
For a superbly luxurious hair mask and locks deserving of a high-end lifestyle, give in to the guilty pleasure that is this Leonor Greyl Masque Quintessence.
Best for: A high-quality and high-power treat for your tresses.
Aussie 3 Minute Miracle: Best value hair mask for women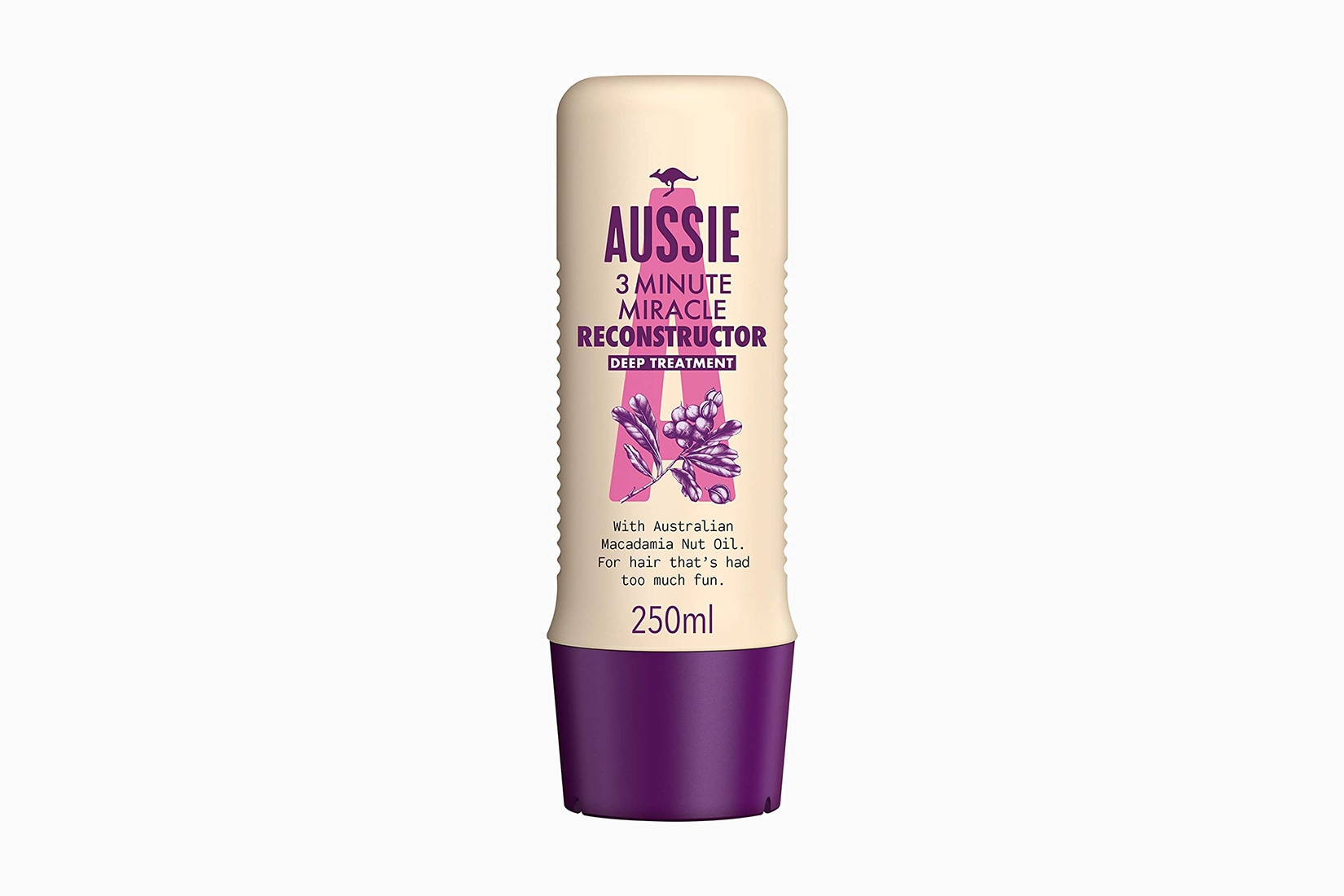 From straightening hair to brutal bleaching, think of all the ways our hair suffers. Ready to give it some TLC—but without splurging megabucks? Check out the Aussie 3 Minute Miracle Reconstructor.
This is the fun-loving yet highly effective and affordable answer to all our hair prayers—the perfect bargain hair mask for those of you looking to revive glum-looking hair, tame out-of-control manes, and restore bounce and shine.
At under $20, this hair mask really shouldn't be as good as it is. Infused with Macadamia nut oil, not only can it transform dry and damaged hair into the happy-go-lucky locks you deserve but it smells as delicious as our favorite perfume.
Miracles shouldn't cost the earth. Aussie 3 Minute Miracle Reconstructor is proof.
Best for: A low-cost hair mask with almost supernatural powers.
OUAI: Best women's hair mask for damaged hair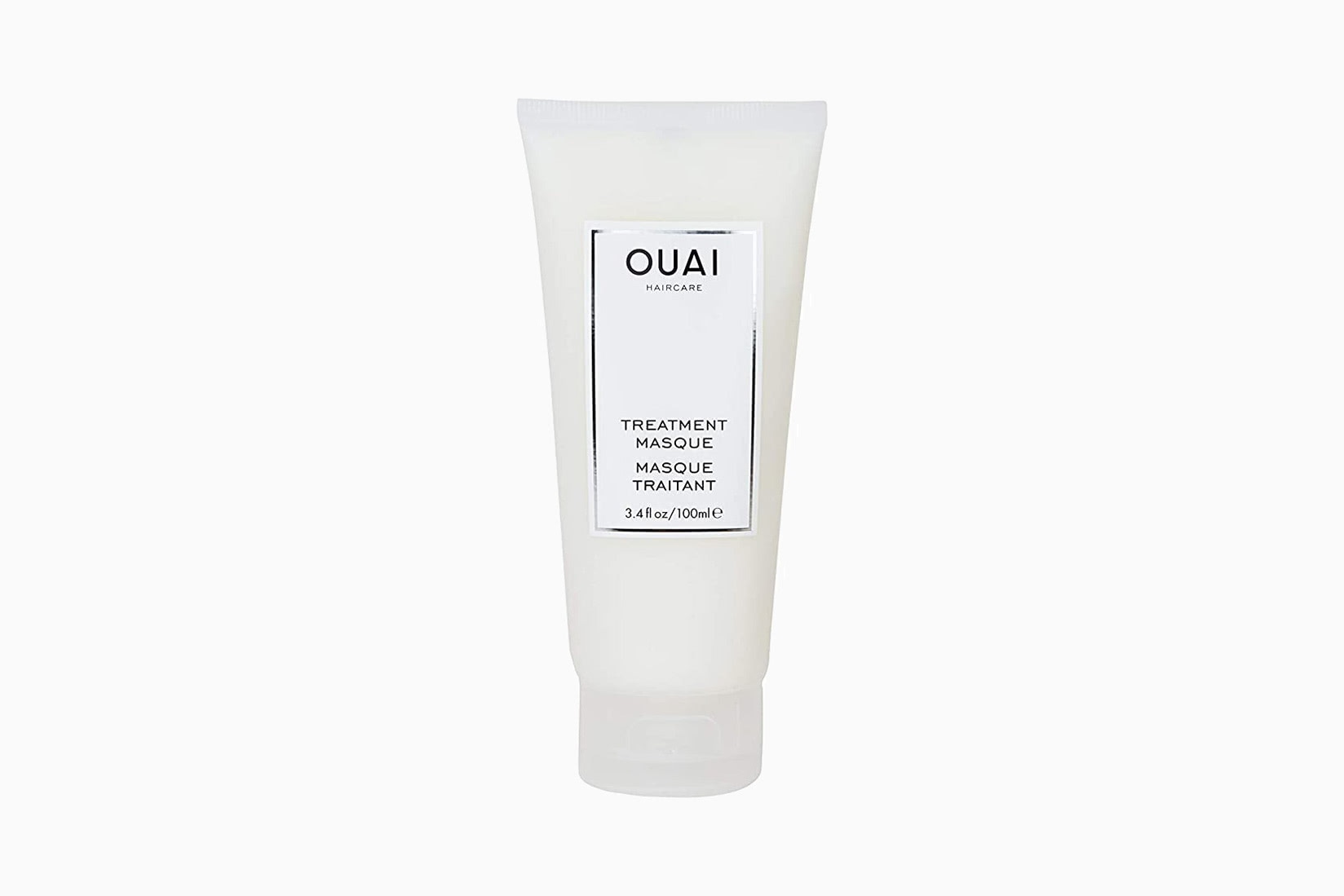 From friction to heat to nasty chemical treatments, not to mention the weather and climate, there are a million ways that our hair can get damaged. Luckily, there are also hair masks out there to repair all the destruction we've wreaked. The best hair mask for damaged hair? This OUAI Hair mask.
With a formula that includes tamarind seed for weightless hydration and amino acids to strengthen hair, this OUAI treatment heals and seals split ends and protects locks against future damage. The artichoke leaf extract even provides a protective layer from UV rays.
This hydrating hair mask will leave your hair voluminous, vivacious, and full of vitality—after just a single treatment. And not only is it easy to use but—with a fragrance that combines rose, bergamot, lychee, cedar-wood, and white musk—it's also a wonderful sensory experience.
Whether you've got curly, straight, or wavy hair, invest in a much-needed wellness treatment for your tresses with this OUAI Hair Mask. Healthy hair is happy hair.
Best for: Resurrecting ruined hair and returning its lust for life.
Christophe Robin Shield: Best hair mask for bleached hair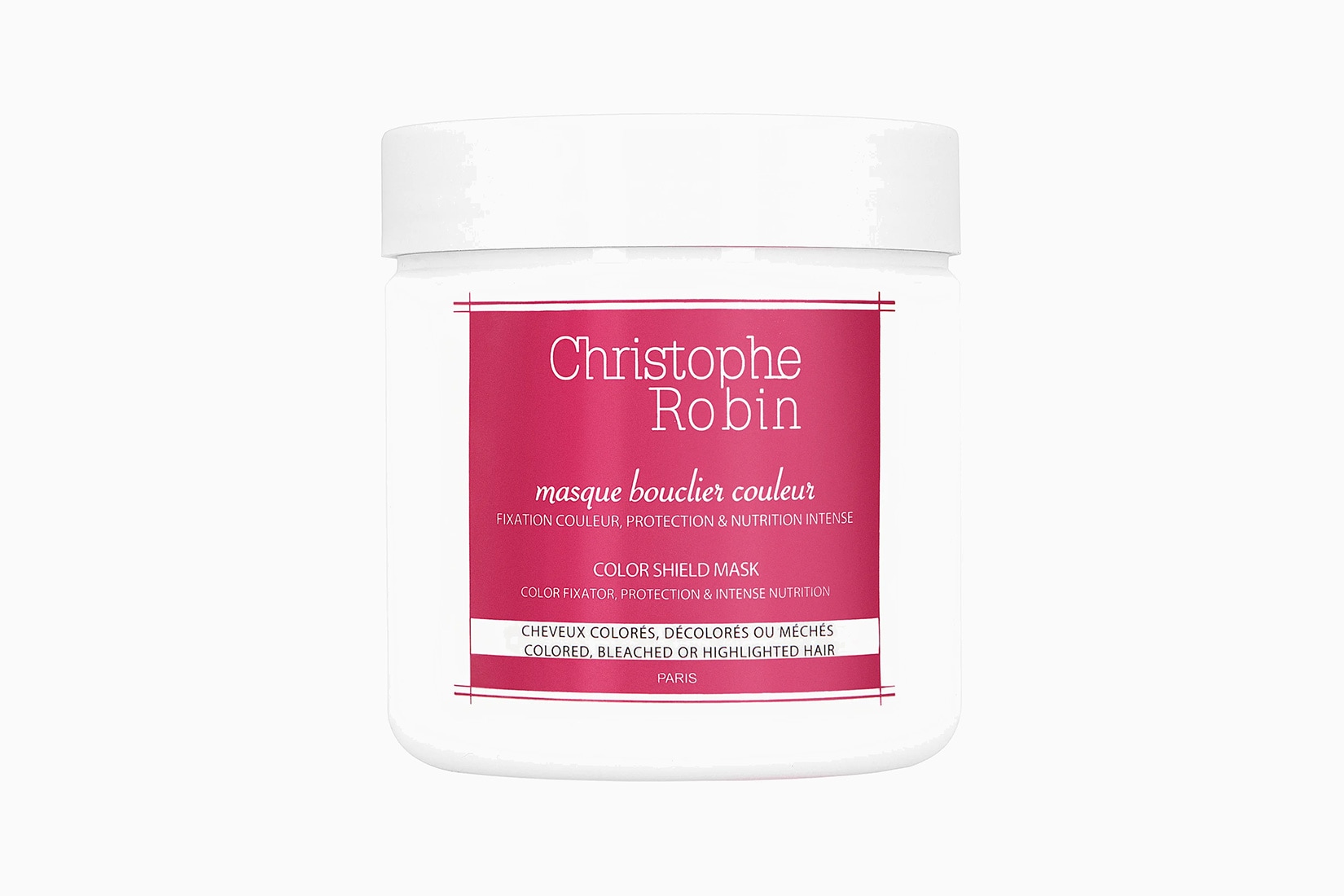 The sad and sorry truth is that bleach is bad for our hair. The same goes for any color treatment. But the good news? This Christophe Robin Color Shield Mask. One of the best hair treatments, it's designed to keep color-treated hair looking lively, healthy, and lustrous for longer.
With a recovery recipe that includes natural antioxidant-rich vitamins and an acidic pH, it works to reinforce and replenish each strand and prevent any loss of pigment, enhancing and defining your color whether you're a platinum blonde or any other shade.
The color-keeping formula also contains macadamia oil to provide additional nourishment, keeping your hair silky-smooth and shiny.
Whether your hair is worn out by all the coloring and bleaching, or the color tends to fade over time, this Christophe Robin Shield Mask is like a genie in a jar, working its wonders with minimum effort required.
Best for: An indispensable remedy for repairing and regenerating bleached hair.
Leonor Greyl L'Orchidee: Best women's hair mask for curly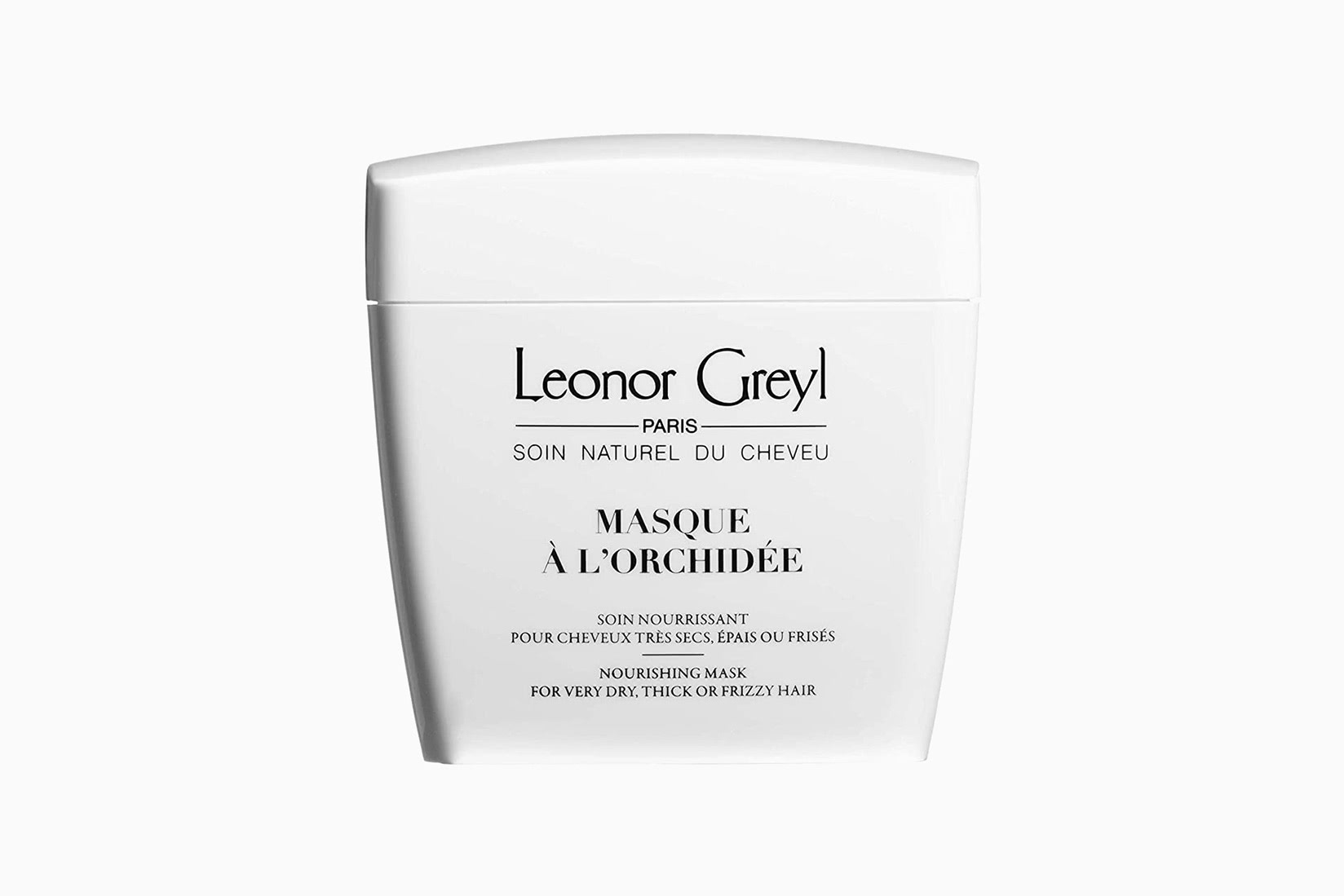 If we told you there was a treatment you could use just once or twice a week to transform your frizzy, dried out, and coarse hair, would you believe us? Well, there is. It's called Leonor Greyl Masque A L'Orchidee.
This protein hair mask provides the necessary nourishment to frizzy and curly hair, softening and conditioning to elevate the natural glamour of your crowning glory.
Packed full of innovative ingredients such as wheat ceramides to strengthen hair, silk proteins to enhance shine, and botanical oils for gloss and hydration—not to mention orchid extract to bring suppleness to unruly hair—this mask will make styling even the frizziest and curliest of manes a breeze.
For photo-ready curls, add Leonor Greyl's Masque A L'Orchidee to your hair care armory. Use as a weekly intensive treatment or as an everyday conditioner—the choice is yours.
Best for: Cultivating healthy, frizz-free, and ultra-defined curls.
SheaMoisture: Best women's hair mask for growth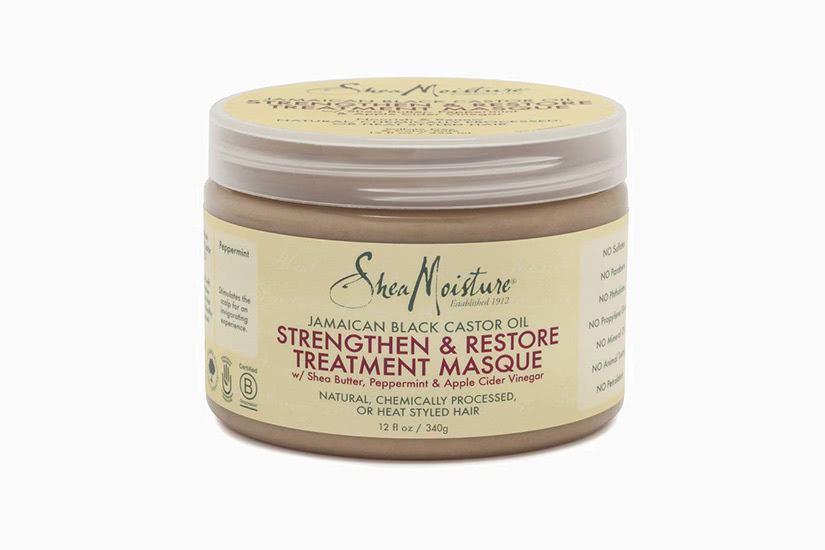 Many of us experience some hair loss at one point or another—and there's solace in the fact we're all in the same boat. But there's even greater consolation in this Shea Moisture hair mask, designed to encourage growth and provide much-needed nourishment to thinning hair.
This hair mask doesn't waste any time when it comes to reinvigorating your hair. Shea butter brings moisture and hydration while peppermint and apple cider vinegar restore your hair to its natural pH and keep it smooth, shiny, and full of bounce.
But the star ingredient? Rich in minerals, proteins, vitamin E, omega 6, and fatty acids, castor oil is also known as palma Christe—apparently because the leaves resemble the hand of Christ, but we like to think it's because of its miracle-working properties.
Containing some of the best hair care ingredients known to man, this SheaMoisture Hair Mask is a gift from the hair gods. Think your hair is past its prime? Think again.
Best for: Giving worn-out hair a burst of energy and a big dose of oomph.
Christophe Robin Regenerating: Best hair mask for colored hair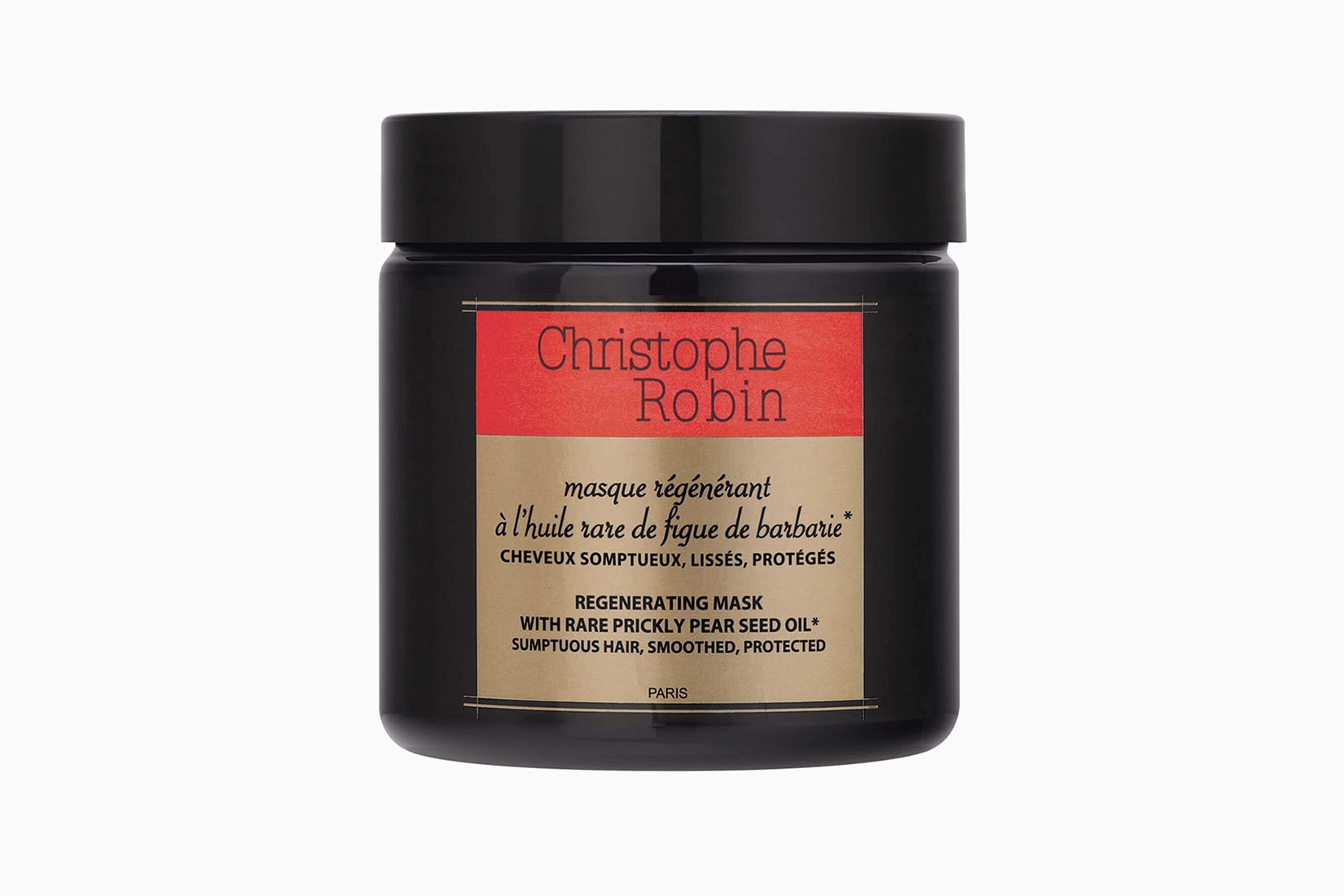 Remember how great your hair looked when you first got it treated? Now you can restore your hair to its post-salon quality with Christophe Robin's Regenerating hair mask for colored hair.
It contains Inula extra, a flower found on the coast of Brittany in France, and which works to revive the pigment in both colored hair and natural hair. But not only does the mask improve the intensity of your hair, whatever color it is, but the formula also includes prickly pear seed oil, famous for its high levels of vitamin E and antioxidants.
These ingredients work to nourish your hair at a deep level, leaving it shiny and smooth without weighing it down. And the mask also contains ceramides to increase strength—because what use is beautifully vibrant hair if it's also dry and damaged?
Enhance your hair with this Christophe Robin Regenerating hair mask—for color as rich and vivid as when you first had it dyed.
Best for: For elevating colored hair to the level of a Technicolour movie.
Oribe: Best hair mask for frizzy hair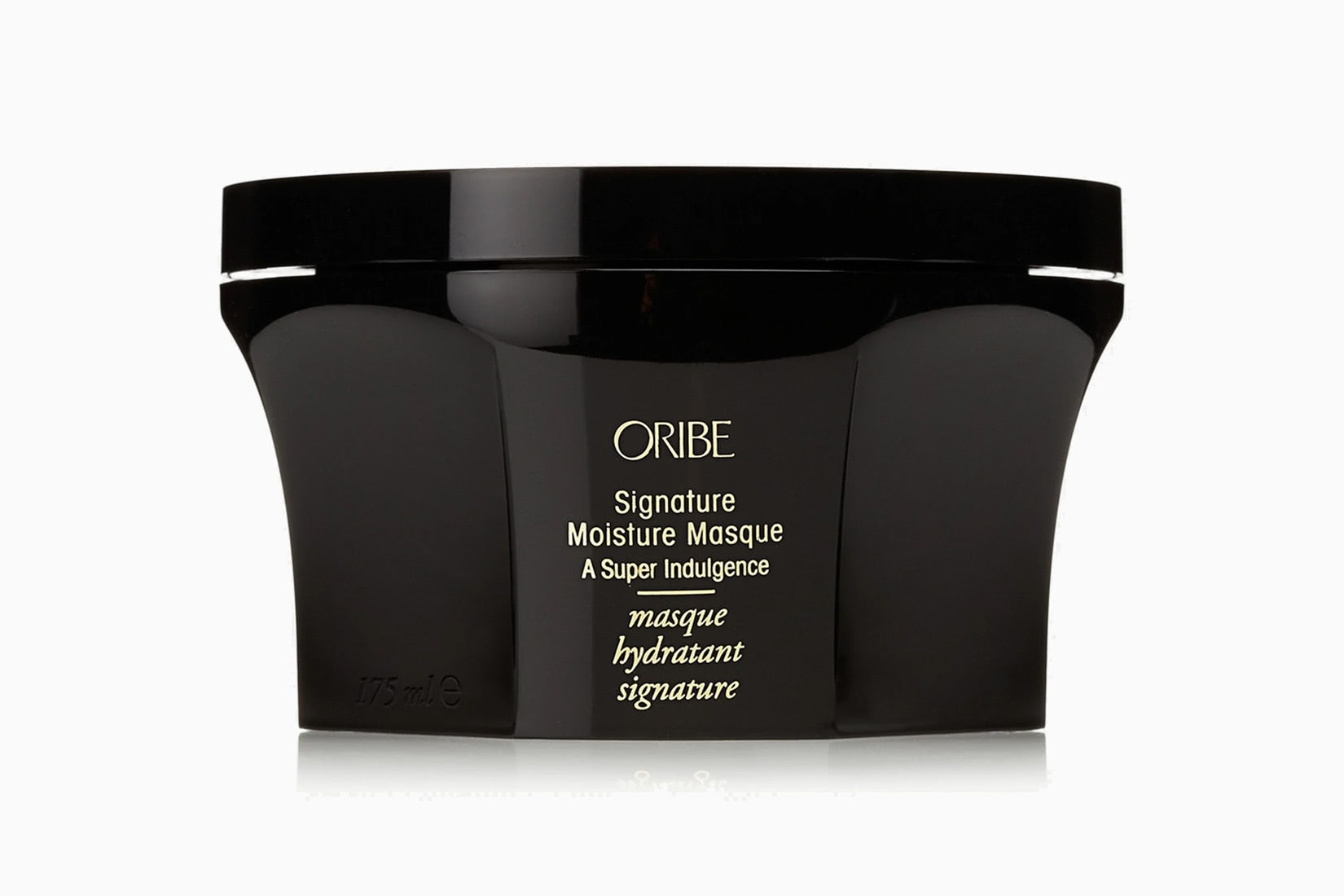 Frizzy hair can be an endless source of frustration. Why us? Why now? Well, Oribe is here to save the day with its Signature Moisture Mask, ready to calm and control even the most rampant frizz.
Frizz is generally a result of lack of moisture. Dry hair combined with humid weather makes the hair swell up and stick out in unsightly directions. But this hydrating hair mask minimizes frizz through deep hydration without adding any extra weight to your hair.
Ingredients like keratin strengthen hair shafts while edelweiss flower extract provides protection from the elements. Sunflower seed extract boosts shine while amber extract delivers antioxidants and deep conditioning.
Use this Oribe's Signature Moisture Mask weekly—unless you have really thick hair in which case you can apply every day—and watch it work its magic.
Best for: Banishing frizz forever.
Shu Uemura: Best women's hair mask for fine hair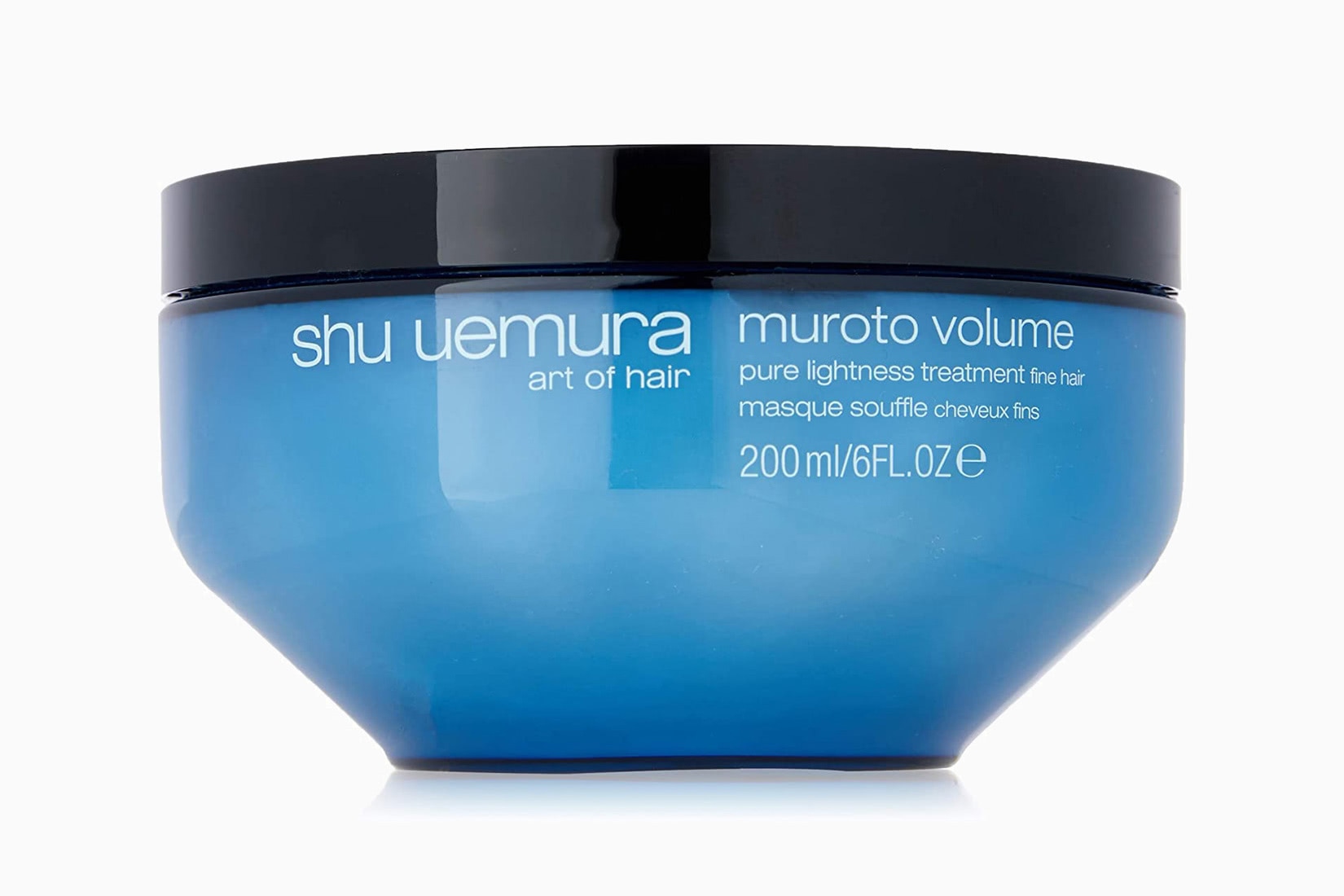 Shu Uemura's Muroto Volume hair mask is championing the cause of fine-haired females with this lightweight conditioning treatment that adds volume and verve but no extra weight.
By re-balancing your natural oils, it renders strands more supple, giving you hair an effortless lift and weightless finish. The formula contains water drawn from 200 meters below Japanese seas, providing minerals and nutrients of next-level purity. Meanwhile, Himalayan crystal minerals boost shine and also make your hair feel so wonderfully silky you won't be able to resist touching it.
The final piece of good news? It's totally safe to use on colored hair. So if you've got fine hair that doesn't agree with standard hair masks, definitely try this Shu Uemura Muroto Volume hair mask.
It's unisex, though, so you may find your boyfriend trying to sneak some too.
Best for: Turning up the volume on fine hair.
Briogeo: Best hair mask for dry hair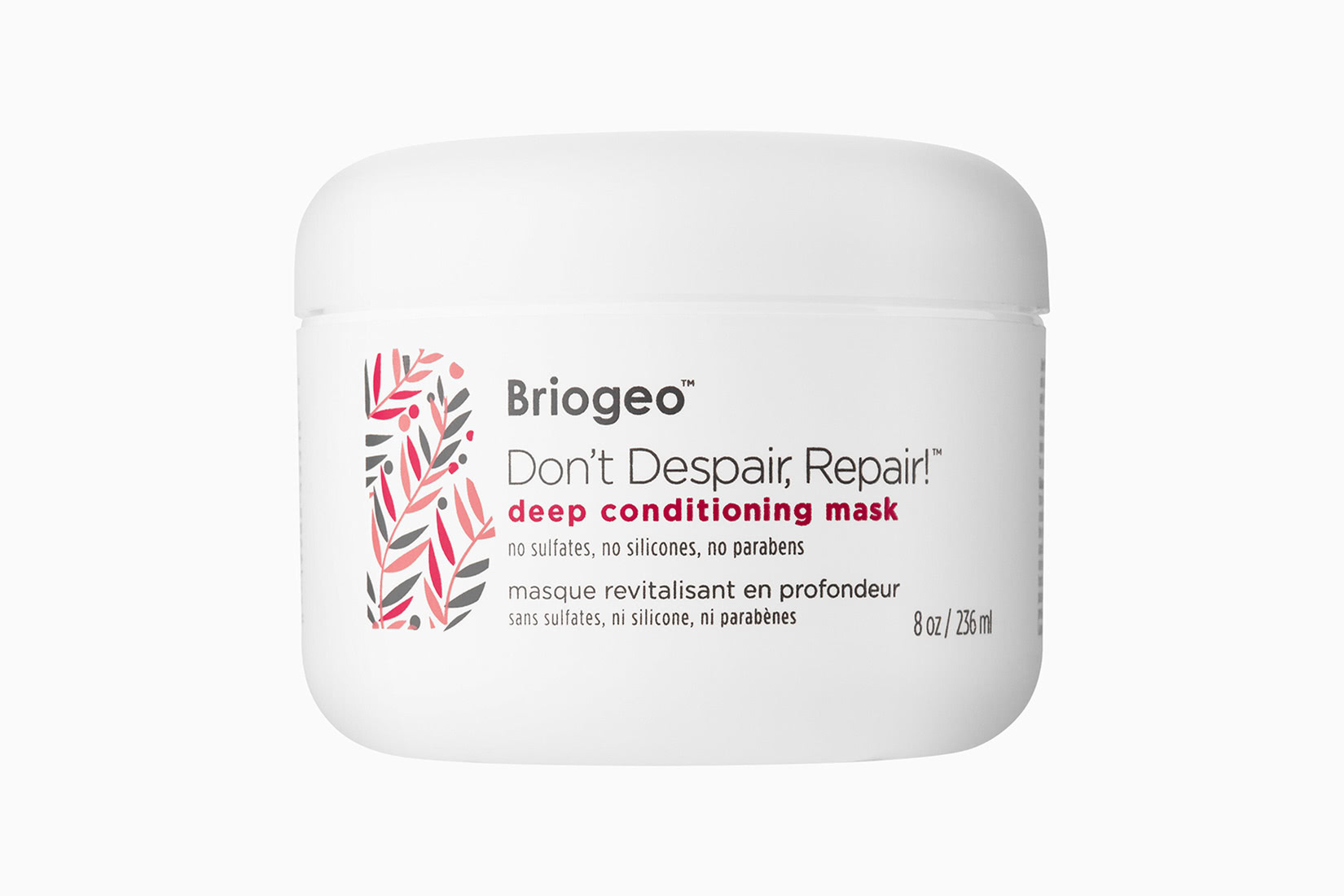 As Briogeo says, if you've got dry hair, Don't Despair, Repair. No more gloom and doom. Briogeo is here to revive your thirsty locks.
The best hair mask for dry hair, this treatment is formulated with the brand's unique NOVA Complex and contains a blend of powerful nutrients including B-vitamins, and rosehip and argan oils as well as algae and biotin, which work together to rescue your hair from brittleness and breakage.
The best hair conditioning mask we've come across, Briogeo Don't Despair, Repair has been clinically proven to bring back vibrancy and healthy to dry and damaged hair. 75% of women suffered less hair breakage after just three applications of this hair mask.
Just as our bodies need to hydrate, so does our hair—and this hair mask is the definitive treatment for dry hair.
Best for: A superhero hair treatment to ensure super soft hair.
Kérastase: Best hair mask for split ends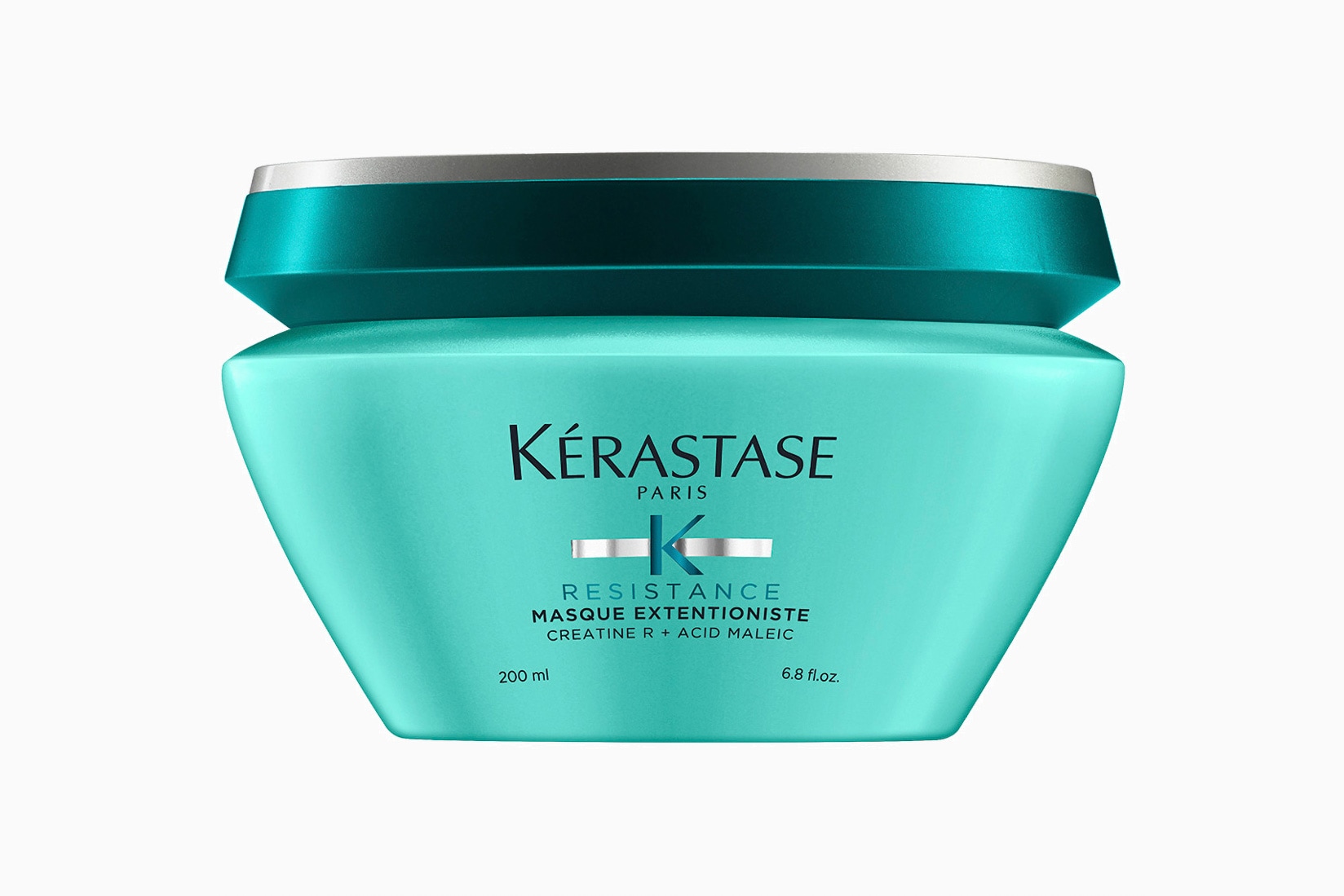 Are the tips of your hair dried-out, brittle, and starting to fray? Have you ignored your split ends for far too long? Back-up is here in the form of Kérastase Resistance Masque Extentioniste, ready to restore your hair to full health.
Split ends can be caused by anything from extreme weather to the heat of curling tongs and blow dryers. This deep conditioning hair treatment replenishes moisture and seals the hair cuticle to stop further breakage.
Ingredients such as creatine (the same thing bodybuilders take to build muscle mass) and maleic acid collaborate to repair hair bonds, strengthening and boosting elasticity. Plus, you only need to keep this protein hair mask on your head for 5 minutes for it to do its job.
If the tips of your hair are looking a bit frazzled, then incorporate this Kérastase hair mask into your hair care routine today and expel split ends from your life forever.
Best for: A powerful rescue remedy for split ends and sad-looking hair.
R+Co: Best hair mask for shiny hair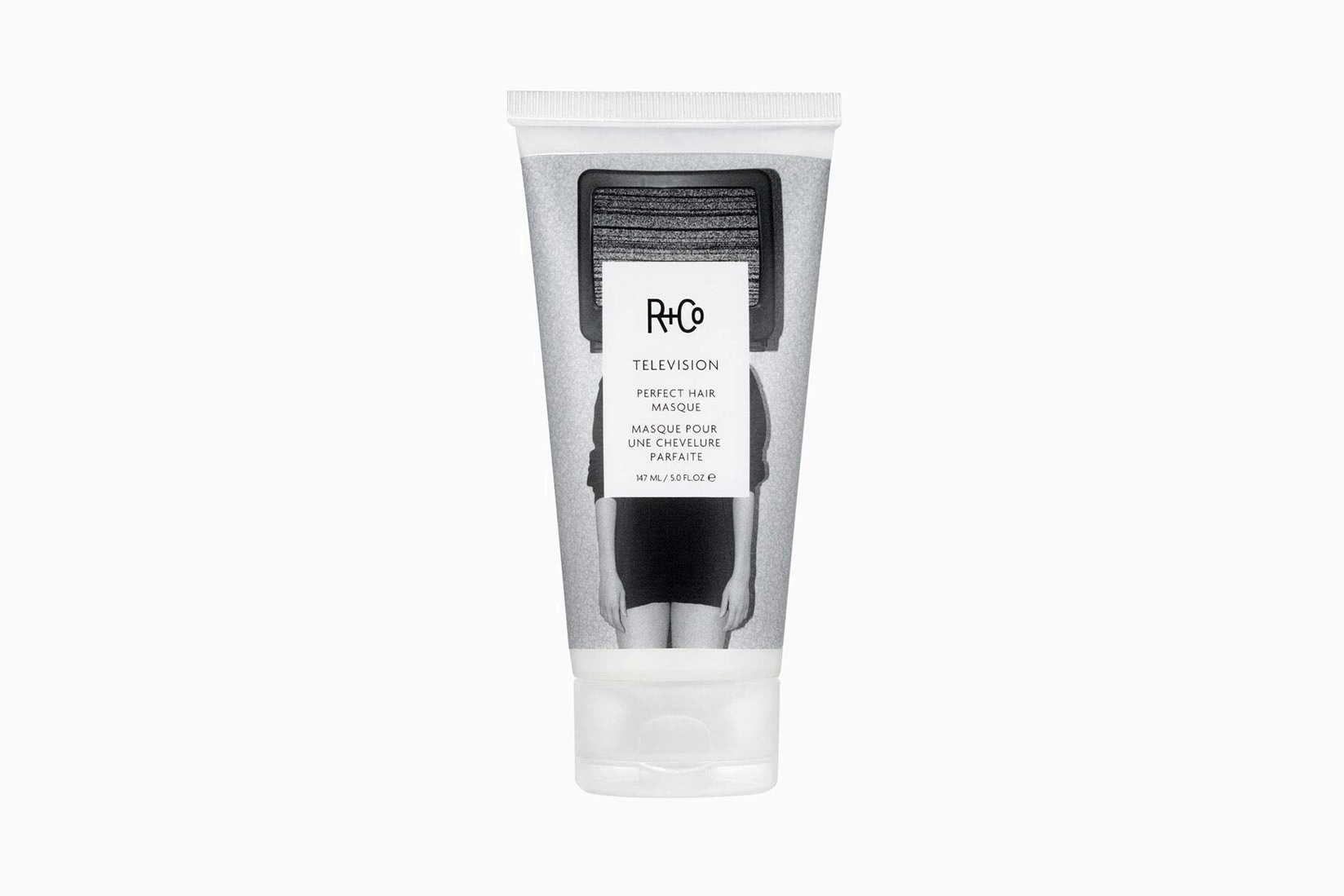 Thick and healthy hair is great, but it's shiny hair that we're really hankering after. Which is why we've fallen in love with R+Co's Television Perfect Hair Mask, aptly named for its power to give you camera-ready hair.
Swinging a head full of glossy locks over your shoulder as you enter a room is the best way to get people's attention. With snow mushroom extract to lock in hydration and heal hair, plus murumuru butter for deep moisturizing, this mask will give you hair that can truly be said to shimmer.
And the addition of Abyssinian oil helps to detangle your tresses, allowing for friction-free combing.
147 ml of pure dynamo for dull hair, this R+Co Television Perfect hair mask is a lifesaver for lackluster locks. For a mane so magnificent, even your coolest jewelry will pale in comparison, this mask merits a place in your toiletry bag.
Best for: Hair so shiny it deserves a spot on prime-time TV.
L'Oreal: Best budget women's hair mask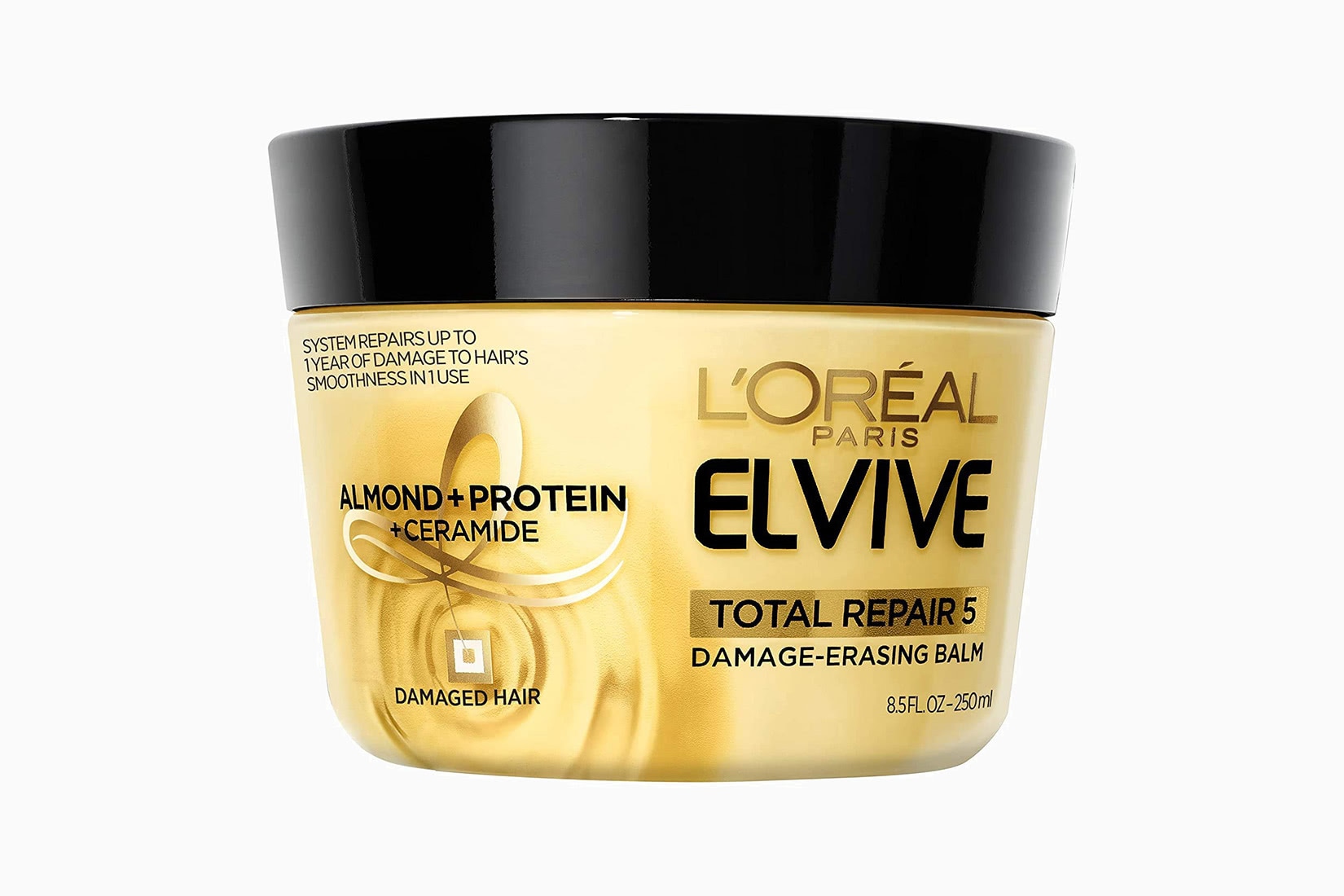 L'Oreal is pretty much the gold standard for affordable, accessible, and effective hair care and this Repair 5 hair mask should be your number one if you're looking for an inexpensive yet impressive hair recovery treatment.
Total Repair 5 works on the five main types of hair damage: split ends, weakness, roughness, dullness, and dehydration. Find yourself suffering from any of those? This L'Oreal protein hair mask promises to repair a whole year's worth of damage with just one use.
Ingredients like almond, protein, and ceramides elixirs worth to reverse the damage we've inflicted on our poor locks, reinforcing and strengthening the strands and smoothing out the fibers so it looks shiny, vibrant, and full of joie de vivre.
For that because you're worth it hair at a bargain price, look no further than L'Oreal's Elvive Total Repair 5 hair mask.
Best for: An impressively powerful hair mask that won't leave you penniless.
Philip B: Most expensive hair mask for women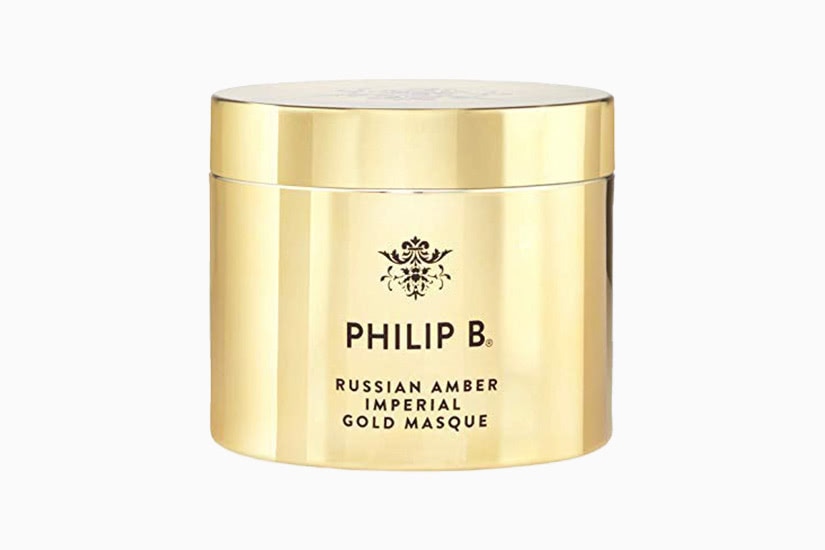 The best guilty pleasures—the Bugattis and Rolexes of the world—don't come cheap. But we treat ourselves anyway. And doesn't our hair deserve to be spoiled too? For the ultimate high-end hair-care indulgence, check out Philip B's Russian Amber Imperial Gold hair mask.
This is a hair mask worthy of a royal court and the perfect decadent detox for damaged locks. After all, life isn't always easy for high-flyers and jet-setters. All those exclusive parties and events can take their toll.
So if your hair is starting to look a little stressed-out, check out this mask, suitable for all hair types, here to revitalize overworked hair. With ingredients that include anti-aging pea peptides, oleosomes for moisture and luster, and argan oil to smooth frizz and split ends, this hair mask will bring brilliance, body, and bounce back to your hair.
For hair fit for a queen, nothing compares to Philip B's Russian Amber Imperial Gold Masque.
Best for: Hair as glossy and as glamorous as you.
Beauty guide: how to choose a women's hair mask
When choosing a hair mask (or hair masque in French), it's easy to become overwhelmed by the lists of ingredients and all the claims about what the product can do. Here's everything you need to know to choose a hair mask that's right for you.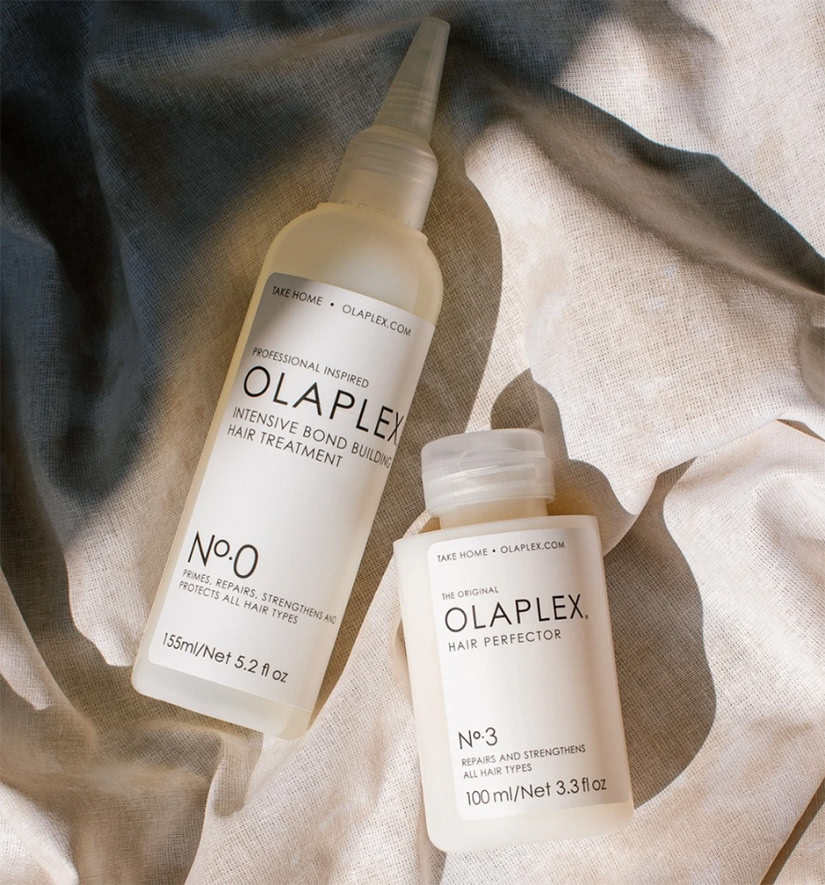 But first, what exactly is a hair mask?
A hair mask is a deep conditioning hair treatment that heals dry and damaged hair—similar to hair conditioner but more powerful and left in for longer. As well as offering moisture and nourishment for your locks, hair masks can also strengthen strands, minimize frizz, and soothe your scalp.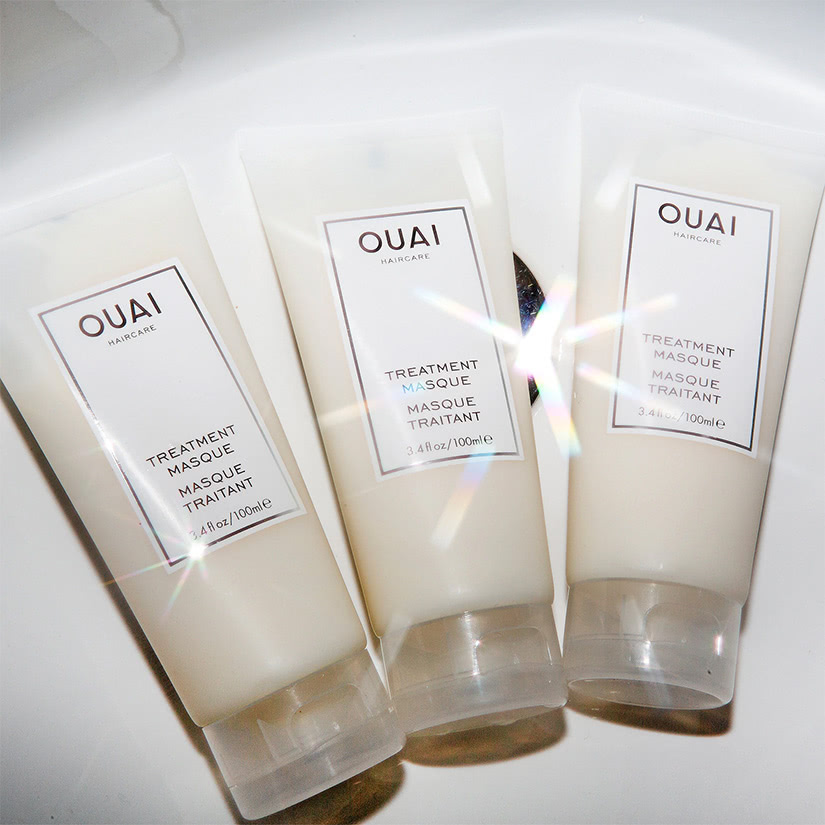 The best hair mask ingredients and what they do
Coconut oil – a good choice for thick and coarse hair, coconut oil helps to retain moisture, keep hair soft, and stop breakage.
Shea butter – works as a sealant, locking in moisture, as well as providing vitamins A and E and fatty acids. Also reduces frizz and breakage.
Apple cider vinegar – a mask with apple cider vinegar is great for women with oily hair, helping to clarify locks and balance pH levels.
Linseed oil – for vitamins, proteins, moisture, and repair. As it preserves pigment, linseed is also great for colored hair.
Argan oil – a good choice for hair damaged by chemical coloring or styling products, argan oil softens, moisturizes, and adds vitamin E and fatty acids to boost shine.
Jojoba oil – a lightweight oil, suitable for fine hair, promoting hair growth, reviving follicles, and reducing dandruff.
Avocado oil – a powerful moisturizer full of vitamins B & E as well as minerals that help seal cuticles, preventing breakage.
Nettle extract – regulates sebum, stimulates regrowth, and increases shine.
Camomile – softens hair and alleviates itchy and dry scalps.
Keratin – found naturally in hair, skin, and nails, and can be added to hair masks to help strengthen hair, making it smoother and more manageable.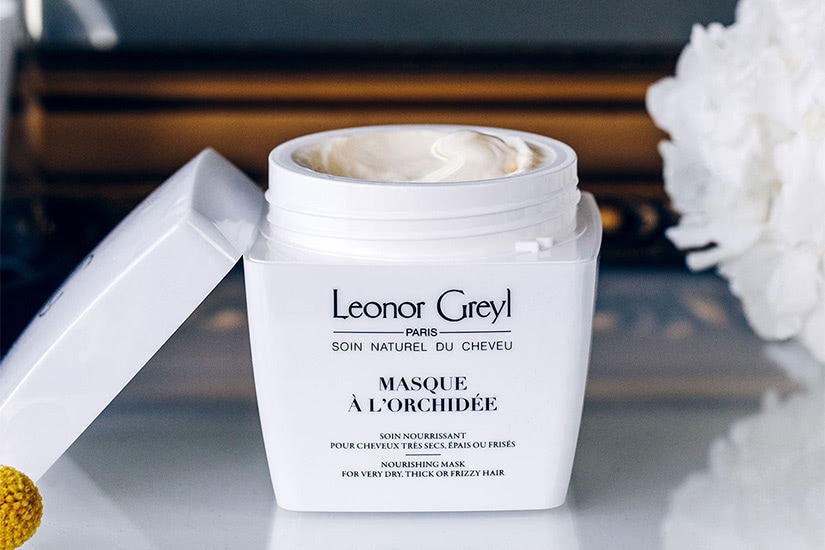 Choosing the right hair mask
If you have fine or curly hair, you want a lightweight mask that won't weigh the strands down. Avoid applying the mask too frequently.
Frizzy and dry hair can handle a heavier hydrating mask and more frequent application.
If you have oily hair, opt for masks containing apple cider vinegar or clay to reduce greasiness.
If your hair has been color-treated, consider a bond-building hair mask that helps repair damage by restoring the protein bonds of your hair.
If your hair is damaged, look for a hair mask with active ingredients like keratin and fatty acids that work to repair hair.
Frequently asked questions about hair masks
Do hair masks really work?
Hair masks do actually work to deeply condition hair, working into the hair cuticle and providing nourishment that increases strength and prevents breakage. Although they can't mend split ends, they can protect and smooth them, as well as hydrating hair and imparting shine.
What is the best deep conditioning hair mask?
The best deep conditioning hair mask is Oribe's Signature Moisture Mask. Designed to minimize the frizz that is caused by a lack of moisture and hydration, its innovative formula delivers deep conditioning to hair, restoring shine and smoothness. Another great deep conditioning hair mask is Leonor Greyl's Masque A L'Orchidee, also designed to revive dried out and damaged hair. 
How often should you do hair masks?
Hair masks are best applied between once and three times a week. The more damaged or dry your hair is, the more frequently you can do it. But applying conditioning and hydrating hair masks too often can make hair greasy, while protein masks, if used too often, can make hair brittle and dry.
What are the best homemade hair masks?
The best homemade hair masks use store cupboard ingredients to revive and reinvigorate your hair. Coconut or olive oil hair masks are the best at hydrating dry and brittle hair while a home-made mayonnaise mask can make your hair shinier. The potassium in a banana hair mask can make hair softer and more manageable while honey reduces frizz.