The average person loses between 50 – 100 hairs a day. If you're finding that you're regularly hitting the higher end of that scale, it might be time to invest in a hair regrowth shampoo.
These seemingly magical shampoos do more than just keep your hair healthy, shiny, and hydrated: combining ingredients like keratin, biotin, essential oils, and DHT blockers means thick, bouncy, and stronger-than-ever-before hair awaits.
But where to start with the best shampoo for hair loss? Our guide will stop you from tearing your hair out — both in reality and metaphorically — by introducing you to the best men's shampoo for all and any hair types.
The 21 best hair loss shampoos for men
Check our special men's shampoo buyers' guide after the list to see exactly what you should pay attention to before purchasing hair loss products online.
Whether you're looking for biotin for men, DHT-blocking shampoo, the most volumizing products, or something stronger with Minoxidil, read on to discover your soon-to-be-favorite shower addition.
Lumin: Best overall hair loss shampoo for men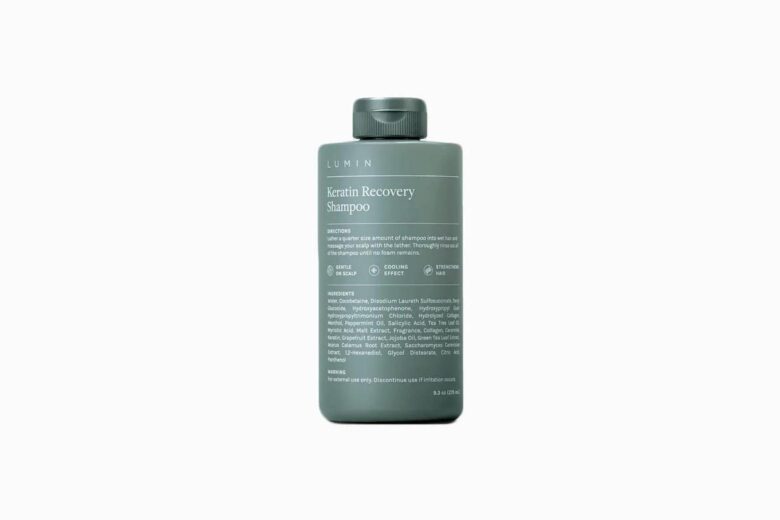 The positivity you'll experience when using Lumin's Keratin Recovery Shampoo shampoo is two-fold: Firstly, you'll gaze in wonder up at your hair after a few washes, with its new life and bounce, luscious thickness, and extra strength. Secondly, you'll start to associate this shampoo's deliciously refreshing smell with that level of hair-themed success. Eventually, you'll catch wafts of tea tree and peppermint in the air, and you'll align them with your newly improved locks.
In the world of haircare, Lumin's Keratin shampoo is one of the best all-rounders. Specifically formulated for men who struggle with hair loss, it manages to nourish your scalp, strengthen your existing hair and stimulate the scalp to encourage fresh hair growth. Cooling and gentle, it will be the perfect head start to your day.
Best for: Accidentally starting a sort of "Pavlov's dogs" relationship with your shampoo.
GroMD: Best premium hair loss shampoo for men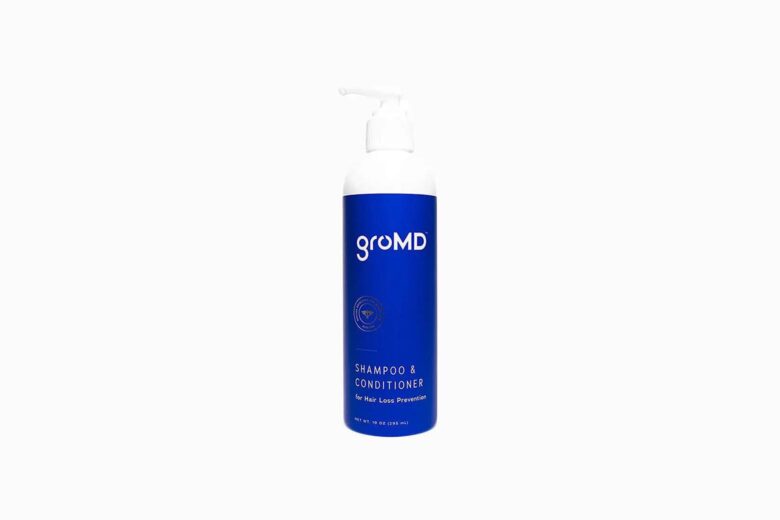 You could go on a long, hair-themed shopping trip and come back with a huge basket full of items that all individually do their bit to bring your hair back to its finest. Or you could skip all of the above and find one miracle bottle that combines the highlights of all of the other products in one. Our recommendation is the latter, and you can find such a thing in GroMD's Shampoo & Conditioner.
We'd put good money on not finding another hair care product that does just as much to prevent hair thinning and encourage healthy hair follicles simultaneously as this shampoo. Combining a proprietary blend of DHT blockers to prevent hair loss straight from the roots with caffeine, menthol, Capixyl, Hairgenyl, and argan oil to stimulate hair growth, it grabs the very notion of thinning hair from all angles and kick starts a whole new hair revolution.
Best for: Proving that the Doctor's orders do know best.
Pura d'Or: Best value hair loss shampoo for men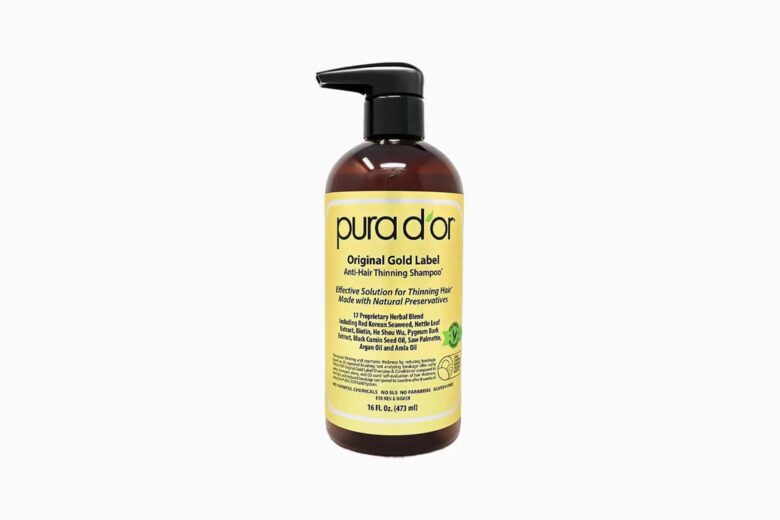 One of the few bottles you'll appreciate for its long list of ingredients, because they're all natural and all promote thick, healthy, unbreakable hair. While we might usually stay away from an ingredients list that your eyes get tired of scrolling through, when the list in question includes 17 different key herbal active ingredients, our mind could be swayed. And that's exactly what you'll find in a Pura d'Or's Professional Grade Shampoo bottle.
Combining a rich, concentrated selection of nutrients to add volume, stimulate the hair follicles, and all-around improve your scalp's condition, this budget-friendly bottle is one you'll swear by as soon as you've treated your hair to a wash. This shampoo goes the extra mile when it comes to preventing hair thinning: from cleansing the scalp to injecting each follicle with oil and giving it an extra dose of energy.
Best for: Feeling like the ultimate bargain hunter with great hair.
Aesop: Best volumizing shampoo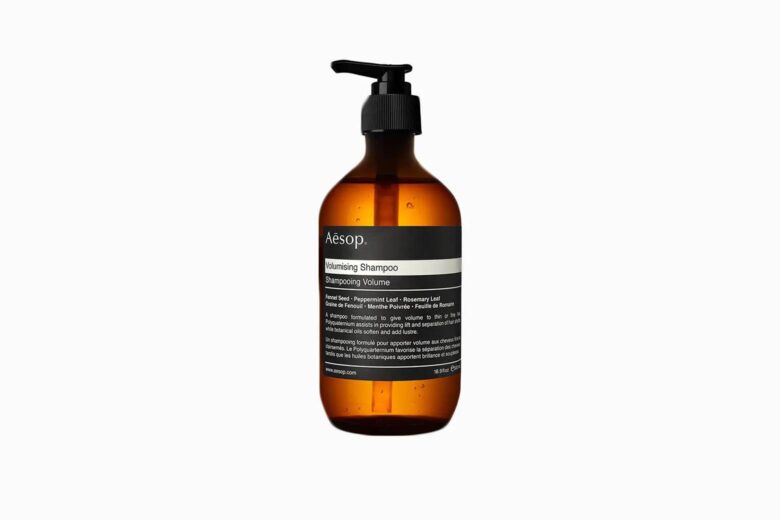 Think of any number of male celebrities with thick, luscious hair, and imagine you've got the same strands proudly growing from your head. Manifestation might not work quite that impressively, but a few washes using Aesop's Volumising Shampoo, and you'll second guess everything you ever doubted about the power of the mind.
Fennel seed, peppermint leaf, and rosemary leaf combine in this bottle to pull off something verging on magical: even the thinnest hair seems to come alive after one or two shampoos using this stuff. That's partially down to this combination of natural ingredients (and the power of the mind, perhaps?) but also thanks to the addition of Polyquaternium 67. This lifting formula does the job of giving your hair a good shake-up, adding depth and layers where previously there appeared to be none.
Best for: Spontaneously running your fingers through your hair with glee.
Sachajuan: Best thickening shampoo for men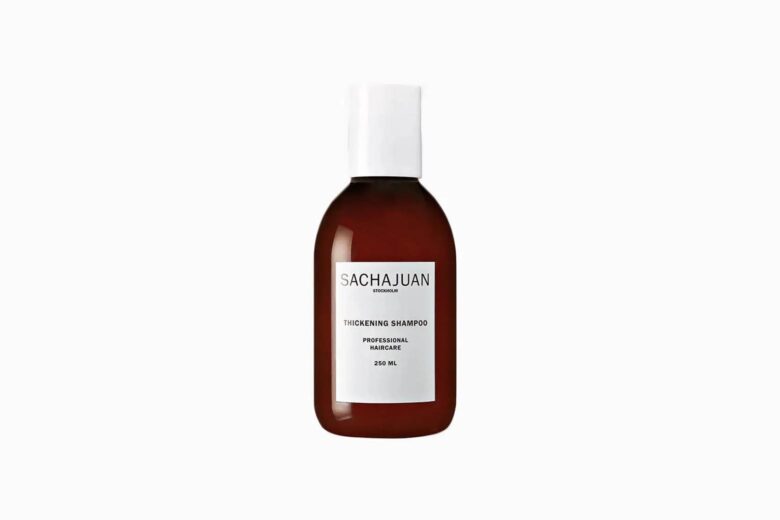 Discover a shampoo that perks up hair, delivers a boost of thickness, and keeps hair shiny and clean at the same time, and you'll never say goodbye. A bottle so impressive and so rare that you'll set up repeat orders, buy every bottle in store and regularly check that it's still available online, for fear that your supply runs out. Yet to find such a bottle? Look no further than Sachajuan's Thickening Shampoo.
An understated bottle saves the attention for what's inside: a premium, gloriously thick shampoo that acts as a large cup of coffee for even the shyest of hair strands. Struggling with hair that refuses to perk up? A blend of Sea Algae will round up each and every hair follicle, separating them for maximum impact and almost instantly giving the impression of a thicker head of hair. The best men's shampoo for thinning hair: this bottle doesn't waste time.
Best for: Hat hair? Sorry, never heard of it.
Oribe: Best men's strengthening shampoo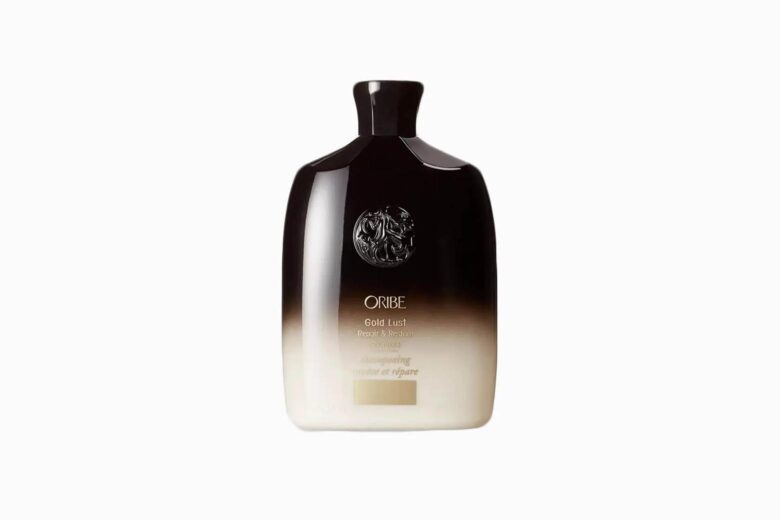 If shampoo could take your hair to the gym, set it up with an intense personal training program, and make sure it's drinking at least one protein shake daily, it would exist in the form of Oribe's Gold Lust Repair & Restore Shampoo. The sort of strengthening routine that would be terrifying if it wasn't so effortless and painless, your hair follicles will stand to attention, withstanding breakage and almost laughing in the face of snapping after a few washes.
Not only is this a luxe shampoo on the inside, but the bottle is equally and justifiably as demanding of attention. Cypress, Argan, and Maracuja Oils will elevate your hair care experience once and for all, and going back to anything less than a premium array of silky smooth oils afterward will feel like a downgrade. Basically: once you've swapped out your existing shampoo for this one, you'll never be able to go back.
Best for: Challenging your hair to a strength workout.
Nizoral: Best anti-dandruff hair loss shampoo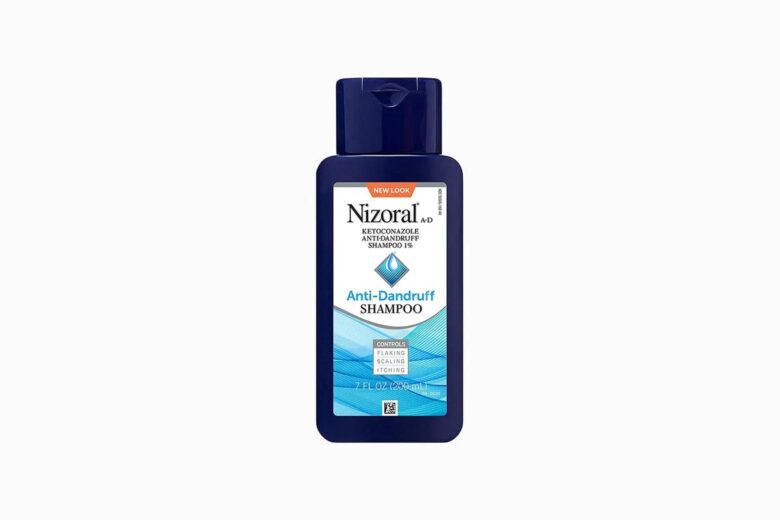 It's all well and good having luscious locks, super strength hair and a colour that would make even the most popular Instagram models jealous…but if you're struggling with dandruff, your confidence likely still won't be where it should. You might also find that many anti-dandruff shampoos do the job of preventing those flakes but come with the detrimental effect of making your hair, unfortunately flat. Enter: Nizoral Anti-Dandruff Shampoo.
Tackling both issues head on (if you'll pardon the pun), you'll be able to tick all the boxes at once, here. Nizoral's shampoo contains ketoconazole 1%, which promises to relieve flaking, scaling, and itching caused by dandruff. And it doesn't stop there. Its rich, thickening formula goes one step further, with a shampoo that promises to boost each hair follicle at the same time. The lasting effect is shiny, healthy locks with not a white speck in sight.
Best for: Bringing out your best black T-shirts again.
Klorane: Best men's shampoo for thinning hair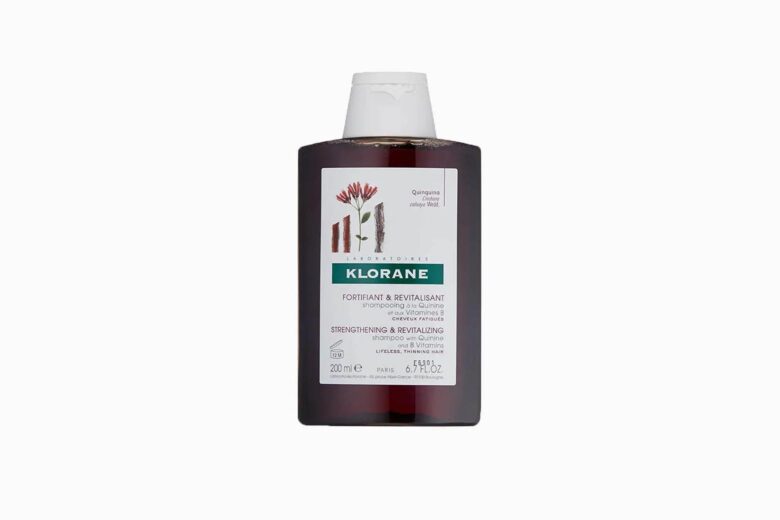 Thinning hair doesn't mean your strands can't look just as thick and healthy as they used to. The answer lies in a special formula that combines nutrients, vitamins, and botanicals to create the illusion of stronger hair to the extent that you'll start to feel like it genuinely is thickening up.
Klorane's Shampoo with Quinine and B vitamins fuses two of the most important ingredients in the world of hair care. B vitamins – a vitamin that many of us are deficient in – are one of the core features when it comes to keeping hair healthy and growing fast. Quinine, a molecule with strengthening and toning properties, restores strength and vitality to lifeless hair. Together, they act as a superhero pair who've come to restore happiness on your head.
Best for: Confidently feeling like you're in safe hands.
Nioxin: Best shampoo for men with progressed thinning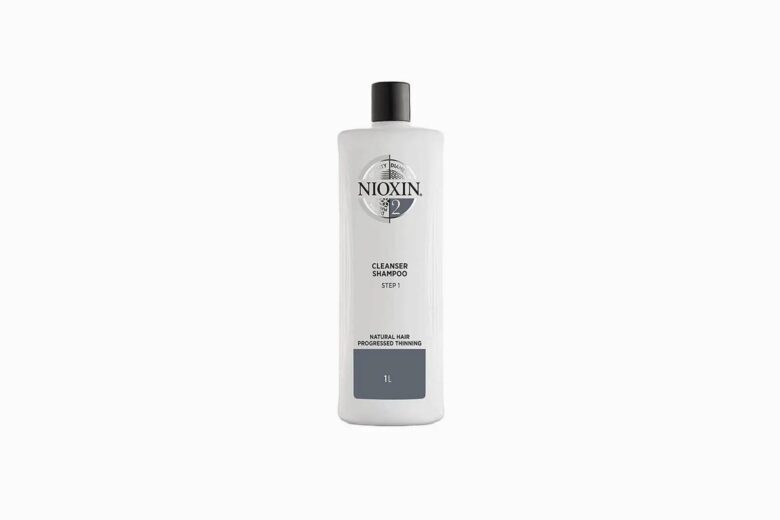 Ask any self-respecting hair care professional for their recommendation when it comes to progressed thinning, and they'll all say the same thing: Nioxin's Cleanser Shampoo. This might sound like a slight exaggeration, but 16 consecutive years of winning the "Behind the Chair" Stylist Choice Winner for Favourite Thinning Hair Care product doesn't lie. If you're looking for a shampoo that will cut to the chase and rid you of your hair worries, this is the one to go for. Nioxin is one of the wise elders of the hair-thinning industry: a brand that's been focusing on just that for more than two decades.
As well as designing shampoos and other products that keep your hair nourished, shiny, and smelling great, they also take advice from The Institute of Trichologists when it comes to designing each product. And if there's one group of people you should trust with your hair, it's the scientists who devote their working life to solving the problem.
Best for: Knowing you're trusting the professionals to work their magic.
Horace: Best men's hair loss shampoo for oily hair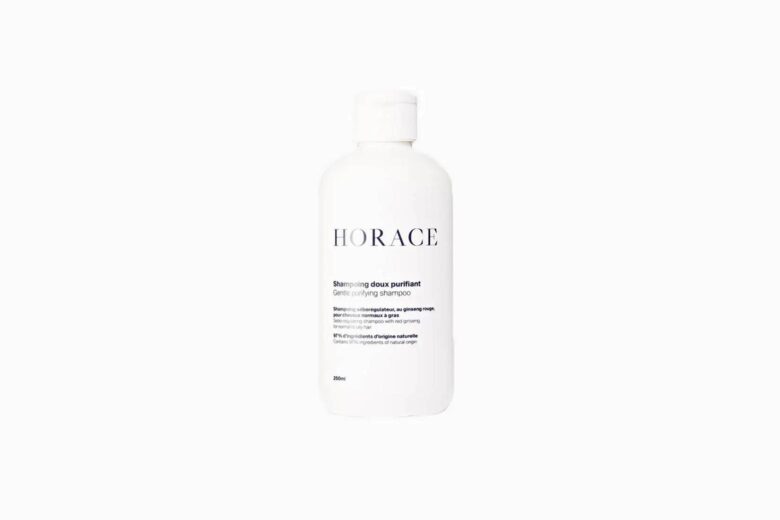 Oily hair can sometimes seem like a barrier when it comes to protecting your hair follicles and encouraging thickness. The addition of more oils can easily make your new shampoo flatten your hair against your scalp, looking thinner all the while. The ideal shampoo for thinning hair if you're someone with oily hair is weightless: adding depth and texture without gravity and environmental factors getting in the way. The answer comes in the form of Horace's Gentle Purifying Shampoo.
The key word here is "gentle" – the shampoo works to slowly and almost timidly coerce your hair into behaving, without it causing a fuss in the form of grease. This is a shampoo that's especially formulated for those with oily hair, and its combination of 97% natural ingredients and sebo-regulating properties work together to do just that. Better yet, this shampoo's fresh citrus and mint scent will wake you up with a refreshing start to the day.
Best for: Getting away with an extra day between washes.
Evo: Best shampoo for men with fine hair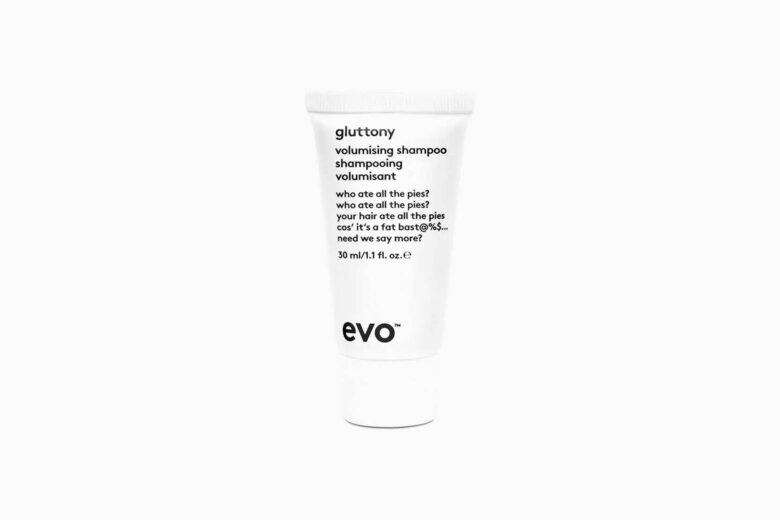 Gone are the days of treading carefully if you're someone who has fine hair. You'd be forgiven for taking things slowly; sampling one different shampoo at a time in order to keep your strands happy and staying where they should be. But, with its loud branding and even louder results, the new shampoo on the block is here to shake things up, and it's starting with each fine hair on your head. EVO's Gluttony Volumising Shampoo is the huge, all-encompassing, calorie-laden dessert for your hair, and it's one you'll crave again and again.
Easily building body and texture with the confidence that only such a successful shampoo can have, this is the gel formula that you'll swear by forevermore, thanks to the quick and easy 180 effect it has on both your hair and your confidence levels. Sulphate free, it adds volume and texture without weighing you down or adding any nasty ingredients into your routine.
Best for: Hair that's gained quarantine weight in the best way.
Kerastase: Best anti-hair loss shampoo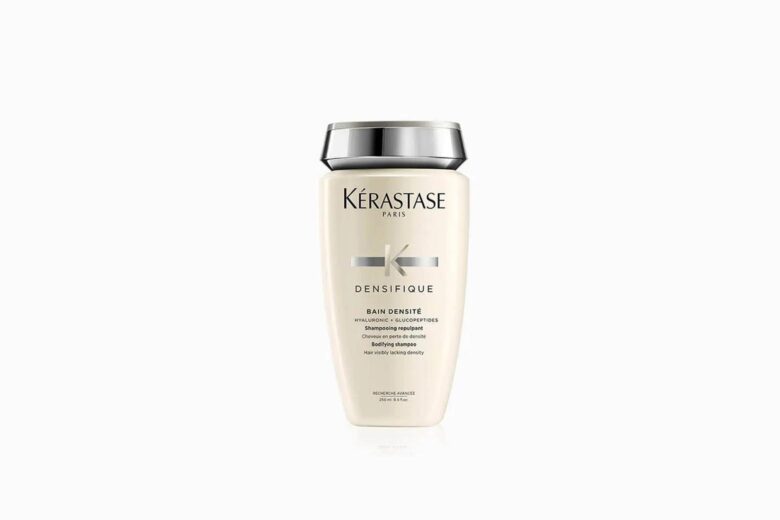 Even if you've been spending a little too long basking in the sunshine or you've sat one too many times in the salon for a fresh color, there's a shampoo out there that's prepared to forgive you with a pat on the back and a reassuring smile that will instantly lift your hair from its roots. Kerastase's Bain Densité Shampoo comes in the kind of bottle you'll admire from the hair salon's chair while sipping a coffee and waiting to reveal your new look.
It's also likely the bottle the hairdresser will reach for to restore your shiny locks to their former glory. Absolutely the best for damaged hair, this shampoo's secret ingredient is Hyaluronic Acid, which thickens the hair with an ultra-concentrated formula. It also combines Gluco Peptide, to strengthen the deepest layers of each hair cuticle and Ceramides, which enhances shine, promotes elasticity, and builds resilience from the inside out.
Best for: Giving damaged hair a comforting pat on the back.
Évolis: Best restorative shampoo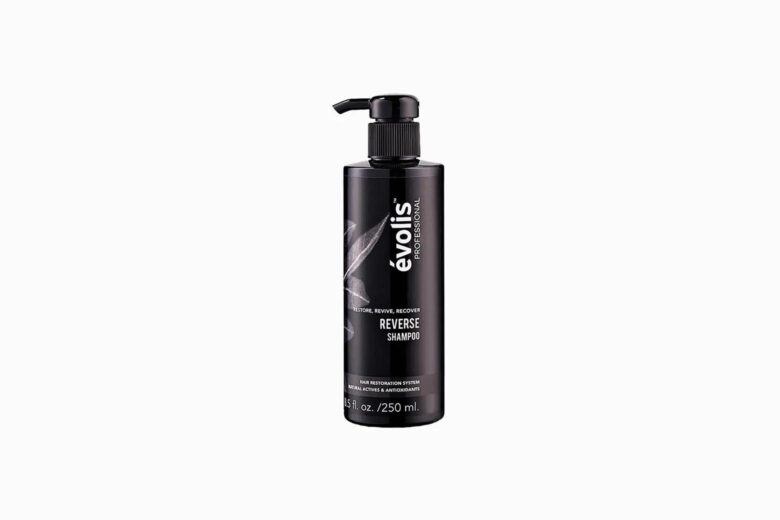 Pull together all of the keywords that you've heard in the world of hair loss shampoos, throw in some extra ingredients that are designed to give your hair an extra boost and combine them into one small formula and you'll find yourself holding a bottle of Evolis Reverse Shampoo. A sort of magical potion in the hair salon, this restorative shampoo leaves no stone unturned when it comes to boosting your hair's ability to grow.
This is a shampoo designed by hair biologists, which means not only is it backed up by an almost cult-like audience but also by professionals who know all the tricks in the book. Some of those tricks come under names like "keratin" and "wheat treatment", while others are simply antioxidants and extra nutrients. The overall combination means you'll see an increase in hair thickness in 90 days and probably a lot of compliments to go with it.
Best for: Making your hair look and feel 10 years younger.
Davines: Best scalp stimulation shampoo for men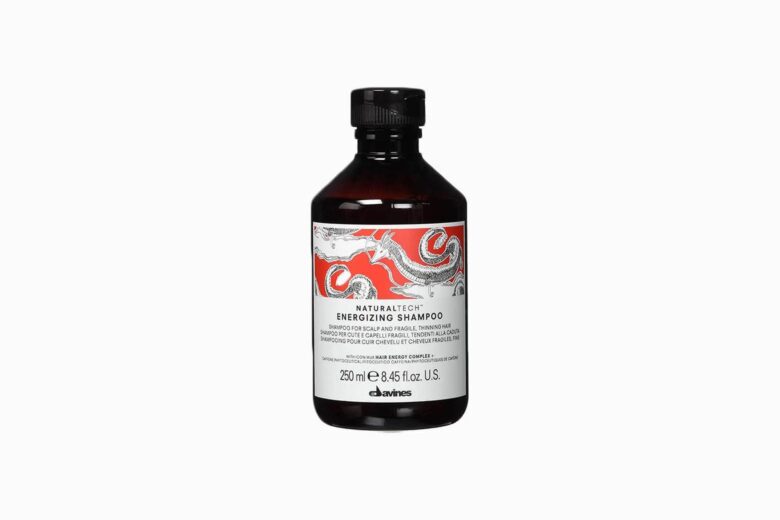 A crucial part of maintaining healthy hair growth and preventing hair loss starts before you've even touched the hair itself. Keeping a healthy scalp is a crucial part of the process, and a scalp-stimulating shampoo is a brilliant addition to your hair care routine that digs a little deeper to get to a different potential root cause. Davines Energizing Shampoo works the same way as a strong cup of coffee does in the morning: it doesn't matter how tired you or your hair feel; this shampoo is determined to wake it up with boosting properties that'll replace inner fatigue with a bolt of electricity.
The coffee comparison isn't actually entirely metaphorical, either, as this shampoo uses caffeine phytoceuticals to stimulate circulation and improve hair elasticity in one quick lather. The only difference between the two is you'll want to keep the coffee scent to your mug and let the refreshing scent of this shampoo do the talking instead.
Best for: The shampoo equivalent of an invigorating head massage every day.
Men's Rogaine: Best men's shampoo with Minoxidil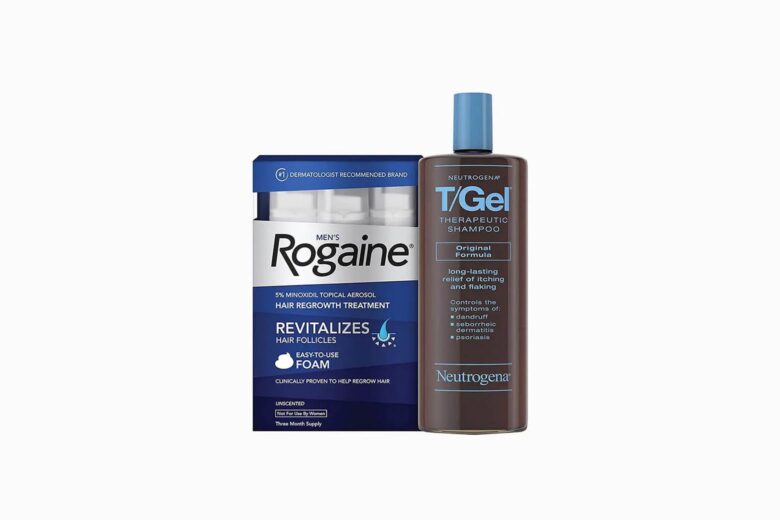 If you're feeling impatient for hair growth or you're ready to cut straight to the chase with a hair loss shampoo, choosing a bottle with Minoxidil is the way forward. This medical strength addition can be taken as a prescription to stimulate hair growth almost immediately. The next best thing after a prescription comes in a hair loss shampoo with Minoxidil as a primary ingredient like Men's Rogaine 5% Minoxidil Topical Hair Loss Shampoo.
Rogaine is a household name in the world of hair loss shampoos and doesn't hesitate or stammer when it comes to finding solutions. This shampoo is a triple threat: helping to treat hair loss, maintain hair density and allow for the regrowth of fuller hair. You should start to see notable differences within three months. As well as being one of the best options for tackling hair loss, this is also a great shampoo for keeping hair nourished, clean, and conditioned.
Best for: Cutting to the chase and tackling the problem head-on.
ProBliva: Best DHT-blocking shampoo for men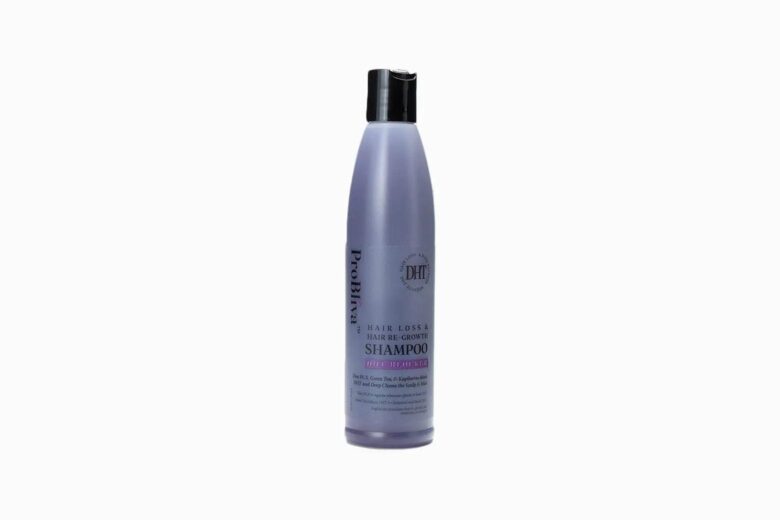 If Minoxidil is the best addition for hair growth, then DHT is right at the other end of the spectrum. High levels of androgens, including DHT, can cause hair loss by shrinking your hair follicles. If you'd rather focus on preventing levels of DHT rather than adding Minoxidil into your hair care routine, a DHT-blocking shampoo is the answer to your problems. Our favorite comes from ProBliva.
The DHT Blocker Hair Loss & Hair Re-Growth Shampoo blocks enzymes that turn testosterone into DHT while simultaneously promoting hair regrowth with its green tea extracts. But there's plenty more crammed into this small bottle that gives your hair a complete 180 from thinning and lacking moisture to thick and lustrous. Other key ingredients in this shampoo include Kapilarine complex and Zinc PCA as well as proteins like Vitamin E, Pro-Vitamin B5, Keratin, Jojoba Oil, and Collagen Amino Acids. It's a one-stop shop for healthy hair.
Best for: Talking about hair-boosting hormones and enzymes like you've got a biology degree.
Hims: Best shampoo with Saw Palmetto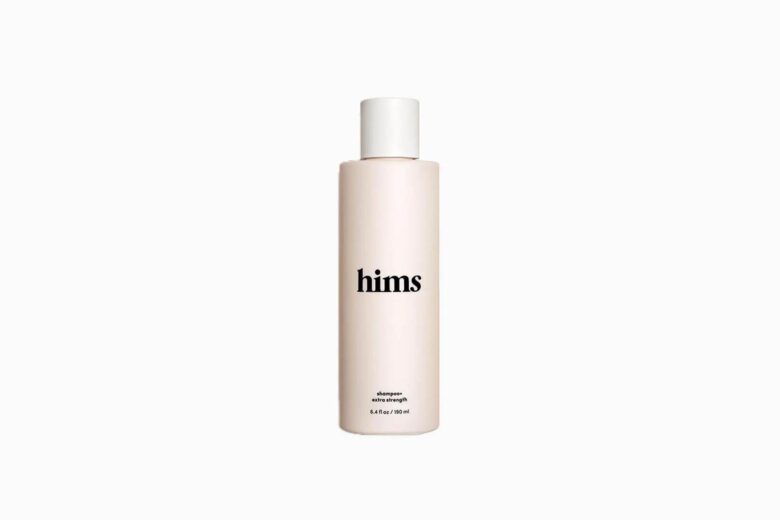 The general rule when it comes to keeping your scalp healthy and promoting fast hair growth is to not wash your hair every day, no matter how tempting. But that's something that's about to become all the more tempting, once you've swapped out your existing shampoo for a bottle of Hims. The Thick Fix Shampoo does the seemingly impossible of making your hair feel thicker and longer using nothing more than some key ingredients and perhaps a touch of magic.
The ingredient to focus on here is Saw Palmetto, a fruit extract that prevents hair loss by stopping the production of DHT. Better yet, it'll make your hair silky smooth to the touch with just the right amount of moisture. If you're ready to go all out and cover all bases in the world of hair loss prevention, take it one step further with Hims' Hair Power Pack.
Best for: Realising the benefits of fruits extend past your five a day.
Kerastase Homme: Best hair loss shampoo with Biotin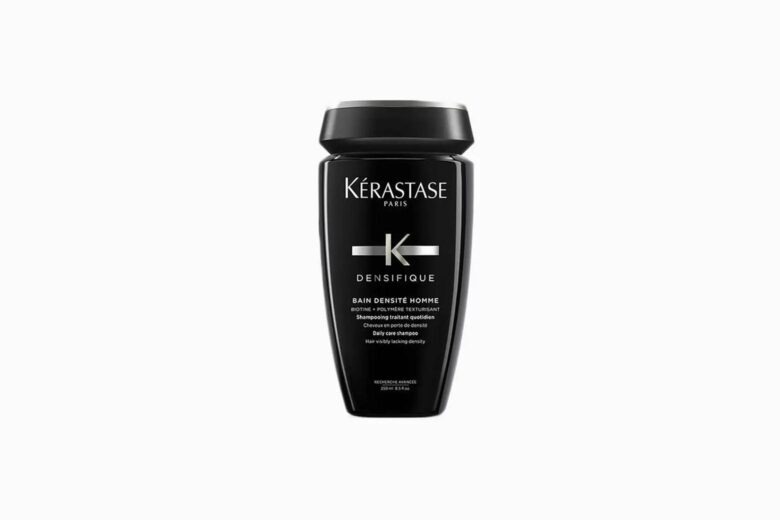 Many people take Biotin supplements to encourage strong and healthy hair, but here's your solution for taking it one step further: using a shampoo with Biotin. The effect? Hitting the problem face on, with an almost industrial strength shampoo crammed full of powerful ingredients including, crucially, Biotin. This B Vitamin boosts healthy hair like no other: it increases hair volume, encourages the creation of new hair, and helps your scalp to feel lighter all at the same time.
Along with Biotin, the Kerastase Bain Densité Homme Shampoo also features Taurine, an amino acid with protective effects on the hair, which encourages a stimulated and healthy scalp. Together, they promise quick and lasting effects, with hair that's nourished, unbreakable, and ready to face the world.
Best for: Wrapping your hair in a big cozy blanket of B vitamins.
Ultrax Labs: Best men's shampoo with Caffeine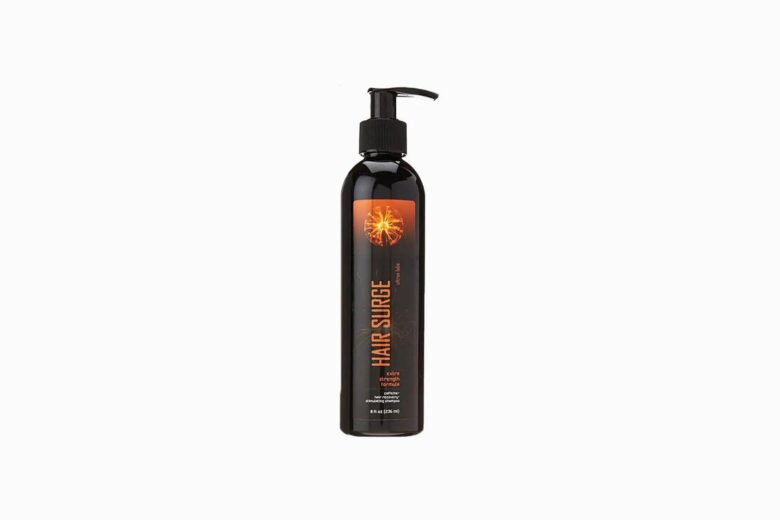 A strong cup of coffee in the morning can be the difference between the most successful meeting of your life and getting your own phone number mixed up. Similarly, a strong burst of caffeine in your shampoo can take limp, unhealthy strands in a whole new direction, with enough energy to chair the whole meeting itself. You know the psychological effect of smelling coffee grounds and immediately feeling a little more awake?
You'll start to feel similarly each time you glance at Ultrax Labs Hair Surge Shampoo in your bathroom cabinet. An energy drink for your hair, it contains powerful caffeine compounds that stimulate your hair follicles more than any number of sugary drinks ever could. Cruelty-free and renowned for its high success rate, you'll almost start to wish you could drink this shampoo for an energy boost in the morning, too.
Best for: Genuinely wondering what would happen if you drank it instead.
Malin + Goetz: Best everyday shampoo for men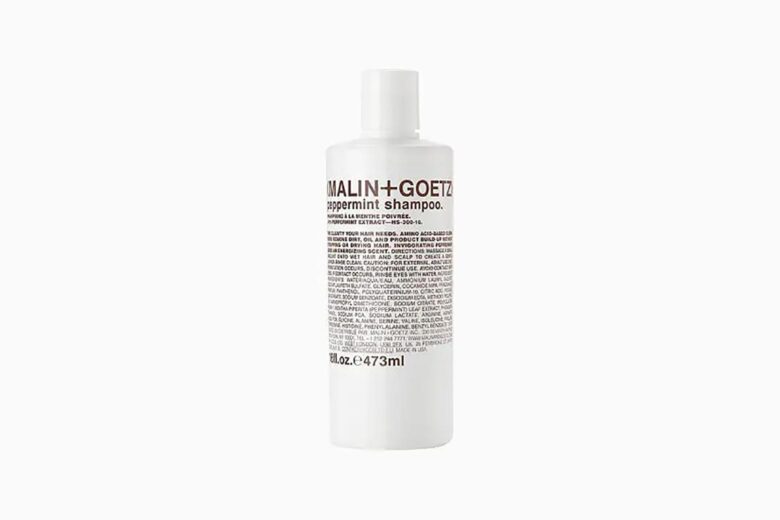 Old habits die hard, and if you're someone who washes your hair everyday, it can be tough to start a day without giving your head a quick lather. Sure, it might be beneficial in the long term to cut back on your daily washing, but if it's a habit you're not prepared to break now, the best option is to find a hair loss shampoo that takes this into consideration and runs with it.
The bottle in question comes from Malin + Goetz. The Peppermint Shampoo was designed as an everyday shampoo, which means you'll actually be doing good for your hair if you use it on the daily. Invigorating and cleansing, this shampoo works hard to ensure you feel just as refreshed as your newly clean hair does as soon as you've stepped out the shower. A gentle formula with the addition of olive oil means your hair will feel stronger, healthier and cleaner all at the same time.
Best for: Encouraging the best kind of bad behavior.
Viviscal Man: Best budget hair loss shampoo for men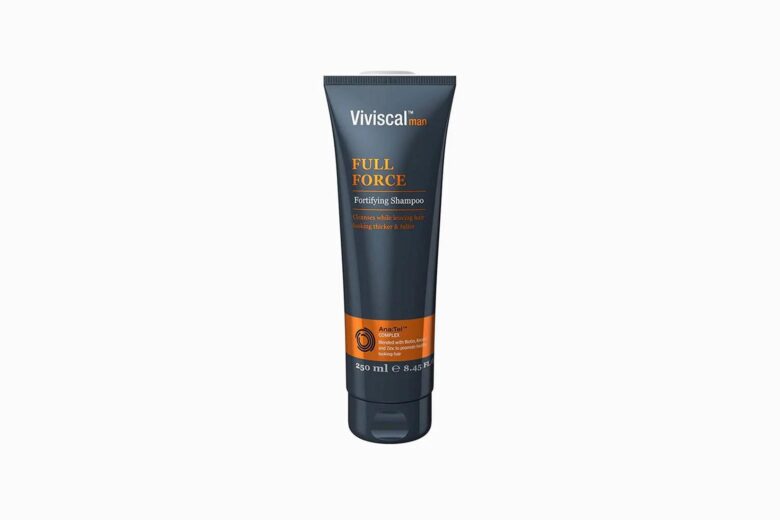 Good things come in small packages, and sometimes the very best examples of just that are found in the bathroom cabinet. Or, more likely, displayed proudly in the corner of your shower, picked up almost daily, and raved about to anyone who will listen. It's easy to find yourself overwhelmed when choosing a hair loss shampoo with so many different options available, but you don't have to spend a fortune to get good results. Some of the best results come from Viviscal Man's Full Force Fortifying Shampoo.
This is a shampoo that effortlessly ticks every box: it uses Ana:Tel, which extends the hair growth phase and reduces hair fall and mixes it with Biotin, Zinc, and Keratin for extra hair growth. Before it's finished, it also throws in a dash of strengthening ingredient Keravis, to help increase hair strength and resistance to breakage. Basically, you can't go wrong with this shampoo.
Best for: Knowing you're treating your hair loss without overspending.
Guide to the best hair loss shampoos for men
Hair loss can be caused by many things, ranging from genetics through to scalp problems, hormone imbalance, stress, and medication. While a good shampoo can't promise a complete 180, it can take steps to successfully nourish and stimulate your scalp to prevent further loss and encourage regrowth. Some of the key ingredients to look for when choosing a hair loss shampoo include:
Minoxidil
Minoxidil stimulates hair growth and is a medically-approved treatment. It's the only over-the-counter treatment approved and is available in two strengths: 2% and 5%.
Finasteride
Finasteride is a prescription-strength hair growth treatment that works by preventing testosterone from breaking down into DHT.
DHT and DHT blockers
DHT is the hormone that's thought to cause male pattern baldness – shampoos containing DHT blockers work to stop this hormone in its tracks.
Biotin
A brilliant B vitamin that strengthens the hair follicle and increases elasticity, which encourages maximum hair growth.
Caffeine
Almost as effective on your scalp as it is in your morning coffee; caffeine shampoos both slow down hair loss and stimulate the scalp to encourage faster hair growth.
Some of the other best ingredients to look for in hair loss shampoos include Ketoconazole, an anti-inflammatory and anti-fungal ingredient that nourishes hair follicles, Saw Palmetto, which prevents the effects of DHT, and essential oils like cedarwood, lavender, and rosemary.
Frequently asked questions about hair loss shampoos for men
What is the best shampoo for male thinning hair?
The best shampoo for male thinning hair is Lumin's Keratin Recovery Shampoo. This thick and strengthening shampoo combines green tea to boost hair growth with a formulation that nourishes the scalp from inside out.
What shampoo is best for thinning hair?
Some of the best shampoos for thinning hair include ProBliva's DHT Blocker Hair Loss Shampoo, Rogaine's 5% Minoxidil Topical Hair Loss Shampoo, and Davines Energizing Shampoo. Check out our full round-up to discover the best hair loss shampoo for you.
What shampoo do dermatologists recommend for thinning hair?
Dermatologists widely recommend Nioxin's Cleanser Shampoo and Rogaine's 5% Minoxidil Topical Hair Loss Shampoo for men who are searching for a hair loss shampoo. Read our full guide to see which hair loss shampoo is most suitable for you.
How do I stimulate hair growth?
You can stimulate hair growth through a hair loss shampoo specifically targeted to your hairstyle. Look for products with caffeine, Minoxidil, and DHT-blocking properties.